Looking to add some awesome places to eat to your Europe bucket list?
I've mentioned before that I am strongly motivated by food (maybe too much 😂). But it's the one thing that brings us all together and is the best way to learn about each other's culture and traditions.
As we know, Europe is definitely not lacking in culture nor traditions, and each country is so incomparable and enthralling with their cuisine. One of the best things about travel is trying new foods, right? One of my favourite parts of travel planning is finding some unique and unforgettable places to eat.
The 23 unique European destinations will surely fuel your wanderlust and I'm thrilled to share this incredible list of the best restaurants in Europe, as told by travel bloggers!
This is the second post of a four-part series of favourite restaurants from around the world, put together inspire you, and more than likely make you start planning your next European vacation.
A note on Georgia and Armenia: I took to Twitter to get a more concise answer on where people classify Georgia and Armenia, since they are technically both in Asia and Europe. The poll results were about 60/40 European, so I am going with the majority vote here. What's also interesting is it depends on where in the world we were taught and how we were taught in our georgraphy lessons. This interactive map below classes them in Europe, so that's where they'll be for this post!
23 of the Most Awesome Restaurants in Europe
United Kingdom
The Storehouse, Inverness, Scotland
Exploring the Highlands is a must when visiting Scotland! From the gorgeous lochs and majestic mountains, its scenery is unbeatable. Spend a weekend in Inverness, soaking in its beauty. Inverness is a great place to explore the food scene. Try any of their delicious restaurants – including two featured in Lonely Planet Books!
If you are lucky enough to enjoy that beautiful Scottish weather, stop by the Storehouse for a perfect picnic. Sitting right on the Cromarty Firth, The Storehouse is a lovely restaurant with some amazing views!
We would recommend booking a table in advance. Choose from the indoor, patio, or outdoor seating. If you choose the outdoors, you will also have the chance to spot a seal or two!
As you walk in you order your food right away, as it is being prepared, you will find a seat, and they will bring it to you once it is ready. I highly recommend the fish finger sandwich. It is perfectly complemented with fries (or chips) and a refreshing salad. My second recommendation would be the smoked salmon, along with the fantastic baked potatoes.
Once you are finished eating, take a look at the lovely shops and try their ice-cream for dessert!
The Courthouse, Cheshire, England
Dine in a Real Life Courthouse
When I go out for a meal, it's not just about the food for me. I am drawn to particularly beautiful or quirky settings; something that makes the dining experience that little bit more special. I was so excited to find this in a local restaurant to where I live in NW England. What could be more intriguing than to dine in a real life courthouse? Of course actual court proceedings ceased back in 2010, but when The Courthouse re-opened as one of Cheshire's premiere events venues in 2017, the look of the courtroom was retained in the restoration for its Barristers Bar and Restaurant.
The bar holds a central position in what were originally the docks. The tiered public gallery around the edge of the room is now lined with tables and plush velour arm chairs. You could find yourself sitting in the jury box, but at least you'll be sat in regal comfort. There is an air of a grand and elegant ballroom thanks to the centrepiece glass dome and the gilt, gold and mirror lined walls.
The menu continues the courthouse theme where you'll order an 'Opening Statement' as a appetiser, swap 'proceedings' for starters, 'Main Evidence' for main courses and 'Closing Statements' for desserts.
The Courthouse offers an inventive seasonal menu and prides itself on sourcing the finest local ingredients. And the food is truly excellent! You'll never want to go back to normal chips after tasting their Truffle ones. Everything is lovingly and artistically crafted on the plate and they produce the most exquisite looking desserts as well as sublime cocktails. And then there's a superb afternoon tea offering. There are not many places where I return to again and again for afternoon tea but The Courthouse is one of them: guilty as charged!
Honey & Co, London, England
London is a big foodie spot – and I've eaten at a lot of places – but nowhere compares to Honey & Co. Not only is it run by a Middle Eastern couple with the biggest hearts, but the food is incredible.
Honey & Co is a small eatery near Euston Station. You wander down an unassuming street and suddenly the inviting yellow banner will catch your eye. They only have a few tables, so book ahead or arrive at 4:30 when dinner service starts to nab a table (I've done it before!).
Honey & Co features seasonal menus with a brilliant meze platter of dips so silky you'll want to bathe in them. They make a peach and almond salad that I returned for three days in a row. Honey & Co feature a variety of mains from a BBQ tahini eggplant to a Middle Eastern chicken dumpling soup.
But the real star of any meal at Honey & Co is their famous feta cheesecake.
I hate feta and I usually don't love cheesecakes, but this one converted me.
It's a whipped ricotta and feta cheesecake served on a base of kadayif pastry, doused in honey syrup. It's the delicious love child of cheesecake and baklava, and I could eat it forever!
In the busy city, their restaurant feels like home. There is this uniquely comfy ambience that makes you wish you could stay forever.
The owners run a podcast, Honey & Co Food Talks, where they celebrate chefs who prize quality ingredients and delicious food over gimmicks. They recently did a series on empowering female chefs.
They actually offer most of their recipes in cookbooks. It's surprising to give away your best kept secrets, but they've never lost customers from it. Their books got me through my pandemic quarantine.
The Mermaid Inn, Rye, England
In the storybook town of Rye, East Sussex lies a medieval hotel and pub that was rebuilt in 1420. With cellars dating back to 1156, the Mermaid Inn has no shortage of ghost stories and reported hauntings.
This famous hotel and restaurant has seen numerous celebrities over the years, as you'll see on the wall as you walk in the front door.
The restaurant is easily one of the best we've dined in on our many trips to Rye. It's beautifully designed with linenfold panelling and old artwork. Every time we visit the menu is slightly different, and the food served is local – everything from pigeon to lamb, prawns to seabass, each dish is delicious and beautifully presented.
I rave about the Marsh lamb and the local cheeses. I'm not a big lamb fan, but I make sure I order it every time we're in Rye because it's so flavourful.
Cozy up at the Giant's Fireplace for an after dinner drink, surrounded by a hop-covered bar. Or for a quieter atmosphere, have a seat on one of the comfortable leather couches in Dr Syn's Lounge. There's an abundance of local ales to try, or enjoy one of their many gin and tonics (over 52 kinds!).
Prefer tea instead? Relax in the Small Lounge, overlooking historic Mermaid Street, once the main route to the anchorage in Rye in the years past.
Just remember to duck if you leave through the back door. People were much shorter hundreds of years ago!
The Mermaid Inn offers everything you would expect in an old English building; sloping, creaky floors, timber beams, and walls that whisper its hidden tales.
Check out this virtual tour of the Mermaid Inn, and see why it's one of my favourite spots!
Netherlands
The Avocado Show, Amsterdam
Contributed by Krista of Krista the Explorer
When you think of Amsterdam what comes to mind? Most people would probably reply with things like the Red Light District, canals, and quaint coffee shops. Most tourists don't look beyond the main attractions, and are often baffled by the amount of restaurants that they can choose from.
Amsterdam does have one unique restaurant that tops them all though – The Avocado Show. Avocados are very popular right now, so what better way to enjoy all of their lushness than at a restaurant that serves everything avocado! They use sustainable avocados to create some incredible dishes, which are all very Instagram worthy of course.
If you're visiting Amsterdam on a budget, this is a great restaurant to visit in the mid-price range. They have two locations in Amsterdam, and luckily one of them sits along a canal right in the city centre so it's easily accessible.
One of the best dishes here has to be their burger. Instead of using the traditional bread bun, they use both sides of the avocado as a replacement, and place the sauce in the hole where the pit was. Add a side of avocado fries to the mix and you'll be leaving one very happy (and full) customer.
They also serve a variety of breakfast and brunch dishes, including avocado pancakes – yes, they're green! You can finish your meal off with avocado ice cream or even stacked waffles loaded with fruits and avocados.
You can purchase their own cookbook as well either at the restaurant or online, so you can start making some delicious and eye-pleasing avocado meals at home too!
The Seafood Bar, Amsterdam
Contributed by Sydney of A World in Reach
While visiting Amsterdam with my friends, we wanted to have a nice yet reasonably priced dinner. We were all in the mood for some delicious seafood, and were recommended to a restaurant called The Seafood Bar by our Uber driver. After checking out the menu, we headed to the restaurant where we were in for one of the best meals we had ever had during our travels.
The restaurant was quite busy and had an hour-long wait; however, they had tables at the front where you could enjoy drinks and appetizers while waiting. We ordered a bottle of wine and an appetizer to share, which was delicious and made us even more excited for our meal.
Once we were seated and ready to order, I opted for the fish and chips. The fish was absolutely delicious and so fresh. The menu had lots of other options including salmon, mussels, crab, lobster, and more. The Seafood Bar is known for having some of the freshest seafood in Amsterdam, so no matter what you order, you'll be in for a treat. We enjoyed this meal so much that we ended up going again the next evening!
The Seafood Bar has four locations throughout Amsterdam: Van Baerlestraat, Spui, Ferdinand Bolstraat, and Stationsplein. My friends and I ate at both the Spui and Ferdinand Bolstraat locations and both were fabulous.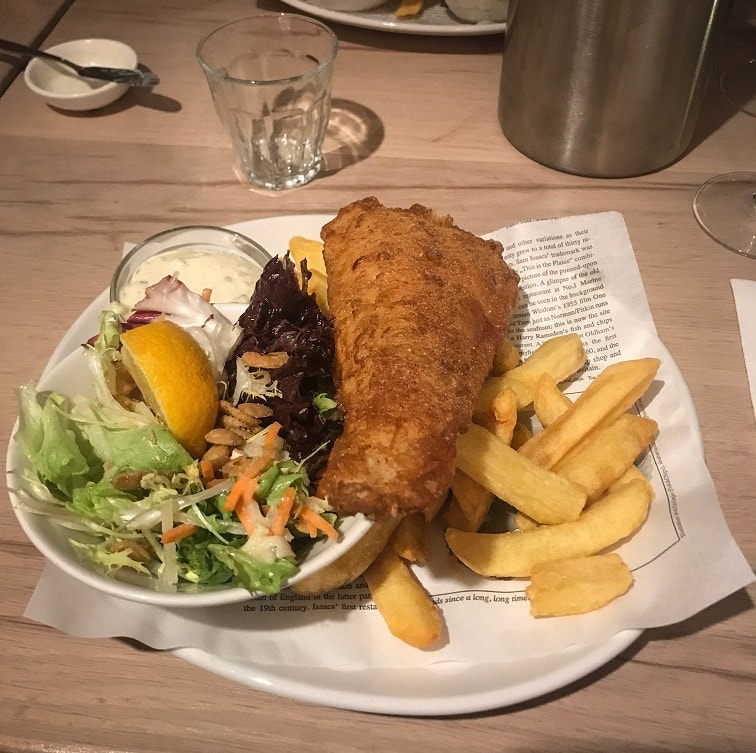 France
La Maison de la Truffe et du Vin du Luberon, Menerbes
Contributed by Renee of the Holidaymaker
At the top of the dreamy hilltop village of Ménerbes sits La Maison de la Truffe et du Vin de Luberon. We came upon this 17th century mansion by happenstance. We were wandering aimlessly through the narrow cobblestone streets winding our way to the top vista. And, there it sat. I took a peek through the iron gate and saw the most beautiful, elegant garden terrace overlooking the side of a cliff. I then realized it was actually restaurant, called La Cantine des Gourmets. In that moment, we knew we had to return for dinner. We timed our reservation perfectly to watch the sun slowly set behind the mountains. The sky turned a kaleidoscope of the prettiest hues imaginable.
To our surprise, everything on the menu features the black truffle of Provence, which is also called the Périgord truffle and nicknamed the black diamond. There was only one vegetarian option on the menu, so my choice was easy – the 38-euro scrambled eggs or omelet with truffle (and this was in 2016!). I was reassured that there is a reason why this is on the dinner menu, and they right! It was absolutely scrumptious. My delicious starter was artichoke and asparagus salad with shaved truffle and dessert was a delightful lemon vanilla bean custard with infused truffle.
The mansion also features a wine cave of the best vintages from this region. A sommelier helps you select a wine from their extensive collection, which is by the bottle only. Not to worry, whatever you don't drink, they seal for you to take with you.
This was the most memorable dining experience I've ever enjoyed. The food was delectable, and it was incredibly romantic and elegant – almost as if you stepped on the set of a movie.
Spain
El Jardín Secreto de Salvador Bachiller, Madrid
Contributed by Or of My Path in the World
Located in the heart of Madrid yet hidden on a rooftop, El Jardín Secreto de Salvador Bachiller has to be one of my most favorite restaurants around the world.
When you walk along Montera Street in the city center, one of the things that catch your eye is Salvador Bachiller, a beautifully decored store that sells luggage, bags, home decor items, accessories, and more. But when you go up to the last floor, you find a terrace that looks like a beautiful garden. Even the placemats are in the shape of a leaf, and the waitresses wear leaf-printed jumpsuits. These little details make such a difference to me, which is why one time in this place just wasn't enough.
Beyond the themed decor and unique atmosphere, this a great place to have brunch in Madrid (though you can also have lunch or dinner). Although the menu is not big, it's diverse enough, the food is delicious, and their juices and cocktails are to die for.
The group of Salvador Bachiller has a few more themed restaurants in Madrid you should check out – Bistro de SB, Invarnadero SB, Rincon de SB, and the newly opened Bloom. Tip – make a reservation, especially if you intend to go on Saturday or Sunday.
Portugal
The Orangery – Lagos, Portugal
Contributed by Shalyn of Sightseeing Senorita
If you're looking to dine at one of the greatest restaurants in one of the most beautiful places on earth, then look no further.
Lagos, Portugal is a small coastal town in the heart of the sunny Algarve region, and nestled between the beautiful beaches and the bustling nightlife is a true culinary experience – the Orangery. Aside from the orange interior, this place doesn't have much to do with the color orange nor the fruit. But don't worry, this will still be the best meal of your life.
Whether you love seafood or steak, you can get a huge slab brought to you on a sizzling hot lava rock. The meat comes raw, so you cut it and cook it as you please on the scorching hot rock.
Not only is it a fun experience, but it ensures that your food is cooked to perfection exactly how you like it (because we all know how often our food comes out well done even though we ordered medium rare). It also comes with three equally delicious sauced to smother your creation in, but I think the garlic butter takes the cake. Seriously, garlic and butter – those should each be their own food group. Combining them is nothing short of heaven on a plate.
If the sound of this meal alone doesn't have you packing your bags, let me remind you that it's less than 5 minutes from some of the most beautiful beaches in Europe. Hungry yet?
If this meal has convinced you to check out the gorgeous Lagos, Portugal, (which I know it has) then head over to Sightseeing Señorita for her recommendations on what to do with one day in Lagos and a guide to the best beaches.
Italy
Bacaro Vintido', Venice
Contributed by Natalie of Natalie Etc
I can't remember how I found out about Bacaro Vintido', but I'm so glad I did. If you ever visit Venice, go here. With a bookshelf on one wall, only a little over a dozen seats, a cozy atmosphere, and thoughtful hosts, this charming little place feels less like a restaurant and more like you're visiting an old Italian relative's home.
The kind owner took our order and described anything we were curious about, and every pasta dish we had was made to order in its own personal pan. There was a piano man in the corner playing music for everyone and drinking wine himself, and after every meal was served the hosts came around cheersing glasses with everyone and checking to see how everything tasted. A generous glass of wine sets you back €2.50, and the plates are on the smaller side, but nothing an appetizer can't fix since the food is fantastic (spaghetti, risotto, bruschetta, tiramisu- all good choices), and the prices are very reasonable. I only wish I had ordered more.
At Bacaro Vintido' each detail, no matter how humble, is accounted for, making each moment its own lovely experience. If you are unable to reserve a spot, be sure to come shortly after opening hours (which on most days is 18:30) to ensure you get a table.
Antica Corte Pallavicina, Parma
Contributed by Denise of Chef Denise
When you arrive at Antica Corte Pallavicina, one glance at the brick castle tips you off that you're about to have an exceptional experience. Steeped in local history, with ties to the Duchess of Parma, and even Napoleon, this 14th-century palace houses a world-class restaurant in every respect: a beautiful setting, excellent service, and above all, impeccable food.
The Italians started the Slow Food Movement, and it is hard to find a more farm-to-table restaurant than Antica Corte Pallavicina. In fact, the farm on the property produces about 85% of the restaurant's ingredients, including the pigs for the famous house-made culatello (which translates to "little ass"). Exclusive to this area near the Po River, culatello is the prized cured ham of Italy. It tastes better than the best prosciutto, and is featured prominently on both the restaurant's a la carte and seasonal tasting menus.
Although you should not leave without sampling some culatello, this exquisite restaurant offers many other delectable specialties, including Black Pig Fillet Artemisia, Frogs Legs with Garlic and Parsley, and Lamb Ribs on Eggplant and Pepper Cream—each presented as a work of art.
Come during the daylight to soak in the fairytale atmosphere that is the result of the Spigaroli family's 20-year effort to restore the property from ruins. If you're lucky enough to hear their story firsthand, you can feel the love that painstakingly turned the Antica Corte Pallavicina from rubble back into a productive farm, culatello museum, and Michelin-starred restaurant.
Baldivino Bistrot, Florence
Florence Italy. A city full of history, art, culture, great wine and of course, amazing food! Located in the heart of Tuscany, this city is the famous stomping grounds of artists such as Michelangelo, Botticelli, Raphael and the most famous Leonardo da Vinci! Today, you can see some of their famous works at the Uffizi Gallery. Once ruled by the wealthy Medici family, Florence is also renounced for its architecture. The Ponte Vecchio, Palazzo Vecchio and the Cathedral of Santa Maria del Flore are particularly amazing to experience.
With a city filled with so much culture, there are a ton of great places to eat! I have had the opportunity to visit Florence several times over the past few years and eaten at many places. My absolute favorite was Baldivino Bistrot. The inside of the bistro has a warm, intimate feeling while the outdoor patio area is lively and vibrant with great people watching. Either place you sit; you can't go wrong.
Located just steps from the Piazza Santa Croce, this lovely little bistro features local ingredients, a welcoming feel and a great wine list! They feature a ton of great seafood options as well as locally grown Truffles. Baldivino does have a seasonal menu with rotating options. Some of my favorite dishes I have enjoyed included a seafood stew, braised beef steak, and bread with Prosciutto and Mozzarella.
Ristorante da Pancrazio, Rome
Dining at Ristorante da Pancrazio was born out of convenience, but quickly became our favourite "secret" location in Rome.
Before heading to our family town in Abruzzo, we spent a few days exploring the eternal city on foot. We stayed at a boutique hotel, the Pantheon Caesar Relais, in a room with a large balcony that overlooked the Largo di Torre Argentina.
I researched restaurants in the area and stumbled upon Pancrazio. It's rustic exterior and simple patio was not uncommon for the Campo dei Fiori area, but what struck me was its history.
Ristorante da Pancrazio was built atop the ancient Roman ruins. First opened as a tavern in 1922 by Pancrazio Macchioni, an attempt to expand the premises in the 1950s revealed several rooms from the first century Theatre of Pompeii, where Julius Caesar was murdered.
The history may intrigue you to visit the first time, but you will return for the atmosphere and especially the food. The restaurant is tucked away from the chaos of the piazza, which makes sitting outside on the patio very pleasant and relaxing. We enjoyed a chilled bottle of rosé and feasted on the best cacio e pepe pasta we've ever had.
After spending a week in Abruzzo, we returned to explore the city for a few more days before catching the flight home. On that second stay, we roomed at a different hotel on the other side of the city. Though there were plenty of dining options, on our last night, we opted to trek all the way back to Ristorante da Pancrazio.
We savoured that last meal, ordering a delicious appetizer of zucchini flower fritters to start. While paying the bill inside, the owner invited us to see the ruins downstairs. Happily, we marvelled over the stone arched rooms, partial columns, and ancient paintings still visible on the walls. It was truly an experience that delighted all the senses.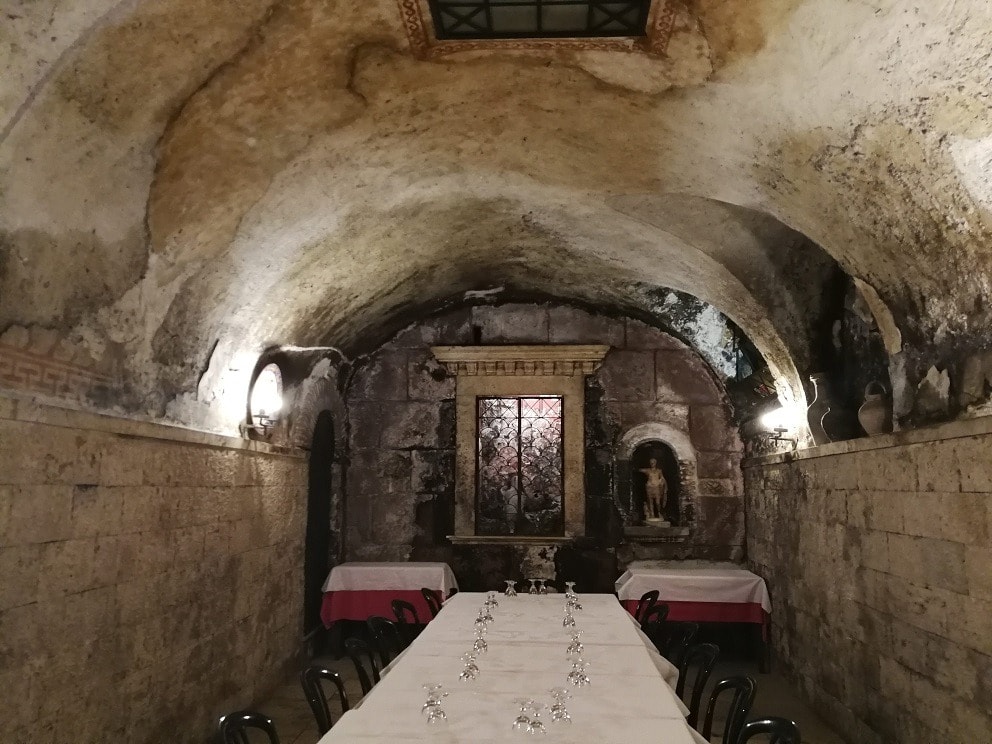 La Tagliata, Positano
We were given this tip by our villa rental owner – and it remains one of our favourite experiences during our entire trip to Italy – one that we still talk about, 3 years later!
La Tagliata is family owned and overlooks Positano, along the Amalfi Coast, based in Montepertuso. Everything served is raised or grown on the farm and every dish is delectable. I believe there were 9 courses – from fresh breads, vegetable dishes, pasta, meat platters including steak, rabbit, lamb, chicken and veal, dessert, and endless flowing homegrown wine. If you make friends with the owners, you'll even get some Grappa to enjoy!
There are three terraces, and each has its own vegetable garden from which they harvest their produce.
The owners came out to serenade us with pots and pans on the terrace we were seated at – adding to the experience!
We could not believe that it was only 40 euros a person – a steal compared to other locations throughout Italy. A meal like this at home in Ontario would easily be $150 per person.
There is free transportation to and from this restaurant. All you need to do is call them and they will give you time and a location based on one of many throughout town. You then take the city bus down and let me tell you, after a few glasses (bottles?) of wine, it's quite an experience, especially when you think the bus won't make those hairpin turns!
La Tagliata offers stunning views and will leave you longing to return.
Planning a trip to Positano? Check out the best places to see and where to eat here (hint – this is one of them!).
Greece
Rotonda, Naxos
Contributed by Make Them All Trips of a Lifetime
Visiting Greece when we did, and specifically visiting the island of Naxos was a happy travel accident. It truly is a hidden gem among the islands of Greece.
On our first day, we booked a private tour with someone who would be able to share the history and take us to the secret places only locals know about.
After visits to ancient ruins and the picturesque villages, our guide lead us to Rotonda, a phenomenal restaurant with a spectacular view. Words do not do it justice. It being October and nearing the end of the season, we were the only guests on the huge panoramic balcony. Standing near the edge, we marveled at what lay beyond. Like a painting, the blue sky faded into the shadowed layers of the mountains in the distance. It is one of those places that even standing there, it doesn't look real.
We ordered a cheese platter to start, not knowing it would be a huge selection of local cheeses, plus fruit and nuts and bread. Every bite was delicious, so much so we nearly finished the entire platter, not wanting a morsel to go to waste. To this day, we still talk about that cheese and our mouths water.
Next, we both ordered a wild mushroom risotto. The sun was just beginning to set and warm comforting risotto complimented the atmosphere. It was decadent, rich and so flavourful. It was easily the best risotto we've ever had in a restaurant, hands down.
We sipped our Greek coffee (there is always room for coffee) and watched the birds dance in the breathtaking panorama until it was time to leave. If you ever have the opportunity to explore the island of Naxos, ensure you make a stop at Rotonda and give yourself time (and an elastic waistband) to enjoy the view and the menu. You won't regret it.
Slovenia
Bled Castle Restaurant, Bled
Contributed by Zi and Tom Neta of Craving Adventure
If you ever find yourself exploring Slovenia, dinner and sunset at Bled Castle Restaurant are a must and the perfect way to end your day in Lake Bled!
Bled castle is perched at the top of a steep cliff 130 meters above Bled Lake and overlooks the picturesque Bled island and surrounding mountains. This castle is over thousand years old and has been extensively renovated. Today it hosts a museum, art gallery, old print shop, a wine cellar, several souvenir shops and the cherry on top – the Bled Castle Restaurant.
This upscale restaurant can be found in the upper courtyard and not only does it offer fabulous food and a great wine selection, it also has some of the best views in town. The menu features traditional Slovene dishes with a modern spin created by renowned chefs Chefs Luka and Ana Šušteršič. Everything we have tried at Bled Castle Restaurant was absolutely delicious and we loved the clever combinations of tender meets with fresh fruits. The service is exceptional as well – while you're dining in a castle expect to be treated like royalty.
Reservation in advance is required and by reserving a table you'll also get free admission to the castle. We recommend you arrive early so that you can explore the premises and take in the view from all angles before sitting down for what might be the best dinner of your life.
Bosnia and Herzegovina
Inat Kuca, Sarajevo
Contributed by Ellis from Backpack Adventures
Inat Kuca is not only one of the best restaurants in Sarajevo with absolutely delicious traditional Bosnian dishes, but it also has an interesting story.
Inat Kuca translates as house of spite and the story goes that when the Austrio-Hungarian monarchy built the city hall in Sarajevo they met with a stubborn old man who refused to let them demolish his house. No matter what they offered the man refused until he said he would agree if they gave him a bag of gold coins and rebuilt his house stone for stone in the exact same way at the other side of the river.
Inat Kuca indeed still looks like a traditional house as was common in the 18th and 19th century. It has a scenic location on the Miljacka river and on the opposite side of the river stands the city hall. Nowadays it stands as a symbol for Bosnian spite and stubbornness. Characteristics that many Sarajevans have and are proud of.
In 1997 Inat Kuca became a restaurant. One of its attractions is the great atmosphere and the fact that you feel like you are in a traditional Sarajevan home. The other attraction is its great food. Age old Bosnian recipes made into perfection.
For a true Bosnian feast start with a plate of Bosnian meats and cheeses. Then go for grilled meats or the delicious stew muckalica. Vegetarians can choose dolma. At last, end your meal with baklava as a dessert.
Hungary
Costes Downtown – Budapest
One of my all-time favourite restaurants is Costes Downtown in Budapest. What makes this restaurant unique is that it actually has a Michelin Star, but because it's in Hungary it is one of the most affordable Michelin restaurants in the world. You can do a set lunch menu for as low as thirty euros per person. As soon as I discovered Costes Downtown I knew I had to book in for a bucket list foodie experience.
The restaurant is dimly lit and intimate, with booths and small tables. The Michelin experience will start as soon as you walk in the door. The service is impeccable and they easily cater to any dietary requirements. There are different tasting menus and drinks packages to suit your needs. We did the five course menu and it was great, as you always get little extra plates. For the drinks, my husband tried the beer menu (all from Hungary), and I did the non-alcoholic option. Each drink was paired beautifully with the food. It was almost my favourite part of the meal.
The food is highly creative and delicious. Every part of the dish has been carefully curated so that the flavours mix perfectly. Smoke will be added to a purée or citrus will balance out a rich taste sensation. Each dish is visually appealing and a work of culinary art. Colours are mixed together, and the food is set out beautifully. I highly recommend an extravagant night at Costes Downtown in Budapest. It will be a unique and special meal to make your travels memorable.
Georgia
Rooms Hotel Restaurant, Kazbegi
Contributed by Kristin of Adventures with Ensuite
The reason to travel all the way to Kazbegi in Georgia to go to the Rooms Hotel Restaurant is the fabulous view of Mt Kazbek. With floor to ceiling windows and a sun terrace which runs the length of the building, this is the best view in Kazbegi and one of the best views in the whole of Georgia.
Rooms is a hotel and can be visited all year around. The restaurant serves both Georgian food and Western dishes and there are always enough choices for lunch or dinner. It is most popular to visit for dinner, but although the interior is nice the main reason to come is for the views which cannot be properly appreciated during the late evening.
The restaurant is also open for breakfast or brunch. The quality and variety of the buffet and this being the time of day when you are most likely to see Mt Kazbek makes this a great time to visit.
Rooms hotel restaurant is a 3-4 hour drive from the centre of the Georgian capital of Tbilisi, or an hour less from the international airport. The views from the restaurant justifies the trip in itself but the area also offers many good hikes.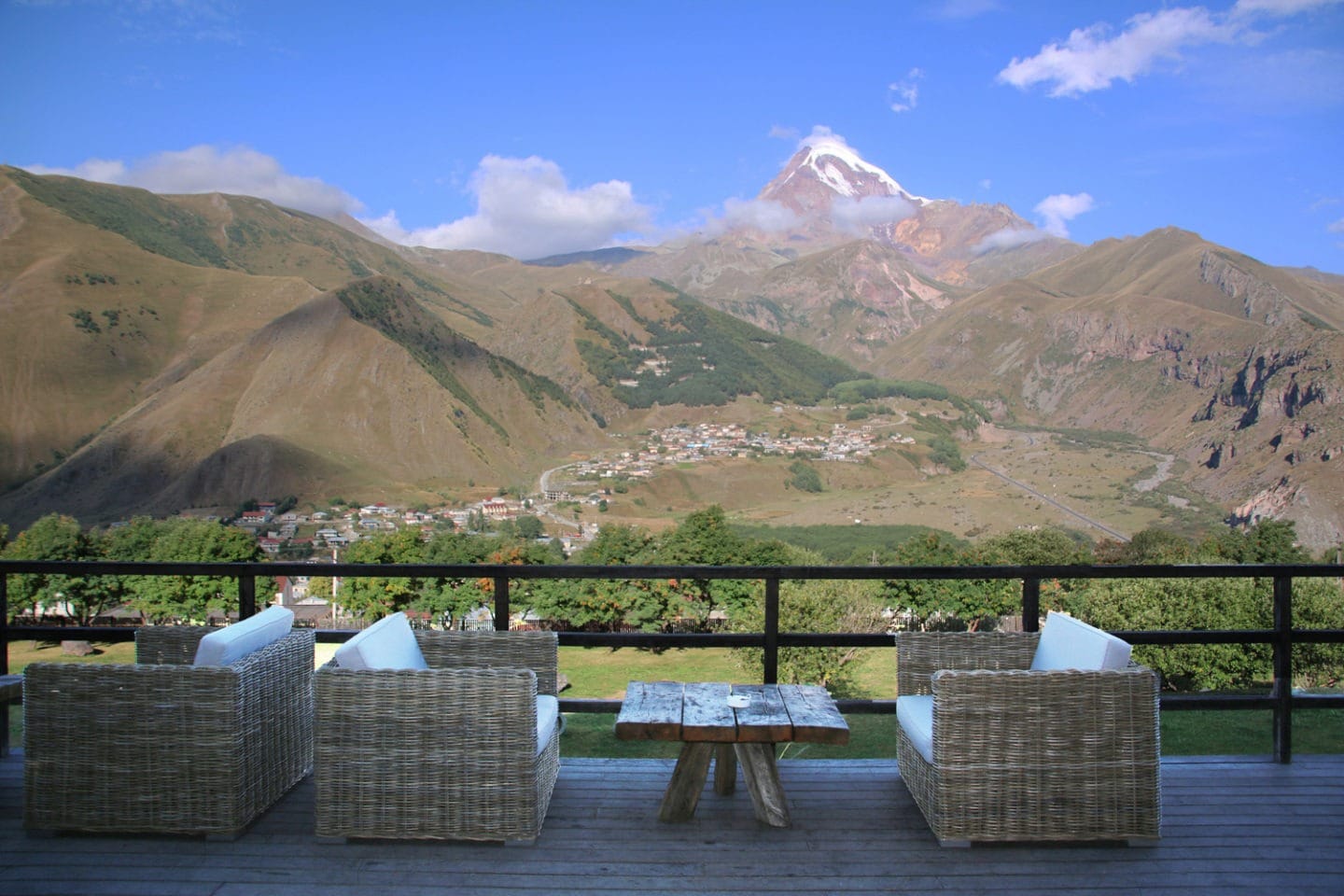 Armenia
ArmAs, Yerevan
Contributed by Kristin of Adventures With Ensuite
Not many people know that over 6,000 years ago Armenia and Georgia were the first countries in the world to make wine. During Soviet times Armenia focused on producing cognac but in recent years the wine tradition has started to make a comeback. One of the best places for an Armenia wine tour and meal is ArmAs, an hours drive north of the capital Yerevan.
Today this 110 hectare vineyard serves great meals and produces award-winning wines. There is a set menu where you can choose a range of options from cheese platters to a 5 course meal, all including wine tastings and a full tour of the vineyard.
The food, wine and the views of the vineyards make the trip from Yerevan worth it. Advanced booking is required and meals can be booked for a time that suits your itinerary. Late afternoon is the best time to wander around the grapevines and enjoy the scenery.
May to October is the time of year to visit. During the summer temperatures can be in the mid to high 30s and although the main restaurant is air conditioned the outdoor terrace has the best views. In late September and October the harvest is ongoing and you can even join in!
There is no public transport to ArmAs so either arrange a taxi or, if renting a car, consider staying overnight at the hotel within the vineyard since the legal alcohol limit when driving is zero.
Poland
Pod Aniolami, Krakow
Located in Krakow, Pod Aniolami is rated one of the best restaurants in the city. Personally, I'd say it's one of the best in the world. If you are visiting this popular Polish city, you just need to give it a try. It's so good, I would happily purchase a flight out to Krakow purely to eat at Pod Aniolami again!
You can't go to Poland without eating Polish dumplings at least once and Pod Aniolami is the place to be. They offer a range of different fillings catering for meat-eaters and vegetarians. Additionally, they are so good they have been claimed as the best dumplings in Krakow a number of times. Don't miss out!
However, try not to fill up on mouth-watering dumplings, you need to leave some room for your main! For the best meal of your life, opt for the restaurant's shish kebab. This dish is made up of pork, wine sauce and smoked plums. It is also served with horseradish and cranberries inside a baked apple. The mix of flavours is a real treat for your taste buds.
Much to my disappointment, I felt too full for dessert. However, they offer a select view treats including home-baked apple pie and cheesecake.
In addition to delicious food, the décor inside offers something unique with its medieval style. Compared to other restaurants in Krakow, there is a super cosy feel at Pod Aniolami with candles, lower lights and an incredible atmosphere. Lastly, the service is amazing. The waiters and waitresses are super professional, friendly and happy to offer personal recommendations.
If you eat out at just one restaurant in Krakow, make it this one!
Finland
OmNam, Helsinki
Conributed by Rai of A Rai of Light
Tucked away in a small courtyard, OmNam is an unpretentious and cozy vegan restaurant that prides itself on farm fresh local ingredients.
It makes for a great stop to fuel up in between sightseeing in the city and provides a tasty insight into the food of Finland. They offer a tasting menu or the option to order a la carte offering a wide variety of versatile, fresh, and tasty vegan food served from lunch to dinner.
The menu, inspired by a variety of exotic cuisine includes roasted vegetables, tofu burgers, and lentil balls, just to name a few.
For dessert, the carrot cake is always a winner and is a must try. The cozy atmosphere is matched with extensive service, with the staff being very knowledgeable on the food items and are happy to recommend great choices.
Highly recommended if you're interested in new flavours and experiences that is sure to leave you feeling satisfied.
Iceland
Tjöruhúsið, Ísafjörður
Contributed by Suzanne of Meandering Wild
Ísafjörður is a small fishing port in the Westfjords with an amazing little restaurant called Tjöruhúsið. It is in one of the original timber buildings in the harbour area of the town and you need to book in advance to ensure a seat.
This is not the place to go for a romantic meal. Seating is pre-arranged and you will be on a table with other guests. This is great fun as you can talk about your time in Iceland, pick up tips for places to visit and meet amazing travellers.
Magnús the owner and chef introduces you to his restaurant, what is included in each course as well as the history of the area and his small building. He is as much an entertainer as a chef.
This is a one price, all you can eat buffet with no options for those who do not eat seafood. The starter is a beautiful fish soup with delicate flavours and homemade breads. Once everyone has had their fill, Magnús returns to tell you about the main courses which are an endless supply of locally caught fresh fish cooked with the most amazing Icelandic twist. These are accompanied by salads and vegetables which are fresh and delicious.
After this feast there is only room for coffee and small Icelandic chocolates, but these complete the meal perfectly.
Final Thoughts
You made it to the end of this awesome (long😂) post of 23 of the most awesome restaurants in Europe. So tell me, have you been to any of these? Have you been anywhere in Europe that you think is worthy of being on this list? I'd love to know – leave me a comment below and stay tuned for parts 3 and 4 of this travel series of the favourite restaurants around the world!
In case you missed it, check out this list of 16 of the Best Restaurants in the Americas!
Pin it for later!