I started 2020 in a rut.
A rut with work, my daily routine, all of it. I was starting to feel really unhappy and miserable with what sometimes felt like crippling anxiety, and kind of just went through the motions. I was always looking for the next break, the next great escape.
And boy, did we ever have an epic 2020 planned. It was our "Year of Europe."
And then that all went down the drain.
Although the year of the pandemic has turned all of our lives upside down, it's been one of the biggest blessings in disguise for my mental health and wellbeing, my blog (thanks for reading!), and my goals for the future.
I had about 4 months off of work and used that time to reprioritize my life. It felt great taking a step back and evaluating everything – from relationships, my own outlook towards the world, and has allowed me to establish new intentions and purpose.
I now wake up excited for my day ahead. I've changed up my routine to allow more time at home, something which my previous schedule didn't allow me to do, while still finding balance for everything that matters to me. And I firmly believe this year made me a better traveller.
I know – how – in a year when we couldn't go anywhere – did it make me a better traveller?
Welcome to the most touchy-feely post on my website.😂
I gained an appreciation for local travel
I don't know why I resisted exploring our own area up until this year. I guess I always thought it wasn't exotic enough and boring. Yeah, I was naïve haha.
But – as soon as we were locked down, I still wanted to get outside and see what there was in my backyard, safely. It forced me to take a new look at where we live, and figured, well, if I'm stuck at home for the next year, I might as well make the most of it!
I've been able to uncover so many hidden gems in our local area this year that I never would've taken the time to discover before. It's as though I've been living here with blinders on and taking what we have on our own doorstep for granted.
I've thoroughly enjoyed exploring locally within the Niagara Region and can't believe how much there is that I haven't seen – and I've lived here my entire life!
Niagara is visited (2020 BC – Before Covid) by millions annually. Why not share some insider tips?
I was struggling with finding a "niche" for my website – since "travel" is so incredibly broad – so I have taken my focus to Niagara Region travel. It's a natural fit (especially right now) and I'm loving it. I've seen amazing support of our local community on my Facebook page and Instagram and I'm excited to share all of these neat things to see and do with you!
I've taken up new hobbies, like hiking and skating, and I'm still uncovering new things to do in the Niagara Region.
It made me realize how important small businesses truly are
If there's one thing I've learned during this whole pandemic, is that small businesses have borne the brunt of all of these restrictions and lockdowns. They're the ones who were forced to close as "non-essential", while big-box stores had lineups around the building.
Giant retailers don't sponsor your kids' soccer tournaments. They don't help with your school fundraisers. They don't know you on a first name basis. Small businesses do.
I realized that when we travel, all of our interactions are with small business, whether it's restaurants or accommodations, taxi drivers or shops. This is how they make a living.
It wasn't until I was home this year that I noticed I needed to focus on small business in my immediate community a heck of a lot more. We live in a tourist destination. Our small businesses are what make all the difference.
As a bonus to us, we became the "hometown heroes" by ordering takeout in our region. You know, supporting the local economy and all. 😉
It made me appreciate the little things. Literally.
In any other year, a night away in another town would be ho-hum. However, with the year we're having and all of the restrictions imposed, a day trip to another town for some outdoor sightseeing made a world of difference.
We were fortunate to get away for a one night mini-break in Collingwood in the fall for some hiking. It was the most exciting thing to happen all year and we were really looking forward to it! I can't believe I planned this trip for a solid week figuring out where we could go (on top of Covid restrictions).
We stayed at a Victorian-style BnB and the host had a world map in the dining room, with pins from every corner of the world on there. It was heartwarming and incredible to learn that a tiny BnB in a Northern(ish) town in Ontario would host that many guests worldwide.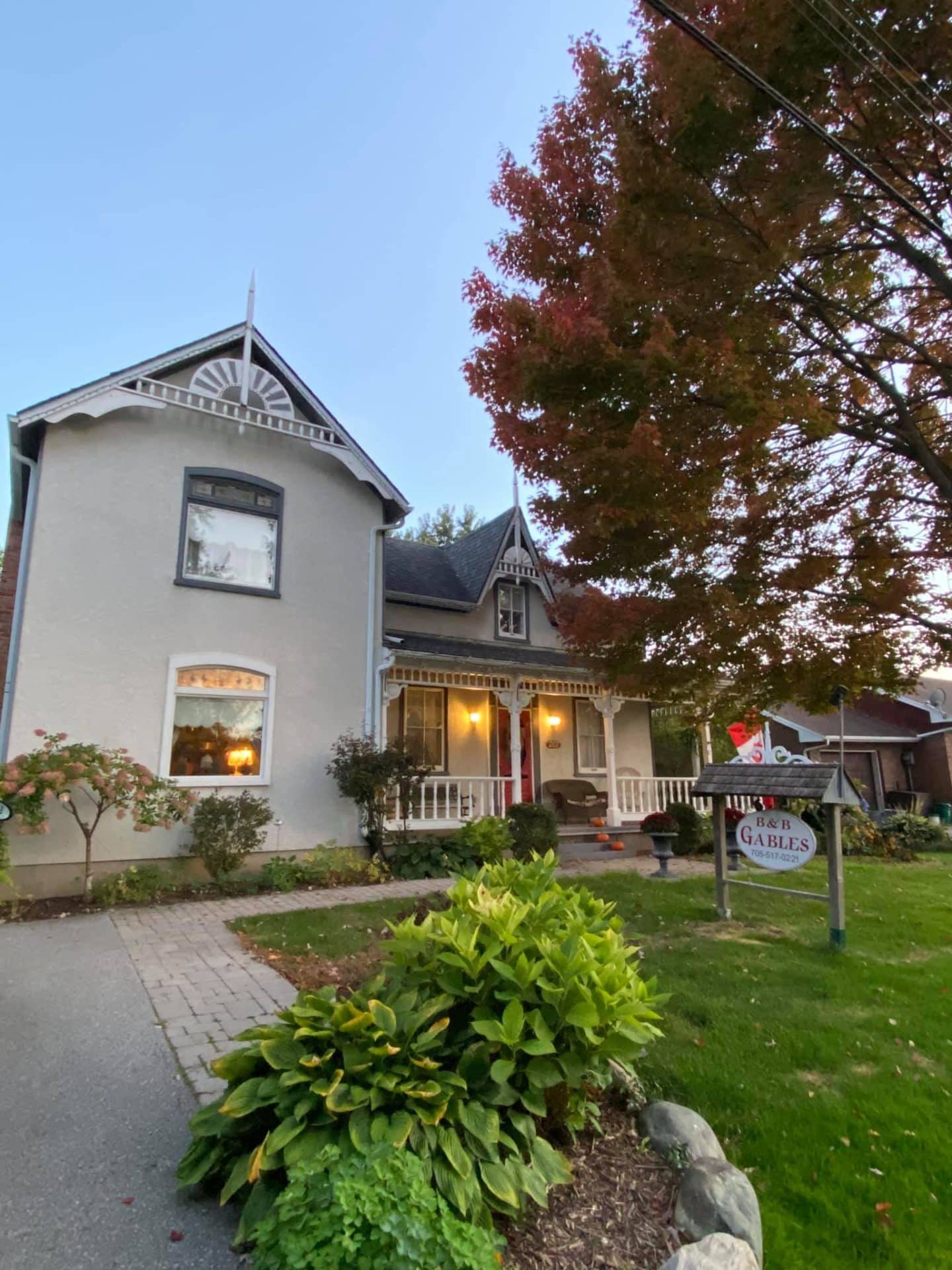 I get excited about seeing an informational plaque telling me about some unique feature or conservation area (😂). I marvel at old ruins when I would've driven by them before. I actively seek out things to do in small towns. Things I never would've done.
Some days I feel like an 80 year old woman seeking out local history or local tours. It's a foreign concept for me to search for every single minute this there is to do around me, but it's something I'm ashamed to say I haven't really done before.
It made me more patient
If this year has taught me anything, it's patience, and it's forced us to just roll with things.
"Whatever happens, happens." We couldn't have predicted how this year was going to turn out. I'm so used to being in control of my plans and then that was pulled out from underneath me. Now it's just a waiting game, and that's ok. I've enjoyed the calmness of being at home and cancelling everything. It's been very grounding.
We've been so hammered with disappointment this year that I think I'm just used to bad news. I don't react the way I did before, and it doesn't bother me as much. This will come in handy if we ever lose our suitcases or miss our connections.😂
In the words of my Great-Uncle Richard, "Life is like old man river, it just keeps rolling along."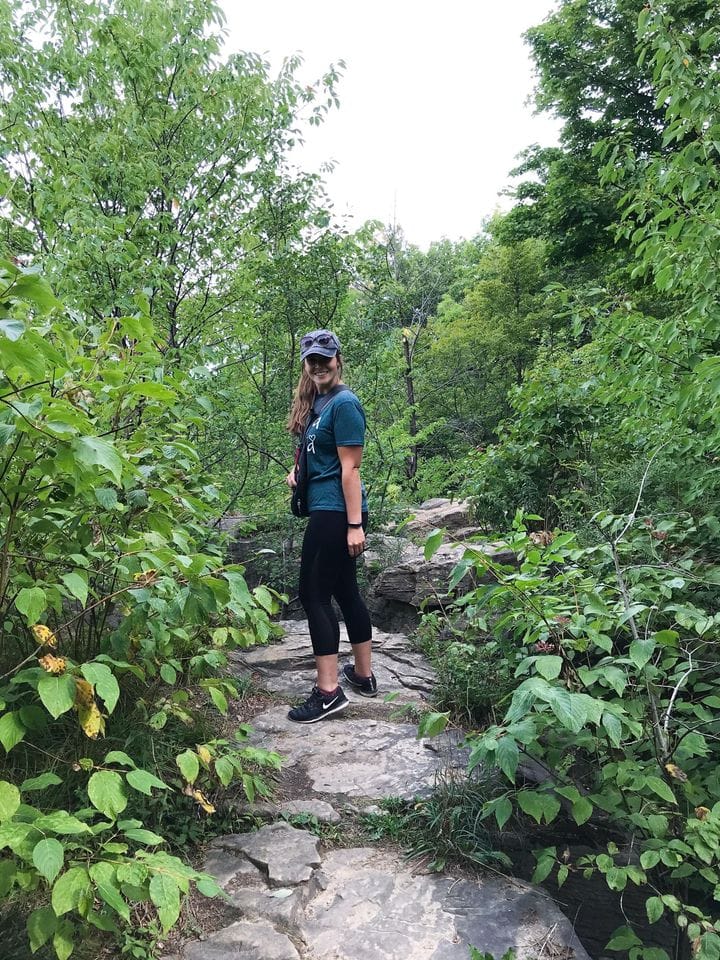 It made me appreciate Canada
I saw a question asked on social media about where we would choose to move to if we were given the option. Honestly? I would choose to stay in Canada.
I'm looking at more Canada travel, especially for 2021 (hopefully!) and even a road trip out east to visit my brother who is moving to PEI.
I can't stand being in the car, and here I am planning a roadtrip?!😂
There is so much to see though! Canada is a gigantic playground and a nature lover's paradise. If domestic travel is the only way we can travel for the next little while, I'm ok with that. I'm long overdue to travel around Canada and look forward to seeing what else my beautiful country has to offer.
It made me realize how fortunate I really was (and still am!)
I've been lucky to travel as much as I have. We took it for granted. I never imagined anything like this would've happened in our lifetime, and globally to boot. Did you?
I've had this year to reflect on our memories. I'm grateful we've been able to travel annually.
Sure, this year has put a kink in my quest to see the world, but one year without travel (probably more) won't be the end of everything.
It made me appreciate the value of life…and family
Life is short. We all know that. And we all know that life can change in an instant.
I don't want to waste my time away holed up (haha as I sit here working on my blog for endless hours every day). I want to get out and see the world. Create new memories. Gain new experiences.
It's crazy to think that in January I went to England to visit my family and my ailing Grandpa, who passed away in February. I am so grateful I was able to go when we did.
My Grandma and Grandpa in England have had more life experiences than anyone else I know. They've lived all over the world – from the USA, Nigeria, Jamaica, England, Malaysia…it's just incredible. They've travelled to more countries and have seen more things than I could ever hope to. It's so inspirational and makes me want to be just like them when I grow up.
My Grandma is like the energizer bunny. She is amazing and does more in a day than I do! I hope that one day I have the strength to write about them, and can do it justice.
Cherish your family. Life is short. Make the most of it. Leave nothing on the table.
Live for moments not things
I started feeling this way years ago, but memories last a lifetime. Material things don't. I'm so thankful to have the memories from my travels with Dana and my parents, and family overseas. These are moments to look back on, laugh about (some stories still make me cry with laughter years later), and cherish.
I can never remember anything I've bought on vacation, but I do remember what we did, sometimes with scary precision.
It made me want to take risks
When I say this, I don't mean, drink the tap water or anything, or walk down a dimly lit street at night, but more so – the world is a huge place, and I want to see as much of it as we can, while we can. Who knows when something like this (pandemic) can happen again?
Some weird shift happened to me when the world shut down. I thought – holy crap, what if we can never go anywhere again?
There are countries I want to visit, and I feel like if I don't do it sooner than later, we'll miss out on the opportunity. Are they countries that most people wouldn't want to visit? Probably. Am I going to try to get there anyway? Yes. I don't want to let fear hold me back from doing what I want to do. I don't want to regret not going to certain places because I am afraid. I may never get the opportunity to do it again.
Not make plans so far ahead
This is a big one. Flights cancelled, deposits lost….I'm used to booking a trip at least a year ahead of time, depending where it is. Now I have all of these flight credits to use in a certain amount of time, hoping we can use them, and deposits for trips I don't know if we'll get back or be able to use.
I've never been one for spontaneous travel. I like to plan ahead, even to the point of checking out restaurant menus (am I the only one???), but I think I'll have to change the way we plan and book travel now.
I saw this fun idea and may use it for the future: Plan a week off. Throw a bunch of ideas (with somewhat of a loose itinerary) into a jar and randomly pick one. Book flights and accommodation (barring availability and time of year, that is!), and just go.
Others have thrown darts at a map and have planned a trip around where the dart lands. Though if I did that we would end up somewhere in the Indian Ocean. 😂
Either way – as many ideas as I have for trips, I have to resist from making plans so far ahead. I think that way I'll avoid a whoooole ton of disappointment too (ahem – England, France, Belgium, Italy, Curacao, etc. for 2020!).
Had it not been for the pandemic, I:
Would've been stuck in the same routine
Wouldn't have developed my blog to where it is
Gone out and explored my own area
Sought out unique things to do in Niagara
Taken up outdoor hobbies
Appreciated local business more
In a year we couldn't travel, I firmly believe I became a better traveller. I'm focusing on slowing down more and appreciating each day. Supporting small business more. Getting out and exploring the lesser known things. All of these things which I plan to do on our future travels.
I connected with people around the world through my blogging groups. I learned about where they lived and made some genuine connections. I was interviewed on radio (twice!) about my blog, met with local companies to learn about their business, and pushed my own boundaries.
I'm grateful for this year, because it taught me a lot about my own strengths and weaknesses. I was able to take a step back and regain new focus. Moving forward, I am in a better place. And I'm ready for the next trip, whenever that may be!
Pin it for later!