Who doesn't love a good coffee shop?
Coffee is the lifeblood that gets us moving daily. It's a source of comfort, is the drink of choice to gather over, and travels well on our daily commutes.
While there are endless places to grab a quick coffee in Niagara, there are some really amazing independent shops to check out.
These diverse cafes and coffee shops are unique in their own way. Some fully embrace a theme, others have become a gathering hub amongst local musicians and artists, and some regularly give back to the community. Essentially, they're just awesome.
If you're looking to support a new-to-you and unique coffee shop or cafe in the area, consider visiting one of these next!
This post contains affiliate links which means I earn compensation when you book or purchase through my links at absolutely no additional cost to you. Thank you for supporting my blog!
Unique Cafes in Grimsby
Station 1 Coffeehouse
Built in an old fire station, Station 1 Coffeehouse in Grimsby offers fair trade organic coffees and teas that are locally roasted and crafted. Menu items are prepared in-house using organic and local ingredients.
What makes Station 1 stand out is that they believe supporting and growing the community is important, and every month a portion of their hot beverage sales goes towards local charities!
The inside of the building (built in 1960!) has been converted using reclaimed wood and unique pieces of furniture. Their signature piece of their service counter which dates back to the 1800s. They also feature local artists and (pre-Covid) host community events and live music.
Address: 28 Main St E, Grimsby
La Maison Rose Cafe
Are we in Grimsby? La Maison Rose is an adorable French-themed cafe & patisserie is adorned with pink and white vintage furniture as though it's right out of a boutique cafe on the streets of Paris.
If you think I'm kidding, have a look at their gallery. It's absolutely stunning.
This Parisian-style cafe offers premium teas, baked goods (hello, macarons!), and more. You couldn't ask for a more picture-perfect place to enjoy a cappuccino and a danish.
Address: 420 Winston Rd, Grimsby
Coffee Shops in Beamsville
Conversations Cafe & Bistro
At first glance, Conversations appears as a regular cozy cafe. They serve great food and drinks and have a great summer patio adorned with hanging baskets. They also have their own ice cream bar during the summer!
What you may not realize is downstairs, Conversations Cafe operates Convos Youth Zone: a youth center designed to provide mentorship and aid to at-risk teens in Lincoln. This non-profit organization is supported by all of the proceeds from Conversations and allows youth to connect in safe space and engage in interactive programming each week.
Amazing, right?
Address: 4995 King St., Beamsville
Cozy Cafes in Vineland
The Watering Can Pastry Market
Ok. This is probably my favourite place to come. I could spend hours wandering around every nook and cranny at the Watering Can. The atmosphere is so calming.
I was so excited when they made part of their flower market into a cafe space. Their Pastry Market is set up so each table is unique and no two chairs are alike, and the decor at the Watering Can is out of this world.
There's a wide array of beverages to choose from (including dairy-free options) and loads of awesome baked goods, soups, salads and paninis!
They even offer Garden Tea in a tropical oasis (restrictions permitting). It's as close to a proper English Afternoon Tea you'll get!
I challenge you to leave without a cute plant or bouquet of flowers!
Address: 3711 King St, Vineland
Neat Cafes in St Catharines
Ludology Board Game Cafe
Whether you're looking to enjoy a coffee or a local beer and a bite to eat with friends, Ludology is the place to come.
Ludology Board Game Cafe has a board game library of over 400 games! This (obviously) can be overwhelming so the staff is more than happy to give you a recommendation and maybe even teach you a new game!
It's $5 per person to play a board game, which helps keep the library up to date and helps to replace damaged games!
Pre-Covid, unique events were held, like All-You-Can-Eat cereal and cartoons on Saturday mornings, Magic Draft & Draught (beer included!), and Marauder's Murder Mystery – a costume-themed event.
Address: 52 St. Paul St. Unit 2, St.Catharines
Mahtay Cafe & Lounge
Live music, books, board games, comfy couches and a laid back vibe? What more could you ask for?
Mahtay Cafe was named after the South America tea, Yerba Mate. It symbolizes community and friendship – a fitting name for a place that draws locals together for art shows, local music, open mic nights, and many other community-based events.
There is an entire bookshelf that acts as a lending library – take one to read and bring it home with you, and drop off one you are finished with!
Serving local coffee, food, and beer, Mahtay Cafe is a comforting place to visit with friends in a cozy, welcoming atmosphere.
Did you know? Pre-Covid times, if you brought back a sticker from your recent travels, they would buy you a drink on the house if you added it to their service bar? How cool is that?
Address: 241 St Paul St, St. Catharines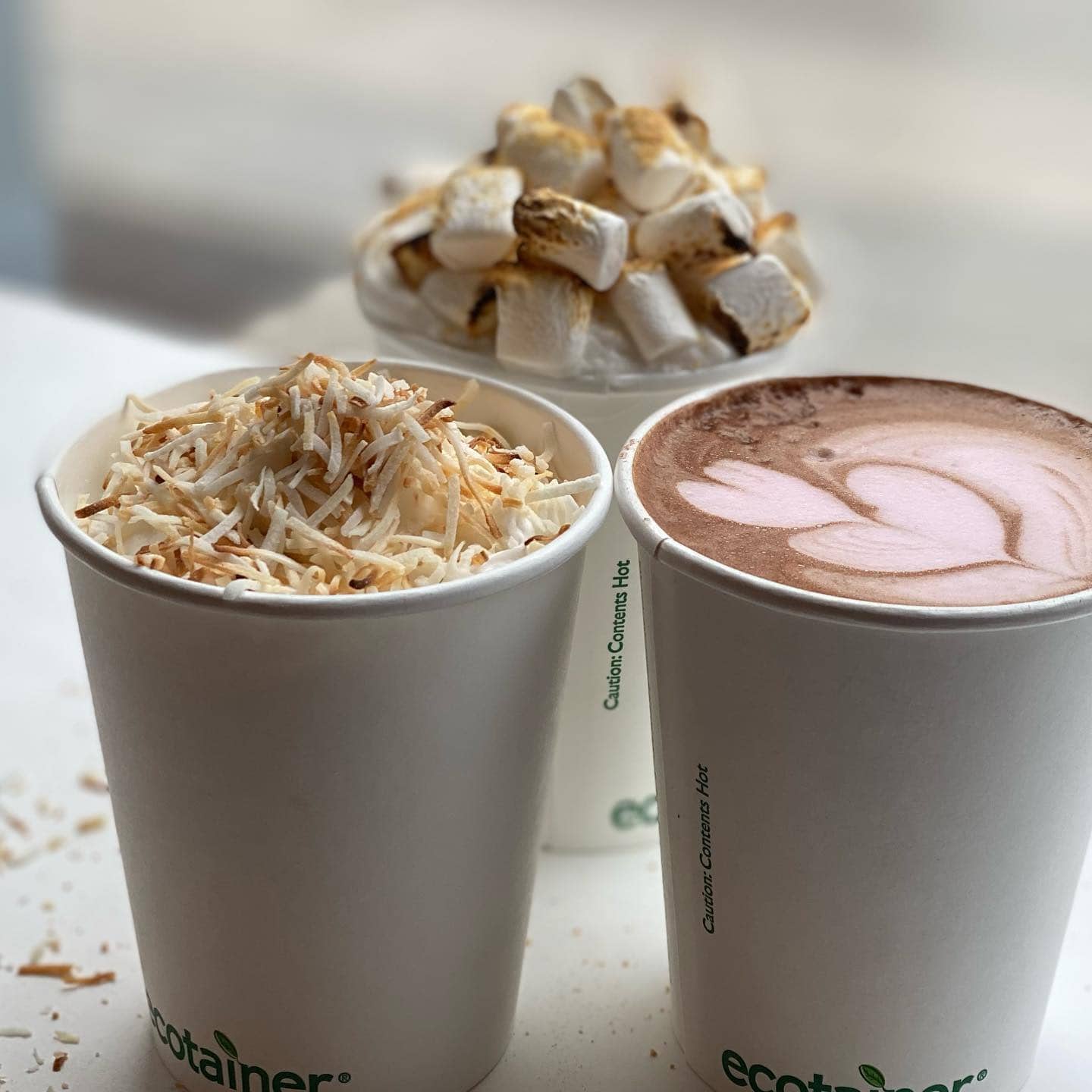 Balzac's Port Dalhousie
This Balzac's location is just one of fourteen in Ontario, pioneered by one woman in Stratford back in 1996.
Balzac's isn't just your regular cafe. Each cafe location is designed to embody the culture and historical significance of the location it's in. This means each cafe has a unique personality.
The design elements of Balzac's reflect its rich maritime history which dates back to 1826. If you haven't been to Port Dalhousie, you need to visit. It's considered one of the best preserved 19th century canal villages in Canada and is popular amongst rowers, cyclists, and families who enjoy visiting the beach, strolling the pier, and riding the incredible famous carousel at Lakeside Park for only a nickel (and was carved in 1898!).
There is also a location in Niagara-on-the-Lake!
St Catharines address: 9 Lock St
Niagara-on-the-Lake address: 223 King St
416 Coffee Co.
Indulge in a quality coffee and slow down and enjoy the moment.
That's what the owners of 416 Coffee Co. want you to do.
While their name suggests they're from Toronto with their 416 area code, they've been roasting in Niagara for two decades. Founder Carmine grew up in an Italian community in Toronto and lived in Italy for four years, all while falling in love with coffee, cappuccinos and espressos. Upon returning to Toronto, he became an espresso machine technician and slowly began to learn the industry, including the delicate art form of roasting coffee.
Over the years he experimented with various beans and their flavours, and 416 Coffee Co. in Port Dalhousie was born.
There is a diverse menu of coffee-fueled beverages, complete with latte art. So if you're looking for a quality caffeinated drink, make your way to 416 Coffee Co.
Address: 17 Lock St Unit 116, St. Catharines
Fine Grind Cafe
This eclectic café has been serving the community since 1995!
Known for having the best milkshakes and floats around (vegan ones, too!) and awesome service, Fine Grind has a comfortable lounge with some vintage seating and cool decor in a relaxed atmosphere.
There are even books and board-games to enjoy with friends.
Fine Grind Café sells their own brand of coffee, Equal Beaver, which is imported from Nicaragua. Half of the profits from each bag of coffee sold goes towards helping rural schools in Nicaragua or community projects!
Address: 37 James St, St. Catharines
The Brazen Café
This is quite possibly the only café in the area that has Burlesque shows!
Touted for having awesome coffee and an awesome ambiance, the Brazen Café serves an array of coffee, drinks, desserts, pastries, and gelato (vegan options too!).
Their gelato is even named after Burlesque dancers. 😂
I imagine this would be an incredible place to have an evening cocktail while listening to live music and seeing a Burlesque show. They even have workshops you can participate in!
They say they have the best coffee in St. Catharines. Go grab a cup and find out for yourself!
Address: 19 King St, St. Catharines
Cafes in Fonthill
Travel Cafe
Travel Talk Cafe is a one-of-a-kind cafe that is entirely travel-themed, from their decor to what they serve on their menu!
Fancy trying coffee from around the world? What better space to enjoy it in than a travel-themed cafe?
What I really love about the Travel Cafe is they're actively seeking those who work in the travel industry (and have been furloughed due to the pandemic) to offer them a job.
Address: 1501 Pelham St., Fonthill
Cozy Cafes in Niagara-on-the-Lake
The Pie Plate
This adorable bakery is in the heart of Virgil heading into Niagara-on-the-Lake. This cozy bake shop has a wrap-around porch, quaint decor and a homey feel. If you love pie and tea, this is the place to visit.
The Pie Plate supports local farmers by including their fruit on their ever-changing pastry menu. The founder behind The Pie Plate, Ruth Anne, grew up learning traditional German-Mennonite recipes, using the palm of her hand to measure out recipes.
Offering one-of-a-kind sandwiches, local produce, and local beer and wine. This isn't your typical cafe!
Address: 1516 Niagara Stone Rd, Virgil
Community-Based Cafes in Niagara Falls
Third Space Cafe
"We are a social enterprise that prioritizes people over profits." Powerful statement.
Third Space Cafe serves ethically sourced and locally produced coffee and tea drinks, food, handmade goods and artwork. They pride themselves on prioritizing social change and compassion above profits to provide a space that is welcome to everyone.
Did you know that in Canada, people with disabilities face unemployment rates twice as high as the national average?
Third Space Cafe is working to change that. They employ and train those with developmental disabilities in job skills to feel empowered and flourish in a workplace.
All while serving awesome food, delivering great service, and offering menu items affordable to everyone.
They have also given away free meals to those in need during the holidays.
Address: 4345 Queen St, Niagara Falls
Unique Cafes in Welland
The Black Sheep Lounge & Coffee Roasters
The Black Sheep Lounge practises Direct trade – a form of sourcing products by building direct relationships with farmers and processors who sell their products from around the world! Direct trade eliminates fees associated with being a certified fair trade company such as duties and surcharges.
Each year, the owners of The Black Sheep Lounge travel the world to foster relationships and friendships with farmers. This enables the cafe to source great coffee and support those who work so hard to produce it.
Their goal is to have a positive impact on their community and the world we live in, which also includes using eco-friendly packaging and reusable materials, hosting neighbourhood cleanups, and investing in green-technology products.
The Black Sheep Lounge is well known in the community and has been frequented by over 300 musicians, poets, and artists.
Address: 64 Niagara St., Welland
Did you know…
Many of these coffee shops sell their beans! Enjoy their coffee from home. All you need is a coffee grind (so it'll always be fresh!) and a French press!
Related Posts
Pin it for later!