I should've been in England this week, having cream tea daily in adorable tea rooms with my family and sipping on luxurious English tea that tastes SO much better than it does at home. Instead, I'm sitting here staring wistfully at old photos and counting down the days until we can return.
This post contains affiliate links.
The scone is an important piece of British heritage, dating back to the early 1500s, and is now prominently displayed as the showpiece of English Afternoon Tea. There have been many variations over the years, including an assortment of fruit or cheese, sweet or savoury, but by far the best one is the traditional recipe with currants.
This is one of the things I miss the most.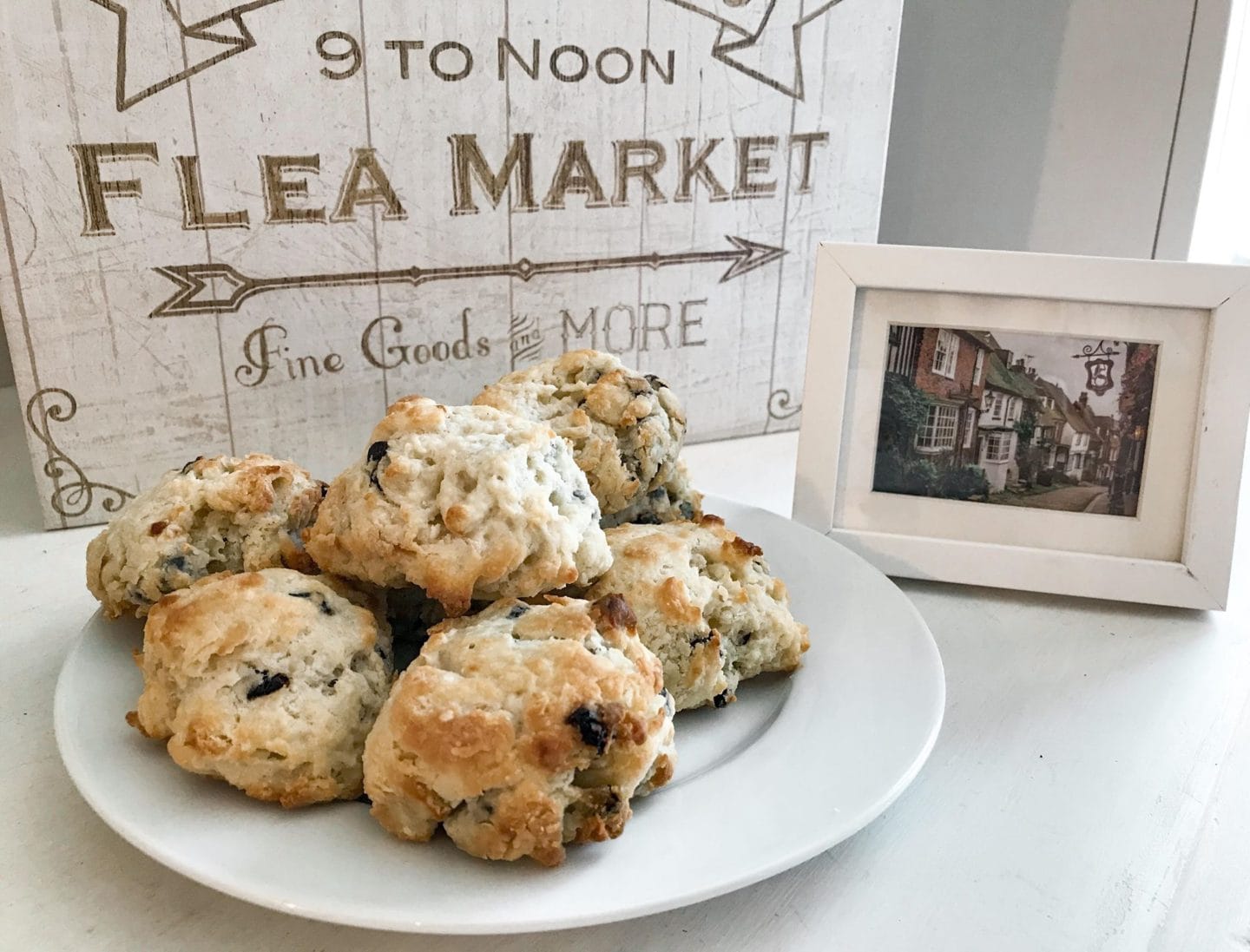 The UK do pastries really well. The scones are second to none. It just isn't fair. There is something about their perfectly baked golden outsides and soft airy middles that pairs so well with their fresh jams and clotted creams.
I'm recreating scones as best I can at home, but I will preface this by saying I am NOT a baker, but this recipe is virtually failproof and easy to make!
Thanks to my mom for sharing her recipe! If I close my eyes for long enough while eating these I can picture myself sitting in the charming tea rooms dotting the country in England.
Typically they would be made in the oven, but I am doing mine in our Ninja Foodi air fryer. Why an air fryer you may ask?😂 Well, our stove recently pooched out and with the pandemic going on, we can't get a replacement for 8 days. That being said I am determined and excited to try new things with my Foodi, so here goes nothing!
Updated! We got our new stove and I've also done these in the oven. The trick (3rd time's a charm!) is to not over-knead the dough. I actually found it better to form mine individually in to balls rather than using a cookie cutter/glass.
How to make scones the Queen would be proud of
(or something like that!)
Ingredients:
2 cups flour
3 tsp baking powder
1/2 tsp salt
2 tbs sugar
1/3 cup shortening (or cold butter)
3/4 cup milk
1/2 cup currants (optional if you want fruit scones which I highly recommend!)
Instructions:
Cut fat in to sifted dry ingredients and rub in to mixture until it resembles bread crumbs
Add currants and mix
Add milk and stir until blended
Knead and roll out to 1/2 inch thickness
Cut with cookie cutter (or upside down glass, thanks for the tip mom!)
Brush tops with milk
If using an air fryer: Line frying basket with parchment paper. Set to Air Crisp for 8 minutes at 360 degrees. Note: they won't rise as much as the oven, but they are just as tasty and you can still cut them!
If using oven: Place on baking sheet (I line mine with parchment paper) and bake for 12 minutes in a preheated oven at 450 degrees.
Makes 12 scones.
Serve with butter and jam – and – if you're feeling adventurous, clotted cream (don't knock it until you try it)! Dana has made a variation of these by adding frozen blueberries (so they stayed whole while mixing the batter) and a lemon glaze. You can add anything you like. We'll be trying cranberry and orange next!
I hope you enjoy these little scones as much as I do. I'd love to hear your feedback and if you've made them too!
ps. How do you pronounce them? Scone like "gone" or scone like "tone"?
What's one of the things you miss about England?