Looking to add some memorable places to dine at during your travels throughout Asia and Oceania?
To me, experiencing new food is just as much of an important part of the travel experience as wandering around museums or visiting historic landmarks, and it's the one time we can fully immerse ourselves in another culture. I'd consider it one of the best things about travel!
These unique destinations will fuel your wanderlust (and your hunger!) and I'm so excited to share this awesome list put together by travel bloggers of some of the most memorable places to eat.
This is the fourth post of a four-part series of favourite restaurants from around the world, put together inspire you, and more than likely make you start planning your next vacation (I've already started)!
A note on Indonesia: Indonesia is generally considered to be in Asia, although some of its islands extend into the region that is called Oceania. These interactive maps below classes Indonesia in both, so for the sake of organization I've decided to include it with Oceania.
Asia
Butt Karahi, Lahore, Pakistan
Contributed by Arabela of The Spicy Travel Girl
One of the most delicious meals I remember from my travels around the world was the famous chicken karahi I've had at Butt Karahi in Lahore, Pakistan. Karahi by itself is one of Pakistan's national dishes and my personal number one comfort food, however, Butt Karahi absolutely mastered it.
When I dined at Butt Karahi, I was at first shocked about the quantity of food we received for such a good price at one of Lahore's most popular restaurants. I was with three other people and the huge plate of chicken karahi we received for around $12 USD seemed way too much for all four of us. No wonder that so many local families choose to celebrate special occasions at Butt Karahi.
But my biggest shock was when I took my first bite. The meat was perfectly tender, the spices were on point, and the delicious gravy tasted so buttery that it felt like I picked up a piece of heaven with my soft roghni naan. Think of the perfect version of your favorite dish and multiply the deliciousness by ten and you'll get a vague idea of what it tasted like. I have a small tummy and usually don't eat a lot at once but that particular night I went beyond all means to stretch my stomach to its maximum capacity. Wasting even a single drop of that heavenly gravy would have been a crime. Barely able to move, I stumbled out of the restaurant and decided that from that day on, Butt Karahi was my absolute favorite restaurant in the world and an absolute must for every visitor to Lahore.
Karim's, New Delhi, India
Contributed by Ellis of Backpack Adventures
Delhi is a great city for food and one of the best places to try Mughal cuisine. The Mughals once ruled large parts of India. They are responsible for architectural marvels such as the Taj Mahal in Agra and the grand mosque in Delhi. The Mughals also introduced many delicious dishes into the Indian cuisine.
Karim's Hotel is one of the best restaurants in Delhi to try some traditional Mughal food. It has a long history that is tightly linked to the royal Mughals that explains the quality and authenticity of the Mughal recipes in this place.
We have to go back to the mid nineteenth century when Mohammed Aziz was a cook at the royal court of the Mughals until the end of the Mughal empire. Although Mohammed Aziz lost his job, he taught his cooking skills to his son who opened the first Karim restaurant in 1913 near Delhi's big mosque.
His mission was to serve royal food to the common man in Delhi and it has become the city's most famous culinary destination. The menu serves great kebabs and delicious curries like mutton korma and chicken jahangiri. Served with the freshest bread, a meal at Karims is always good.
Dindigul Thalappakati, Chennai, Tamil Nadu, India
Recently, the ultimate comfort food for me the world famous Indian cuisine "Biriyani" ,one-pot rice originated in Persia and later introduced by the Mughals to the Indians. There are innumerable varieties of delicacies, yet Mutton biriyani from Thalappakati is my best loved. Normally I end up having from some street side stalls, however I was pleasantly astound to catch out this restaurant in Chennai offering exquisite biriyani ever tasted.
Special mutton biriyani by Dindigul Thalappakati since 1957 is a home-grown brand from Tamil Nadu and seeks to become the "Mcdonalds or Kfc of Indian food industry" as it sets on aggrandizing in India and abroad. It has 62 outlets in India and 7 overseas (Malaysia, Singapore, Dubai, Sri Lanka, France and USA).
Traditionally, Biriyani is cooked from a special variety of aromatic short grained seeraga samba rice with chicken or mutton, eggs and potatoes, but veggies option also subsumed to satisfy the taste buds of non meat eaters. This place supposedly serves with "Raita" (yogurt with fried droplets of batter and fresh onions) and Aubergine (eggplant) curry on fresh green banana leaves as plates. I absolutely enjoyed their authentic and flavorful biriyani along with my favorite fresh sweet lime juice. Though, biriyani is fundamental, their menu comprises other Continental, Chinese and Indian main courses as well appetizers.
Dindigul Thalappakati 'an imposing vintage South-Indian grub' at Chennai and their other outlets is a must-try for all the biriyani lovers. The pricing is pocket friendly and feels your heart with contentment.
Gam's Delicacy Restaurant, Guwahati, Assam, India
A restaurant beautifully furnished in bamboo and decorated with Gamusa and Jaapi. Gam's delicacy presents the ethnic ambience inside a bustling city. Among, other restaurants in the city of Guwahati in Assam, this restaurant is easily accessible. Assam is a home to various species of bamboo and is also famous for its Bell Metal utensils. A combination of both with other decorations, it gives an ethnical look reflecting the food habit of the Assamese Community. What stands out the most is the price; affordable and the right amount of food quantity. Cordial staff, experienced chefs and the variety of ethnical dishes in the menu, Gam's Delicacy is an ideal place for a perfect lunch or dinner.
My favourite dish is the Assamese Thali, which include steamed Joha rice, mati mahor dali (Black Lentil), green leafy vegetables, khaar (veg alkali), aloo pitika (mashed potato), Khorisa (Bamboo Shoot pickle) and Bhoot Jolokia (King Chilly). So far, a vegetarian dish, adding fish, chicken or pork to complete its ethnic flavour, the ingredients will differ as follows-
Fish Thali: Joha Rice, Yellow Dal, Green Veg, Herbs Fry Fish Curry, Fish with Herbs, Fish Boil, Fish Fry, Patot Diya fish, Fish Murighanto, Fish Intestine Fry with Rice, Dry Fish Chutney, Aloo Pitika, Green Salad, Pickle, Mint Chutney, Lentil Chutney, Kheer.
Pork Thali: Joha Rice, Yellow Dal, Green Veg, Herbs Fry Pork Curry, Pork With Black Dal, Pork Boil,Pork Patot Diya, Pork Khorika, Aloo Pitika, Green Salad, Pickle, Mint Chutney, Lentil Chutney, Kheer.
Chicken thali: Joha Rice, Yellow Dal, Green Veg, Herbs Fry Chicken Curry, Chicken with Rice Flour, Chicken Boil, Chicken Patot Diya, Chicken Khorika, Aloo Pitika, Green Salad, Pickle, Mint Chutney, Lentil Chutney, Kheer.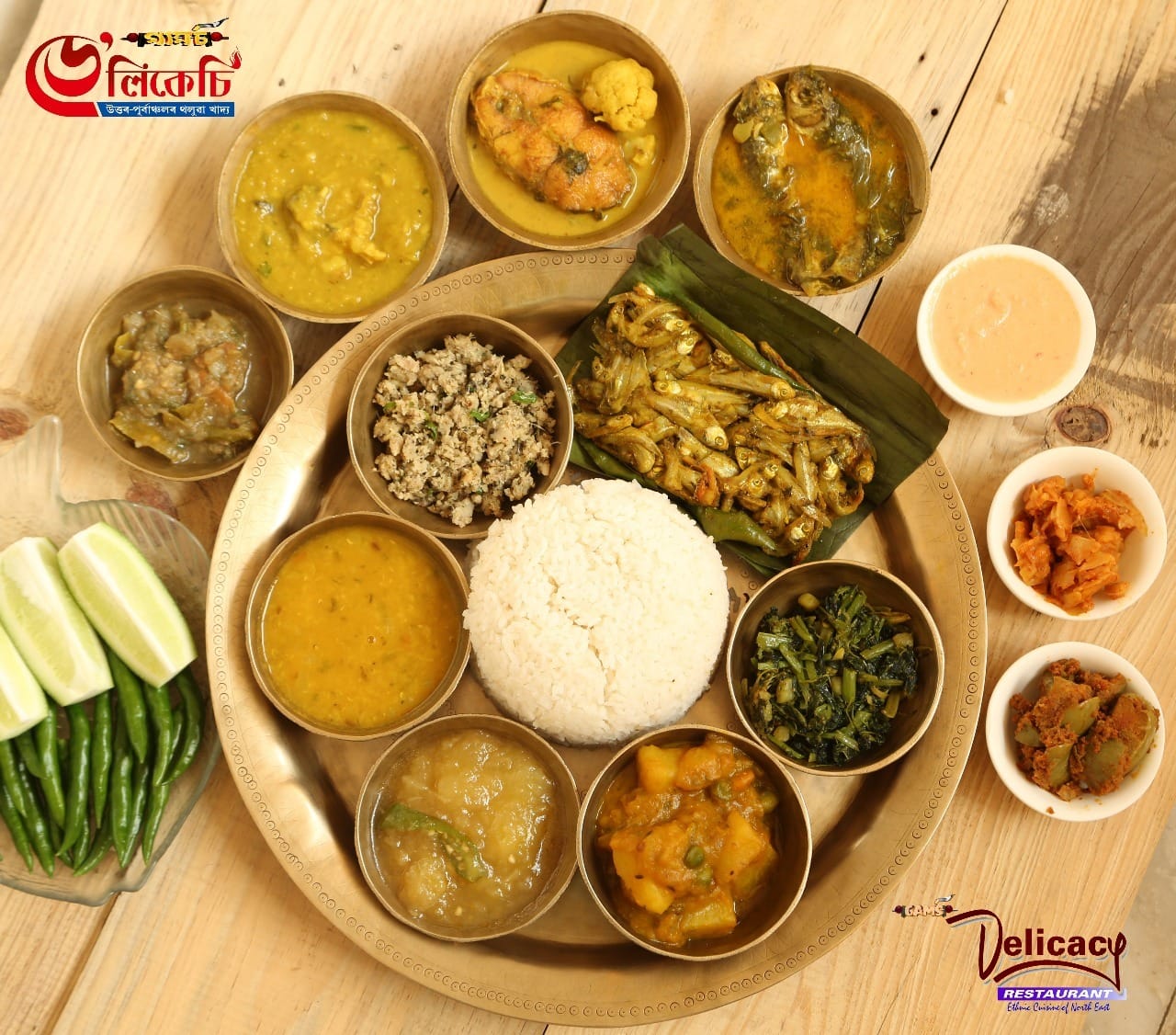 Sam's One Tree Cafe, Kathmandu, Nepal
Contributed by Patri of Spanish Nomad
If you visit Kathmandu you will surely stroll along Durbar Marg, a tourist hot spot full of hotels, shops and bars. You will notice many trendy lounges with beautiful outdoor sitting areas, so it's tough to pick the perfect spot. Worry not, let me help you out. Choose Sam's One Tree Cafe. They have a wide range of Nepalese and continental dishes, and it is open all day. The cafe is a two-story space built around a giant tree that provides a charming natural canopy to the first-floor outdoor area. Plants and a beautiful mural complement this forest-like design becoming a refreshing oasis in the middle of the busy city. But that's not the only thing that makes this cafe so special.
Sam's One Tree Cafe stands out because it is an enterprise committed to helping the most vulnerable members of their community. They only hire waiters and waitresses who have a hearing impairment. It is obvious that the cafe's inclusion policy for persons with disabilities goes beyond complying with the national legislation quota of 5%. They shift the traditional restaurant etiquette and make everyone else adapt to the hearing-impaired collective rather than the other way round. Even the rest of the restaurant staff have to take sign language lessons to be able to communicate with the waiting staff. As a customer, you will receive the menu and information regarding dynamics for order-taking, which consists of writing your order on a piece of paper given to you.
Sam's One Tree Cafe demonstrates inclusion and diversity are achievable if you have willingness and determination. A lesson we all can learn from.
I strongly believe that enterprises involved in social causes have to be acknowledged and rewarded for their commitment to making the world a little better. That's why you must stop by at Sam's One Tree Cafe when you are in Kathmandu.
Shwe Pyi Moe, Mandalay, Myanmar
This may sound strange, but my most enjoyable meal across all of my travels cost me less than £2!
In Mandalay, the heart of Myanmar you will find a variety of restaurants on TripAdvisor – many of which are well worth visiting. But if you are looking for some exquisite, local food served in a novel environment surrounded by other locals, then Shwe Pyi Moe is the place for you.
I initially heard about it from a fellow backpacker who had recently moved to Mandalay. I have no idea how he stumbled across it, but I'm very thankful that he did! This largely unknown restaurant is located on the corner of two streets and hosts a huge outdoor seating area, which is perfect for a light lunch!
Despite its size, the restaurant can get pretty packed, and to our surprise we were the only backpackers around! Service is quick and friendly, though some staff speak better English than others.
The menus aren't translated in English so a combination of guesswork, Googling and asking the very helpful staff helped us make our decision.
I would highly recommend the Nan Gyi Thohk – a moderately spicy chicken dish made with thick, round rice noodles (the Burmese equivalent of spaghetti). With all meals you also get a bowl of the soup of the day and a flask of Burmese tea (something you have to try while in Myanmar)!
This restaurant was so good that I returned twice more over the following days to explore the menu further – all just as tasty and just as cheap.
Though there may be Michelin star restaurants elsewhere around the world, the authenticity of this restaurant, the quality of food and the surprise factor really makes Shwe Pyi Moe a stand out restaurant!
5.8 Undersea Restaurant, Maldives
Contributed by Make Them All Trips of a Lifetime
One of the most spectacular and unique restaurants we have ever had the pleasure of experiencing was in the Maldives.
We spent seven heavenly nights in an over-water pool bungalow at Hurawalhi Maldives, a luxury resort with breathtaking views, phenomenal service and an outlandish variety of top-tier food.
Using our anniversary as an excuse, we lunched at the 5.8 Undersea Restaurant. Aptly named, it is the largest, all-glass underwater restaurant, where you dine 5.8 meters below the surface.
To reach the restaurant, we walked along a long, curved bridge, shaded by solar panels, over crystal-clear waters to the main entrance. The concierge greeted us with a delicious welcome cocktail and then entertained us with fun facts as we made our descent. The circular staircase was adorned with windows, allowing us to measure how quickly we were descending.
If you're sensitive to it, you can feel the pressure of being submerged underwater. Removing our shoes, we entered the seating area and were overwhelmed. Eight simple tables lined the sides of a huge glass dome. The room felt warm and open, surrounded by colourful reef and sea life.
We had the unique opportunity to test out a new menu, created by the restaurant's Michelin Star chef, each course served in a creative underwater theme. Words cannot describe the quality of these dishes, quite simply, they were delicious works of art.
After an outstanding deconstructed mango cheesecake dessert, we were surprised with a special anniversary platter of macaroons, chocolates and crème brulé. Stuffed to the brim, we devoured every last morsel, leaving nothing to waste. If you ever have the opportunity, we suggest lunch over dinner. The lighting effects of the night-time view is beautiful, but it is difficult to see what swims beyond.
The Cliff, Koh Lanta, Thailand
Contributed by Harshi and Aman of Trot.World
There is no better way to immerse yourself in a new place and it's culture than through food. Add to scrumptious meals a picturesque setting to further enhance your experience.
One such restaurant we love is situated on the Thai island of Koh Lanta. Nestled in Crown Lanta Resort & Spa is this breezy open-air restaurant overlooking the endless Andaman sea & silhouettes of the neighboring Thai islands.
Their weekly Seafood BBQ Buffets are to die for along with the massive selection of Thai and international cuisine laid out beautifully for you to indulge in. The cherry on top is getting to experience traditional Thai dancing and sparkly fire show along with your dinner. To further end the night on a high note, you should head down a flight of stairs adjacent to the restaurant that leads to the best beachside bar called "Reggae Bar" for front row seats to the Andaman sea in your very own private cabanas.
We love this place for it's more than just "going to a restaurant" and rather a complete experience. Nothing feels like heaven than devouring a hearty meal with sea breeze gently blowing upon you and a touch of local elements that keep you completely immersed in the culture.
Never Ending Summer, Bangkok, Thailand
Thai cuisine is famous the world over and so any trip to Bangkok will
inevitably involve immersing yourself into its many street stalls and
small family run restaurants offering traditional dishes. Whilst the
quality and range of food on offer will satisfy even the most ardent of
critics food lovers should allow sufficient time in this wonderful city
to visit 'Never Ending Summer'.
Boasting a fabulous location in a former warehouse on the western bank
of the Chao Phraya River in the heart of Bangkok the restaurant is
easily accessible via a cross river ferry from Si Phaya and amble along
the waterfront.
Whether you choose to sit inside with the splendid mix of industry and
lush foliage together with air conditioned comfort or on the riverside
terrace offering iconic views across the river you will not be
disappointed.
The menu provides diners with modern takes on traditional Thai
favourites as well as unique dishes inspired by memo. We particularly
enjoyed the Roasted Duck Red Curry and perfectly spiced and seasoned
Thai beef.
Ideal for a social evening of sharing plates with family or friends the
atmosphere is only enhanced by the soothing live background music. Yes,
prices are more expensive than street stalls but an evening at Never
Ending Summer will provide unforgettable memories of your time in
Bangkok.
Woodlands Restaurant, Penang Malaysia
Contributed by Rai of A Rai of Light
There is a wide variety of choice when craving some decent vegetarian food on the tropical island of Penang. Having travelled in Asia for a while, I was looking for something other than noodles and rice when I stumbled across Woodlands Restaurant in Georgetown.
This casual place specialises in authentic South Indian cuisine at an affordable price that is particularly popular with families. I opted for the mushroom panang curry and the dish arrived freshly made and full of flavour shortly after, in generous portions, despite the restaurant being full with dinner crowds.
I particularly enjoyed the well-balanced combination of coconut milk, peanut butter, and curry paste. Mushroom curry is a dish I've never tried before and the rich, creamy, and spicy flavour left me wanting more. Woodlands Vegetarian Restaurant provides a real taste of India all the way in Penang.
Highly recommended if you're interested in new flavours and experiences that is sure to leave you with a smile on your face long after the meal is over.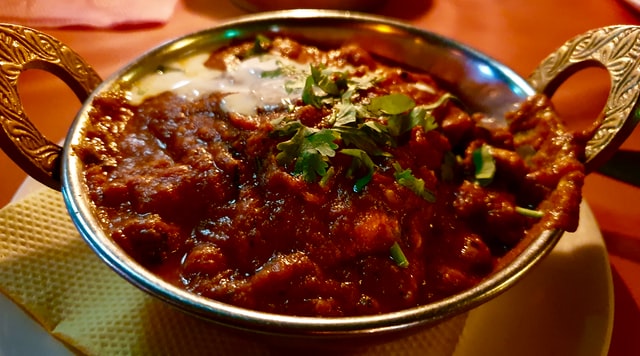 Aqua, Hong Kong, China
Contributed by Sally of Our3kidsvtheworld
A visit to Hong Kong isn't complete without a visit to one of their famous sky high restaurants, I have had the opportunity to dine at Aqua Hong Kong on two occasions and both experiences lived up to the world renown hype.
Aqua Hong Kong is located on the 29th floor of the One Peking building at 1 Peking Rd, Kowloon. The restaurant is split over two levels with the top level consisting of intimate cocktail bar. You then steps down to the restaurant located a few steps below. The restaurant has two storey high glass windows spanning the length of both floors providing uninterrupted views of the Hong Kong skyline.
Tables booked for 7.30pm are sort after as this will provide you with prime seats for the evening light show projected across Victoria Harbour, Aqua provides the best seat in the house from the 29th floor vantage point.
You can choose from either of Aqua's two fine dining kitchens, Aqua Roma with an Italian styled menu or Aqua Tokyo, a Japanese inspired menu. Both are exquisite with an innovative, contemporary menu.
Perfect for any special occasion you can expect low-lit, romantic and cozy atmosphere, its definitely an eating experience you won't forget.
Aqua Hong Kong is at the top end of dining experiences so make sure you take your credit card, spoil yourself its definitely worth it.
Vegetarian Lifestyle, Shanghai, China
Contributed by Alysa of Voyaging Herbavore
Vegetarian Lifestyle is a fantastic little gem hidden in the heart of Shanghai, China. The restaurant features an entirely vegetarian menu, and although not marked, many of the options are vegan due to the lack of dairy and eggs used in Chinese cuisine.
There's no shortage of incredible appetizers, delicious mains, and fruity desserts that can't be missed. One of the best aspects are the endless dumpling options where you'll have upwards of 20 dumplings for as little as a few dollars. Although soy sauce is delicious, I recommend asking for chili oil and vinegar, a bit strange at first, but easily one of the most amazing dips that you'll ever have.
Be sure to download Google Translate and make sure you have your languages downloaded for offline use. The staff doesn't speak much if any English, but they're absolutely lovely. When I went, a waitress gifted me with a free bowl as a souvenir. Although Google Translate isn't perfect, it's enough to get by and with a few smiles, you'll have a delicious meal on your table in no time! There's no shortage of incredible vegan options in China, so be sure to check out the other great restaurants!
Liu Shangong, Taipei, Taiwan
Liu Shandong Beef Noodles is one of the most famous beef noodle spots in Taipei. This beef noodle restaurant has been around since the 1950s and it is cash only. It is located near Dongmen station, and is really easily accessible. The location can be hard to recognize as it is tucked away in a small alley, I had to compare google images while walking to know I was in the right spot.
One thing to note is it is definitely a fast paced restaurant. Order, eat up all of the delicious meat, noodles and broth and go! It can get busy, so I would recommend going at off peak hours and really the dish can be eaten for any meal. This is one of those restaurants that is packed with locals, so you know it is the best.
The interior isn't decorated with beautiful decor, it is purely a beef noodle restaurant, and you won't be disappointed! I stopped here during my layover in Taipei, and it was my favourite restaurant.
If you are looking for an authentic Taipei experience, you must make a stop here!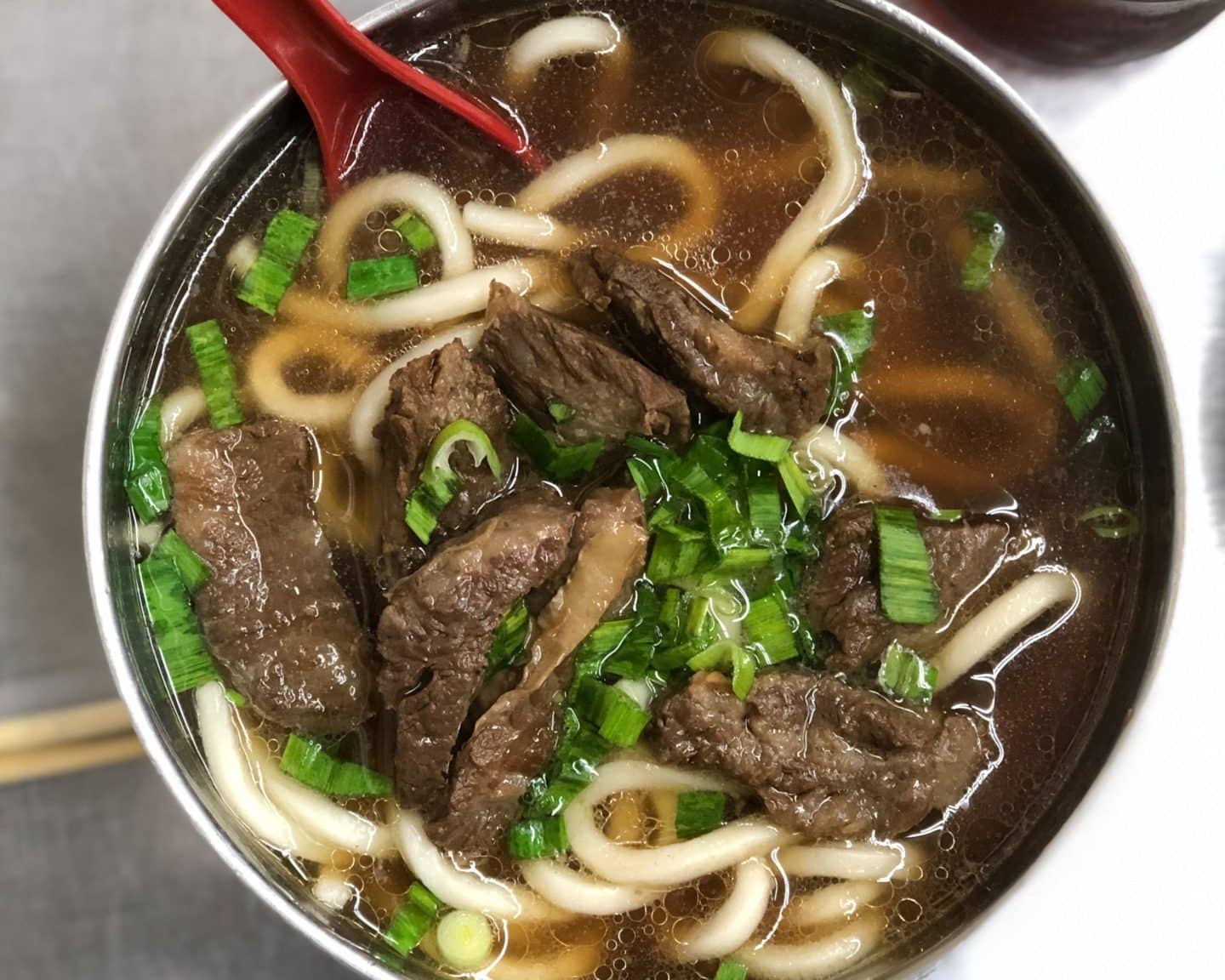 DiVino, Taipei, Taiwan
Contributed by Katy of Photospired
DiVino is a small Italian bistro in the narrow streets of Daan, Taipei, where local Taiwanese eateries and the night market dominate the food landscape. Being an expat in Taipei, I have pretty much eaten my way through the city's many restaurants and cafes, but DiVino is still my top choice for a date night or a good time with friends. What's so special about this Italian restaurant in Taipei, you ask? I'd have to say it's the level of service and experience you can expect from the humble kitchen of chef Enrico.
Enrico hails from Italy and had worked at award-winning, Michelin-starred restaurants before opening his very own in Taipei. It's incredible especially if you remember that he is very young looking! During a given dinner service, the cozily lit restaurant is full of customers. I don't mind the wait, as we often are served with a glass of wine while we wait. On my recommendation, a visiting friend from out of town once called up the restaurant in the afternoon and asked if there was an available seat in the evening. There wasn't, but Enrico opened the restaurant early just to serve him!
Walls panelled with wooden wine boxes and exposed bricks complete the décor, with large windows facing the outside streets. You can tell what Divino is going for—it's about creating a decadent yet homey dining experience as you would expect in an Italian home kitchen.
The restaurant's small team weaves through the tables, and Enrico himself is always full of energy, whipping up amazing dishes or chatting with customers over some wine. You could tell the passion the chef puts into the dishes, many of them family style and perfect for sharing. My favourites have been the lamb rib eye, pork loin rolled in pancetta, and of course the thick pappardelle pasta!
Both with friends and on dates, I have loved DiVino and cannot recommend it enough for an ultimate dining experience in Taipei.
Addiction Aquatic Development, Taipei, Taiwan
Contributed by Mariza from Hoponworld
Tucked away in a lesser-explored neighborhood of Taipei and surrounded by apartment buildings and traditional markets, you'll find one of the city's best seafood eateries – Addiction Aquatic Development.
AAD is a massive seafood warehouse of sorts and the perfect spot to satisfy your seafood craving! It's home to a gourmet deli and several fancy standing seafood and sushi bars. But that's not all; there's also a hot pot restaurant, a charcoal grill house, and an elegant seafood restaurant perfect for an intimate dining experience. Of course, if you feel like splurging, don't miss the live aquamarine where you can buy the freshest fish and crab imaginable!
Plan to spend at least a few hours here as there are lots to try! From sushi and sashimi to abalone, scallops, giant crabs, and everything in between! They also have a fantastic selection of imported beers, boozy sangria, and delicious fresh fruit smoothies.
Make sure to bring cash, as cards aren't accepted. Since it's one of the more unique things to do in Taipei, expect to pay top dollar. If you're traveling on a shoestring, grab some snacks at the deli to enjoy alfresco!
Milan Nataraj, Shibuya, Tokyo, Japan
A famous tourist spot for decades which has been featured in many Hollywood movies, Shibuya Tokyo is home to the amazing pedestrian crosswalk. Just a few minutes by foot, located opposite the famous Starbucks crosswalk café is Milan Nataraj. It is one of the very few vegetarian Indian restaurants in Tokyo and is definitely a must on your visit.
The kitchen is led by a chef from India, who brings so much experience and mouth-watering tastes and spice to everything he makes.
The restaurant has gained in popularity due to its view of the crosswalk. It is imperative to call ahead and book early, asking for one of the 2 tables by the window which overlooks the city. Amazing food with an amazing view!
The staff are very friendly and fluent in English, with menus printed in various languages you will be sure to feel welcome. Due to the large number of tourists who dine, the staff will accommodate allergies and have a number of allergen free items, especially dairy free. Their naan bread, with a portion of tofu spinach is full of so many incredible flavours, that you will forget you're in Tokyo!
Oceania
Di Mare, Bali, Indonesia
Contributed by Vrushali of Mumbaikar Mom
Very few people who visit Bali know of the restaurant – Di Mare. The main reason for that is that this restaurant is located far away from most tourist spots in Bali in the Ungasan area.
Di Mare is actually the in-house restaurant of the luxury resort – Karma Kandara. However, it is open to even those not staying at Karma Kandara.
What's special about this restaurant is the mind-blowing view that it offers. The restaurant is located high up on a cliff-top overlooking the Indian Ocean. The magnificent views offered by this restaurant will immediately leave you impressed. However, in order to enjoy the views, you must visit the place before sunset.
In terms of food, the restaurant serves international cuisine. Although the menu is not extensive, no matter where you come from, you will find something on the menu that will appeal to you. The duck breast and the rib eye are particularly impressive. The chef is also happy to customise the food to suit your dietary requirements.
The best way of enjoying your time at this restaurant is by opting for their 2-course or 3-course meals. While the food here is definitely quite expensive, the quality of cooking, the customer-friendly service and the unparalleled view of the Indian Ocean make it completely worth it.
Mother, Fremantle, Australia
Located in the happening town of Fremantle, Mother is the epitome of healthy eating and offers a variety of vegan options to tantalize your taste buds. Previously known as Raw Kitchen, Mother is set in an original 1920s warehouse and this restaurant offers exciting, brightly-coloured dishes packed with flavour.
I know – when people think "vegan" they literally think of sticks and berries and bland flavour and their eyes go as wide as saucers from fear. I'm not a vegan but I do appreciate good, quality food, and these dishes won't leave you missing the meat.
Everything on the menu is 100% plant-based, dairy-free, and refined sugar free. Many options are also gluten-free. From appetizers to dessert, smoothies to wine, cocktails, beer and cider, Mother will leave you feeling like you've just extended your life by a few years! There's even an on-site yoga studio and kombucha microbrewery!
There's a wide range of offerings, from mushroom pate to cauliflower steaks, hibiscus "mince" tacos and a vegan cheeseboard, these menu items are surely unlike anything you've seen or tasted before.
It's a great spot to run in to grab some takeaway treats, gifts, or sustainable beauty products. Enjoy the atmosphere in their chic dining area and indulge yourself – guilt-free!
Sounds of Silence, Uluru, Australia
Contributed by Jessica Pascoe
The most special dining experience I've had in Australia has to be without doubt the iconic Sounds of Silence experience in the Uluru-Kata-Tjuta National Park.
This experience is so well-known that it's been entered into the Australian Tourism Hall of Fame. The Sounds of Silence experience starts at $229 per person and begins with a complimentary bus transfer from your accommodation to a dedicated viewing platform with fantastic photographic views over Uluru.
You're seated at a communal table, so it's great way to meet lots of fellow tourists. You'll be served sparkling wine and canapes served as the sun sets, before a 3-course bush-inspired buffet dinner including unique dishes such as crocodile, kangaroo, barramundi and quandong.
There's unlimited Australian beer and wine served, with soft drinks available. After dinner, there is a didgeridoo performance before all the lights are switched off and the resident star talker takes you on a journey throughout the southern night sky. Due to the location, the stars are exceptionally clear and you'll be stunned by the beauty of the night sky.
You can combine the Sounds of Silence with a visit to the Field of Light art installation, like we did as part of our Northern Territory road trip, or enjoy a camel or helicopter ride prior to starting your dining experience. It can get quite chilly as the sun sets at Uluru, so make sure you dress sensibly with lots of layers and closed toe shoes.
Felons Brewing Co., Brisbane, Australia
Nestled underneath the story bridge on the Brisbane River is Felons Brewing Co., one of the largest and quite possibly the best restaurant on the river.
Although many restaurants line the Howard Smith Wharves, Felons is the one that stands out as it's a big warehouse turned brewery that takes up most of the space under the bridge.
Entering the brewery, you're greeted with the many beer vats that house the locally brewed and delicious Felons beer. One thing that is special about the beers is that on each holiday they create a beer for the occasion, for example, delicious pink beer for Valentine's Day!
Not only is Felons known for their handcrafted brews, but the pizzas are also made right before your eyes. You can watch the Chef toss the pizza dough and slide it into the woodfired oven through the looking glass!
With endless options of seating, you can choose to sit at the benches right on the river, enjoy the shade under an umbrella on the lawn, or even appreciate the garden patio at the back of the restaurant.
The best time to visit Felons is during the afternoon and into the evening. Sip on a beer and watch the sun go down over the Brisbane skyline while enjoying the live music on a Saturday afternoon.
Himalayan Cafe, Brisbane, Australia
In the trendy suburb of New Farm in Brisbane, Australia you will find a plethora of incredible restaurants. However there is one that stands out above the rest, as it is one that keeps me coming back every time I visit Australia.
This would be the Himalayan Cafe and the experience of eating here is something I look forward to the whole flight across the pond. From the simple exterior of this restaurant you are faced with colourful prayer flags flapping in the sultry breeze. Inside, there is traditional Himalayan decor featuring carved wood panels, columns and brightly patterned textiles. The ambience makes you feel like you've travelled another world.
If you're lucky enough to get a table in the back, you will be eating at low tables while sitting on cushions on the floor. A very authentic way of enjoying your meal time.
But obviously it's the delicious food that makes me hunger for this restaurant. Serving traditional Nepalese and Tibetan food with homemade recipes and fresh ingredients, the flavours are all incredibly unique.
I highly recommend sharing the deliciously chewy Himalayan bread with traditional dipping sauce, made with coriander, mint and coconut cream as a starter. My favourite mains are the pesto chicken, which is a sour cream basil sauce and the Nepaya Khayala, which is a tomato coconut based sauce with flavourful spices and tender chicken pieces. Both of these are served with fragrant jasmine rice and with all dishes on the menu, you can request your level of spice.
There are many other meat dishes as well as a large variety of vegetarian plates for all to enjoy. As with most restaurants in Australia, you can bring your own wine too.
If you are visiting Brisbane, a dinner at Himalayan Cafe will be a special experience.
Charcoal Lane, Melbourne, Australia
Contributed by Emma of Small Footprints, Big Adventure
Charcoal Lane is a unique and amazing restaurant which features native Australian meats, fruits, vegetables and herbs. It's also one of many social enterprise restaurants in Melbourne, conducting training to young Aboriginal people in need of a fresh start. Trainees are able to gain certification in the hospitality industry as well as guidance and mentoring.
The food is incredible and all dietary requirements are catered for at Charcoal Lane. I'm vegan and enjoyed a delicious meal and dessert, while my fellow diners raved about their fish and meat dishes. Their menu is seasonal and includes options to suit all diners, with a set menu provided for groups of eight or more people. The dishes aren't cheap but they're worth every cent. The food is full of flavour and love, and as the profits help disadvantaged Australian youth, it feels doubly great to eat there.
Charcoal Lane is a popular place and you definitely need to book ahead. Prince Harry and Meghan Markle visited the restaurant in 2018 to see firsthand the great work they're doing, and they continually receive praise for their food and their mission. I highly recommend the experience at least once if you're in Melbourne! You won't be disappointed.
Final Thoughts
You made it to the end of this awesome post of some of the most memorable restaurants in Asia and Oceania. Was there one on here you'd like to try?
I can't wait to explore some parts of Asia – it's high on my list of places to go! Have you been anywhere in these regions that you think is worthy of being on this list? I'd love to know – leave me a comment below and stay tuned for part 4 of this travel series of the favourite restaurants around the world!
In case you missed it, check out this list of 16 of the Best Restaurants in the Americas, 23 of the Most Awesome Restaurants in Europe and Remarkable Restaurants in Africa and the Middle East!
Pin it for later!