One of the best things about travel for me is the food. Experiencing local cuisine is a great way to immerse yourself and learn about a country's tradition and culture. Even though we aren't able to physically travel abroad to eat some amazing dishes, I am lucky here in the Niagara Region of Ontario to have such an abundance of authentic restaurants near me, right at my doorstep.
Over the years we've been fortunate to have some great meals in the Niagara area, Hamilton, and Toronto. I love these places so much that I felt it was necessary to share the knowledge to as many people so they can enjoy it too!
So – what are the best restaurants in and around the Niagara Region? Here's a list of my must-try top authentic restaurants that will help you travel the world (through food) when we can't travel!
Germany – The Black Forest Inn, Hamilton
If you're craving authentic, hearty German food, look no further than the Black Forest Inn. From plate-sized schnitzels, red cabbage and späetzle, you will leave here feeling like you won't need to eat for the next week!
I absolutely love German food – it's so comforting and eating here will make you feel like you're sitting at an inn tucked away in the mountains of Germany.
What are some popular dishes?
I've been here many times and have yet to find something I don't like. GO HUNGRY!
For starters, the Bavarian pretzels and goulash are popular (and for good reason!), and they pair well with the German beer they have on tap!
All of their schnitzels are good – my favourite is the Cordon Bleu, stuffed with Blackforest ham and emmenthal cheese. The rouladen are also popular items – beef rolls stuffed with bacon, onions, carrots and pickle with dijon mustard.
We've barely ever made it to dessert (and I have to pack up half my dinner 😂), so I can't advise much to that point. Let me know if you try their desserts!
Where can I find The Blackforest Inn?
Phone: 905-528-3538
Website: https://blackforestinn.ca/
How can I order?
Currently open for delivery and takeout Wednesday-Sunday, 12:00 – 8:00 pm. For take out, call to order. Deliveries can be arranged through Uber Eats and Skip the Dishes.
Patio dining and in-restaurant dining has resumed!
France – Paris Crepes, Niagara Falls
This is definitely a must-try restaurant in Niagara Falls. This was a hidden gem for us and totally unexpected. As soon as you walk inside it feels like you've walked into a Parisian cafe.
The owners are incredible friendly and make you feel right at home.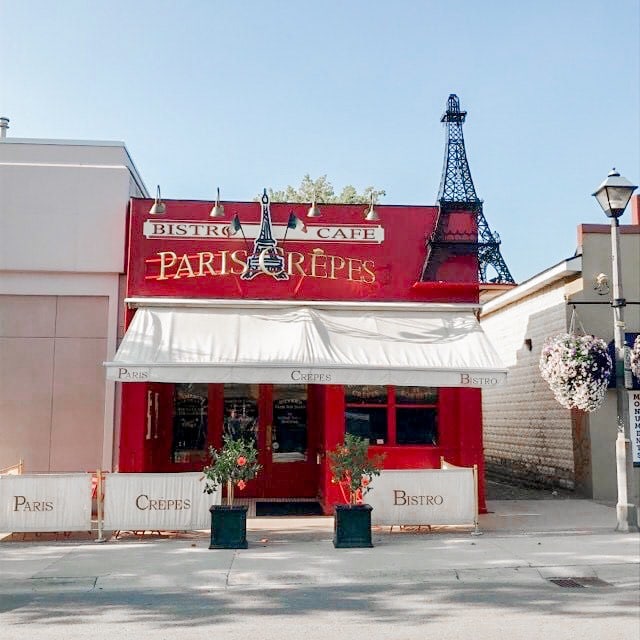 What are some popular dishes?
While open during "normal times" – their galettes are fabulous. Ranging from savoury to sweet, my favourites include the Papillon – egg, cheese, apple compote and ham, and the Rocamadour – goat cheese, walnut and honey.
I highly recommend their sharing platters of meats and cheese too – and if you're a group of four I would order one of each!
Fun fact: their honey is known as "rooftop honey" because they keep bees here too!
Where can I find Paris Crepes?
Phone: 289-296-4218
Website: https://www.pariscrepescafe.com/
p.s. this is close to all the attractions in Niagara Falls – see my best 12 free things to do in the Falls here!
Current situation
Patio dining and indoor dining available.
Italy – Casa Toscana, Grimsby
Before we went to Italy in 2017, I was never a fan of Italian food. Growing up, I wasn't one to eat a plate of pasta or even choose that as a main dish at a restaurant. When I was a kid, my parents used to make me sit at the dinner table and wouldn't let me leave until I finished my plate of spaghetti (and to this day, at 31 years old, I still can't stand spaghetti)!
My feelings toward pasta changed after our trip. I fell in love with the fresh ingredients, hand-made pasta and unbelievably tasty simple ingredients – something we struggle with finding at home. The only problem is, I've now been considered a snoot for only wanting to eat Italian food in Italy.
This is why we are thrilled to have an exceptional traditional Italian restaurant right in our own backyard in Grimsby – Casa Toscana – an authentic restaurant (truly!) where the pasta is made fresh in-house daily with imported ingredients from Italy. The owner, Luca, is partnered with Toni in Italy, establishing that link between Tuscany and Grimsby.
I recently chatted with the owner, Luca, about how his pasta is some of the most popular in the area. He said it's all about the ingredients. He told me the flour used to make his pasta dishes is from a special region called Altamura, Puglia. The semolina flour from here is famous for bread and pasta.
At Casa Toscana, pastas are made without egg (hey, vegans!) – so it's surprising a simple combination of just flour and water can make such an amazing dish.
We ordered the gnocchi al burro e salvia (butter and sage) and the pasta al ragu based on Luca's recommendations. It's surprising how the few ingredients involved in these dishes produce such an incredible taste!
What are some popular dishes?
Cacio y pepe (cheese and pepper – also one of my favourites!), and their pasta al ragu. Thursday is famous for its Gnocchi orders – but right now it's available every day on their takeout menu!
Try the Italian cheese board – it's incredible – and if you see bruschetta with sardines from Amalfi – you absolutely must order it!
Where can I find Casa Toscana?
Phone: 289-235-8888
Website: https://www.casatoscana.ca/
Current situation
Patio and indoor dining available.
Want to cook at home?
You can! Casa Toscana also sells some of these popular ingredients, including pasta, cheese, meat, and high quality imported olive oil and balsamic vinegar. Once I started using these oils and vinegars in my cooking I can't go back to the regular store bought stuff. There is definitely something to be said about quality ingredients.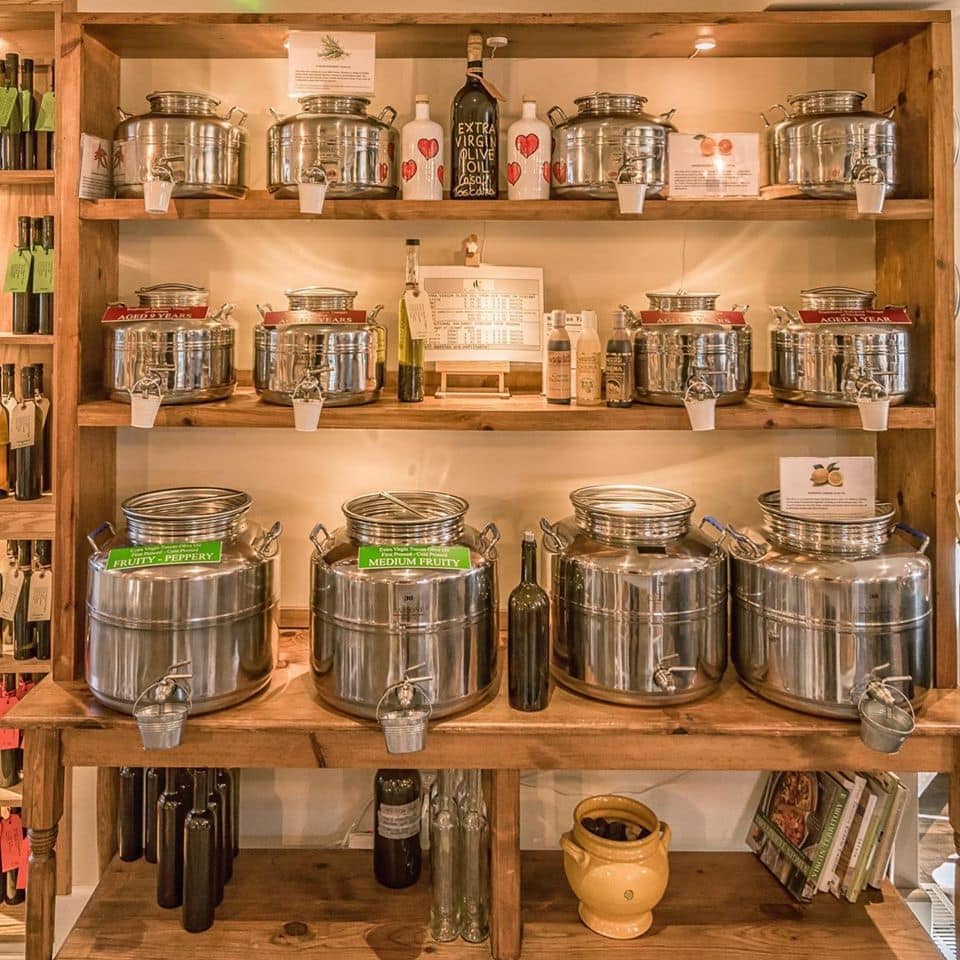 Hey travellers!
Luca also offers group tours to Italy which a few of our friends have done and raved about. If you're looking to fuel your wanderlust – check out some of these itineraries! My parents travelled to Tuscany a couple of years ago and met up with Luca while he was on tour at his brother's winery in Panzano.
While we can't travel to Eataly right now (see what I did there?), Casa Toscana is the best substitute for our tastebuds. I'm looking forward to the day when I can return to sit on their patio sipping a cappuccino and enjoying a biscotti.
Morocco – The Sultan's Tent, Toronto
I first came to the Sultan's Tent for my birthday years ago, unbeknownst to me that I would get dinner and a show! Belly dancers come out for performances to entertain you during your meals on select days – so be prepared to join them and learn a new dance move!
The food here is so flavourful and certainly unlike anything I could ever make at home. I try a different dish each time I come and I'm impressed every time!
There is an a-la carte and a prix fixe, which is usually what we do (value for money)!
Dinner is rounded off with a traditional pouring of Moroccan mint tea – a digestive – and I don't know what it is about this tea, but it's the best tea I've ever tasted in my life!
Weekends are busy, so be sure to book well in advance.
What are some popular dishes?
I was about to recommend some appetizers, until I looked at the list and realized they are all amazing. The harira soup is probably one of my top favourites, as well as the maftoul (we call them beef cigars 😂).
My favourite main is probably the primavera tagine – a vegetarian dish full of apricots, chickpeas, almonds and artichoke, served in a unique clay dish. They are also well-known for their lamb dishes here too!
As a bonus, there are plenty of vegetarian and vegan options available!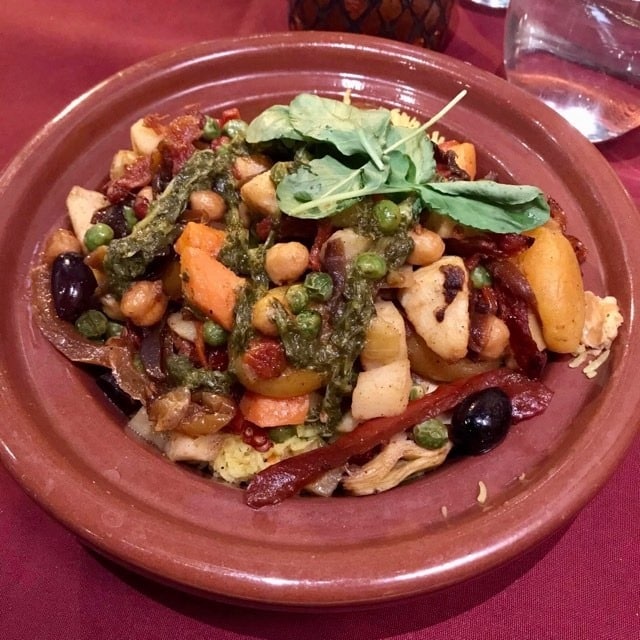 Where can I find The Sultan's Tent?
Phone: 416-961-0601
Website: https://www.thesultanstent.com/
Current situation
Indor and patio dining available for lunch and dinner.
Ethiopia – Wass, Hamilton
This Ethiopian restaurant is situated between Toronto and Niagara Falls, and if you're looking for authentic African food, you've found the right place.
Wass is such a unique place to eat. I had no idea what to expect the first time we visited, and really, I had no idea what their cuisine even was. That being said I want to provide a little background!
In Ethiopia, eating is a social occasion and your hands are used in lieu of utensils, making for a communal dining experience. Large platters of food are laid out and typically, groups or families gather around to share from this dish.
This makes Ethiopian food an experience, not just something you eat!
The colours, textures, scents, and traditions of Ethiopian cuisine make this a truly magical experience. The flavours are really indescribable and nothing like we've ever had and we have thoroughly enjoyed our meals here.
What are spices typically used in Ethiopian food?
Some commonly used spices include garlic, ginger, turmeric, nutmeg, cinnamon, cloves, black peppercorns, dried chilli and paprika, or collectively known as "Berbere" which literally translates to "hot". The seasoning isn't overdone, but it's definitely unique from any other food we've had.
You'll be eating with your hands using the injera bread to pick up your various vegetable and meat dishes, all put together on a large silver platter for communal sharing at your table.
Why should you try Ethiopian food?
Aside from the dishes being flavourful and filling, it's budget friendly! Have an open mind and just try it. You won't be let down!
Covid note: maybe just try it with people in your bubble for now, since it is communal sharing 😂
Injera is made from Teff, which is naturally gluten-free, so those on a gluten-free diet or are celiac can enjoy this too! There are also loads of vegetarian and vegan options!
What are some popular dishes?
I can see how it would be daunting to decide what to order at an Ethiopian restaurant, but we haven't had a bad meal here yet! Mixed platters are the way to go here, because it allows you to try a little bit of everything. Pick from beef, lamb or chicken with vegetable dishes and you're set! You can state your desired spice level too.
I recommend trying the honey wine for something different, too.
Where can I find Wass?
Phone: 905-945-0921
Website: https://www.wassethiopianrestaurant.com/
How can I order?
Now open for takeout and delivery.
India – Indian Hut, Grimsby
We have a ton of Indian restaurants around us, which we are really lucky to have. I'm so happy that our favourite one is now only the next town over from us, 7 minutes down the street!
We also loved that Indian Hut was providing free meals to healthcare workers, police officers, and fire fighters throughout the whole pandemic. 🙂
A close second favourite Indian restaurant was Himalya in Hamilton – we love their spice level and it's entirely vegetarian!
What are some popular dishes?
Are you wondering what to eat at an Indian restaurant? It can be pretty overwhelming! If you're ordering for two, I would recommend the Dinner for Two option. It comes with a vegetable and a meat dish, naan bread, rice, and samosas. We do this and add on another appetizer like pakoras (mixed vegetable fritters).
Be forewarned that whatever you order is going to last 2 or 3 meals!
Any combination of these are great – and speaking with other locals in the area, they agree!
Butter Chicken
Chicken Tikka Masala
Beef or Lamb Korma
Aloo Gobi (veg)
Palak Paneer (veg)
Mixed Vegetable
If you're unsure of what these are, their menu tells you what is in each dish.
Where can I find Indian Hut?
Phone: 289-336-0718
Website: https://indianhutrestaurant.ca/
How can I order?
Order by phoning in. Open for pickup 7 days a week from 3:00 – 8:30 pm.
Vietnam – Phở Nhà, St Catharines
We stumbled upon this place a couple years ago while driving by a new business plaza – it piqued our interest and decided to try it, since our other go-to Vietnamese restaurant is a bit further of a drive. It's since become our favourite place.
It isn't a large place, which we like, and it's quiet and quick and friendly service. They state their dishes are made with secret family recipes – and I already know I could never replicate these flavours at home!
What are some popular dishes?
One of my husband's favourite places for pho, and we've been to a lot in our area! We've been numerous times and we keep coming back to the same few dishes, including:
Deep fried spring rolls
Shredded pork fresh rolls
Mango salad
Pho soup with rare beef – or if you're feeling more adventurous, the beef tendon and tripe is also good (according to my husband!)
Grilled pork vermicelli bowl with peanuts, shredded lettuce, mint and bean sprouts (my favourite)
If I'm feeling a bit under the weather, their soups always make me feel better – it feels like a warm hug. 🙂
You can also ask for the house tea which comes in a teapot with tiny cups – a soothing jasmine that pairs well with their dishes.
Gluten-free and vegetarian/vegan options available!
Where can I find Phở Nhà?
Phone: 289-639-9064
Website: https://pho-nha-vietnamese-cuisine.business.site
Current Situation
Open for curbside pickup or delivery. Online orders also available through Door Dash daily from 11:30 am – 8:00 pm.
Indoor dining now available.
Greece – Mythos, Burlington
We were so lucky to have this Greek restaurant in Burlington recommended to us. Mythos is by far the best place we've eaten and we tell everyone about it! My husband first brought me here for my birthday a few years ago and we were both impressed with the quality (and quantity!) of food.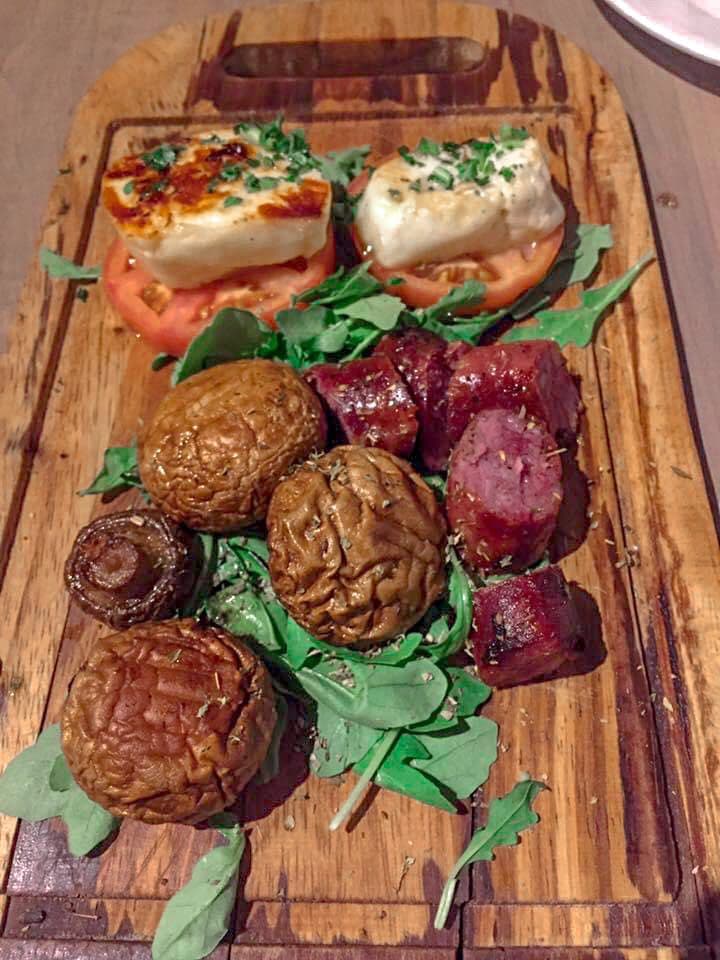 What are some popular dishes?
Without a doubt, you should order the platter – the Cyprus Meze – especially if it's your first time going. It's $32 per person (minimum 2 people) and you get so much value for your money. It includes 18 items!!! The Meze gives you a little bit of everything on their menu. Go hungry. You are served what seems like endless dishes!
If you haven't had Greek wine before, try it! Oh, and be sure to top off your meal with a shot of Ouzo. 😉
Where can I find Mythos?
Phone: 905-639-7300
Website: http://www.mythoscuisine.com/
How can I order?
Now open for indoor dining.
Israel/Egypt/Lebanon – Montforts, Burlington
Skip the store bought hummus and get the real stuff from Montforts. We love that Mediterranean food is centered around fresh, bright vegetables and simple ingredients.
The owner Bishara Arraf was born near Nazareth, in Mi'ilya, close to the Mediterranean Sea. Built over the ruins of the Crusader Fortress, known as "Montfort", this archaeological site has been inhabited by many people over the centuries including Greek, Roman, Ottoman and Arab, making the area eclectic and diverse.
Bishara has continued his family traditions and love for his home country through food (much appreciated by us!) since he moved to Canada in 1992. He still calls his family for advice from time to time.
Millions of shawarmas have since been sold, always with the same family recipe!
What are some popular dishes?
We love the sharing platters – the assorted mazza and order extra pita with it too! The mazzas come with a selection of 4 appetizers, and I highly recommend the taboule (a Lebanese salad with parsley, lemon juice, tomatos, and lots of other tasty things!), bathenjane (eggplant salad – I know – but just try it), baba ganoush (more eggplant!) and hummus.
They are also well known for their falafels (vegan!) and shawarmas – pitas filled with thinly sliced meat cooked on a vertical spit.
Where can I find Montforts?
Locations in Hamilton (Upper James), Ancaster, Waterdown, and Grimsby (Niagara Gateway), too!
Phone: 905-632-1232
Website: https://www.montfortrestaurant.ca/
How can I order?
Order online or phone in for pickup from 11:00 am – 4:00 am (!) daily.
Now available for indoor dining.
Japan/Thailand/China – Big Tuna Asian Cuisine, St Catharines
This list wouldn't really be complete without a mention to Big Tuna. I LOVE sushi – and I've spent the last 5 years finding the best one in the area. It's the best fusion restaurant in St Catharines, offering a mix of Chinese, Thai and Japanese dishes. Big Tuna offers an array of choices from an all-you-can-eat menu, or you can choose to order à la carte.
What are some popular dishes?
If you are coming here for lunch or dinner and have a fairly big appetite, I would recommend doing the All You Can Eat. The price will work out better compared to ordering individual menu items and you can sample a little bit of everything!
We love that the dishes here are served smaller – allowing you to order different items. Rolls are typically served in 4s (instead of the usual 8s), so we basically go down the list and order all of them (😂).
Best items to order:
Avocado Peanut
Green Dragon (avocado and crab)
Crazy Roll (cream cheese and eel)
Dynamite Roll (shrimp, avocado and cucumber with spicy sauce)
Hawaiian Roll (mango and crab)
General Tao
Bangkok Street Pad Thai
Cheese wontons
Dumplings
Mango cream cheese roll
Custard bun
ps. it's pretty good that I didn't even need to look at their menu to know what all these items are called. 😂
Where can I find Big Tuna?
Phone: 905-687-9888
Website: https://www.bigtunaasiancuisine.com/
How can I order?
Orders are made easily online through their website and paid for in-store, or through DoorDash.
Cuba – Mojito House & Bar, Niagara Falls
If you love traditional cooking, you must try Cuban food!
Go in knowing that you will be there for a while waiting for your food since everything is made from scratch. I promise it's worth the wait!
What are some popular dishes?
It goes without saying that you absolutely have to order a mojito! Order it with Havana Club rum – trust me – it makes all the difference.
This is the best place to find traditional Cuban food in Niagara Falls, serving the typical Cuban cuisine you would find.
This includes ride and beans, fried plantain, and shredded, tender beef.
Popular items include their Cuban sandwiches, and their Mojito House Nachos – a different take on the typical nachos you know – and instead of tortilla chips, sliced and fried plantain is used!
Free Dance Lessons
Up for some fun? Mojito House (was) also offers dance lessons on Saturday nights! Hopefully this is something that can be brought back in the future.
This includes Salsa, Bachata, Merengue, Cumbia, and Raggaeton!
Where can I find Mojito House & Bar?
Phone: 905-354-3111
Website: https://www.mojitohouse.com/
Current Situation
Now available for indoor dining.
Final Thoughts
While I am bummed that our travel plans are on hold, I really am grateful for the diverse number of restaurants in our area that will help us travel the world through food.
Have you tried any of these restaurants? Do you think another should be added to this list? What's your favourite type of cuisine? I'd love to know!
Related Posts
Pin it for later!