For as long as I can remember, my family has been coming to Rye, East Sussex, where my grandparents live. It's a little medieval town about 1.5 hrs from London by car, or 2.5 hrs by train, that is rich in history, haunted stories, and fairy-tale like houses with cobblestone streets and doors shorter than I am!
This post contains affiliate links.

I always joke to my husband that he is too big for Rye, but it's true! He has a hard time fitting through stairwells and into places and often has to crouch/duck his way around.
Summertime in Rye is stunning – late-night sunsets and cotton-candy coloured skies, pubs packed with warm laughter and music, and the smell of fish & chips wafting through the air. But what about winter? Dark days, bitter, to-the-bone cold, and rain?

You'd be surprised.
I recently ran into another Canadian at Cinque Ports pub and she told me she visited from London for the day. I asked what she saw, and she said "not much". I asked her if she did this or that, and she said no…well..what did you do???
Top places to eat & drink in Rye in the winter
Knoops
Cozy up 21 types of hot chocolate! Decadent chocolate sourced worldwide to provide you with a custom cup. Tons of flavour add-ins available (highly recommend the orange peel!). My favourite is the 85%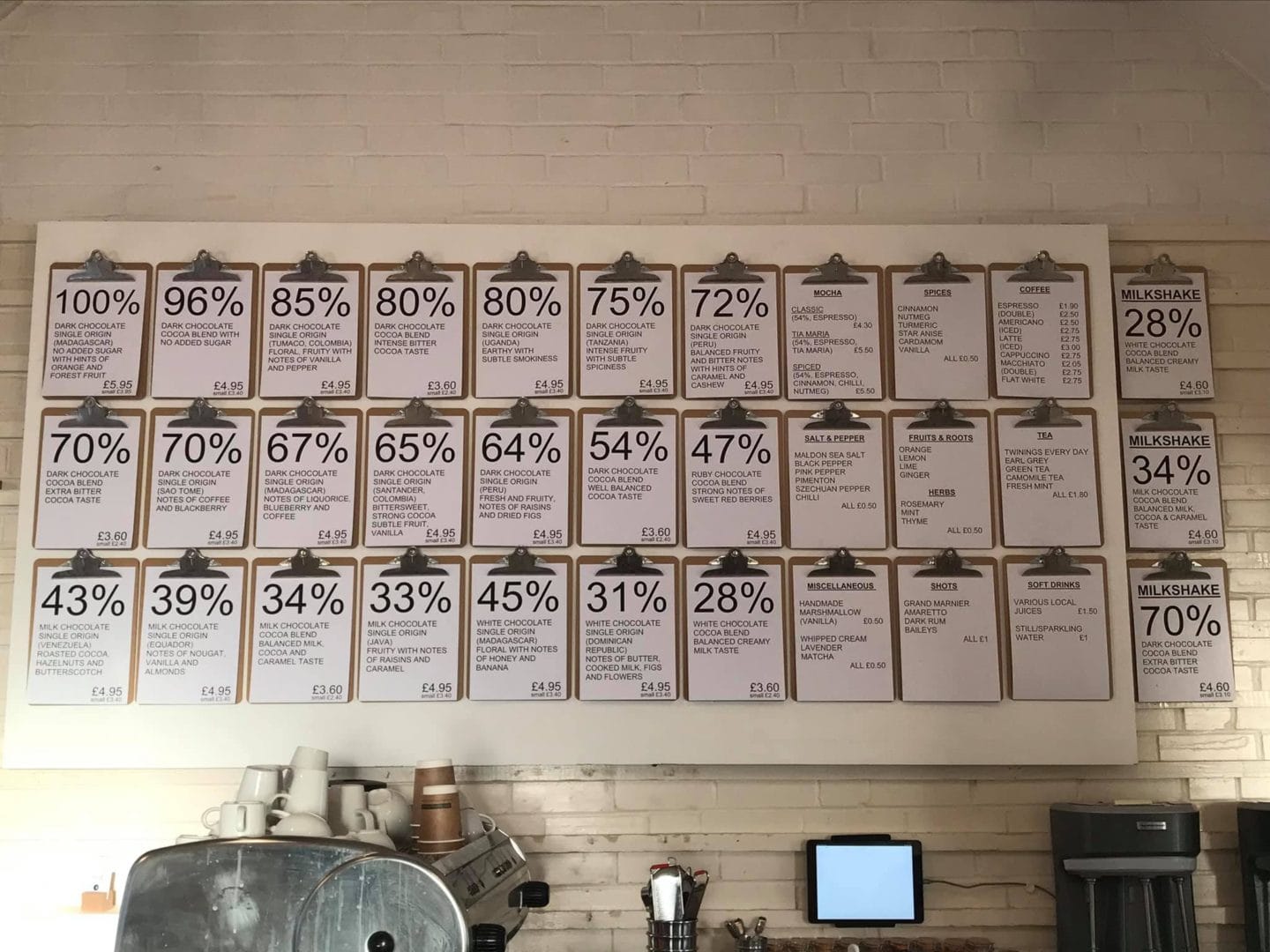 Fletchers
The best cream tea in Rye, in our opinion! Enjoy their perfectly steeped English Breakfast tea, served to you in a little teapot with extra hot water, milk and sugar cubes.
I highly recommend having the fruit scone with jam & clotted cream for the full experience! We've eaten a lot of the tea shops in Rye and my husband and I both agree Fletcher's has the best scones!
The Mermaid Inn
Warm up next to the Giant's Fireplace and hop-covered bar. With the cellars dating back to 1156, The Mermaid Inn was rebuilt in 1420 (!!!) and offers what you would expect in an old English building – creaky floors, sloping walls & ceilings, and a rich history (including ghosts – or so they say!).
This year they are celebrating 600 years of welcome travellers from all over the world, including many celebrities.
As soon as you enter the bar (be sure to duck your head coming through the door!), the beautiful fireplace will be the first thing that grabs your attention. Hops line the bar beams which makes the whole space feel warm and inviting.
What I love about all the different pubs in Rye is that they all have different local ales on tap to try – so you'll be bound to find something you like! Or, if you'd prefer something else, their gin & tonics (HIGHLY recommend the "Pink Gin" – usually Rhubarb with Elderflower tonic – it's fantastic!).
The Mermaid also offers lodging in some very unique rooms and has an incredible restaurant with some of the best food we've had in Rye. The Marsh Lamb is my favourite!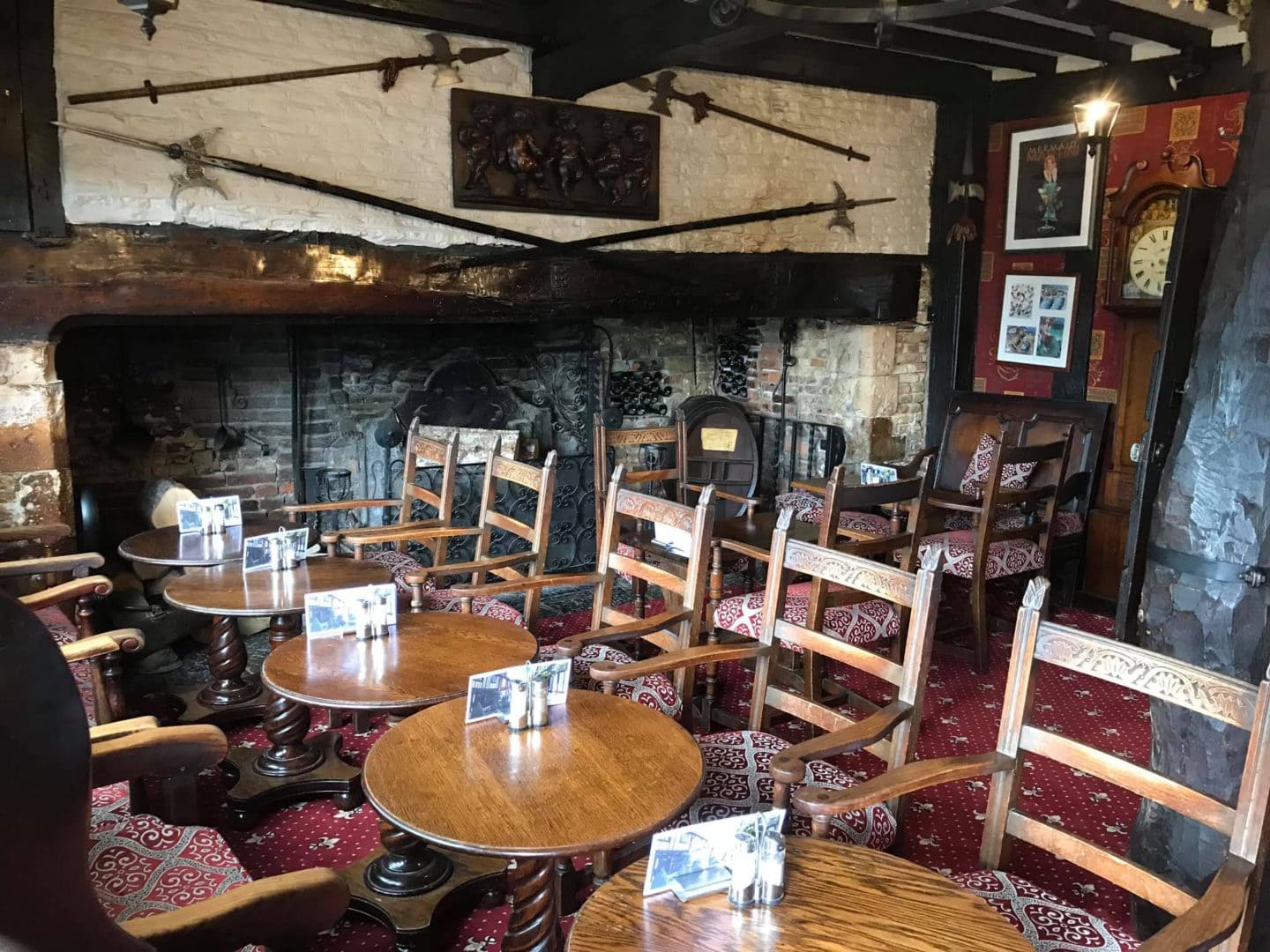 The Globe Inn Marsh
A short walk from the main hub of town, the Globe is truly the definition of "cozy". We love coming here for the fresh seafood – it never disappoints.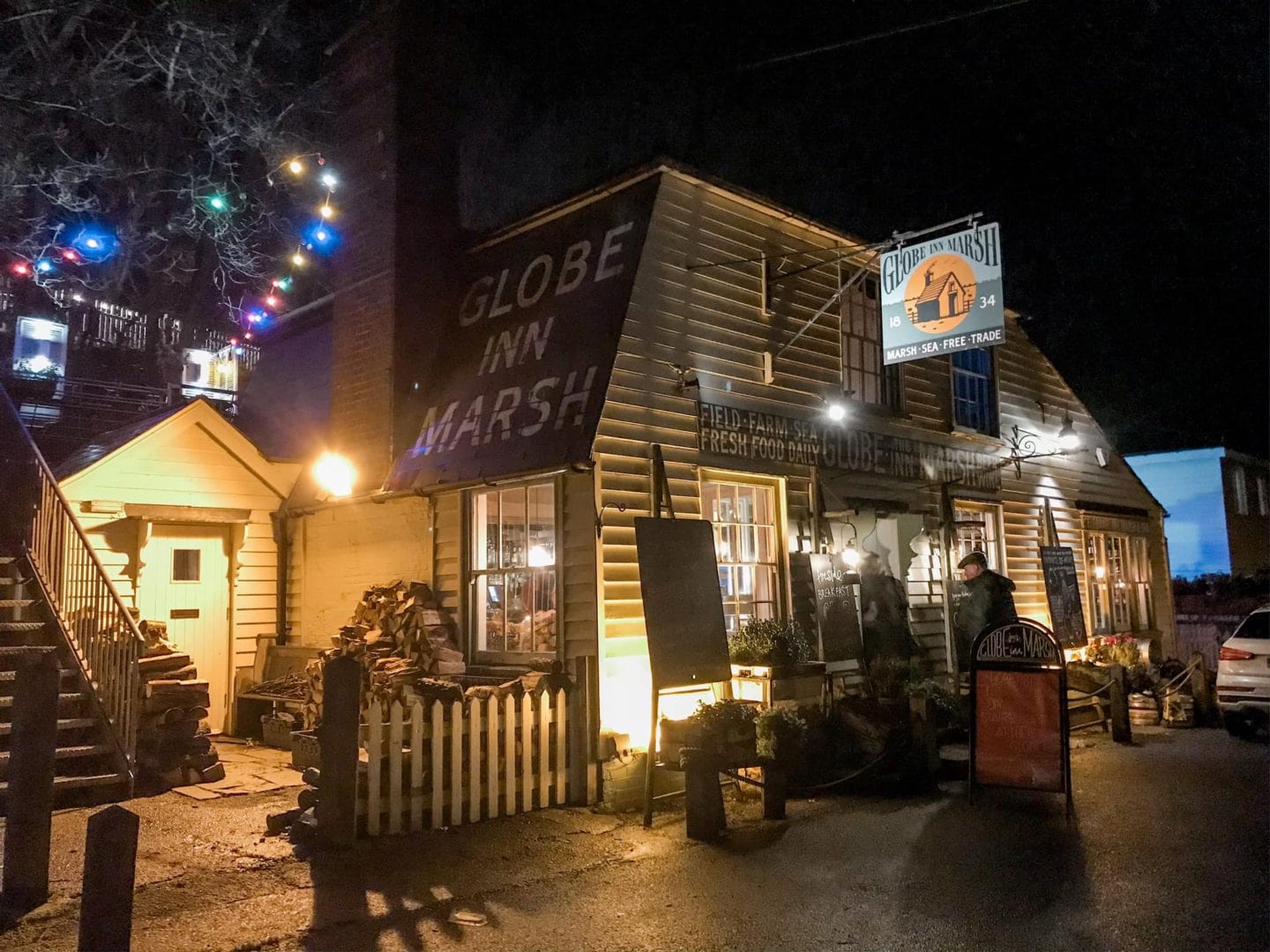 During the summer months we opt for the Whitebait, but since it's seasonal we recently indulged in the seafood platter consisting of prawns, smoked mackerel pate, fish fingers, and a "crispy hen's egg" which essentially is a battered & fried egg – served with house-made tartar sauce, crisp bread, and lemon wedges.
Equally amazing is their cheese platter – save room for that!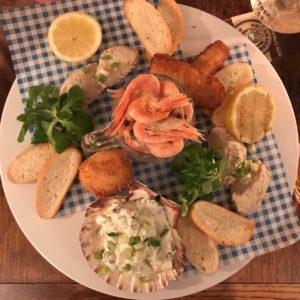 The Ship Inn
With new vegetarian & vegan menu options, this place offers a wide variety of tapas to pick from. Every time we visit, the menu has new items to try, which we love! Another place with a cozy atmosphere (and also offering up lodging above the restaurant).
Rye Waterworks
From Pump House to Soup Kitchen to TOILETS (!) to now an award-winning Micropub! I myself have seen the evolution over the years and is now one of the coolest places in Rye to have a pint or a local cider (including non-carbonated ones).
With a huge chalkboard of ever-changing options, the Waterworks offers no shortage of choice!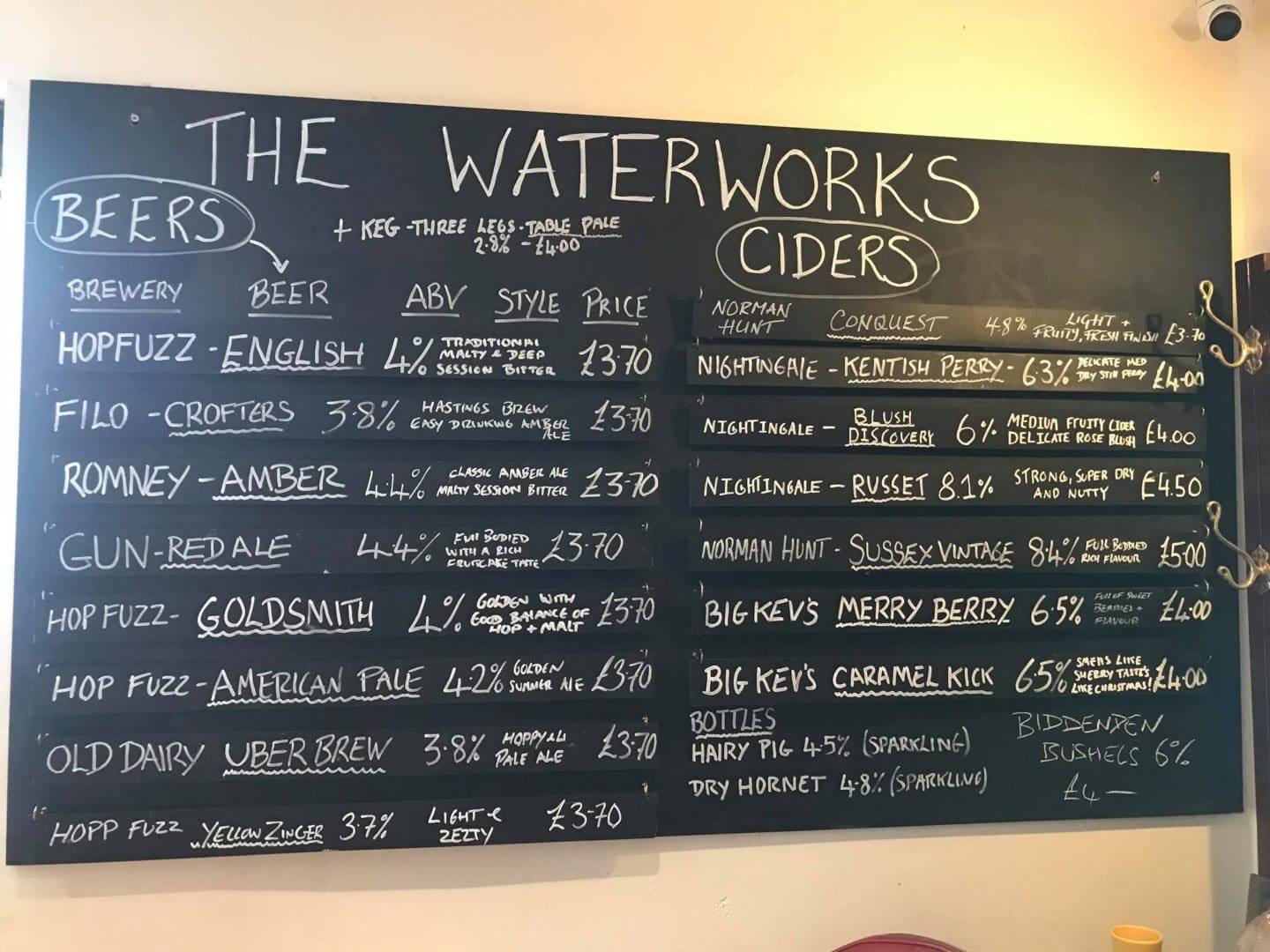 Marino's Fish Bar
Get your fill of traditional fish & chips. During the summer we have ours by the river, but you can eat in their restaurant in cooler weather or take it back to where you are staying.
Things to do
The Rye Castle
Visit Ypres castle and get a feel what it was really like back when it was built in 1249, commissioned by Henry III to protect Rye from raids by the French.
Known as a "gibbet" – this cage was used to display the body of murderer John Breads for more than 50 years!!!
The one at the Rye Castle is a replica of the Gibbet – but you can see the real one at own Hall by appointment, Monday-Thursday.
The Rye Museum
Small but mighty.
Tons of history lies in the glass cases of the Rye Musuem. During our last visit, the Rosetta Stone was here on loan from the British Museum.
Entry by donation.
The Rye Model & Vintage Penny Arcade
For more than 40 years, the Rye Model at the Rye Heritage Center has shown 700 years worth of history in a 20 minute light & sound show, featuring a miniature scale of Rye. You can't quite grasp all of the history in this ancient city without visiting!
£3.50 entry for Adults, £1.50 for children
The Vintage Penny Arcade is something to see, featuring 30 old, but restored and fully functional machines from the 1900s – 1960s, making this one of the largest collections in the UK! For a pound or two, exchange at the machine for vintage pennies and have some fun!
The Strand market
Search for hidden treasures and antique furniture in the market's various buildings (and cry about how you can't bring the gorgeous sideboard home with you).
St Mary's Cathedral
You'll hear the church bells regularly from St Mary's. Come view the beautiful stained glass windows, peaceful quiet, and on clear days, you can go up the church bell tower for £4 for views of the town & beyond.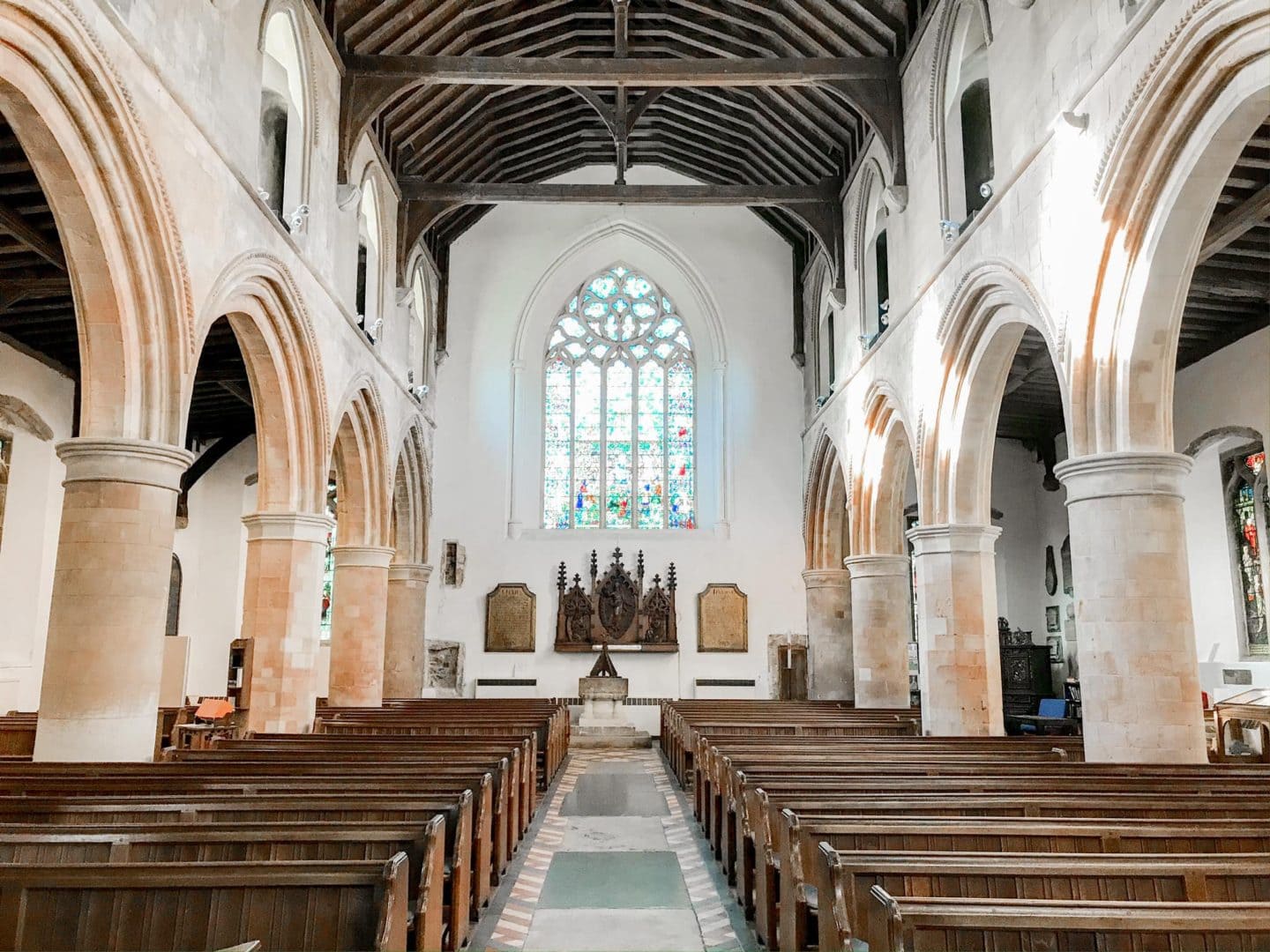 Visit the shops
There are so many shops in Rye where you will find all kinds of unique treasures – from handmade items, the best greeting cards (seriously, I stock up when we go!), Rye mementos, hilarious signs, beautiful children's toys, books, etc. We love wandering in and out of all of the stores each time we visit and we find something new every time!
Above all else, make sure you fill yourself with as much tea as possible! Nothing beats tea in England! There truly is no bad time to visit Rye – and there are definite perks to visiting in all seasons! Research ahead of time if there are any events – popular ones are:
Rye Bay Scallop Week – February http://scallop.org.uk/
Rye International Jazz Festival – May https://ryejazz.com/
Rye Arts Festival – September https://ryeartsfestival.org.uk/
Rye Festival of the Sea – September http://ryefestivalofthesea.co.uk/
Lodgings book up very quickly in this little town – so be sure to book early and look on sites such as booking.com or Airbnb.com
Pin it for later!