After spending a heavenly week at Excellence's sister property in Playa Mujeres, we heard a lot of good things about Excellence Riviera Cancun and decided to make this our vacation getaway for 10 days.
Just a quick 30 minute ride from Cancun International Airport, Excellence Riviera Cancun sits on a stunning beach just north of Puerto Morelos, surrounded by lush vegetation and palm trees.
This is truly 5 Star adults-only, all-inclusive luxury in every sense, and I hope you'll find this review helpful!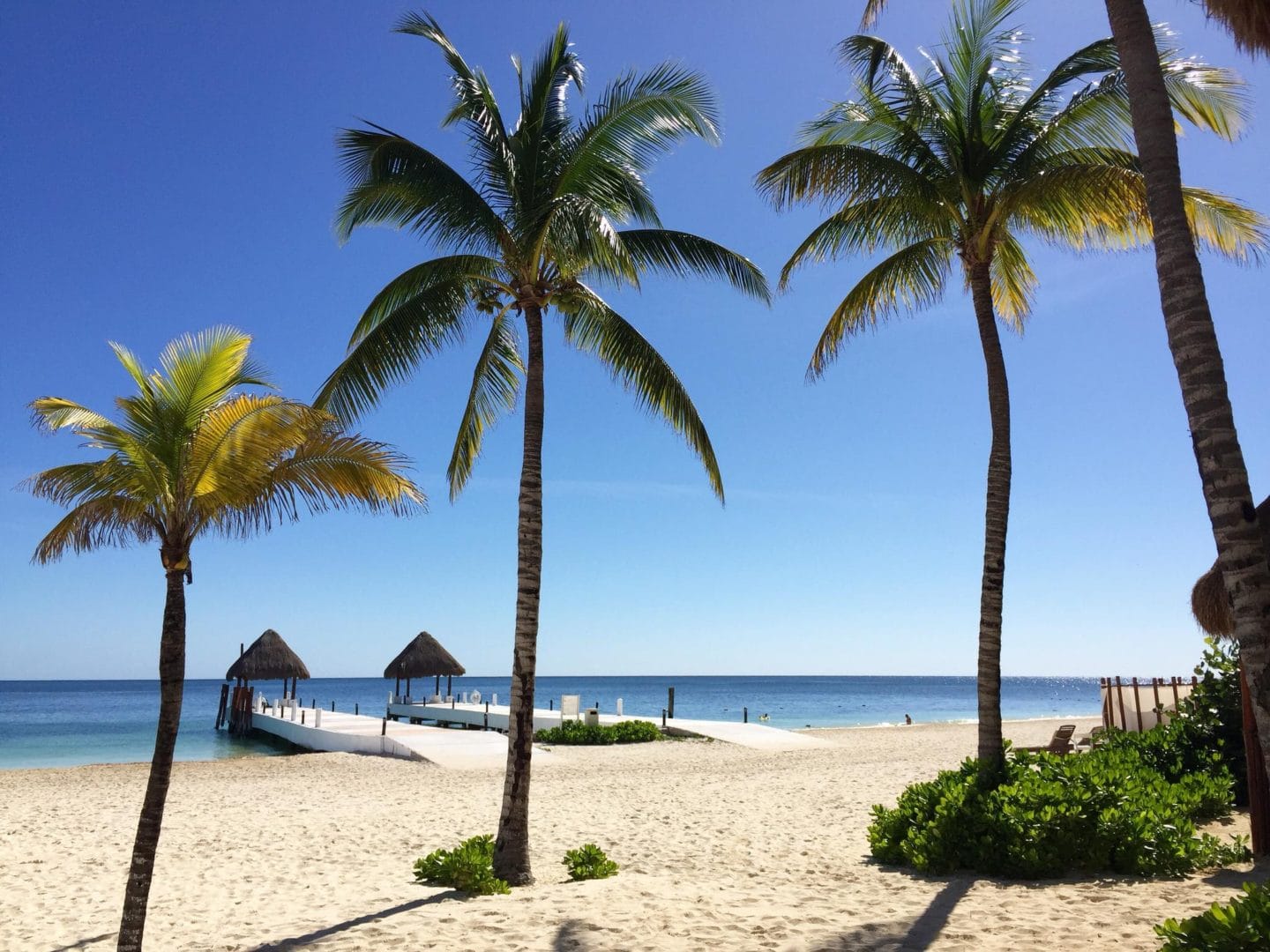 This post contains affiliate links which means I earn compensation with you click on the links at absolutely no extra cost to you!
We were spoiled during our entire stay, which is something we had come to expect after staying at Excellence Playa Mujeres.
The vibes between the two places are very different – Playa Mujeres is very modern and laid back, while Riviera Cancun has more of a traditional feel.
We loved that the two aren't carbon copies of each others; there are a lot of similarities but enough differences to make sure your experience between the two aren't the exact same.
And as a bonus, Excellence Riviera Cancun is priced lower than Excellence Playa Mujeres, so you really can have it all!
But let's jump into this review!
The Property
The grounds are gorgeous! We found the layout very manageable and walkable. Everything is easy to get to within a couple of minutes.
And as someone who dresses up with high heels in the evening, I was glad to know I could walk to dinner and the theatre without any issues!
You can scope out the layout of the resort and buildings on this resort map!
I know I'll keep making comparisons to Excellence Playa Mujeres, BUT after going there first, we did notice a younger, more energetic group of guests here. Just an observation! 🙂
There were also lots of guests here celebrating anniversaries, honeymoons, or just relaxing getaways. We would look down the hallway in our building and the doors would be covered with celebratory banners!
The grounds are immaculate – beautifully tended gardens and pathways, tractors combing the beach throughout the day, gardeners replacing plants and maintenance workers tending to various projects, etc.
It's truly a gorgeous place.
Related: What to Pack for an All-Inclusive Vacation (Plus Free Printable!)
Excellence Riviera Cancun Rooms
I put in a request to be in a certain building, and we got it! I was shocked – since we did not expect this, but figured I'd try anyway. We really lucked out.
We scored huge with our view: our balcony in building 6 faced the ocean, and while it wasn't ocean-front, we could see it, and that was a win for us!
We were in a "Junior Suite Spa or Pool View." The rooms were a traditional design with plush bed and sunken lounge.
With the exception of the Terrace or Rooftop rooms or Honeymoon suites, all of the rooms are the same size, and they're very spacious.
The beds are so comfortable!!! You can also call your concierge to request a different pillow from their pillow menu!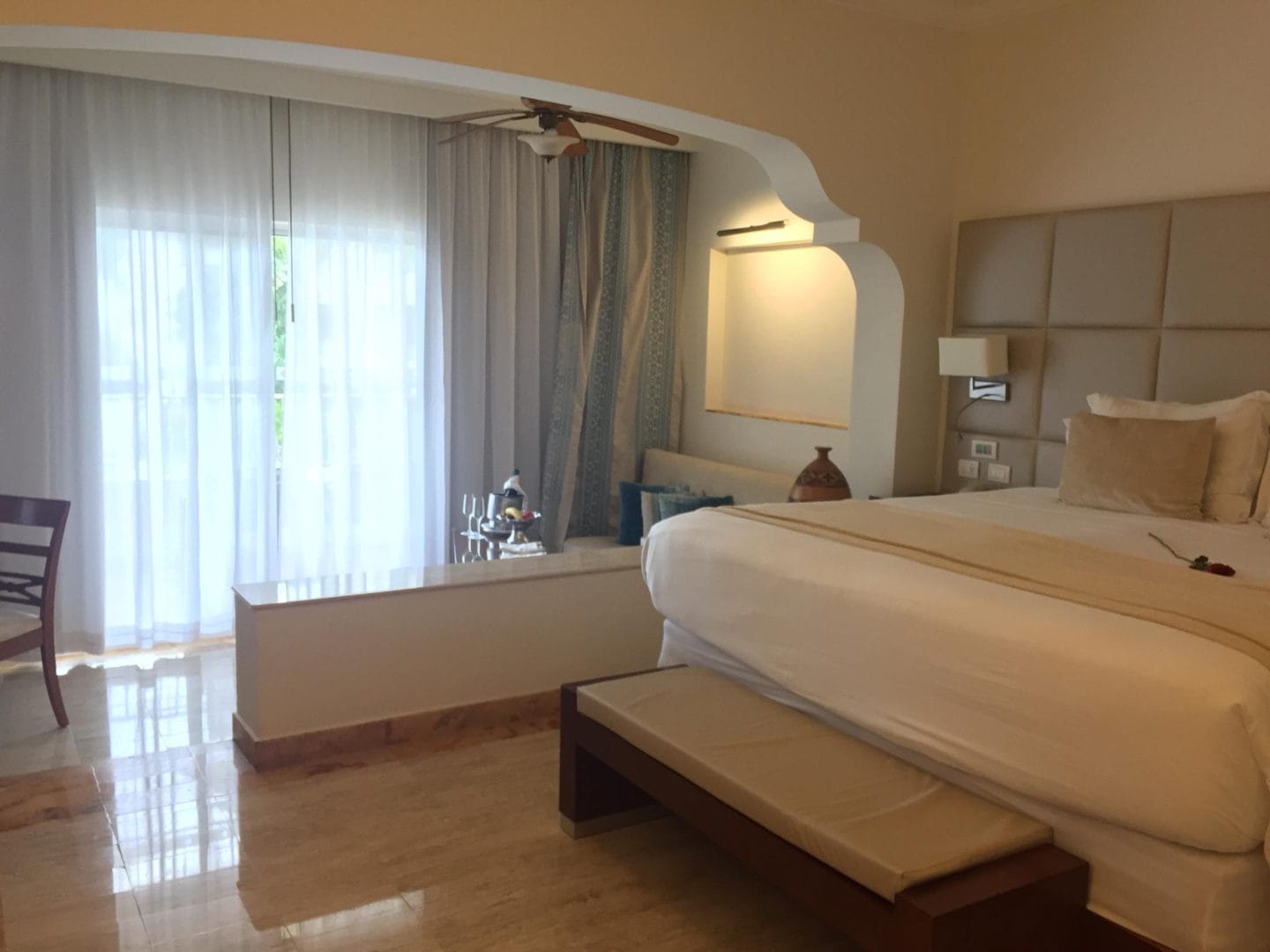 The rooms are large with a jacuzzi tub separating the bathroom and bedroom area.
One of the things I was most excited for was the mini bar! There's a large display shelf of three liquor bottles: Tequila, Rum, Vodka and a bottle of red wine.
In your fridge you'll find white wine, beer, mixers, water, and snacks. Lot of snacks – like M&Ms, chocolate bars, and cookies!
There is also a Nespresso machine, ice bucket, various glasses, and bags of chips on the main shelving area.
These are replenished daily 😉 – and another reason why we kept leaving money in our fridge for tips (usually 40-50 pesos a day)!
I have to mention that the turndown service is incredible!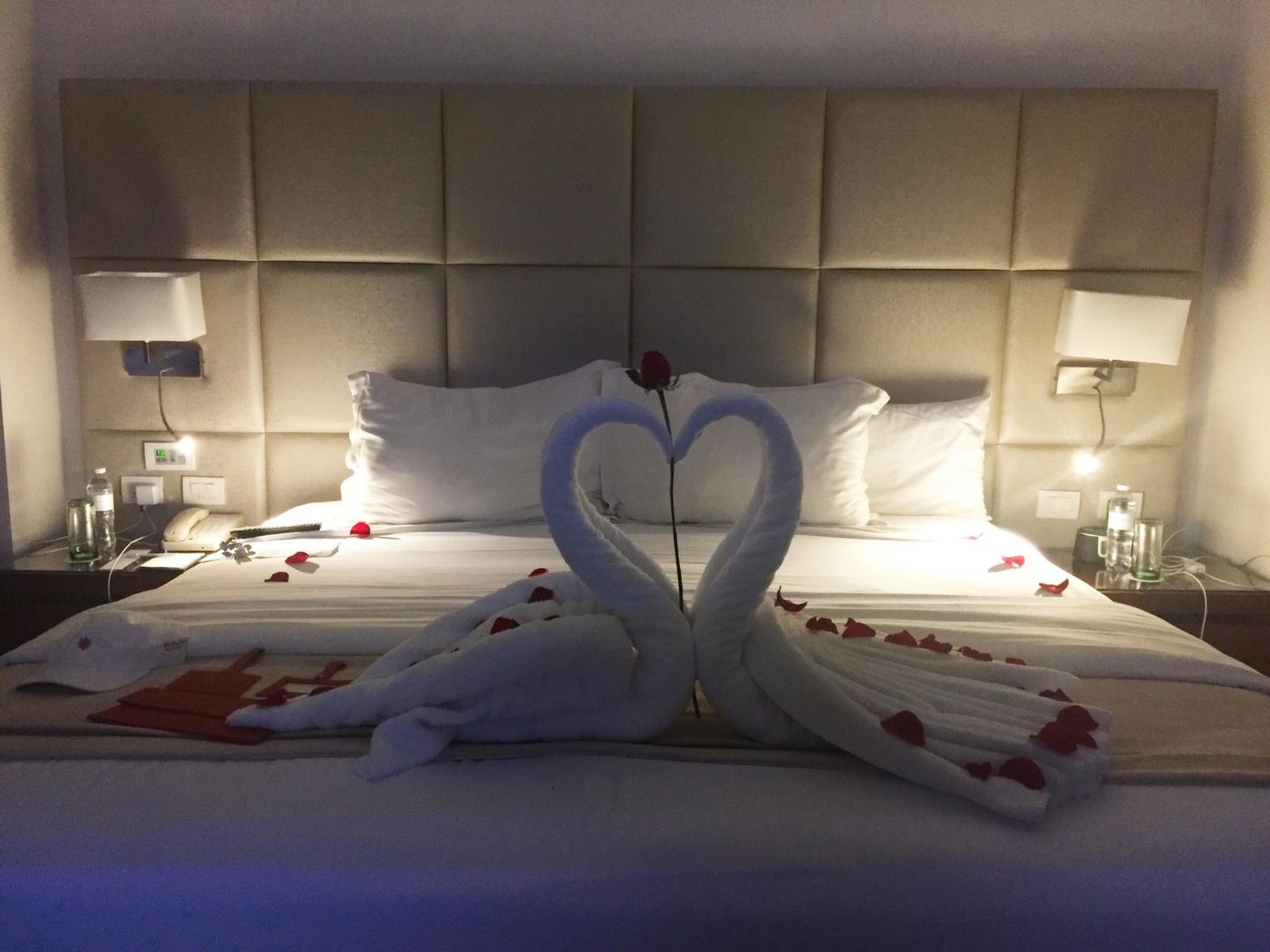 Each night when we returned from dinner and entertainment we came back to a softly lit room, with our TV on playing spa music, little chocolates left on our bed with fresh bottles of water, our slippers at our bedside, and a copy of Excellence Times – which features the next day's information including which restaurants are open, what shows are on that evening, spa specials, and a daily schedule of activities and entertainment.
I loved reading this right away when we returned to our room so we could plan our next day!
Excellence Club
If you're looking for an extra touch of luxury, then Excellence Club is for you!
This is something I want to try on a return visit.
The rooms are the same (unless if you book a terrace or rooftop suite), BUT you get upgraded amenities, a private pool for Excellence Club members, private beach area, private check-in and concierge, daily in-suite fresh fruits and petit fours, in-suite sparkling wine and fresh flowers upon arrival.
Not only that, but you also get an upgraded mini-bar, complimentary access to hydrotherapy at the spa, access to a private lounge!
What more could you ask for?!
Related: What to Pack in a DIY Travel Medical Kit
Beach
Out of all the properties we've been to in Mexico, Excellence Riviera Cancun had one of the nicest.
The beach here is stunning, with soft, powdery sand and a wide stretch to accommodate guests with plenty of loungers, palapas, and daybeds.
There is a section for Excellence Club guests, but outside of that we never had an issue finding a place to sit.
You'll have beach service available for drinks and snacks, and washrooms are located just off the beach at the Grill and Lobster House, so you don't have to go too far!
It's a beautiful stroll along the beach. If you head left, you'll pass Now Sapphire Riviera Cancun, or if you head right, you'll go past Dreams Riviera Cancun.
The Riviera Maya was having issues with seaweed during the time we visited, so we didn't swim, but there is just something about relaxing on the beach with the view of the water that was so soothing.
The beach was combed throughout the day to clear the seaweed.
There is also a great selection of daybeds in the front row which you can easily fall asleep on. Just be forewarned there is no shade, so be mindful you don't get burnt!
ps. looking for a cute sun hat? Grab one here!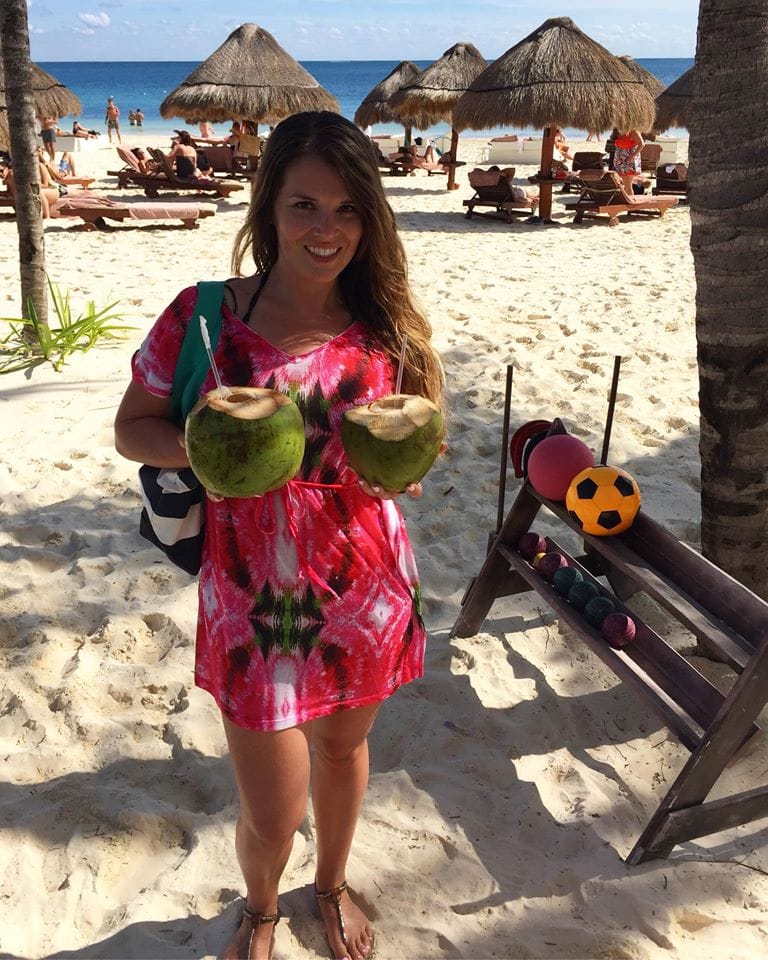 Pools
We loved that there were enough loungers, day beds, palapas, etc., available for us to use.
It wasn't crowded when we were there which helped (during December prior to Christmas) and at times it felt like we had the resort to ourselves!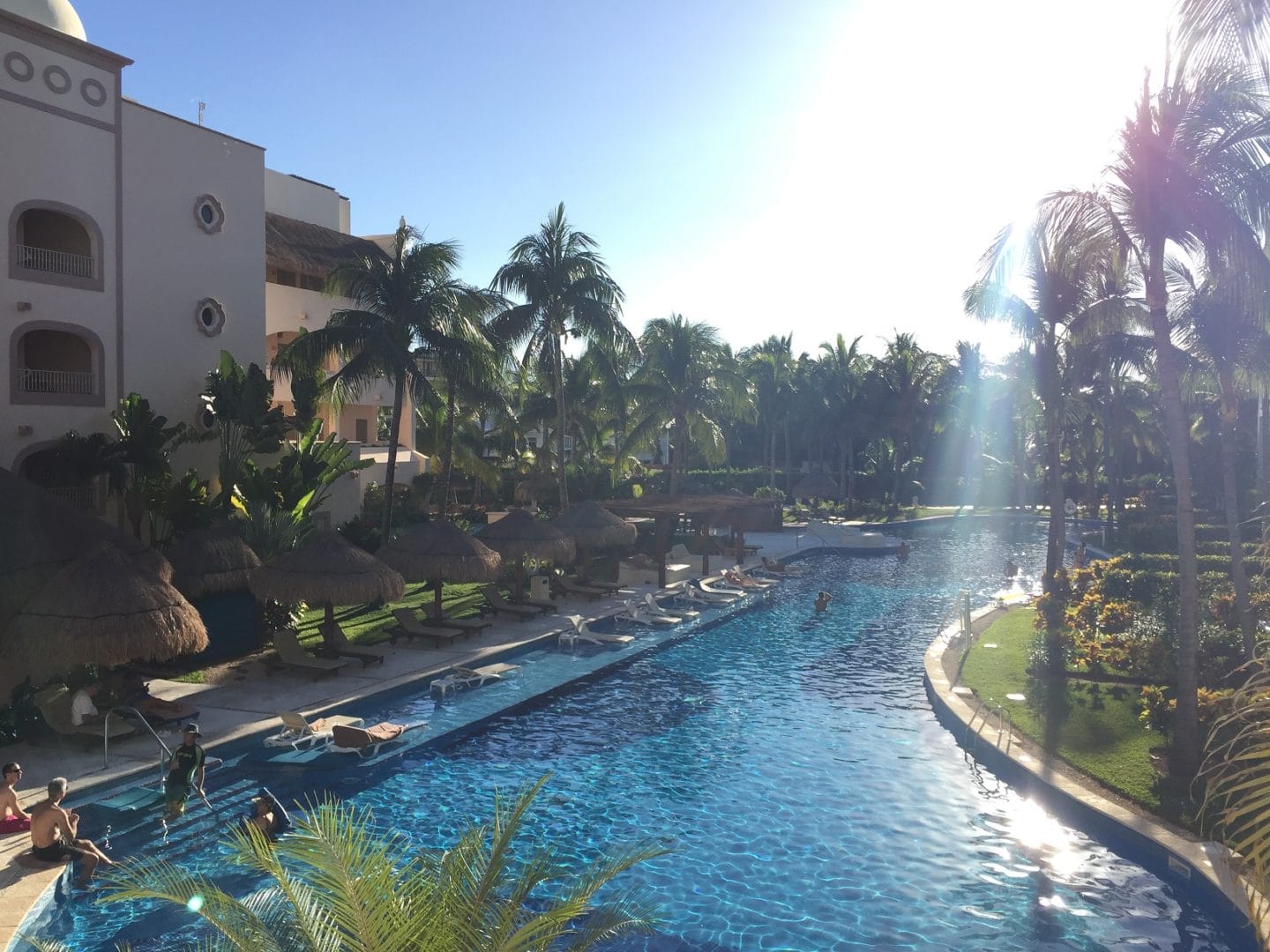 Each day we would sit somewhere new and take in the views.
We loved this part about Excellence – it was really up to you whether you wanted some quiet time or wanted to be more active. The choice was yours!
The lazy river around the spa is a lot of fun too – you actually gain speed at one point!
The main hangout was Blue – the swim-up bar! There were activities every day you could take part in, like water aerobics, water volleyball, fun challenges, etc.
Looking for a reusable tumbler for your drinks at the pool? Grab one here!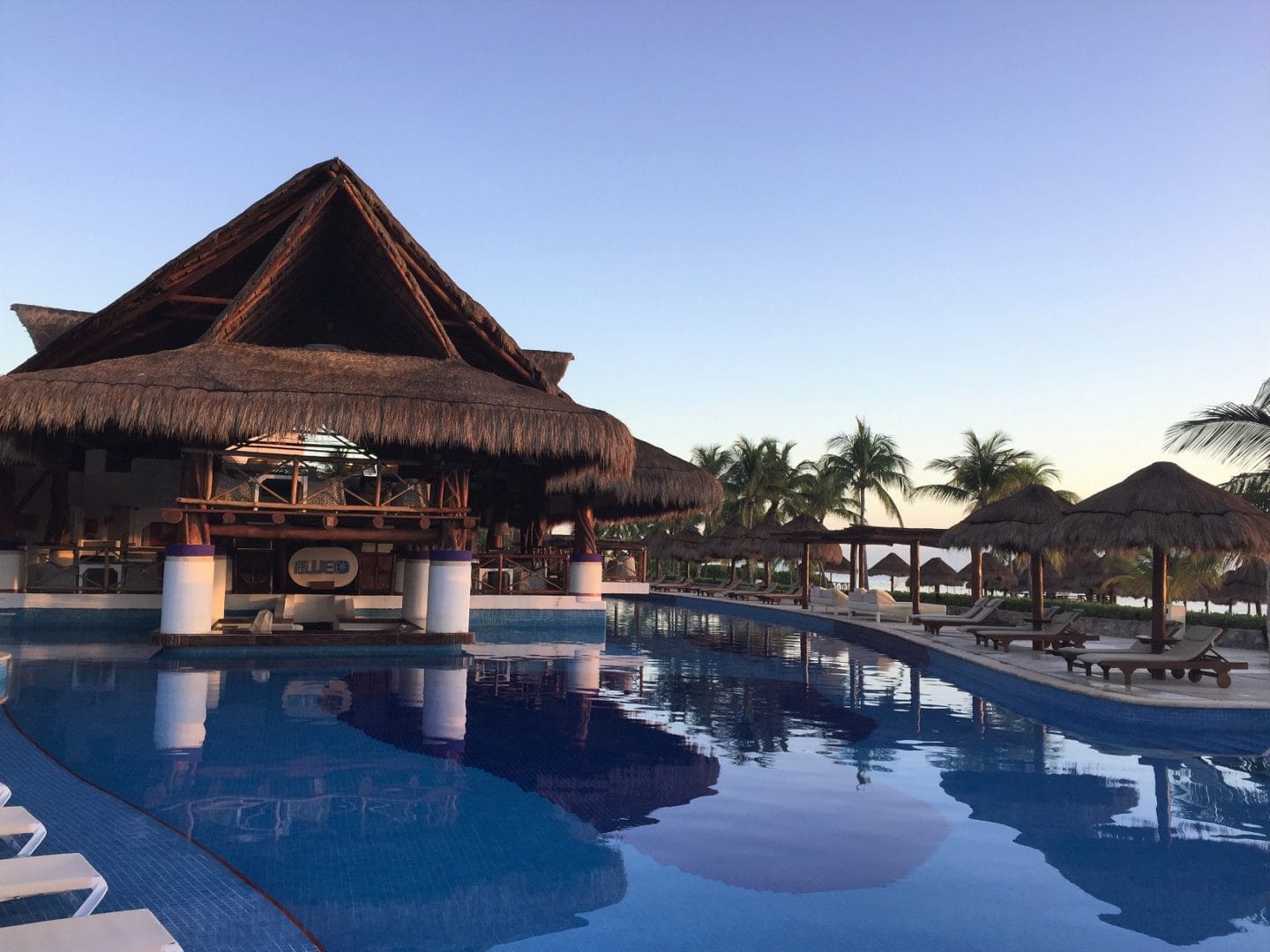 Our favourite hangout spot was by the Miilé Spa – and is definitely one of the best-kept secrets!
Over one of the bridges is an area with hammocks to lounge in as well as two jacuzzi tubs that no one seemed to know about – pure luxury!
We LOVED being secluded here.
The jacuzzis were warm and looked into the spa. It was so quiet and was the ideal place to relax and have a few glasses of champagne and get a break from the sun.
You can check out the layout of the pools on the resort map. Number 29 on the map (Cielo) is reserved for Excellence Club guests, complete with it's own bar!
Related: Awesome Private Transfers from Cancun Airport
Excellence Riviera Cancun Restaurants
I get so excited when it comes to food. The food at the Excellence Resorts is incredible, and far superior to some other resorts we have visited.
Maybe I'm weird, but I always like to look at the menus (sometimes months in advance 😂) and figure out what I'm going to order. Am I the only one who does this???
Have food allergies or sensitivities? No problem. This will be noted at check-in and every time you go for a meal, they will ask you if you have any dietary concerns.
The menus are coded with healthier options and vegetarian options – so you'll never be left guessing what's in the dishes!
Breakfast
Nothing beats breakfast in bed! We try to do this at least once every trip and take in the morning views. Room Service is so easy to do – you just phone down and they'll give you a timeline for delivery.
They'll bring it into your room and you can place your used dishes in the "X-Box" right your front door.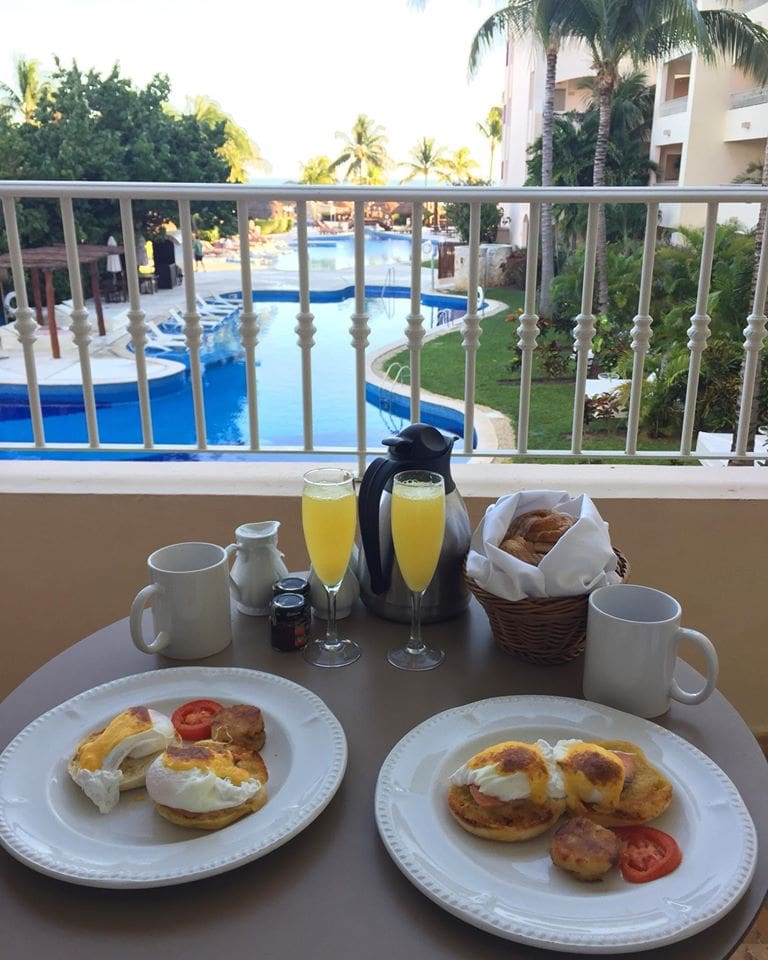 The buffet and Lobster House are amazing in their own rights and the food is delicious – it just depends if you want an earlier start (Buffet is 7 am) or a more relaxed morning (Lobster House opens at 8 am). We loved the French toast a the Lobster House.
Lunch
From the buffet, to Oregano (recently renamed to World Market), room service to Las Olas, there's no shortage of midday eats.
We loved Las Olas. Every day the menu would change, whether it was tacos, Mongolian, burgers, or sushi, and we loved eating ocean-side.
We also grabbed lunch from the buffet and took it outside at Oregano (World Market). We loved the views!
The views from the Lobster House are amazing. We loved eating here for breakfast or lunch. It was so peaceful.
If you try room service for lunch, you absolutely have to try the chicken fingers. They are out of this world and everyone raves about them!
We generally didn't eat many lunches to be honest, because we were so full from breakfast! We wanted to be sure we had enough room for all of the amazing dinner dishes. 😉
Snacks
Same some room for crepes by Sol Bar between 4:00 pm – 6:00 pm!
I wish they had them out longer during the day, but these are a great snack if you plan to have a later dinner and come in a variety of flavours, including some made with Nutella, peanut butter, caramel, bananas, etc!
They are made fresh and are amazing!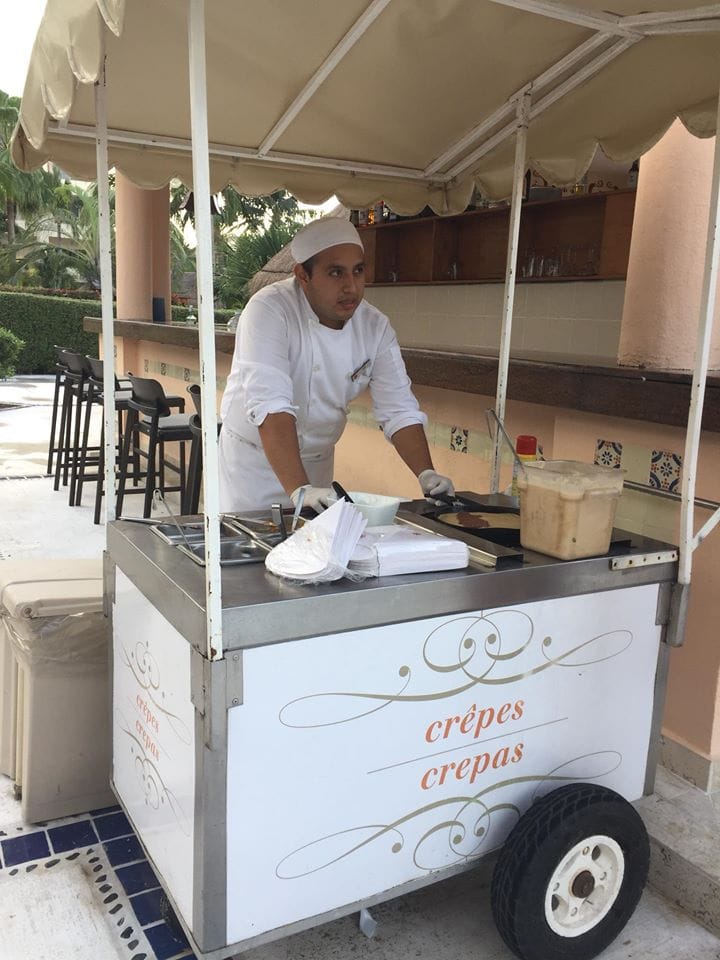 Don't forget about Aroma in the lobby – it's like Starbucks on steroids!
Choose from an extensive list of hot and cold drinks (horchata frappes anyone?) and sweet treats. Great for morning coffee or mid-afternoon snack.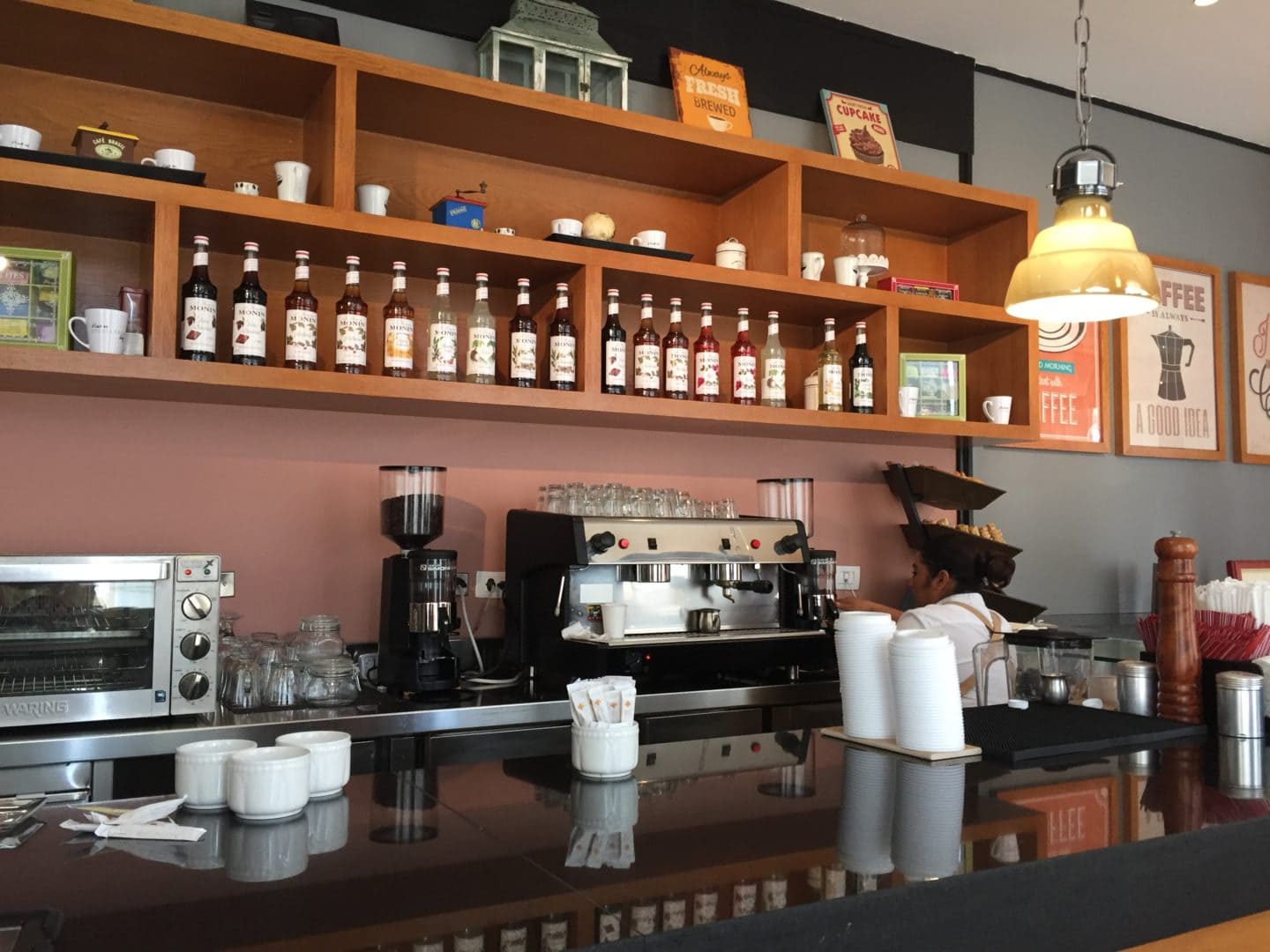 Dinner
With 11 restaurants to try, you won't go hungry! There are various ones to try – and believe me we almost tried all of them – from Italian, Asian, Mexican, Tapas, French, Indian and more.
What I love most about Excellence Riviera Cancun is you do not have to make dinner reservations. The only time you'll have to make a reservation is for the Hibachi table at Spice.
This allowed a ton of freedom and flexibility for us if we didn't feel like eating right away or had other plans.
If a restaurant was busy, no problem! We just grabbed a drink at the centrally located Martini Bar – and with endless options for drinks, we never had an issue with waiting for dinner. 😉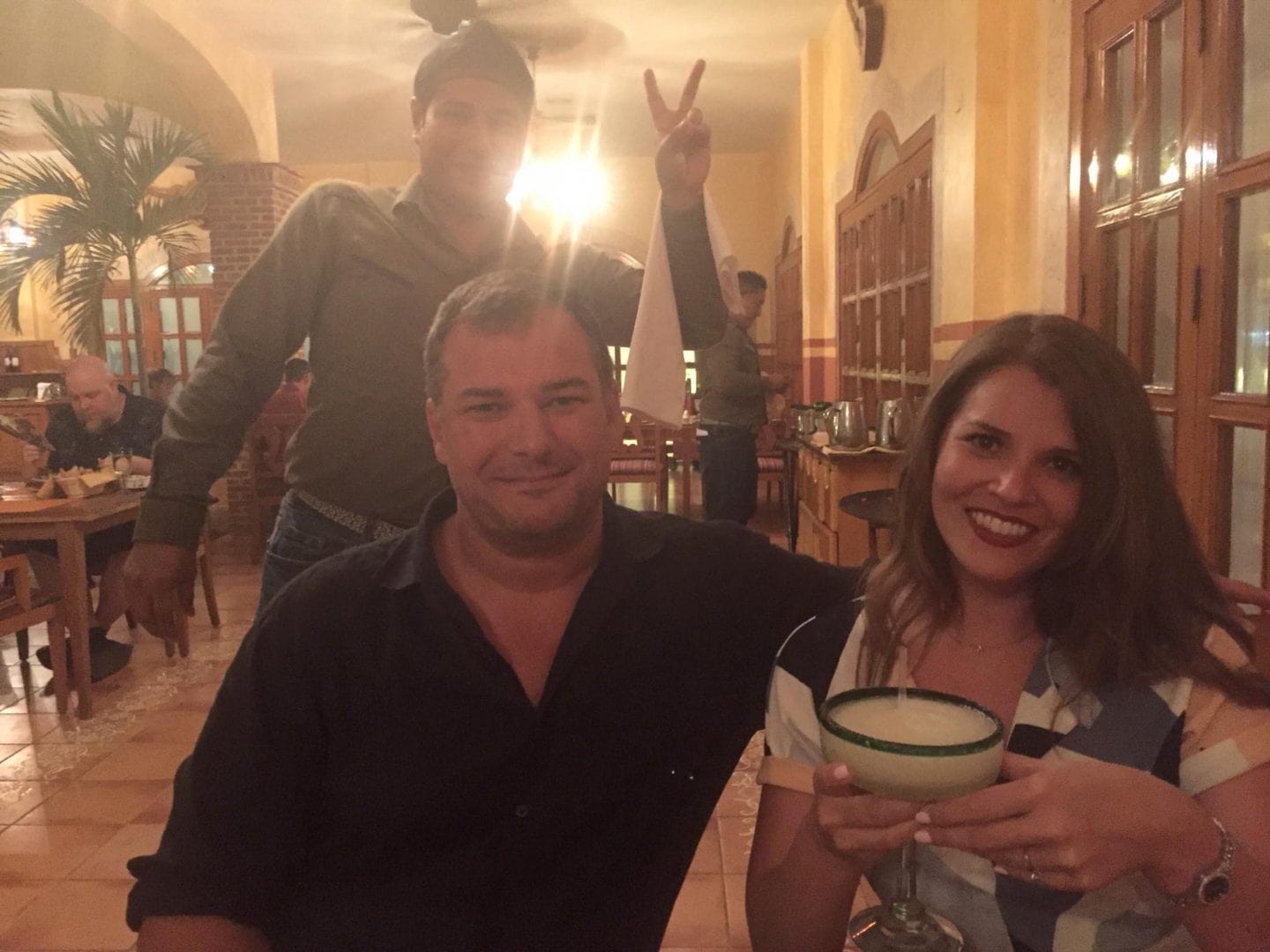 If you're anything like me, you'll want to check out the dinner menus.
Our favourite restaurants were:
Chez Isabelle (French) – the filet mignon is awesome!
Agave (Mexican) – get the flank steak if it's offered!
Spice (Asian). During our 10 night stay we ate here multiple times! The flavoured sake is incredible.
Basmati (Indian) – we let our waiter choose our menu items based on how much spice we could handle, and we loved the offerings!
I won't drill down into the details about each place, but we tried all of the restaurants except for the Grill and Barcelona. We kept getting pulled back to Agave and Spice, so be sure to at least try those two!
Chez is perfect for a romantic evening if you're looking for a nice date night or to celebrate an anniversary or honeymoon!
Theme Nights
There are also theme nights twice a week – Mexican Night and White Night.
They are set up in the courtyard by the Sol Bar and the theatre (which ensures nothing is canceled in the event of weather!), decorated in bright colours and décor for Mexican Night or white drapery and bright lights for White Night.
Mexican Night is our favourite – there are endless tables of traditional foods including tamales, mole chicken, flank steak, fresh-made tacos, Aztec soup, churros and more!
Tables are in groups of 8, and we've met a lot of great people during these meals.
White Night is exactly that! Everything is beautifully decorated in white linens, lighting tables, decor, etc. I read about this before we came and everyone was talking about how they packed a white outfit for this event. It was so much fun!
The food offered is typically international but the our White Night was Indian food – and since we had just eaten that the night before, we just sampled a few dishes and picked another restaurant to go to.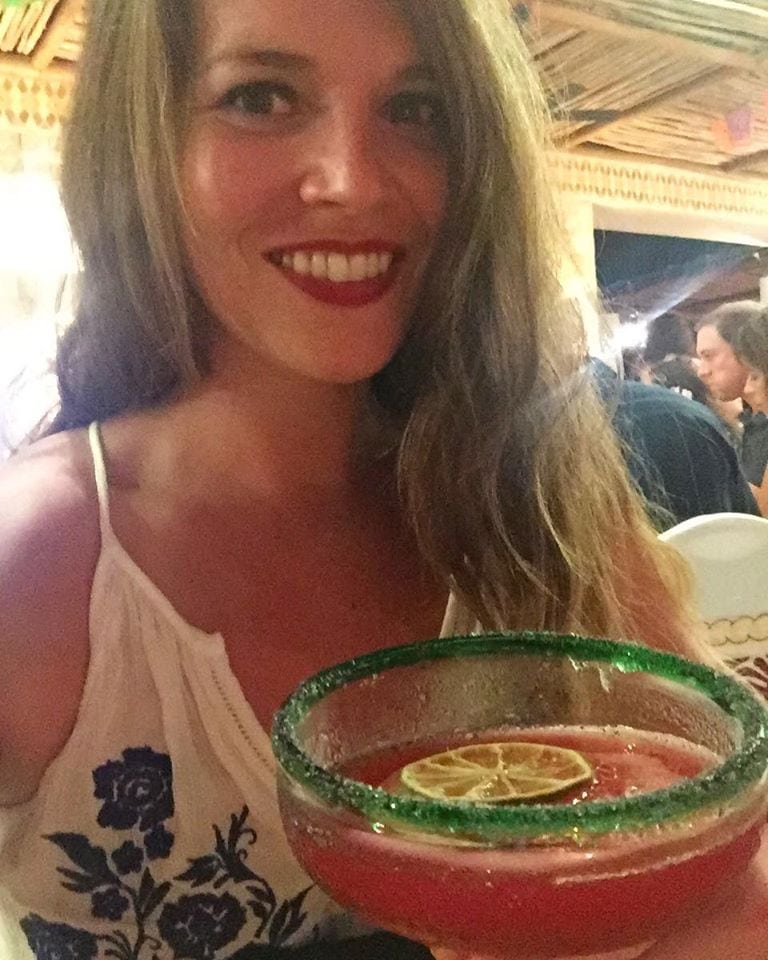 Manager's Cocktail
We had the good fortune of taking part in the Manager's Cocktail event one evening – where a beautiful spread of canapes and champagne was laid out and the managers were there to talk to.
This was a great place to relax and converse before dinner with a beautiful offering of appetizers.
Wine Cellar
One evening during our pre-dinner drinks at the Martini Bar, we were approached by the manager on duty at Chez Isabelle and he offered us the Wine Cellar for dinner since it wasn't booked.
We didn't intend on spending any additional money on this trip, but we really couldn't say no.
For $100 in wine selection per couple (and the list is extensive), you can have a private dining room. It was the best night of our trip!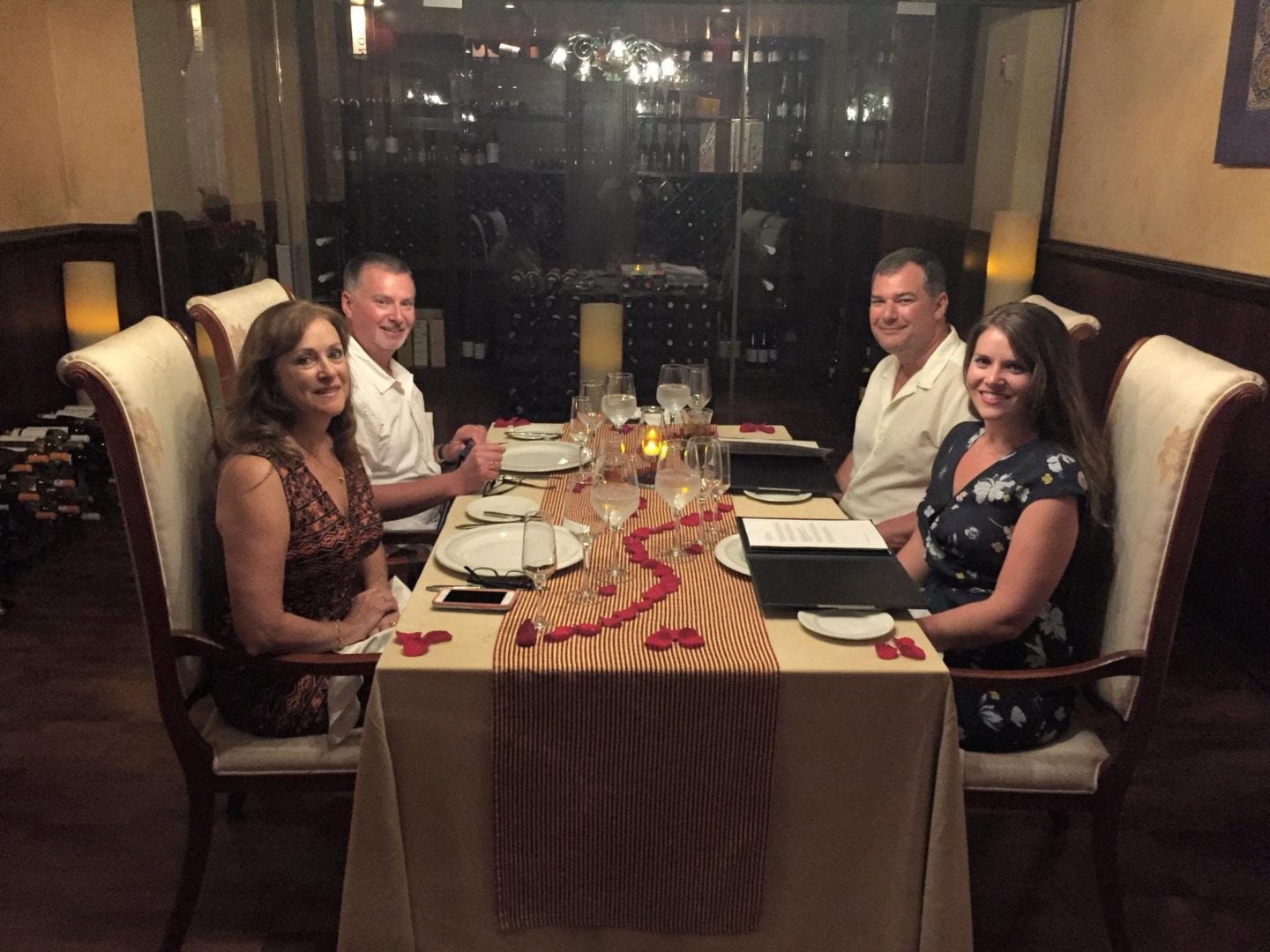 We started with champagne before moving to wine and enjoying a flavourful meal with some of the best food we had at the resort.
We even had flaming coffee at the end which is something not normally done at Chez!
I 100% recommend the Wine Cellar to everyone – for $100 it's quite minimal for a private dining experience – whether you're celebrating a birthday, anniversary, honeymoon, or just wanting a romantic meal.
It's what we intend to do on our return visit!
You can also book this in advance by emailing the resort. You'll be sent a menu to order which wines you'd like to have with your dinner.
I recommend the Mexican wine, Santo Tomás Duetto. We've had it twice and it's amazing!
Dress Code
It is important to note there is a dress code: men in long pants and closed-toes shoes for dinner and collared shirts, and women in dresses/capris/skirts with elegant shoes (no flip flops permitted).
Excellence states that their dress code is casual elegance.
While the dress code can throw a lot of people, it's one of the reasons why we love Excellence. Everyone dresses up and it gives a classy feel to the resort.
Related: 20 Travel Items Under $20 (that are actually useful!)
Miilé Spa
After having our first hydrotherapy experience at Excellence Playa Mujeres, we made it a point to try this one too!
It is slightly different compared to Playa Mujeres, with a different layout and treatments, but definitely worth the $40 US per person (or, one session is included if you're in Excellence Club!).
There are a series of steam and sauna rooms, cold plunge pools, warm pools, bubble beds and jets to "shock" your system into relaxation – a perfect segue into a massage treatment or rest in their recovery lounge.
Your Excellence Times sheet will list any spa discounts for the next day, and you can head down the next morning to the spa to see if you can book your appointment for that day.
It's so much fun and relaxing, and it's a great way to spend a few hours on a cloudy or rainy day!
Entertainment
During the day there is always something you can partake in. We did rifle shooting and archery all week long – and we ended up buying both when we returned home!
From water volleyball, fitness classes, Spanish lessons, massage classes, guacamole lessons, etc., you can do and be as social as much or as little as you like.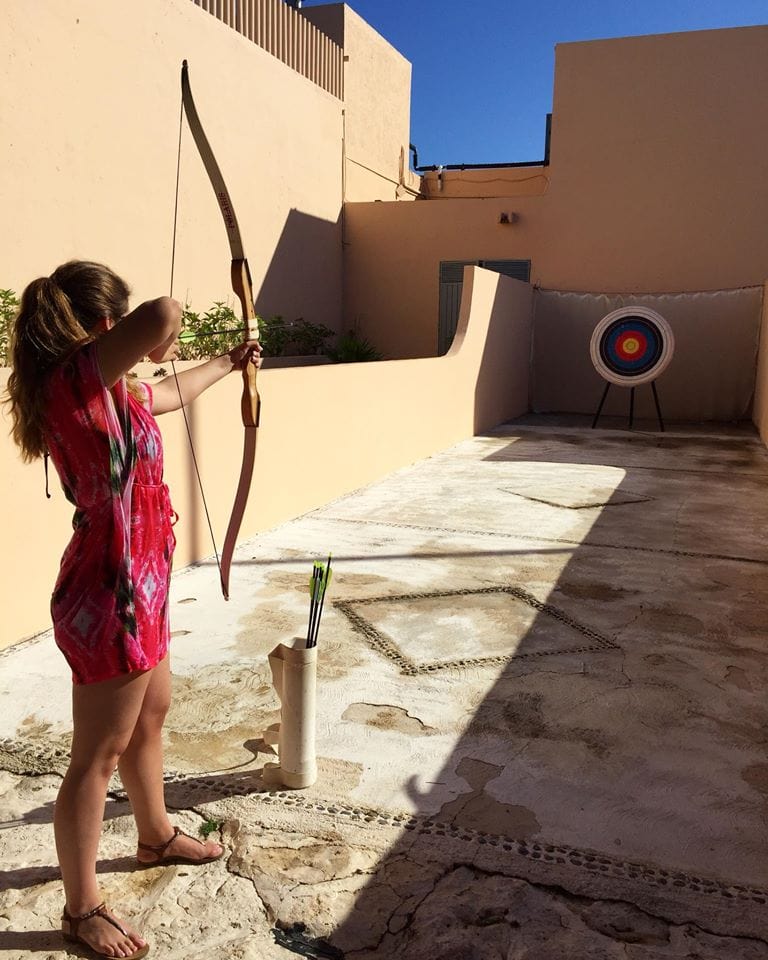 The evening shows are AMAZING – you will not be bored. AT ALL.
There is major talent here, and every evening there is usually a live band before dinner, followed by an evening show.
We loved that we knew the scheduled events for the following day when we went to bed to read our copy of the "Excellence Times".
There is usually live music prior to the evening show, and we absolutely loved sitting in the courtyard with a drink after dinner before catching the evening show.
If you're looking to take some excursions while you're here, here's a list of unique ones to do in and around Cancun and the Riviera Maya!
Final Thoughts
This is a great resort to unwind and relax, eat great food and lounge around. If you are trying to decide between Playa Mujeres and Riviera Cancun, you will notice there is a significant price difference between the two.
You will receive the same quality of food and service at Riviera Cancun. We noticed between the two properties, Riviera Cancun attracted a younger crowd and noticed lots of groups there for weddings, girls' getaways, bachelorettes, etc.
The food and service is equally amazing at both properties and wouldn't hesitate to return to either!
Looking for more awesome adults-only resorts? Check out these top-rated resorts perfect for a romantic getaway!
Related Posts
Pin it for later!