From the moment we were greeted with champagne and were whisked away in a golf cart to go to our concierge building for check-in and saw the turquoise waters, we knew we were in for a great time.
Dana and I spent a beautiful 5 nights at El Dorado Casitas Royale. This property is AMAZING – the grounds are stunning and there are tons of little gems to find all over the resort.
I hope this review of El Dorado Casitas Royale by Karisma convinces you to come here – it's easily one of the best adults-only resorts in the Riviera Maya!
This post may contain affiliate links where I earn compensation when you click and purchase through the links at absolutely no extra cost to you. Feel free to read my disclaimer policy!
Passion for Sustainability with Karisma Hotels
I wanted to start and say what I absolutely LOVED about this resort (and the Karisma brand) is how eco-conscious they are.
Karisma created the Passion for Sustainability Program, which includes initiatives promoting conscious tourism, preserving ecosystems, protecting wild and endangered species, and responsibly using natural resources.
They REALLY promote sustainability of the environment, community, ecosystem, and wildlife.
I was really surprised to see glass bottles in the room instead of plastic, including a bottle opener stating their commitment to reduce single-use plastics.
You'll also find biodegradable straws at the bars (if you ask for one), signs about their community involvement, and wildlife around the resort, in addition to information about how they recycle and source produce from their greenhouse. You can even arrange for a greenhouse tour!
They also have breakers on the beach which protect against beach erosion and serve as an artificial reef.
There's even a turtle nesting area! Each night they comb the beach for eggs and place them in a protected area.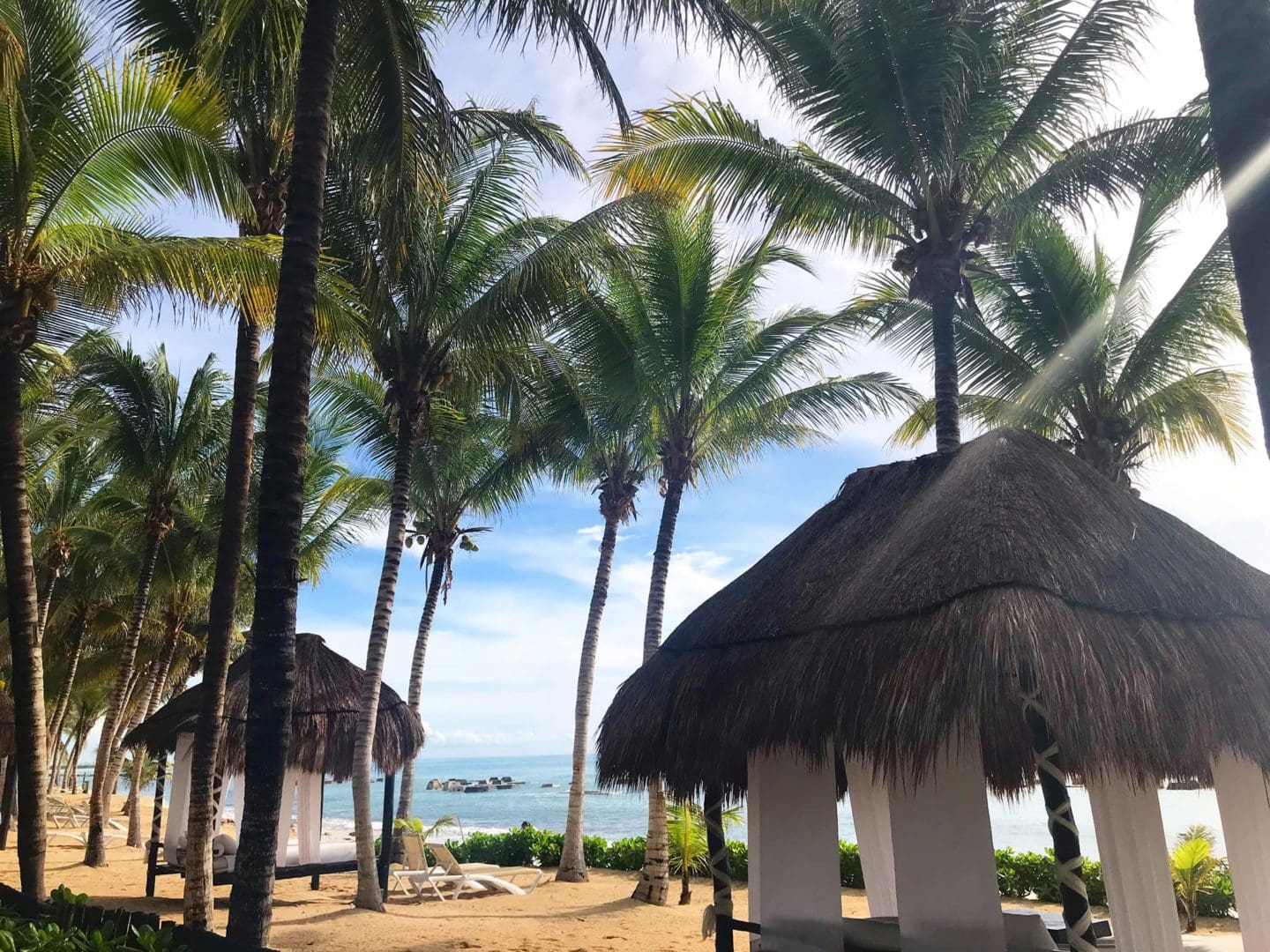 As an avid cat enthusiast, I was pleased to find an outdoor CAT CAFE (!!!) on this property – where stray cats are taken care of and fed daily. Dana thought he'd get off easy and be cat-free for 5 days. Sorry, honey! 😂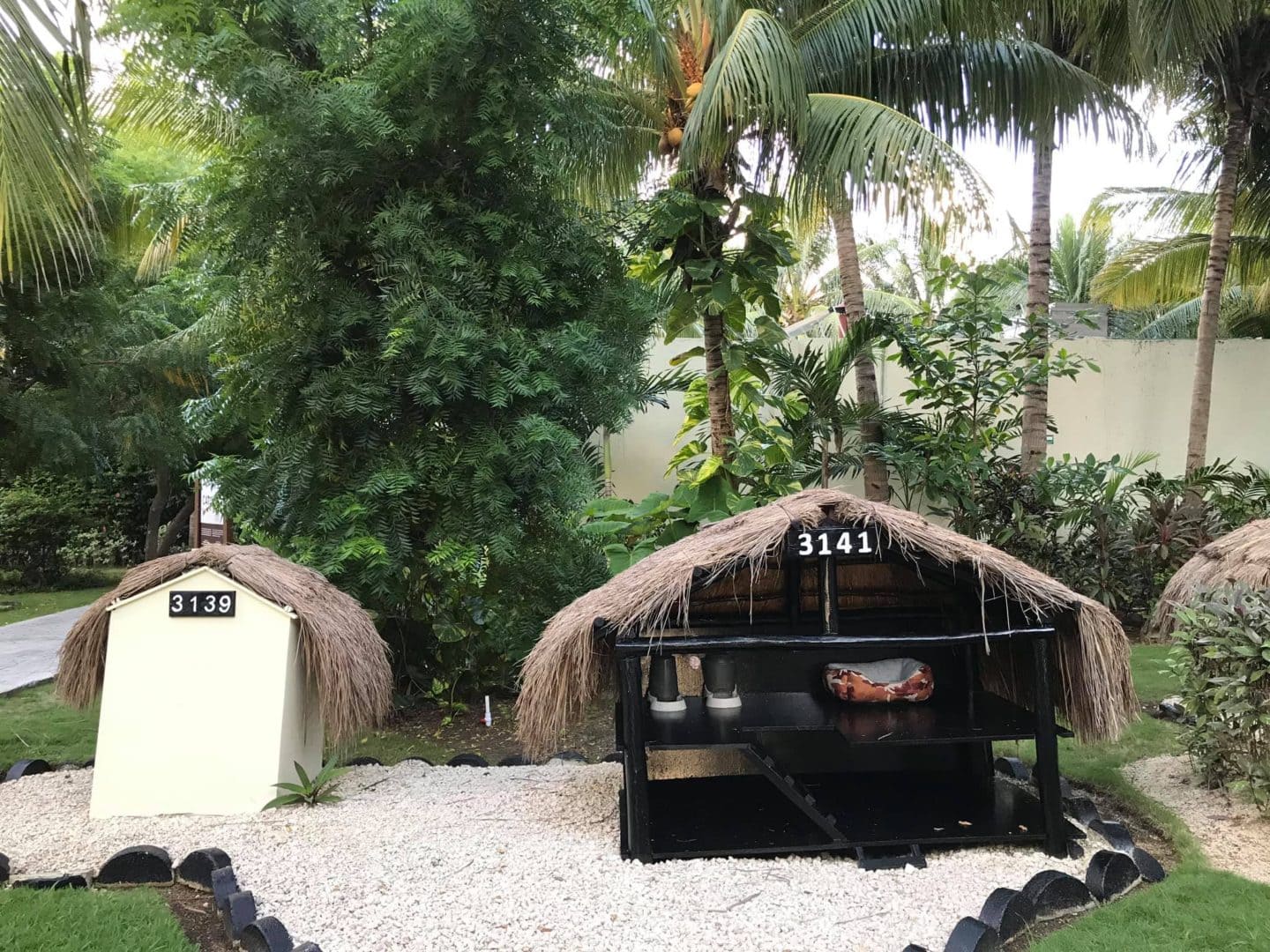 You can also visit Bonanza Ranch and ride rescued & rehabilitated horses!
The Property
When I originally read reviews and looked at the layout and map of this resort online (in my hours of research 😂), I thought it was massive.
However, we found it quite walkable and there are golf carts that will take you where you need to go. There are little huts along the paths behind the buildings that will have a sign with the estimated time of golf cart arrival.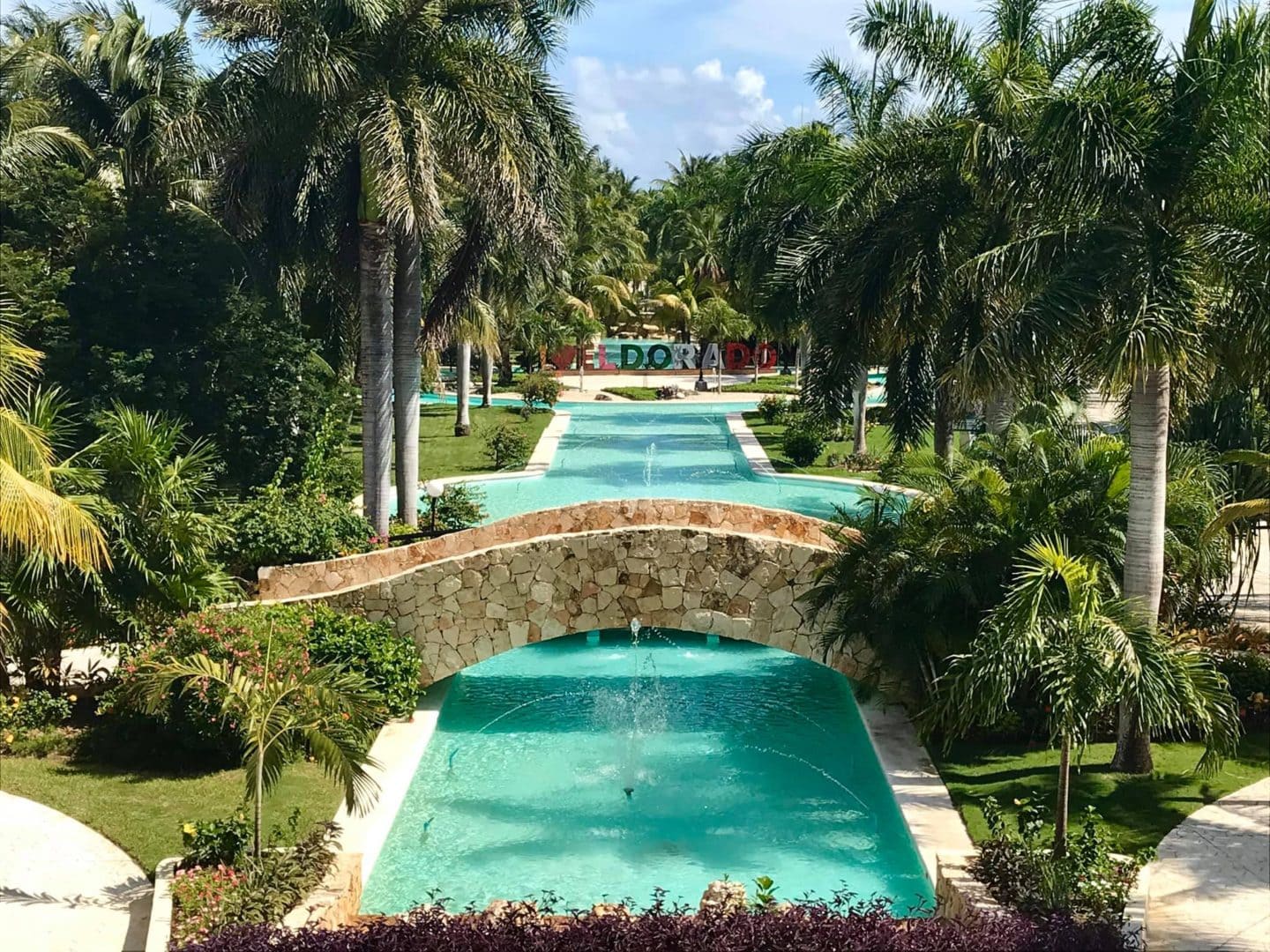 With the exception of 1 evening when it rained for dinner, we walked everywhere! The paths are so scenic and there are different routes you can take.
It's a lovely walk along the beach and there's tons to discover.
Want to check out the grounds? Here's a resort map of the three Karisma properties: El Dorado Royale, El Dorado , and Generations Riviera Maya.
The Casitas
With our stay in the Casitas, we had access to not only the Royale side (adults-only), but the Generations (family) resort as well.
The view from our room in the Casitas (2607) had an unbelievable view!!! I'm pretty sure I cried!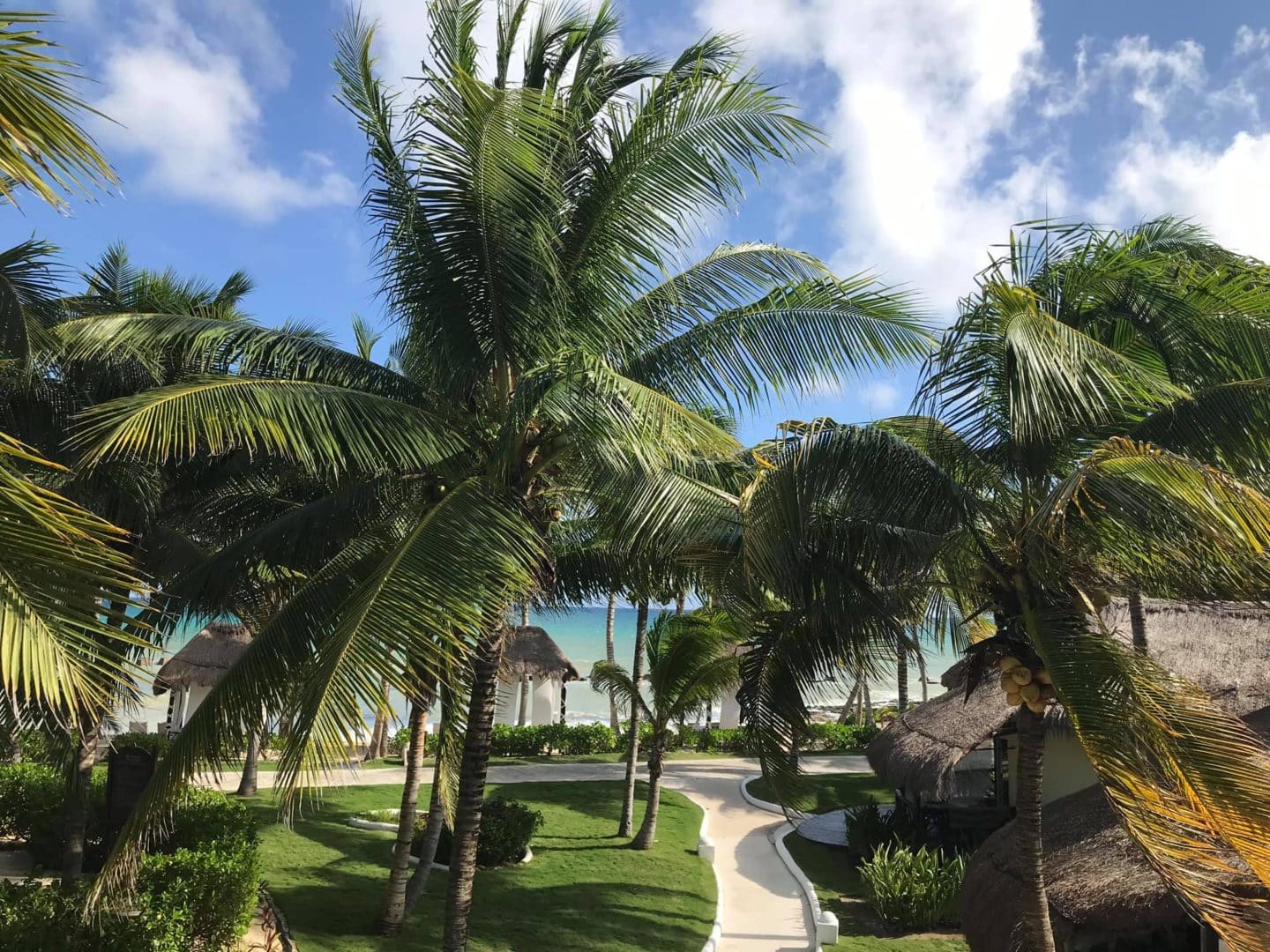 The beach is RIGHT there and it's so peaceful sitting on the balcony taking in the scenery and gentle sound of the waves.
The room itself is beautiful and the bathroom is incredible.
There's a large indoor shower but the Casitas is known for its "Aguas Del Amor" outdoor shower. Nothing beat having an outdoor shower in the morning looking up at the blue sky!
The bed is VERY comfortable and there is also a lounge area and indoor jacuzzi!
The rooms also have the most comfortable robes I've ever worn. I didn't want to leave it behind!
Casitas are where it's at – there's a private pool JUST for your section and I think at most we had 6 in the pool one day.
And it's QUIET.
With your own swim up bar and butler – what's not to love? You are literally steps from the beach and a Bali bed, or jacuzzi and a pool.
You are spoiled for choice!
ps. want to bring your own reusable drink tumbler for the pool bar? Grab one here!
Restaurants
If you're anything like me, you're probably looking for restaurant reviews. I know I scoured the internet trying to find what dish was best and what we absolutely needed to try. 😂
With 10 restaurants just at El Dorado Royale and El Dorado Casitas Royale PLUS 4 at Generations, there are limitless options for you to try!
One of the perks of being in the Casitas is priority reservations. You're able to reserve all of your restaurants in advance which is a nice perk.
Dress Code
It's important to remember that there is a dress code.
For the men: long pants, collared shirts, and casual (closed-toed) shoes.
For us ladies: we can pretty much wear anything dressy: dresses, skirts, long pants, capris, etc.
I ended up wearing jeweled sandals for dinner. Since we walked everywhere, I don't think I could've managed it in high heels (but of course you have the option to take a golf cart!).
Formal Bermuda shorts are permitted, but hats, tank tops, and flip flops aren't. I for one appreciate the dress code. It just gives it an extra touch of class. 🙂
Wondering what to pack for an all-inclusive resort like El Dorado? Here's what you should (and shouldn't!) be packing! Plus, there's a handy printable checklist for you, too!
Favourite breakfast spots
La Isla
We aren't big breakfast people so we came here for muesli, oatmeal and fruit, which was all really good!
Spot
Tucked away by Rincon, it's a private little oasis with a buffet where you can get eggs how you like it, pastries, fruit, meat & breads. We tried all the hot sauces there too!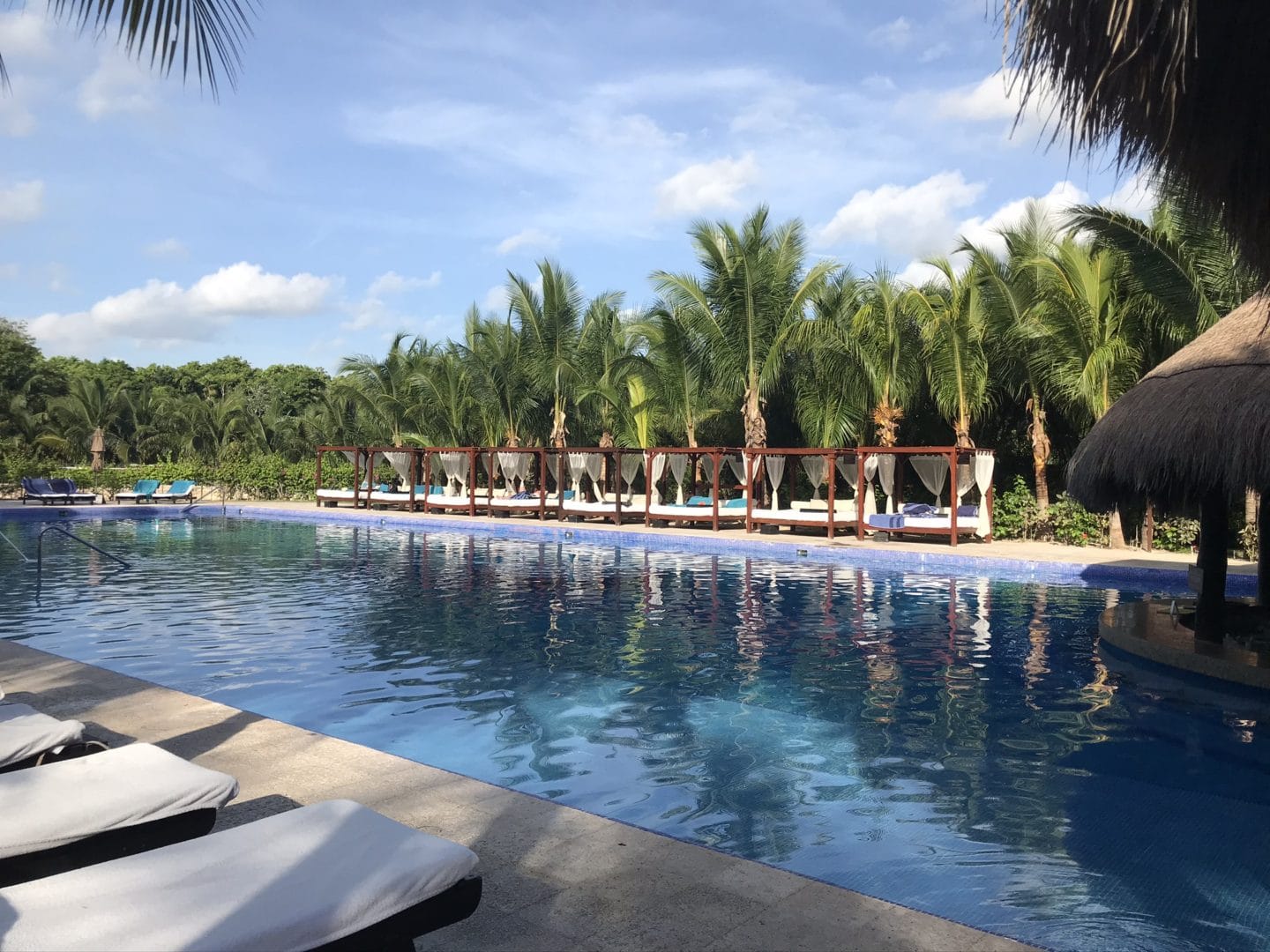 We never made it to Cocotal for breakfast. We also tried Santa Fe and Room Service.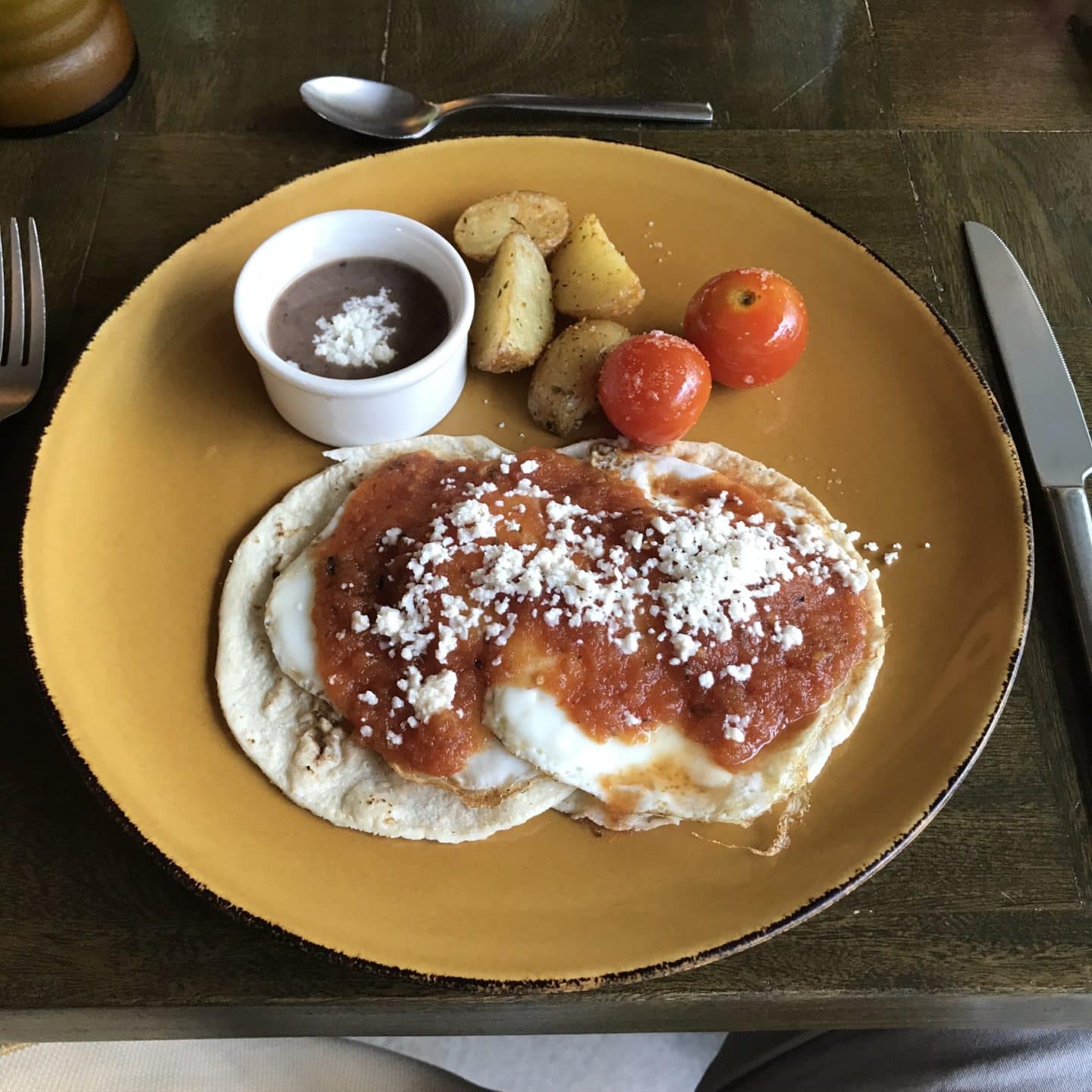 Favourite Lunches
La Cabana
I could eat the caesar salad every day. Do yourself a favour and get the chicken burger too! The chipotle dipping sauce is incredible.
Health Bar
Situated right across from the beach. The peanut butter smoothies and caprese paninis are delicious!
Kick
A stunning beachside setting – words can't describe how beautiful it is! Get the tropical chicken wrap! We loved this location the most just for the views.
Favourite Dinners
As Casitas guests we are able to book all nightly reservations!
Just remember the dress code!
Jade
We loved Jade at Generations (we attempted Kampai but were closed the night we tried). The portions are huge and the beef rolls & sushi were really good – we tried a lot of those!
D'Italia Casitas
D'Italia Casitas was probably our favourite dinner restaurant – the chicken carbonara & eggplant parmesan are really good and worth visiting.
An important note: they are respectable towards food allergies (onions and I don't agree!) and never had an issue!
We also had a beachfront candlelight dinner! We picked an 8 pm but I'm sure the 6 pm would've been amazing with the sunset. There is a saxophonist that comes around and the food is different than the other menus. It's a great spot to be alone and enjoy each other's company.
You ALSO have the option to try Fuentes – the culinary theatre! We never got a chance to come here, but it looked like so much fun!
It's essentially a live cooking show in a large theatre. It's one of the most popular places to come, so be sure to book early once you arrive!
Entertainment
There is no shortage of activities to take part in on all three properties.
Want to hang out by the pool and read and relax? No problem! Maybe you prefer to be sociable and take part in some water activities? There are so many options for that. Want to take a bike tour of the property or see the greenhouse? You can do that too.
Because we were up so early every day (6 am), we barely managed to stay awake until the evening shows started (at 9:45) – I know, how old am I?😂We saw the Michael Jackson show which I always love.
Jojo's is a popular hangout in the evening for drinks and late night food stations on some evenings.
Naay Spa
Naturally, we had to check out the Spa! There is a spa at all three properties, but we visited the one on the Royale side. The sauna and steam rooms are there for you to use (I recommend prior to treatment) and we each had a 50 minute massage – I'm fairly certain I fell asleep.
You have the option to have your massage inside or beachfront. If it was just me I would've opted for beachfront, but since it was an exceptionally hot day, Dana wouldn't have been able to stand being massaged outside. 🤣
We left VERY relaxed and would recommend this to anyone!
Wedding locations
THERE ARE SO MANY! I couldn't believe how many options were to have ceremonies, cocktail hours, and receptions.
This is by far one of the best resorts we've seen that caters to everyone and is so versatile when it comes to wedding events.
There are so many areas with stunning backdrops for a ceremony or reception, and the best part is, with locations like this you don't need any decor. The location speaks for itself!
You also don't need to worry about privacy. These wedding locations are spaced out far enough that you wouldn't even notice if there was another wedding happening at the same time as yours.
If we were able to do it all over again, I would've picked El Dorado for our wedding resort!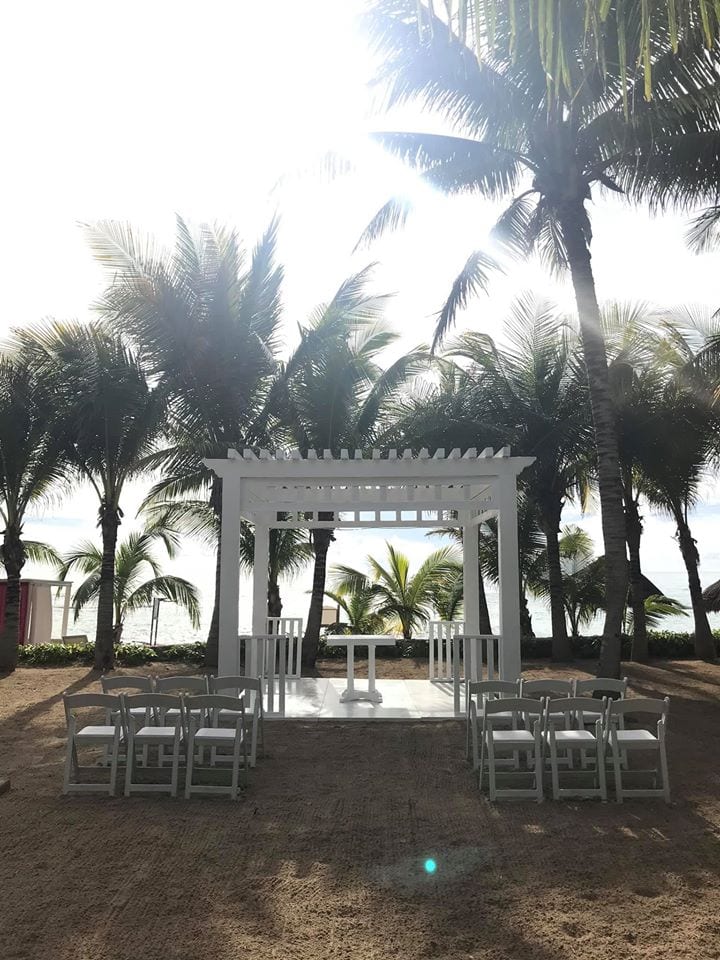 Why you should visit El Dorado Casitas Royale
So let's recap all of the amazing reasons why you should visit this resort. It's one of my top-rated adults-only resorts in the Riviera Maya!
It's romantic
They promote sustainability
It's private and quiet!
It's great for honeymoons (and weddings!), or just a peaceful getaway
The service and food is amazing
It's close to the airport (which for me is a huge perk!)
There is no shortage of activities and things to do!
Final thoughts
You can tell the staff here love their jobs – everyone we met along the way said hello and were all friendly and helpful.
We had amazing service and it's almost as though our moves were predicted before we even made them (hello, another round of drinks!).
Of all of the places we have been, El Dorado Casitas Royale has the best grounds because you will see something new every day – one more reason we loved walking instead of taking the cart! It also helped to get some form of exercise.
I wouldn't hesitate to come back here in a heartbeat and I'm longing for the day we do. You will not regret your stay.
No matter which restaurant at El Dorado you decide to try, or what activities you partake in, you're in for a treat.
I hope this review helped! If you have any questions feel free to contact me!
p.s. looking to compare some more vacation spots in Mexico? These adults-only resorts are perfect for romantic getaways!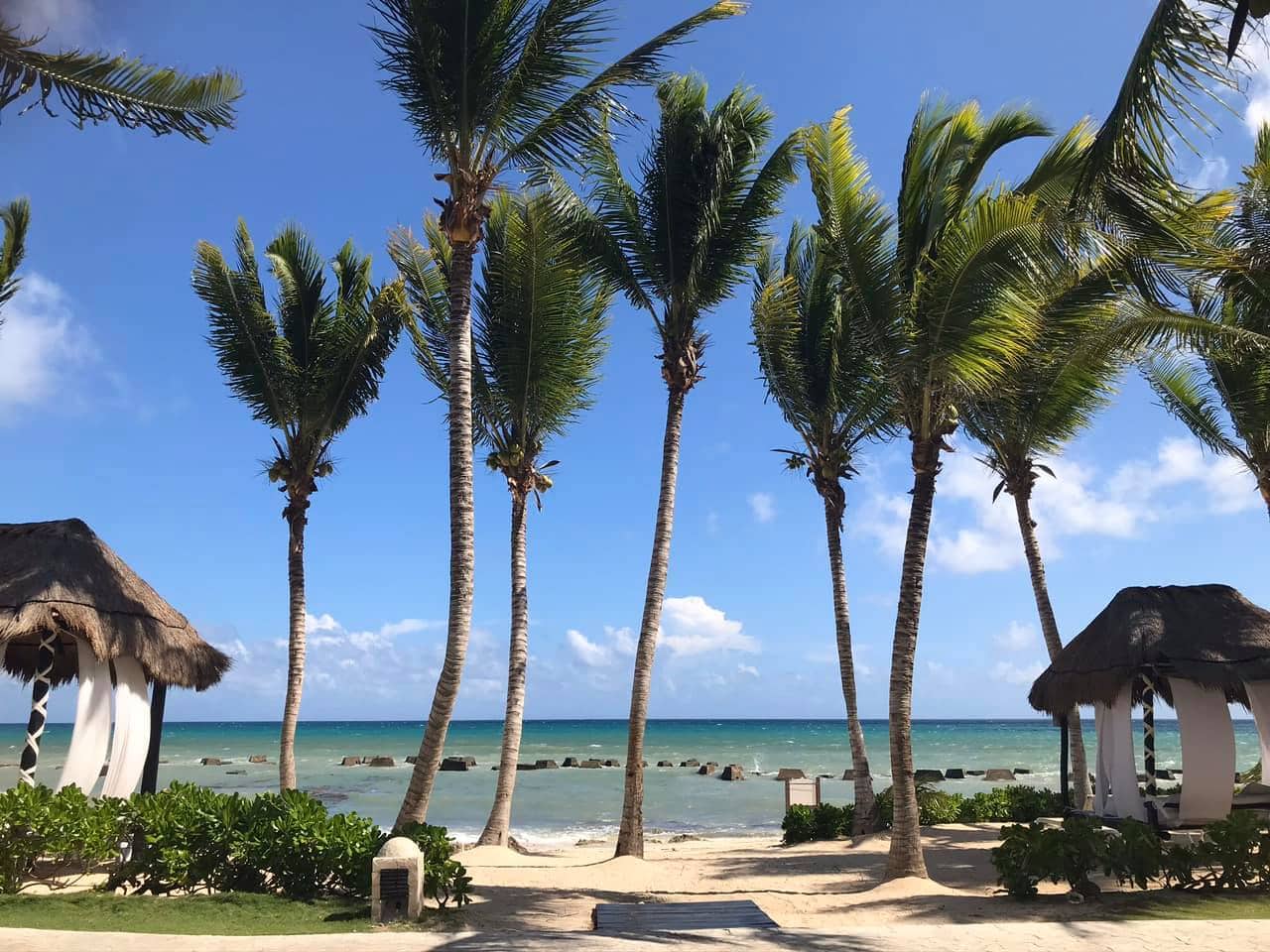 Special mention to Be All-Inclusive travel for coordinating this trip for us and we would recommend them to anyone! James and his team are so friendly and responsive and really KNOW what they are talking about. If you are considering using a travel agent or going it alone, it costs you absolutely nothing to use a travel agent!
James and his team at Be All-Inclusive earned 7 awards in 2019 at the Karisma Gourmet Inclusive Vacation Consultant Awards ceremony including:
Top Producing Home Based Agent in the US
Lomas Level 3 Producer
Top Producers El Dorado Spa Resorts
Top Producers Azul Beach Resorts
Top Wedding Producers Generations Resorts
Top Weddings Producers Azul Beach Resorts
GIVC 5 Diamond Award
James deserves every bit of what he's earned! You can tell he truly cares for his clients and works so hard for his brides.
His reviews say it all, and my experience using Be All Inclusive was exceptional. Those of you who have used him know exactly what I am talking about!
Of course James won't take all the credit for this – he states that without the amazing service provided by the awesome staff and wedding teams at these resorts he represents, this wouldn't be possible!
Related Posts
Pin it for later!