When my husband and I were planning our destination wedding, there really wasn't a whole ton of information out there. I was fortunate to join a few helpful Facebook groups, and since then, I've stayed active in those groups. 8+ years later, I've now interacted with over 7000 members (brides and even some grooms!) from all over the world.
I've been fortunate to have been so involved in the planning process of hundreds of brides, now in various other groups as well, because it's taught me a ton and has opened up a lot of opportunities for me. I've also made countless friends and some of us have even met in person!

Back on track – I wish I knew then what I know now, because I'm sure our wedding would've been completely different, even though our wedding was amazing.
If you're engaged and planning a destination wedding – here are some tips and advice for you to help guide you along the way!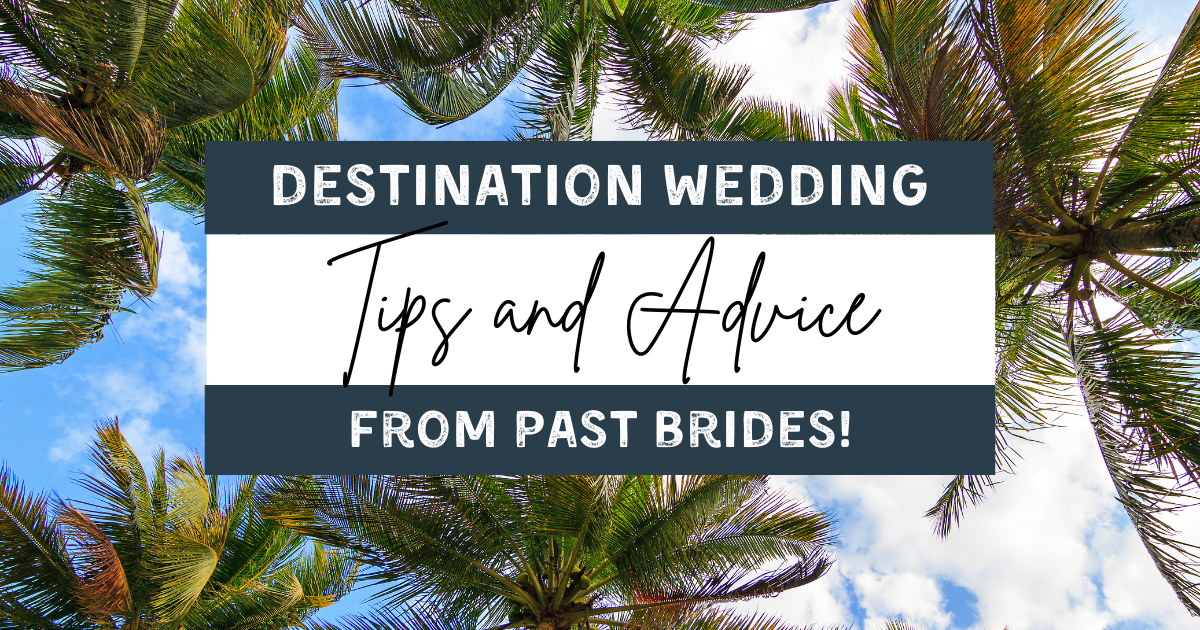 Planning a destination wedding is a unique experience for everyone involved, and you'll run into some scenarios that likely haven't happened to many brides on home turf. Not only are you planning a wedding, but you're also planning a vacation, and possibly a honeymoon too! Being prepared and knowing what to expect and how to overcome some adversities is key.
As someone who has had a destination wedding, here's my advice: Enjoy every single moment. Sounds cliché right? But this is probably the only time you'll have this group of people all together at the same time, so cherish these once in a lifetime memories made.
And I implore this to all brides: Do your research with your photographer and don't skimp out. Photos last a lifetime and you want to be happy with them!
I'm so excited to share with you a list of tips, advice, and lessons learned from 33 past real brides! The advice below is from all of my friends I've made over the years that have graciously allowed me to pick their brains to provide you with a list of their top pieces of advice and lessons learned from having a destination wedding.
Engaged and considering a destination wedding? You should be. See my 8 reasons why you should have a destination wedding!
Destination Wedding Tips Advice from 33 Past Brides
"When planning a wedding you have to remember two things: People will always have their opinions, And this is about you and your significant other. Literally nothing else matters. You will not be able to control every detail, so don't stress over trying. Make a list of your top 5 most important with your partner of things during your special day/trip and focus on those."
–Amanda P., Chicago, Illinois. Dreams Riviera Cancun, Riviera Maya, Mexico. October 2017.
"Be sure to respect your budget. It will be amazing with the blue sky and the palm tree (considering I'm from Canada and have 8 months of cold weather, 5 of them being covered in snow…). Also, don't cheap out on the room. You want a bit of luxury for your wedding night. Room upgrades are not given automatically! Aside from that, keep in mind that doing a group outing is nice, but people want to enjoy their vacation too and not always be with you and your tribe 24.7!"
-Marie-Myriame B., New Brunswick. Sandos Caracol Eco Resort, Riviera Maya. May 2019.
"My advice is remember where you are getting married, let that be your decoration save your money and let the scenery shine not overpriced decorations you choose that location for a reason now remember why. Also remember that most will not get planned and finalized until the very end like the week before or even when you are there so breath and love your partner and remember why you are getting married. Don't fret over a flower arrangement when you are 6 months out, most venues have experienced wedding planners – LET THEM HELP YOU! Worry about getting you and your partner to the destination your guests can worry about themselves, and even better if you need to enlist a good friend to help as a buffer for difficult guest questions so you don't have to.

When trying to choose a resort what works for one person may not be best for you so if you have a lot of questions about which is best for you talk to a travel agent. This is what they do! The deciding factor for our resort was the fact they advertised an ice cream parlor and we had our first official date at an ice cream shop.

We got married in the middle of hurricane season, prices were less and from the research we did we weren't likely to encounter a storm every day of our trip, it actually only rained twice the whole week we were there.

We did not have a DJ just made our own playlist and brought a speaker, but we knew our group wasn't huge on dancing and wanted a more relaxed reception.

My last piece of advice is wear sunscreen!!!!! I made that mistake during our trash the dress pictures, which I highly recommend doing I secretly like those pictures better then most of our wedding ones."
-Michelle C., Denver, Colorado. Dreams Sands Cancun, Mexico. September 2017.
"The most important thing I learned was that things are going to go sideways no matter how much planning you do, and that's ok! And that's true whether you plan at home or abroad. Our wedding wasn't perfect because of what went right—it was perfect because we got married on the beach, my favourite place, with the people who meant the most to us. That feeling would never have been possible at home for me."
-Katie A., Alberta, Canada. Dreams Tulum, Mexico. November 2017.
"#1 thing I've learned so far: Don't be surprised if your closest friends or family CANNOT make it to your Destination Wedding. Even if they say they will be there, that isn't always the case. It's hard to not take it personally, but you've got to get into the mindset that your ideal vacation isn't always someone else's ideal vacation. 😊"
-Monica P., Northern California. Wedding scheduled September 2020 at Mandala Beach Club, Cancun.
"Even though you hire a wedding coordinator as part of a destination wedding, the key is getting (and staying) organized. I still had a full binder that I would keep everything in, then when we departed for Mexico, it was packed and ready to go! Then when we had our first (and only) meeting with our Wedding Planner Claudia, we just compared notes to make sure everything was ticked off the list. This way, I had all my correspondence with her, plus my own charts, etc. It wasn't a LOT of extra work, and honestly it made me feel still like I was "owning" the day…

Start a list of questions then send an email every couple weeks, or even once a month at first. Number your questions so it's easy for them to get back to 1, 2, 3…as opposed to just paragraphs of details that you're both going to miss. TRUST US when we say, MOST of the wedding comes together ONCE you arrive and have that big meeting. They ARE getting your emails, they ARE making a file for you and they do this HUNDREDS OF TIMES a month. Yours will be AMAZING!

Get circle seating if you can! And don't hesitate to come up with some additional details that make your ceremony personal. We did circle seating, a ring "warming"/blessing and we had a couple special notes we had the minister read. They were 100% on board to incorporate it all!

Don't bring ALL of Michaels with you. Or if you plan to – have each guest take a piece of decor home with them to remember your day. Or see if the resort wants to buy it – we did that and never looked back. You might go there with 24 vases, you CERTAINLY only need to come home with 1!

Set a limit to your "spending" and stick to it. People are NOT going to notice one less cushion, or 2 less drapes of fabric. Pick some YUMMY FOOD, get a ROCKING playlist and just SHOW UP. As my hubby said to me DAILY, "all we need is YOU and I to show up. Period".

FINALLY – make your speeches AFTER you eat. Ours were during and my hub is still mad he wasn't able to eat the GIANT TACO BUFFET. hahahaha"
-Meg A., Alberta, Canada. Dreams Riviera Cancun, Mexico. November 2015.
"Let the pros at the hotel work! They know what they're doing. Don't sweat the small stuff. And don't book in July and make your guests sweat bullets, it's hot down here y'all!
"
-Katrina P., Texas. Dreams Tulum, November 2015.
Looking for destination wedding guest book ideas?
Here's a list to get you inspired!
"Don't stress yourself with things you cannot control. Weather, seaweed on the beach, crazy Aunt Karen. Don't obsess with those things! Take a moment after your ceremony to be alone with your significant other. You will be so busy all day and it's so nice to look lovingly at each other with no distractions. If you are feeling overwhelmed, outsource. People want to help, you just have to show them how. But don't micromanage it!"
-Betsie W. Wisconsin, USA. Dreams Riviera Cancun, November 2015.
"Wedding planning is fun and fabulous…said no one ever! Best advice? Decide what you want and if it's important stick to it. Everyone will think they have a say in your wedding. If you are paying for your own wedding then no one else has a right to demand anything. We decided on a destination wedding because we love the beaches in Mexico and knew that's where we wanted to say our 'I Dos'. We were excited to invite guests but understood if they couldn't come as destination weddings are expensive to attend.

The resort was the backdrop so we kept other décor to a minimum, otherwise why bother getting married at the beach. Instead of doing a rehearsal dinner, we took our guests on a yacht cruise as a thank you. Our guests still talk about that cruise years later.

Pick a photographer based on liking their style of photography. I went with the photographer included in my wedding package. I didn't like any of my pictures. Silver lining…. for our 2nd anniversary I had a local artist in Mexico create a painting from our wedding picture as an anniversary gift."
-Sharon L., Nebraska, USA. Valentin Imperial Maya, Puerto Morelos, Mexico. February 2016
"I would say don't over think it. Everything will fall into place. Remember your guest won't realize if a chair tie is missing or a light is out – enjoy the moment. Less is more! A lot of stuff I spent money on my guest didn't even realize it. All they wanted to do was have a good time, dance, drink, and enjoy themselves. The day will be how it's suppose to be. And take thousand of pictures – even embarrassing ones. When it's all over and you get pictures and video back you'll laugh and be reminded of a good time.

While you're anticipating your big day you feel like a worker as oppose to bride or groom because your busy wanting to make sure all is well, but the videos and pictures when u get a chance will make you experience all that your guests witnessed."
-Storm G., New York, USA. Dreams Playa Mujeres, Mexico. July 2019
Looking for Destination Wedding Packing Lists?
"My advice… I've got three. 1) Make sure to properly vet your travel agent, check all the reviews and ask the appropriate questions. The one I had was great in the beginning with quick responses, and getting things organized, but that quickly changed. Responses became less and less, our guests were complaining they couldn't get a hold of her, she ended up booking the bride and groom on the wrong flight, and we couldn't even sit together. The biggest doozy though was the $32000 that she ended up taking from a combined 3 guests, all of which were elderly.
2) Your wedding is yours… no one knows what options you are given for food, drinks, decor, etc. People are just happy to be there and celebrate, don't make yourself broke trying to give them everything.
3) Photo and video… if you're going to do both, hiring a team is amazing, they vibe off each other and make suggestions that the other may not have thought of. And video… it's a must… you get to see all the little moments and reactions that may have passed you by."
-Nikita B., Calgary, Alberta, Canada. Jellyfish Punta Cana, Dominican Republic. April 2016.
"Keep things simple. We brought 2 totes full of decorations and our guests were more impressed with the party favors, food and dancing. We could have used everything the resort provided with our wedding package because the scenery was decoration in itself.

Research if your resort is more laid back or a party resort. We brought 37 people who like to party to a romantic, quiet resort. It caused some minor issues with other guests and resort staff. We felt like we were being told to be quiet all the time. We eventually just took our party to the X-Lounge near the beach when the resort started to wind down. No one bothered us there and we could be as loud as we wanted. Everyone had a blast though.


Don't panic if your wedding planner does not respond to an email for a few days. They are busy with other brides and weddings. They are experts and know what they are doing. Our wedding planner was fantasic and bought our vision to life just from our emails."
-Tameica B., Nebraska, USA. Excellence Playa Mujeres, Mexico. August 2018.
"If it rains the show will go on and it will be amazing (as it did at my wedding)!"
-Meghan K., South Carolina, USA. Secrets Capri, Riviera Maya, Mexico. January 2016
"If I were to give one piece of advice to future destination brides, it's to not focus so much on the small details. Think about the kind of stuff that's actually going to matter to you a year or 10 years down the road. I killed myself on things like welcome bags and décor and wished I had of stressed a little less and enjoyed the experience a little more. And after all, you have a million dollar view as your backdrop, so sip on a pina colado and leave the work to the wedding coordinators. "
-Reanna S., Maryland, USA. Dreams Riviera Cancun, Riviera Maya, Mexico. August 2016.
"Have no expectations on your guest list. Even your closest family and friends can let you down! Plan to go ahead of your group so you can have some time to get set up."
-Stephanie T., Washington, USA. Now Sapphire, Riviera Maya, Mexico. May 2017.
"In my opinion- A destination wedding is the most amazing experience (even through the good and bad moments of planning). The best advice I can give is be patient and positive with your wedding coordinator. I understand it can be stressful waiting to hear back from them, but trust me, they read every email and take their notes. The most satisfying moment is when you step foot on the resort and sort through every detail with your coordinator. My wedding was above and beyond what my husband and I expected. Our wedding coordinator added a few unexpected extras to our reception which made the wedding even more unforgettable. Be patient and positive- it may pay off in the end."
-Danielle P., Berkley, Michigan, USA. Dreams Riviera Cancun, Mexico. February 2016.
"A few things you should know about having a destination wedding is that at the end of the day, your wedding will be perfect, but of course there will be bumps along the way. Be sure you research your venue – read reviews like crazy. When selecting your wedding party be sure you have no doubts when selecting, if you do, they should not be in it. Be sure to accommodate your guests because they are making the trip and spending the money to come celebrate with you. Also, make sure you are in contact with your wedding coordinator and ask them all of your questions even if you think they are dumb. Last but not least, be sure you give your guests as well as yourself time to make plans and save for the special day."
-Kiersten W., New Jersey, USA. Dreams Riviera Cancun, Riviera Maya, Mexico. July 2016.
"For me, I'm a control freak, so I loved planning all aspects myself with recommendations from Cancun Brides and reading reviews. Go with the flow, don't freak out, don't let people's comments about the venue location (like negative connotations about the destination) get to you. Most of my guest had never been to Mexico and were concerned with what they here on the news ALL OF THEM HAD AN AMAZING TIME, completely changed their views on Mexico and some have already been back since the wedding. Don't stress out – go with the flow."
-Ciara L., Orange County, New York, USA. Hyatt Ziva, Cancun, Mexico. July 2018.
"The best advice I can honestly is to not sweat the small stuff and truly soak in every second! When people say it's over in the blink of an eye it truly is. Mexico is as beautiful as it is in the photos so don't sweat the small details and go crazy on decor. Use that money towards photo/video or something that people will truly remember like a booze cruise prior or a DJ! I don't even even remember what my flowers looked like, but I do remember how good the music was. I am so happy we spent the money on a videographer to grasp the special moments. Things I probably wouldn't do is some of the things in the welcome bags like stain remover & sanitizer because most already bring that but I do think the itinerary, tumblers and beach bags were a hit!"
-Cristina C., New York, USA. Royalton Riviera Cancun, January 2018.
"Work with an excellent destination wedding specialist as your travel agent. This made all the difference for how smooth our process was for us and for our guests. "
-Brenna C., New York, NY, USA. Majestic Colonial, Punta Cana. July 2014.
"We just did the complimentary package with no extras, with 35 guests. Ultimately our wedding cost nothing but the price to travel. Perfect budget for us! Also I'm not girly and very laid back when it came to wedding planning so the simplicity of the the complimentary package on the beach was perfect for us!"
-Stephanie B., Nebraska, USA. Moon Palace, Riviera Maya, Mexico. June 2017.
"Don't sweat the small stuff – it seems big at the time but when you look back, it's not! I stressed about stupid chair bows for the longest and not 1 person noticed them. We skipped our big reception at our all inclusive and chartered a yacht for the day as a thank you to the guests that made the trip. Best money spent with H2Oh Sun Cruises – lunch and drinks provided! If you end up bringing a ton of stuff, get a few pieces of old luggage and leave it there!"
-Jen R., St Louis, MO., USA. Dreams Riviera Cancun, Mexico. June 2016.
"Destination weddings are the best because it takes you and your closest family and friends to a location to enjoy each other's company for more than a day. Regular weddings last a few hours and you never get to be with all your guest as you would for a few days at a destination wedding . Biggest advice: don't get stuck in the minor details like flowers ,bags for guests ,menu cards etc . No one notices those details. When you have such a beautiful backdrop as a destination that alone is the most memorable thing. Also remember to go with the flow .. everything will not be completely perfect. A lot of things are our of your hands i.e. weather, flights , guests themselves. Just have your mind set on ultimate goal… marrying the love of your life in a location you both love! If I could I would do it all over again !! Best decision made!"
-Rachel J., Boston, MA, USA. Dreams Riviera Cancun, Mexico, August 2016.
"My top lesson learned while planning a destination wedding is: Making sure you research the vendors! If it wasn't for my photographer I believe my wedding would have been off track! They helped me keep everything in a timely matter so I wouldn't miss any special moments! They also kept my wedding party in control. The heat was one of the worst we have seen and everyone was getting restless and didn't want pictures taken! "Too hot" they said. My photographer made sure everyone stopped complaining and sucked it up for my ONE special day!!"
-Joelle G., Connecticut, USA. Hard Rock Hotel Cancun, July 2019.
"The biggest lesson I learned while planning my wedding is that people suck. Seems unrelated, right? Well, when it comes to planning a wedding, a lot rests on your shoulders. The last thing you want to do is also take on are the tasks your guests should be responsible enough to handle themselves. Unfortunately, your guests will probably turn to you with every inquiry, question, concern, and major problem that arises during the planning process. Try to find another guest to assist you in handling those issues as they come up. Or, turn to that friend you can really vent to. In my case, one of my bridesmaids told me to take a nice cooling shower while she ran down the the bar closest to my room and returned with a shot of tequila and a cold Corona for me. It was exactly what I needed."
-Christina E., New York, USA. Dreams Tulum, May 2018.
"Guests! You've probably envisioned who you'll invite, who will definitely come, who probably won't but would appreciate the invite, and those you can invite because you know they won't come! Now toss those expectations out the window. People will hurt you over this experience. Maybe not intentionally but it's a big commitment for people. They may have been planning another trip for years, have other plans for their vacation time, not be able to take vacation at that time or not be able to afford it no matter how much notice you give them! Try not to take it personally but also let those you really want to come enough notice and communicate expectations as early as possible.
We had people we were 100% certain would come (parents/siblings etc.) make no effort to make it, but we also had people we never thought in a million years would come make it. You just never know!Once at the resort, remember this is their vacation too. Don't over schedule their time.
Make sure you communicate what you consider mandatory and what they are welcome to join in on if they wish. This may be someone's first vacation or the only one they can take for a long time. If someone is single, expect they may want to bring a date or a friend. Again, this is their vacation. It's your wedding though so if you don't want them at the ceremony, that's ok! Or if you want your guest to pay for their plus 1 dinner at reception that's ok too. The key is communication and setting expectations right off the bat. At the end of the day, the most important part is that you and your significant other are there together and that's all that matters. Happy planning
"
-Genna B. Calgary, Alberta. Akumal Bay Beach and Wellness Resort, Mexico, July 2018.
"I learned that it all will work out in the end. Plan using reviews and advice. But don't stress about if things may go wrong, because once you get to your location, you will be so happy you are there with your family and friends. Those who want to and are able to come, will come, and if they don't then you just have to accept that and not let it bother you! Also, as cliche as it is, don't sweat the small stuff. For example, the communication with wedding planners at resorts in Mexico are not as quick as we are used to in other places, and it may be frustrating. But I promise it all comes together, always does! They just seem to really hustle towards the end. I recommend contacting in-house decor departments, etc, directly! That helped me a lot. ALSO MAKE SURE YOU EAT ALL OF THE CHICKEN NUGGETS YOU WANT! LIVE IT UP! Hahaha."
-Morgan S., Ft. Lauderdale, USA. Excellence Playa Mujeres, Mexico. May 2017.
"My advice would be to keep things minimal and enjoy the natural scenery. It's part of why you choose a destination wedding in the first place. Don't sweat the small stuff because it will work itself out. I would also recommend not having ceremony programs because people leave them and really pay no mind. Also, large amounts of welcome gifts or gifts for the wedding couple, I would not recommend. This can make coming home more expensive, or awkward if the guests do not have extra room. We budgeted $10k and had two weeks in Cancun, three resorts and that includes the wedding and airfare. Set a budget and stick to it. There's no need to spend extra if it's not needed!"
-Danette B., Fort Worth, Texas, USA. Dreams Riviera Cancun, Mexico. October 2015.
"We had an absolutely incredible wedding in the end at the Riu Palace Peninsula, it's an amazing hotel and I would recommend as long as you are happy about not having a beach ceremony. My advice would be to not sweat the small stuff because at the end of the day the small detail does not matter however, it wasn't until a few days before the wedding that we were informed it's a beach view ceremony (standing on the grass and that the hotel doesn't actually do beach ceremony's). It turned out that TUI had printed the wrong information in their wedding brochure!! The hotel photographer was great but I wouldn't recommend the videographer, complete waste of money! Save your money and ask one of your guests to film from a go pro – we did this and the video is 100xs better than the video we paid for."
-Stacey C., England, UK. Riu Palace Peninsula, Cancun, Mexico. June 2017.
"My advice is when considering a destination wedding, know in advance and be prepared for people to not come who you thought would come and some people might/ will cancel last minute. If you're prepared to have a small intimate wedding, then destination is perfect for you. I was hurt when some family didn't make it or some friends cancelled last minute but when all said and done my wedding wasn't about any of that, it was about marrying my best friend. Also, communication with the resort is not the best but they do know what they're doing. Be patient. When there, tell them you want to keep you bouquet if you want to otherwise they'll toss it. Learned this the hard way and lost my aunts brooch. And if you're doing a Trash the Dress – get a cheap second dress!"
-Genie C., Illinois, USA. Dreams Riviera Cancun, Riviera Maya, Mexico. May 2016.
"Book a group excursion if you can work it into your budget. The wedding is only so many hours and I wish I had spent more time with guests and booked a Sunset Catamaran trip as a gift for them!"
-Stephanie G., Ontario, Canada. Barcelo Maya Palace, February 2017.
"We had 73 people total. It was the most amazing time! Everyone loved the resort and the weather was perfect. We were worried about seaweed but it stayed away from the beach where our beachside wedding took place!

I started planning about 9 months in advance. I got a second job to save money for welcome bags and the "thank you" sunset cruise we provided for our guests! That was amazing and well worth the money. We used H2Oh Sun Cruises.

Welcome bags- yes they are nice and guests used them- my opinion- keep it simple. I over did and not sure it was all used and probably could've saved a lot of money. I also took a lot of my own decorations- table runners, table covers, votives and candles, photo frames, chair covers, napkins, etc. it looked beautiful but it was a lot to tote and worry about. I'd do it over again though because I saved a lot of money!

My mom's cousin came as a guest and did our photography which also helped us save a lot of money. One regret was we didn't do a video! We had people taking videos with the intent to have them made into more formal wedding video but that has yet to happen. Pay for the video! I feel like those memories would be amazing to watch right now!

Biggest piece of advice- relax!!! You're on beach time. It won't be perfect but in the end, it will be! Looking back small details won't matter. To me, having my friends and family together in paradise having fun & celebrating was more important than if the chair covers were on right! No one notices or cares. Take deep breaths. Look around! Take it all in. Don't try to control what others do. Allow them to have fun on "their vacation". They paid for their time away too.

Also- if friends or family can't make it, don't loose friendships over this. Don't worry if they went on another trip or bought a car or whatever instead of managing their money to go to your wedding! It's their loss! Just because people can't make it, doesn't mean they don't care or love you any less. I see so many brides posting about loss of a best friend over their destination wedding. Don't be that person! We all have circumstances in life we can't control! Relax! It'll be ok!

'Have fun! Stay hydrated! Don't get burned before the wedding! Lastly, look around at all those there celebrating YOU and realize how lucky you are to be getting married in paradise! Best day ever!
"
-April M., Virginia, USA. Grand Palladium Riviera Maya, Mexico. June 2016.
Need a Destination Wedding Packing List?
Related Posts
Pin it for later!