One of the last things on my mind when it came to planning our destination wedding was the logistics of travelling with my wedding dress. Yeah – didn't think that one through!
If this is causing you great stress, don't worry. It's not as scary as you think. You aren't the first bride to travel with a wedding dress and you certainly won't be the last, either!
With proper planning, a garment bag, and a positive attitude, flying with your wedding dress will be a breeze.
I hope these tips on how to travel with your wedding dress put you at ease. These words of advice will help you be fully prepared when it comes to flying and transporting your dress to your wedding location!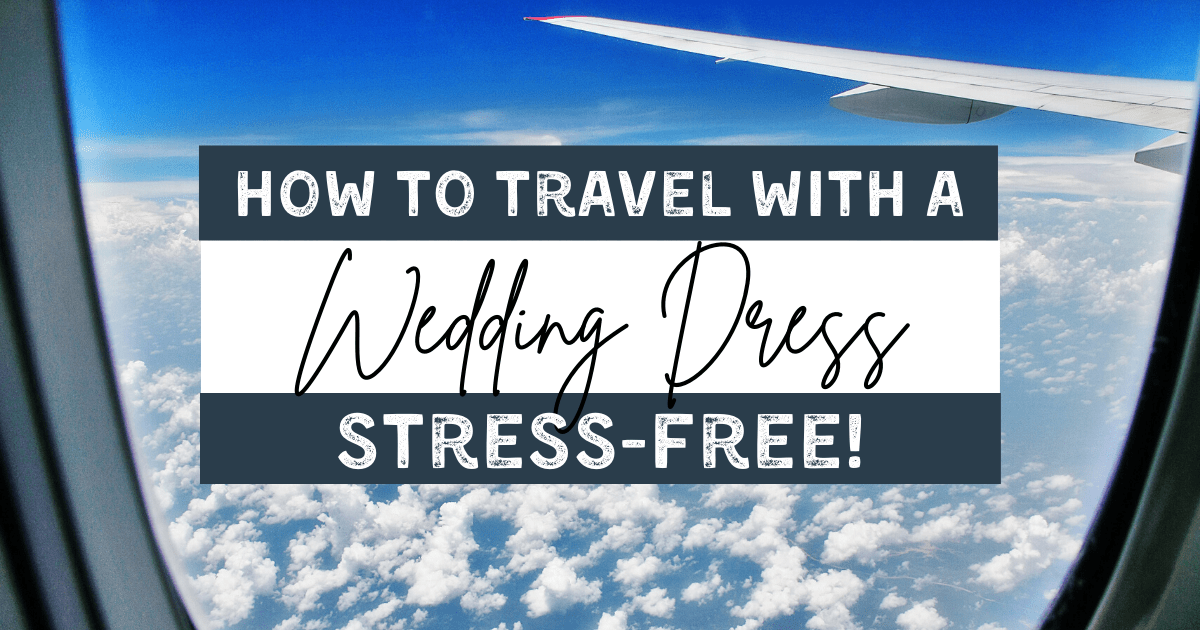 I was so stressed about travelling with my dress and I was so afraid of it getting damaged on the flight.
Which is kind of funny because on the way home I literally stuffed it in a suitcase. 😂
Let's check out some of the best tips on how to travel with your wedding dress so you're fully prepared!
This post contains affiliate links which means I earn compensation when you click on the links at absolutely no extra cost to you! Feel free to read my disclosure policy here. Thank you for supporting my blog!
Can I Take My Wedding Dress on a Plane?
Absolutely! This is the preferred, easiest, and safest route for you transport your dress. It's often considered your carry-on or personal item and will most likely be stored in the overhead compartment.
Check your airline's carry-on policies ahead of time
Each airline has its own policy when it comes to taking a wedding dress on-board, so be sure to double check yours!
Some airlines may ask you to store it in the overhead bin, while others have a closet you're able to hang it in. Other airlines have a dedicated overhead bin just for dresses. If you can't find what you're looking for online, give them a call and ask about their wedding dress policy.
Does a wedding dress count as a carry-on?
You will also find varying answers on whether your wedding dress is considered a carry-on item OR a personal item (there's a big difference!) so it pays (literally) to be prepared prior to boarding so there aren't any unforeseen expenses.
Related: What to Pack for an All-Inclusive Vacation (plus Printable Checklist)
Invest in a Travel Garment Bag
One of the best things you can do is to make sure you have a sturdy garment bag to transport your wedding dress in.
You can either bring your wedding dress in the garment bag from your bridal store (I did!), or you can invest in a garment bag that will hold much, much more than just your wedding dress.
These specialized garment bags are a lifesaver according to many brides. The best wedding dress travel bag is made by WallyBags. These garment bags are made by WallyBags, and they come with lots of storage space which is awesome considering airlines will count garment bags as a personal item! They fold in half and store nicely in the overhead bin, or can hang in your airline's closet (more on this later!).
Now, there is a huge division between brides who have and haven't used WallyBags. Those who have used it have loved it and rave about it, and those who haven't said they were fine without (I was one of them, and I don't know the difference!).
What size Wallybags Garment Bag should I get?
There is SO MUCH you can fit inside a WallyBags garment bag. Make sure you get the 66 inch size which is what brides commonly purchase for travelling with their wedding dresses.
Not only can you fit your wedding dress in there, but you can also put your shoes, HIS shoes, and his suit as well! Garment bags (and specifically WallyBags) ensure your delicate wedding dress fits neatly inside without wrinkling during travel. There are multiple pockets for shoes, apparel, and even accessories.
There is also an awesome money-saving option for you!
If you're budget-conscious and want a very comparable and affordable alternative, this 66-inch tri-fold garment bag does the trick and has been used by countless brides with rave reviews.
You can also opt for the 60 inch WallyBags garment bag, but the difference is the carrying strap and a bit more space to store some shoes and clothing.
If you have a layered dress or your dress has a lot of material, your best bet for getting your wedding dress to fit nicely inside your garment bag is to keep it in the garment bag you got from your bridal salon, then to put it in your garment bag. It adds a bit more control and allows you more room to fit other outfits!
Can't I just use my salon's garment bag that my dress came in?
Yes – you absolutely can. I did, and it was 100% fine.
However, the garment bags issued by your bridal salon aren't waterproof, and that's about the only thing you can carry inside of it. If that's okay with you, then you are set to go!
If you're wanting to bring more clothing items on-board as a personal item, like your fiance's suit, or wedding shoes, you'll want a bit more room and protection with a garment bag.
Garment bags also often come with a carrying strap, which is super useful for walking through the airport. My mom sewed a loop on my garment bag to enable mine to fold in half, but I still had to carry my dress over my shoulder awkwardly through the airport. 😂
Related: What to Include in Destination Wedding Welcome Bags
Options for travelling with your wedding dress on a plane
Not really sure what the options are when it comes to travelling with your wedding dress? These are the most common ways to fly with your dress.
Store your wedding dress in an overhead bin
This is likely the route you'll be taking when flying with your wedding gown. I know it sounds scary, but don't panic.
I remember walking on-board first when flying to Mexico for our wedding. I remember watching the overhead bin like a hawk, afraid to leave my dress unattended.
I waited until everyone boarded. Thankfully, our flight had a dedicated wedding dress overhead bin, but I still shared with two other brides. Mine was on the bottom, but even after travelling all day I hung it up right away in the closet and it wasn't even wrinkled!
You can always call your airline 24 hours before takeoff to inquire about how to store your dress during flight. Some plans have closets, but it's likely you'll be storing it overhead. It'll be fine. Trust me.
If it's a full flight, wait until everyone has boarded and lay your dress over your lap while you're waiting. Once everyone has boarded, lay your dress flat on top of the baggage in the overhead bins to avoid your dress being crushed.
Airline baggage policies for wedding dresses
These airline baggage policies are current as of March 2023. Please double check these policies prior to heading to the airport. In some instances, brides have said their wedding dresses count as their carry-on, so it's good to verify by giving your airline a call ahead of time!
Air Transat: Carry-on allowance is one free carry-on bag plus one personal item. A wedding dress is considered a personal item. A wedding dress in a non-rigid garment bag, with measurements not to exceed 135 x 60 cm (53 x 23.5 in), may be carried on board, and can be laid out or gently rolled up in the overhead bin. There are no closet facilities on board their aircraft. The dress may be carried in addition to a regular-sized carry-on bag.
Air Canada: Carry-on allowance is one free carry-on bag plus one personal item. Garment bags count as a personal item. Wedding dresses can be carried on board and stored in the overhead bin provided the garment bag does not exceed maximum carry-on limits.
Westjet: Carry-on allowance is one free carry-on bag plus one personal item. You may bring your wedding attire on board in a garment bag as your personal item, however you should be aware that there are no closets in the cabin. It is recommended to wait until all other carry-on baggage has been loaded and place your wedding attire on top to avoid wrinkles or damage.
Sunwing: Carry-on allowance is one free carry-on bag plus one personal item. Sunwing Airlines has a specially assigned compartment onboard to carefully carry your wedding dress to your destination. You'll have access to a reserved overhead bin for the brides' and/or grooms' wedding day outfits on your flight. If you are bringing a wedding photographer, they will also receive an additional carry-on allowance of up to 10 kgs for their photography equipment. Be sure to confirm details with your travel agent.
Delta: Each passenger flying with Delta can bring 1 carry-on bag and one personal item free of charge, such as a purse or laptop bag or item of similar size. Make sure at least one item fits underneath the seat in front of you. Ask your flight attendant if there is room to hang it in the closet, otherwise lay it flat in the overhead bins after everyone has stored their carry-on baggage.
American Airlines: Carry-on allowance is one carry-on bag plus one personal item. Crew, where space permits, will hang your dress for you but on some flights the wardrobe space is very limited and this cannot be guaranteed.
United: Carry-on allowance is one carry-on bag plus one personal item. Basic economy passengers are only allowed one carry-on bag. Reach out 24 hours before to see if there is a closet onboard, otherwise you will have to lay it flat in the overhead bins.
Southwest: Carry-on baggage allowance is one carry-on bag plus one personal item. There are no closets on-board, so you will have to store your wedding dress in the overhead compartment.
JetBlue: All fares include 1 personal item that fits under the seat in front of you. This could be a purse, daypack, or laptop bag. Personal items cannot exceed 17″ x 13″x 8″. All Blue, Blue Plus, Blue Extra and Mint fares include a carry-on bag that fits in the overhead bin. JetBlue does not have closets, so be prepared to store your wedding gown in the overhead compartment.
Spirit: not recommended for destination weddings. Baggage fees add up. Only one small personal item not exceeding 18'' x 14'' x 8'' is included on-board (like a backpack or purse). You may bring your wedding dress on-board provided it fits within those dimensions – but it's very, very unlikely to be the case.
Related: The Ultimate Guide to Tipping at Destination Weddings
When you upgrade to a higher class, it comes with priority boarding. This comes in handy when you want to secure an overhead bin.
If your budget allows and if you sense it'll be a full flight (most are, in my experience, when heading to Mexico!) consider upgrading your ticket.
Consider buying a plane ticket for your dress
While this may be a stretch for some brides, you also have the option to purchase a seat just for your wedding dress! It may be the added peace of mind you're looking for. Splurge on a one-way ticket for your dress means it'll arrive in perfect condition at your destination.
This also means you'll be allowed an additional carry-on (plus personal item if your airline allows!), which is great for bridal accessories like your veil and other valuables.
Related: 7 Awesome Private Airport Transportation Companies from Cancun
Pack your dress in a carry-on suitcase
Of course, you can always pack your wedding dress in your carry-on luggage as well, but honestly it might be a bit of a tight fit depending on your fabric and style of dress. It's completely doable but one of my least-favourite options. Just make sure your carry-on luggage is sturdy enough and not just a material duffle bag!
If you aren't comfortable packing your dress yourself, take it to your seamstress or bridal salon!
If you're wondering how to pack your wedding dress in a suitcase yourself, this YouTube tutorial shows step-by-step on how to do it!
Never, ever check your wedding dress!
Please never ever ever check your wedding dress below. The last thing you want is for your suitcase to go missing, stolen, or get damaged during flight. Just don't!
Coming home may be a different story. I really didn't care much since I knew I'd never wear it again so I totally stuffed it in my suitcase. 😂
Invest in a portable steamer
Many wedding packages at all-inclusive resorts include steaming of your wedding gown. If this isn't part of your wedding package, the next-best thing is to bring a portable steamer with you should there be any wrinkles in your gown (plus it's great for other outfits you're bringing with you!).
If this is a concern, ask your bridal salon if your gown can tolerate steam.
Oftentimes the humidity of your wedding destination is sufficient enough to ease any wrinkles.
If you are travelling from Canada or the USA, you will not need a power adapter to use a steamer.
Don't be afraid to ask for help!
Travelling with your wedding dress can be nerve-wracking at best. Don't be afraid to ask for a little love at the airport. If you're nervous about putting your gown through the x-ray scanner at security, as if they can scan it another way.
If you're not seated near your gown on your flight and it's making you worry, just ask your flight attendant if you can check on it.
You aren't the first destination wedding bride – airports, flight attendants, and airlines are well-versed in how to handle your situation and are willing to help! Just be kind!
Pro tip: Add a plastic dry-cleaning bag! If your garment bag isn't water resistant, consider adding a plastic bag overtop of it to protect it from spilling liquids and bad weather. It's ideal to not allow anyone near you who has a drink, but unfortunately that isn't always feasible. Even one drop has the ability to seep through your garment bag. Adding a plastic bag will also give it added protection through security screening.
Looking for packing lists?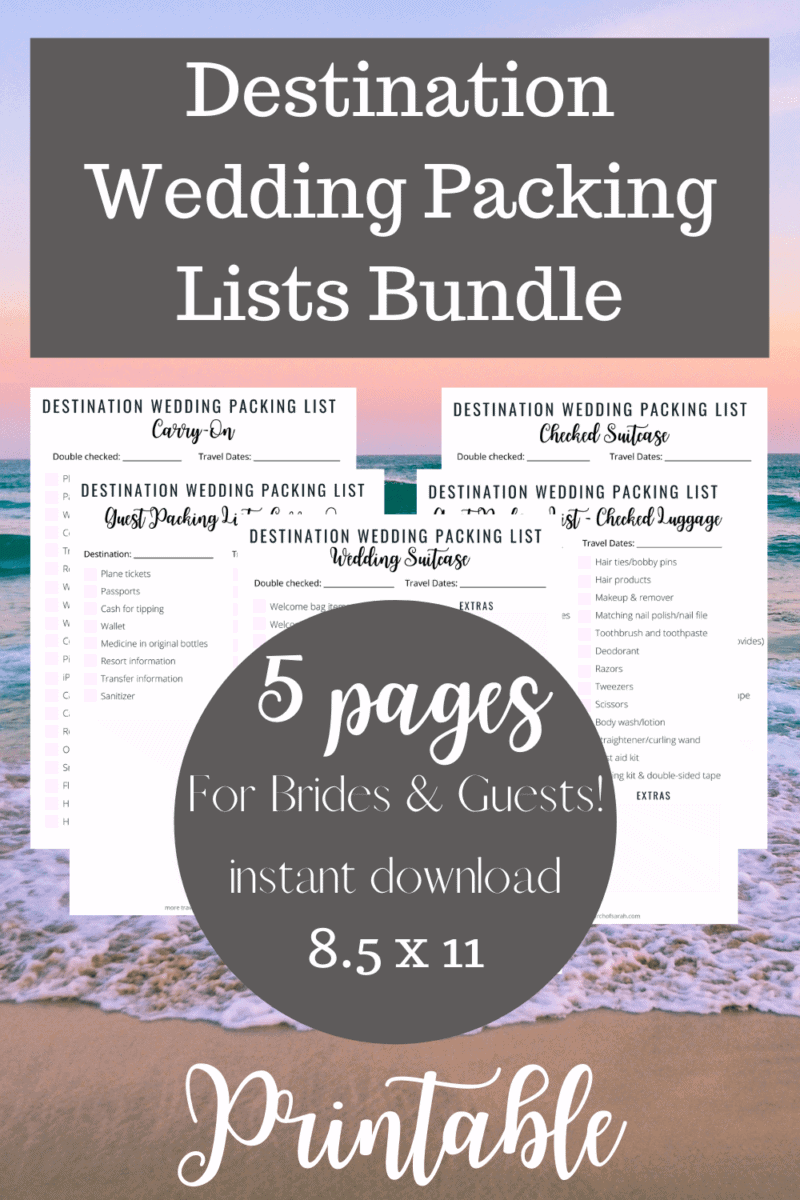 Related Posts
Pin it for later!