Are you looking to book an airport transfer from Cancun airport to your hotel?
If you're wondering how to get to your hotel from the Cancun airport via a transportation company, whether it's from Cancun to Tulum, to the hotel zone, Playa Del Carmen, or anywhere else in the Riviera Maya, this post is for you!
For us Canadians, transfers for vacation packages landing in Cancun are included in the price. That's one of the best things about booking an all-inclusive vacation – literally everything is included!
However, over the years I've discovered that sometimes booking a separate hotel + airfare + transportation can actually be cheaper. Shocking, right? A long time ago this was a foreign concept for me until my American friends said that's how things are normally done in the USA!
I've scored some amazing deals booking vacations in Mexico separately than in an all-inclusive package. Part of the logistics of this is finding an airport transfer in Cancun to pick you up at the airport and drop you off at your resort or accommodations, and vice versa.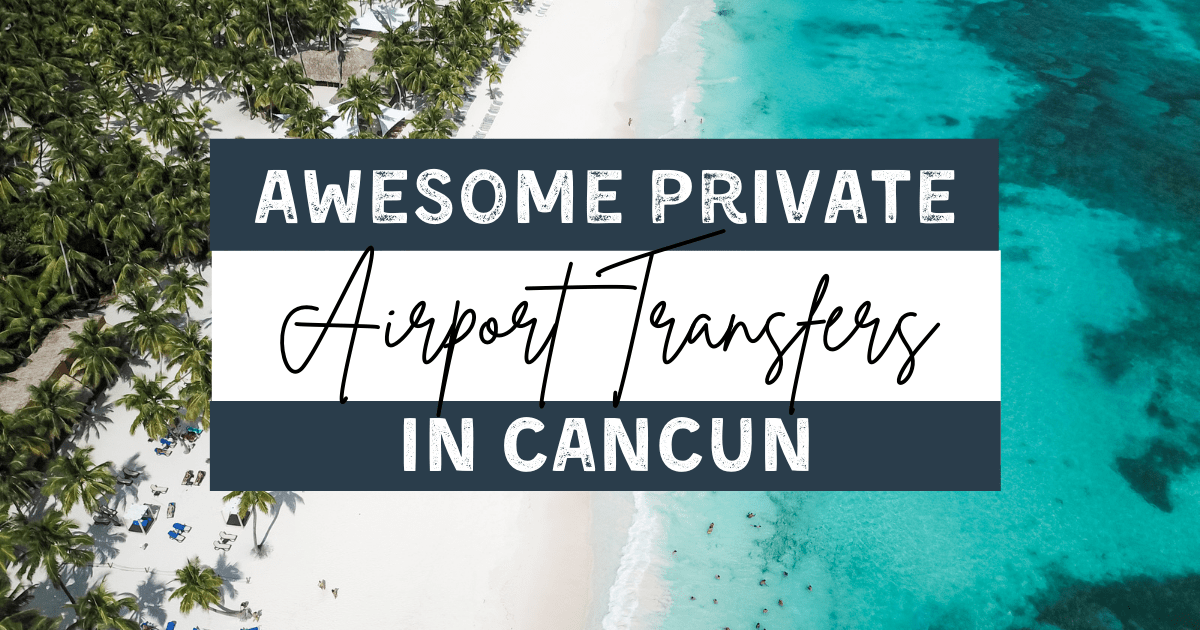 Keep in mind that sometimes your travel agent, should you choose to book with one (they're free!), may include transportation for you. Be sure to check before booking!
This post may contain affiliate links where I earn compensation when you click and purchase through the links at absolutely no extra cost to you. Feel free to read my disclaimer policy!
Things to know about the Cancun Airport
Once you clear immigrations and grab your luggage, and upon exiting the airport at Cancun, you'll want to make sure you follow the signs for hotel shuttles.
You'll be funnelled through a crowd of people asking if you need a ride to your resort OR trying to sell you a timeshare. Many of these people will try to incentivize you to book with them in exchange for free tours. Keep walking! You'll be greeted by another gathering of drivers in uniforms holding signs with your name on it. These are the people to look for!
Private transfers from Cancun Airport are by far the easiest way to go. These private services are available at any time of the day, are reliable, affordable, and a lot of fun! Private transfers offer you a stress-free start to your vacation.
Shared transfers accommodate other travellers, and they may not necessarily be heading to your resort, either! This means you could be waiting around for them at the airport or making additional stops to drop them off on the way to your own resort.
Related: The Best Adults-Only Resorts in Mexico
Reasons to book a private transfer
The last thing you want to do after a long day of travel is to wait around for a shuttle, or stop at numerous hotels along the way when all you want to do is put your feet in the sand and relax! A trip that could normally take 30 minutes can easily become an hour or longer with stops at neighbouring resorts.
You'll be whisked away quickly and professionally will soon be on your way to paradise. This is easily one of the top options for travellers coming to Cancun. There are also no luggage restrictions, or more flexible luggage allowance (which makes private tranfers a great for wedding groups!)
Planning a destination wedding? Here's what to include in welcome bags!
You can also prearrange drinks and snacks! The drinks are affordable and are a great little addition to the start of your trip.
Private transfers sometimes include a 30 minute free stop along the way, whether you want to stop at the shops in Puerto Morelos, Playa Del Carmen, Cancun or beyond, or even for some roadside tacos! Some of the best food I've ever had is street food in Mexico. Be sure to check with your airport transfer company if they will allow this.
Plus, using a private transfer is a great way to get around the Yucatan Peninsula, including day trips from Playa Del Carmen, Cancun, and Tulum!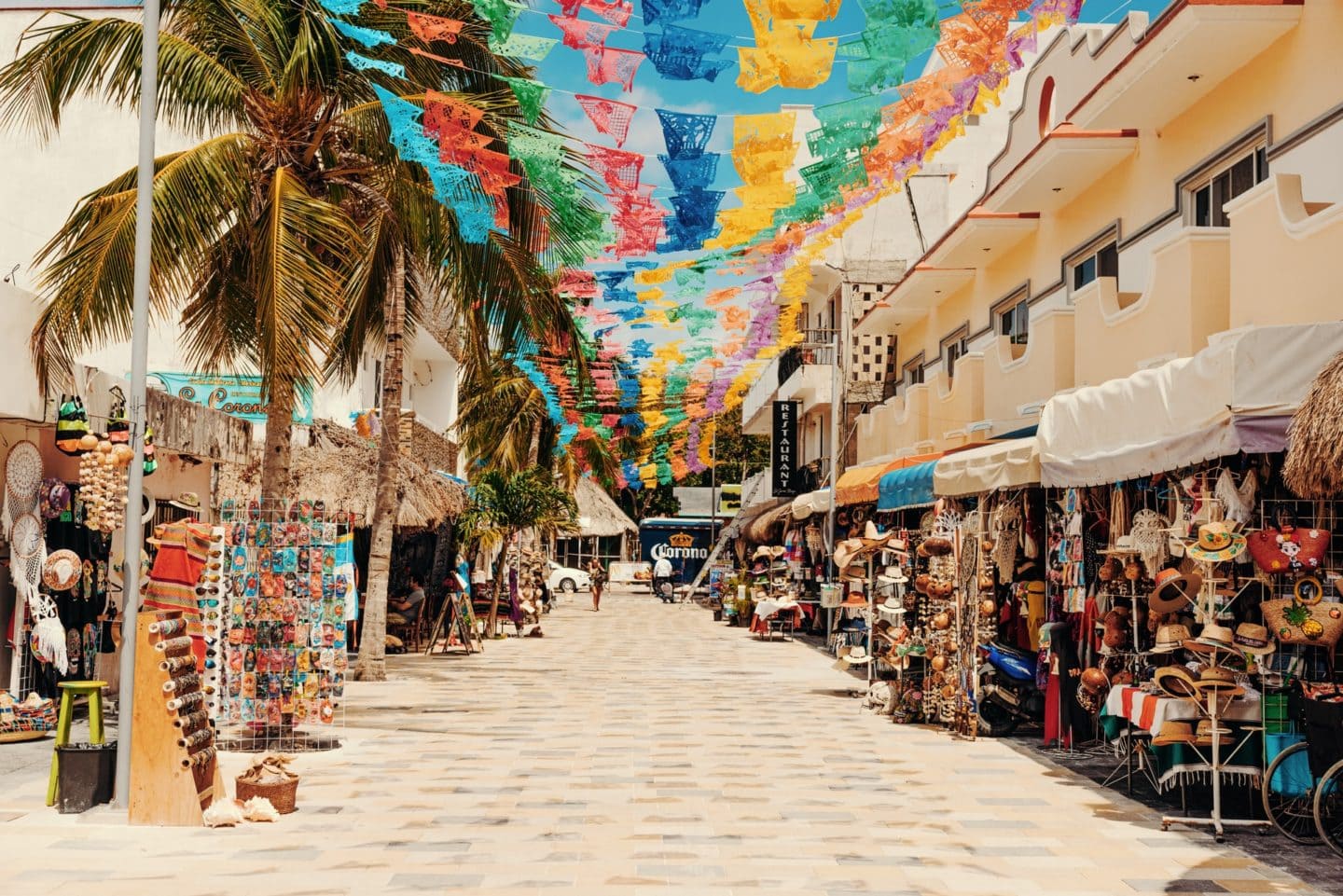 Why you should book your transfer online
Booking your Cancun airport transportation online ensures you have a way to get to and from your resort. Oftentimes booking on a whim can lead to confusion, additional costs, and the risk of booking with a solicitor who is unlicensed and uninsured. Booking your airport transfer online with an authorization transfer company is so easy and it's an added peace of mind knowing it's one less thing to worry about.
You'll also find that many of these airport transfer companies offer tours and excursions based around Cancun and the Riviera Maya!
Related: 20+ Fun Excursions in Cancun and Riviera Maya
Can't I just book a taxi from Cancun airport?
It might surprise you to learn that regular taxis aren't allowed at the airport! There is, however, a taxi-like service available 24/7. I've never done this option as I like to pre-book my transfers and have a solid plan (and price) for getting to and from the airport from my resort. This is something I am more comfortable with doing, but this taxi service is definitely an affordable option as well. I just like the security of booking with a reputable company with reviews, and I'm sure you can appreciate that as well!
Related: What to pack for an all-inclusive vacation (with free printable!)
Is Uber in Cancun airport?
There is no Uber in Cancun airport. There is no Uber or Lyft service available.
Best Airport Transportation from Cancun
These private airport transfer companies are highly recommended (I've used numerous of them myself!) and affordable.
Canada Transfers
Canada Transfers is one of the most affordable and popular options for Cancun airport transportation. You have the option to pay in USD or CAD which is a bonus for us Canadians! This is my favourite Cancun airport transfer company and I've had nothing but amazing experiences with them!
Price comparison
Two guests to Excellence Playa Mujeres roundtrip: $61.21 USD for a van, $149.14 USD for a deluxe vehicle.
Add-ons
An assortment of soft drinks ($1 – $2 USD each)
Assortment of wine ($15 – &17 USD)
Selection of beer and coolers ($1 – $2 USD each)
Spirits and liquors ($15 –
Snacks ($2 – $3 USD each)
Booster seats and car seats (free – and this is important! Be sure to check with your preferred transfer company if you are travelling with children. Don't risk not having them in proper safe seating!)
Insect repellent ($7 USD)
Sunscreen and aloe ($12 USD each)
Snack box ($6 USD)
Cigars ($7 USD each)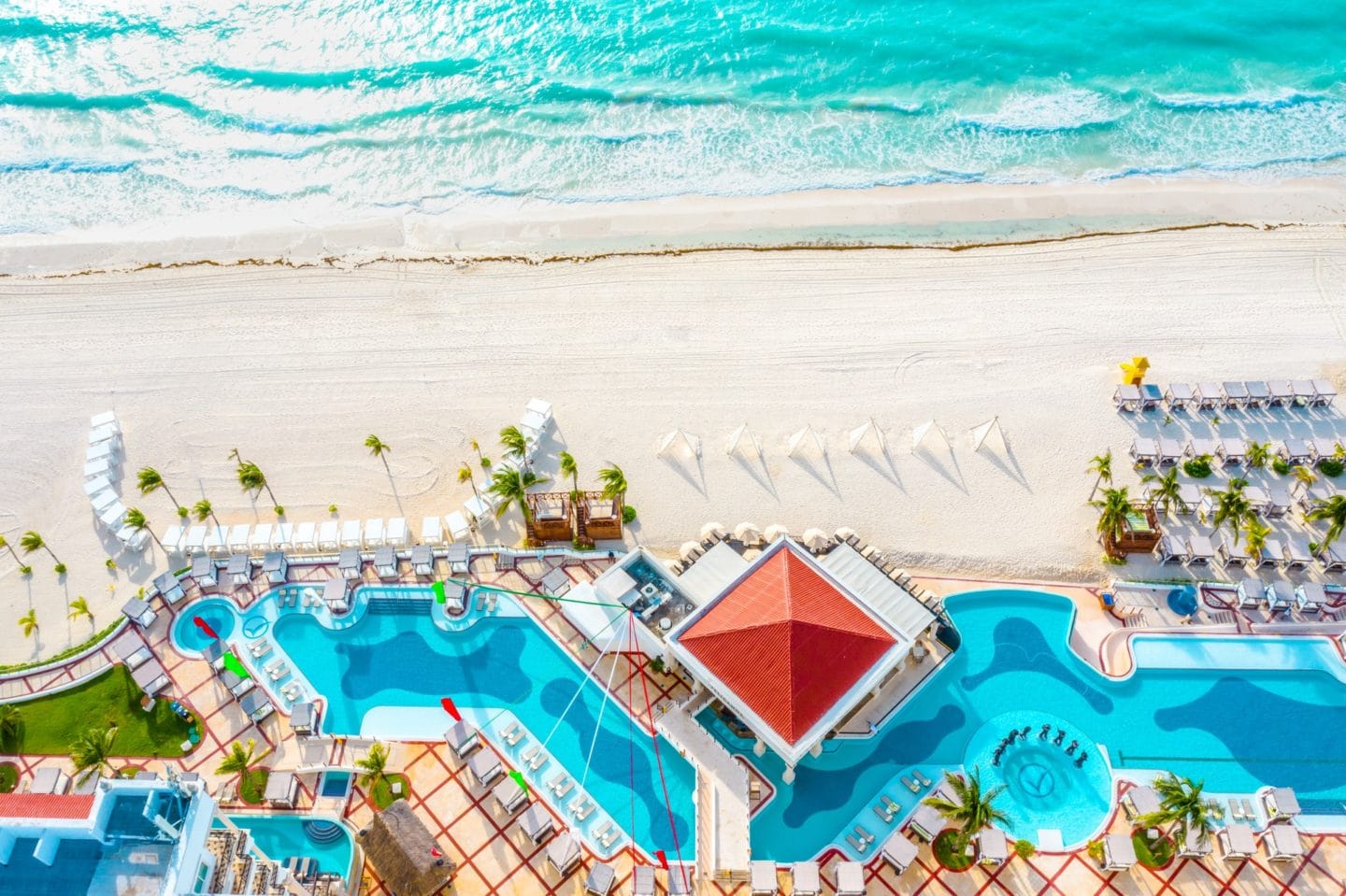 USA Transfers
USA Transfers is an excellent transfer company to book with from Cancun airport, and you don't need to be from the USA to book with them! They've helped over 9.6 million travellers get to their destination safely! If that doesn't speak for itself, I don't know what does! I have many friends who have used this company and highly recommend them.
Add ons
Sunscreen ($12 USD)
Bug repellent ($5 USD)
Party package including balloons, a bouquet of flowers, and bottle of sparkling wine ($40 USD)
Romance package including a bouquet of flowers, heart-shaped balloon, box of chocolates and bottle of sparkling wine ($40 USD)
1 hour stop at the closest grocery store from your hotel ($30 USD)
SafeGo portable travel safe ($20 USD)
Price comparison
Two guests to Excellence Playa Mujeres roundtrip: $70 USD for a van, $170 USD for a VIP transfer .
Related: Easy tips for travelling on a budget
Happy Shuttle Cancun
Happy Shuttle Cancun is an affordable and fun way to get from the Cancun airport straight to your resort! They've been in business for 17 years and I learned about them through word of mouth. Everyone who has used them has had a great experience and can't recommend them enough!
Add-ons
An assortment of soft drinks and beer ($2 USD)
Snacks ($2 USD)
Booster seat, baby seat, or car seat (free)
Wheelchair accessible ramp ($105 USD)
Price comparison
Two guests to Excellence Playa Mujeres roundtrip: $75 USD.
Best Day Travel
I've used Best Day Travel and they have great service! The drivers have always been friendly and they're efficient and affordable.
Their site is a bit fiddly since it's in Spanish and the price is quoted in pesos, but you have the option to change to dollars.
Price comparison
Two guests to Excellence Playa Mujeres roundtrip: $42 USD for a van, $538 USD for a private luxury SUV.
Also available: Bus for up to 16 passengers, $768 USD.
Related: How to travel with a carry on only
Lomas Travel
Lomas Travel is definitely one of the most luxurious transfer companies I've ever used. It makes a great option for weddings, honeymoons, anniversaries, or any other special event!
Price comparison
Two guests to Excellence Playa Mujeres roundtrip: $122 USD for a van, $204 USD for a luxury Navigator (it's awesome!), $480 for a luxury limousine.
This transportation company from Cancun also offers an accessible van and a bus for larger groups.
Kalido Travel
Kalido Travel is a reputable and highly recommended company in Cancun. I know numerous people who have booked with them (and have booked through them for their tours and excursions) with rave reviews. Their services are affordable, there is quick communication, and even give you exact instructions on how to find them at the airport.
Add-ons
Variety of soft drinks ($1 – $2 USD)
Beer and coolers ($2 – $3 USD)
An assortment of wine and liquors ($3 – $40 USD)
Tequila! They have their own menu just for tequila 😂 ($20 – $140 USD)
Sunscreen, bug repellent, and after-sun ($12 USD each)
Child seat (free) – check out what Kalido Travel says about car seats in their FAQ.
One hour shopping stop ($30 USD)
Price comparison
Two guests to Excellence Playa Mujeres roundtrip: $70 USD for a van, $140 USD for a SUV.
Related: What to do in Cancun for 7 Days
Amstar Destination Management Company (AmstarDMC)
Amstar DMC has been in business for over 30 years delivering quality customer service! In fact they are so well-known for their efficient transfers that some travel agents will only work with them!
Add-ons
Sparkling wine with two bottles of water ($40 USD)
Four beers ($16 USD)
Welcome package including two beers OR two soft drinks, two bottles of water, and a bag of chips ($18 USD)
Sweetheart surprise package including a bottle of Moet and Chandon, 6 roses, and two bottles of water ($115 USD)
Child seat ($15 USD)
Cancellation guarantee for $5 USD – you can cancel at any time with no cancellation fees (this is something I have never seen before!)
Price comparison
Two guests to Excellence Playa Mujeres roundtrip: $141 USD for a van, $209 USD for a deluxe SUV with soft drinks, beer and cold towels. There is free wifi on board.
Things to Remember
Tipping goes a long way! I recommend at least $5 per person for shared transfers or $20-$30+ for private transfers. This also depends on the length of your trip from the airport and the level of service you receive.
Confirm your return and keep a copy of your receipt/booking confirmation on you! Ask where your pick up point will be.
Check the luggage policy and accomodation. Oftentimes you will have more flexibility with luggage for private transfers, making this an ideal option for events.
Keep in mind your Cancun airport transfer company will ensure you arrive at the airport 3 hours prior to your flight. They will allow a buffer for traffic. No need to worry – they've done this numerous times before!
Check the cancellation policies. Some transportation companies offer free cancellation up to 24 hours before. Some require more notice.
Pin it for later!
Related Posts