What better words to describe this place other than "Heaven on Earth"?
We've had the pleasure of staying at our favourite resort, Excellence Playa Mujeres, twice now, and we've been so spoiled during each visit.
It holds such a special place in our hearts because it was the first adults-only we ever came too, and wow, it's sure hard to top it now!
The service continues to be the best we've had as well as the food.
I hope you'll find this review of Excellence Playa Mujeres helpful – and perhaps convince you to add it to your list of places to get to in Mexico. It's everything we could ask for in a resort!
This post may contain affiliate links where I earn compensation when you click and purchase through the links at absolutely no extra cost to you. Feel free to read my disclaimer policy!
The Property
By far, Excellence Playa Mujeres has one of nicest (if not the nicest!) properties we've been to.
Just a quick 40 minutes from the airport and nestled between its sister properties, The Beloved Playa Mujeres (a smaller, boutique adults-only) and Finest Playa Mujeres (family-friendly), Excellence Playa Mujeres sits along two-miles of white-sand beach.
It's an absolutely gorgeous setting and I always recommend this property when someone is mentioning going to Mexico.
The grounds are completely walkable and well-maintained and so scenic. There are beautiful gardens immaculately maintained. We always saw gardeners tending to the various plants.
Want to check out the layout of the property? Here's a resort map.
Excellence Playa Mujeres definitely caters to honeymooners and anniversary couples – and for good reason!
It's so quiet and romantic – I think I heard someone say 70% of those who go are for those two occasions. We saw numerous banners across the doors during our walks through the resort.
The grounds were immaculately kept and beautiful – from the tractor cleaning the beach regularly, to gardeners raking and replacing plants, I saw all staff members ensuring the grounds were free from debris.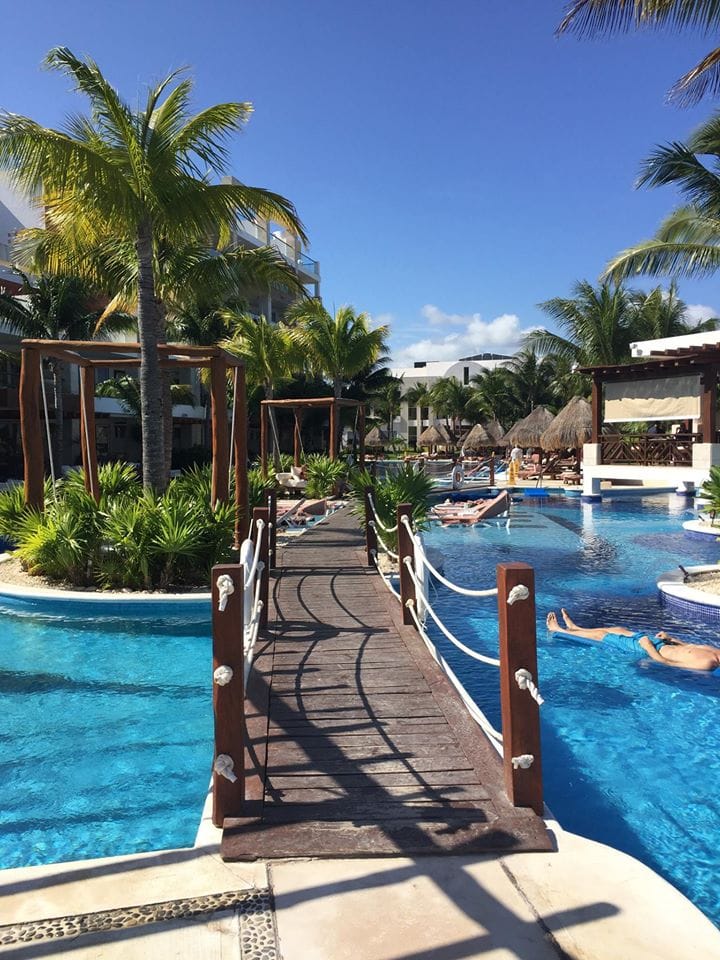 Related: What to Pack for an All-Inclusive Vacation (Plus Free Printable!)
Excellence Playa Mujeres Rooms
I put in a request to be in a certain building on a higher floor and we actually received it! Just note that while you can always email in to request a certain building, it isn't guaranteed – so if you had your heart set on a certain room category it's best to book that room.
That being said, I truly don't think there is a "bad" location anywhere on the resort!
We had a beautiful view of the lazy river & spa during both of our trips.
In fact, I nearly cried during our first trip and hugged our bellhop.😂
The rooms are beyond luxury – a huge 4-poster king bed, large shower (like seriously, you could have a party in there), separate bathroom, and lounge area with couches and table.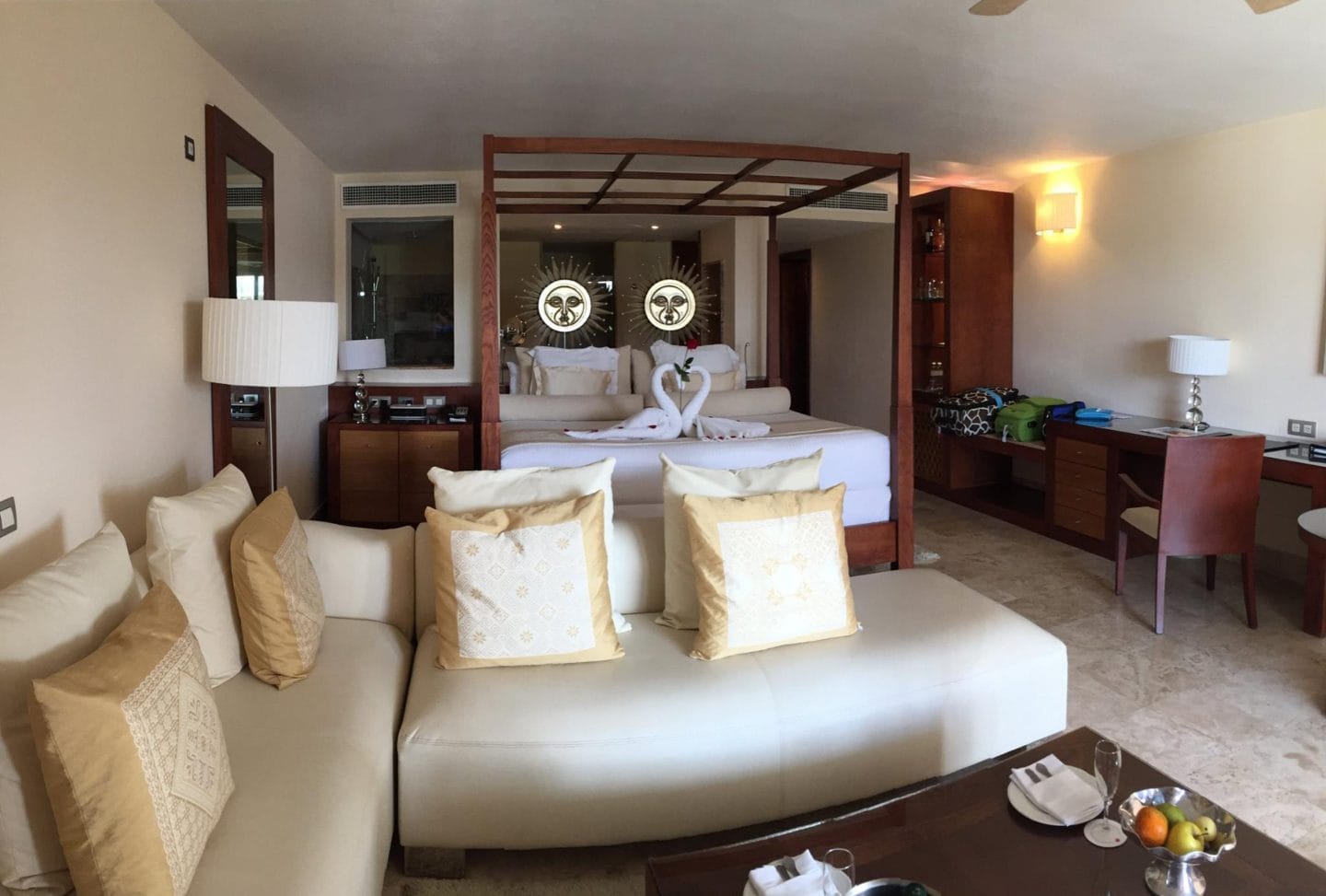 The bathroom privacy issue I read about didn't bother us, but just thought I'd mention that there is no true "privacy"– the toilet door is frosted and there is a glass panel between the shower and main room, but it fogs up pretty quick.
The bathroom itself is open-air and isn't enclosed.
If you'd prefer additional privacy for the shower, you can request a panel to be put up against the glass from your concierge.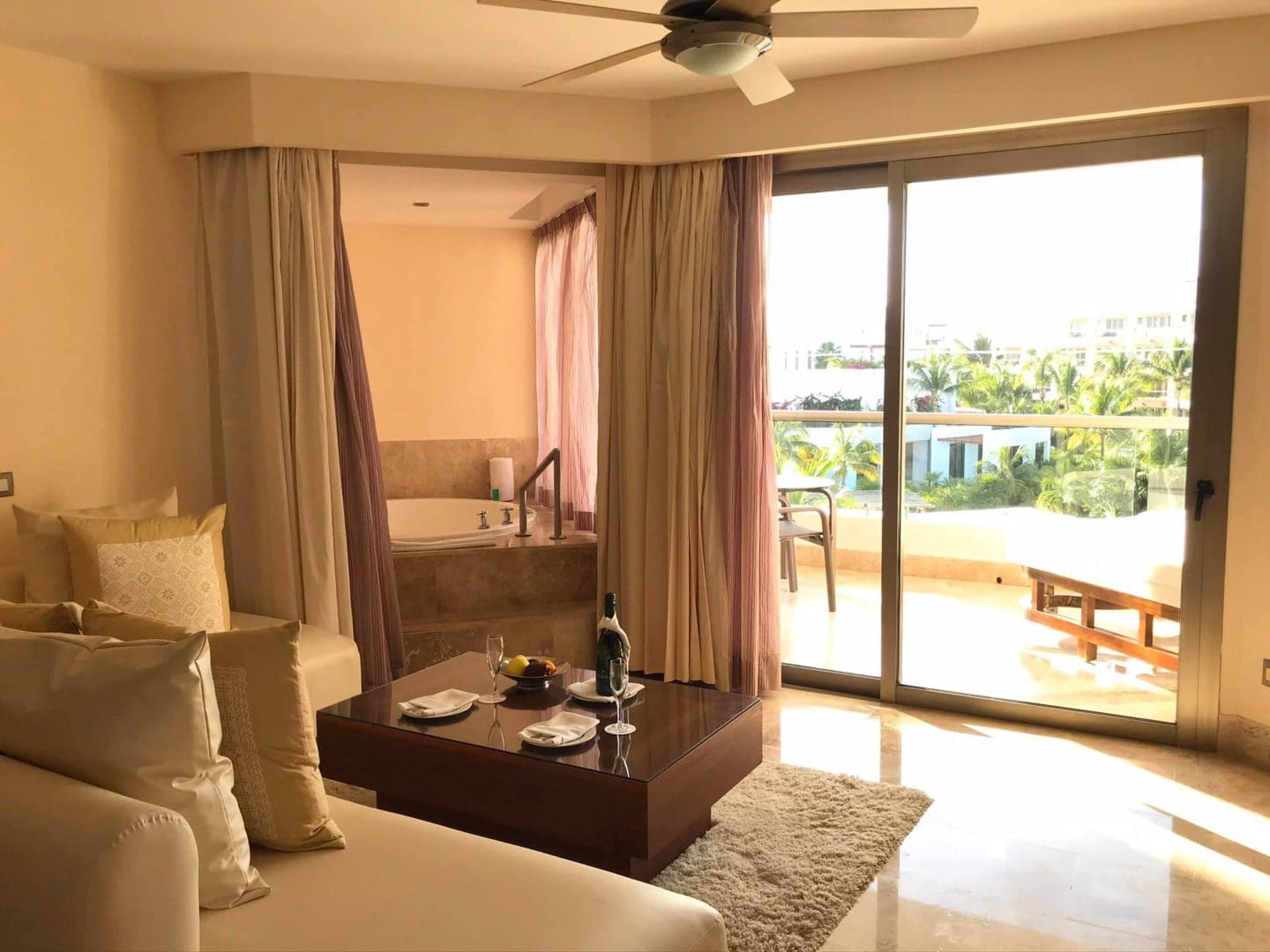 There is also an awesome indoor/outdoor Jacuzzi with large patio and daybed with table and chairs. We LOVED lounging on the daybed – it's large enough for two people and it's a great spot to have your morning coffee or sit for a drink before dinner.
We also loved turndown service here – it was heavenly! I loved coming back to the room at night with our bed ready, soft spa music and little chocolates and an agenda of the next day's events and weather report!
Honestly I get a little weepy when I think of the spa music playing on the TV after turn-down. It was such a peaceful way to return to the room – complete with soft lighting around the bed.
Excellence Club
If you're looking for an added touch of luxury, then Excellence Club is for you.
The rooms are the same, BUT you get upgraded amenities, a private pool for Excellence Club members, private beach area, exclusive dining at Magna restaurant (reserved only for Excellence Club guests), private check-in, daily in-suite fresh fruits and petit fours, in-suite sparkling wine and fresh flowers upon arrival.
Not only that, but you also get an upgraded mini-bar, complimentary access to hydrotherapy at the spa, and a private bar.
What more could you ask for?!
ps. in Excellence Club you also get a beach bag to use during your stay, but otherwise I would recommend bringing one to carry all your belongings to and from the pool or beach every day!
I have a huge collection of beach bags. I love straw ones ones like this with different pockets, and it's so cute!
Pools
There are 3 pools dedicated to Excellence Club members, and if you're looking at the resort map, they are the small rectangular pools in front of 7, 8, and 9.
There is a lovely lazy river around the Spa and it's so incredibly quiet here. You'll find Bali beds and loungers dotted around here, along with hammocks to laze in and floating loungers to relax on.
If you book a swim-up suite, you'll have access to a pool right off your room – and a nice daybed to flake out on during the day!
There is also another winding pool that connects to the Blue, the swim-up bar. It's a hopping place during the day with lots of fun activities to take part in.
You'll also find a few jacuzzis around to enjoy too.
So whether you're looking for relaxation or some social time, there's a spot for everyone, and lots of loungers, too.
Looking for a reusable tumbler for your drinks by the pool? Grab one here!
Beach
We loved the beach here. Soft, white sand, and a clear view over to Isla Mujeres (that makes a fun day trip if you can arrange it – just remember to bring your driver ID if you want to rent a golf cart to drive around!).
There's a dedicated area for Excellence Club members, but aside from that, there are plenty of loungers available.
You'll also have beach service for drinks and snacks, and with washrooms right by the Grill and the Lobster House, you won't have to walk too far either.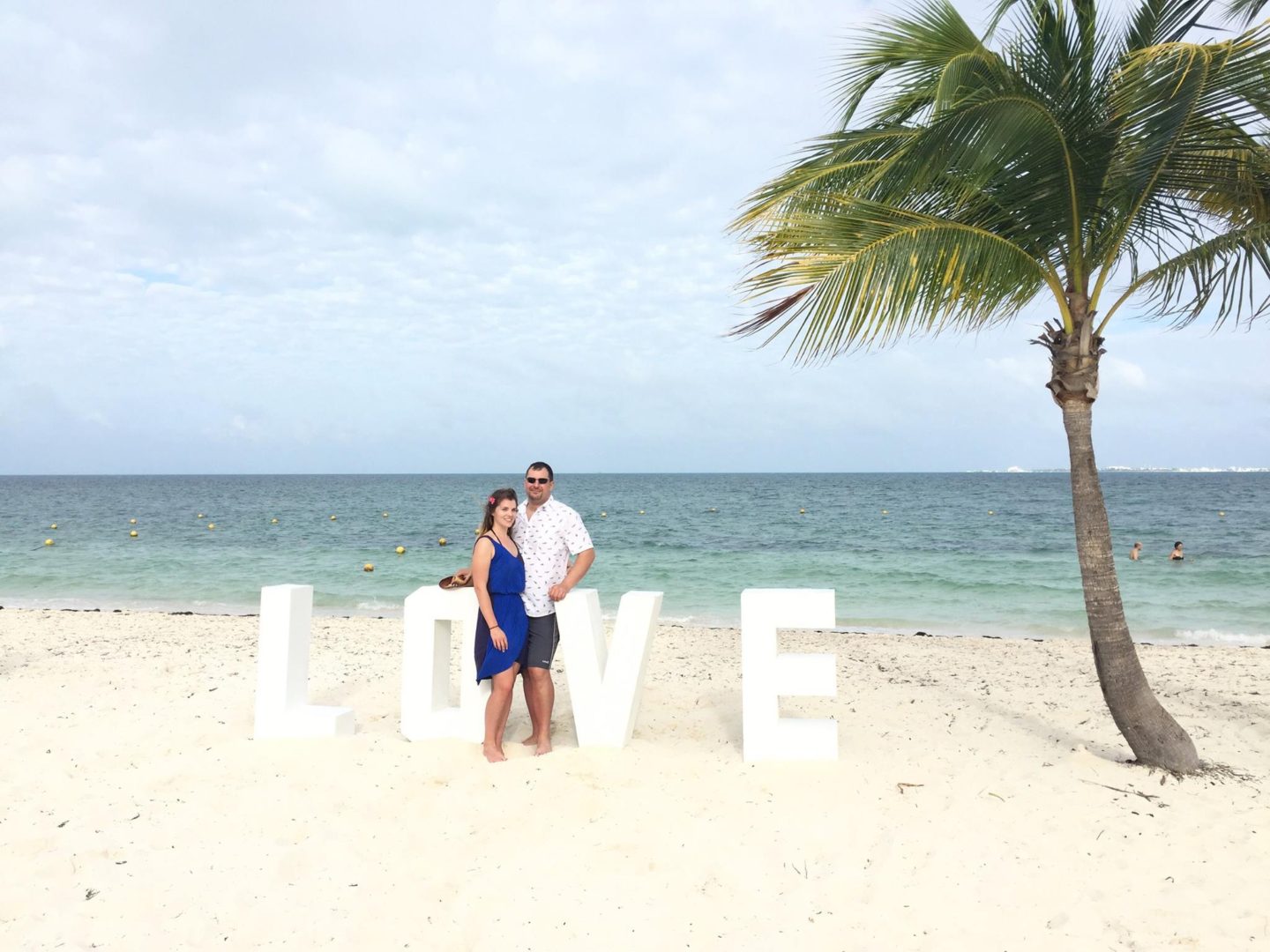 The water is clear and you'll be able to spot some fish. If you like to take long walks on the beach ( 😉 ) it's a gorgeous stroll in either direction.
Heading left on the beach will take you past Finest Playa Mujeres, and heading right will take you past The Beloved Playa Mujeres, towards the marina and the pier.
Look for the iguanas – there are lots of them basking in the sun!
Service
We spent our days between the beach and the pool – daybeds by the pool were absolute heaven!
Service was equally great between both. We were waited on hand and foot at "our" spot by the Revive bar. The drinks just kept on flowing, which we didn't mind one bit!
We tipped our server at the beginning of the day and he kept refilling our drinks without us even asking. We didn't expect this, but tipping goes a long way. And these employees work their butts off to keep their guests happy!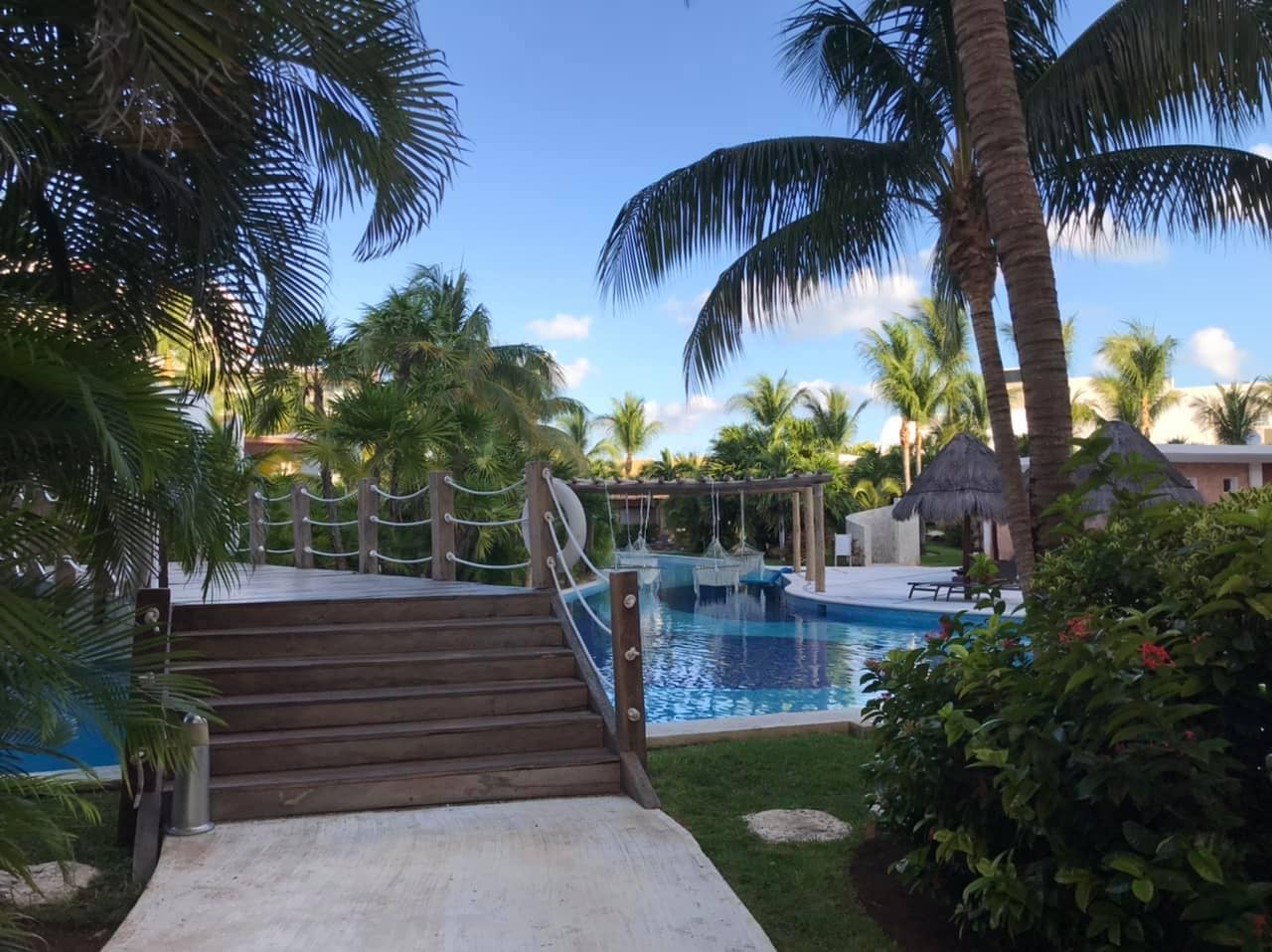 Aside from the daytime drinks (be sure to drink lots of water, too!), we really appreciated the efforts of everyone who looked after us; from the mini-bar attendant, maid service, all of our meals and snacks…we felt like movie stars.
Everyone always had a smile on their face – even the gardeners.
Excellence Playa Mujeres Restaurants
Ok – I'm not sure if I'm the only one who gets THIS excited about the food? I would SCOUR the website for their menus and restaurant reviews and pick out what I was going to have months before we even went!!!😂
We never had a bad meal.
If you have to be careful with what you are eating – like I do – it's very easy to do so. You'll be asked once you arrive to your chosen restaurant (hey, you don't have to make reservations!) if you have any dietary concerns.
Many of their options in the buffet and menu will tell you it's gluten free or a "healthier" choice. Some restaurant portions are small which I loved, because it meant we could eat more!😂
Breakfast
Breakfast options are plentiful, and you have many choices:
Buffet (Toscana)
Lobster House – sit down and more relaxed pace with gorgeous views
Aroma – awesome menu of different coffees and treats, right in the courtyard
Room service – it's AWESOME!
There is also Revive – a smoothie bar – by the spa which was really good with lots of healthy, tasty drinks, and as a side note they have Coco Locos between 12:00 pm – 2:00 pm – it's just so much fun!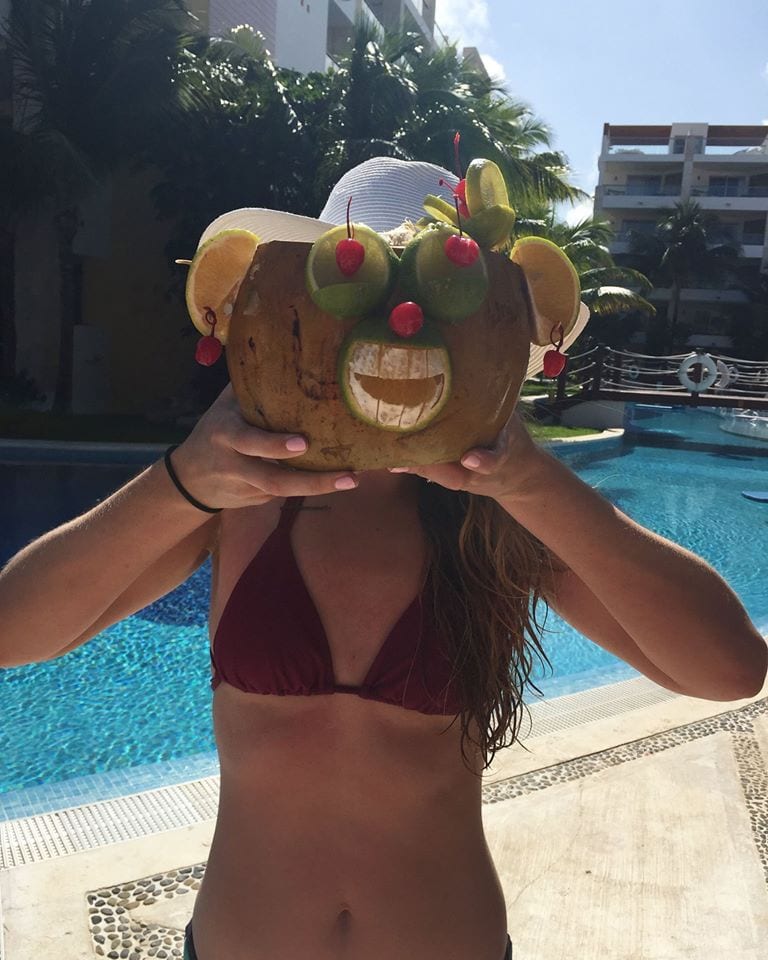 We loved the buffet because it opened up at 7:00 am which suited us since we were up early. I have this "thing" on vacation where I have to squeeze in as much as possible so that usually means getting up at a ridiculously-too-early-for-vacation-time. 😂
There is so much variety in their offerings, I really don't think you could ever get sick of the food here. We aren't even "breakfast people" but were so excited to wake up in the morning to eat!
Lunch
We didn't really eat lunch a lot (you did just read how I loved eating breakfasts here!), but pizza and salad jars at the Sol Bar were great to have as quick snack to tide us over until the evening.
Las Olas has different themed lunches every day, from Rock n Roll (burgers) to sushi, our favourite was the Mongolian Grill.
Las Olas is a great spot to come to if you're in your bathing suit and don't feel like changing for lunch. It's right on the beach and convenient to access from Blue, the main swim -up bar.
Our favourite lunch restaurant was probably the Grill – you have to try the fish tacos and shrimp cocktail!
Dinner
You guys – there are NINE dinner restaurants at Excellence Playa Mujeres! I'd love to sit here and review them all, BUT we managed to hit up all but 2 of the 9 restaurants (sadly, during both trips!) – all but the Grill and Barcelona.
However, our favourites were Agave (Mexican), Spice (the Hibachi table was SO FUN!!), Chez (French), and the Lobster House.
We ate at Spice multiple times – the sushi is great but the real winner here is the Lychee Sake – I could drink that ALL day!
I could probably write a whole post about the food itself, but I'll let you ogle the restaurant menus here.
Just know to try these:
Flavoured Sake at Spice and sushi. ALL the sushi.
French onion soup at Chez (as per my husband!)
Foie gras at Chez
Filet Mignon at Chez (you can see why Chez is one of my favourites!)
Surf & Turf at the Lobser House
Literally anything at Agave
We let our server choose our menu at Basmati and we LOVED everything!
One of my favourite things about this resort is that you do not have to make dinner reservations. This was perfect for us – we have no idea if we'll be hungry at the same time every day! Or maybe we'd be busy doing something else, like indulging at the spa, and wouldn't want to be rushed!
You may have to wait a bit for the more popular restaurants like Chez, but you'll be given a buzzer and it's a great excuse to hang out at the best place ever, the Martini Bar.
Theme Nights
Don't skip out on these! Leading up to our visit, I kept reading about Mexican Night and White Night and got really excited when I saw people packing specific attire for these events.
Mexican Night is exactly that – an incredibly array of Mexican dishes setup in the courtyard (or in the theatre in the event of rain).
There are numerous stations setup around the courtyard, offering tasty bites of tamales, tacos, ceviche, salads, corn, different cuts of meat, soups, you name it.
It was by far our favourite evening, full-on with entertainment!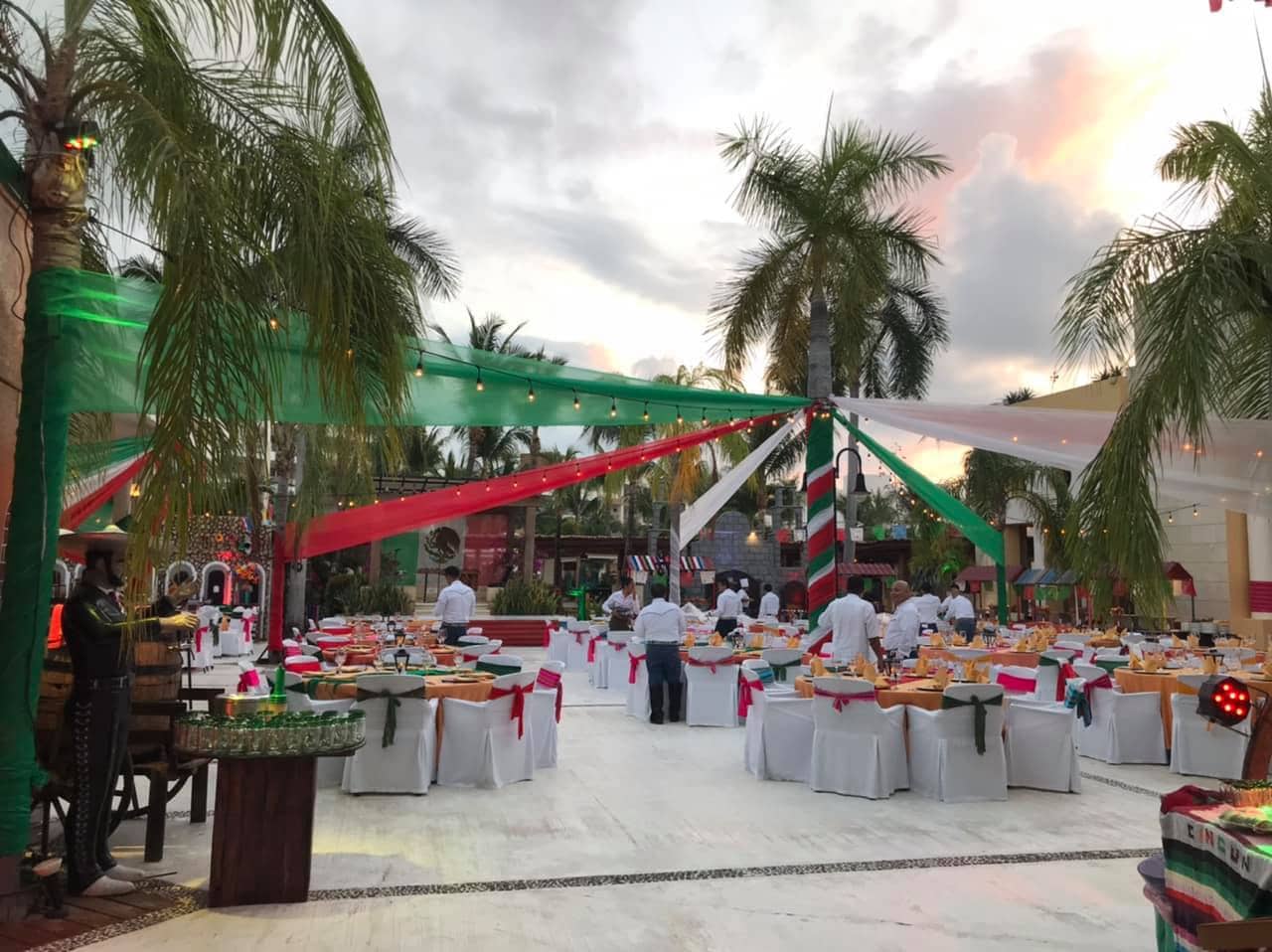 White Night was similar, except everything for the setup was white. Guests who knew about the event in advance would pack white outfits. It's a stunning evening!
The cuisine is more international, and during our latest visit there was an incredible fire show after dinner. I can't get over the quality of the shows here. They are truly superb.
The Wine Cellar
Booking a dinner in the Wine Cellar is SO special. We splurged on our most recent trip and booked it for dinner one night.
We did this in advance by emailing the resort, but you can also take your changes to see if you can book it once you arrive.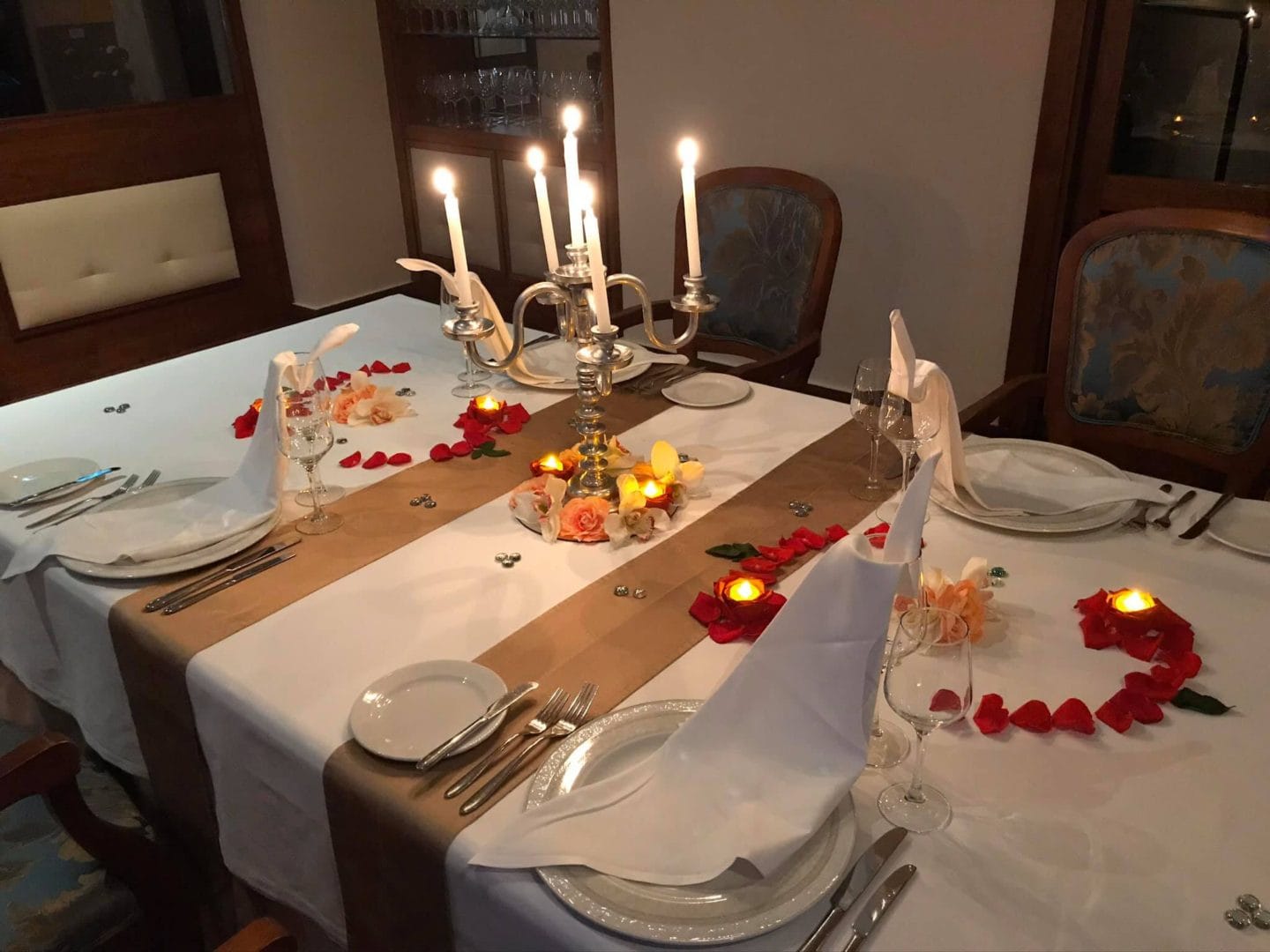 It's located within Chez, in a private room. Once you book it, you'll be shown a wine list menu and all it takes to reserve this private room is $100 in wine selection.
There are many excellent choices, but we've found our favourite Mexican wine is the Duetto, which we've had twice now!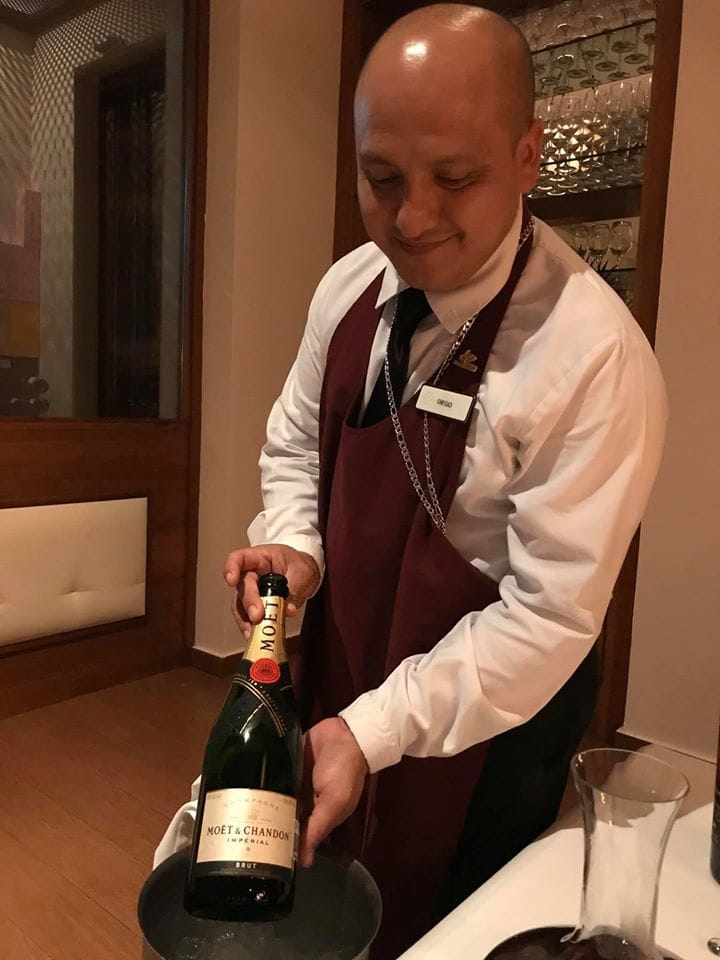 You can mix and match bottles, so we had some fun and started with some Champagne.
It's such a unique experience with amazing service – I would highly recommend the Wine Cellar to everyone.
Excellence Playa Mujeres Dress Code
It's important that I touch on dress code. It's one of the things I love most about Excellence. They call it "Casual Elegance."
The dress code states that men wear long dress pants, closed-toed shoes, and a collared shirt for dinner.
Us women can pretty much wear anything, just don't wear flip flops. 😉
We really appreciated the dress code because it elevated the atmosphere and made the resort feel really classy. Everyone dressed up and it was a great excuse for us to do the same. We never get the chance to get dolled-up at home.
I specifically buy dresses JUST for coming to resorts like this!😂
Related: What to Pack in a DIY Travel Medical Kit
Bars
There are no shortage of drink choices available – and they will even make custom drinks based on your preferences!
Our favourite hangouts were the Martini Bar (Cesar is the BEST bartender!) where there is a huge selection of martinis, and watching Cesar make the drinks is all part of the fun!
It's a great place to sit and have a drink before dinner and chat with other guests or visit for an after-dinner aperitif.
We noticed the menu had changed since our previous visit with a whole new extensive list of drinks to try!
An exciting change this time around is the new Gin cart.
If you love Gin, you'll be pleased to see the different varieties and additives you can get in your large goblet glass. It's a work of art to witness the bartender making it!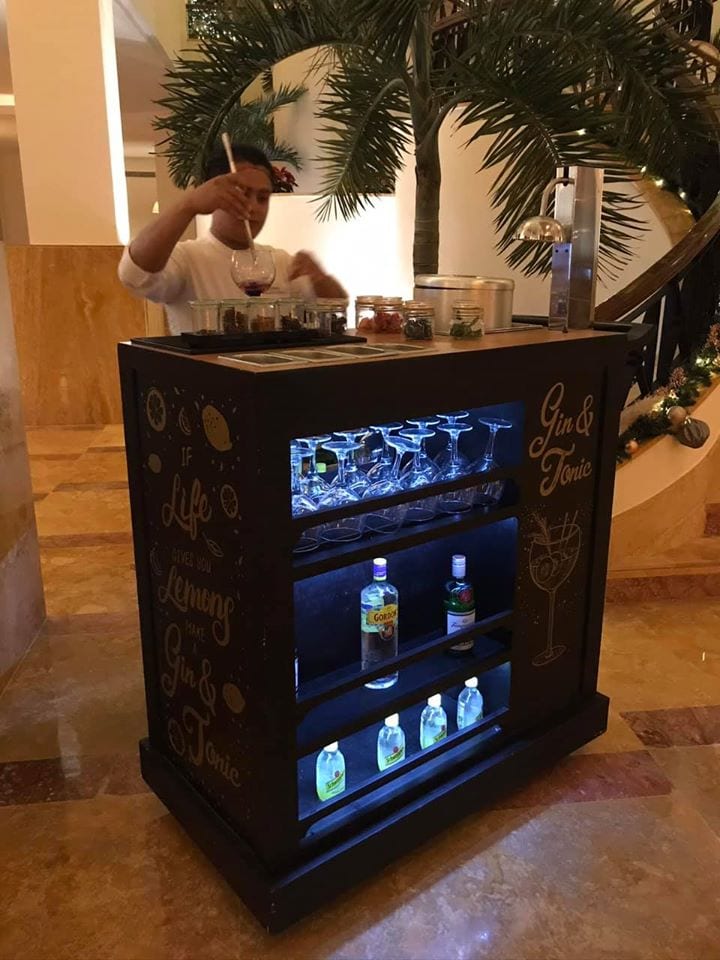 Our other favourite place to have a drink is the Havana Club Cigar Lounge – barely visited – and no, you don't have to smoke!
Jesus was our bartender and kept making sure our drinks were topped up.
He even made us some special drinks to try that weren't on the menu. The Cigar Lounge also sells cigars (a bonus for my dad) and is uniquely decorated in an art-deco theme.
Entertainment
There is a daily activity board by the Lobster House with the events on every day and you also get a copy of the Excellence Times listing what is going on the following day.
Excellence has a great activity program and there is something for everyone – from guacamole making classes, archery and rifle shooting, to beach volleyball, bingo, dancing lessons and more.
By far the resort with the best evening entertainment. It's quality work and it's evident the performers are very experienced. From the magic shows, Michael Jackson, All-Stars, etc., we looked forward to the show every night.
The most entertaining program we witnesses was the Silent Disco. Guests are given headphones and can select from 3 channels to dance (and sing!) to.
No one else can hear what they are listening to and it's a riot to watch. I lost my voice that night from laughing so hard. It was great to see so many people doing their own thing!
Millé Spa
By far the highlight of our trip. I didn't go anticipating to use the spa but I am SO glad we did.
We ended up doing a 50 min couples' massage and 1 hour hydrotherapy circuit. Words cannot express how amazing it was.
From hot-cold-hot-cold circuits at hydrotherapy, we were fully relaxed by the time we had our deep tissue massage.
My husband is an RMT and even he was impressed by the quality!!! We ended up paying $200 USD per couple which was the cheapest I found all week. If you go here, you MUST visit the spa! It's well worth it.
You can also check out their website for specials to book in advance.
Each night at turndown you will receive a spa special for the following day. We happened upon our offer by walking around the resort one day and they were handing out flyers with this discount which was less than what was on our Excellence Times turndown sheet!
Anniversary Perks
For our anniversary we had our door decorated, and were greeted with a basket of fruit and champagne.
We also got a "romantic dinner" card to use, which includes a decorated table at dinner with a bottle of house wine (ps. go to Chez for your romantic dinner!!!), champagne breakfast in bed (LOVED IT), and on our last night, we got some chocolates and bottle of rose bubbly left.
We loved all the little touches and made us feel special!
Related: Awesome Private Transfers from Cancun Airport
Wedding Venues
I saw 2 weddings while we were there and saw setups for 3.
The gazebo is absolutely stunning and is quiet as there's only one way to access it.
The beach is less private in my opinion but really you'd get that anywhere you went. We witnessed the beach wedding and the coordinator did keep it private. The décor was really beautiful for all setups we saw.
On-Site Photographer
We decided to do some sunset photos, since we usually never get the opportunity to have nice photos taken together.
We arranged our time, and our photographer took us around the resort to some scenic locations to snap some photos.
There's no service fee for the pictures we had done, and ended up picking 2 of the 50+ she took (at $20 USD each). I love them, and they're still my favourite pictures of us!
Final Thoughts
This place holds a special place in our hearts. I hope you found this review of Excellence Playa Mujeres helpful!
It's an incredibly relaxed and romantic resort (but with plenty of options to pick from if you want to do some activities).
You won't regret your stay – and you might become hooked like we are! It's an excellent location to come for honeymoons and anniversaries and an ideal spot to catch some rest and relaxation.
Looking to spend time at Excellence's sister property, Excellence Riviera Cancun? Check it out here! Or, if you're looking for other amazing adults-only resorts in Mexico to travel to that are romantic (and perfect for honeymoons and anniversaries!), these resorts will surely inspire you!
If you're looking for some fun excursions to take in Cancun and the Riviera Maya, here are some unique ideas for you!
Related Posts
Pin it for later!