Planning a trip to Niagara Falls and wondering what there is to do for free?
Luckily for you, there are tons of things to see and do for free in Niagara Falls. You could spend an entire day here without spending a dime!
Three massive waterfalls – Horseshoe (also known as Canadian), American, and Bridal Veil- are collectively known as Niagara Falls, formed by glaciers some 10,000-odd years ago.
During the summer months, almost 100,000 cubic meters of water flow over the edges per second, fueled by rivers and streams that empty into the Great Lakes (making one wonder how exactly are the Great Lakes not empty?!). 90% of the flow tumbles over the Horseshoe Falls and the remainder is diverted to hydroelectricity plants.
Ok – enough of a history lesson!
Did you know that an estimated 30 million people visit each year??? It's funny that I only live 20 minutes from this natural wonder of the world, yet I hardly ever visit. I recently made a point to visit free attractions in Niagara Falls, mainly because everything is still closed and there aren't a lot of people out. Also – I am cheap. 😂 I will always find free things to do near me!
Needless to say, there are plenty of free things to see and do in Niagara Falls. Lots of these free attractions also have free parking – even better!
Let's jump in!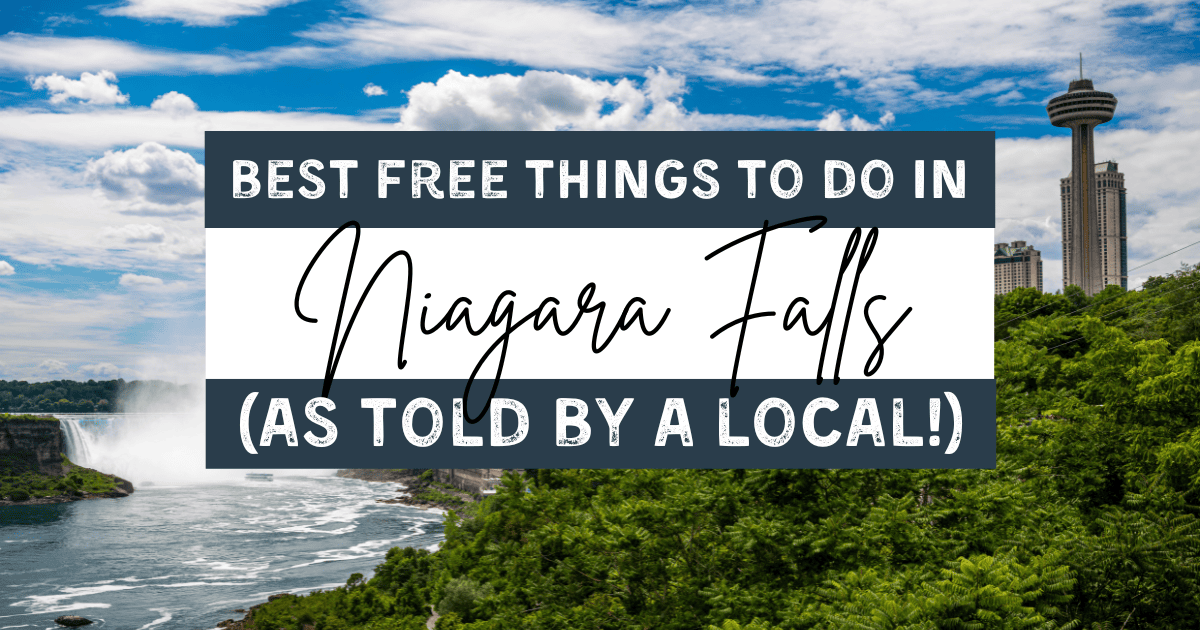 There are endless possibilities of things to see and do on a trip to this tourist hotspot, and if you're wondering what free things to do in Niagara Falls, this is the list for you!
I've listed these in order for a strategic route, since I prefer to drive into Niagara Falls through the back way and avoid a lot of the traffic. As a bonus, many of these have free parking or are centrally located where you can walk to most attractions.
This post contains affiliate links, which means I earn compensation when you book or purchase through one of these links, at absolutely no additional cost to you! Thank you for supporting my blog!
Free Things to do in Niagara Falls
If you're wanting to come spend some time at this natural wonder, it shouldn't break the bank! Here's my list of the best free things to do in Niagara Falls!
Brock's Monument National Historic Site
This historical landmark at Queenston Heights is dedicated to Major General Sir Isaac Brock – a Canadian hero of the War of 1812 and is the third oldest war memorial in Canada!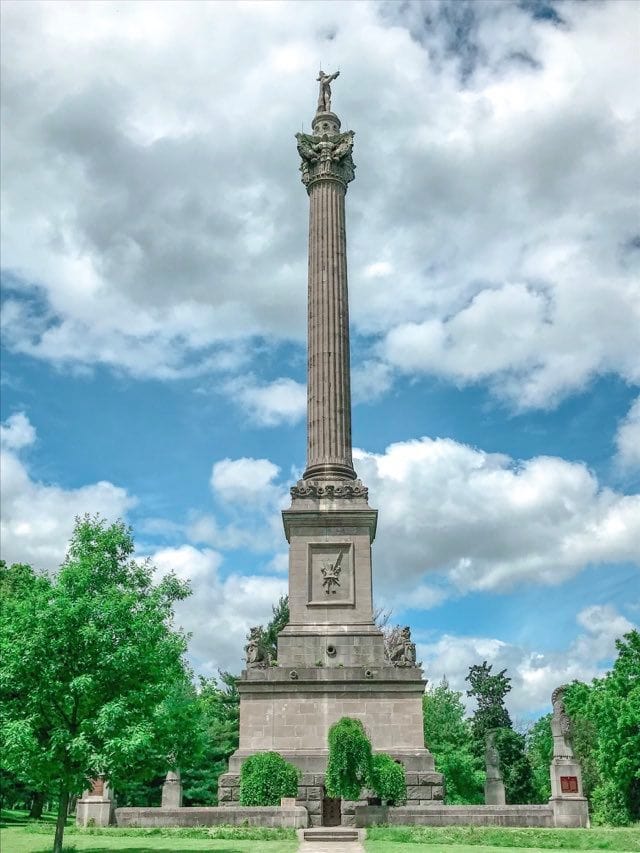 A Quick Backstory
While Canada and the USA share a peaceful border today, that wasn't always the case. Control of the Niagara River was an ongoing dispute.
One early morning in October of 1812, American troops crossed the Niagara River and made their way up the Niagara Escarpment to intercept the British supply line. Major General Isaac Brock was at present-day Niagara-on-the-Lake at the time and rushed to Queenston Heights to reclaim the area, but was fatally wounded by gunshot to the chest while leading his troops into battle. Spoiler alert: the British still won.
It isn't only the monument that draws people here. Queenston Heights also offers sweeping views of the Niagara River and many trails through a large manicured park. There is also a restaurant on-site and other historic points of interest to extend your visit.
This historical landmark measures 56 feet in height and also ranks as the tallest monument of its kind in Canada. You can even climb the tower up 283 steep steps (by a $4.50 donation) for scenic views of Lake Ontario and Niagara Falls! Please note this is not currently open due to Covid.
A great free thing to do in Niagara Falls for anyone wanting to learn more about Canada's history, and because it's off-the-beaten-path, it's often very quiet.
There is so much more to see here at Queenston Heights, and you can easily spend half a day (or more!) touring around the surrounding area by foot.
Centennial Lilac Garden
The Centennial Lilac Garden is seasonal, but if you time it right (mid May to early June depending on weather) it's a real treat for the senses. Wander through the gorgeous fragrant lilacs of varying colours. These gardens contain over 1200 plants and 200 varieties!
I've been known to stuff them up my nose – they're my favourite flower and they just smell so good. 😂
Lots of free parking!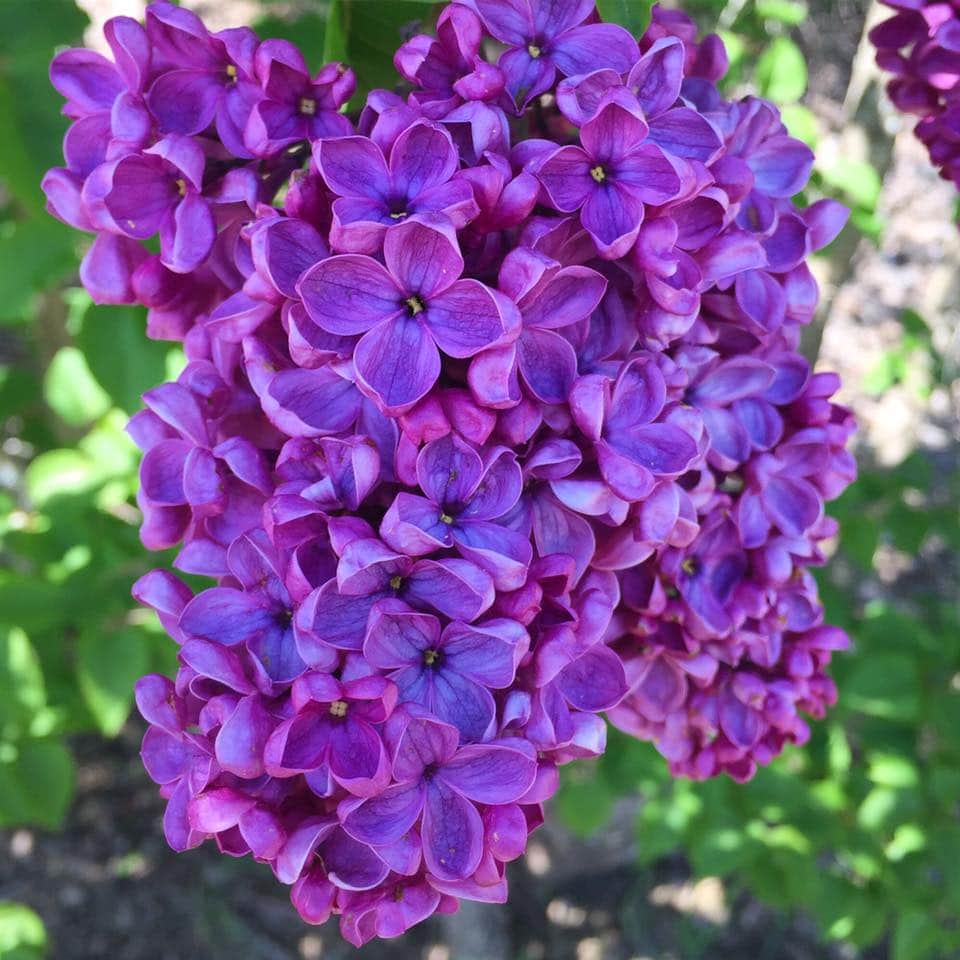 Floral Clock
Located right next to the Centennial Lilac Gardens, the Floral Clock is a large, manicured display with 16,000 bedding plants that are changed twice a year. Imagine having that job?!
The Westminster chimes go off each quarter hour, and if the door to the tower is open, you can take a peek inside to view the clock mechanism and view photos showing the history of the clock's designs over the years, going back to the 1950s!
The best time to view the Floral Clock is early spring when the new blooms are out. It makes for a short stop, but it's a great place to enjoy a morning coffee or picnic.
Plenty of free parking!
Related: Experience Journey Behind the Falls: a Unique Thing to do in Niagara Falls!
Botanical Gardens
The Botanical Gardens were established almost 100 years ago and sits on 99 groomed acres of horticulture. Each season there is a themed display ranging from perennials, trees and shrubs. You can easily spend many relaxing hours strolling through the grounds with its various paths and manicured gardens to discover. Be sure to visit the herb garden and learn all about the different varieties!
The Botanical Gardens is available all year round. There is an outstanding rose garden with more than 2400 roses and many plant varieties have signs telling you a little bit about what they are. Bring a picnic and enjoy in one of many scenic spots!
There are endless photo opportunities here and is a great way to break from the busy Niagara Falls area. Free access to the grounds and only $5 for parking.
Cham San Buddhist Temple
I'll be the first to admit that until recently I had no idea what this was! I always saw it from the US side but just discovered that the Cham San Buddhist Temple is a hidden gem in Niagara Falls!
Also known as the Temple of the Ten Thousand Buddhas, this is a free attraction and you are able to see it from the inside, but no photos permitted. Cham San is a functioning temple with worship services conducted by monks during the day (which you can even participate in!).
Completed in 2002, the temple was built to advocate Dharma, the teachings of the Buddha. It's a peaceful place for those wanting to marvel at the architecture, view the various paintings, explore a new culture, or to grab a few minutes of peace.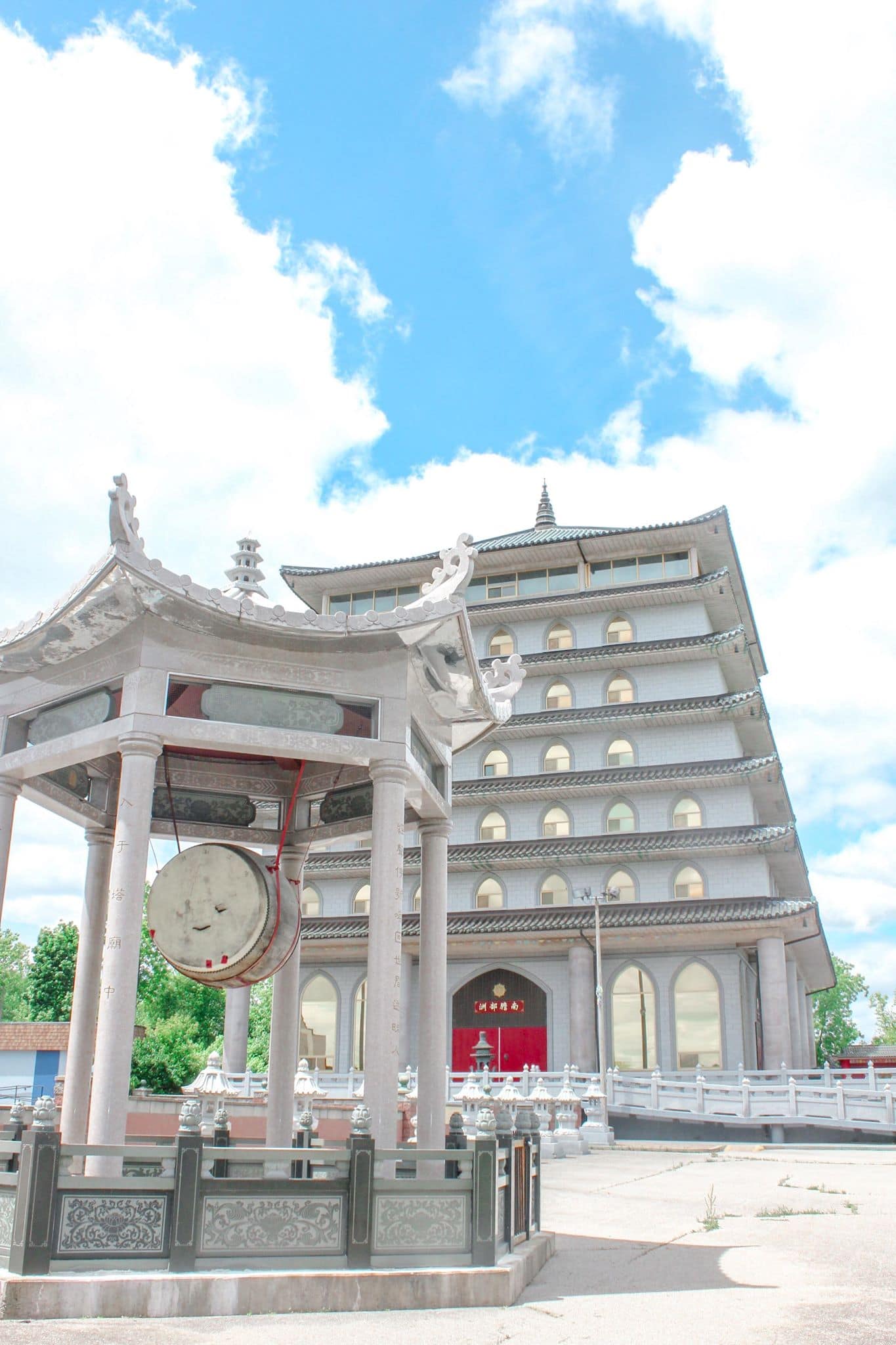 Why is it called the Temple of the Ten Thousand Buddhas? Inside, there are many (9,999?!) miniature golden Buddhas lining the shelves along the walls of all 7 levels of the temple. Step inside and you'll see an enormous bronze statue of the Buddha as the focal point.
Free guided tours are available on summer weekends.
Please remember to be respectful of people praying and be sure to leave your shoes outside if you choose to go in. 😊
Free parking inside the temple. Open daily from 10:00 am – 5:00 pm.
Clifton Hill
Clifton Hill is the major tourist promenade of Niagara Falls – filled with numerous attractions like haunted houses, the Niagara SkyWheel, Movieland Wax Museum, and so much more. Yes – I realize that these are all paid activities, BUT it's a lot of fun to walk up and down Clifton Hill and people watch and see what activities there are to do.
Many of these activities have a lobby space where you're able to go in and see some of their offerings for free! I mentioned I was cheap right?😂
Hershey's Chocolate World
Are you a chocolate fiend like me? If you are, you absolutely cannot come to Niagara Falls without visiting Hershey's Chocolate World!
First – it smells amazing. As soon as you walk in the smell of chocolate is wafting in the air. There are display cases of fudge and other chocolaty treats to ogle, as well as racks of Hershey chocolates to buy and merchandise like stuffed Hershey Kisses and t-shirts.
While this isn't a completely free attraction (well, it can be if you resist temptation!), you'll marvel at all of the chocolate themed items and gifts, including a 10 lb chocolate bar – which I may or may not have purchased a few times in my life!
If you are going to buy something here, I highly recommend the chocolate covered strawberries and the chocolate milkshake. You'll thank me later.
Niagara Falls History Museum
Explore Niagara Fall's rich history in their community gallery (surprise – it's not all about the Falls itself!). Learn about the people and culture, geology, social life, industry, and the daredevils – including tightrope walkers and barrel riders!
Unknown to many, Lundy's Lane was the site of a pivotal battle during 1812. The Gale Family War of 1812 Gallery offers opportunities to don gear, and view the various relics and archival records of the war.
The Niagara Falls History Museum also offer a variety of events every Thursday night, ranging from Yoga classes to movie screenings.
Open Tuesdays – Saturdays 10:00 am – 4:00 pm.
Only $5 admission! Thursday evenings after 5 pm is free admission.
Best View of Niagara Falls
Visiting the power and beautiful of Niagara Falls is fortunately free for everyone 365 days a year, whether you're taking a scenic drive along the Niagara Parkway or clinging to the railing (like I do😂) up close, the experience is always free.
Which side of Niagara Falls has the best view? Most will say the Canadian side, and it's hard to disagree! I think most can agree that the Horseshoe Falls is the best, mostly because it's so powerful and you can get right up close to it – just don't lean too far over the railing! Feel (and hear!) the force of thousands of gallons rush by you and over the edge.
If you're visiting at night, you'll be able to see the Falls illuminated by vibrant colours, every singly night of the year!
Visit during the cold winter months (bundle up!) and if you're lucky you'll see parts of Niagara Falls partially frozen – making for some epic photos.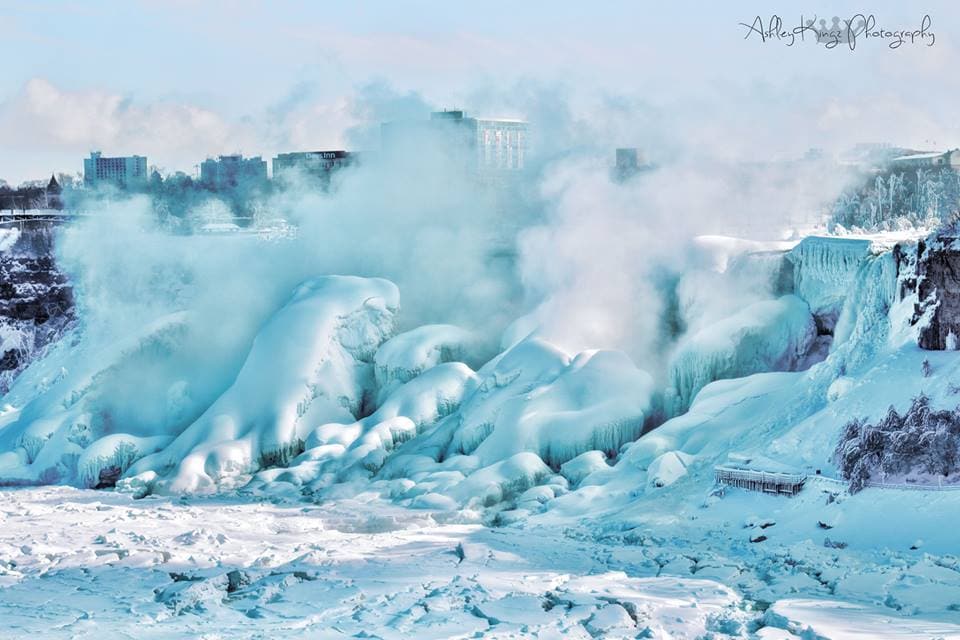 Did you know Niagara Falls has its very own shipwreck?
See how it got there!
Dufferin Islands
With acres of secluded tranquility, the Dufferin Islands are made up of numerous small islands connected by bridges and walkways. The meandering trails make up a 2.3 km loop through greenery, over wooden bridges and surrounded by wildlife.
Drive through during the summer months and you'll find many families using the barbeque pits along the water, feeding the wildlife, or admiring the scenery from one of many benches.
This is within walking distance from Niagara Falls if you choose, but there is also plenty of ample free parking available. Frequented by locals, this is quiet place to visit and get in touch with nature.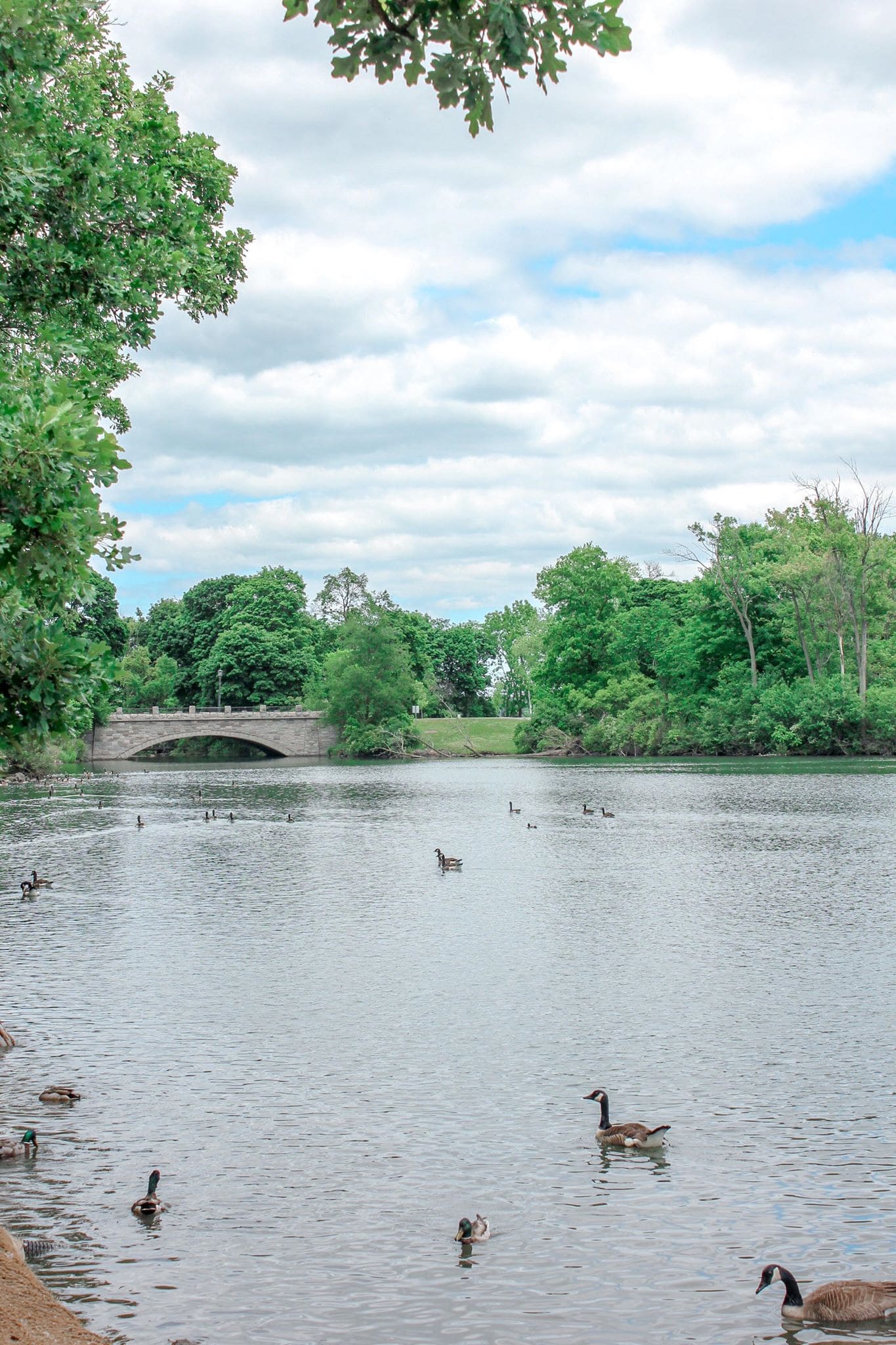 Festival of Lights
During November – January, the Dufferin Islands are lit up with a spectacle of lights adorning trees, bushes, light posts and numerous two and three-dimensional displays featuring Canadian wildlife and a giant, 30 foot Inukshuk. This is a definite must-see for visitors during the winter and I've enjoyed coming here every year!
This is a free attraction in Niagara Falls, but donations to help maintain the lighting displays are appreciated (suggested $5-$10 per car).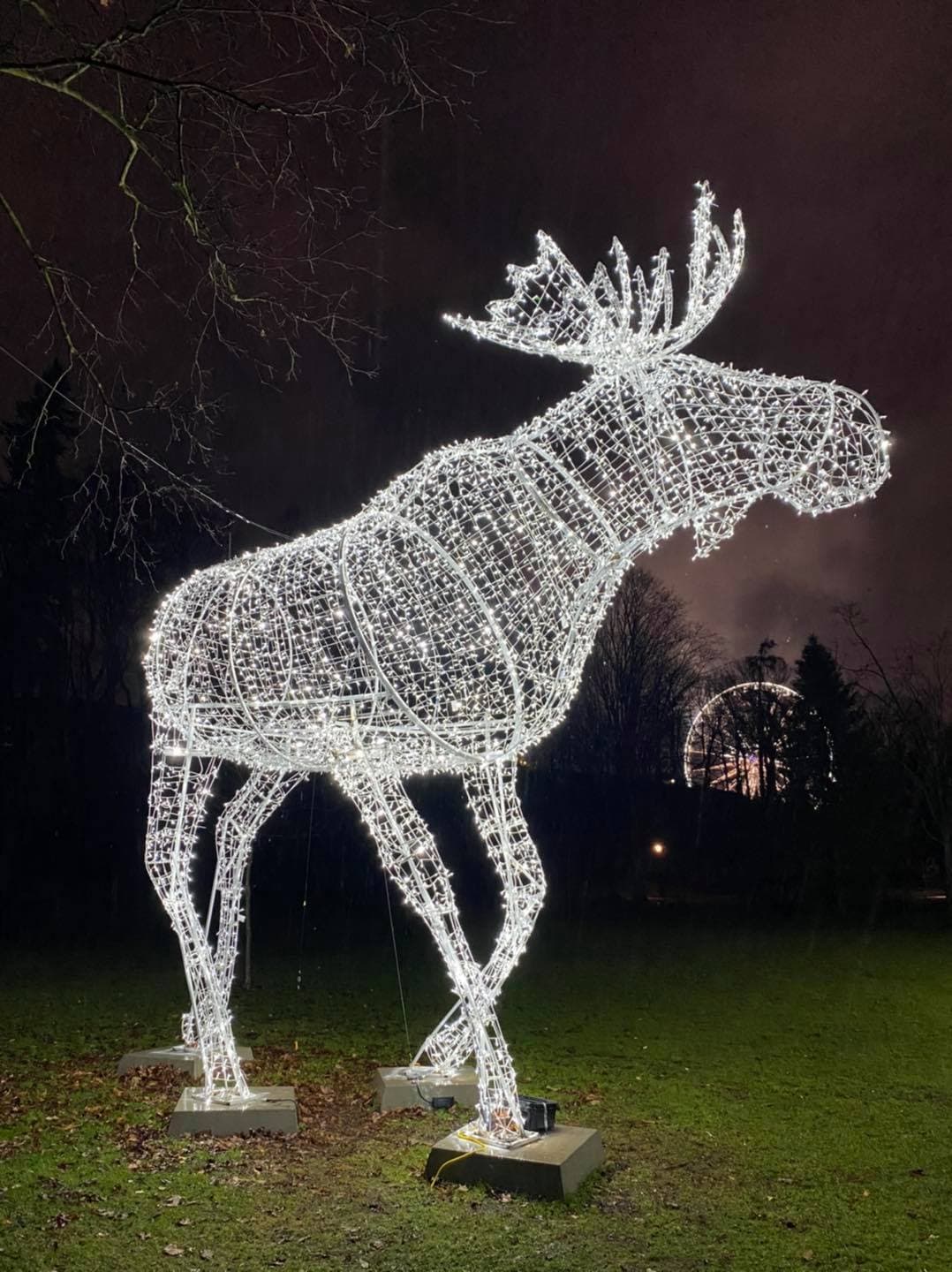 Scenic walks & drives
There is definitely no shortage of amazing walks or drives you can take along Niagara Falls and the Niagara River. Whether you're walking or biking, there are more than 300 km of trails to explore across the region!
Niagara River Recreation Trail
With 56 km of trails specifically dedicated to walking and biking, the Niagara River Recreation Trail extends from Fort Erie, through the Falls and ends at Fort George in Niagara-on-the-Lake. With endless spots to stop at, choose to ride the trail from beginning to end (roughly 2 hours by bike per each of the four sections), or stop and visit some of the many stores and restaurants along the way.
Niagara Glen Nature Centre
If you're a hiker and looking to get close to nature, visiting the Niagara Glen is for you. Numerous meandering paths through the forest offer groomed trails mixed with rugged terrain along the banks of the Niagara River. You can even go bouldering if that's your thing for an annual $35 permit!
Download your trail map from Niagara Parks here!
Walk Along the Falls
Park near Clifton Hill and make your way to the Horseshoe Falls for a breezy walk (with the occasional misting!) for spectacular views – and if you're lucky – you may even catch a rainbow!
Niagara River Parkway
If you choose to drive instead, you won't be missing out. There are numerous parking lots to stop at to get a glimpse of the Niagara River or to get out and stretch your legs. The Niagara River Parkway extends 55 km and once you leave the hustle and bustle of the tourist section, you'll transport yourself to quiet streets with cute B&Bs and scenic views.
Fireworks
There's no better way to end your visit to Niagara Falls than viewing some incredible fireworks. They're set off from the Niagara Gorge – between the American Falls and the Horseshoe Falls and are put on by the
You'll get the best view of the Niagara Falls fireworks from Queen Victoria Park, right in the main grassy area next to Clifton Hill.
Normally these are nightly shows starting at 9 pm with select dates in the spring, fall, and during the Winter Festival of Lights, so be sure to check back soon for updates!
Where to park in Niagara Falls for cheap
The best thing about Niagara Falls is that it is a free attraction all on it's own and you don't need any money to experience the attractions listed here – just be sure to allocate some funds for parking!
There is lots of free parking in Niagara Falls based on this list, and here is a list of the city lots available for those attractions closest to the main hubbub. When we go, we usually park at individual lots a couple blocks away from Clifton Hill for a $4-$5 flat rate. Often times they are located in just as good of a location as the higher priced lots!
If you are looking for other fun things to do in the area, Niagara-on-the-Lake is a short 20 minute drive from the Falls. Known for it's wineries, this Victorian-era town is so charming. There's a ton of unique things you can do there that don't involve wineries, making it a fun getaway with kids, too!
I'd love to hear your thoughts on this list. Have you done any of these? What is your favourite thing to do in Niagara Falls? Let me know! 🙂
Looking to add some other activities to your visit?
Free Map!
Here's your downloadable map for easy directions!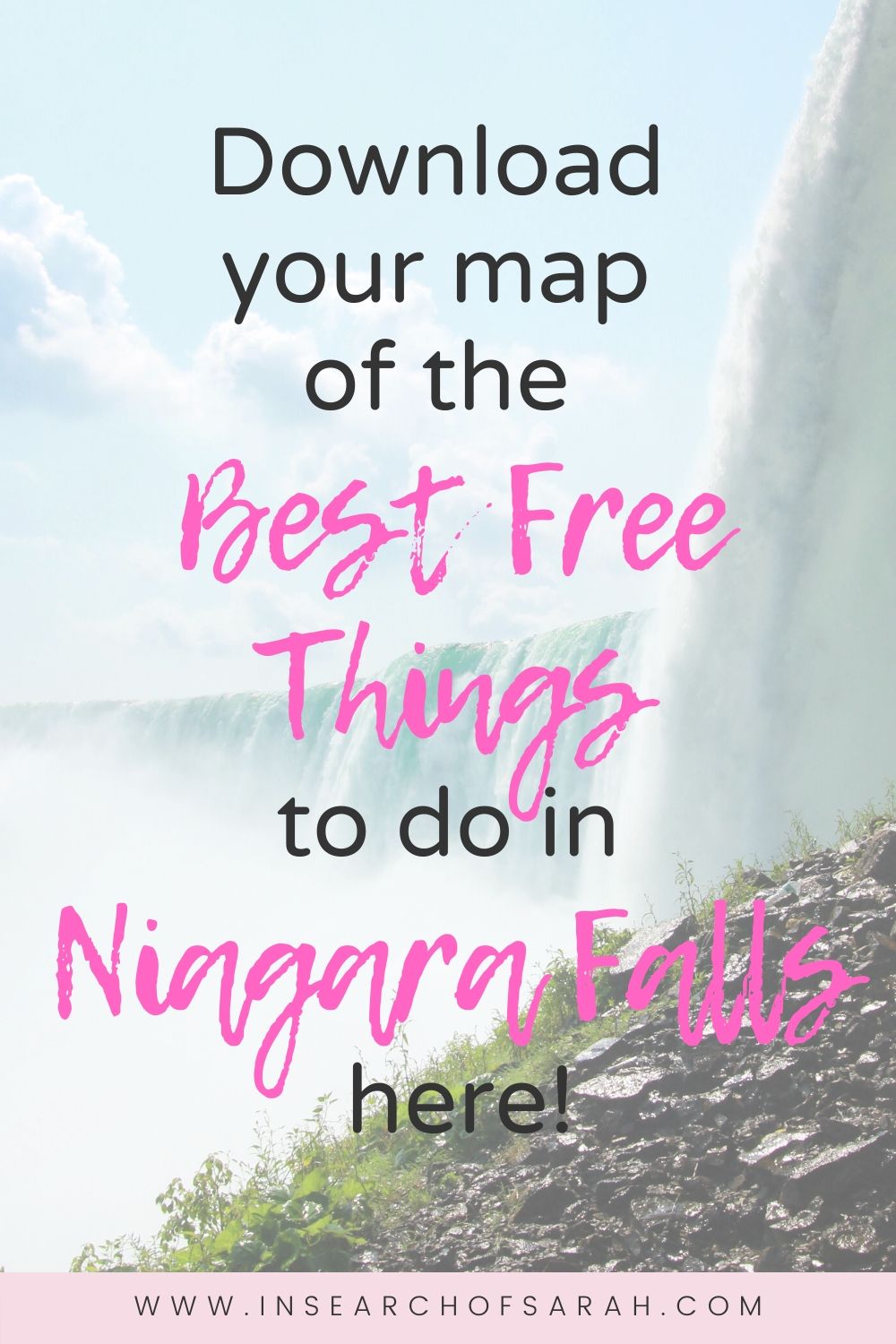 Related Posts
Pin it for later!