If you're planning a trip to Niagara Falls and wondering what activities to do, Journey Behind the Falls gives you a unique once in a lifetime view of Niagara Falls unlike any other experience!
Journey Behind the Falls in Niagara Falls, Ontario, allows you to stand at the heart of Niagara, 125 feet below ground within 130 year old tunnels excavated through bedrock.
You'll feel the thundering vibrations of the falls above you and hear the roar of the water long before you see it.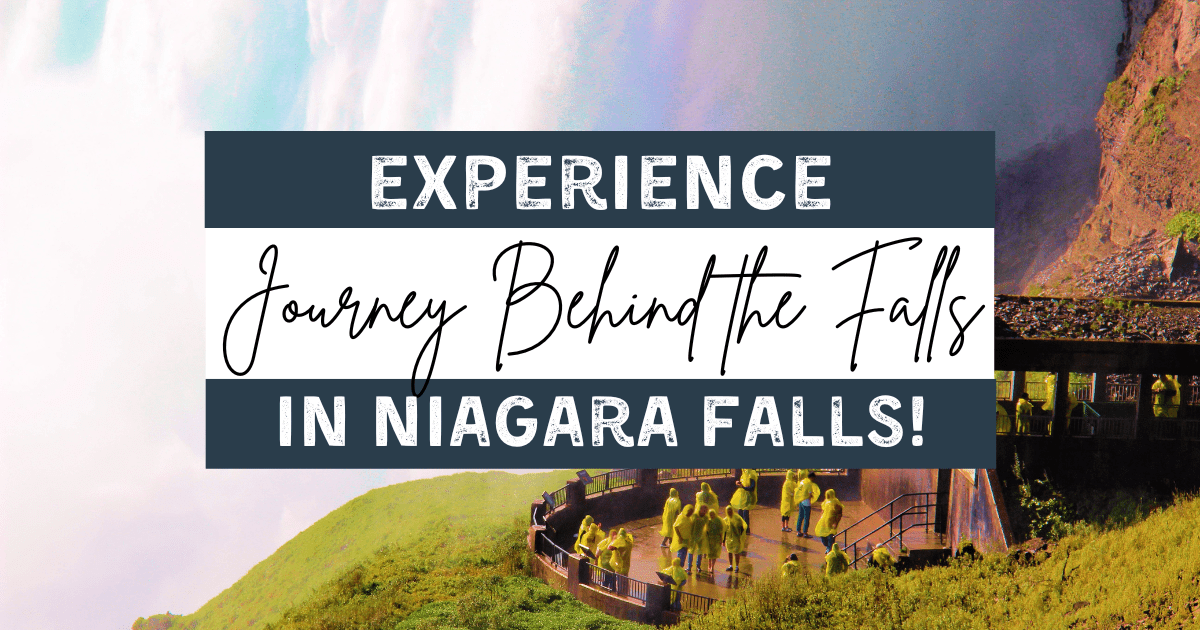 Niagara Falls attracts millions of visitors every year – and it's not hard to understand why!
Niagara Falls is made up of three massive waterfalls – Horseshoe Falls, American Falls, and Bridal Veil Falls – that forms what we know as Niagara Falls. For over 400 years, people have visited from all over the world to experience this mesmerizing and powerful waterfall.
Journey Behind the Falls provides you with the opportunity to get up close and personal to the Horseshoe Falls. There's a strong chance you will also get wet – but don't worry – you're provided with a Niagara Parks poncho you can either recycle or take home as a keepsake afterwards!
This post contains affiliate links which means I earn compensation when you click on the links at absolutely no extra cost to you! Feel free to read my disclosure policy. Thank you for supporting my blog!
Plan your next vacation using these tools!

✈️ Book flights: SkyScanner
🏨 Book hotels: Booking.com
🚘Book car rentals: RentalCars.com
🎫Book tours: GetYourGuide
🌍Favourite travel item: Packing cubes
🧳Favourite travel bag: Osprey 40L Fairview
🩹 DIY Travel Medical Kit
💸 20 Cheap Travel Items Under $20
History of Journey Behind the Falls
Did you know that at one point during the 19th century, the only way for people to get down to the base of Niagara Falls was by clambering down a steep embankment, over huge boulders, and rickety ladders made from fallen trees?
The first enclosed staircase was built in 1818, and a spiral staircase was added in 1832 for visitors to pay to see the "Sheet of Falling Water" attraction.
If you stand by the falls now, and look down, would you ever consider taking a staircase to the base?
The Niagara Parks Commission was created in 1885 to maintain the area surrounding Niagara Falls. Staircases were removed and a water hydraulic-powered elevator was constructed.
Over time, the original observation point for viewing the falls from below was deteriorating from falling rock. A decision was made to dig a 150 foot tunnel through the bedrock to access the falls from below, and behind! This allowed visitors to truly experience the wonder of the falls like never before.
The first version of the tunnels opened in 1889. With no lighting, guides carried lanterns for visitors to the viewing portals to see the rushing water. An observation platform was added in the 1950s to allow for stunning unobstructed views of the Horseshoe Falls.
Related: 10+ Interesting Niagara Falls Facts You Probably Didn't Know!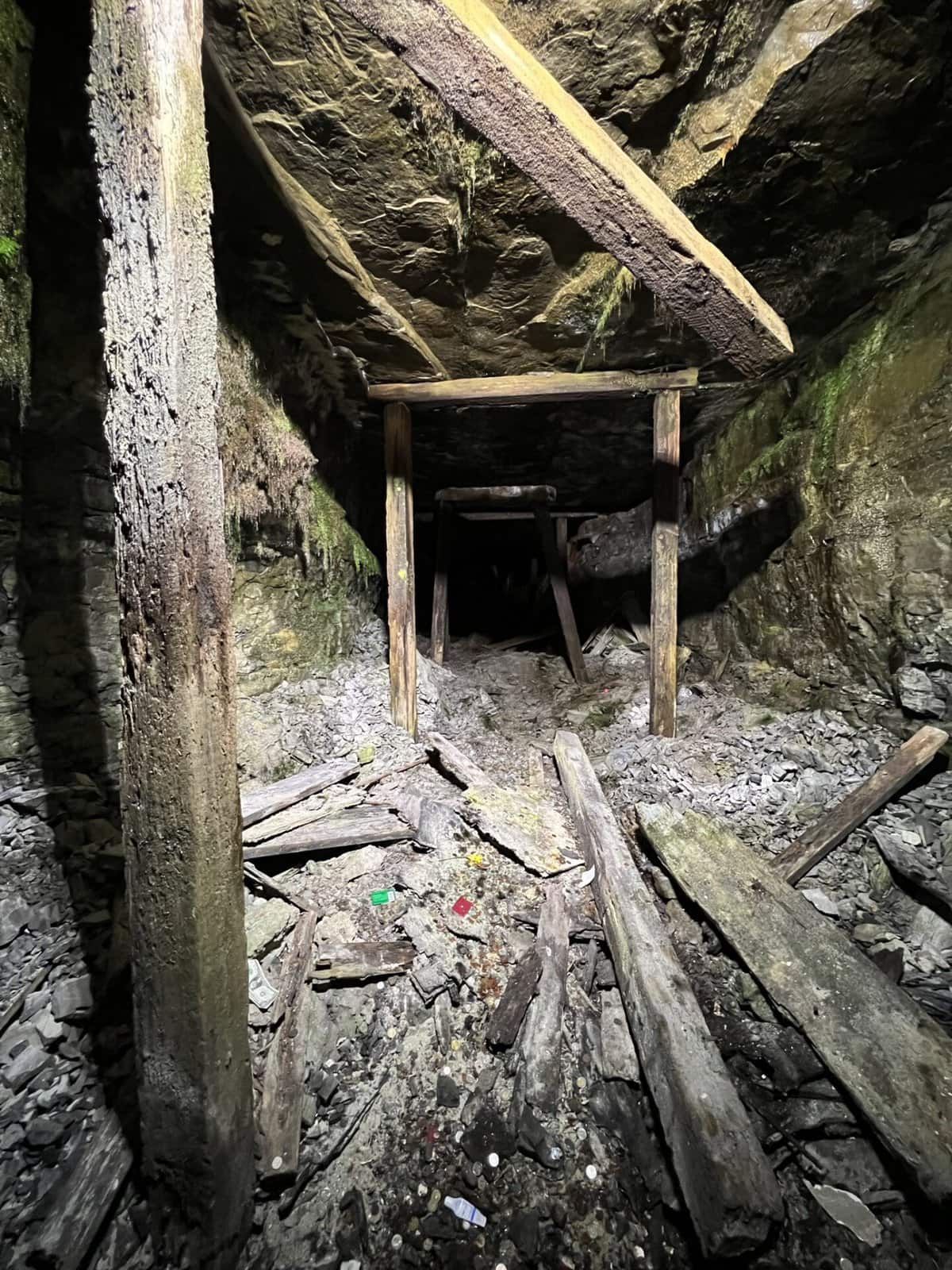 What to Expect at Journey Behind the Falls
I was so excited to visit Journey Behind the Falls. Living only 20 minutes away in Beamsville, we didn't really start visiting the Falls as extensively as we are now until the pandemic. Now we can't get enough of all the fun things to see and do in Niagara Falls!
Entrance to Journey Behind the Falls is inside the Table Rock Centre. It's on the bottom level, located at the back right side of the building. You can pre-purchase tickets ahead of time for timed entry, or if it's not busy, you can wait in line for your turn.
Once your tickets or passes are scanned, you'll be guided into a room for a photo opportunity. You're then given a ticket to look at your photos after the Journey Behind the Falls experience.
FYI: Two printed photos + digital access is $44 + hst.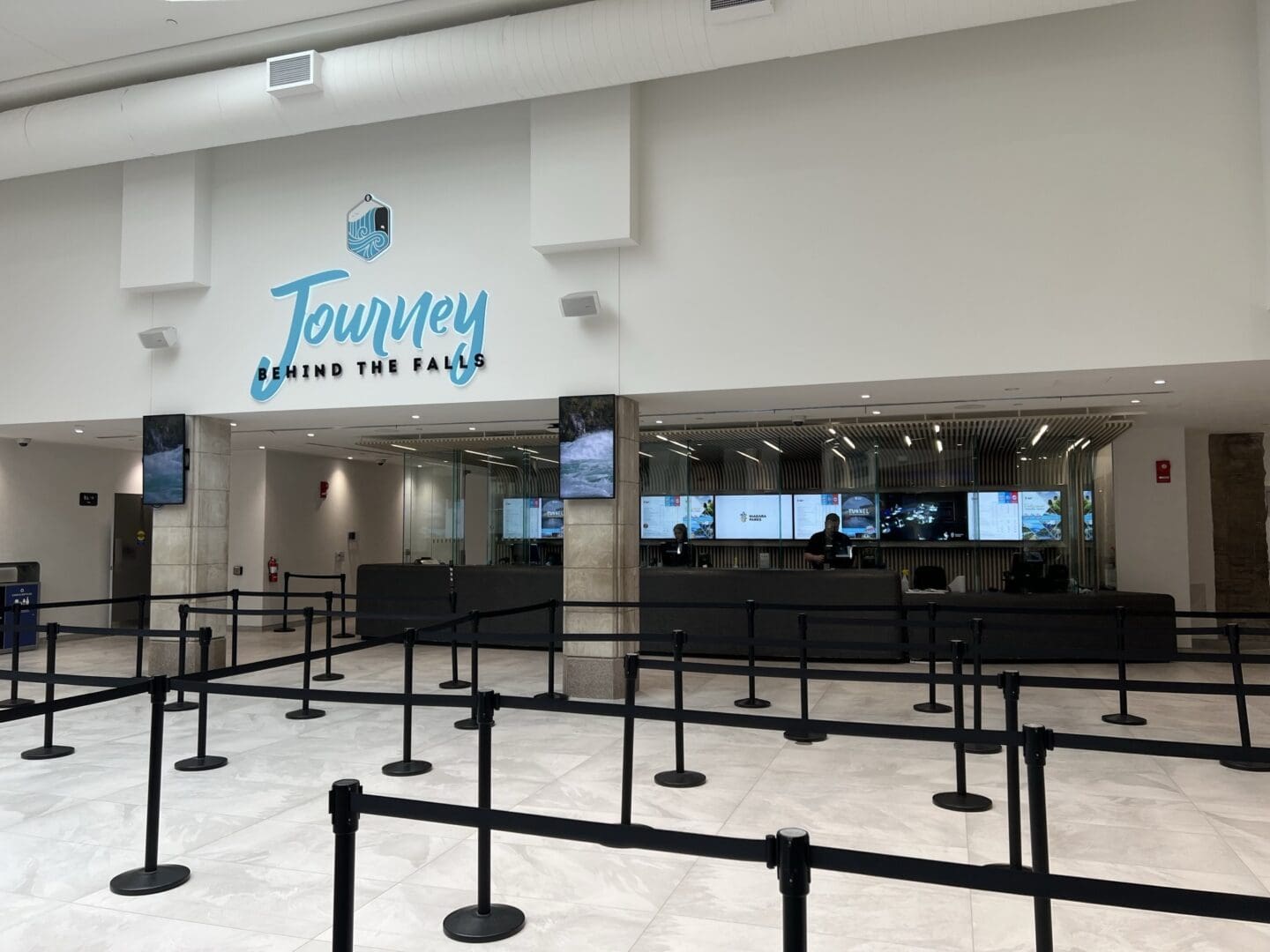 You'll then be guided to a line and enter one of two elevators before descending 125 feet down behind the falls. These tunnels were excavated 130 years ago!
Once you exit the elevator you're given a poncho – and trust me – you'll want to wear it! You're told that you go left to the two-tiered observation deck, and right will lead you to two cave-like portals behind Horseshoe Falls!
I would recommend starting with the viewing portals first for two reasons. First, most people go straight to the observation deck, so if you head to the viewing portals you'll have a better chance of having it to yourself for better photo opportunities and views.
Secondly, you're going to get wet at the observation platform and the tunnels are cool, so if you do get a bit soaked and if it's a cool day, you may get chilly.
You can spend as long as you like down here since Journey Behind the Falls is a self-guided tour. It's a lot of fun getting an up-close look behind the falls and of the base of Horseshoe Falls that not a lot of people get to experience!
Journey Behind the Falls is open year round, which means you can get a different experience each season!
Observation Deck at Journey Behind the Falls
The observation deck at Journey Behind the Falls sits 13 stories below the Horseshoe Falls. No other attraction in Niagara Falls offers views like this!
The views of the falls are absolutely breathtaking. You can feel the power of the 2800 cubic metres of water thundering over the brink of the falls every second!
Water rushes over at 65 km per hour. It makes you wonder how and why anyone would ever want to go over in a barrel (and live to tell the tale)!
While Journey Behind the Falls is open during the winter, they do close the observation deck if the weather is too poor. Rates are reduced for Journey Behind the Falls for the winter.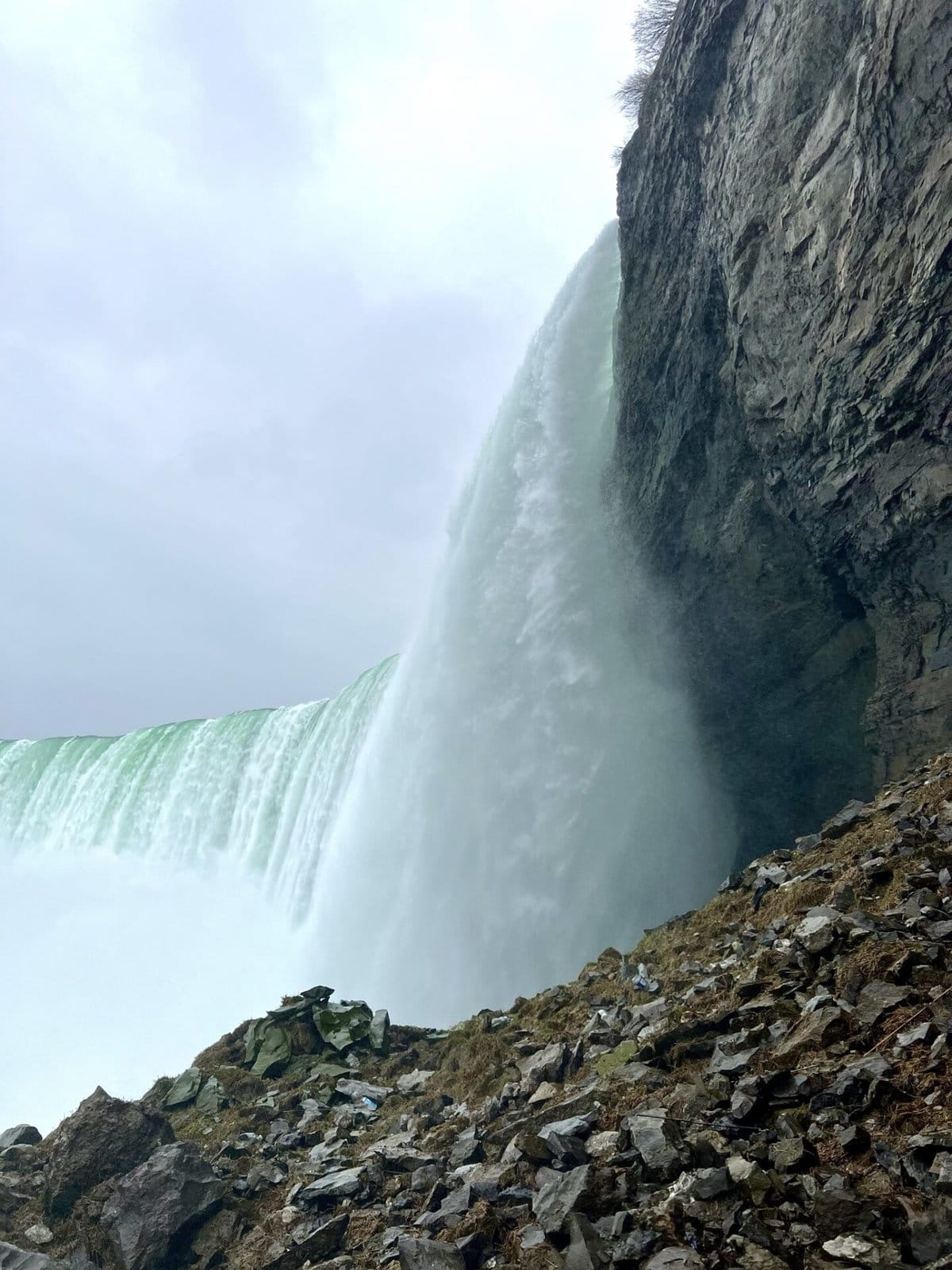 The tunnels behind Horseshoe Falls
There are two tunnels that you'll walk down at Journey Behind the Falls: the Great Tunnel and the Cataract Tunnel.
These tunnels you'll be walking in are 130 years old! You'll also have the chance to see what the excavated tunnel looked like before it was patched up and painted white.
While these tunnels provide access to the cave portals and the observation deck, it also provides you the opportunity to walk 1/3rd the distance (650 feet) behind Horseshoe Falls!
The cave portals open up behind the falling water. You may even get a bit wet here too as the wind changes and sprays the water back inside the tunnel. The sound can be deafening at times, and it's amazing to know how much water is falling above you and right in front of you!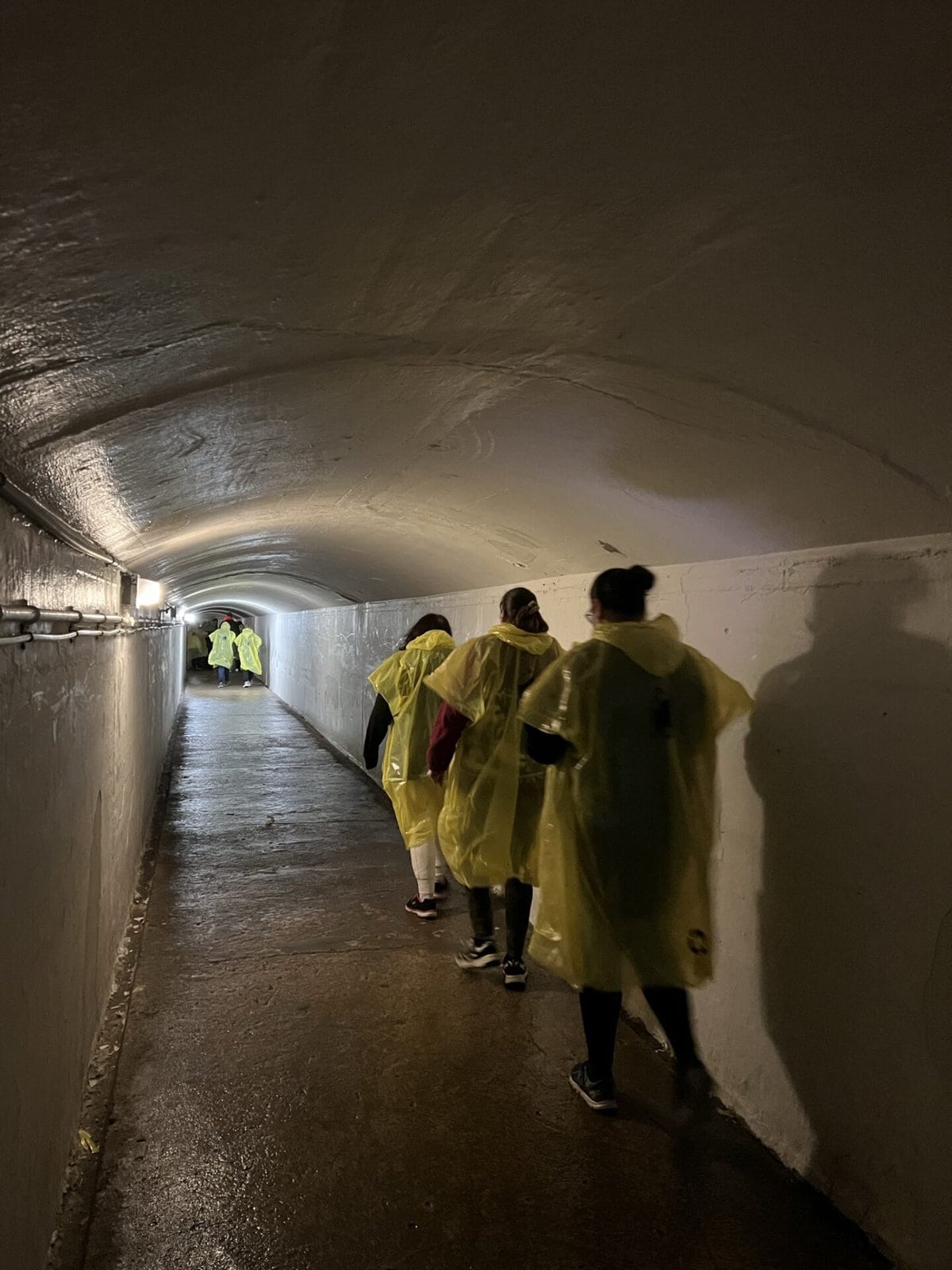 What to know before visiting Journey Behind the Falls + What to Wear
Some original visitors had to wear rubber boots and raincoats to visit Journey Behind the Falls, but thankfully ponchos are provided by Niagara Parks to keep you relatively dry! You can opt to recycle these after your tour or take them home as a keepsake!
Fun Fact: Journey Behind the Falls used to be called the "Scenic Tunnels."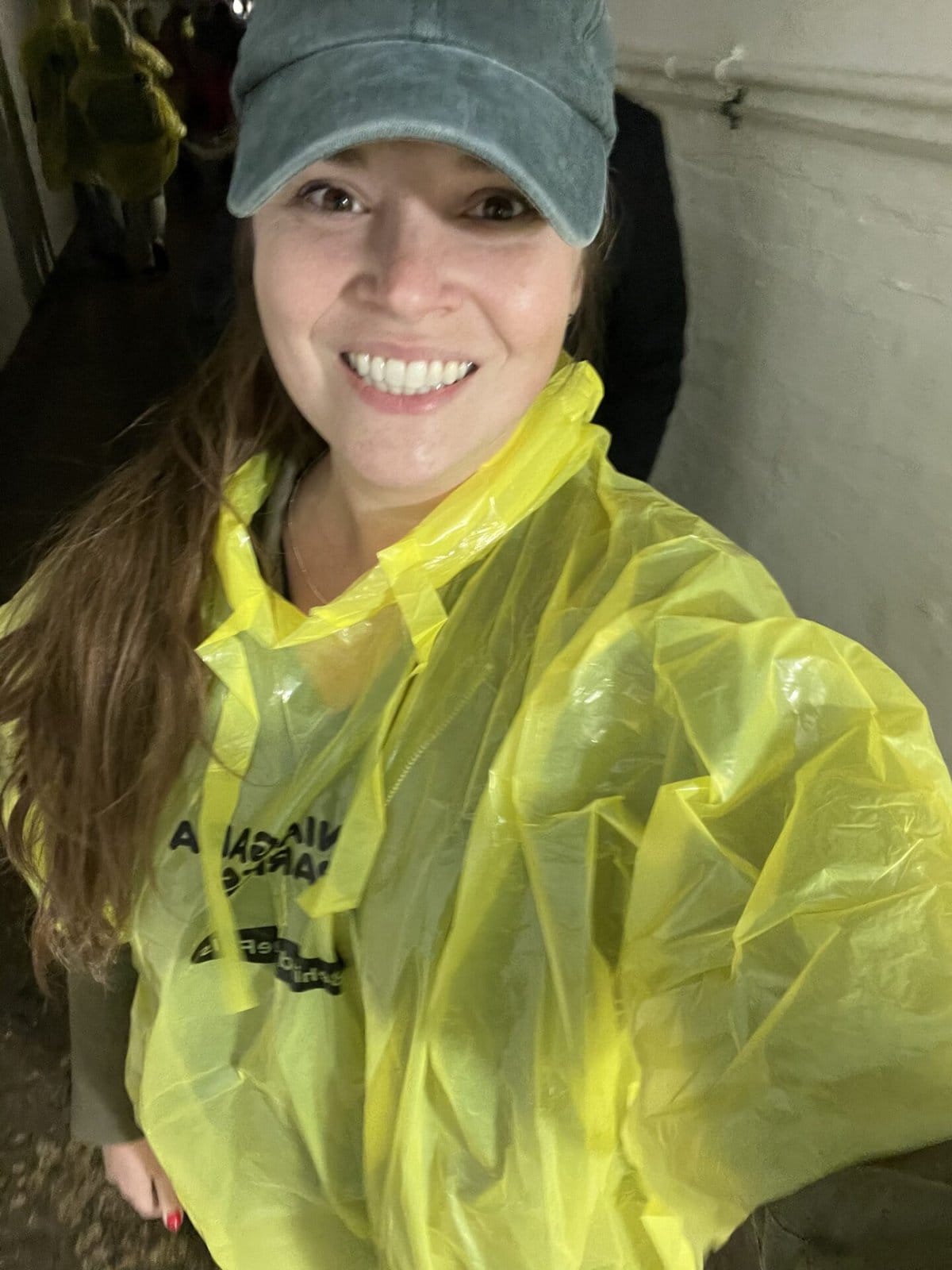 Is Journey Behind the Falls worth it?
If you want to get up close and personal to Niagara Falls, while providing a unique experience, then Journey Behind the Falls is worth it! You're given breathtaking views of one-fifth of the world's fresh water crashing down in front of your eyes.
We had a lot of fun exploring the tunnels and laughing while trying to take photos before our phones got too sprayed by the falls mist. Journey Behind the Falls will leave you with lasting memories of the world's natural wonders.
Did you know: During the summer, Niagara Parks offers a new program at Journey Behind the Falls, like Night Lights that allows guests to enter the attraction after hours to experience the nightly illumination and fireworks! Stay tuned for updates!
P.s. If you are visiting Niagara Falls and plan to do a few attractions, take a look at the Niagara Parks Attraction Packages! You can save up to 53% by purchasing a pass which will give you access to some of the best Niagara Falls attractions.
You can also combine two of the best things to do in Niagara Falls – Journey Behind the Falls and a boat cruise aboard Hornblower Cruises – with a fully guided tour! You also get to experience a few other unique things to do in Niagara Falls with this group tour, so it's well worth the money!
Visiting Niagara Falls on a budget? No problem! There are plenty of free things to do in Niagara Falls as well as some amazing cheap places to eat! Don't miss out on getting some of the best donuts in Niagara Falls while you're visiting, either!
How long does the Journey Behind the Falls take?
You can spend as long as you like at Journey Behind the Falls, but realistically it takes around 30-45 minutes to check out the cave portals and to spend time on the observation deck, take photos, and wait in line for the elevator.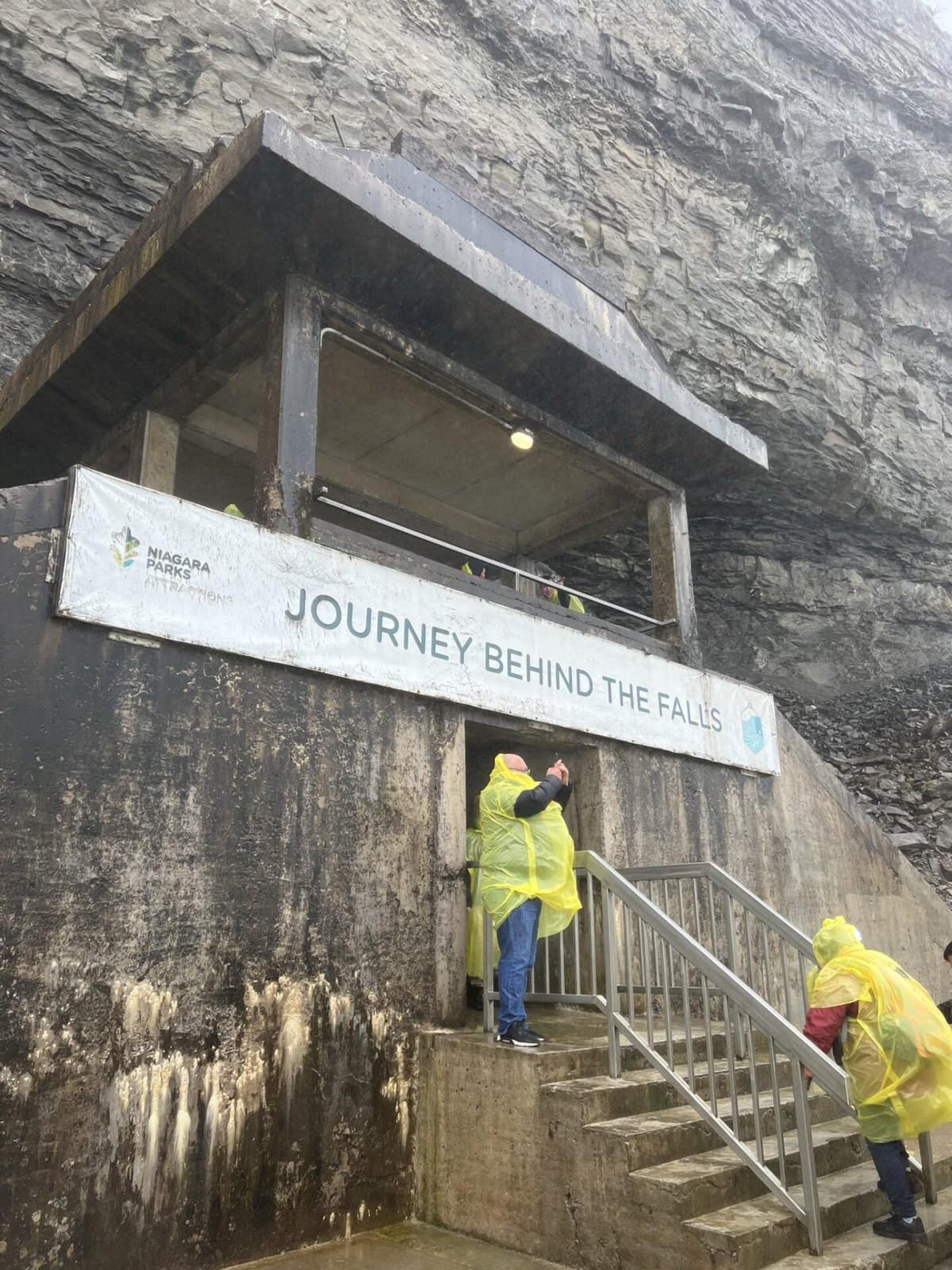 Do you get wet at Journey Behind the Falls?
You will need to wear your poncho on the observation deck, because you will get wet! You'll get misted on the observation deck, since you're right next to Horseshoe Falls! This is a refreshing experience during the summer heat.
I had to keep wiping my phone lens off because of the water, but still managed to get some awesome photos!
Journey Behind the Falls ticket prices
Adults 13+: $24
Children 3-12: $16
2 & Under: Free
To make the most out of your visit to Niagara Falls, consider purchasing an attractions package that combines some of the best Niagara Falls activities. You get more bang for your buck that way!
Tips for visiting Journey Behind the Falls
Arrive early! Journey Behind the Falls opens at 10:00 am daily. You can also purchase tickets at the welcome desk located on the second floor for timed entry if you do not want to wait in line.
Wear the poncho! It's a guarantee you're going to get misted.
Wear shoes with some tread. It can be slippery down there!
Consider buying a Niagara Parks Pass to save some money!
Where to park for Journey Behind the Falls + Niagara Falls Parking Tips
If you are driving to Niagara Falls, the closest parking lot is at Table Rock, right at the Horseshoe Falls, at Falls Parking Lot A, 6635 Niagara Pkwy.
Parking is a flat $35 fee. It's steep!
This is why I tell everyone to purchase a Niagara Parks Annual Parking Pass for $40, and is one of my best money-saving tips for visiting Niagara Falls. It's good for a year from the date of purchase, gives you passes for two vehicles from the same household, and basically pays for itself!
You can purchase it online and have it mailed for free, if you're planning ahead, or pick it up at the hut at the far end of the Table Rock parking lot, right by the Niagara Falls Incline Railway.
P.s. If you're picking up your parking pass on-site, you will have to take a ticket when you enter the parking lot. Don't worry about paying it – you will receive your Annual Parking Pass with a barcode on it to scan on your way out!
Even if you are visiting Niagara Falls for the weekend (or just the day!) and plan to drive around to a few spots, you can't afford to not purchase the pass. It's well worth it and will actually save you money.
However! If you really don't want to buy the Niagara Parks Annual Parking pass, you can walk to Table Rock from the Floral Showhouse. Parking is $5/hour.
Factor in walking there, waiting in line (if it's busy) and enjoying Journey Behind the Falls, you can expect to pay for 2 hours for $10.
Related Posts
Pin it for later!