Only 10 minutes from Niagara Falls and 15 minutes from Niagara-on-the-Lake, Queenston Heights is an important historic site, as this was the location of the Battle of Queenston Heights, the first major battle during the War of 1812.
It's now a beautiful park full of historic monuments.
There is plenty to see and do at Queenston Heights Park itself, but there are also tons of other neat things to check out if you're looking for more interesting bits of Canadian history in the area!
You can easily spend a few hours wandering the scenic streets around Queenston to all of these sites. It's so peaceful and I guarantee you'll learn a few things when you visit.
We decided to come here a few days after the 208th anniversary of the Battle of Queenston Heights.
I was shocked to discover as much as I did during our visit!
This post contains affiliate links which means I earn compensation when you click on the links at absolutely no extra cost to you! Feel free to read my disclosure policy. Thank you for supporting my blog!
Plan your next vacation using these tools!

✈️ Book flights: SkyScanner
🏨 Book hotels: Booking.com
🚘Book car rentals: RentalCars.com
🎫Book tours: GetYourGuide
🌍Favourite travel item: Packing cubes
🧳Favourite travel bag: Osprey 40L Fairview
🩹 DIY Travel Medical Kit
💸 20 Cheap Travel Items Under $20
1. Brock's Monument
This historical landmark is dedicated to Major General Sir Isaac Brock – a Canadian hero of the War of 1812. It's an iconic spot in the Niagara Region that towers over Queenston Heights.
Why is this monument here? Here's a little bit of history for you!
Early on October 13, 1812, American troops crossed the Niagara River and made their way up the Niagara Escarpment to intercept the British supply line.
Brock, knowing the danger of losing the village of Queenston if he lost control of the Heights and Redan battery, rode from present day Niagara-on-the-Lake to quickly assemble a small band of soldiers and militia who followed him up the escarpment to regain the heights.
The Americans began firing on the British, and Brock, who was quickly making his way up the escarpment was singled out and fired on. He was fatally wounded in the chest.
Brock's Aide-de-Camp, Lieutenant-Colonel John Macdonell, led a counter attack, but he too was killed, leaving the Americans in control of the Heights.
While the British forces waited for reinforcements to arrive, approximately 100 Native Warriors climbed the Heights and contained the Americans.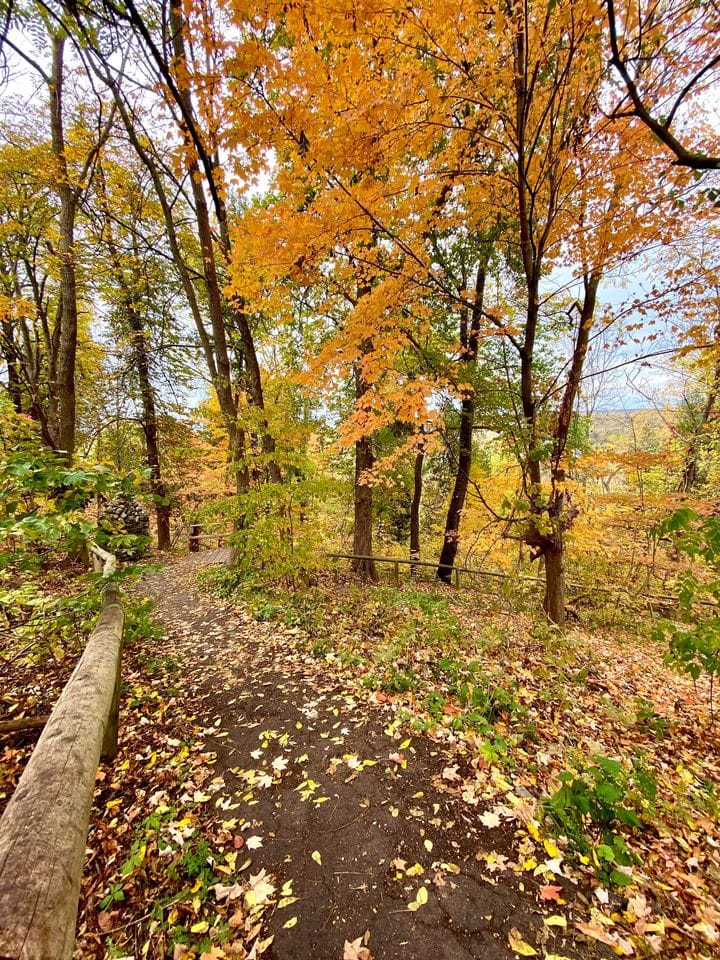 By the early afternoon, British troops arrived from Fort George and Chippewa, and together with the Native Warriors, Canadian Militia and Runchey's Corps (a company of free blacks and indentured black servants), repelled the Americans and forced a surrender.
The monument is the final resting place of Brock and MacDonell.
The Battle of Queenston Heights was the first major engagement in the war as well as British victory – giving hope and unifying the population behind the war effort.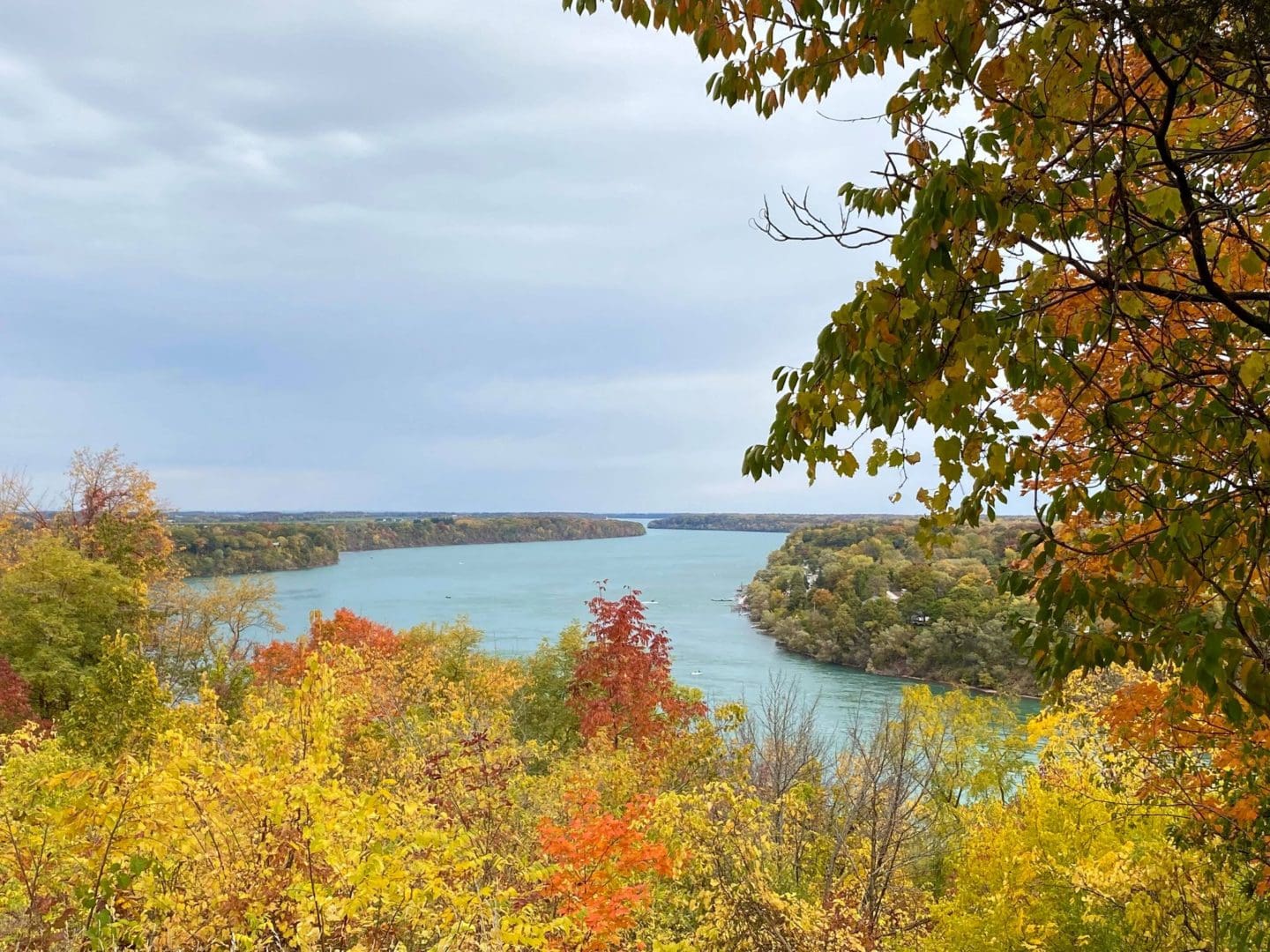 Standing 56 feet and overlooking the Niagara River, it's the tallest monument of its kind in Canada.
Interesting fact: this monument was rebuilt in 1853 after being bombed by a terrorist in 1840.
2. Queenston Heights Redan
Just a short walk down from the main set of stairs going down the escarpment is a lookout point called Belvedere Elizabeth Queen. There is a set of stairs to the left of this parking lot that will take you down to the Redan.
During the War of 1812, the Village of Queenston (just below the heights) was only lightly defended by an 18-pounder cannon on the Redan overlooking the river.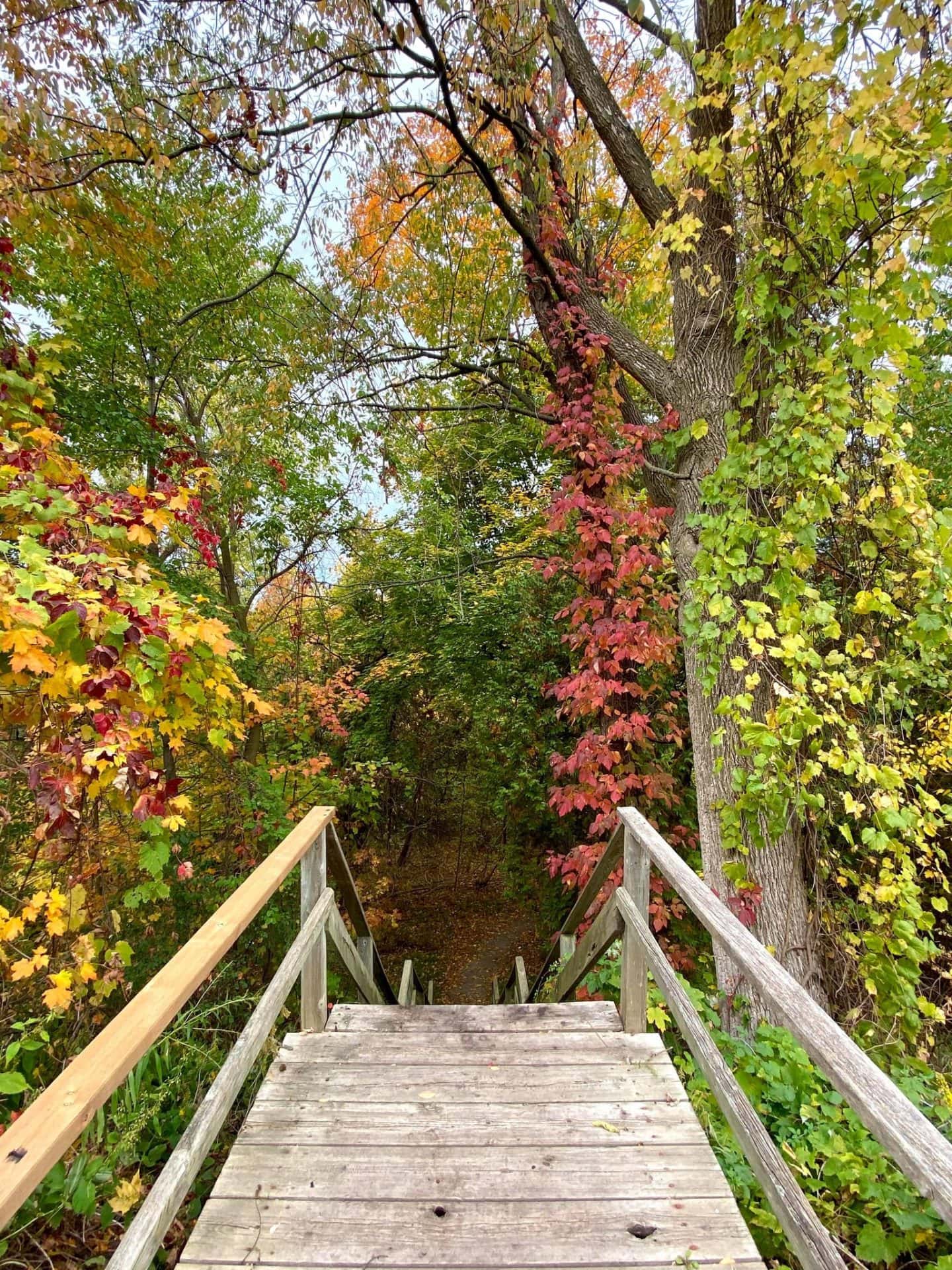 When the Americans made their way up the escarpment, they captured the Redan and turned the cannon and aimed it at Queenston.
Near this spot is where John McDonell was fatally wounded.
3. Battle of Queenston Heights self-guided tour
You can see many of these sites on a self-guided tour of the Battle of Queenston Heights!
We had no idea this walking tour was here and ended up doing this on our visit on a dreary October day.
It starts at the Laura Secord monument (to the right of the restaurant) and follows a loop which takes about 45 minutes to walk, complete with 5 informative plaques detailing the events of October 13, 1812.
Just an FYI – there are a fair amount of stairs! It will make you wonder how American troops were able to scale the escarpment.
It finishes up top at the base of Brock's Monument.
Now, if you just stick to the path, it is roughly 45 minutes. Or, if you're like me and get distracted by every little thing (😂), you can easily spend an hour or two wandering around, which is what we ended up doing. This is how we found all of these other hidden gems within walking distance of Queenston Heights!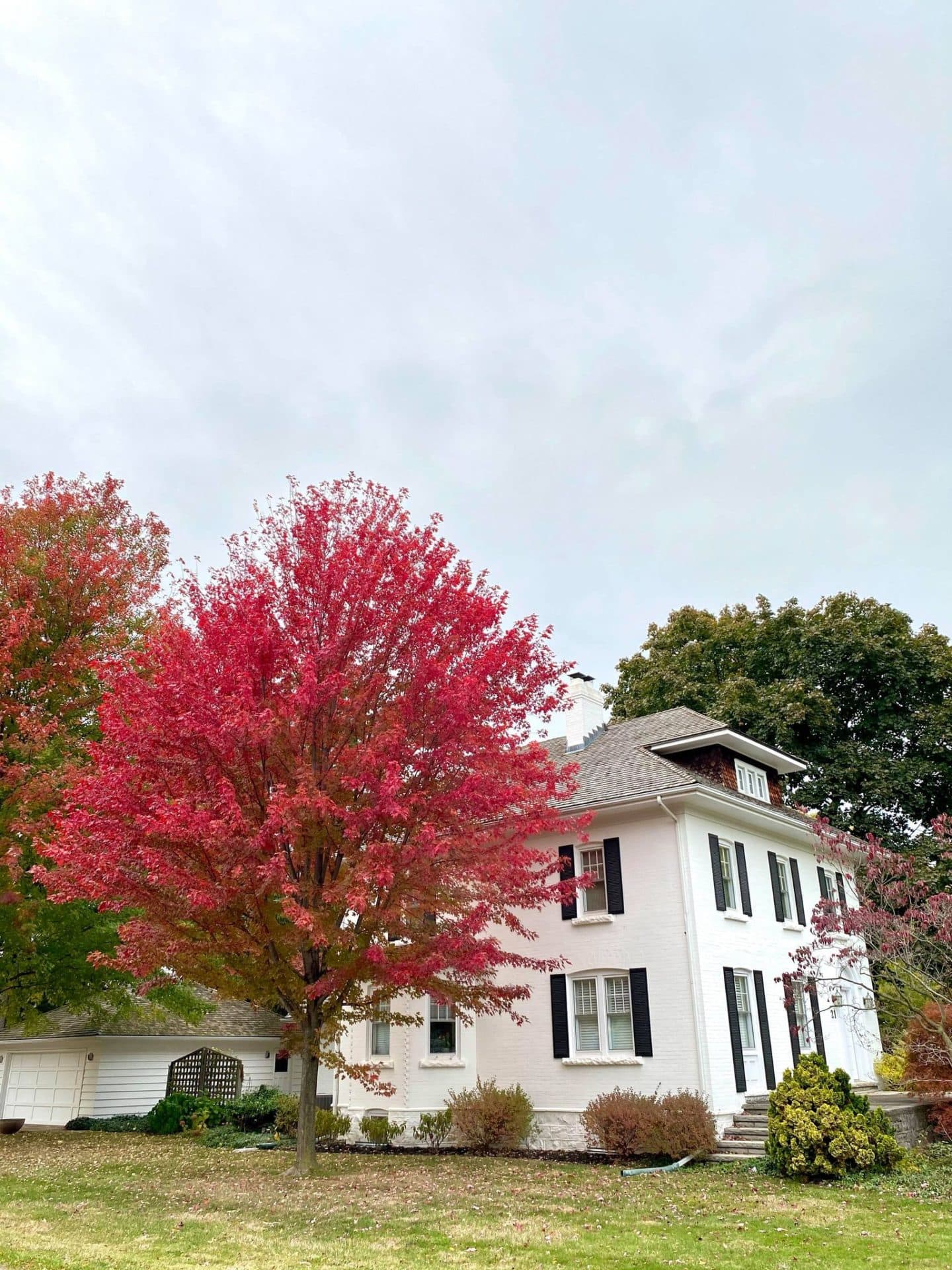 This walking tour was a great unexpected find and led us to various other historic landmarks.
4. Landscape of Nations
I honestly have no clue how we missed this on our last visit a few months ago. We were right by this memorial and didn't even notice it, but it's definitely worth a visit and it's so interesting to see.
The heroics of Major-General Sir Isaac Brock is well known; however, largely unknown is the role that the Six Nations and Native allies had supporting the British and Canadians throughout the war.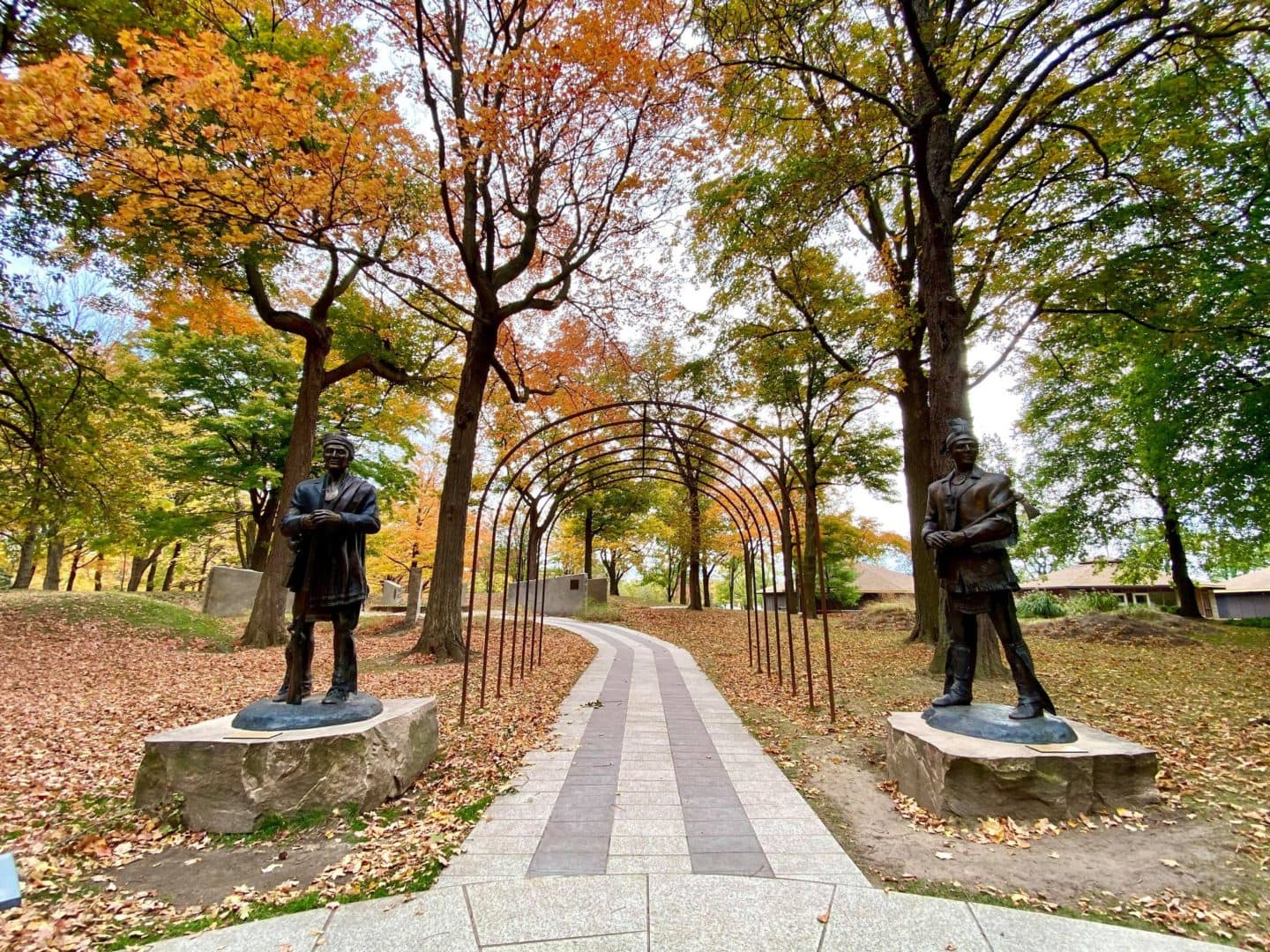 This memorial is dedicated to the Six Nations warriors and Native allies who came to defend Queenston Heights. They turned the tide of the battle (and many others) during the War of 1812, and the Landscape of Nations commemorates the sacrifices and contributions made.
It also represents the historic ceremony of Peace and Reconciliation held in Niagara on August 31st and September 1st, 1815, that restored peace among the Native nations who fought on opposing sides.
If you look at this memorial from above, eight limestone walls sourced from the Queenston Quarry it looks like a sunburst. Inside, sweetgrass is grown – a sacred medicine amongst Indigenous Nations across North America.
There is an informative plaque at the entrance to the memorial. We found it fascinating and learned a lot about the role the First Nations played throughout the war. Be sure to walk around the walls and read the plaques on the ground.
5. Bruce Trail Terminus
This was actually pretty neat to see, since I've been hiking bits of the Bruce Trail this summer! This cairn marks the southern terminus of the Bruce Trail, which is 895 km stretching from here in Niagara to Tobermory at the tip of the Bruce Peninsula.
The Bruce Trail is one of 13 UNESCO World Biosphere Reserves. Each trail I've done is so scenic and unique. It passes through the escarpment and offers tons of incredible viewing points along the way.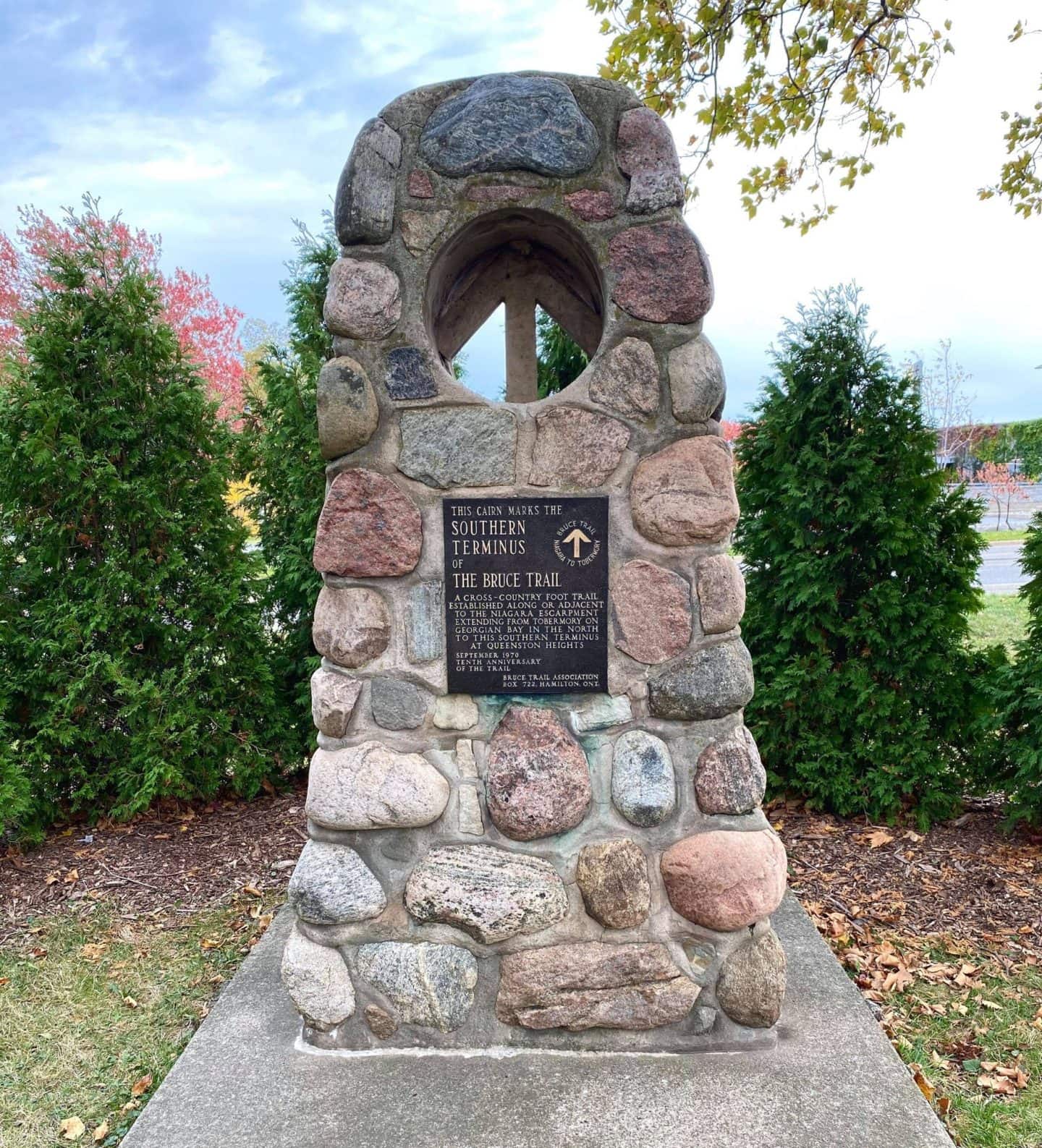 I'd love to see the cairn at the other end one day – having (hopefully) hiked most of it (lofty goals here!😂).
If you didn't know where to look for it, you'd drive right by it. It's in the parking lot at Portage Rd and the Niagara Parkway, just before the roundabout if you're heading from Portage Rd.
You couldn't ask for a more scenic spot to start the Bruce Trail End-to-End journey!
6. The Birthplace of Niagara Falls
As a former geography major, I'm always fascinated by geological findings.
Roy Terrace (Canada) and Eldridge Terrace (USA) are the visible niches of the same height on either side of the Niagara River and mark the level of glacial Lake Iroquois (Lake Ontario).
When the Wisconsin glacier receded 12,000 year ago, the Falls of Niagara were born here. At that point, water only cascaded 35 feet over the escarpment from Lake Erie to what we now know as Lake Ontario.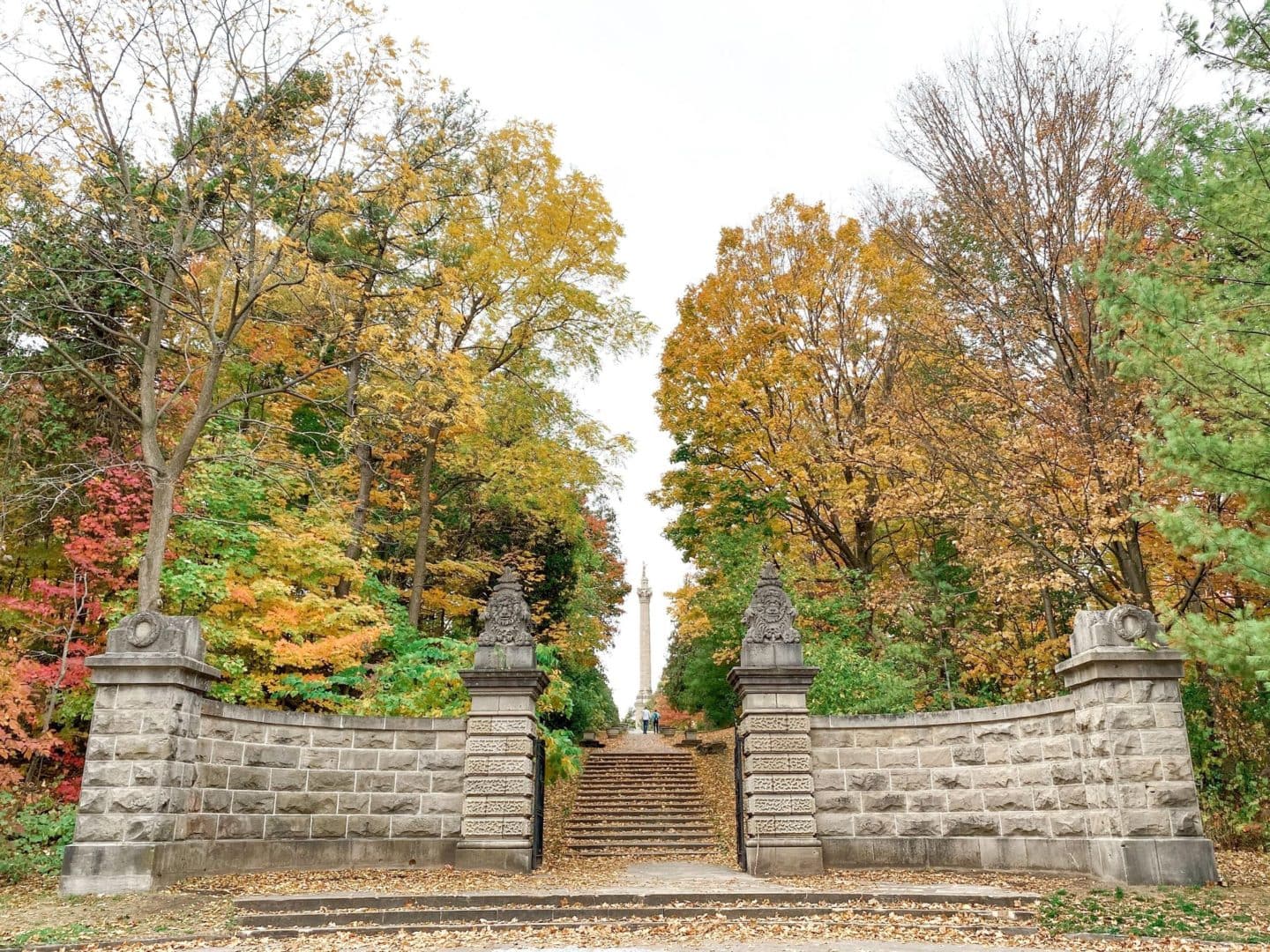 7. Mackenzie Printery
When I originally planned to come down to Queenston Heights to tour around, I thought we would've had to drive from the parking lot to these historic sites, but we actually stumbled upon it after we took a set of stairs down from the Brock Monument.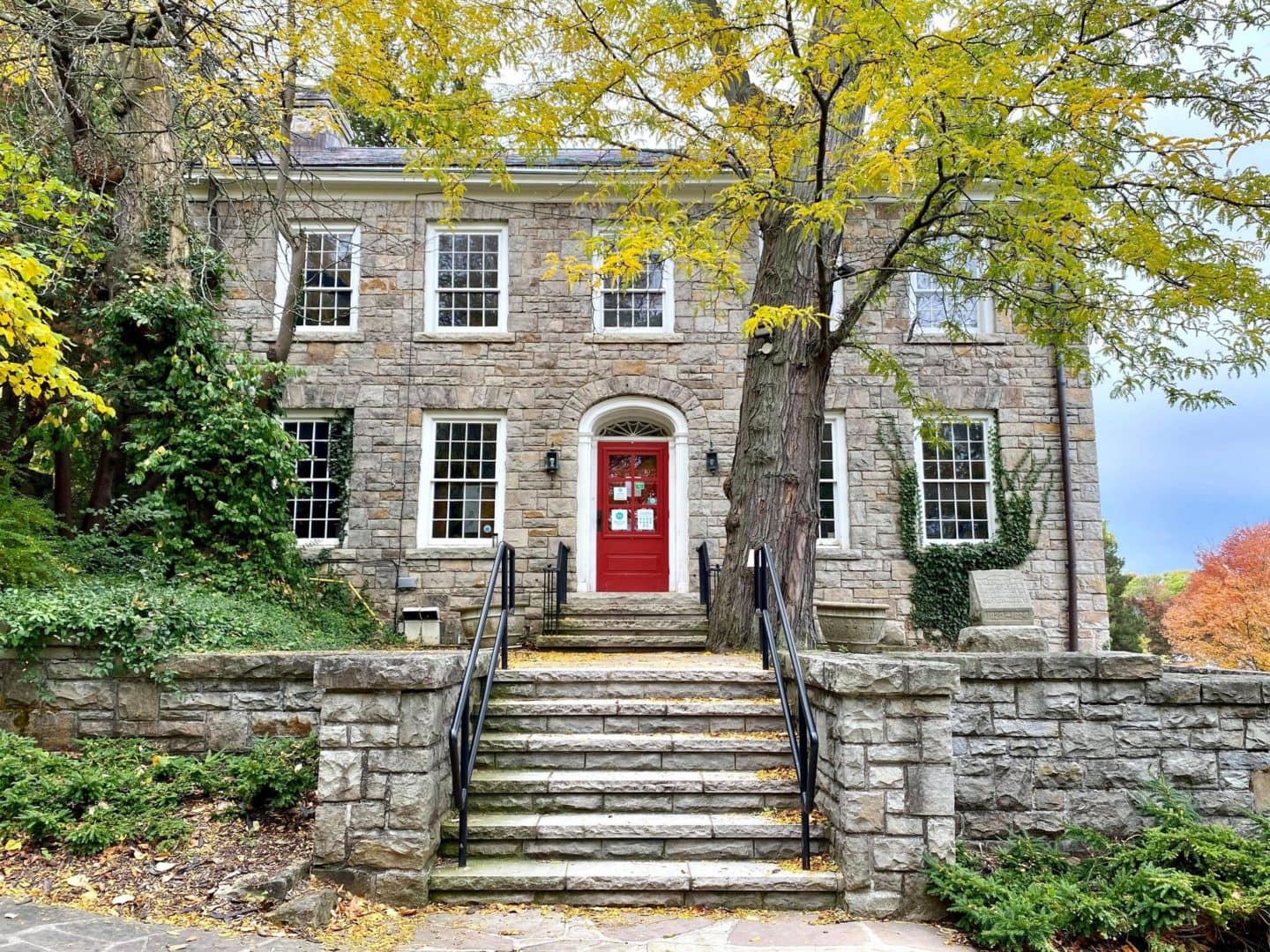 With eight operating heritage presses and a working linotype, there is 500 years of printing technology inside this restored home of publisher, rebellion leader, and Toronto's first mayor, Willian Lyon Mackenzie.
The oldest printing press in Canada is here – the Louis Roy Press – and is one of the few original wooden presses remaining in the world.
Mackenzie began his political career with his newspaper, the Colonial Advocate, which was dedicated to social and political reform.
He planted five honey locust trees here to commemorate the fight to bring responsible government to Canada. Two of these trees still stand at the front of the house.
Normally, you can go for tours here, but it's currently closed to the public.
8. Brock's Cenotaph
This is the purported site of where Major-General Sir Isaac Brock fell in battle, though it is debated whether or not it's the exact spot.
You can see the monument behind the marker.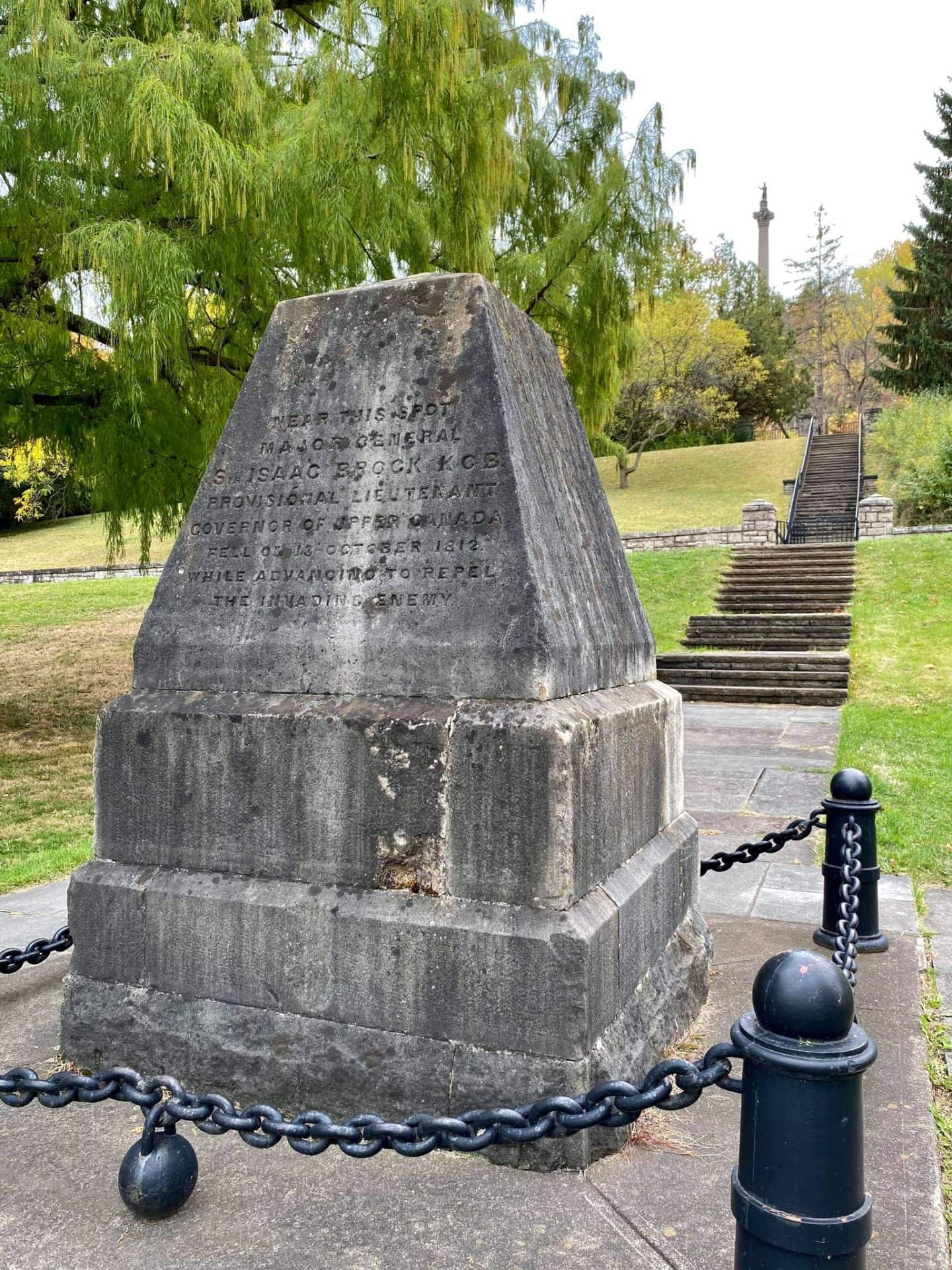 Just next to this marker is a memorial for Brock's horse, Alfred.
That early morning on October 13, 1812, Brock and Alfred galloped 7 miles to the Village of Queenston to lead a charge to defend against the Americans.
At the death of Sir Isaac Brock, his Aide-de-Camp John MacDonell mounted Alfred to charge again, but both were killed.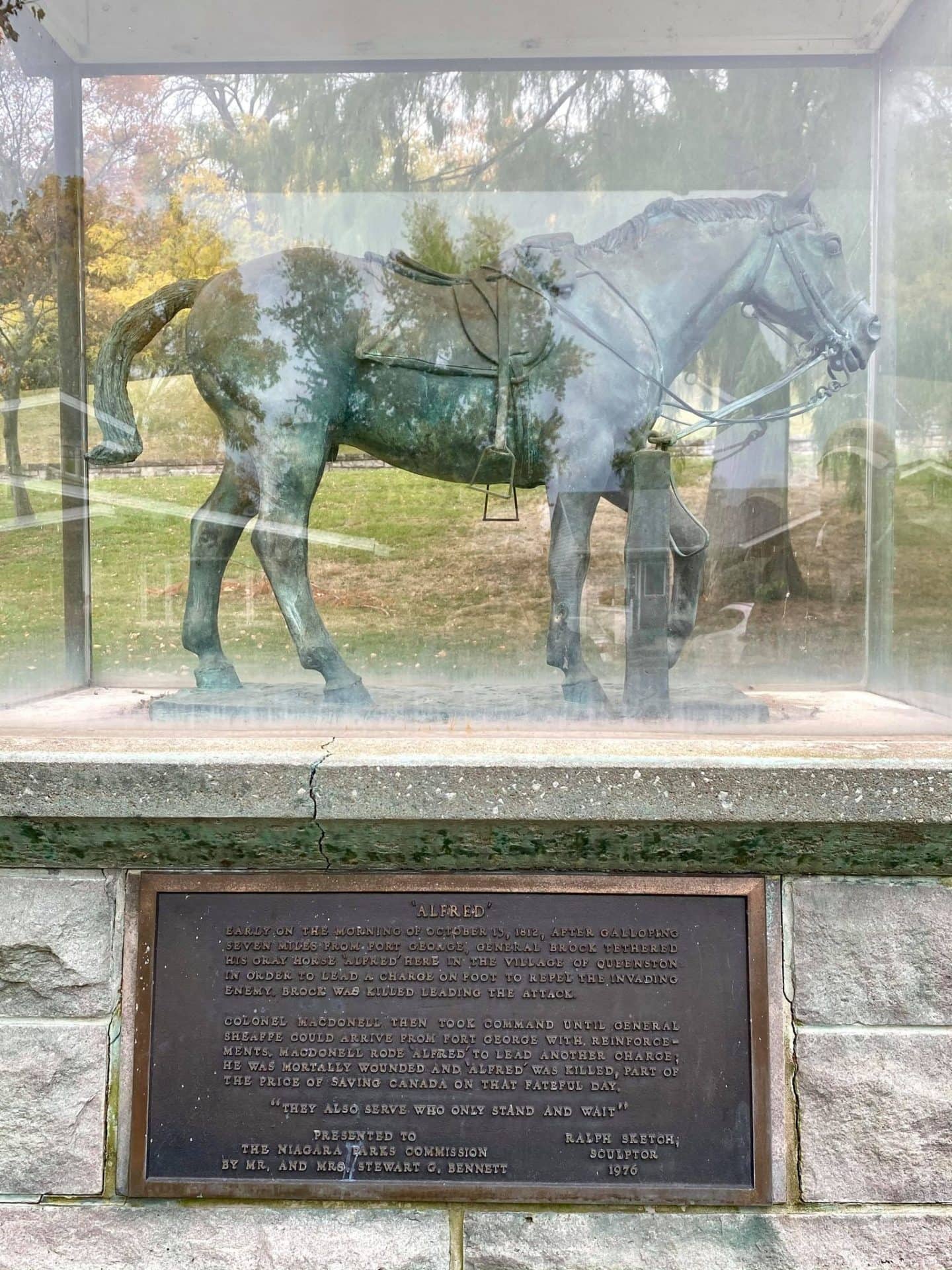 9. Laura Secord Homestead
When you mention Laura Secord, most people think of the chocolate.😂
BUT – this homestead was the residence of the Canadian heroine from 1803-1835, and is the starting point for her journey that earned her a place in history.
Who was she?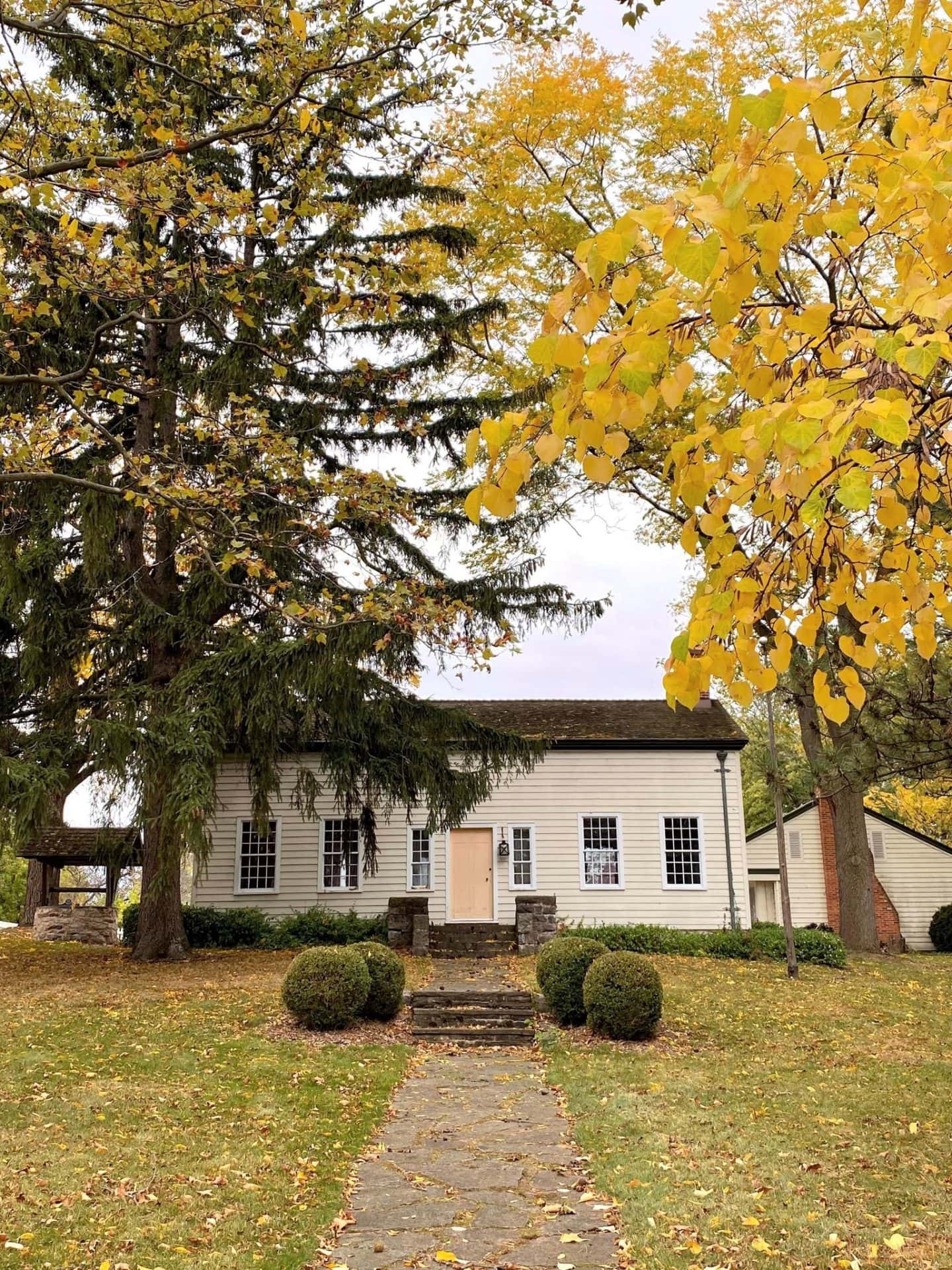 Born in Massachusetts, Laura Ingersoll came to Upper Canada with her father in 1795. She married James Secord, a United Empire Loyalist, and moved to this site in 1803.
In June 1813, Laura embarked on a 32 km journey which took her 18 hours to complete, to warn Canadian troops of an impending attack by the Americans.
Her journey was filled with danger – from treacherous terrain, to wolves, wildcats and rattlesnakes.
Upon encountering Native allies at Beaverdams, she was accompanied by them to DeCew house where she was able to deliver her message.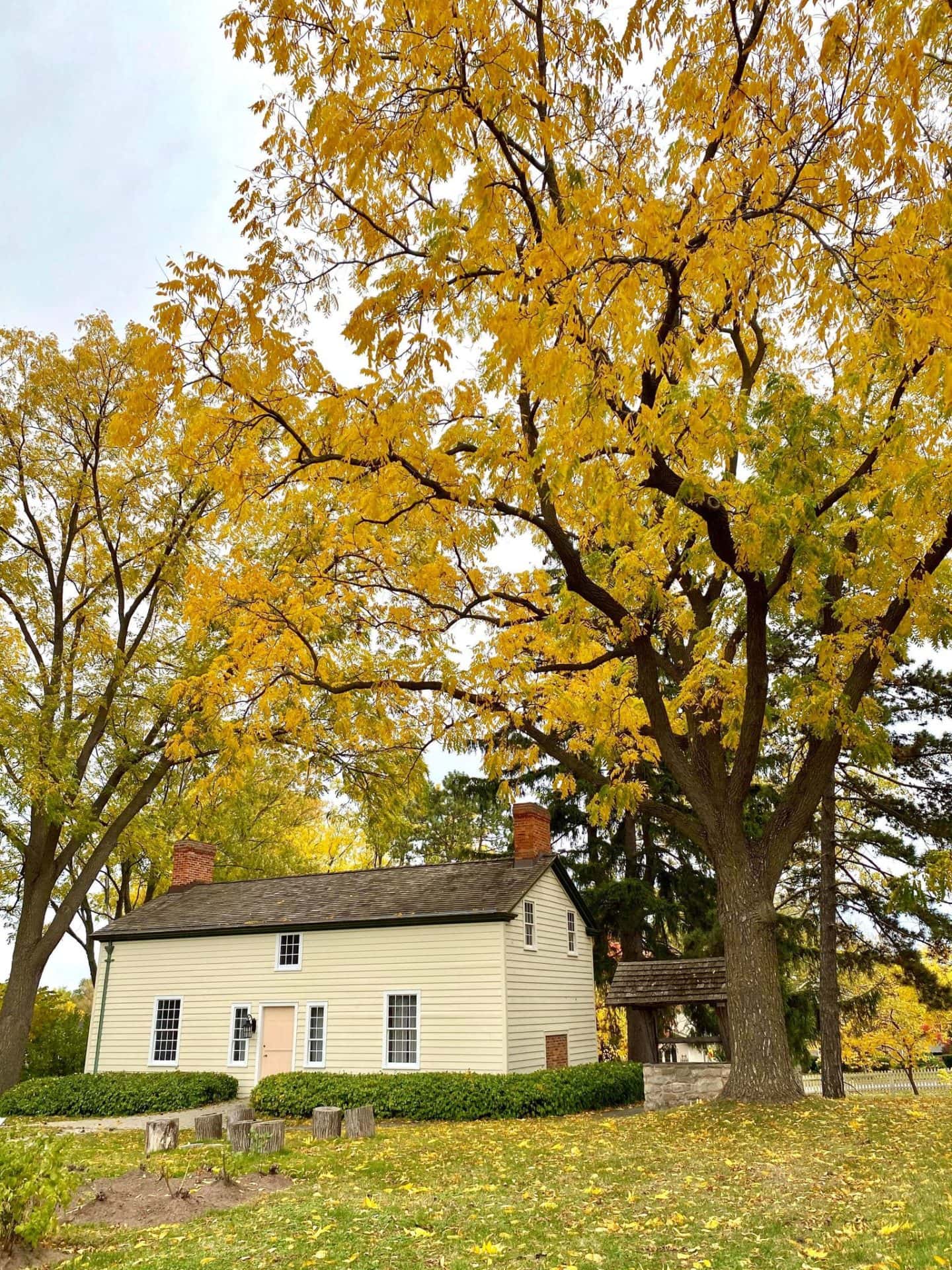 As a result of her trek, Native forces were able to ambush the Americans and defeated them at the Battle of Beaverdams.
It puts her at the forefront of the province's heroines, and her house has been restored to remain as a memorial to her act of patriotism.
Laura Secord Homestead tours are available – and makes for a very worthy stop while in the area!
Did you know…
You can walk on Laura's same journey? The Laura Secord Legacy Trail is less perilous than it was during the War of 1812, but you can follow the exact footsteps she took!
10. Queenston Chapel
The Queenston Methodist Chapel was constructed in 1862 at a cost "not to exceed $700", and served as the local Methodist congregation.
This group is traced back to the bible classes and meetings held in the area by Major George Neal, a devout Wesleyan Methodist and a Major in the British Army during the War of Independence in the United States.
George Neal moved to Queenston in 1786 to flee political persecution, and began holding bible classes.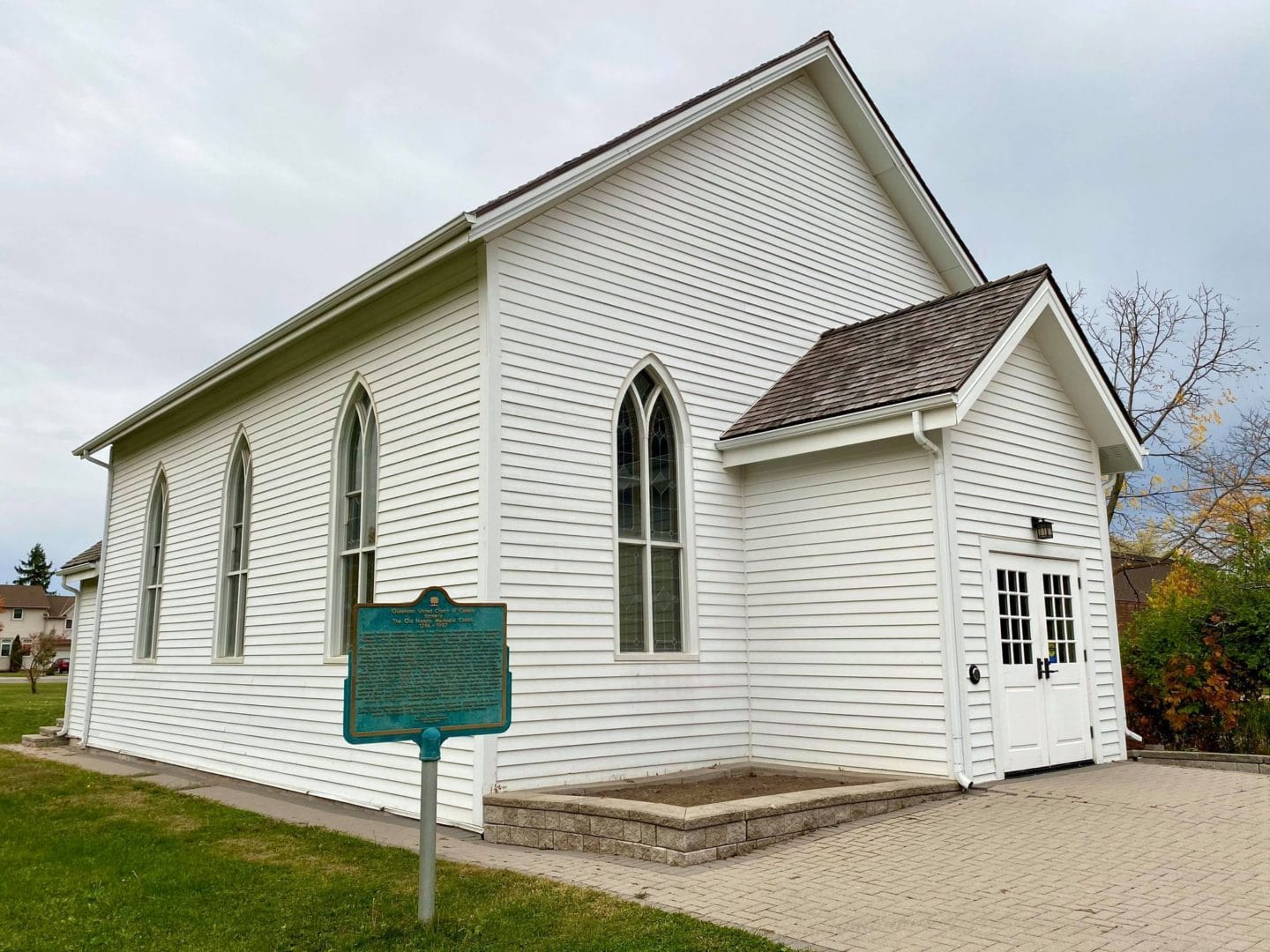 The British garrison commander at Newark feared that Neal was spreading anti- government and anti- British propaganda, and believed that only Anglican clergy educated in Britain should be preached.
He ordered to leave the country within 30 days, but the officer became ill and died during Major Neal's probation period, and he was permitted to stay.
11. Willowbank
Willowbank is a large 2.5 storey temple-fronted mansion built in the early 19th century. It overlooks the Niagara River and is the centerpiece of a wooded property.
So what's so special about it?
Willowbank reflects the Romantic ideals associated with colonial settlement in Upper Canada during the early 19th century, when Elite members of society would build large country estates in what was regarded as wilderness. It's one of only a few remaining examples of such places.
Named for the willow trees growing on the property, it was built between 1834-1836 and is significant with its association with Alexander Hamilton, who served in the War of 1812.
To be honest, it was a bit eerie being there alone on a gloomy day, but since it was closed we had the place to ourselves.
It's now protected by Ontario Heritage Trust and is a National Historic Site. It's now also home to the School of Restoration Arts and is dedicated to teaching arts and skills related to the conservation and restoration of historic properties.
If I didn't see this on Google Maps, I would've just driven by. How many thousands of others do the same thing? The driveway is tucked away and you can't see the house from the road since the driveway is longer than most and lined with mature trees.
12. RiverBrink Art Museum
RiverBrink Art Museum is situated in a large country home on the Niagara River and features exhibits from Canadian and International collections and over 1400 pieces of work from artists. From paintings, prints, antique furniture and more, the collection also holds a collection of rare books, rugs, and ceramics.
There are many depictions of Niagara Falls and the Niagara Region in the art collection.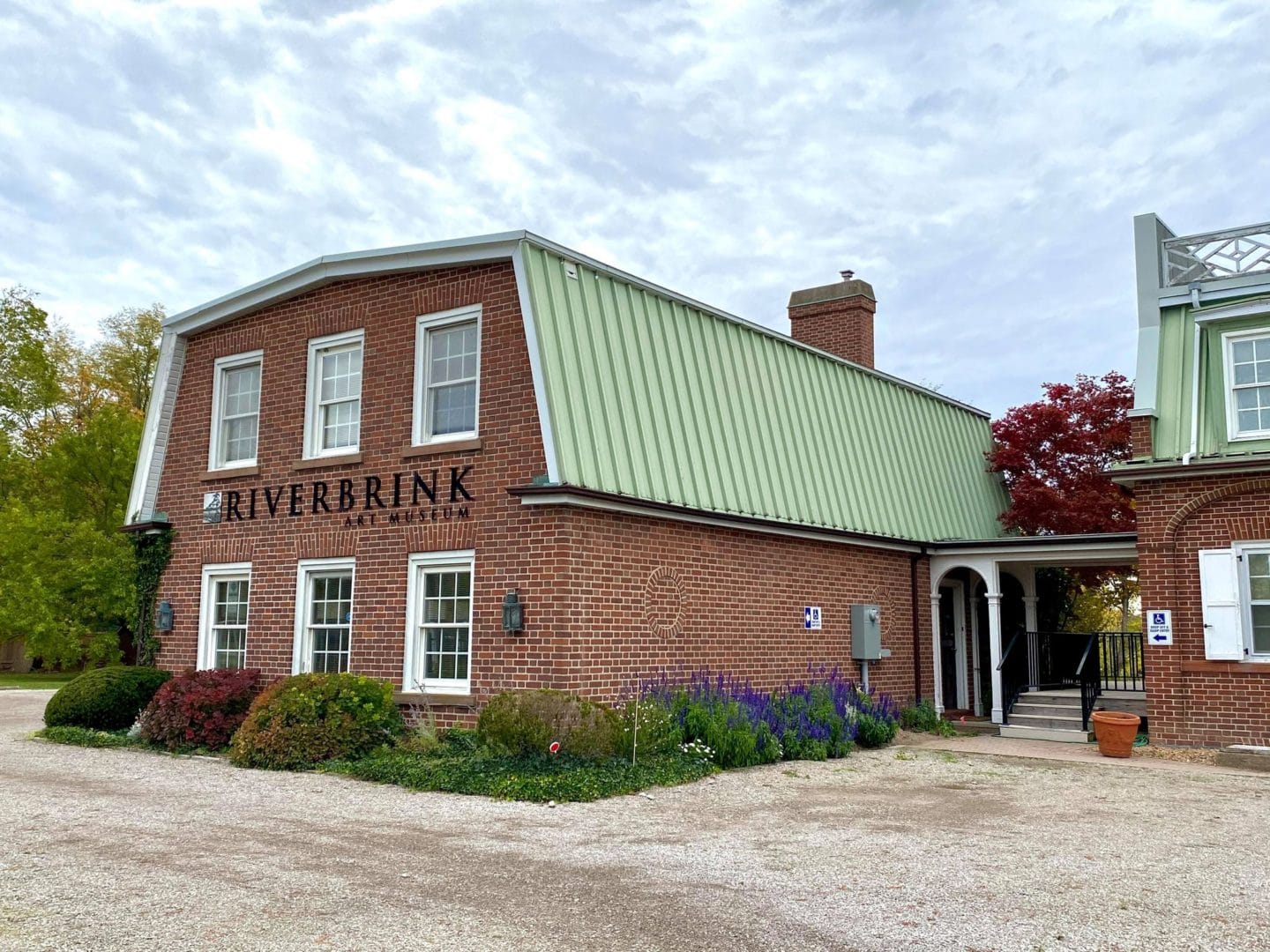 RiverBrink was originally the home of London lawyer and avid art collector, Samuel E. Weir. When he passed away, he left his collection and estate to the Weir Foundation.
The museum is open Wednesday-Saturday from 10:00 am – 4:00 pm.
I have built a foolish house on the Niagara River with the idea of leaving it for a museum, art gallery, library, etc., mainly Canadiana. I expect there will be no inheritance taxes. This is my idea of doing good in my life or at the end of my life …"

– Sam Weir
Parking
Parking is so inexpensive here for all you can see and do. It's $1.25 an hour, or $20 + hst for an annual pass, which for being close to Niagara Falls is pretty affordable!
If you're local and enjoy spending time outside hiking, strolling through colourful gardens, or picnicking at parks, the annual parking pass for all of the Niagara Parks is $40 and you can purchase it online!
Final Thoughts
Queenston Heights Park is much more than just a park! There are tons of other things to see and do within walking distance of this historic site and you can easily make an entire day of touring around.
You also have access from the park to the Niagara Scenic Parkway – home to a number of trails awesome for walking, jogging and cycling.
There is also a restaurant overlooking the Niagara River, but it is temporarily closed due to Covid. There are numerous places for a picnic, but Queenston Heights is only a short drive to Niagara Falls or Niagara-on-the-Lake with tons of awesome restaurants (or wineries!).
Map
Pin it for later!
Related Posts