You'll hear about how lovely the Niagara Region is – from its abundance of orchards and vineyards, award-winning wineries, restaurants, farmer's markets and amazing hiking, but many people aren't aware that Niagara is also one of the most haunted areas in Canada!
Spooky season is upon us, and you can visit loads of creepy places with real-life ghost stories. Ready to get goosebumps? Here's a list of haunted places to check out in Niagara!
This post contains affiliate links which means I earn a small commission if you purchase through one of my links at absolutely no additional cost to you. Feel free to read my disclosure policy. Thank you for supporting my blog!
Haunted Places in Niagara-on-the-Lake
Fort George
Well known as one of the many things to do in Niagara-on-the-Lake, Fort George is known as one of the most haunted spots in Canada.
All but one building was destroyed here during an American ambush in 1813, along with numerous fatalities.
It's believed Fort George is haunted by the spirits of soldiers and their families.
There are reports of a young woman's ghost occupying the officer's quarters, a man seen peering out from behind bunk beds and following visitors around, and a peaceful spirit seen lounging on the beds. Visitors have also witnessed doors opening and slamming shut on their own.
Price: $12.50 per adult ages 18+, seniors $10.75
Address: 51 Queen's Parade, Niagara-on-the-Lake, ON
The Olde Angel Inn
Located in historic Niagara-on-the-Lake, The Olde Angel Inn is probably one of the most famous haunted spots around.
Tales tell of a Canadian militia officer who was killed by American soldiers when he went to meet his lover here at the inn. His ghost has been seen roaming the halls, looking for his beloved. He's said to be harmless – so long as the British flag flies over the inn.
Guests have noticed objects moving on their own – including a pile of shoes left tossed in a pile being neatly arranged in their room upon waking the next morning, faucets turning on, and handles on doors falling off.
Address: 224 Regent St., Niagara-on-the-Lake, ON
Prince of Wales Hotel
The Prince of Wales Hotel is one of the most recognizable hotels in Niagara-on-the-Lake, and is said to be haunted by Molly McGuire, a woman who was waiting for her husband to return when an American soldier, assuming she was a British enemy, pierced her with his bayonet.
Her old bedroom, Room 207, has been reported to have lights turn on and off and sounds of footsteps during the night.
Address: 6 Picton St., Niagara-on-the-Lake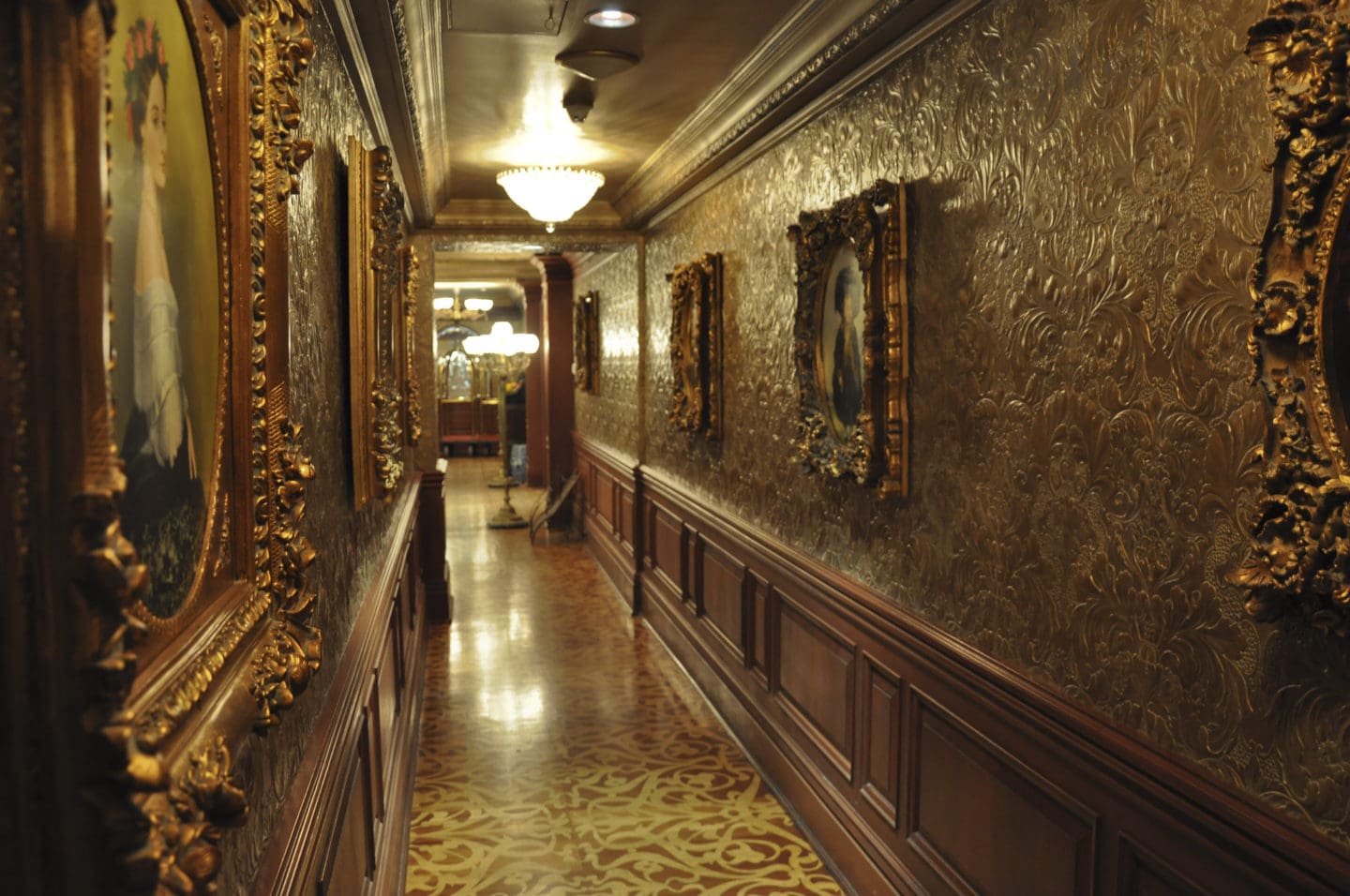 Brockamour Manor Bed & Breakfast
Looking to stay in a haunted hotel?
Built in 1809 by Captain John Powell for his wife, Isabella, Brockamour Manor Bed & Breakfast (once known as the Powell House) was frequented by Isabella's sister, Sophia, and a visitor who we know as Isaac Brock.
He and Sophia fell in love, and as tension grew between the British and the Americans during the early 1800s, Brock went from one end of Upper Canada to the other.
Return visits eventually led to Sophia and Brock's secret engagement. When Sir Isaac Brock died during battle, Sophia was heartbroken and stayed at the house until she died.
Brockamour Manor translates to "Love of Brock", and it's now said that Sophia roams the hallways, sobbing.
Address: 433 King St., Niagara-on-the-Lake
Haunted Places to visit in Fort Erie
Old Fort Erie
As the site of one of the bloodiest battles during the War of 1812, visitors to Old Fort Erie have claimed to see two soldiers wandering the grounds through the darkness – one without hands and another without a head.
Head to the Officers' quarters, where the original bed where Captain Kingsley of the King's 8th Regiment of Foot slept while he was stationed at Old Fort Erie.
Bedridden while suffering numerous health problems, Kingsley died here after suffering for months with fevers, hallucinations, and mercury poisoning. He's still said to haunt the room.
Visitors and staff have found the bed sheets displaced, heard footsteps, and have seen doors and windows moved without being touched.

Address: 350 Lakeshore Rd., Fort Erie, ON
Admission: $13.50 for adults, $8.41 for children ages 6-12
Creepy Places in Niagara Falls
Screaming Tunnel
This eerie tunnel dates back to the early 1900s and was originally built to act as a drainage system for nearby farmers' fields and as a footpath for farmers to get beyond the railway tracks.
There are a couple of tales floating around with this creepy place. It's rumoured to be haunted by a young girl who was killed by her father and burned in the tunnel.
The other story is one where a young girl was trying to escape the fire from a nearby farmhouse and ran towards the tunnel screaming with her clothes on fire as a train passed overhead, and died in the tunnel while neighbours were trying to extinguish the flames.
Whichever story is true – or not – you'll get an unsettling feeling walking through this dark and flooded tunnel with graffiti stating "You will burn."
Legend states that if you strike a match at midnight in the tunnel once the flame goes out, you'll hear the screams of a little girl. Care to test out this theory?
The Screaming Tunnel is along the Bruce Trail and is easily accessible down Warner Rd., heading away from Woodend Conservation Area. I've hiked through here many times and while I've never heard or seen anything out of the ordinary, it is pretty creepy and I'd be way too scared to do this at night.
Address: Warner Rd., Niagara Falls, ON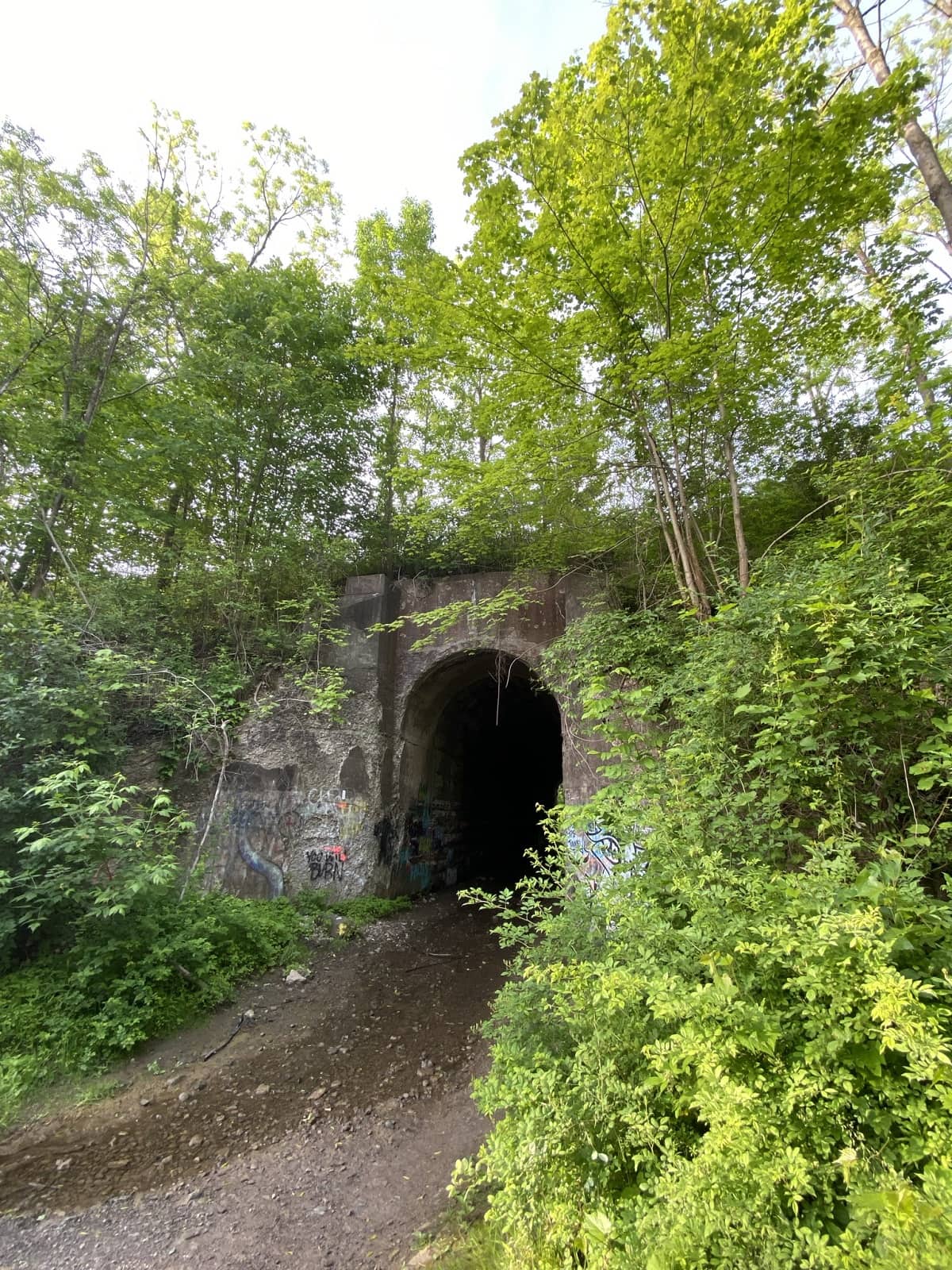 Drummond Hill Cemetery
The fiercest battles of the War of 1812 took place at Drummond Hill, where close to 1700 British, Canadian, and American soldiers were killed, wounded or captured.
The cemetery is home to fallen soldiers and early settlers who appear as orbs, mists and strange lights. If you're lucky you'll catch an apparition of soldiers, or hear footsteps.
Visitors have reported feeling as though they've been watched while walking through Drummond Hill Cemetery. Do you think you're up for this?
Cemetery tours are available on October 15th-16th and October 22nd-23rd, 2022. $12 per person!
Address: 6110 Lundy's Lane, Niagara Falls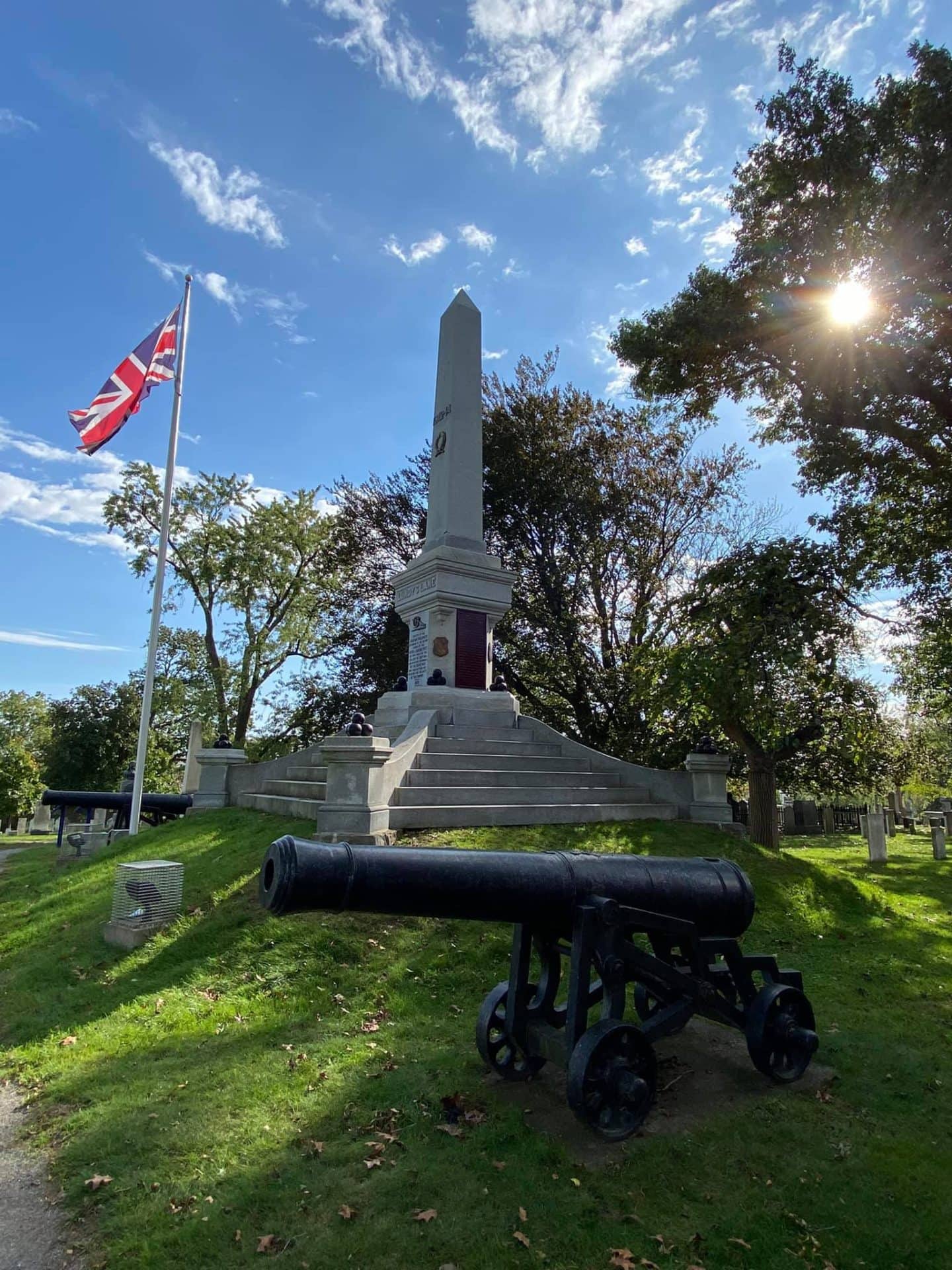 Haunted Places near Niagara Falls
Welland Museum, Welland
Perhaps a peculiar place for haunted activity, the Welland Museum has had its fair share of hauntings, according to staff.
What's interesting is the museum was moved into the city's previous library which was never haunted, leading some to believe the spirits are attached to the artifacts and not the building.
Voices have been heard and items have been flung off of walls and furniture – items that would've had to be forcefully moved across the room because of how far away they have been placed.
Address: 140 King Street, Welland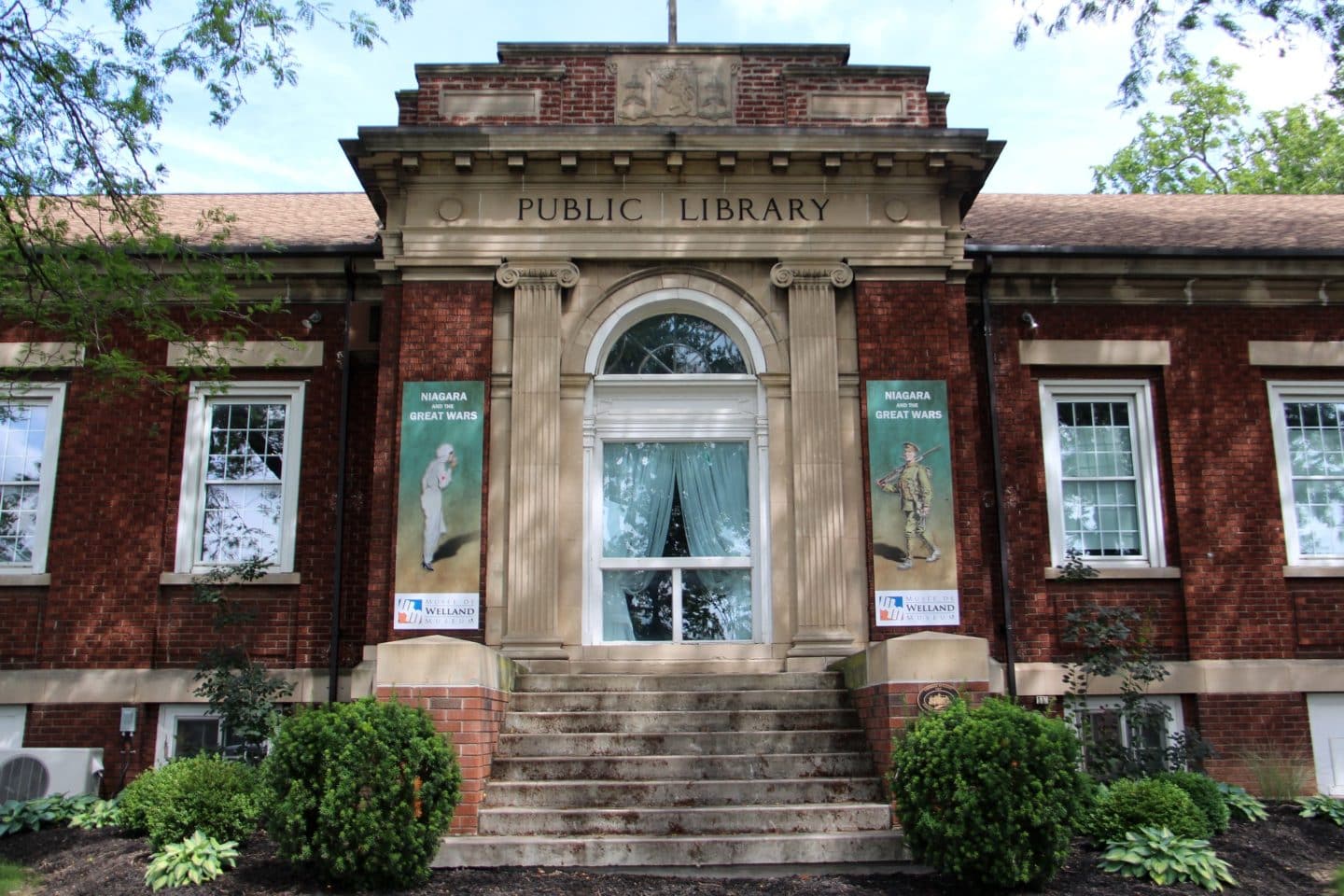 Blue Ghost Tunnel, Thorold
The Blue Ghost Tunnel (also known as the Merritton Tunnel) was built in 1875 and runs under what used to be the original Welland Canal. As an abandoned railway tunnel once used to cross the canal, it's over 700 feet in length and has seen several fatal accidents over the course of its use.
Many construction workers perished during this time – over 100 died while building the tunnel and the surrounding canal.
A fourteen year old boy was killed after being crushed by a giant boulder, and several train accidents took place, including a head-on collision resulting in both engines' firemen dying.
This tunnel is always muddy and there's a constant dripping noise inside along with it being cold with virtually no light – making for an incredibly creepy experience.
Visitors report a blue mist coming from the tunnel during the evenings and have heard sounds of children crying or have felt ill or as though they were being pushed into the tunnel.
This area is patrolled by surveillance for the canal – something to keep in mind as you hike 1.5 km from the main road down an abandoned road beside the GM Plant that's labelled as off-limits – so enter at your own risk!
P.s. The Blue Ghost Tunnel is less than 7 km from the Screaming Tunnel, so if you're up for a hike you can visit both on the same day!
Haunted Places to Visit in Grimsby
Nelles Manor
Nelles Manor is nestled along the Niagara Escarpment in Grimsby and has a ton of history from over the past 220 years, including seeing the War of 1812 right on its doorstep during the Battle of the Forty.
This stately manor has had strange things happen; paranormal activity that can't be explained. Volunteers and visitors have told the same stories…
While tours are offered during the summertime, when October's tours are offered, you may get the chance to see odd sightings and spirit activities.
This manor has been restored to its original glory from back in 1798. While much of the press is spooky activity, the spirits of Nelles Manor have a warm and friendly presence.
Paranormal investigators have stayed at Nelles on numerous accounts and have recorded sounds of children's voices, women whispering, and footsteps down the hallway. Past visitors have woken up to someone setting the table in the middle of the night.
Address: 126 Main St W., Grimsby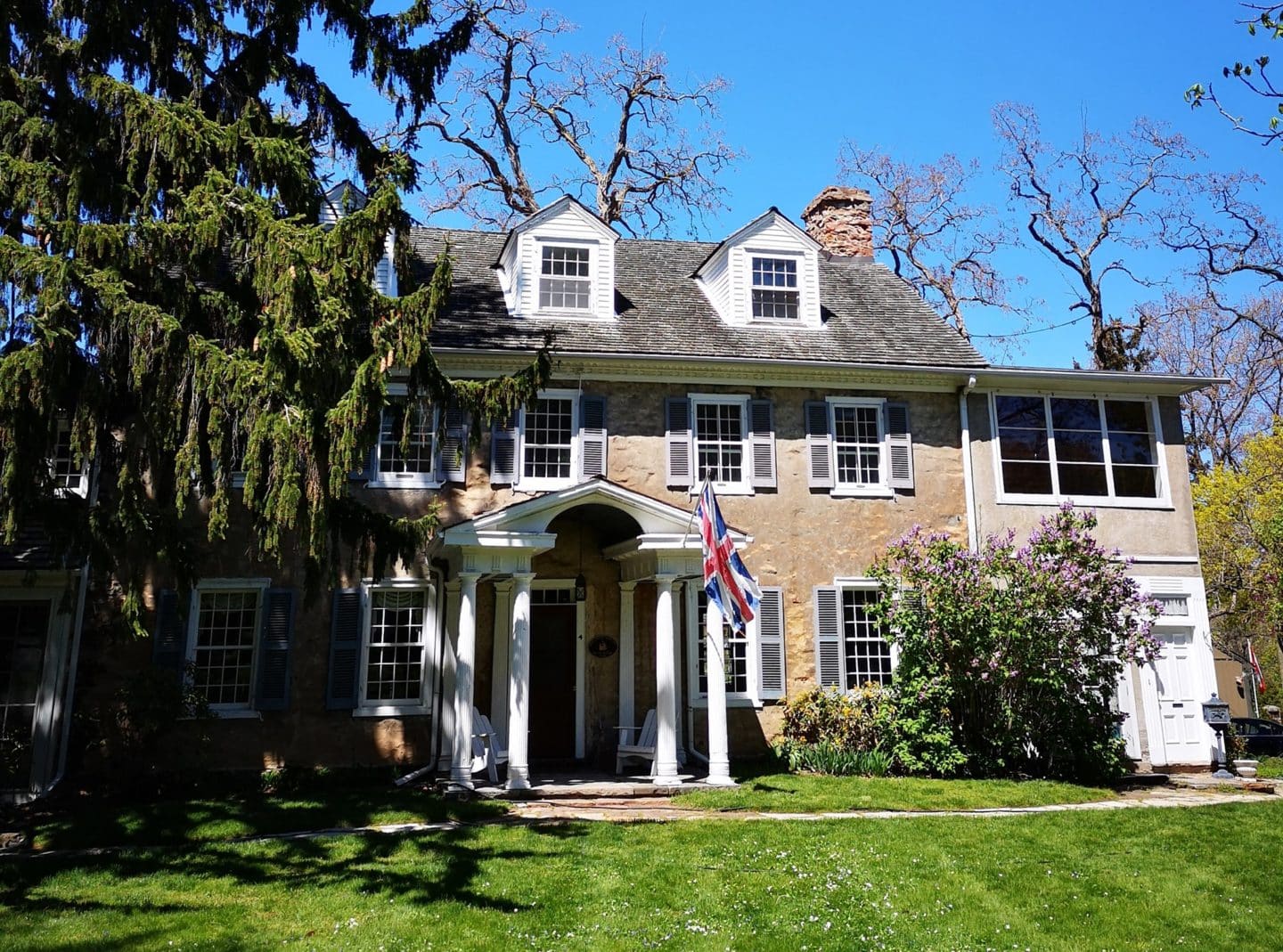 So what do you think? Dare to visit any of these haunted places in Niagara? Have you been to any of these?
P.s Dundurn Castle in Hamilton is also known to be haunted. It's reported that Sir Allan MacNab and his family roam the castle. His second wife died of consumption and it's said there's always a cold chill in her room and a mysterious breeze blowing out the candles. Tours of Dundurn are fascinating – check it out if you haven't been yet!
Pin it for later!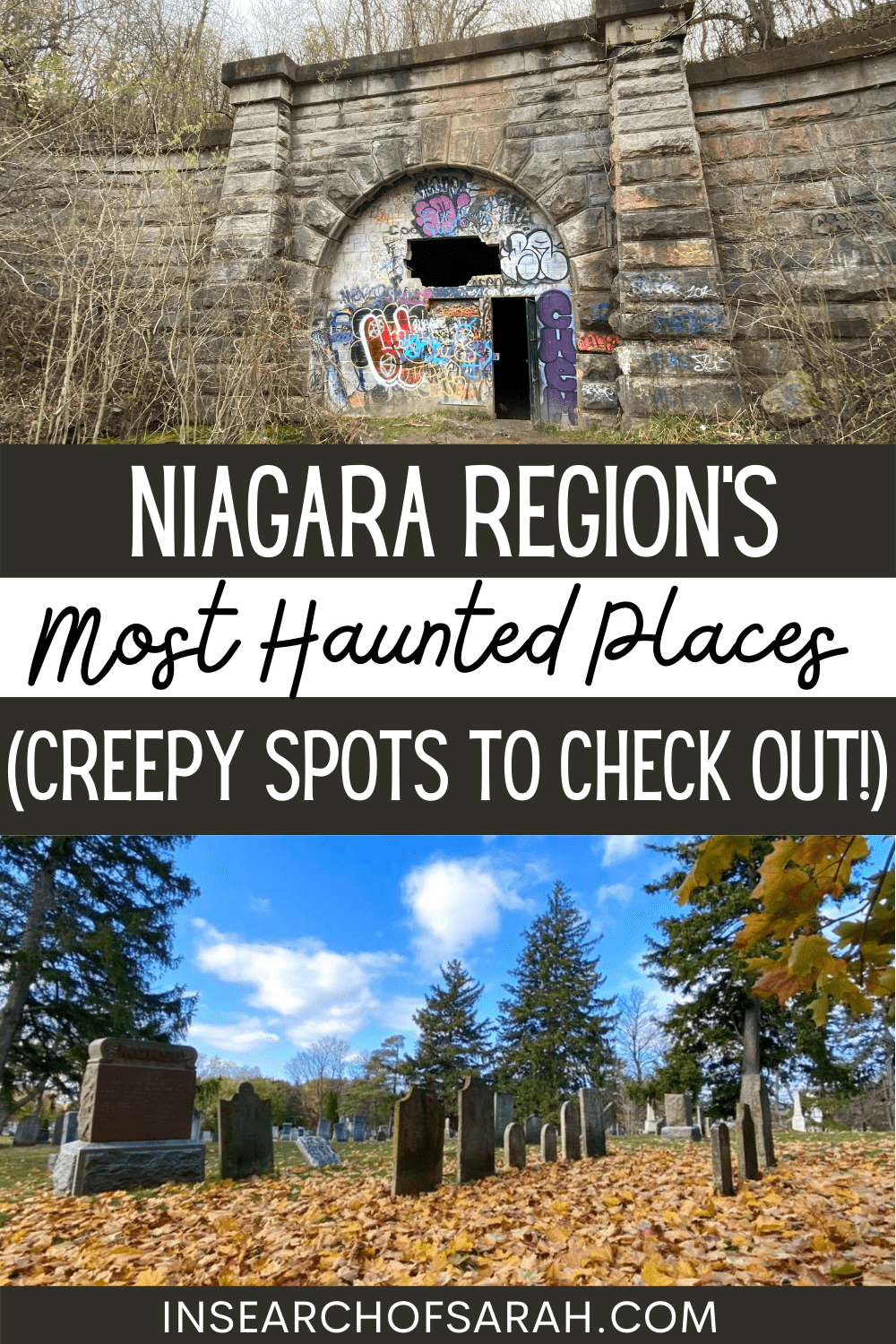 Related Posts