Heading to Niagara Falls and want to book a tour? There's no better way to experience Niagara Falls than with See Sight Tours!
If you're looking for a first-hand See Sight Tours review, you've come to the right place.
We spent an incredible half day with See Sight Tours on a small guided group tour experiencing the best of what Niagara Falls has to offer. It was such a treat to sit back and relax and have everything organized for us.
We were surprised to learn as much as we did, even though we've lived here our whole lives!
From feeling the power of Niagara Falls at Journey Behind the Falls, soaking in amazing birds-eye views of the Horseshoe, American, and Bridal Veil Falls at the Skylon Tower, and getting up close and personal to the force of the Falls aboard Niagara City Cruises (Hornblower), this was a fantastic way to see Niagara Falls from behind, above, and below!
This is a sponsored post. Opinions expressed are my own.
This post contains affiliate links which means I earn compensation when you click on the links at absolutely no extra cost to you! Feel free to read my disclosure policy. Thank you for supporting my blog!
Plan your next vacation using these tools!

✈️ Book flights: SkyScanner
🏨 Book hotels: Booking.com
🚘Book car rentals: RentalCars.com
🎫Book tours: GetYourGuide
🌍Favourite travel item: Packing cubes
🧳Favourite travel bag: Osprey 40L Fairview
🩹 DIY Travel Medical Kit
💸 20 Cheap Travel Items Under $20
Why book a small group tour in Niagara Falls with See Sight Tours?
If this is your first time visiting Niagara Falls and don't know where to start, I recommend booking a small group tour with See Sight Tours.
Why?
There's a max of 7 people per tour! No waiting for huge bus groups or long lines.
There's no need to worry about attraction tickets – they're all provided for you!
You're picked up and dropped off right at the entrance to the attraction – no finding your way around or figuring out where to park.
Friendly local guides that give you great tips and tricks about visiting the area, best places to eat, and some interesting history!
You'll save energy and time by having everything organized for you – all you need to do is show up!
Best of Niagara Falls Tour with See Sight Tours
Dana and I were able to experience the Best of Niagara Falls tour with See Sight Tours. This tour is award-winning (and for good reason!) because it highlights the best ways to see Niagara Falls.
The tour includes a visit to the Skylon Tower observation deck, admission to Journey Behind the Falls, and a boat cruise aboard Niagara City Cruises (Hornblower).
Good to know: The boat cruise is available May – November, but don't worry, if you visit outside of that time frame, your tour will be supplemented with a visit to Niagara's Fury and the Butterfly Conservatory!
But it's not only admissions that you get with this small group tour in Niagara Falls. Your guide will drive you around to some interesting points throughout the Falls and tell you unique and unusual stories that I didn't even know about!
Learn about the fascinating history and geography of Niagara Falls, as well as stories of daredevils and little-known facts. We passed by Dufferin Islands and the International Control Dam, through the core of Niagara Falls' tourist area, and down the Niagara Parkway to the Floral Clock.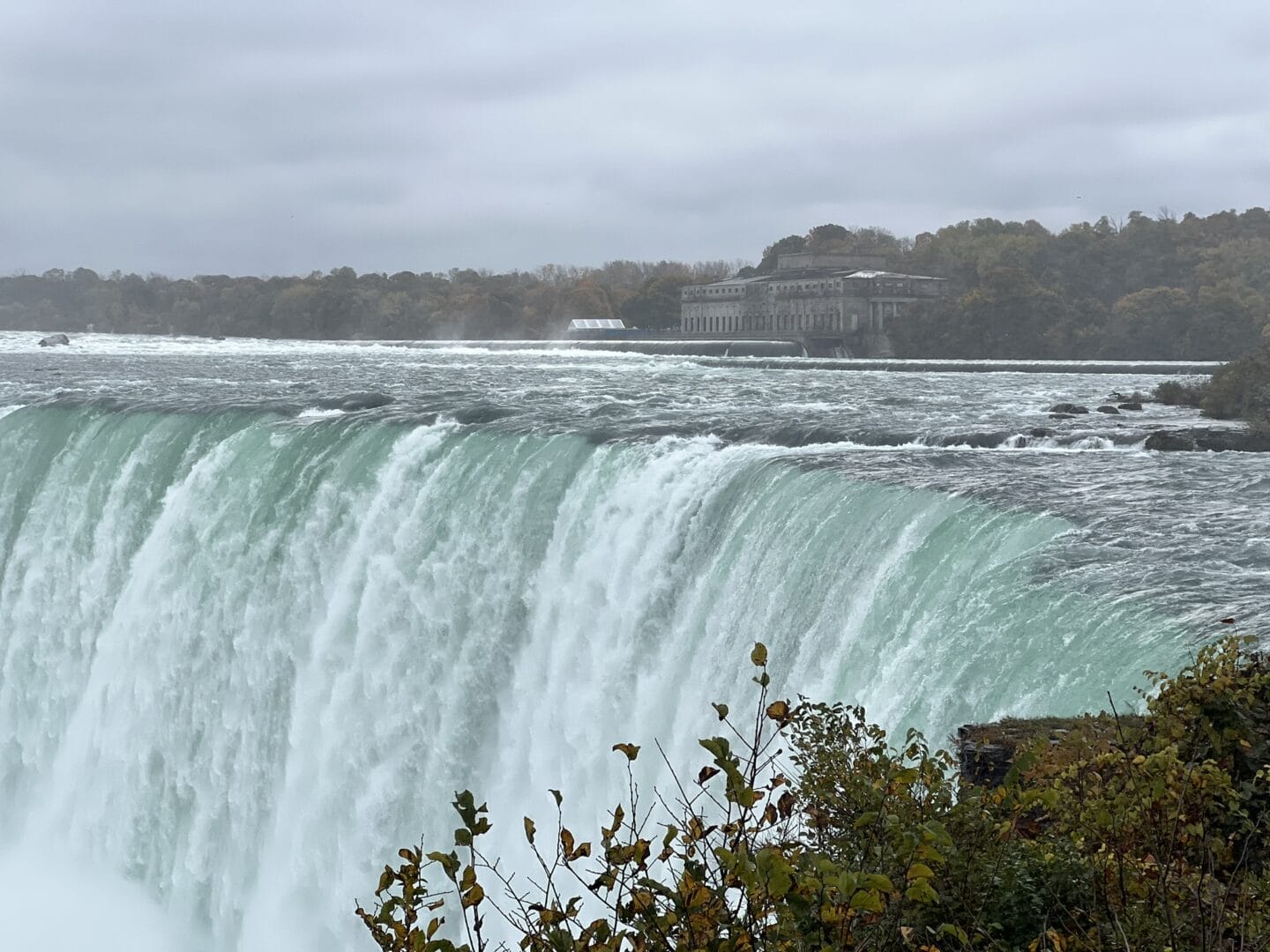 Review of See Sight Tours Niagara Falls
See Sight Tours will pick you up from your hotel in Niagara Falls, if you are staying in the area.
Since Dana and I drove, See Sight Tours provided a pickup location for us to meet them at. We were given a time-frame and an exact spot to meet the driver, as well as what the driver would be wearing and the vehicle they'd be picking us up in.
Ps. We used our Niagara Parks parking pass to park at Queen Victoria Place, just a 5 minute walk from where we had to meet our driver. This saved us money by not having to pay for parking in another parking lot.
We were greeted by our awesome guide Vinny in a comfortable Mercedes van with few others and we were on our way! It was interesting to learn where everyone was from; South Carolina, Toronto, London (UK), and us – just a 20 minute drive from Niagara Falls.
We were asked if we had seen Niagara Falls before. 😂
The first part of the tour included driving past Dufferin Islands to the International Control Dam, where we learned a bit about how the power of the Niagara River is harnessed for hydroelectric power.
Activity 1: Journey Behind the Falls
Our first stop of the day was at one of my favourite things to do in Niagara Falls – Journey Behind the Falls!
Vinny pulled into the coach drop off area and walked us into Table Rock Welcome Centre, where Journey Behind the Falls is located. He had all the tickets for us and escorted us to the front of the line.
He informed us we'd be given an hour here to go behind the Falls, and wander through Table Rock Welcome Centre. There's dining, shopping, and washrooms here as well as quick access to the brink of the Horseshoe Falls, so we filled our time accordingly!
We were told he'd meet us exactly where we dropped us off, which made it easy to find him when we were finished.
At Journey Behind the Falls, we descended 125 feet (40 metres) down to cave-like tunnels with two viewing portals and an amazing viewing platform that gets you up close and personal with the Horseshoe Falls.
You're also given ponchos because you will get wet! This was an amazing start to our See Sight tour and really allowed us to feel the power of the Falls and gave us an opportunity to take some great photos!
Activity 2: Skylon Tower
Next up, we were driven to the Skylon Tower, where we had some hilarious photos of us taken before going up to the observation desk. You're given a ticket to view your photos after visiting the observation deck. Photos are 2 for $35, and Dana and I opted not to get them (kind of kicking myself, they were awesome!).
We did this last year when my cousin from England was visiting, and it definitely makes for a memorable keepsake.
See exhibit A. 😂
After our photos were taken, we hopped right into the glass elevator that took us up 520 feet to the observation deck! Fortunately there wasn't a lineup – so if you visit early enough in the morning, you can avoid the crowds.
Vinny told us to meet him back down at the lobby 45 minutes later, which gave us time to visit the observation deck and soak in some incredible views of Niagara Falls from above.
I was so glad we did this; other times we visited at night or on misty days when the viewing wasn't that great.
While it was windy, there is enough shelter on half of the observation deck to keep you protected from the wind.
The fall colours were spectacular and I got some amazing photos of the Horseshoe, American, and Bridal Veil Falls. I also snapped some photos of Clifton Hill and the Niagara Parkway.
If you don't want to step outside, there is an indoor observation deck that allows you to catch some incredible views without being exposed to the elements.
Sightseeing tour along the Niagara Parkway
Once we hopped back into our Mercedes van, Vinny took us for a drive along the Niagara Parkway and stopped at the Whirlpool Aero Car.
We were able to get out and check out the incredible views of the Niagara Whirlpool and to see the Aero Car (which was built in 1916!). We timed it just right because the fall leaves peaked over this weekend and the view was absolutely amazing.
We were then driven to the Floral Clock – the largest of its kind in the world! He then told us about the various daredevils that have gone over Niagara Falls (and survived!). Vinny had quite a few daredevil stories of his own to share from living in Niagara Falls his whole life, but fortunately none of those included going over the Falls in a barrel!
Activity 3: Niagara City Cruises Voyage to the Falls
During our final stop of our Best of Niagara Falls tour, we were dropped off across the street from Grand View Marketplace, where Niagara City Cruises (also known as Hornblower) is located.
We were escorted right to the gate and handed our tickets, and Vinny told us when and where to meet him. He also gave us some great insider tips on where to stand on the boat cruise so we don't get soaked!
It was a lovely walk down to the base of the gorge where the entrance is, and I was able to get some great unexpected photos of Niagara Falls from this ramp!
We scanned our tickets and were handed ponchos before waiting in line. You get to keep these ponchos as souvenirs!
Since we saved ours from Journey Behind the Falls because it was a rainy day, Dana reused his to keep his Hornblower poncho neatly folded. 😂
Fortunately the line up wasn't that bad; Niagara City Cruises has two boats they use and since we visited during the off season, there weren't that many people.
Once our boat was ready to be loaded, we saw everyone immediately climb up to the upper deck. That's what most people gravitate towards, but we were told to stay on the bottom near the front of the boat.
If you've heard stories of Hornblower or Maid of the Mist, you've probably hear that you get wet. That's because this boat cruise takes you as close to Niagara Falls as possible, and when the boat turns around, the mist and water inevitably sprays you!
But at the front of the boat, there is a shielded plexiglass area you can duck behind so you don't get wet. We, however, opted not to move. 😂
Our ponchos kept us relatively dry (except the lower parts of our legs!) but it was such a thrilling experience.
You're guided past American Falls and Bridal Veil Falls before making your way to Horseshoe Falls.
The boat hoves near the base of the Falls before turning around. The views from below Niagara Falls are absolutely captivating and this activity shouldn't be missed on your visit to Niagara Falls!
End of tour drop off
The end of the tour drew to a close and we were dropped off right where we started. We had such a fun morning with See Sight Tours and our guide, Vinny!
These three activites certainly offer the best ways to see and experience Niagara Falls!
A small group tour is the way to go, in my opinion. No waiting for lines for waiting for large groups of people. You'll have very little crowds, easy transportation, and a lot of fun!
What to know before booking with See Sight Tours in Niagara Falls
Ready to book your small group tour in Niagara Falls with See Sight Tours? Here's what to know!
See Sight Tours offers free cancellation within 24 hours
The Floral Clock is a seasonal attraction that may not be viewable during your tour in the winter months.
The Best of Niagara Falls tour is scheduled for 4 hours, but this could vary depending on season and traffic. I suggest visiting during the off season, like early fall, to avoid major crowds.
Your tour will be confirmed 1-3 days prior to your tour date by email or phone (I provided my cell number and received a text, too).
Niagara City Cruises Voyage to the Falls operates from April – November. If you visit at any other point of the year, this is supplemented with Niagara's Fury and the Butterfly Conservatory.
Book your own small group tour with See Sight Tours and see the best of Niagara Falls!
More Niagara Falls reading
Pin it for later!