Are you looking for a thrilling adventure in Niagara Falls? You've come to the right place! Aside from the natural beauty of Niagara Falls is known for, and all of the fun attractions to take part in, like Journey Behind the Falls and the Whirlpool Aero Car, it's also an adventure-seeker's paradise for those looking for an extra adrenaline rush!
Niagara Falls offers an array of heart-pounding experiences that will leave you exhilarated.
Check out these 6 best activities for thrill seekers in Niagara Falls! How many of these will you cross off your Niagara Falls bucket list?
Planning your trip to Niagara Falls from Toronto?
Check out 5 easy ways to get from Toronto to Niagara Falls!
This post contains affiliate links which means I earn compensation when you click on the links at absolutely no extra cost to you! Feel free to read my disclosure policy. Thank you for supporting my blog!
Plan your next vacation using these tools!

✈️ Book flights: SkyScanner
🏨 Book hotels: Booking.com
🚘Book car rentals: RentalCars.com
🎫Book tours: GetYourGuide
🍽️Local food experiences: EatWith
🌍Favourite travel item: Packing cubes
🧳Favourite travel bag: Osprey 40L Fairview
📱 ESims: Airalo
🩹 DIY Travel Medical Kit
💸 20 Cheap Travel Items Under $20
1. Whirlpool Jet Boat
A thrilling way to experience the power of Niagara Falls and the Niagara River is by hopping on a Whirlpool Jet Boat Tour!
Embark on either a dry or wet boat tour (spoiler alert – you get absolutely soaked on the wet tour!) and experience the exciting Niagara Rapids during your 45 minute ride!
This tour is without a doubt the number one adventure activity in Niagara Falls and gets you up close and personal to the force of the river while enjoying some spectacular scenery along the way.
👉 Book your tickets for the Whirlpool Jet Boat!
2. Niagara Falls Zipline
Did you know you can zipline at Niagara Falls? This is one of the most unique and adventurous activities in the falls to get your heart pumping! This zipline takes you on a thrilling ride into the Niagara Gorge towards the Horseshoe Falls.
Glide down 2,200 feet past the American Falls, and land at the observation deck at the base of the Horseshoe Falls.
👉 Book your tickets for the Zipline in Niagara Falls!
3. Whirlpool Adventure Ropes Course
If you're up for a fun challenge, head over to Wildplay Niagara's Adventure Ropes Course! This exciting course tests your limits with 41 games, obstacles, and ziplines. Since it's positioned right along the Niagara Parkway along the Niagara Gorge, you'll be able to catch some amazing views from the top.
Add on the What's to Fear jump for the ultimate thrilling adventure. Climb 40 feet up a rope ladder and once you're securely tethered to the jump line, leap off the top platform for an exciting plunge! Are you up for the challenge?
👉 Book your tickets for the Adventure Ropes Course!
4. Niagara Falls helicopter tour
Undoubtedly, one of the most memorable ways to see Niagara Falls is by helicopter. Not only will you get one of the best views of Niagara Falls from up here, this exciting activity is something not everyone is able to experience!
Snap awe-inspiring photos of views of Niagara Falls, the Niagara River, Niagara Whirlpool, the Niagara Parks Botanical Gardens, and more!
👉 Book your tickets for your helicopter tour in Niagara Falls!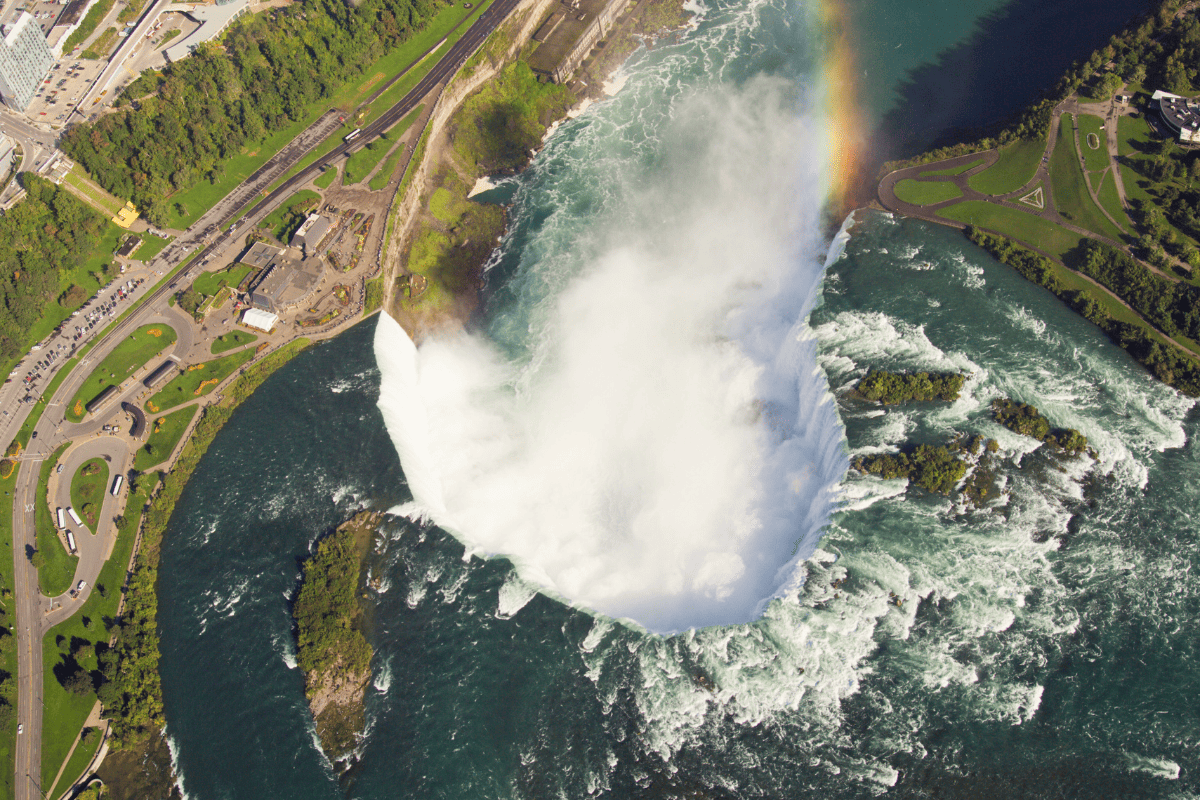 5. Niagara Falls Plane Tour
If helicopters are too daring for you, you can also opt to take a small plane tour over Niagara Falls at 1900 feet.
Watch the falls plunge beneath you and take a private tour of some of the most iconic landmarks and attractions in Niagara Falls on this exciting activity. This tour has room for just three people! What's even better is that this plane tour over Niagara Falls includes champagne and chocolates.
👉 Book your tickets for your plane tour over Niagara Falls!
6. Niagara Speedway Go Karts
Did you know that Niagara Falls has its very own Go Karts on Clifton Hill? The Speedway is a world-class heart-pumping attraction that combines the adrenaline of go kart racing with the experience of a roller coaster!
The speedway is spread out over four acres at the top of Clifton Hill with over 2,000 feet of racing surface, including a four-story helical spiral and a two-tiered ramp that runs into another spiral!
This thrilling adventure in Niagara Falls offers the chance for riders to feel as though they're flying over a cliff at 32 km/hr – but not to worry – numerous safety features are built into this Speedway racetrack!
This is North America's largest elevated go-kart race track facility, and the first of its kind in Canada. Visit Niagara Falls for its incredible natural beauty, and take part in a unique experience designed for thrill-seekers!
Hours: 10:00 am – 1:30 am daily
Pricing: $13/5 minute race. Riders can accompany the driver for $4
Tickets can only be purchased on-site in person.
Address: 4960 Clifton Hill, Niagara Falls
Related Posts
Pin it for later!