Are you looking to plan a fun date night in Niagara Falls but don't want to blow your budget?
The good news is, you don't have to!
There are a ton of budget-friendly, free, and inexpensive things to do around Niagara Falls that are romantic – and you definitely don't have to have an expensive dinner or hotel stay overlooking the falls to make it memorable!
All locals know that Niagara Falls can be overpriced, especially in the tourist hotspots. And while Horseshoe Falls is magnificent, there are ways to enjoy the area as a couple and the beauty of the falls without breaking the bank.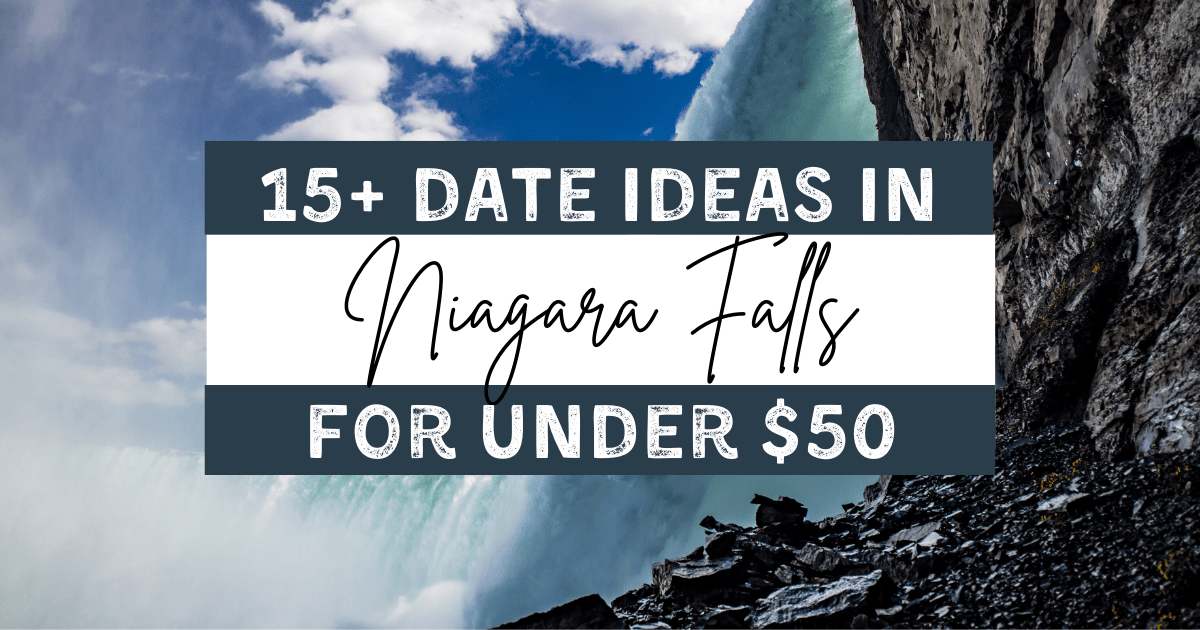 Niagara Falls is also known as the Honeymoon Capital of the World! There are so many fun and romantic activities to do as a couple in the falls, but you don't need to spend a fortune.
So if you're planning a fun date night in Niagara Falls and are looking for ideas while sticking to a budget, I've got you covered!
This post contains affiliate links which means I earn compensation when you click on the links at absolutely no extra cost to you! Feel free to read my disclosure policy. Thank you for supporting my blog!
Plan your next vacation using these tools!

✈️ Book flights: SkyScanner
🏨 Book hotels: Booking.com
🚘Book car rentals: RentalCars.com
🎫Book tours: GetYourGuide
🍽️Local food experiences: EatWith
🌍Favourite travel item: Packing cubes
🧳Favourite travel bag: Osprey 40L Fairview
📱 ESims: Airalo
🩹 DIY Travel Medical Kit
💸 20 Cheap Travel Items Under $20
Free Date Ideas in Niagara Falls
There are tons of free places to take your date in Niagara Falls, and only pay for parking! Some of my top recommendations include these five free date ideas!
1) Stroll through the Niagara Parks Botanical Gardens
The Botanical Gardens in Niagara Falls is absolutely gorgeous. With historic buildings, stunning gardens and peace and quiet, it's the ideal spot to bring a date to enjoy the outdoors.
Cost: FREE (just pay for parking!)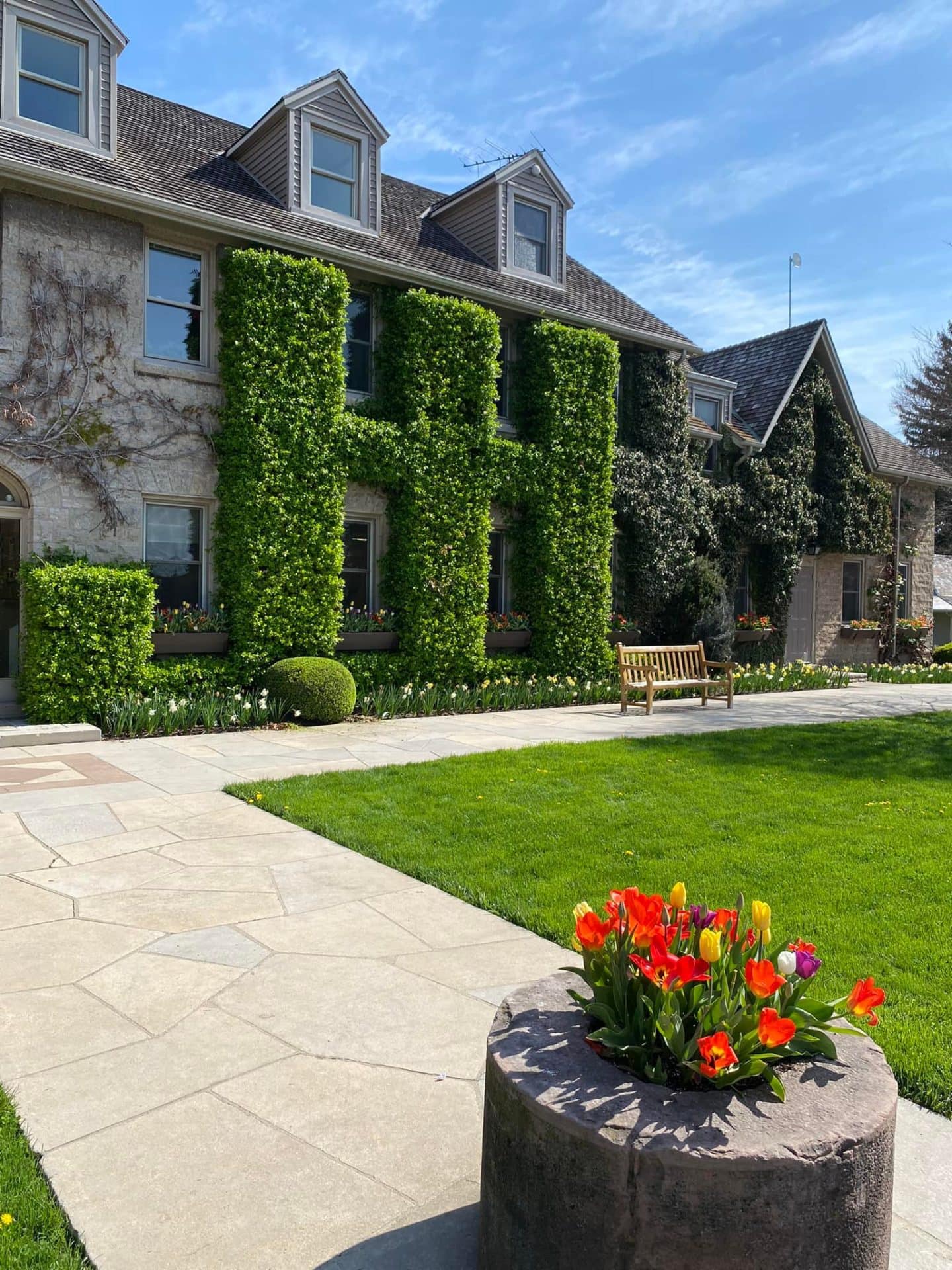 2) Take a Hike at Niagara Glen and Soak in the Views of the Niagara Gorge
Experience thousands of years of history at the Niagara Gorge! Bond over sweating (and maybe even getting lost) along the Niagara Glen trails, take in amazing views of the teal Niagara River, and get your blood pumping! Bring a picnic to enjoy after climbing the staircase to the top to recover.
Cost: FREE (just pay for parking!)
3) Watch the Falls illumination and Fireworks after Dark
For 144 days every year from May – October, experience fireworks in Niagara Falls and watch the illumination of the falls! Stick around until 10:00 pm to watch the amazing fireworks in Niagara Falls for an unforgettable evening!
Cost: FREE (just pay for parking and bring your own blanket!)
4) View Wildlife at the Dufferin Islands
The Dufferin Islands is a peaceful place to visit. Late spring is one of the best times to visit to view ducklings and goslings, but birds of all kinds can be found year-round.
If you're lucky, you'll be able to encounter some friendly chickadees and see a fox or two!
Cost: FREE (just pay for parking!)
5) Stroll along the Niagara Parkway, enjoy the tranquility of Queen Victoria Park, and relax at Oakes Garden Theatre
You don't have to spend anything to get up close to Niagara Falls – that is always free to see! Nothing beats a stroll along the scenic Niagara Parkway, or resting Oakes Garden Threatre or Queen Victoria Park. Spring and summer are beautiful times to visit to enjoy the floral gardens.
Be sure to stop by the top of Horseshoe Falls for a closeup look of the Niagara Scow – Niagara's very own shipwreck!
Cost: FREE (just pay for parking!)
6) Enjoy the Winter Festival of Lights (seasonal)
Beautiful lighting arrangements are placed all along the Niagara Parkway and Dufferin Islands during the winter! From castles to huge animals to light structures of all shapes and sizes, there is something new to look at every few feet.
Cost: FREE (by donation, if you wish!)
Cheap Date Night Ideas in Niagara Falls under $50
1) Stop at CreekSides for an ice cream cone
This cute little ice cream shop in Chippawa is located in the quiet, non-touristy end of Niagara Falls, with ample free parking and scenic trails to walk along.
This is especially magical during the springtime when the Magnolia trees are blossoming, the Yoshino cherries are in bloom along the Niagara Parkway at Kingsbridge Park, and the baby geese are plentiful at the Dufferin Islands.
Cost: Just pay for your ice cream! You can get two waffle cones (the scoops are generous!) for about $10 at CreekSides!
2) Mingle with colourful butterflies
The Butterfly Conservatory is one of North America's largest glass-enclosed conservatories, complete with its own tropical oasis, trickling waterfalls, and over 2,000 butterflies of all species.
If you're lucky, you'll even be able to catch a butterfly emerging from its cocoon. Plus, you can stroll through the Botanical Gardens, located on the same property for free afterwards!
Cost: Book online for $19 per person
3) Discover tropical birds at Bird Kingdom
This free-flying indoor aviary is the largest in the world! You'll encounter hundreds of tropical birds and exotic animals at Bird Kingdom. Be sure to bring your camera!
Cost: $19.95 per person, or $17.95 if booked online
4) Get the best views of Niagara Falls from the Skylon Observation Deck
Soak in breathtaking views of Niagara Falls after riding to the top of the Skylon Tower! You'll have the advantage of a 360 degree view of the falls and the city.
Date tip: Visit at night for the illumination of the falls and the seasonal fireworks!
Cost: $16.86 per person. Book your Skylon Tower tickets online.
5) Feel the power of the Niagara River with the White Water Walk
Follow along a boardwalk hugging the Niagara River at the White Water Walk and marvel at the sheer power and beauty of the Class 6 white-water rapids.
The roar of the water holds a deceptive calmness, and a perfect ambience for your walk. Get up close to the rapids with one of many viewing platforms along the way.
Cost: Get your White Water Walk tickets online for $19.21 per person.
6) Get a Birds-Eye View of the Niagara River on Whirlpool Aero Car
Take a ride on the memorable Whirlpool Aero Car, where you're suspended 3500 feet above the Niagara Gorge's teal-coloured Class 6 rapids.
The suspension cable travels between two points of our Canadian shores, but the antique cable car takes you across the border a total of four times due to the way the Niagara River is positioned.
No passport required!
Cost: $19.21 per person. Book your Whirlpool Aero Car tickets online.
7) Soar above Niagara Falls on the Niagara Skywheel
Take a ride on the Niagara Skywheel, where you're elevated 175 feet above Niagara Falls. Take in sweeping panoramic views of the falls and the city below. This is especially magical at night when everything is lit up!
Cost: $15.82 per person when booked online (ps. You will have to print this ticket to bring with you!)
8) Go for craft beer tasting at Taps Brewhouse
Taps Brewhouse is one of my favourite places to go in Niagara Falls, and is a fun place to go on a date while sticking to a budget. Stay for live music or trivia!
Cost: Get 2 flights of 4 5oz beers for $17.70! Taps Brewhouse is also one of the most inexpensive places to dine at in Niagara Falls!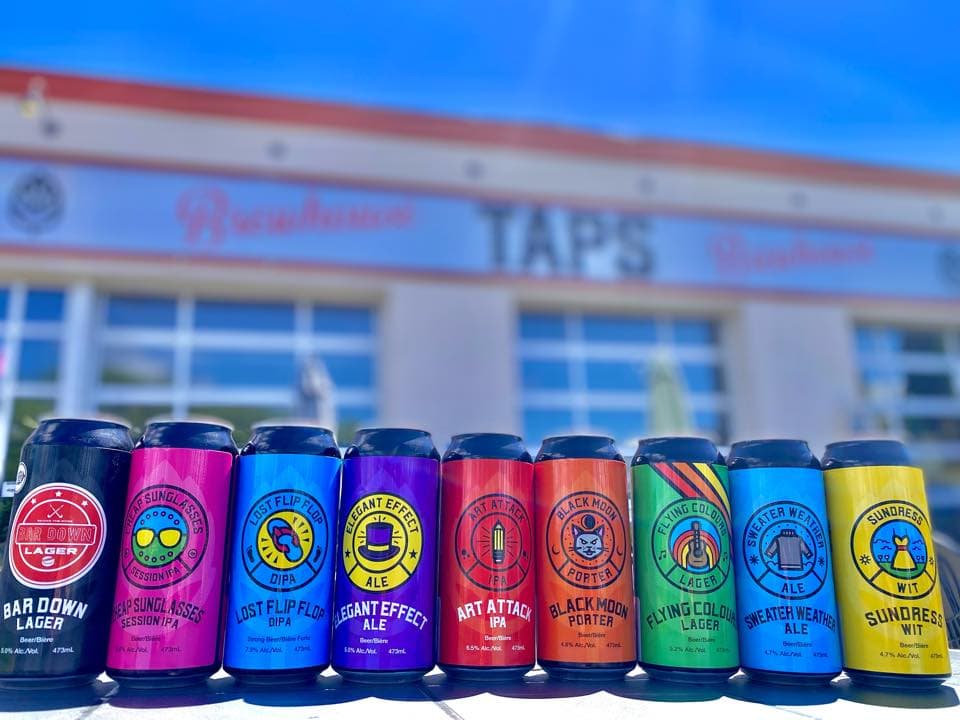 9) Soak in Niagara Falls history at the Niagara Falls Museum
Learn all about the War of 1812, tightrope walkers, Niagara's geological history and much more at the Niagara Falls Museum!
While visiting a museum isn't exactly the ideal romantic evening, it creates great discussion topics over dinner plus you'll learn all kinds of new things!
Cost: $5 per person. Free on Thursdays from 5:00 pm – 9:00 pm.
10) Grab a milkshake and relax at Oakes Garden Theatre
My all-time favourite place to visit in Niagara Falls is actually Hershey's Chocolate World. 😂
The scent of chocolate is intoxicating, and they have the BEST chocolate milkshake you'll ever have. Grab a couple of those (or one to share!) and stake out your spot at Oakes Garden Theatre and laze in the sunshine or walk along the Niagara Parkway.
Cost: $8.49 each and worth every penny
11) Go for a Journey Behind the Falls
Descend 125 feet and walk through 130 year-old tunnels and feel the vibration of Niagara Falls' power at Journey Behind the Falls!
Snag a once in a lifetime view of the falls (and 1/5th of the world's fresh water flowing overtop of you)13 storeys up.
Cost: $23.50 per person. Book your tickets online.
Top FREE Seasonal Date Ideas in Niagara Falls
Spring: Walk through the whimsical Magnolia Alley at the Floral Showhouse and laze under cherry blossoms at Kingsbridge Park.
Summer: Take an evening stroll along the Niagara Parkway.
Fall: Witness the beauty of the changing seasons at the Niagara Gorge.
Winter: Experience the wonder of Mother Nature and Marvel at the Frozen Falls. Enjoy an evening drive through the Winter Festival of Lights.
Parking in Niagara Falls
Many of these free or inexpensive date ideas will only cost you parking! The Niagara Parks parking lots are $1.25/hour, or you can also find privately-owned parking lots ranging from $5-$10 for parking a few blocks from Clifton Hill.
If you're local to Niagara and visit often, it's well worth it to purchase a Niagara Parks parking pass for only $40/year for two cars! It pays for itself and is good for parking lots all around Niagara Falls.
Don't want to drive? Book your WEGO ticket for $10/day and ride all over Niagara Falls for one low price!
Are the Niagara Falls attractions worth it?
Although I'm a local and live a stone's throw away from Niagara Falls, I can say that most of the attractions are definitely worth doing at least once!
It's one of those things we do when family and friends visit, and it's easy to take for granted. However, millions (literally!) of tourists visit every year to see the magnificent marvel, and there are some epic ways to experience Niagara Falls and get great views.
If you're coming here on a date, it's a lot of fun to partake in these activities and do something new, and with a partner. There are endless things to do in Niagara Falls for cheap and while sticking to a budget.
Of course, Clifton Hill is a major tourist trap, and while there are fun things to do, steer clear of restaurants in the tourist hotspot. If you're looking for a restaurant to eat at in the falls for cheap, I've got some cheap eats in Niagara Falls recommendations ready for you!
Related Posts
Pin it for later!