A visit to Niagara Falls in spring should be on your list! Not only are there fewer crowds, but there are also a ton of amazing spots to see the spring blooms in Niagara Falls.
After a dreary winter, there's nothing better than finding vibrant spring blooms to lift your spirits. Fortunately, Niagara Falls offers many locations to catch some colourful blooms all spring long!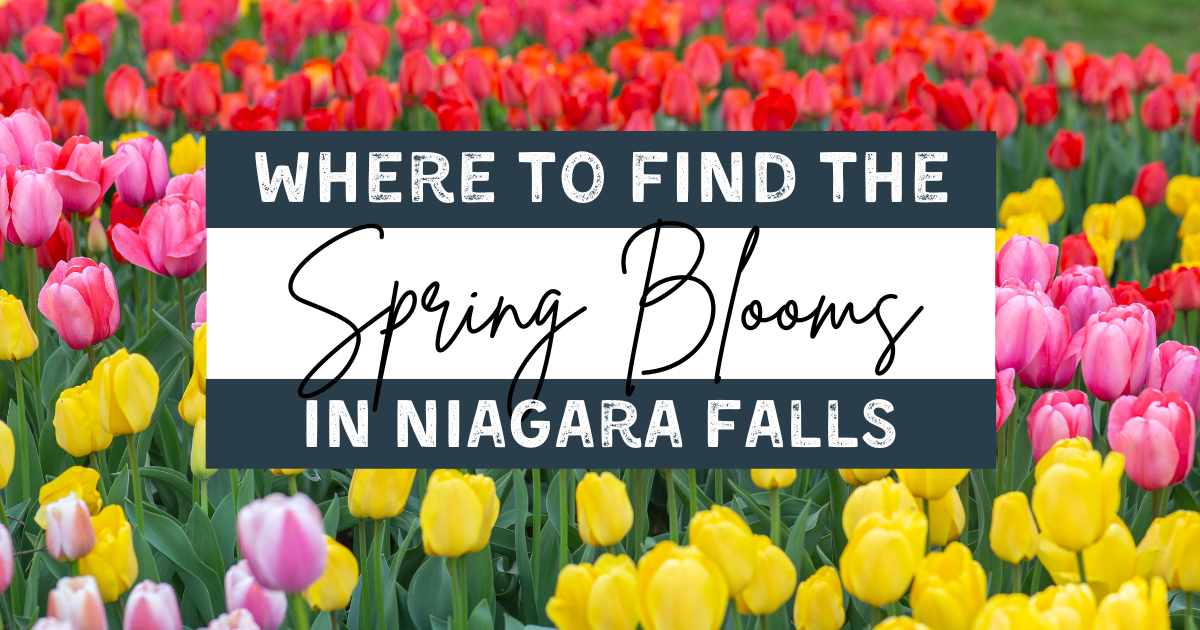 This post contains affiliate links which means I earn compensation when you click on the links at absolutely no extra cost to you! Feel free to read my disclosure policy. Thank you for supporting my blog!
Plan your next vacation using these tools!

✈️ Book flights: SkyScanner
🏨 Book hotels: Booking.com
🚘Book car rentals: RentalCars.com
🎫Book tours: GetYourGuide
🌍Favourite travel item: Packing cubes
🧳Favourite travel bag: Osprey 40L Fairview
🩹 DIY Travel Medical Kit
💸 20 Cheap Travel Items Under $20
Parking in Niagara Falls: If you're a frequent visitor to Niagara Falls (or even if you're visiting just for the weekend) the Niagara Parks Parking Pass is well worth it. For $40 you will receive annual parking at Niagara Parks parking lots across the area. When you consider the parking at the popular Table Rock Centre is over $30 just for the day, the Niagara Parks Parking Pass pays for itself!
Niagara Falls bloom chart
This blooming chart for Niagara Falls will give you an approximate guide to when flowers will blossom. Fortunately there is plenty of overlapping blooms, so if you visit Niagara Falls during spring, you're almost certain to catch some beautiful blossoms!
| Bloom | Time of Year |
| --- | --- |
| Daffodils | Throughout April (peak is usually mid-April) |
| Tulips | Beginning of May (peaking around Mother's Day) |
| Magnolias | Early to mid-May |
| Cherry trees | Mid to late-May |
| Lilacs | Third or fourth week of May to early June |
| Roses | Mid-June, continuing to bloom on and off throughout summer |
Best spots to see the spring blooms in Niagara Falls
Finding the spring blooms ranks up top in the best free things to do in Niagara Falls. Spring is also a great time to visit Niagara Falls before the busy summer season. Come experience a little beauty scattered throughout this historic city!
1. Floral Showhouse
Reopening in May, the Floral Showhouse is a must-visit for anyone wishing to see some beautiful floral displays. A stunning hydrangea display will start off the season, with dreamy blue, pink, and white blooms.
This garden oasis has three different sections housing unique floral exhibits. Nothing says "spring" like some brightly coloured flowers at every turn.
The unmissable Magnolia Alley will draw you in and makes for amazing photos and family portraits, which is free to visit!
Cost
Adults 13+: $8
Children 3-12: $5
Under 2: Free
Paid parking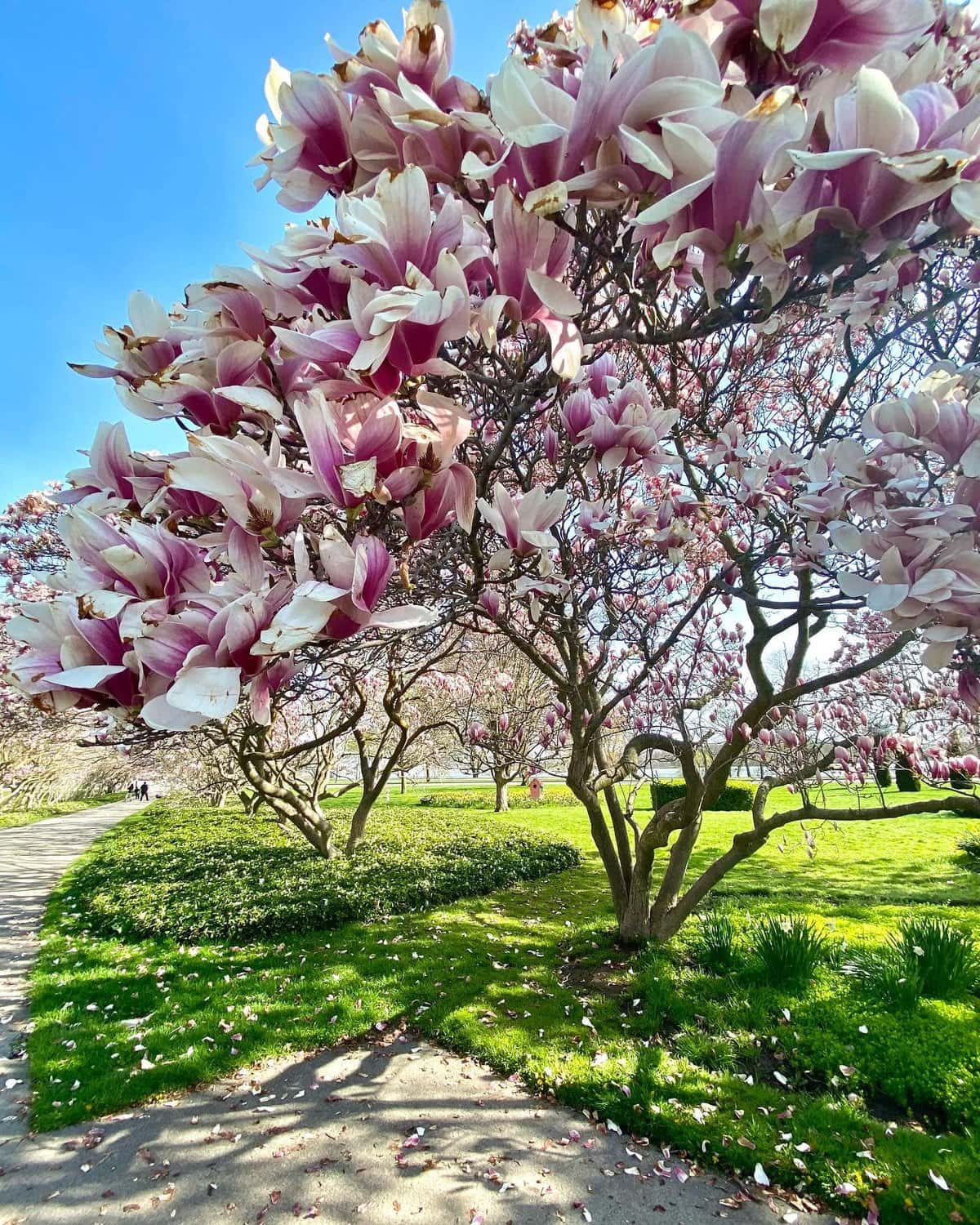 2. Queen Victoria Park
Queen Victoria Park in Niagara Falls is a central hub of activity during the spring months. Its expansive green spaces overlook the magnificent falls, surrounded by tulips, snowdrops, magnolia trees and crocuses.
The main draw however, is the 500,000 yellow daffodils that pop up all over Queen Victoria Park. This park is also one of the best picnic areas in Niagara Falls, so bring a basket full of snacks to enjoy surrounded by spring blooms!
P.s. Did you know that Niagara Falls is the daffodil capital of North America? You can find million of yellow and white daffodils throughout the city during spring. You have to see it to believe it!
Cost: Free (paid parking)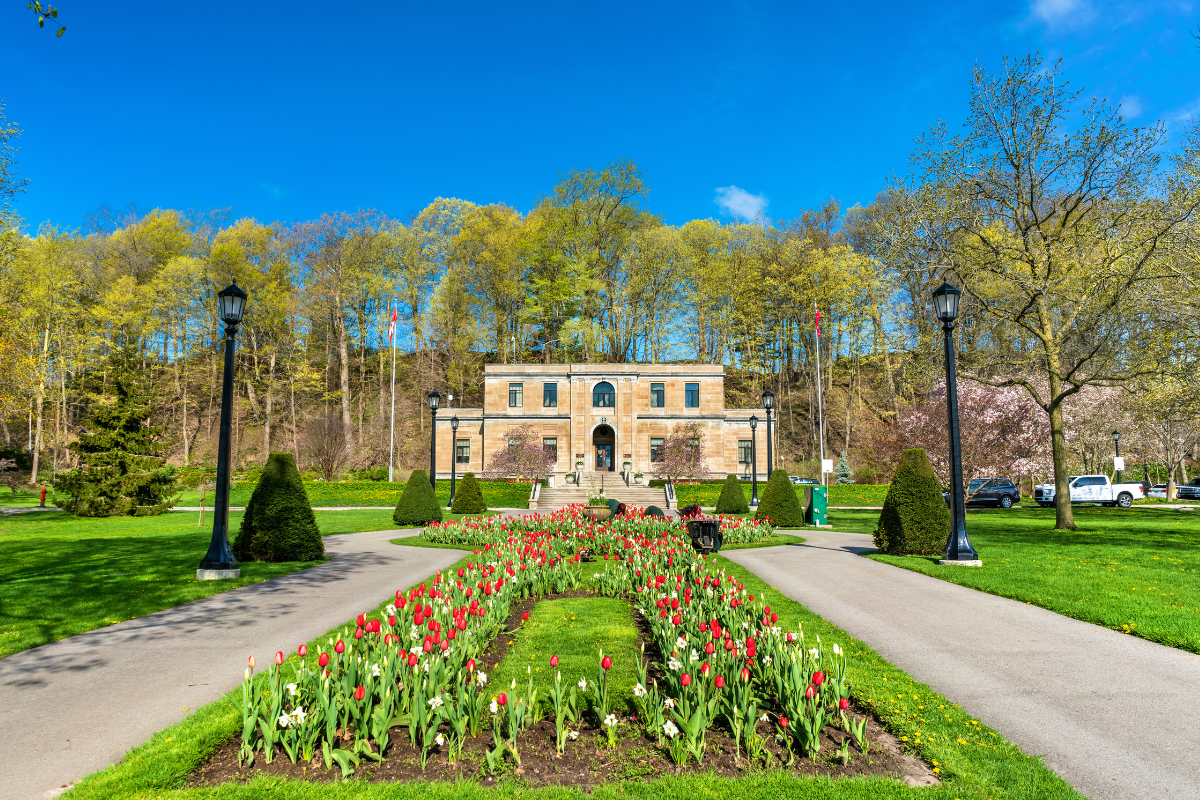 3. Oakes Garden Theatre
I've always found Oakes Garden Theatre to be a hidden gem in Niagara Falls and it's often overlooked, although it's free to enter!

This beautiful amphitheatre offers peace and tranquility just steps away from the main tourist area and offers a quiet reprieve to the congested Clifton Hill.
Lily ponds and a Japanese-style garden can be found within Oakes Garden Theatre, but spring is the best time to visit to see other spring blooms, including bright red tulips.
Cost: Free (paid parking)
4. Kingsbridge Park
Kingsbridge Park is one of the best places to find the cherry blossoms in Niagara and it's just a short drive beyond Niagara Falls, in the town of Chippawa, where the Niagara River and Welland River meet.
Located along the scenic Niagara River Recreation Trail, a 53-km stretch trail for non-motorized vehicles, Kingsbridge Park offers some breathtaking water views and ample opportunity to snap some photos of the gorgeous spring blossoms!
Cost: Free to enter, paid parking during the summer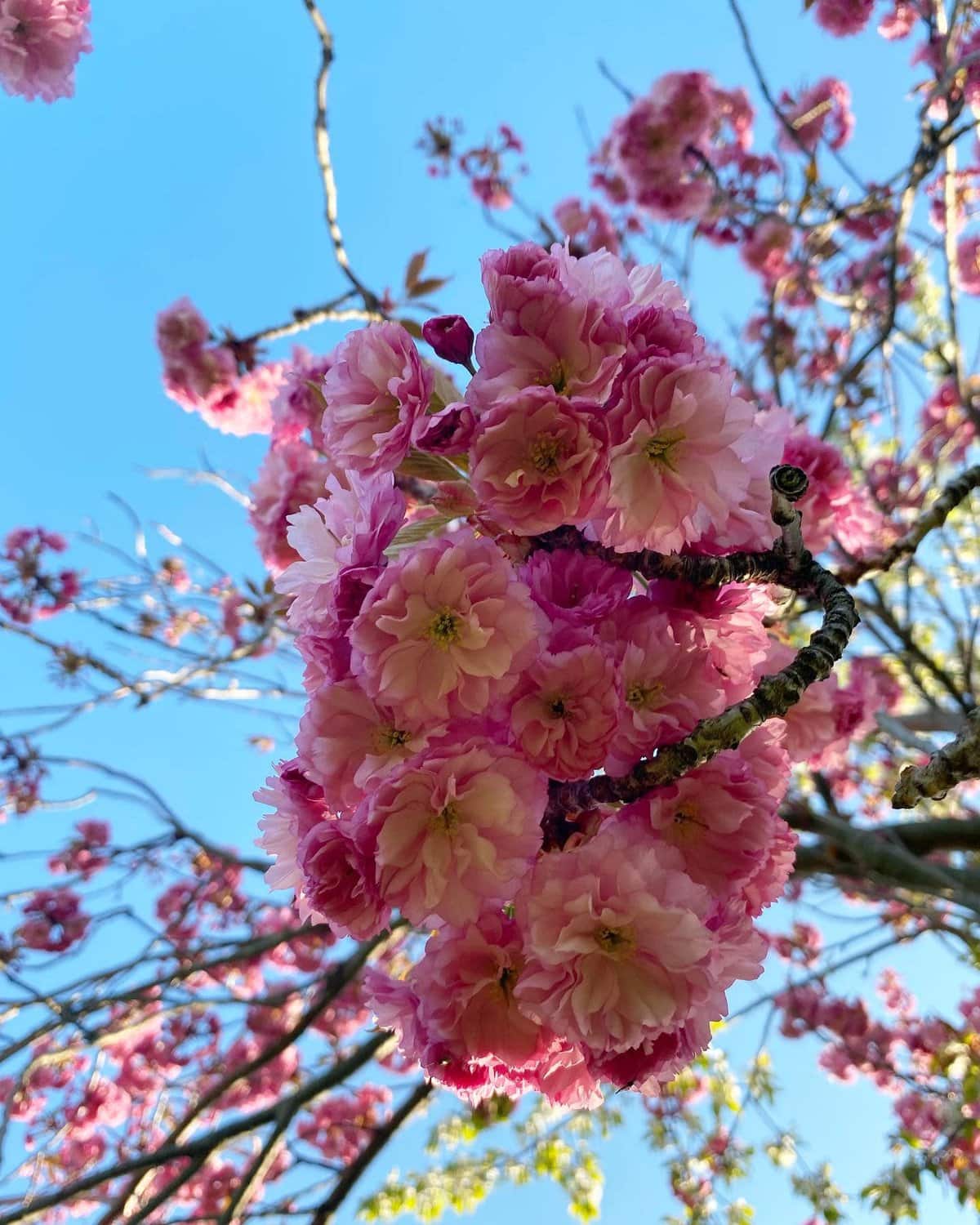 5. Niagara Parks Botanical Gardens
Arguably one of the best places to see the spring blooms in Niagara, the Botanical Gardens is a must-visit for anyone seeking some quiet time while enjoying what the season has to offer.
The expansive gardens boasts an award-winning landscape 99 acres!), complete with herb garden, Victoria rose garden (with 2400 roses!), and other seasonal blooms including cherry blossoms, snowdrops, crocuses, and tulips.
Adjacent to the Butterfly Conservatory, visiting the Niagara Parks Botanical Gardens makes for a wonderful spring day enjoying the beauty of spring.
P.s. The Niagara Falls Botanical Gardens is open year-round and is beautiful throughout all seasons, but spring is by far the most colourful!
Cost: Free (paid parking)
6. Floral Clock
A worthy stop in Niagara Falls is the Floral Clock. While it is smaller than some other parks and gardens in the area, it is still beautiful! The clock face is decorated with creative displays twice a year, and the spring blooms are a sight to see!
You can find a lot of tulips here during spring and it's a quieter area outside the main tourist area of Niagara Falls. Many people will stop at the Floral Clock on the way to Queenston Heights or Niagara-on-the-Lake.
Cost: Free, with lots of free parking.
Related: 10+ Amazing Free Things to do in Niagara-on-the-Lake
7. Centennial Lilac Garden
One of my favourite spots to see the spring blooms in Niagara Falls is the Centennial Lilac Garden. It feels like you're worlds away from it all as you stroll through one of the many lilac bushes throughout the property.

Situated right next to the Floral Clock, you have to make a stop here, too!
Pink, purple, and white lilacs emit such a fragrant scent that you can often smell them from the parking lot.
You will also find azalea bushes skirting the edges of the property. Their bright purple and pink blooms are a beautiful sight to see after a dreary winter!
Note: The lilac blooms don't last very long, so keep an eye on the Niagara Parks bloom schedule to be sure you don't miss out!
Cost: Free, with lots of free parking
8. Queenston Heights
While Queenston Heights is technically considered part of Niagara-on-the-Lake, you would be doing a disservice to yourself if you weren't able to make a stop here, especially if you visit the Floral Clock or Centennial Lilac Gardens!
Queenston Heights is rich in history (you can even take a self-guided history tour if time permits) but it's another great location to see the spring blooms, including the beautiful cherry blossoms throughout the park.
Sprawling greenspace prevents it from feeling crowded, and there are lots of places to picnic too, as well as some great viewing spots of the Niagara River.
Cost: Free (paid parking)
Related posts
Pin it for later!