Niagara-on-the-Lake is a picture-perfect place to have a picnic! There are numerous locations that boast stunning scenery in a peaceful environment to enjoy a lazy day lounging in a park or a beach enjoying a picnic.
Whether you're visiting with kids or for a romantic day out, there are plenty of spots to picnic in Niagara-on-the-Lake!
Relax at one of these picturesque spots in Niagara-on-the-Lake while enjoying a picnic with your loved ones. It's one of the best ways to enjoy the beauty and bounty of the Niagara Region.
So grab your picnic basket and blanket and head to Niagara-on-the-Lake!
This post contains affiliate links which means I earn compensation when you click on the links at absolutely no extra cost to you! Feel free to read my disclosure policy. Thank you for supporting my blog!
Plan your next vacation using these tools!

✈️ Book flights: SkyScanner
🏨 Book hotels: Booking.com
🚘Book car rentals: RentalCars.com
🎫Book tours: GetYourGuide
🍽️Local food experiences: EatWith
🌍Favourite travel item: Packing cubes
🧳Favourite travel bag: Osprey 40L Fairview
📱 ESims: Airalo
🩹 DIY Travel Medical Kit
💸 20 Cheap Travel Items Under $20
Picnic Spots in Niagara-on-the-Lake
Nothing beats a summer picnic when the sun is shining. There are a number of ways you can spend the day in Niagara-on-the-Lake without visiting a winery, and picnicking is one those great activities where you don't even have to spend a dime to enjoy the beauty of this historic town.
Ryerson Park
Ryerson Park is situated within a beautiful community with plenty of open green space and access to a beach.
Popular with locals, it's an idyllic spot for a quiet picnic and is also one of the best views in Niagara-on-the-Lake to enjoy a beautiful sunset and of the Toronto skyline at night!
Ryerson Park is well-maintained and offers lots of benches and picnic tables, perfect for your picnicking needs!
While this is a beloved park in Niagara-on-the-Lake, there is limited free parking.
Location: Niagara Blvd

Related: Things to do in Niagara-on-the-Lake that Aren't Wineries
Queen's Royal Park
One of the most relaxing places to enjoy a picnic in Niagara-on-the-Lake is at Queen's Royal Park. This popular spot is located where the Niagara River flows in Lake Ontario.
Plus, it's just steps from Queen's Parade, the place to be in Niagara-on-the-Lake for shopping, cafes, and dining!
Enjoy a picnic to the sound of waves lapping the shore, snap photos in the charming white gazebo, play in the water, and soak in the views overlooking Old Fort Niagara, a former French fort that's used today by the U.S. Coast Guard.
If you're feeling adventurous, you can rent a paddleboard from Paddle Niagara and get a different perspective of Lake Ontario and the Niagara River!
Location: 45 Front St
Paid parking.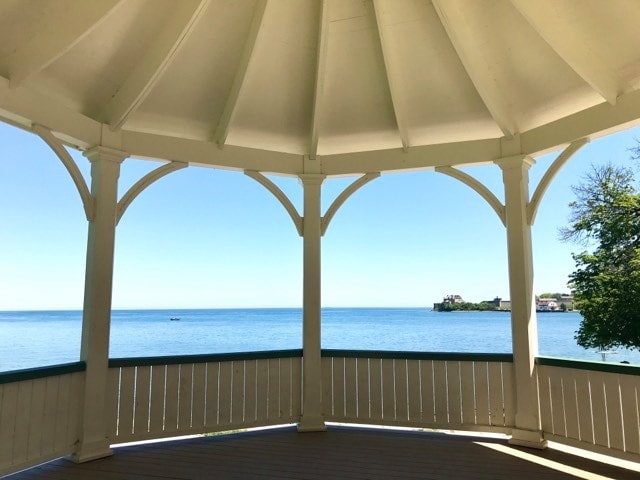 The Gardens at Pillar and Post
This brand new park in Niagara-on-the-Lake is one of the most scenic spots to picnic in that is oasis-like.
The Gardens at Pillar and Post is Monet-inspired and is a public space for all to enjoy, not just patrons of the Pillar and Post. It features a large pond containing colourful flower beds, and a waterfall along a boardwalk.
Order your picnic from The Outpost, on-site, which serves sandwiches, snacks, and beverages (including alcoholic!). No outside food or beverages are permitted on the grounds.
This park is a popular venue spot, so you can expect it to be busy on summer weekends. It also offers free parking!
Location: 526 Regent St
Related: Where to Picnic in Niagara Falls
Simcoe Park
Simcoe Park is a large green space in the heart of historic Niagara-on-the-Lake.
Beautiful tall trees provide plenty of shade and you'll also find washroom facilities, a playground, splash pad, and bandshell for concerts.
There are loads of benches spread throughout the park and is a relaxing spot to tuck into a picnic and people watch just steps away from it all.
Wander through on summer days and you'll find artists painting in the park, couples strolling hand-in-hand, and families playing with children.
Location: Picton St, Niagara-on-the-Lake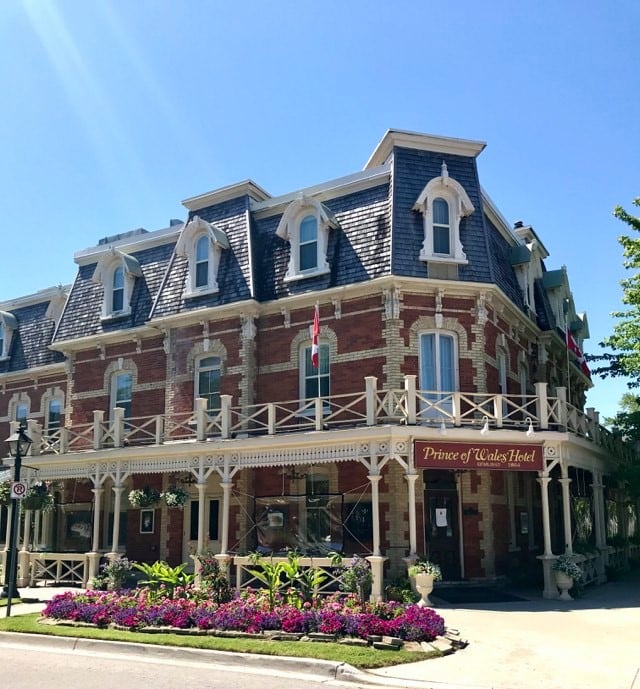 Mississauga Beach and Fort Mississauga
The stretch of beach known as Mississauga Beach not only provides a scenic walk along Lake Ontario (and if you're lucky, you'll catch a magnificent sunset!), but it is also home to a historical landmark!
Fort Mississauga was used as a defence of Upper Canada during the War of 1812. Strangely enough, it was completed until after the war.
Relax on a bench and enjoy a quiet picnic while listening to waves gently lapping the shore, watch the sailboats go by, and learn a bit of local history while you're visiting, too!
Parking is free.
Location: 223 Queen St
There is parking along Queen Street – the closest cross section for Google maps is Newark St and Queen St.
McFarland House
The McFarland House is a 220-year old Georgian home that happens to be one of the oldest buildings in Niagara-on-the-Lake!
The grounds of the McFarland House make a dreamy backdrop for picnics.
You can even get your own picnic lunch from McFarland House, made with ingredients grown on-site!
McFarland House is a great spot to enjoy a day in Niagara-on-the-Lake surrounded by nature and is close to hiking and biking trails, a baseball diamond and playground facilities, and washroom facilities.
Join in a guided tour of McFarland House while you're visiting (from mid-May until Labour Day)! You can also enjoy a beautiful afternoon tea at McFarland House during the summer months.
P.s. McFarland House was used as a hospital during the War of 1812!
Location: McFarland House, 15927 Niagara Parkway Recreational Trail
McFarland House tours: Adults $7.50/Children 3-12 $5.00
Niagara Parkway
The Niagara Parkway offers countless picnic spots along this beautiful stretch of 55-km winding road that runs along the Niagara River by orchards and wineries from Lake Ontario to Lake Erie.
You'll find peaceful enclaves meant for two, or larger spaces that make for ideal family gatherings. Some of these picnic spots also offer charcoal grills.
If you want to travel outside Niagara-on-the-Lake for a change of scenery, Niagara Glen Nature Centre is just a 10 minute drive away and offers the very best views from above of the Niagara River, a ton of picnic tables, and washroom facilities.
You can also get a great vantage point of the Niagara Whirlpool from Thompson's Point which has plenty of parking, shaded spots, and picnic tables to enjoy a perfect picnic day out!
For an afternoon surrounded by beautiful blooms, head to Niagara Park's Botanical Gardens and wander through 99 acres of sprawling gardens to find your ideal spot!
Free parking is available along the Niagara Parkway. Paid parking at Niagara Glen Nature Centre, Niagara Parks Botanical Gardens, and Thompson's Point ($2.50/hr).
Related: The Best Peach Picking Spots in Niagara
Queenston Heights
While Queenston Heights is about a 15 minute drive from downtown Niagara-on-the-Lake, it's the largest and most scenic picnic spot around, and is the birthplace of Niagara Falls!
Situated at the top of the Niagara Escarpment, Queenston Heights offers amazing views of the Niagara River and plenty of amenities: picnic tables, benches, gardens, washroom facilities, pavilions, a splash pad, hiking trails, and historic sites!
Queenston Heights is the perfect spot where kids can play and couples can relax. There is ample parking and tons of greenspace for all to enjoy.
Location: 14184 Niagara Parkway, Niagara-on-the-Lake, ON
Parking: $2.50/hour
Ps. are you a frequent visitor to Niagara Parks? Their annual parking pass is just $40/year to use at 17 Niagara Parks lots!
Pre-made Picnic baskets in Niagara
Of course, no picnic is complete without the picnic itself!
There are a number of local vendors selling artisan products that are perfect to create your own picnic box, but if you're looking for something a tad more luxurious, Niagara-on-the-Lake offers custom picnic boxes for your day out!
From providing a fancy picnic dining experience to luxury picnic boxes to go, picking up a picnic allows you to enjoy all the fun of picnicking with zero effort on your part!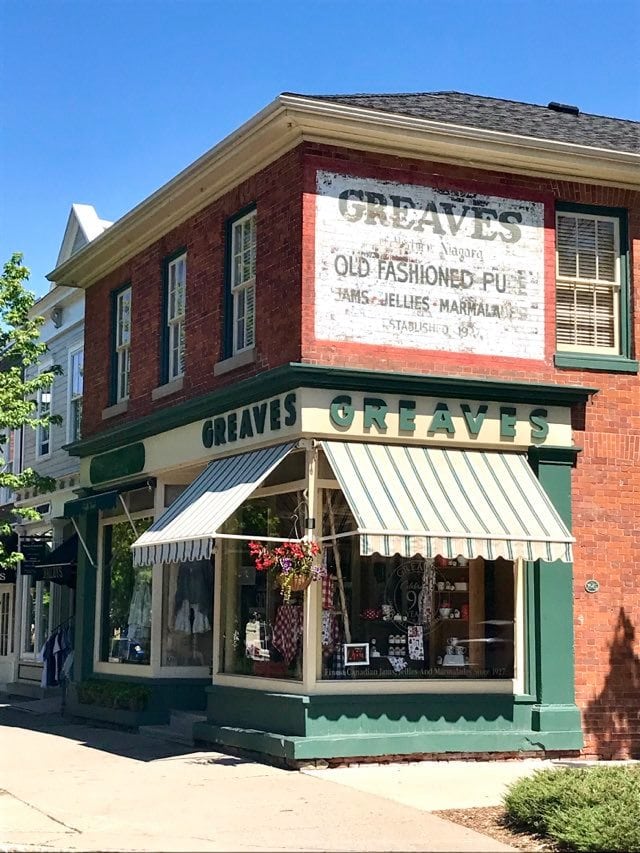 Plan a perfect picnic in Niagara's Wine Country
Many people think picnics are a thing of the past, but they're a great way to unwind, enjoy the simpler things in life, and soak in what Niagara-on-the-Lake has to offer.
Need some supplies? These picnic baskets and blankets will make sure you're all set for your picnic in Niagara-on-the-Lake.
Related Posts
Pin it for later!