Located within Cedar Dunes Provincial Park, West Point Lighthouse is situated on the furthest west point on Prince Edward Island.
West Point Lighthouse is one of the most unique lighthouses on Prince Edward Island. Why's that?
Its iconic black and white stripes are unusual compared to the typical red and white lighthouses you'll see dotted around the island. Not only that, but it's rumoured to be haunted.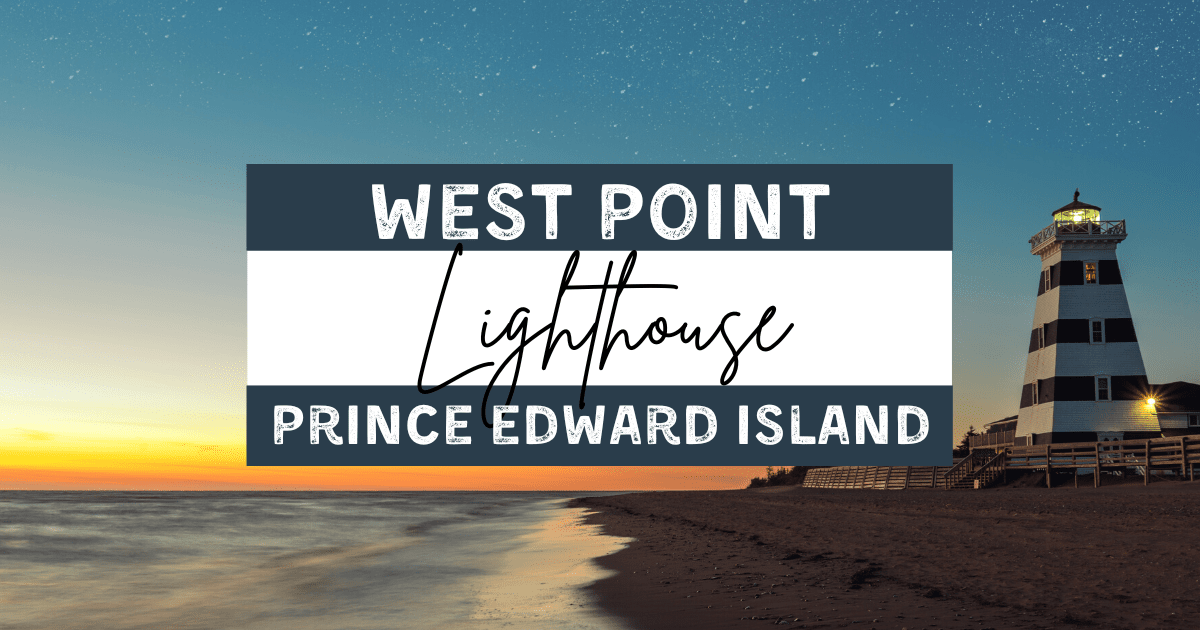 Haunted?!
Better yet? You can actually stay at West Point Lighthouse.
Be sure to add West Point Lighthouse to your list of lighthouses to see on Prince Edward Island!
This striking lighthouse is a 1.40 hour drive from Charlottetown, or about an hour if you're coming from Summerside.
This post contains affiliate links which means I earn compensation when you click on the links at absolutely no extra cost to you! Feel free to read my disclosure policy. Thank you for supporting my blog!
Plan your next vacation using these tools!

✈️ Book flights: SkyScanner
🏨 Book hotels: Booking.com
🚘Book car rentals: RentalCars.com
🎫Book tours: GetYourGuide
🍽️Local food experiences: EatWith
🌍Favourite travel item: Packing cubes
🧳Favourite travel bag: Osprey 40L Fairview
📱 ESims: Airalo
🩹 DIY Travel Medical Kit
💸 20 Cheap Travel Items Under $20
History and Facts about West Point Lighthouse
West Point Lighthouse was built in 1875 and remains the tallest lighthouse on PEI at a towering 69 feet! Like other lighthouses, West Point Lighthouse was used (and is still used) to help ships navigate through the Northumberland Strait.
The total cost for building West Point Lighthouse was $8240 – the equivalent to $223,000 today! It was the first lighthouse to be built on PEI since it entered Confederation in 1873.
Part of its construction included imported rocks from Nova Scotia, since no building stone was available on Prince Edward Island. Rocks were also placed within the walls of the first story to keep it weighed down.
Related: 45+ Interesting Facts about Prince Edward Island
West Point Lighthouse was built with an attached dwelling: the bottom floor was used as a parlour and the second floor was made into two bedrooms.
The original keeper, William MacDonald, manned the lighthouse for 50 years and raised his family of 8 here. Two of his children were actually born at the lighthouse!
Did you know: West Point Lighthouse wasn't always black and white! The red bands were changed to black in 1915, since black is more resistant to fading and made a more visible landmark for ships.
West Point Lighthouse had just two official keepers. The second was Benjamin McIsaac, who answered the call after an advertisement went out in 1925 announcing MacDonald's retirement.
MacIsaac served during WW1 overseas in England, France and Belgium. He and his wife had 15 children – who obviously would never have been able to stay at West Point, so he would spend every night during the navigation season at the lighthouse.
During WW2, he was required to maintain his post year-round, since it was used to help pilots fly out of the British Commonwealth Air Training facilities in Summerside and Mount Pleasant.
Benjamin MacIsaac remained at West Point until 1963, when the lighthouse became fully automated and leased to the Canadian Coast Guard by the original keeper's great-granddaughter in the early 1980s.
The Inn was established in 1987 by a group of volunteers and has since been renovated to provide more options for accommodations.
Fun fact: Despite the presence of West Point Lighthouse, shipwrecks still happened. The most notable shipwreck was that of the Inveresh, a German ship, that crashed into a reef in the fall of 1879. The entire crew stayed in the lighthouse for the winter!
West Point Lighthouse Museum
West Point Lighthouse is actually one of the few lighthouses on PEI that you can go inside!
The museum is located on the upper floors of the tower, and you'll be able to see one of Prince Edward Island's most complete collections of lighthouse memorabilia and information.
Browse through artifacts, displays, and exhibits of PEI's maritime history, lightkeepers, and stories of the community.
There are 72 steps up a steep staircase, but it leads you to a stunning 360 degree view from the lantern deck.
Admission for the West Point Lighthouse Museum is $6 for adults, $4 for children/seniors, and $15 for families. Admission is free for those staying at the Inn.
The museum is open daily from June – September.
Things to do at West Point Lighthouse
West Point Lighthouse is located within Cedar Dunes Provincial Park and makes for the perfect lazy afternoon.
Stroll the red sand beach, explore nearby interpretive trails around a marsh and through wooded areas and dunes, or browse the Point Craft Shop.
West Point Lighthouse is also known as one of the best spots on the island to view a sunset!
The beach is lifeguarded during the summertime.
You'll also find a marina for fishing boats and pleasure craft!
Related: Best Beaches on PEI to Visit this Summer
Is West Point Lighthouse haunted?
West Point Lighthouse has been called haunted by many islanders. In fact, it's made the list of one of Canada's most haunted places!
I have to admit, driving up to the lighthouse on a gloomy day is a bit eerie, especially during the winter when no one is around. I caught myself on more than one occasion glancing up at the windows expecting the curtains to move.
It's rumoured that William MacDonald resides here – turning lights on and off. Some have even caught glimpses of a bearded man in the corner.
We can probably say the lighthouse is visited rather than haunted – it's likely the old keepers returning to see how the lighthouse is being kept.
There are also reports of a phantom ship fully engulfed in flames making its way through the Northumberland Strait. On more than one occasion, ferries from Wood Islands and Borden have gone out to aid the burning ship, only to witness it disappearing right before their eyes.
West Point Lighthouse Inn
Are you looking for a unique place to stay on PEI? Stay at Canada's first inn in an active lighthouse!
West Point Lighthouse is designated as a heritage site, and is ranked among the top 11 Lighthouse Inns in the world as the most picturesque!
This isn't hard to understand why – the striking black and white towering lighthouse contrasts a red sand beach.
West Point Lighthouse Inn features the Tower and Keeper's Quarters directly in the lighthouse, plus 11 seaside units with private decks and balconies facing the ocean.
Continental breakfast is included!
You can stay at the West Point Lighthouse Inn from June – October.
Rates start at $169 + hst/night.
Location
364 Cedar Dunes Park Rd
West Point
Drive from Charlottetown: 1:45 hours
Drive from Summerside: 1 hour
Cost: Free to visit the grounds of West Point Lighthouse. Admission applies to the museum.
Related Post
Pin it for later!