Prince Edward Island is a beach lover's paradise!
With expansive stretches of white and vibrant red sandy beaches and ever-changing sandstone cliffs, visiting the beaches here is one of the top things to do on Prince Edward Island.
Canada's smallest province has more than 800 km of beaches along 1100 km of shoreline. This makes PEI the perfect place to visit to experience some of the best beaches in Canada!
The beaches on PEI are incredibly diverse; each one offers something different, whether its soft white sand that goes on for miles, brilliant red stretches of shoreline, beaches flanked by craggy cliffs, or grassy dunes rolling out to the ocean, there's a beach for everyone.
The hardest decision you'll have to make is which one of these amazing beaches to visit!
This post contains affiliate links which means I earn compensation when you click on the links at absolutely no extra cost to you! Feel free to read my disclosure policy. Thank you for supporting my blog!
Plan your next vacation using these tools!

✈️ Book flights: SkyScanner
🏨 Book hotels: Booking.com
🚘Book car rentals: RentalCars.com
🎫Book tours: GetYourGuide
🌍Favourite travel item: Packing cubes
🧳Favourite travel bag: Osprey 40L Fairview
🩹 DIY Travel Medical Kit
💸 20 Cheap Travel Items Under $20
Top Beaches in Prince Edward Island
Whether you're looking for a day of fun in the sun, relaxing by the cool ocean breeze, building sandcastles in the soft white sand, clam-digging or hunting for seashells on fine red sand and sea glass, there's a beach for everyone!
This list of the best beaches on PEI include some of my favourites on the island. There are limitless options for exploring beaches during the summertime.
Singing Sands Beach at Basin Head Provincial Park
Singing Sands Beach is one of the best beaches to visit on the eastern side of PEI. Just past the port town of Souris is Basin Head Provincial Park. Singing Sands beach is THE place to be on a hot summer's day, with its refreshment stands and 14 km of soft, white powdery sand.
With its stunning red cliffs at one end of the beach, you'll want to spend the entire day lounging in the sun listening to the sound of the waves lapping against the shoreline.
Aptly named Singing Sands for its high silica content which squeaks or "sings" to you as you walk along it on dry days.
The main area of the beach is supervised during the summer and is a perfect place to bring the family. Watch kids (and kids at heart) jump off the wharf that divides the beach and the water channel into some of the warmest water you'll find in Prince Edward Island, occasionally reaching 70 degrees F.
Public restrooms and washroom facilities are on-site and plenty of free parking. There is a short walk down to the beach from the parking lot.
End your visit to Singing Sands Beach by visiting the Basin Head Fisheries Museum, located next to the parking lot for a look back in time at the history of the local fisheries that used to dominate the area.
Where to stay: Stay at the adorable B&B The Library Inn in charming Souris, just 10 minutes from Basin Head Provincial Park.
Distance from Charlottetown: 70 minutes
Cavendish Beach
You can't visit Prince Edward Island without visiting Cavendish Beach! While beaches span 60 km along the coast of Prince Edward Island National Park, Cavendish Beach is the most popular.
The expansive white-sand beach seems to stretch on forever, flanked by red sandstone cliffs and rolling waves.
There are numerous scenic trails to take past dunes and cliffs, through forested areas, or on boardwalks over marshy areas. You can also camp at Cavendish and relax by a campfire after a day by the ocean.
Cavendish Beach is supervised during the summer months, and there are washrooms, change room facilities, and concession stands on-site. Since this beach is the most popular on the island, be prepared for it to be busy. However, with plenty of parking and miles of beach, you won't have a problem finding a spot all to yourself!
Why is Cavendish so popular?
Cavendish is so well-known from its Anne of Green Gables connection! Stop by the Anne of Green Gables Heritage Place for a tour of the homestead that inspired author Lucy M. Montgomery to write the beloved novels. Anne of Green Gables was published in 1908 and has since garnered millions of fans who have travelled to Prince Edward Island to experience the storybook setting.
Where to stay: Stay nearby at the Boardwalk Motel, just 18 minutes walk from Cavendish Beach! Shop nearby at the Cavendish Boardwalk and check out great eateries at Avonlea Village. The Boardwalk Motel is also the perfect central location to explore all things Anne of Green Gables.
Distance from Charlottetown: 25 minutes
Thunder Cove Beach
Update: Sadly Hurricane Fiona took Teacup Rock as one of her victims and this iconic sandstone formation is no longer at Thunder Cove Beach. However, this is still one of my favourite beaches on PEI and is well worth stopping at!
Thunder Cove Beach is definitely one of my favourite beaches in Prince Edward Island. Its remoteness and lack of facilities may not draw crowds like Cavendish or Basin Head, but Thunder Cove Beach is home to an incredible sandstone formation known as Teacup Rock.
Located just north of Kensington along the north shore of PEI, Thunder Cove is one of the island's best hidden gems and is one of those magical settings you'll want to keep returning to.
Thunder Cove's soft red-sand beach against the red cliffs makes you feel like you're on another planet entirely! For the adventurous type, finding the stunning Teacup Rock can be a bit of an adventure, especially during high-tide! Follow the beach, make your way around a sea cave and you'll come across the towering natural formation.
Note the sandstone is unstable and fragile; please refrain from climbing the cliffs!
If you're visiting Prince Edward Island, you should try to make a visit to this beautiful place; sandstone is constantly changing and is at the mercy of the tide and weather which means it won't look the same next time you visit! The Teacup Rock is fragile and may topple at any given time. Take advantage of the fact it's still there and make a trek to see it while you can!
Where to stay: Stay in the adorable and peaceful Thunder Cove Cottage that sleeps up to 9 people with private beach access just a 4 minute walk away.
Distance from Charlottetown: 60 minutes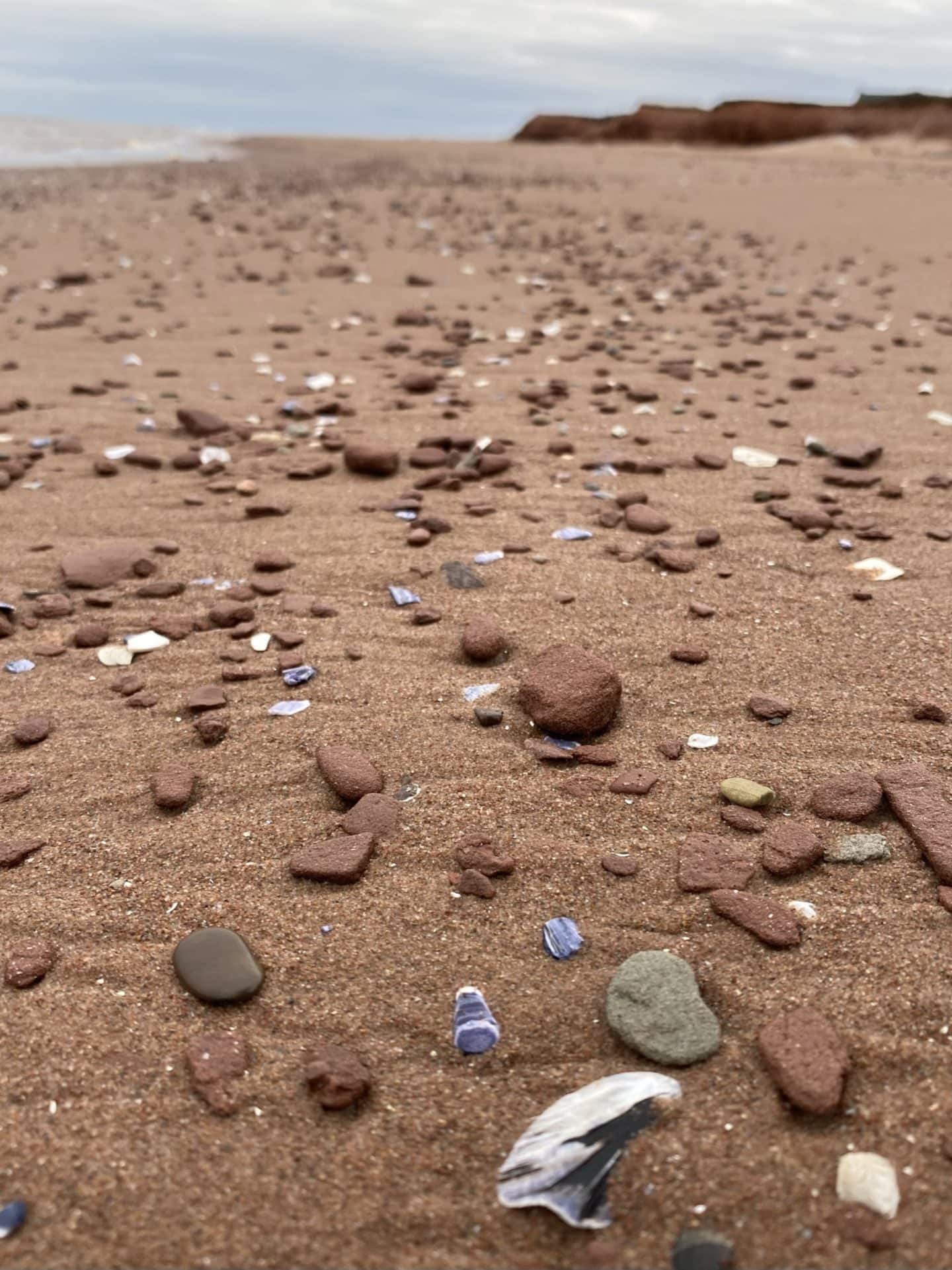 Ross Lane, Stanhope Main, and Covehead Beach
Located within the scenic Prince Edward Island National Park, Ross Lane, Stanhope Main and Covehead Beach are some of the quieter beaches you'll find. With the same great views and soft sand as the more popular Brackley Beach, these three smaller beaches are still supervised with half the crowds and more space to spread out.
Ross Lane is a little hidden gem tucked between Brackley Beach and Stanhope Main. There's a short, raised walkway from the parking lot to the beach for easy access, lots of sandbars and warm shallow water, perfect for family days in the sun. It's loved by locals but less-frequented by visitors.
Stanhope Main stretches miles of sandy beach and shifting sand dunes. The tranquillity of Stanhope Main beach makes it beloved by locals. This quiet beach has washroom facilities on-site so you can spend your day lazing in the sun listening to the waves gently roll in.
Of course, there is also the iconic Covehead Beach which can't be missed. Covehead Harbour Lighthouse, one of 63 lighthouses in PEI, stands guard at the entrance to Covehead Harbour. This quieter beach is close to Covehead Wharf, where you can wander over after relaxing on the beach to grab some freshly-caught seafood (try the lobster roll!) and watch the fishing boats make their way into the harbour.
Where to stay: Rest at the quaint Victorian-style and family-run Shaw's Hotel & Cottages, just a 5 minute walk from the beach.
Distance from Charlottetown: 20 minutes
Help protect PEI's landscape by sticking to designated paths and boardwalks. The north shore loses more than 1 foot of land a year due to coastal erosion.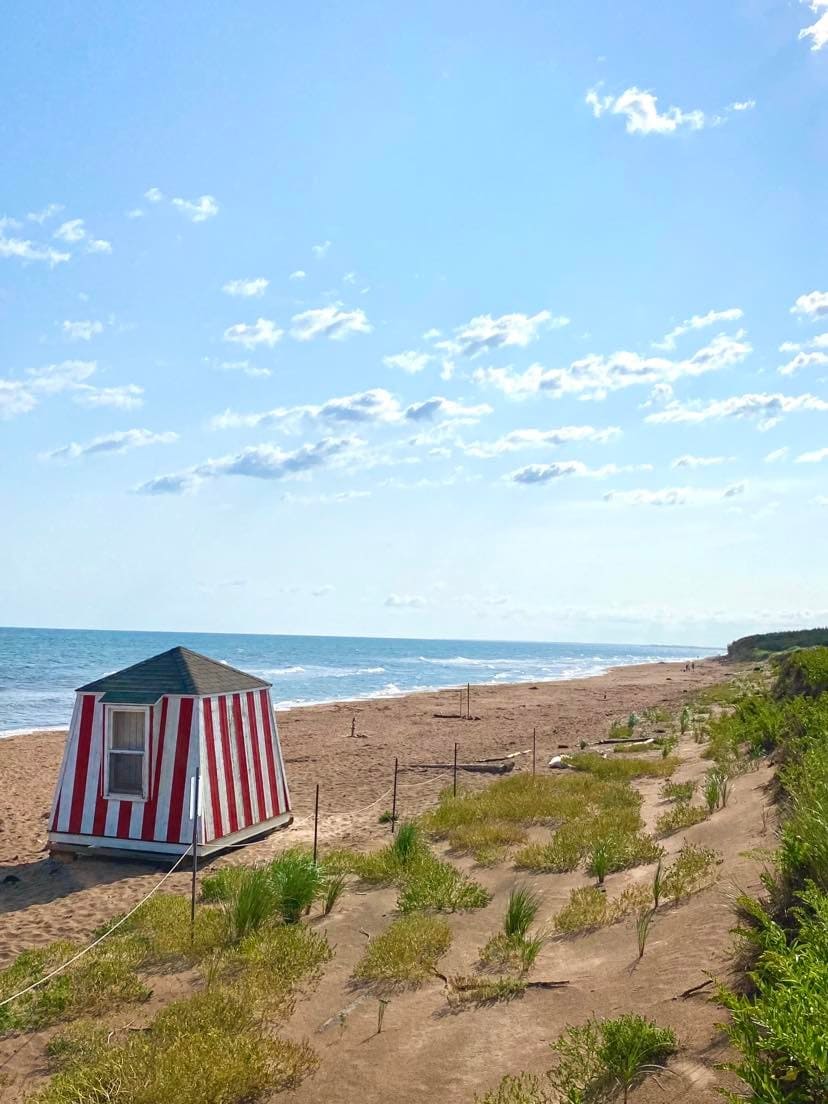 Greenwich Beach
Greenwich Beach is one of the most unique beaches I've ever seen, and definitely ranks in the top best beaches in Prince Edward Island.
Located within PEI National Park, Greenwich Beach is famous for its parabolic dune system, pristine white sand beaches, and extensive trail network – including a 700 metre floating boardwalk!
The sand dunes at Greenwich are the largest on the island – ever shifting and at the mercy of Mother Nature. This delicate ecosystem is incredibly rare in North America.
Featuring picnic areas, interpretive signs, supervised swimming, and restrooms, a visit to Greenwich Beach is an ideal family escape.
You'll find this beach in PEI National Park less busy than others, since you have to walk a ways from the parking lot to reach the beach (especially if you want to take the floating boardwalk, which is quite an experience in itself!), but the stunning scenery and great swimming makes it worth the walk!
Where to stay: Stay in a Mongolian Yurt at Nature Space Resort! Complete with its own hot tub and access to nature trails, you'll have an unforgettable stay in this luxury sleeping pod, just 6 km from Greenwich Beach.
Distance from Charlottetown: 50 minutes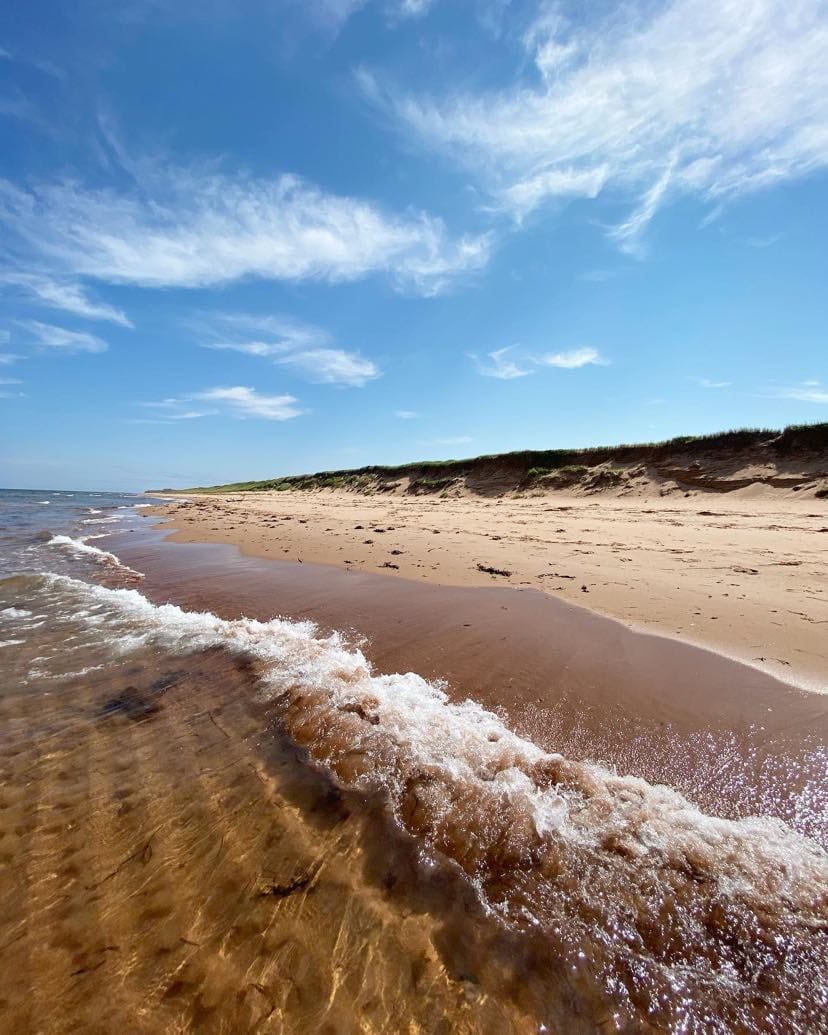 Cedar Dunes Provincial Park (West Point)
Situated at the most western point of Prince Edward Island, West Point at Cedar Dunes Provincial Park is a stunning spot to watch the sunset after a day of playing at the beach.
West Point is less frequented because it's one of the furthest beaches from Charlottetown, but it makes it one of the most relaxed and laid-back beaches on the island. Hunt for seashells, enjoy supervised swimming, stroll the boardwalk, and if you're lucky, you'll even spot a seal!
Cedar Dunes is picture perfect – with its black and white striped lighthouses contrasting the red sand on the beach. You can even stay in West Point Lighthouse (it's reportedly haunted!) or at the nearby campground (and one of many campsites in PEI), where you can fall asleep while listening to the gentle rolling of the waves.
Where to stay: Stay and play at the cozy Mill River Resort in O'Leary, go golfing, head to the spa, or visit the famous O'Leary Potato Museum. Mill River Resort is 30 km from West Point and is an ideal central location to explore the western side of PEI.
Distance from Charlottetown: 1:40 hours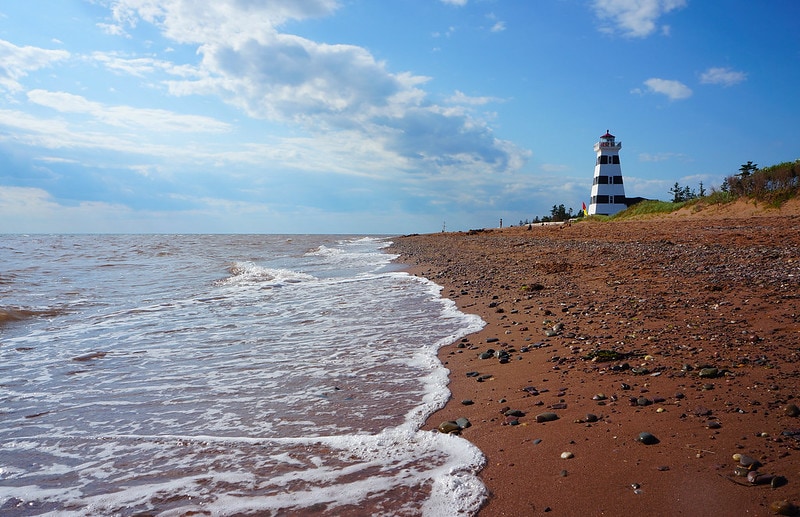 Panmure Island Beach
For soft, powdery-white sand with stunning views of the water and close to the oldest wooden lighthouse in PEI, Panmure Island Beach is known for its long stretch of pristine coastline, undulating sand dunes, and sheltered swimming area. It's recognized as one of the most beautiful beaches in Prince Edward Island.
Panmure Island Beach is supervised during the summer months, serviced and unserviced campsites, washrooms, and change room facilities.
The drive over to Panmure Island is stunning; a narrow causeway built in the 1960s to connect Panmure Island to the rest of PEI separates the ocean from St. Mary's Bay.
Visit historic Panmure Island Lighthouse, which makes for a scenic backdrop for photos of the coastline with neighbouring horses basking in the sun.
Where to stay: Catch the sunset on the eastern coast of PEI at a private, picture-perfect cottage by Cape Bear Properties. Visit a nearby winery or brewery and explore some of the island's most beautiful lighthouses, 16 km from Panmure Island.
Distance from Charlottetown: 55 minutes
Grand Tracadie Beach
Grand Tracadie Beach is one of the most unique beaches in PEI. Once you're in the water, you'll notice a steep dropoff perfect for swimming. You won't have to contend with any rocks or seaweed; you'll be in waist-deep water a few steps from the shore.
The beach is less than a minute's walk from parking, is free to visit and is dog-friendly. It's loved by locals and isn't as familiar to tourists.
6 km of hiking trails on Blackbush Island take you through a one-of-a-kind environment through some of the oldest sand dunes in PEI and is home to rare species of birds and animals.
Stop at the nearby fishing port to enjoy some fresh seafood and watch the lobster fishing boats make their way into harbour.
Where to stay: Relax at Tracadie Cottages, just a two minute walk to the sand dunes at Tracadie Bay.
Distance from Charlottetown: 25 minutes
Frequently asked questions about beaches in PEI
Here are some popular FAQs about beaches in Prince Edward Island!
Which beaches in PEI are supervised?
Lifeguards are on duty at provincial park beaches during the summer months, from Canada Day weekend to Labour Day.
Swimming conditions are posted by 11 am daily.
Supervised beaches in July and August in PEI include:
Cavendish Beach
Cavendish Campground Beach
Brackley Beach
Stanhope Beach
Ross Lane Beach
Greenwich Beach
Where are the white sand beaches in PEI?
White sand beaches can be found at Basin Head (Singing Sands Beach), PEI National Park – Ross Lane, Stanhope Main, and Covehead Harbour Beach, Panmure Island Beach, and Greenwich Beach. Of course, there are many more white sand beaches in PEI, but I've included some of my favourites in this beach roundup!
Which beaches in PEI have red sand?
You can find red sand beaches at West Point (Cedar Dunes Provincial Park) and Thunder Cove Beach.
If you're looking for a striking red beach in PEI, head to Argyle Shore Provincial Park! It's narrow and flanked by tall sandstone cliffs, but it's one of the most beautiful beaches in PEI to experience the red sand.
Can you swim in the ocean in PEI?
Yes! You can swim in the ocean in PEI. Late July and August are generally considered the months to swim since the water reaches a comfortable temperature to enjoy swimming. Average water temperatures at popular beaches reach an average of 20 degrees celsius this time.
Are beaches free in PEI?
There are many free beaches in PEI. Some beaches are a part of PEI National Park, which requires a day pass or National Parks Pass to enter (which is well-worth the money and pays for itself in as little as seven days when compared to daily admittance!).
What is the nicest beach in PEI?
I think the nicest beaches in PEI are subjective to personal taste, but a few of the nicest beaches I've visited include Thunder Cove, Basin Head, and Brackley.
If you like long walks on the beach, I really enjoyed Beach Point in Murray Harbour, St. Peter's Harbour Beach, and Cavendish Beach.
Are pets allowed at beaches in PEI?
Pets are not permitted on PEI National Park beaches. These beaches are striving to protect the endangered Piping Plovers that nest in the beach sand and dunes.
Related Posts
Pin it for later!