Prince Edward Island – an absolutely stunning province you'll fall in love with instantly.
From the gentle breeze of the salty ocean, rolling, lush fields, fiery sunsets, wide open spaces, and the freshest seafood you'll ever find, Prince Edward Island is one of those places where you'll get an instant sense of calm.
Charlottetown has a small town feel, but there's an astounding amount of creativity with its history, attractions, and restaurants, and this provincial capital makes for a perfect central base to explore the island.
Everything seems to slow down in PEI, but don't let Canada's smallest province fool you – there are plenty of things to see and do in and around Charlottetown!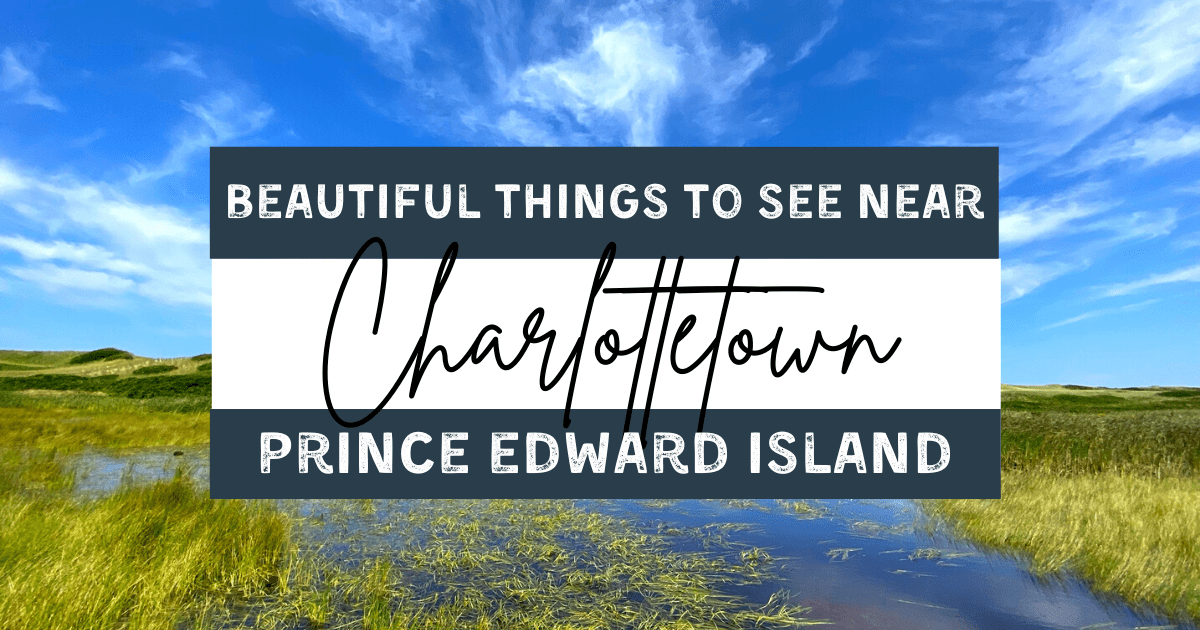 This post contains affiliate links which means I earn a small commission if you purchase through one of my links at absolutely no additional cost to you. Feel free to read my disclosure policy. Thank you for supporting my blog!
Plan your next vacation using these tools!

✈️ Book flights: SkyScanner
🏨 Book hotels: Booking.com
🚘Book car rentals: RentalCars.com
🎫Book tours: GetYourGuide
🌍Favourite travel item: Packing cubes
🧳Favourite travel bag: Osprey 40L Fairview
🩹 DIY Travel Medical Kit
💸 20 Cheap Travel Items Under $20
Downtown Charlottetown
Downtown Charlottetown is very walkable, with many things to admire along the way, and is the ideal central spot to stay during your visit to PEI since there's an abundance of shops, restaurants and bars, with easy access to the highway.
The vibe of downtown Charlottetown is relaxed and cozy, with lively streets with a beautiful, colourful backdrop of stunning Victorian-era homes and architecture to check out. Walk along the bustling harbourfront and marina for a soothing breeze and beautiful views.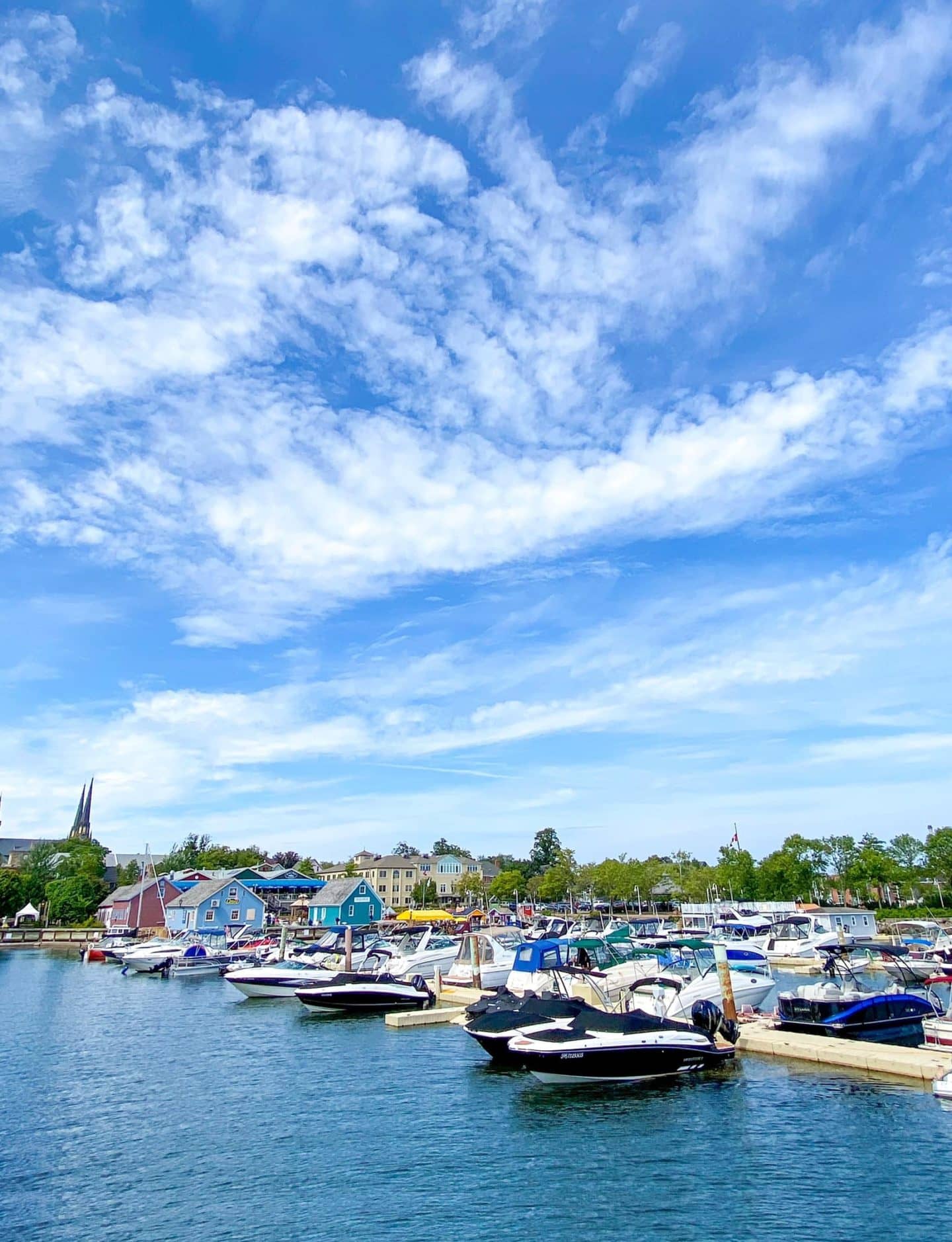 You can't visit Prince Edward Island without trying a lobster roll! I miss the seafood so badly – including the incredible scallops and fish and chips! PEI is also an oyster lover's paradise. You can't find fresher seafood out here!
There are so many amazing places to try seafood in Charlottetown. Try Peakes Quay Restaurant or Salt & Sol at the Yacht Club for for water views (VERY popular), The Merchant Man (there's an amazing blackened fish sandwich here!), or the floating restaurants. Of course, you can't come to PEI without trying the fries, too! There's something special about the potatoes in Prince Edward Island I couldn't get enough of!
Keep in mind that downtown Charlottetown, now that travel restrictions have been eased, can be very busy at night, and since most restaurants don't take reservations, you will need to go early to get in. Or, if you don't mind waiting, you can show up and leave your name and number to get a call when there's seating available.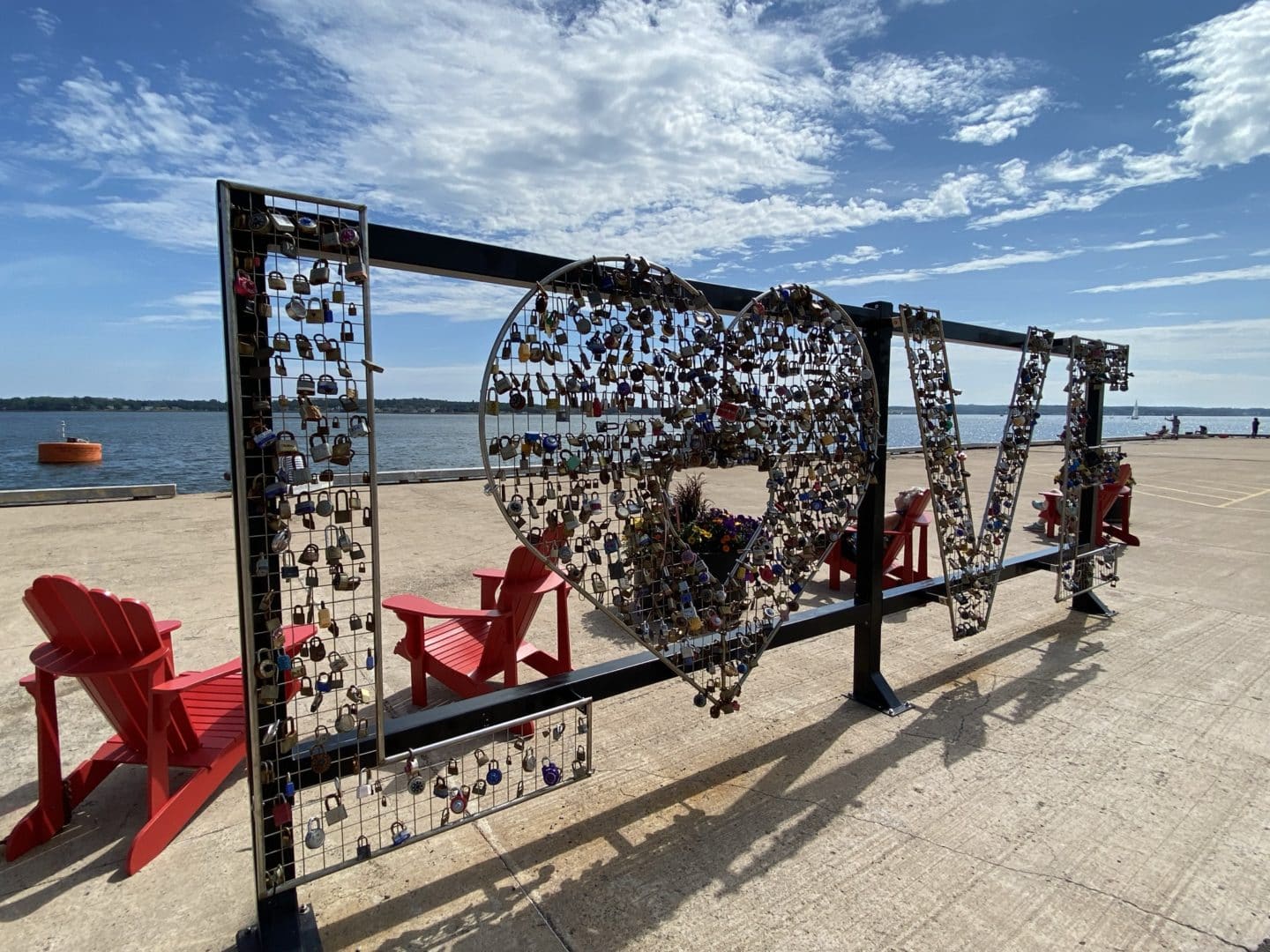 You also, without a doubt, have to try the ice cream. Touted as Canada's best ice cream, Cow's Creamery offers an overwhelming amount of delicious ice cream flavours using natural, high-quality ingredients. You'll be hard pressed to pick one out!
Charlottetown is proud to be the birthplace of the Confederation! In the Confederation Centre of Arts, you can see a replica of the Confederation chamber where politicians met in 1864 at the Charlottetown Conference, where there were discussions to unit the three maritime provinces and eventually leading to the uniting of Canada.
Stroll down Victoria Row, a pedestrianized street, where restaurants patios, brightly coloured picnic benches, and mature trees line the street. Restaurant-goers are able to experience Charlottetown's outdoor music scene with the appearance of local musicians in the in the warmer months!
Point Prim Lighthouse
PEI's oldest lighthouse is surely worth a visit! This stunning lighthouse is arguably one of the most beautiful on the island and was built in 1845, and is the oldest working lighthouse in Canada.
Designated as a National Heritage site, Point Prim Lighthouse sits on the edge of Point Prim, and you can climb this 61 foot high lighthouse for just $5 for sweeping 360 views of the Northumberland Strait and Hillsborough Bay.
Each platform of the lighthouse contains historic displays – and you'll even see the keeper's quarters; it's hard to imagine living in a lighthouse! Point Prim Lighthouse is the only round brick lighthouse in Canada – be sure to make the visit!
There's an adorable gift shop (and washrooms) located on site. Sit and relax along one of the benches and take in the views of the PEI coastline.
Take a guided tour in the summer months and learn about what it meant to be a lighthouse keeper, how the lenses were made, and the role that lighthouses have to guide ships safely on their course. Note that climbing the lighthouse is via ladders up four different platforms, but it is manageable.
Visit the Point Prim Chowder House while you're here, and definitely get the seafood chowder! This eclectic restaurant is the only one out this way, and it's full of patrons who make the drive out this way. Sit and enjoy the views and the water of Point Prim Lighthouse on one of the many tables that line the beach.
p.s. did you know there are over 60 lighthouses on PEI? Each is so unique and are iconic landmarks that make for stunning photos.
Distance from Charlottetown: 45 minutes
Address: 2147 Point Prim Road, Belfast
Hannah's Bottle Village
On the way to Point Prim is a whimsical place called Hannah's Bottle Village. This quirky place is along the way to Point Prim Lighthouse or the Point Prim Chowder House and is well worth visiting, whether you're with children or travelling alone as a couple (as kids at heart!).
Close to 50,000 bottles have been donated to this unique place, where over a dozen small buildings, each with a unique theme, have been constructed using bottles and cement, many of which you can go inside. Pay attention to the walls of these buildings from the inside (especially the sports building!), where coloured glass bottles create eye-catching patterns. It's an incredibly photogenic place!
Donations go towards the IWK Foundation for children in Halifax; and over $60,000 has been raised to date! Each of these buildings were created in memory of family and friends, and the amount of work gone into creating such a space is impressive. If you're lucky, you'll get a chance to talk to Gar, the owner, as he tells you interesting facts about the village.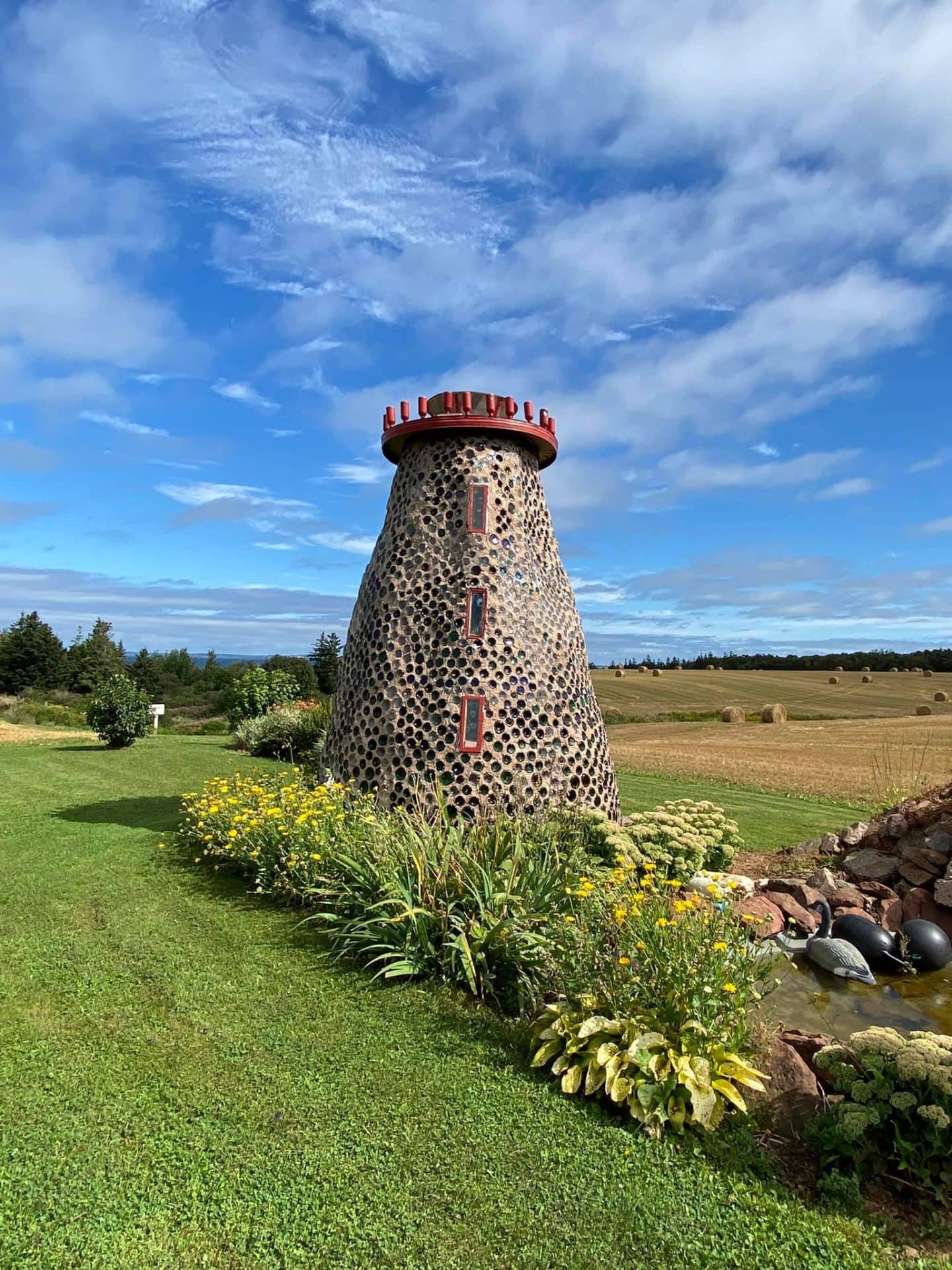 Take a stroll down the nature trail for views of the water and rolling farmland and humourous displays indicative of the owner's personality.
You'll also drive by an interesting looking tree on the main road leading to Point Prim and Hannah's Bottle Village. This tree is packed full of colourful lobster buoys – you can't help but stop and take a picture!
Distance from Charlottetown: 40 minutes
Address: 1696 Point Prim Road, Belfast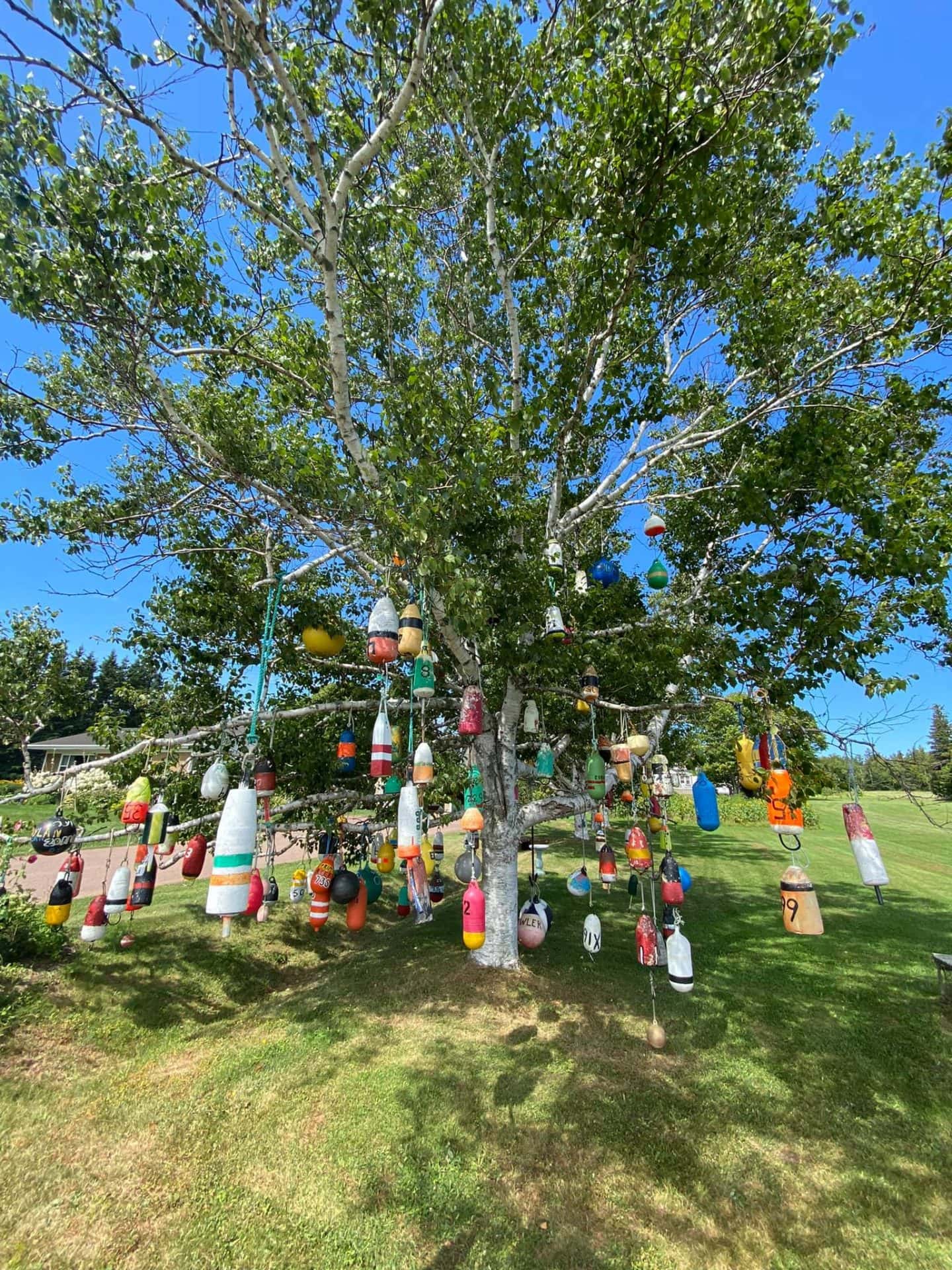 PEI National Park
The island's only National Park of the province is home to some of the most stunning scenery on the island. The park spans 60 km of coastline and is divided into three sections: Greenwich, Brackley-Dalvay, and Cavendish-North Rustico. They're all easily accessible by car, and are within an hour's driving distance from Charlottetown!
Home to forests, wetlands, cliffs, beaches, sand dunes and more, PEI National Park is a must-visit while on the island, and is a popular spot for hikers, beach-goers, bikers, bird-watchers, and campers.
Greenwich
The landscape here is so unique and diverse, from shifting giant sand dunes, pristine, soft beaches, a 700 meter floating boardwalk, hiking trails with dense forest, and incredible coastal views.
The view of the ocean once you climb over the dunes is unparalleled – and landscape opens up and the views are for miles in every direction.
There are plenty of interpretive signs to learn more about the flora and fauna at Greenwich. During the summer months, visit the Greenwich Interpretation Centre which features interactive media bringing 10,000 years of human history in the area to life.
Distance from Charlottetown: 60 minutes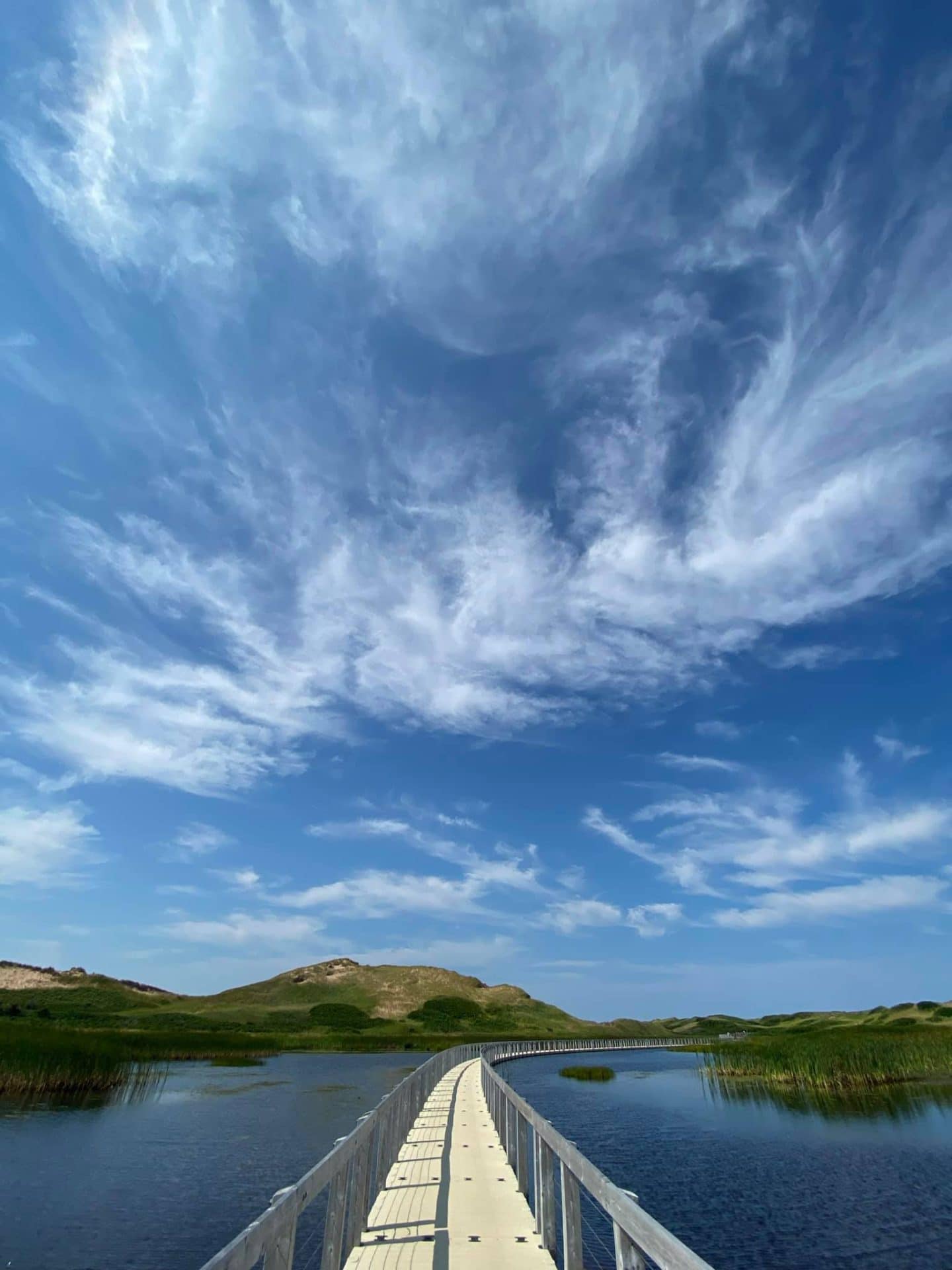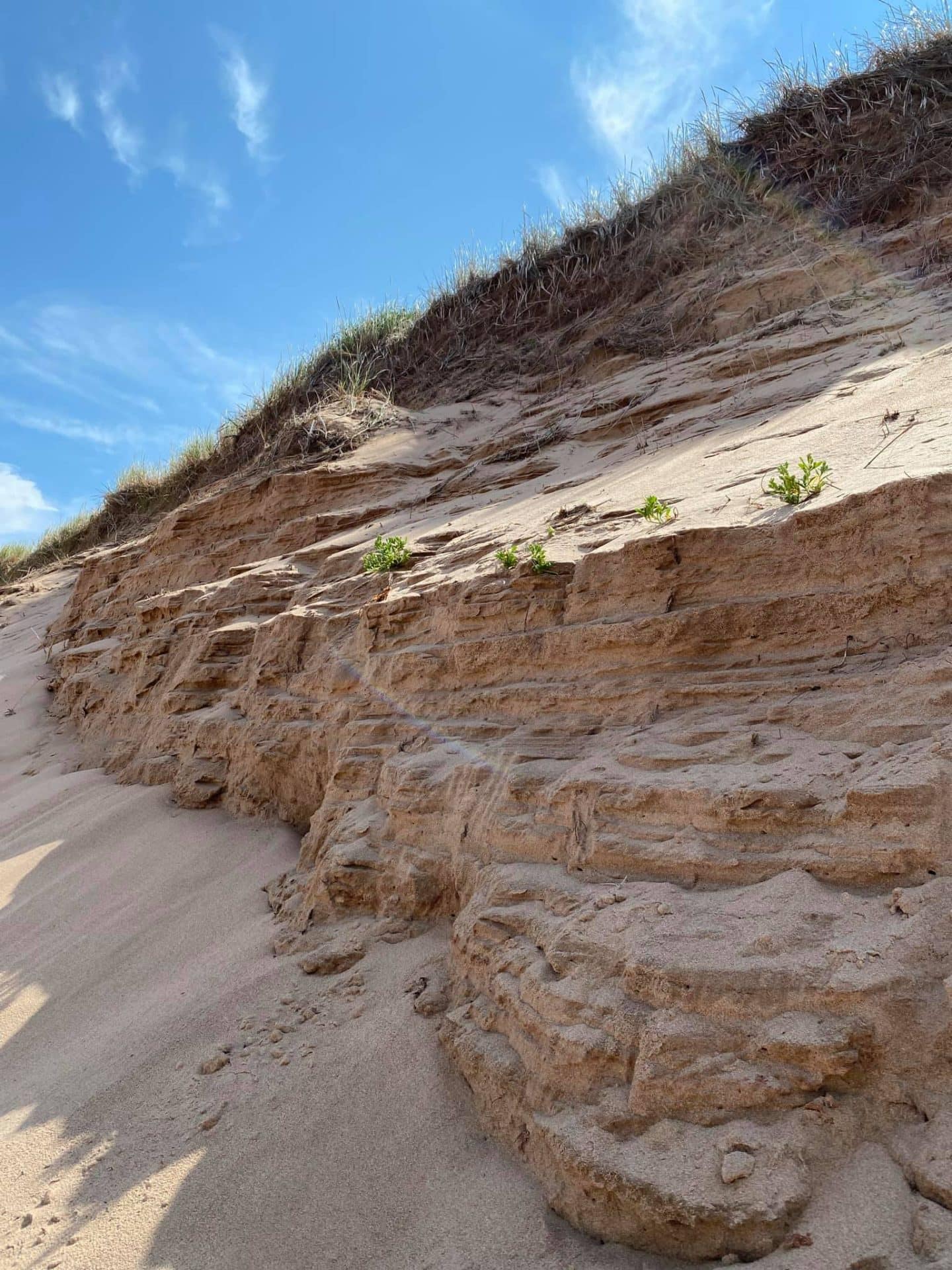 Brackley-Dalvay
Just a short drive from Charlottetown, Brackley Beach is on the north shore of the island with numerous beach accesses great for swimming, including an expansive multi-use trail perfect for bikers, walkers, and joggers.
It's a popular spot for camping and it's not hard to see why. The beaches here are much quieter and don't see as much traffic as other beaches nearby. With sand dunes, pristine beaches, and great spots for stargazing, Brackley is the perfect escape to nature not far from town!
Distance from Charlottetown: 20 minutes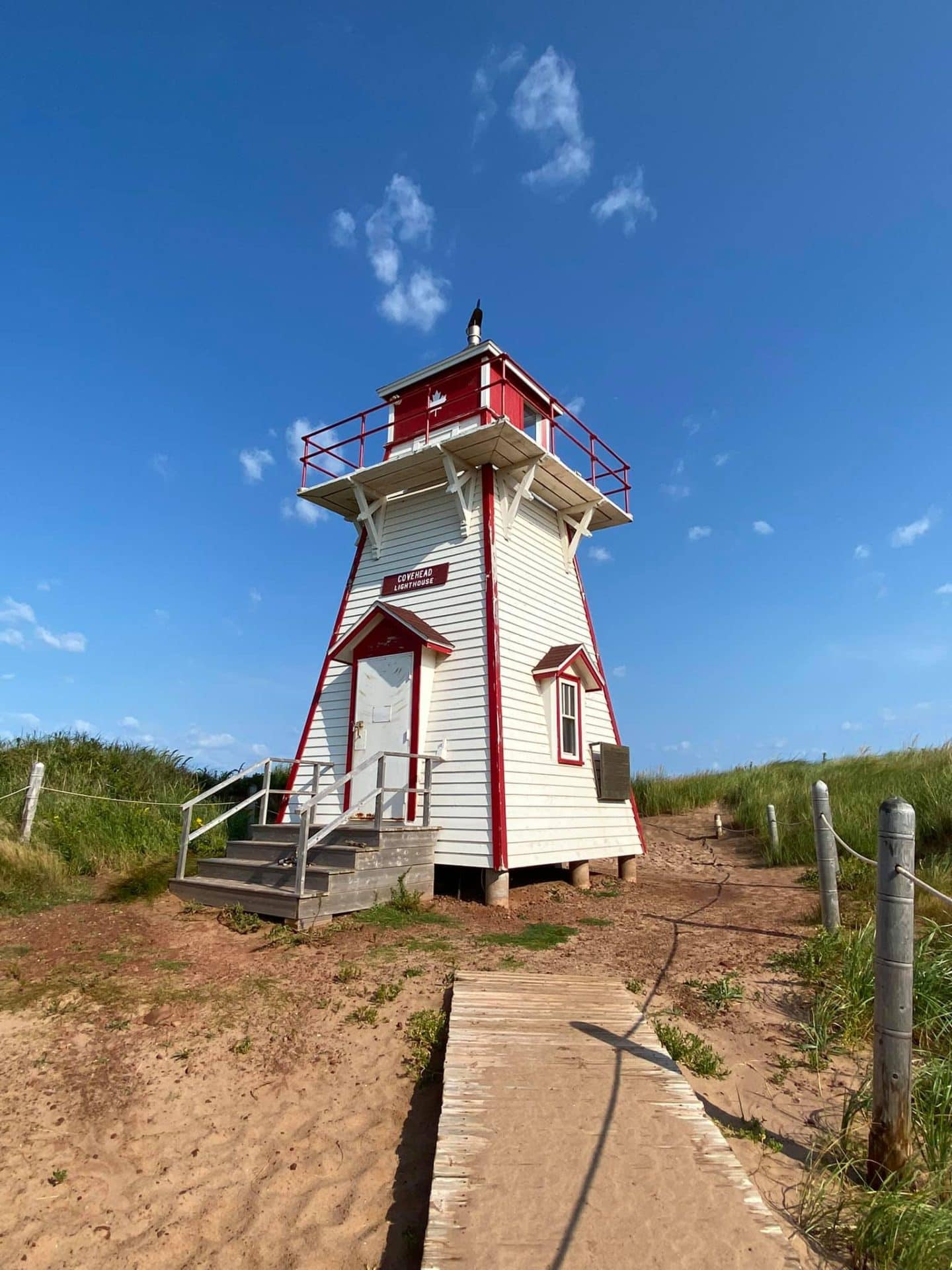 Cavendish-North Rustico
The rugged cliffs of Cavendish are something to be seen. Well-known for its connection to Anne of Green Gables, this is one of the most beautiful areas I've ever been to. The red sand makes for a stunning backdrop against the ocean.
Take a drive along the Gulf Shore Parkway. With numerous access points to the beach, safe swimming spots, and walkways, and interpretive signs, you'll fall in love with the scenery instantly.
Distance from Charlottetown: 45 minutes
Cavendish
The Cavendish area is most famous for its connection to Lucy Maud Montgomery, writer of the famous 1908 novel, Anne of Green Gables. The area draws thousands of visitors every year for its historical significance and stunning scenery.
Green Gables Heritage Place
Visit one of the main attractions of Cavendish and see the place that inspired L.M. Montgomery to write Anne of Green Gables! When the novel was published, people could only dream of visiting such an idyllic place. As a National Historic Site, Green Gables Heritage Place not only tells the story of L.M. Montgomery, but also Anne Shirley. Explore the home, property, gardens and walking trails that inspired the beloved novel.
Take a walk down Lovers Lane, the Haunted Woods, and Balsam Hollow for scenic trails through the woods from which Montgomery found her inspiration.
You can even get a picture with Anne Shirley here, too!

Open daily from June – October.
Admission: $7.50 per adult, $6.60 for seniors and 17 and under are free!
Address: 8619 Cavendish Rd, Cavendish
Distance from Charlottetown: 40 minutes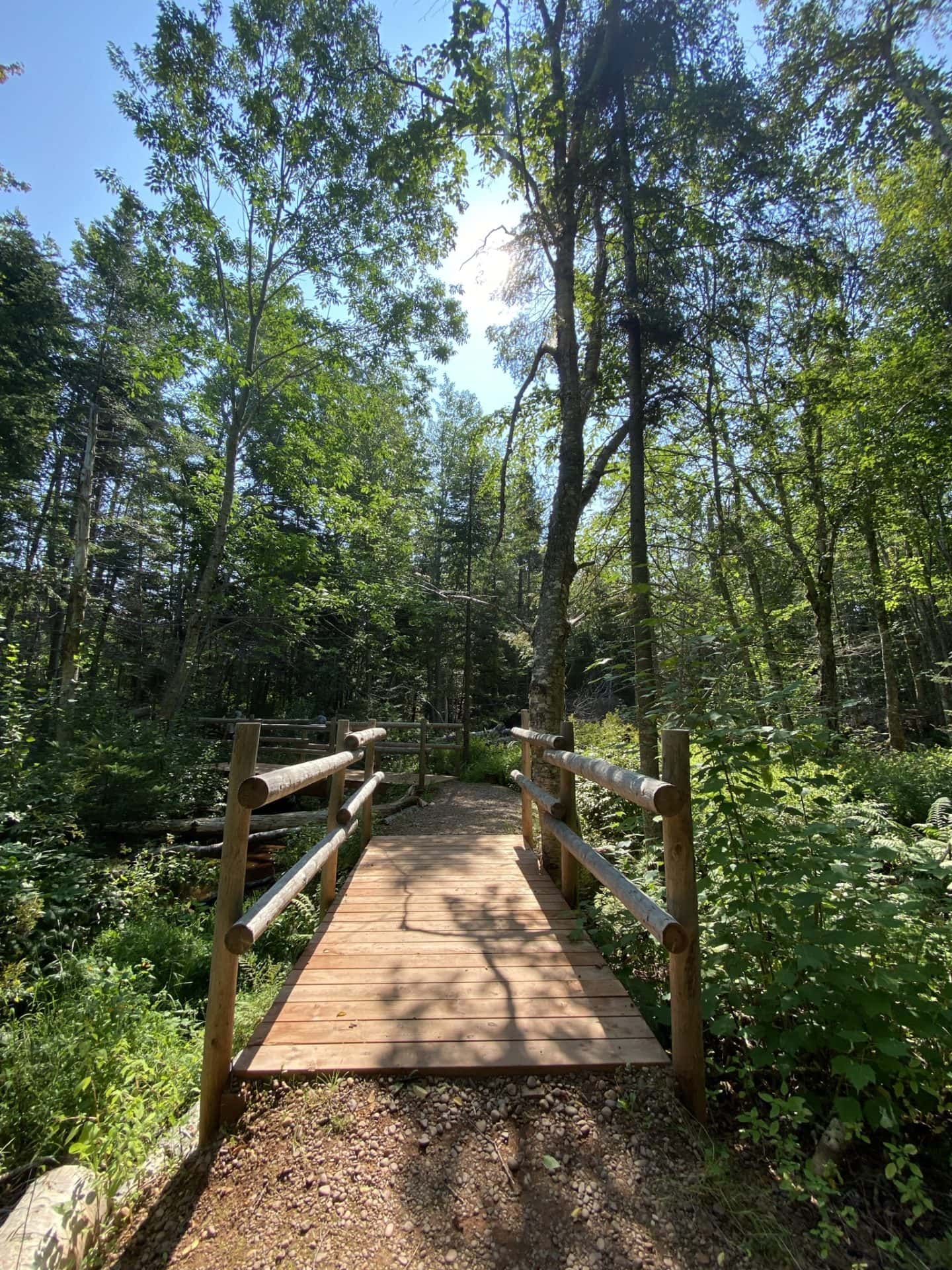 Birthplace of L.M. Montgomery
Just a short drive from Cavendish is the home Lucy Maud Montgomery was born in and see personal artifacts like her wedding dress and scrapbooks containing copies of her stories and poems.
Born in 1874, she was raised by her grandparents when her mother died while she was just an infant.

Her first novel was rejected in 1905 by numerous publishers, and after continuously feeling dejected, she put her manuscript away for years until finding the determination to make it work. In 1908, Anne of Green Gables was published and became an immediate best-seller, and the story unfolded into a series of eight novels.

Montgomery went on to publish 20 other novels, all based in PEI, along with poems and short stories. She was dedicated to journal writing where many of her thoughts about her community, war, illness, and her own pain contrasted with her love for nature, beauty and her beloved friendships.

She certainly captured the charm of Prince Edward Island that continues to draw thousands of tourists every year.

L.M. Montgomery died in her home in Toronto in 1942. She is buried in Cavendish.

Open mid-May through to Thanksgiving.

Admission: $4 per person
Address: Corner of Rte 6 & Rte 20, New London
Distance from Charlottetown: 40 minutes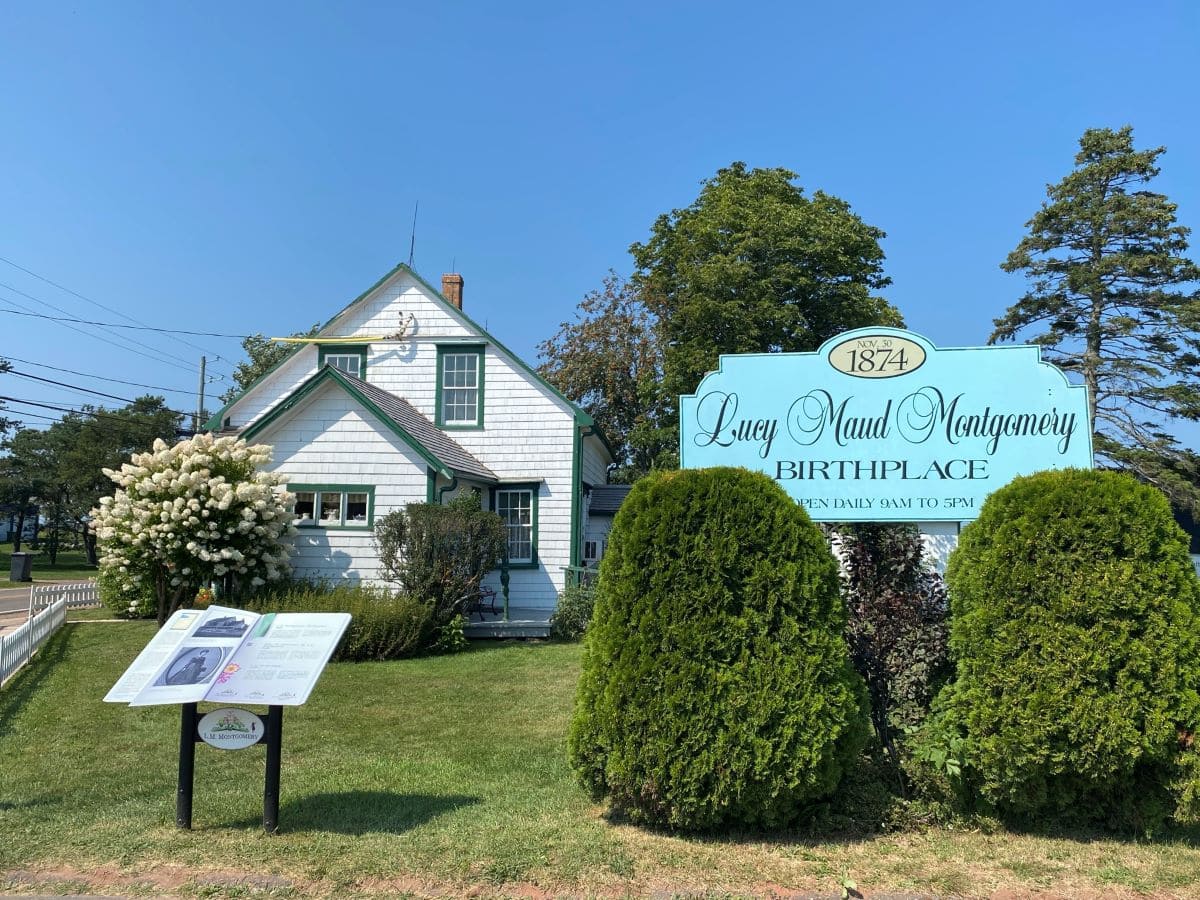 Anne of Green Gables Museum
Built in 1872 by L.M. Montgomery's aunt and uncle Annie and John Campbell, this beautiful homestead now acting as the Anne of Green Gables Museum contains artifacts she wrote about in her novels and personal memorabilia.
Reserve your private carriage ride and take in the scenic landscape, from flower fields, rolling meadows, red farmland and dirt roads, and of course passing by the Lake of Shining Waters.

Open daily. $6 admission per adult. Children 6-12 are $2.

Address: 4542 Route 20, Park Corner
Distance from Charlottetown: 45 minutes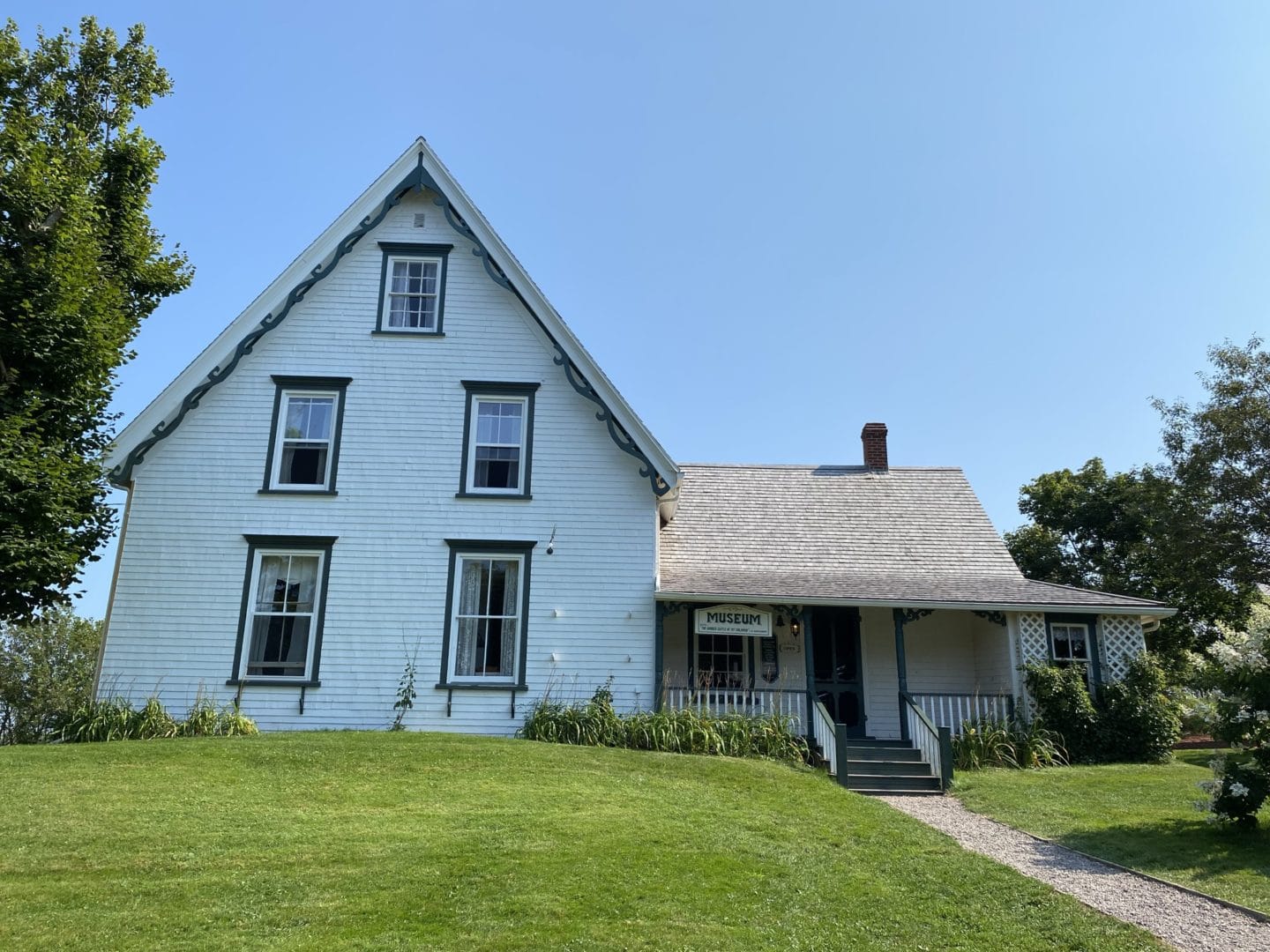 Avonlea Village
For Anne of Green Gables fans, Avonlea is the fictitious name author L.M. Montgomery gave to Cavendish. Here, you can tour through an adorable town made up of buildings replicated from the time of Anne of Green Gables, combined with heritage ones, that have been converted into shops and restaurants.

There is plenty of free parking, and it's also the site of the Cavendish Music Festival!

Open seasonally, from June to September.

Address: 8779 PE-6, New Glasgow
Distance from Charlottetown: 40 minutes
Cavendish Boardwalk
If you're looking for shops and restaurants in town, head over to the popular Cavendish Boardwalk.
From clothing stores, souvenir shops, and the best ice-cream on the island (Cows!), the Cavendish Boardwalk offers a unique shopping experience.
Ps. Island Clothing Co. has tons of inexpensive PEI apparel!

Address: 9139 Cavendish Rd, Hunter River
Distance from Charlottetown: 40 minutes
French River
Pull over at the lookout for a photo opportunity at French River, where colourful fishing huts and boats dot the river.
Known as the area where the "farm meets the tide", French River is one of the most picturesque fishing villages in Prince Edward Island. It's one of the most sought after locations for photographers and artists.
Where to find it: 5240 PE-20, Green Gables
Cape Tryon
This is without a doubt one of the most beautiful areas on the island, and to me, is the real PEI. Down some nondescript dirt road that looks like someone's driveway is stunning Cape Tryon, complete with its own lighthouse and jaw dropping views or gorgeous red sandstone cliffs, nesting birds, and dazzling water views.
This would be the perfect place for a picnic, while enjoying the sea breeze at this isolated spot.
The laneway is single drive, and quite rough. Be forewarned if you're in a car, there are plenty of ruts, but the scenery and the view of the cliffs is well worth the effort.
Distance from Charlottetown: 60 minutes
Distance from Cavendish: 25 minutes
Teacup Rock at Thunder Cove Beach
Update September 2022: Sadly, Hurricane Fiona claimed Teacup Rock as one of her victims.
This incredible sandstone formation will leave you in awe! The Teacup Rock at Thunder Cove Beach is an incredible place to visit and it'll feel like you're on another planet entirely! The red sand beach, stunning, rugged cliffs, sea caves, and sandstone sea stacks will leave you with lasting memories (and is by far one of my favourite places I've seen yet!).
It's a bit off the beaten path, making it the perfect secluded place to visit to soak it all in. Be sure to check the tide times before visiting, as you need to make your way around a cove to access the Teacup Rock!
Distance from Charlottetown: 60 minutes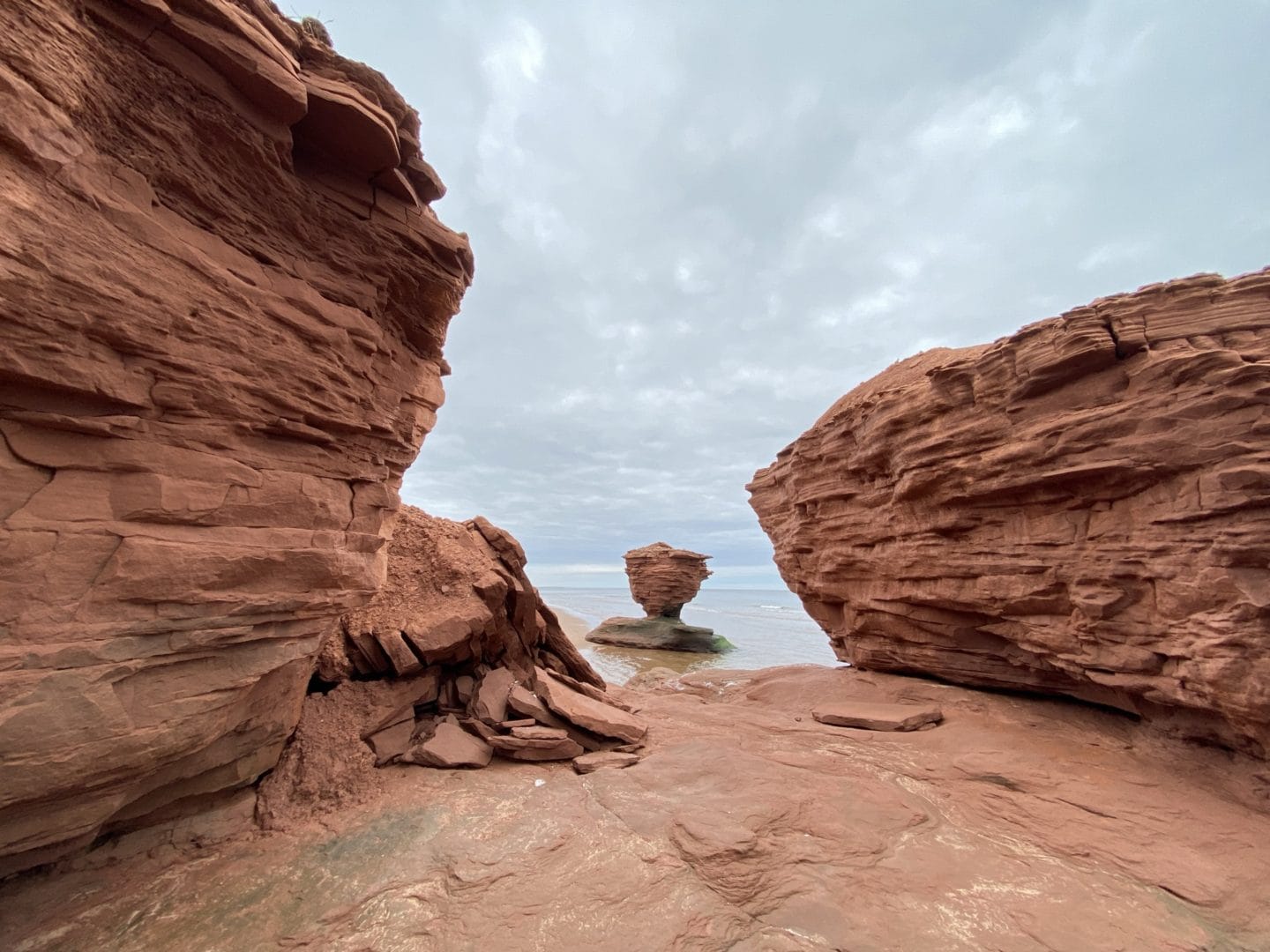 Knox's Dam
This hidden gem in PEI is a must-visit! Knox's Dam is located along the Montague River and was the site of the first hydroelectric plant that supplied power to the Town of Montague during the first half of the 20th century.
This scenic spot is perfect for nature lovers and it's free! There's a waterfall to check out, as well as fish ladder, where you can watch salmon and trout make their way through the ladder on a lazy summer day.
Knox's Dam is located at the corner of Sparrow's Road and South Montague Road. There's a small parking lot right on the corner with a marker sign.
Distance from Charlottetown: 35 minutes
Related Posts
Pin it for later!