Last updated: September 2022. I am still reeling from the devastation that Hurricane Fiona brought to the Maritimes. It's with great sadness to report that PEI's beloved Teacup Rock has become a casualty of Fiona. The Teacup Rock was my favourite spot on the island, as it was for many others. Sending love to all those affected by the hurricane, and I am grateful to have memories of this special place.
If you're looking for an otherworldly experience in Prince Edward Island, you have to visit Thunder Cove Beach for the Teacup Rock in Kensington. This off-the-beaten-path natural formation is something that should be seen, especially since the delicate sandstone cliffs are slowly eroding.
It really felt like I was on Mars when I came here during the winter. I had the entire beach to myself and the wide expanse of red sand, crumbling cliffs, and frozen pillars of ice made for an unforgettable experience. The Teacup Rock is a prime example of how we're all at the mercy of nature's forces, as the wind and water has shaped this unique formation for decades.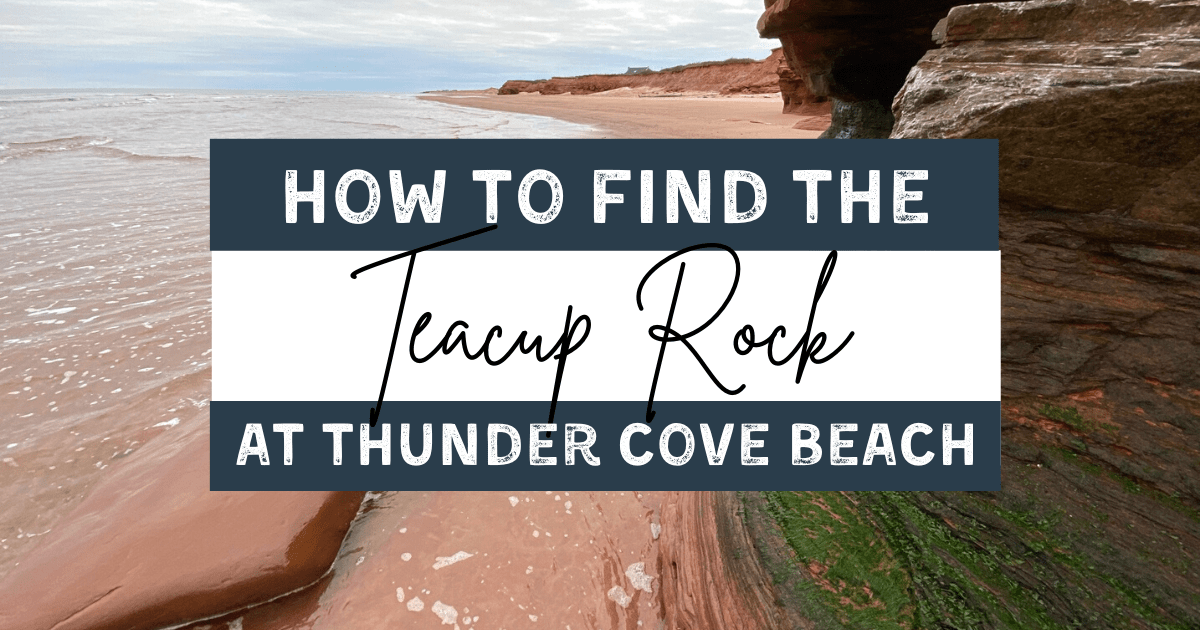 One of the best things about Teacup Rock is the short distance from Charlottetown. Thunder Cove Beach is only about an hour from downtown Charlottetown and is one of the many beautiful things to see from this charming city.
You'll quickly discover that Thunder Cove Beach is one of the best beaches in Prince Edward Island.
Where to Park at Thunder Cove Beach
First things first! There are no signs anywhere indicating you're at the right spot to see this natural wonder.
You'll have to park on Thunder Cove Road, before you come across a bunch of no parking signs. This is a dirt road that is very wide here to accommodate many cars. Depending on when you visit, you'll know you're in the right spot when you see other cars parked close by. I visited during the winter and had the entire place to myself!
Keep in mind there are many private residences around here and to respect any properties or signs saying no trespassing.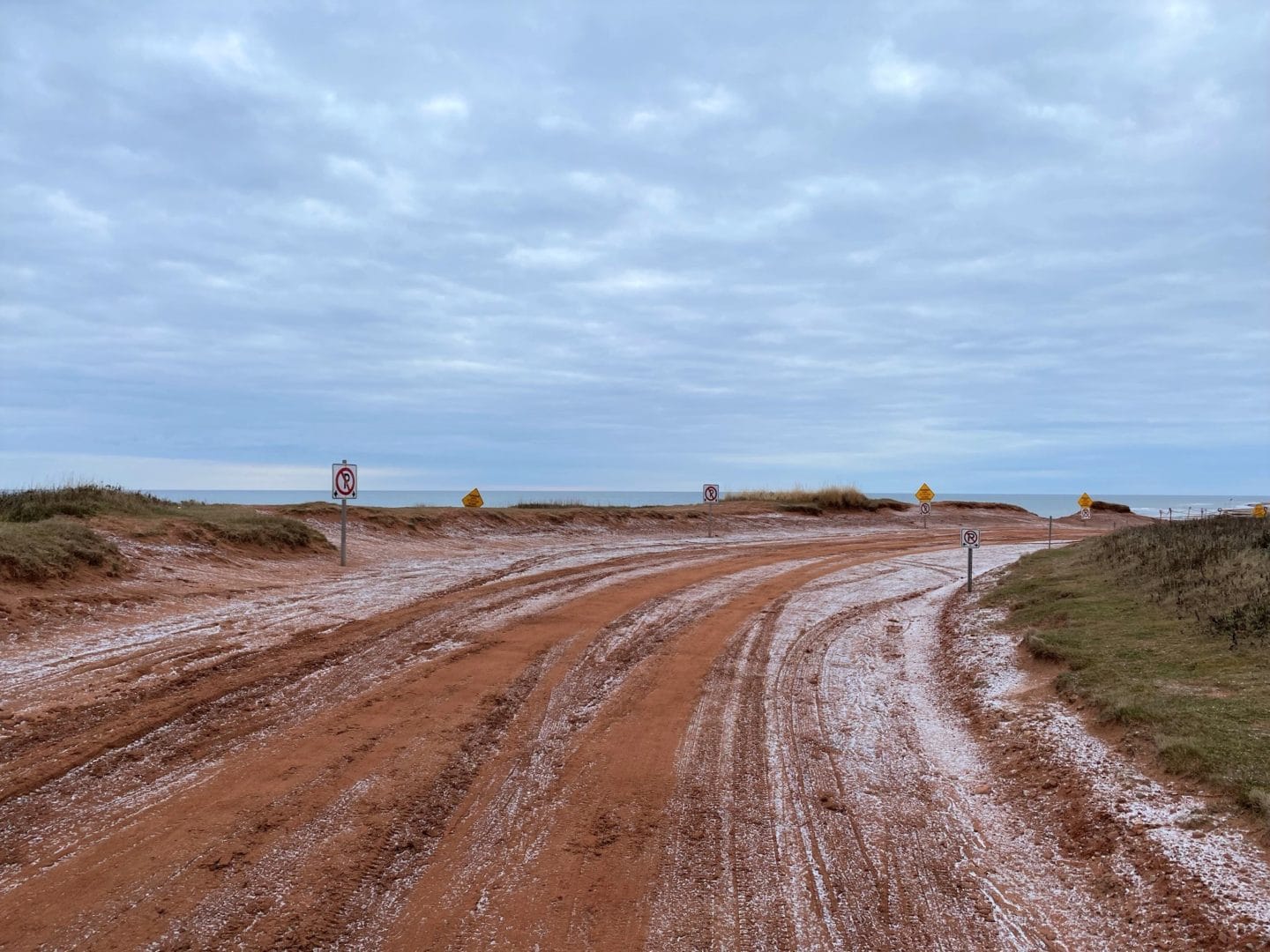 Where can I find Teacup Rock in PEI? Where is the Teacup Rock?
Once you park on Thunder Cove Road, follow the road to the dunes and you'll find a worn path down to the beach. Do not attempt to scale the red cliffs – it's too dangerous and unstable.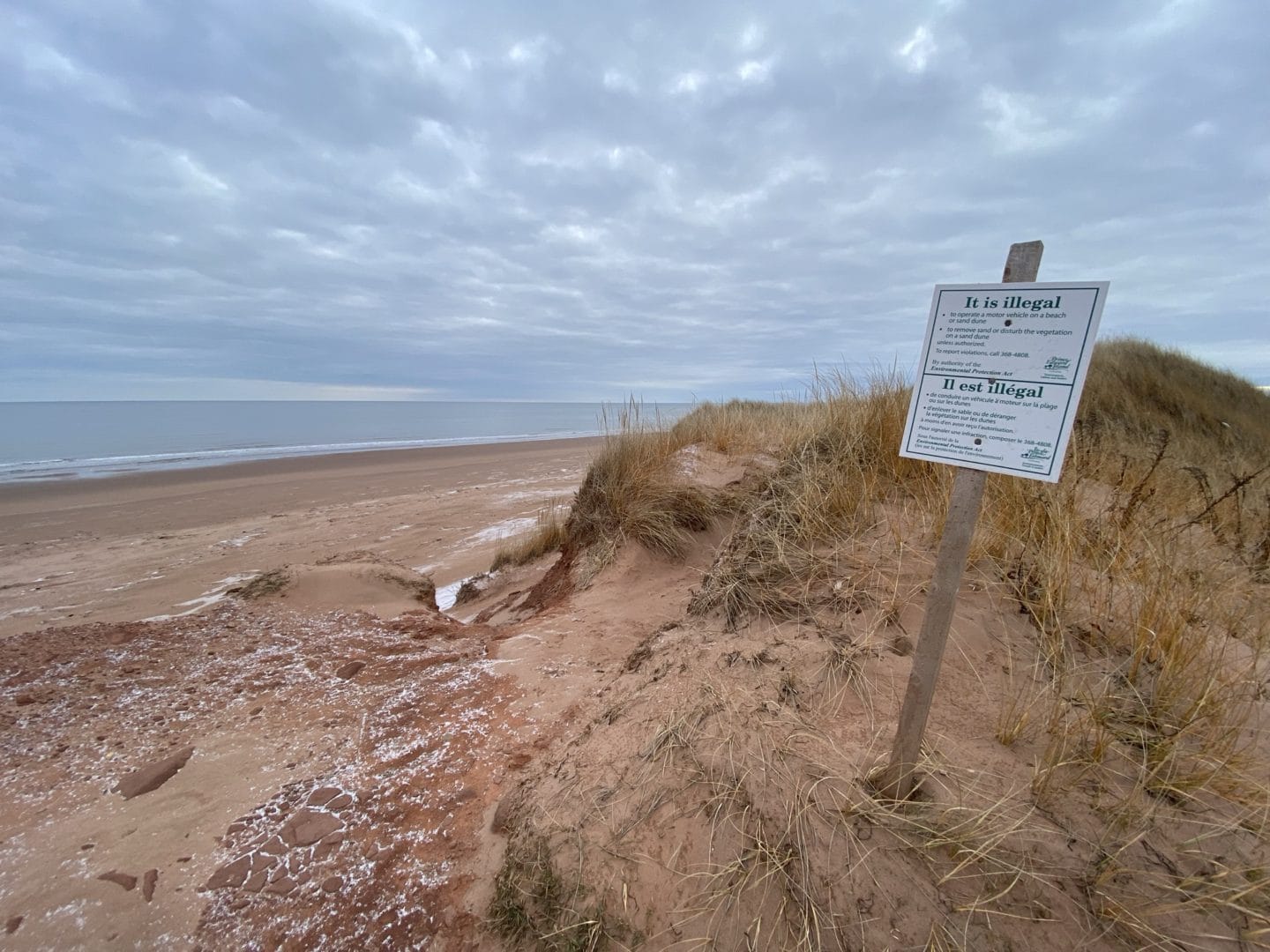 Once you get down to the beach, turn left and follow along the beach until you reach the cove where you have no choice but to enter the water part way to make it around the ledge. This is where the tide comes into play! Just around the corner lay the stunning formation known as Teacup Rock.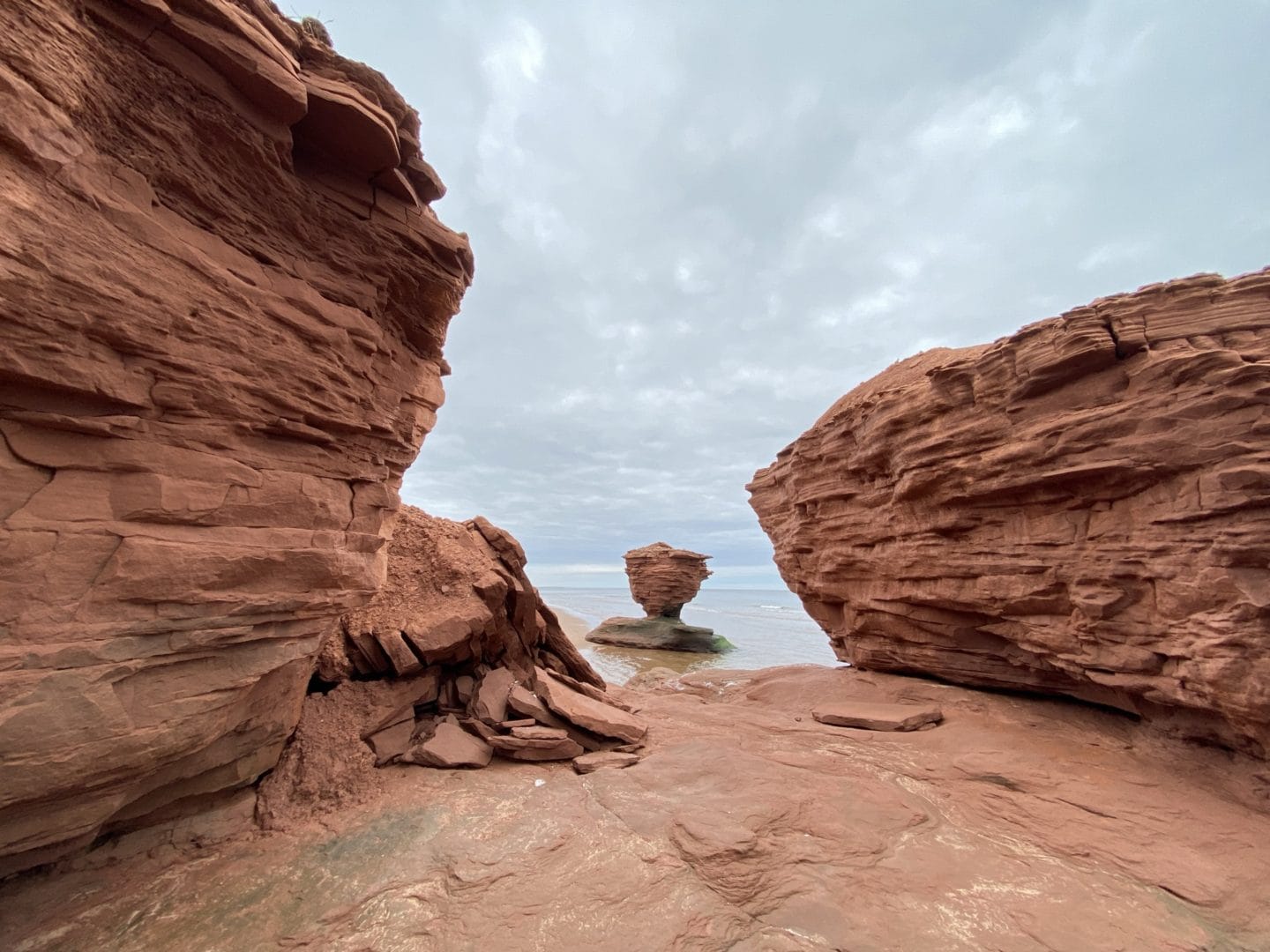 It takes roughly 10-15 minutes of walking along the sand and around the cove to come across the stunning teacup rock. You'll also come across sea caves and other unusual formations along the way.
Continue along the beach and you'll find Malpeque Outer Range Front Lighthouse, one of the many beautiful lighthouses to see in PEI. It's weather-beaten appearance against the rugged and wild coastline makes it one of the more dramatic lighthouses that remain active to this day!
Visiting Thunder Cove Beach during the winter
If you're planning on visiting Thunder Cove Beach and the Teacup Rock during the winter, you absolutely should. It's quite a sight to be seen!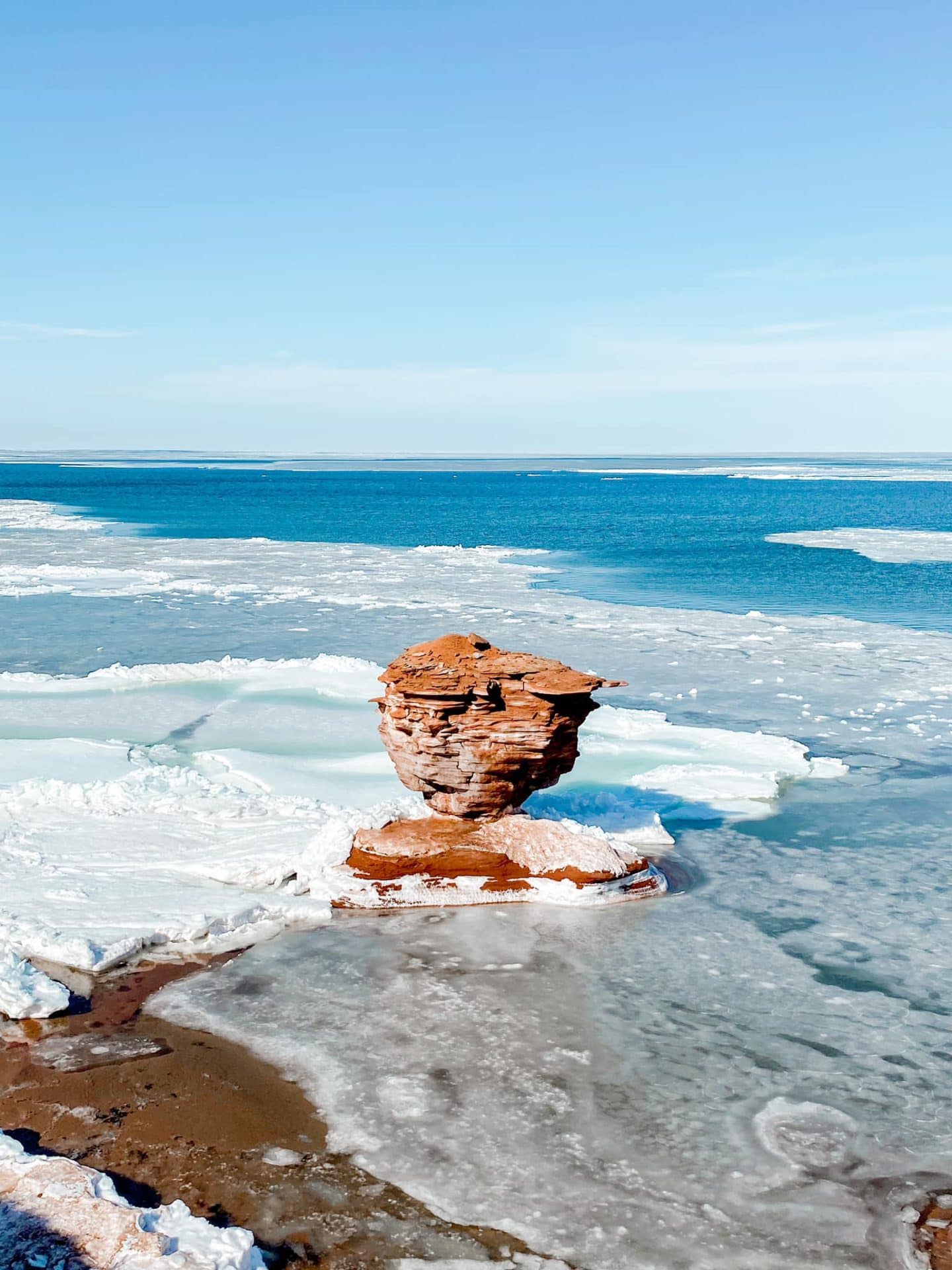 It's important to know that during this time, the ice and snow packs its way along the beach and it's difficult to tell where the sand is versus where the water is. It can be unsafe to walk along the beach in the event parts of it aren't frozen.
There is a path you can follow along the edge of the cliffs which is quicker and easier to get to the Teacup Rock. You'll be able to have views from above of this marvelous sandstone formation!
Does Thunder Cove Beach have red sand?
The sand at Thunder Cove Beach is amazing – it's red hue spanning as far as the eye can see, flanked by tall crumbling sandstone cliffs. There is plenty of red sand at this off the beaten path spot, and it makes for gorgeous photos.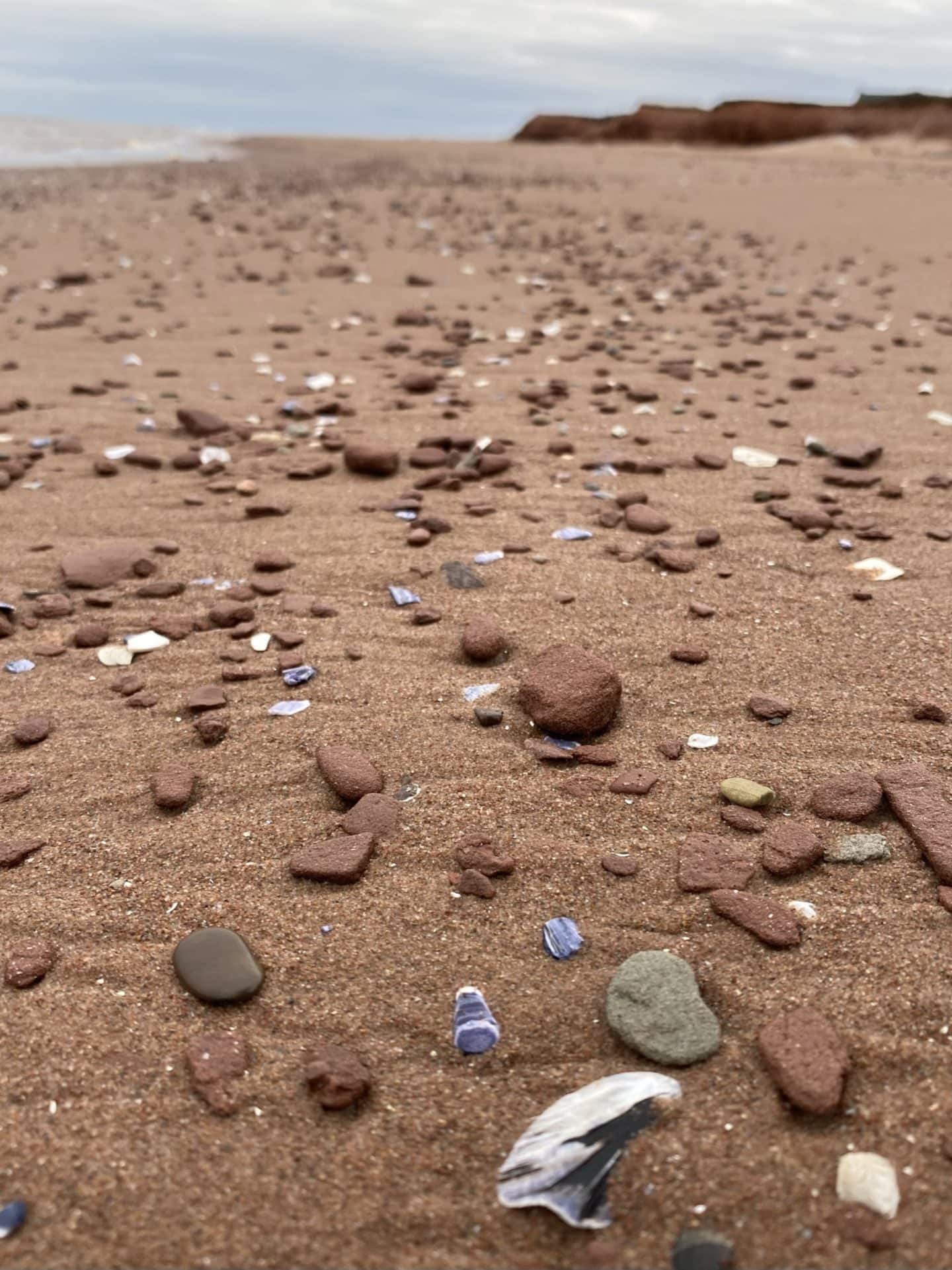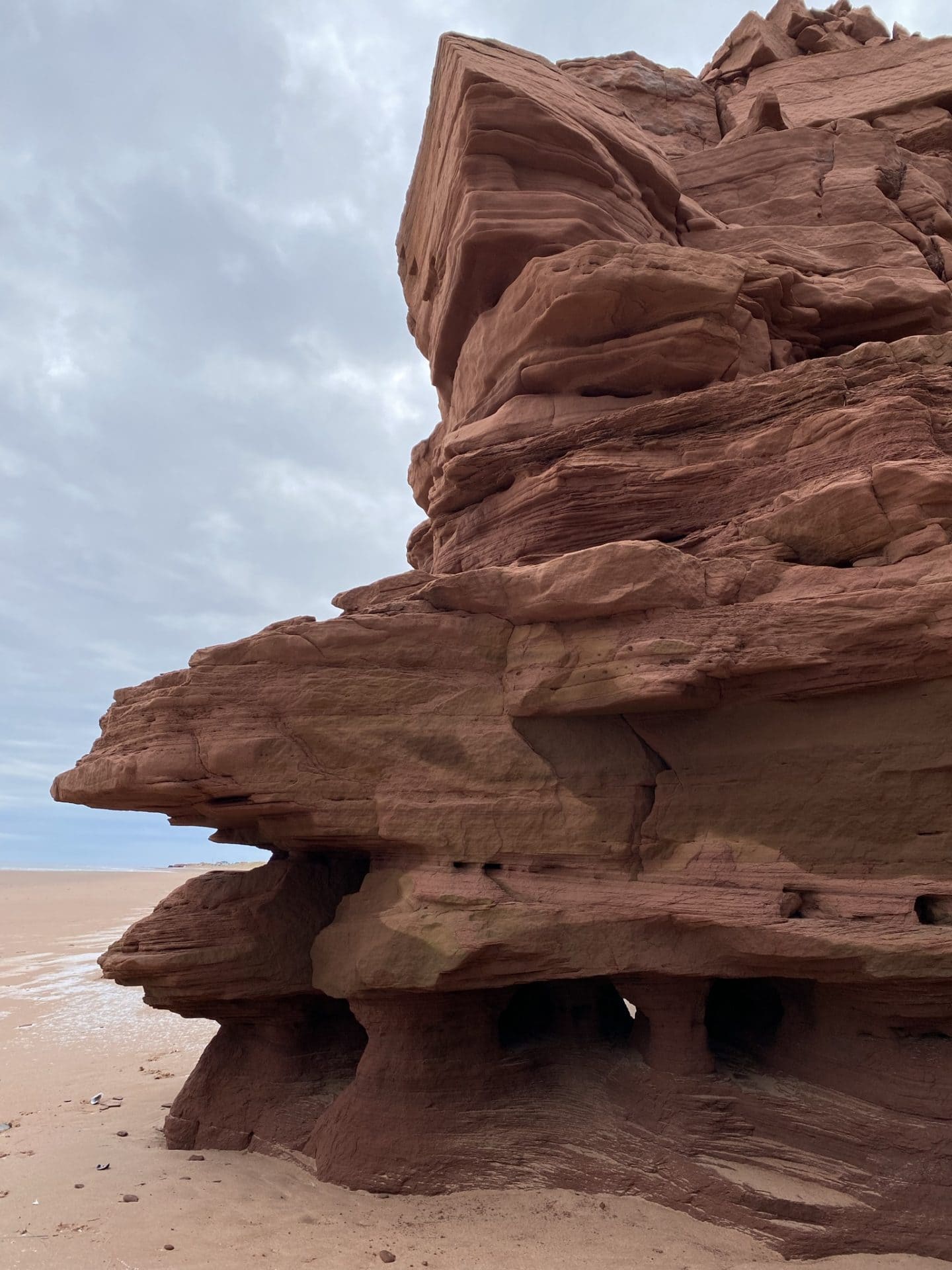 Thunder Cove Beach Tides
Check the tide times before visiting. If you visit during high tide you won't be able to make it to the Teacup Rock without getting your feet wet (so wear waterproof footwear!). I looked up the tide forecast for Malpeque and timed my visit just right!
Even with the low tide, I still had some difficulties in getting around the cove without getting my feet wet, so be sure to wear waterproof footwear while visiting Thunder Cove Beach during the colder seasons!
Insider tip for visiting the Teacup Rock
I've read that some people climb over the cliffs to avoid getting their feet wet if the tides are too high. Do not do this! The cliffs are very fragile and unstable, and while they're gorgeous, this can become quite dangerous. Try to time your visit with the tides.
To protect the Teacup Rock and the sandstone cliffs, avoid climbing on or near it, so others can enjoy it!
There are also no washroom facilities at Thunder Cove, so plan accordingly! Kensington is only 20 minutes away with restaurants, Tim Hortons, and Robins.
If time allows, visit Cabot Beach Provincial Park, just 15 minutes away!
Directions to Thunder Cove Beach
When I planned my trip here from Charlottetown, I used Google maps on my phone and just entered "Thunder Cove Beach". It'll take you to Thunder Cove Road.
Thunder Cove is 66 km from Charlottetown, and it takes about an hour from downtown taking PE-2W. Once you arrive in Kensington, take PE-20 towards Darnley. Once here, take a left onto Lower Darnley Rd and then right onto Thunder Cove Rd.
Address: Thunder Cove Beach, Kensington, PEI, C0B 1M0
Related Posts
Pin it for later!