If you live in the Niagara Region, you're probably familiar with Ball's Falls Conservation Area.
I used to come here all the time as a kid for family hikes, and it's a popular area for hiking, weddings, family picnics, kids camps and school programs, festivals, and heritage tours!
It's home to some beautiful trails, two stunning waterfalls, and the historical village of Glen Elgin, lovingly restored to reflect what life was like in the early-to-mid 19th century.
It features the Ball family home, operating flour mill, lime kiln, church, carriage shed, blacksmith shop and more.
Thanksgiving weekend is usually a busy time at Ball's Falls, with the annual Thanksgiving Festival. The festival draws crowds in the thousands for its artisan craft fair, farmer's markets, food vendors, musicians, exhibitions, and historical village tours.
Taking a heritage tour seemed to be the perfect fit for a warm October holiday!
About Ball's Falls
A visit to Ball's Falls is like a step back in time. The area has been restored to resemble one of the first communities in the area. It occupies over 200 acres of the original 1200 acres originally purchased by the Ball brothers, back in 1809.
Situated along Twenty Mile Creek, Glen Elgin sat in the heart of the Niagara Peninsula and grew to become one of the area's busiest industrial towns.
John and George Ball (two brothers) built a gristmill for residents to grind their own grain, fully powered by the water in Twenty Mile Creek.
Eventually there was also a saw mill and a woolen mill, which led to the growth of one of the first communities in the area. By 1852, there were 19 residents living in Glen Elgin.
At this point, there were many other trades working on site, including blacksmiths, weavers, spinners, and butchers.
However, with developments of the railway and the Welland Canal, it led to development of villages below the escarpment, and most of the activity was moved away from Glen Elgin.
In 1962, Manly Ball sold 110 acres of land to the Niagara Peninsula Conservation Authority, and it's been restored and preserved to the area it is today!
About Heritage Tours at Ball's Falls
This little hamlet is so scenic and is enjoyable to walk around regardless of the time of year, but during October, Ball's Falls opens up their village to Heritage Tours where you can take a peek inside some of these adorable buildings.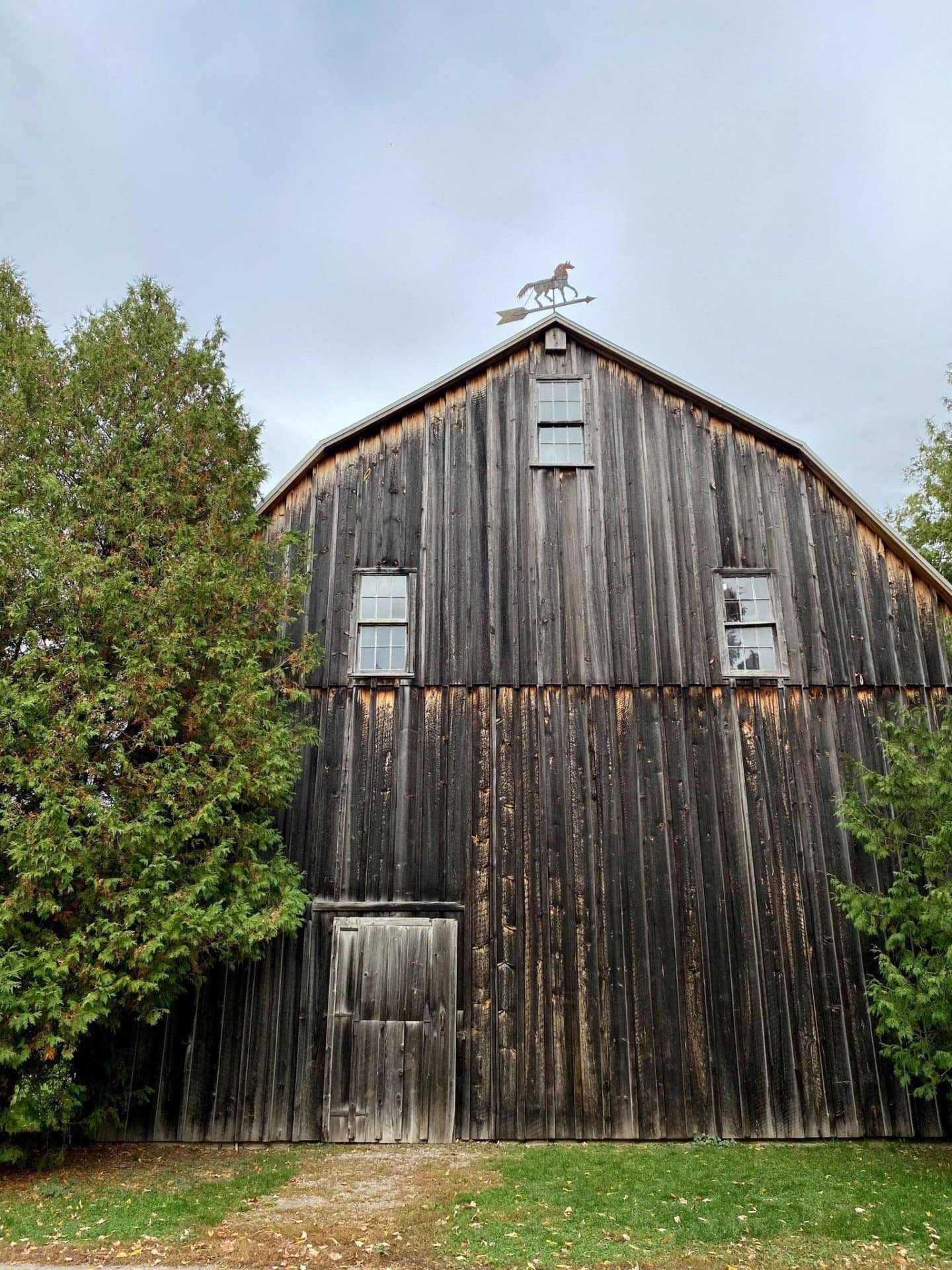 I highly recommend doing the historic village tour during the Ball's Falls during Thanksgiving Festival! Take the opportunity to explore these buildings and gain some history about them and what they were used for.
Heritage tours are included in your admission, so be sure to grab your tickets to the Thanksgiving Festival!
Things to see on the Heritage Tour
Fairchild Cabin
Our tour started at a cute cabin where the speaker and his wife were dressed in period costume. He informed us that it was typical for families of 10-12 to be living here (!!!).😨
Built between 1797 and 1810 by the Fairchild family, it represents what early settlers would've lived in when they first came to Ontario.
It would've been a dirt floor originally, and the area served as the kitchen, sleeping quarters, living room, and workspace.
Now let me tell you, it was a tiny home. It would've been tight with two people living there.
Imagine being cooped up there during the winter?
I love my family, but no. I could never.😂
There was a staircase up to the attic where the kids would sleep, but if you looked at the cabin from the outside, it didn't even look like there was an upstairs.
It would be so hot in the summer they would have no choice but to sleep in the main cabin area with everyone else.
During the colder months, everyone would take turns during the night getting up to stoke the fire to keep them warm.
Blacksmith Shop
This Blacksmith shop is a reproduction of the original shop located in front of the Ball home, circa 1850s.
Blacksmithing was one of the most important professions. Not only would the blacksmith shoe the working horses, but would also make tools and other metal materials needed.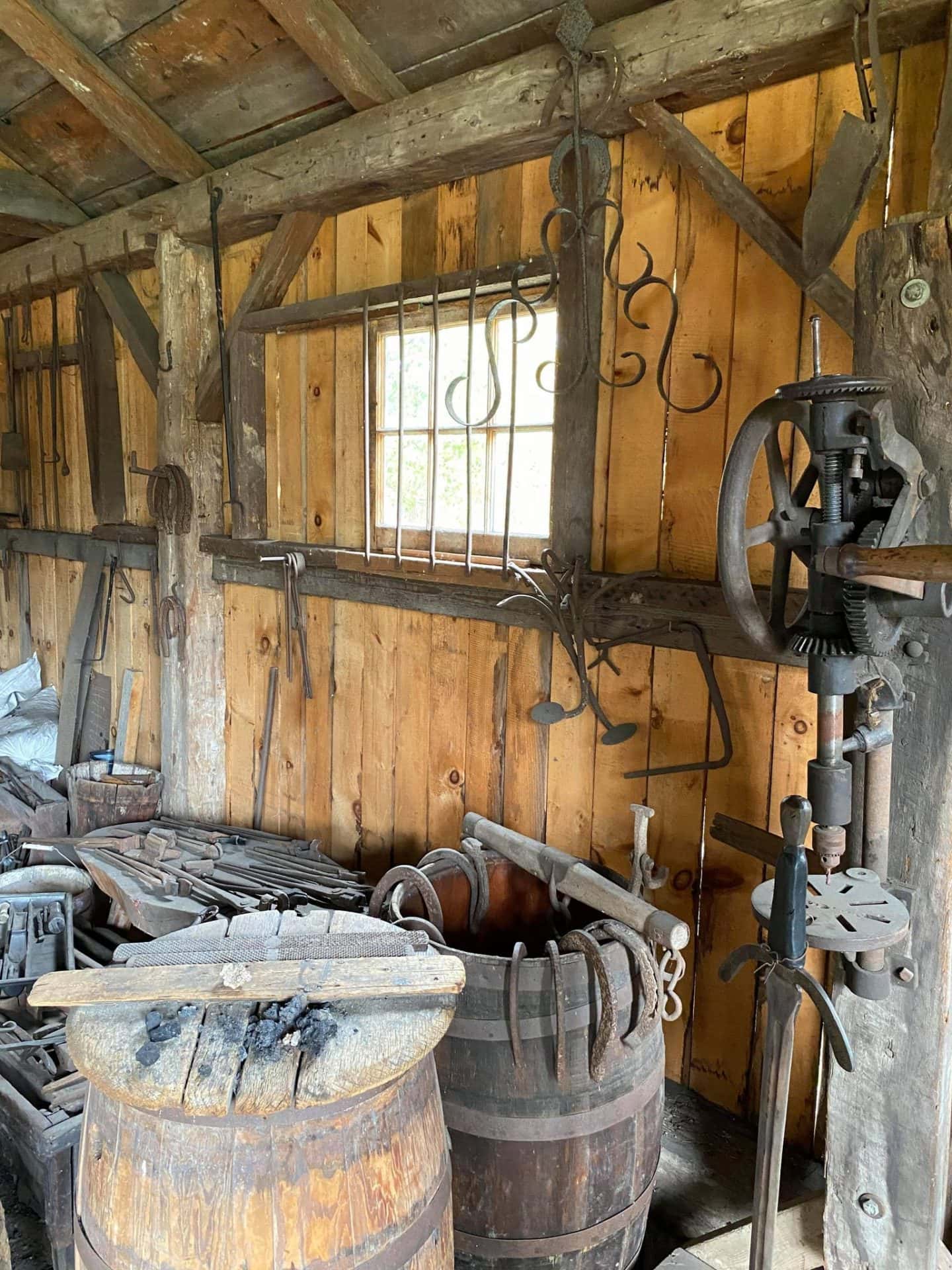 During our tour, there was someone there doing demonstrations. He was heating up metal and hammering it down to shape it.
Our guide Ben told us that boys between the ages of 10-12 would apprentice with the Blacksmith for 7 years, all while living and working with his family.
Clearly there is much to learn about this craft!
Gristmill
This is my favourite part about Ball's Falls.
This fully operational gristmill was built in 1809 and became the hub of activity in Glen Elgin, grinding wheat, bran, corn, oats, and barley from the community.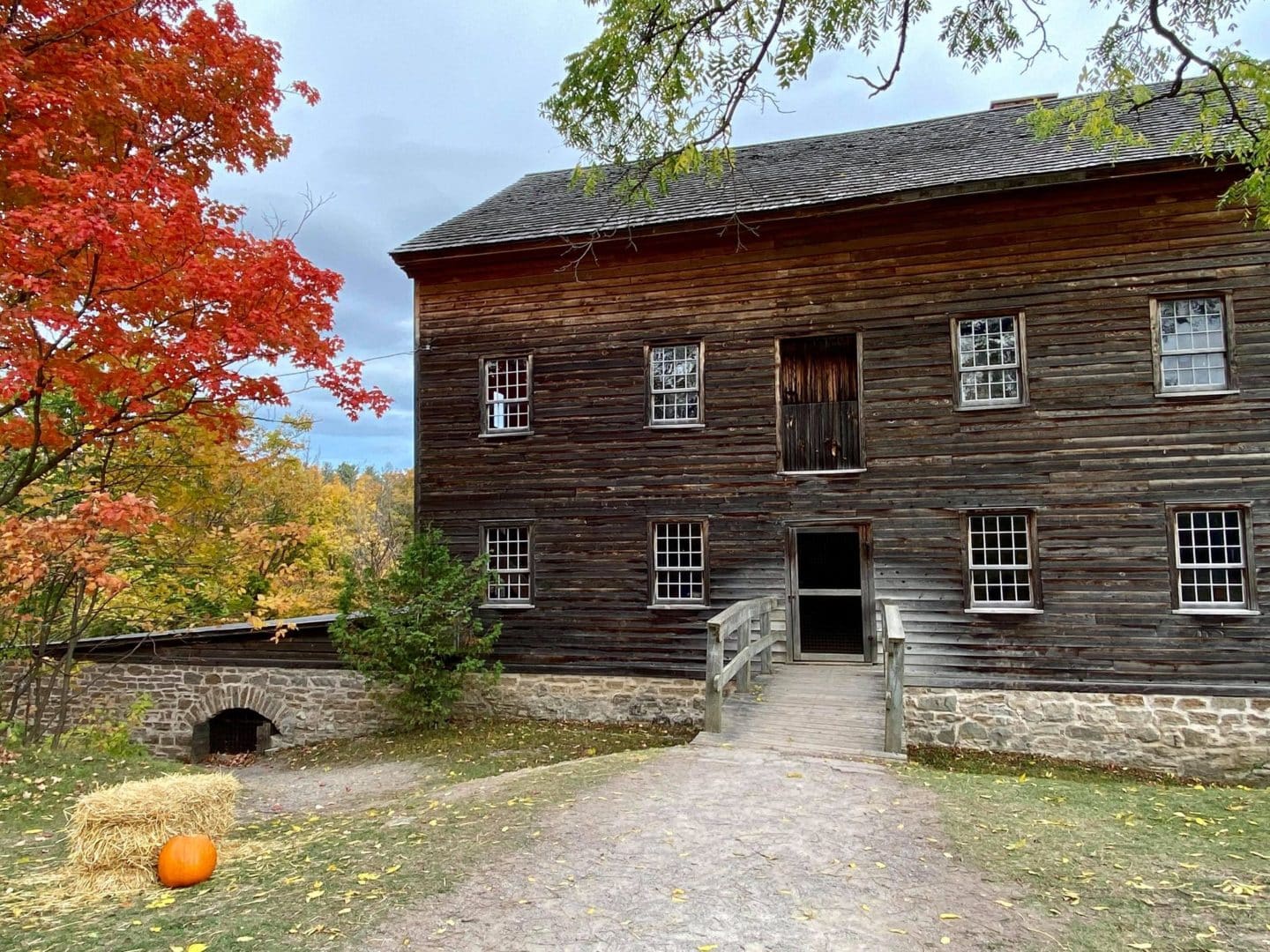 It was exciting to get an inside look at the gristmill.
We entered through the basement and got a first-hand look at the watermill, once powered by the rushing waters of Twenty Mile Creek.
With the addition of two more grinding stones in 1846, it allowed for 7,000 barrels of flour per year – all powered by water – imagine that!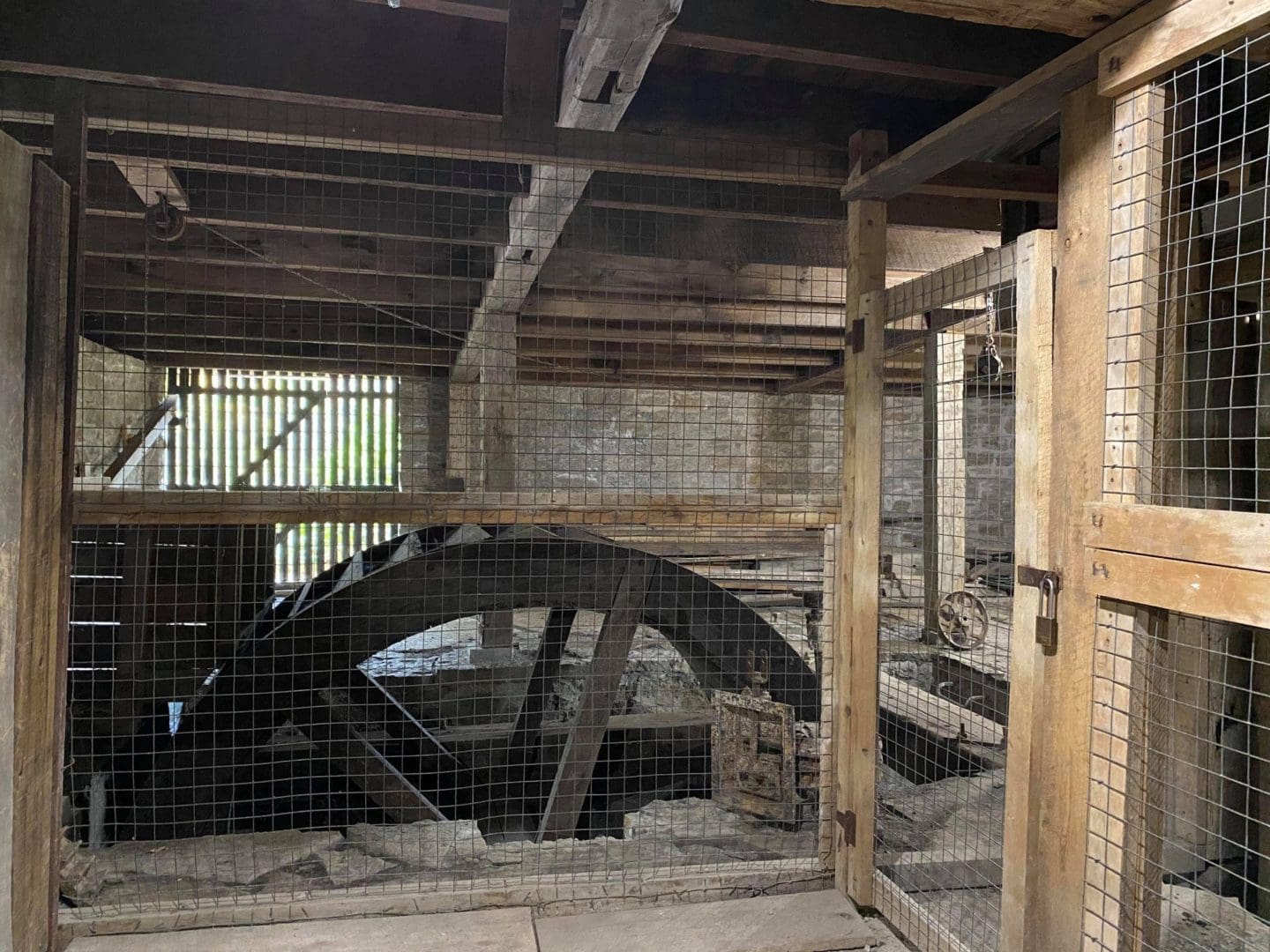 Production slowed in the 1850s due to changes in water flow from Twenty Mile Creek with the increase of agriculture, leading the creek to solely be fed by rainfall. That wasn't nearly enough to keep the gristmill running as it once was.
That, along with advancements in technology, led Mortimer, George Ball's son, to close the gristmill in 1910, but once a year during the Thanksgiving Festival, we're able to see it functioning, using electricity.
Ben turned it on for us, and we were able to see the grinding stones in action and the production line the grains would travel along.
Did you know: flour here was also ground for British and Canadian troops during the war of 1812!
Ball Family Home
Of all the times I've been to Ball's Falls, I've never been inside this home!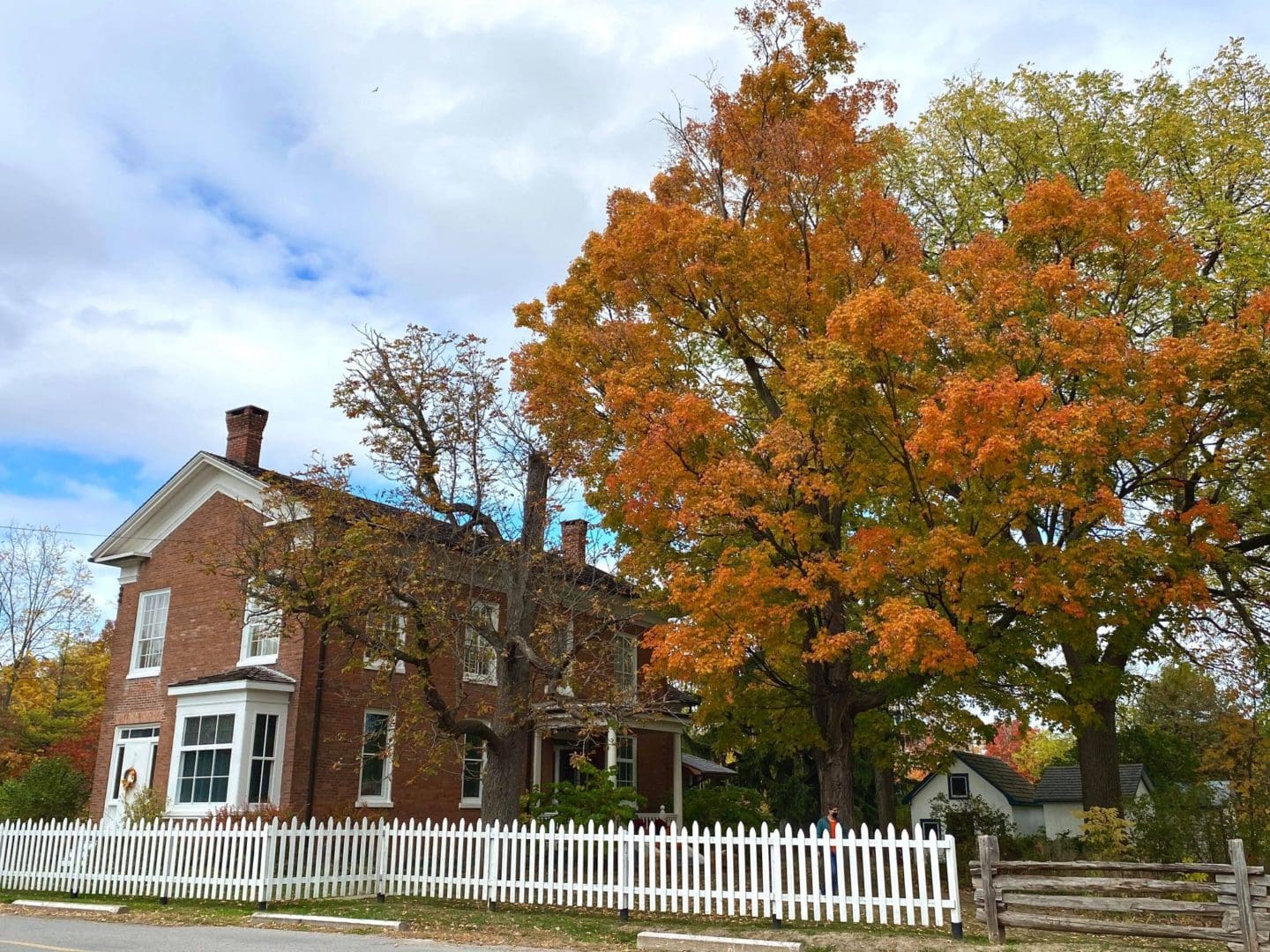 Built in 1846 and displayed with original furnishings to reflect life in 1920, walking through the front door is like stepping back in time.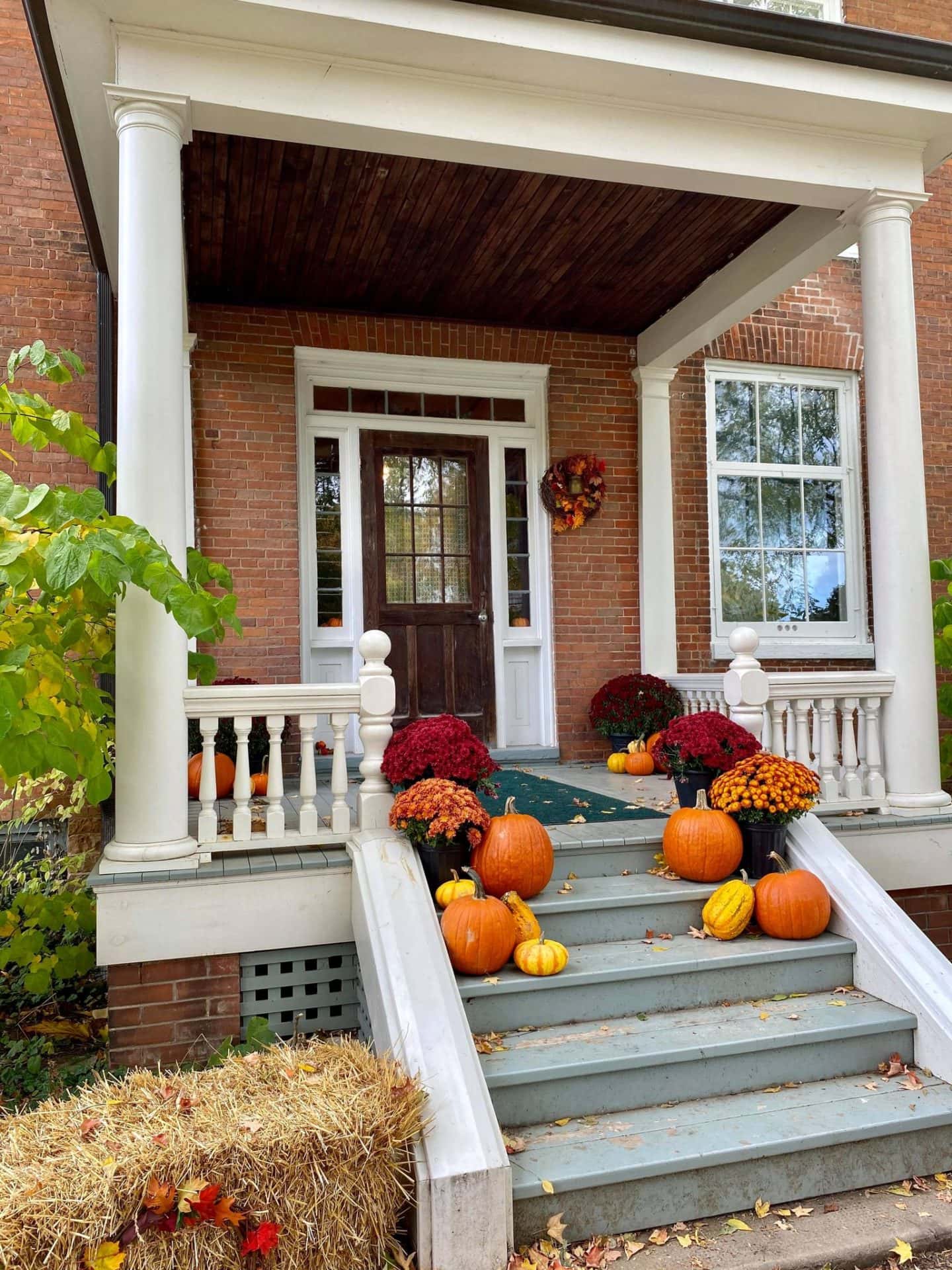 The front of the house was originally used as a general store while the family lived in the rest of the house.
The home was inherited by Mortimer in 1883, where he converted the general store to a sitting room.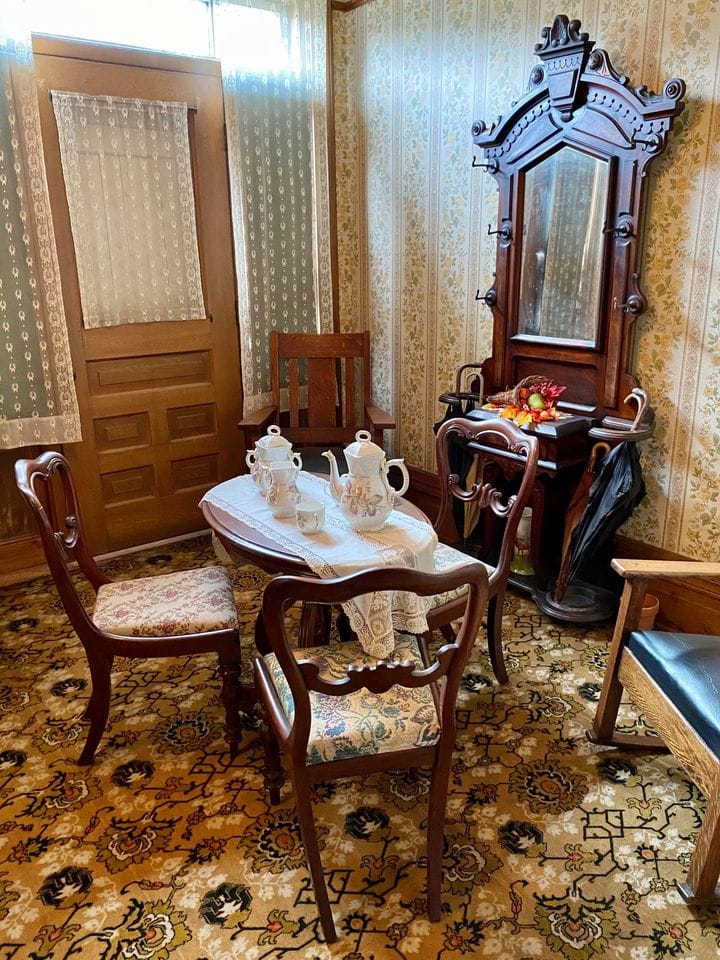 We were told that children weren't allowed in this sitting room, except on special occasions like Christmas.
I'm pretty sure my parents would've loved to do to that too in most areas of our house as kids. 😂
Downstairs also features Mortimer's law office, bedroom, dining room, and kitchen.
Upstairs contains three bedrooms that are open for viewing, and the maid's quarters, above the kitchen with its own access.
Under each bed was a chamber pot – as you can guess, there was no running water! There is a three-seater outhouse to the side of the house, but I can guarantee that during the cold, dark winter nights, that chamber pot suited just fine.😂
The home contains original features including antique furnishings, wallpaper, and carpets.
What's weird is that while I was looking into Mortimer's law office, a glass cabinet door behind me swung open.
Dana says it was because of our movement in the house…but…who knows?😳
Ball's Falls Historical Church
St. George's church was built in 1864 in Hannon (near Hamilton, Ontario) and was moved to Ball's Falls in 1973.
Today it's used for weddings at Ball's Falls and is a popular spot in the summer, with one wedding a week on average.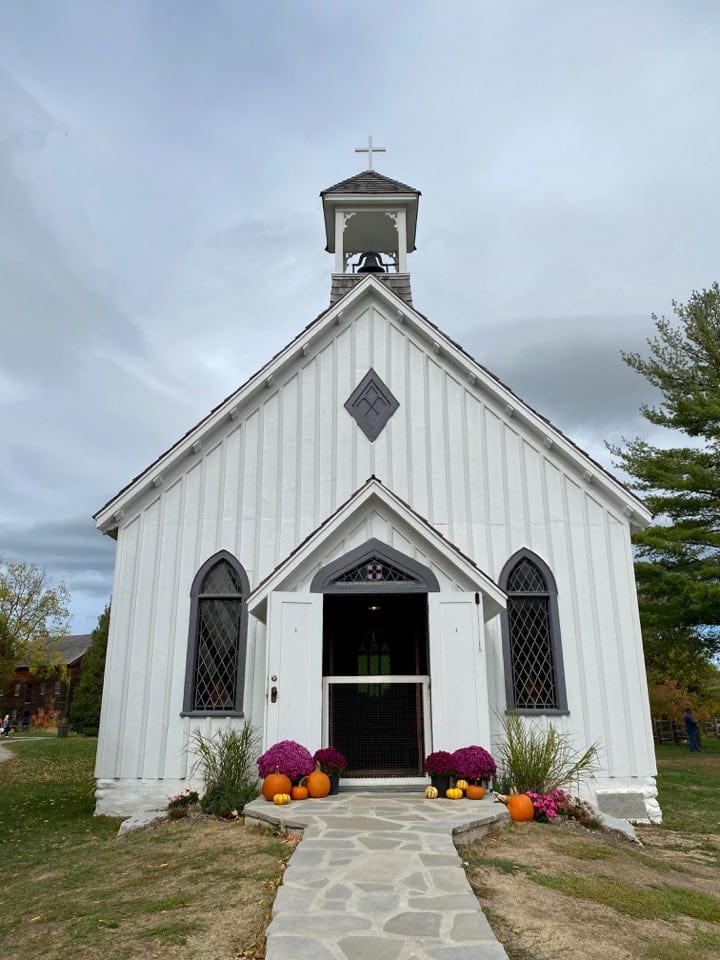 I know a few people who have been married here. There's a beautiful barn for receptions and offers such a picturesque setting for wedding photos!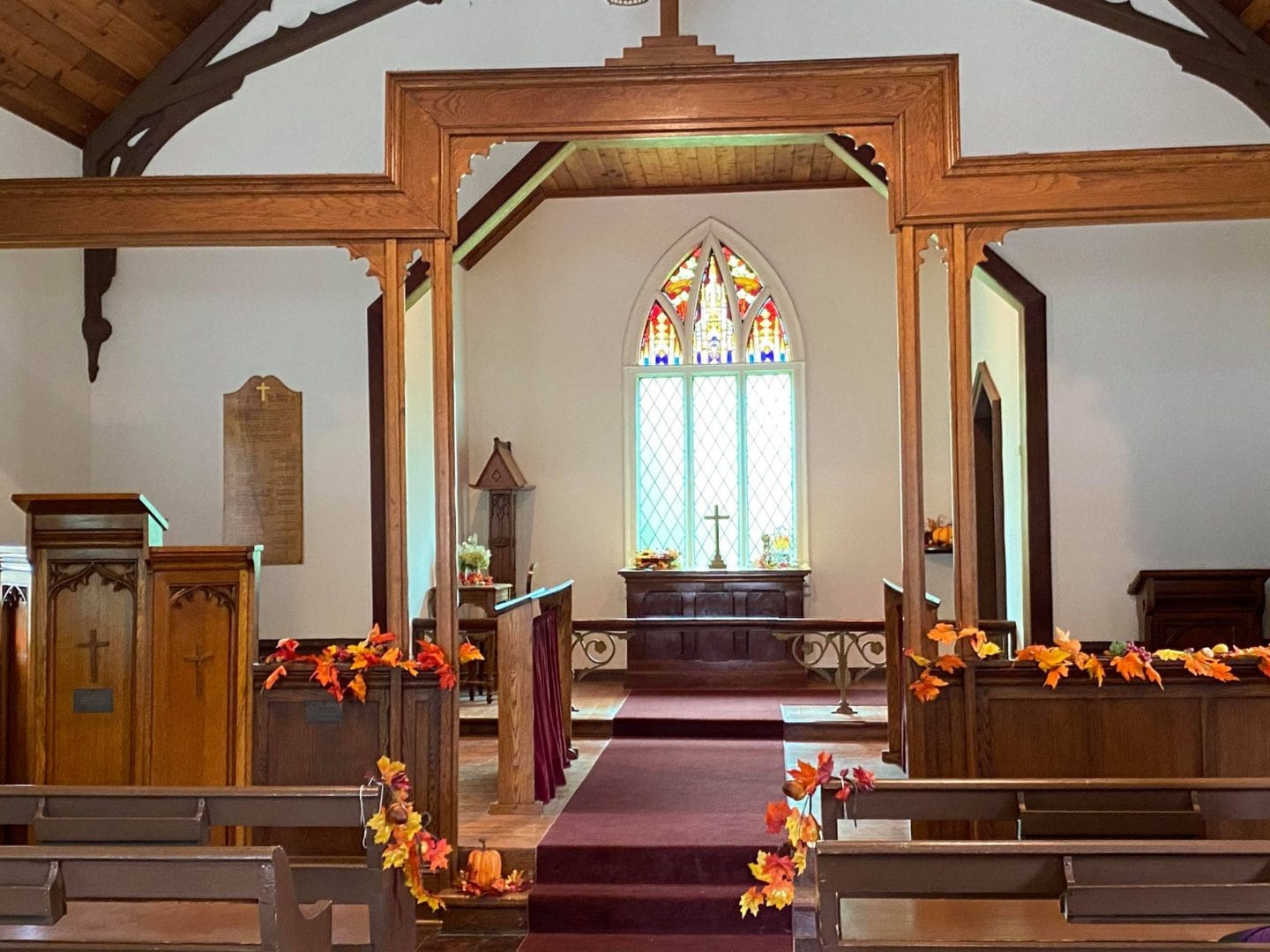 We got to ring the church bell too. 😇
Lime Kiln
Built in 1864, this restored lime kiln is tucked away on the escarpment behind the Furry Cabin.
This wasn't specifically addressed on the tour, but you need to see it! And honestly, I had heard people talk about it, but I didn't even know this was here in all my visits.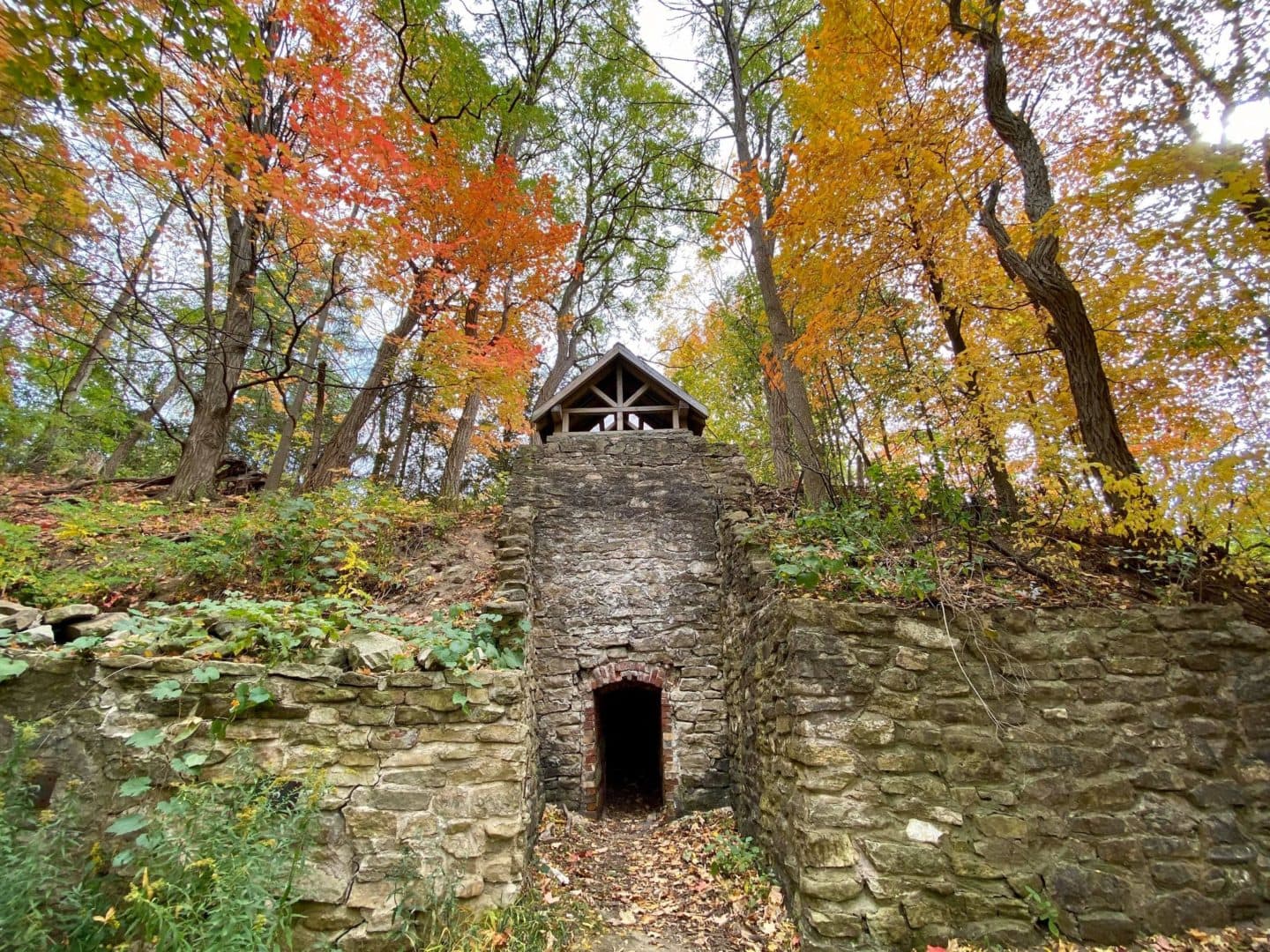 The limestone for the kilns was drilled by hand and the rocks were blasted loose with black powder. Chunks of limestone were dumped into the kiln along with wood and lit on fire.
It took three days for the limestone to be changed into lime powder, which was used to make mortar for brick work!
Fun fact: in 1887, just $20 would buy enough mortar for one house!
How much does the Heritage Tour cost?
The tour at Ball's Falls is well worth the money. It's $5 per adult and $3 for students/seniors for the tour (2021 pricing) plus tax, on top of general admission which also includes your park access for the day and parking, so you can make an entire day out of hiking the trails and touring through the village.
If you come for day use, it's $8.50 per adult and $6.50 for children under 11 and seniors to access the grounds.
Need to Know
Ball's Falls is one of the most popular conservation areas in the Niagara Region, so if you are planning a visit, be sure to come early in the day before the parking lots are closed due to maximum capacity!
Hiking Trails
While you're here, you should take advantage of the beautiful hiking trails at Balls' Falls!
Ball's Falls is one of my favourite places to see the fall colours in Niagara.
There is a 1.7 km there-and-back trail called Cataract Trail on the west side of the bridge, and it leads you right to the Upper Falls.
It's an easy walk and very scenic. We saw many families with small children, dogs, and strollers on this path (although I found it a bit rocky for strollers in some sections!).
The waterfall itself is dry in the fall, which means you can get some stunning photos of the changing leaves at the top of the falls.
The Upper Falls is only about a 35 foot drop, but the Lower Falls is 90 feet, and both offer dramatic views, especially from below.
If you were to visit at the end of winter or beginning of spring, the falls become quite spectacular, with torrents of water tumbling over the edge.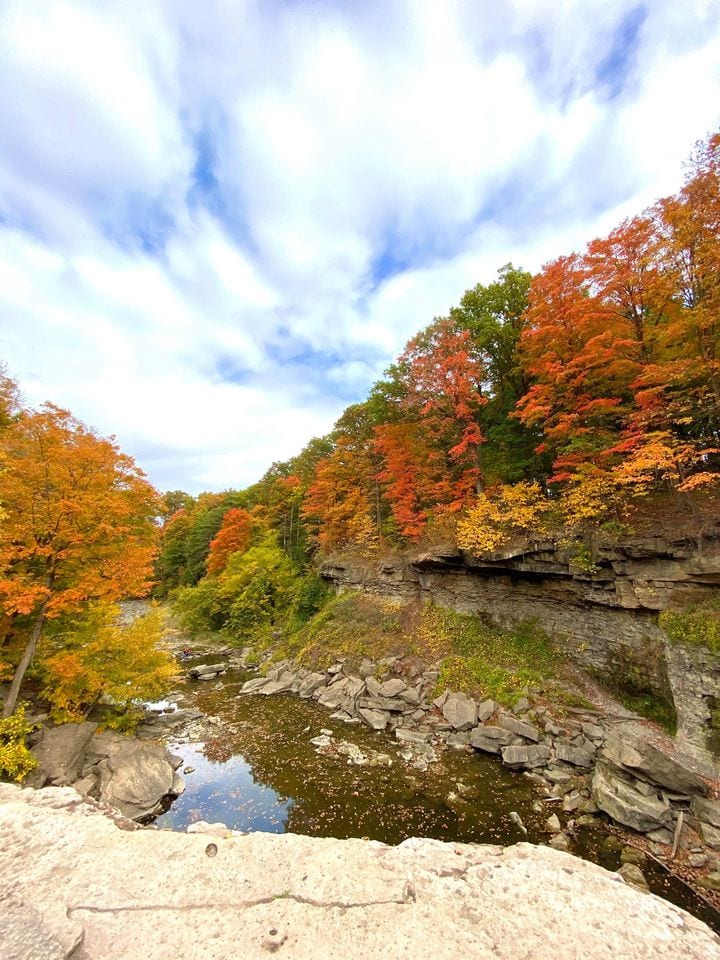 The Bruce Trail also passes through this area at the north end of the Lower Falls. This is probably my favourite section, since you can get right down into the creek and meander your way up to the base of the falls.
It's more technical (I wouldn't suggest bringing kids or dogs down here), but the views are incredible.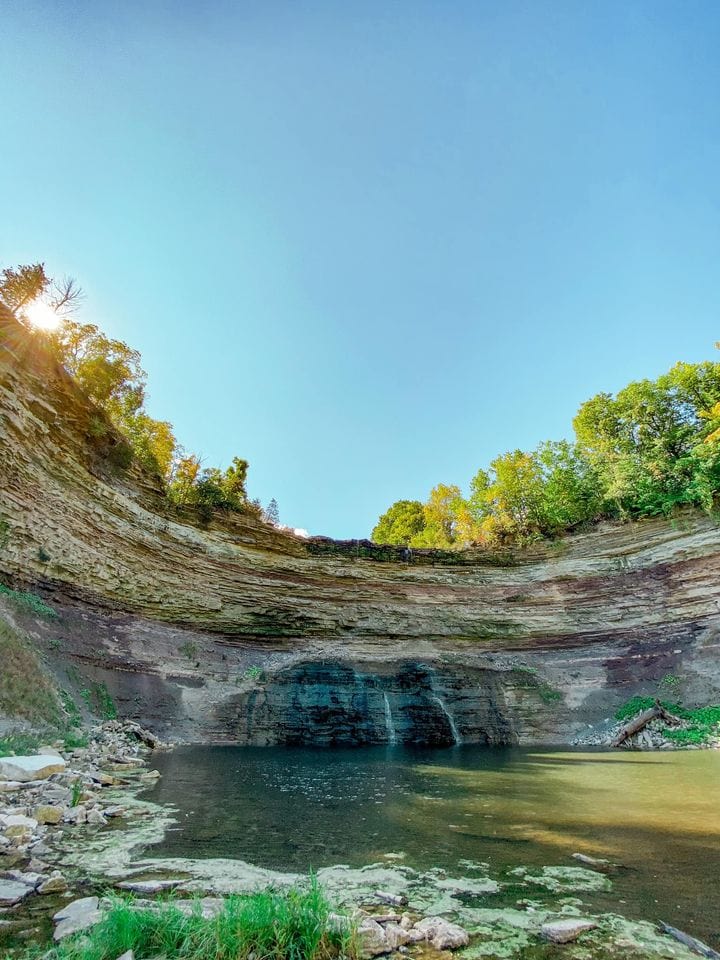 You can also access this section of the trail from the historical village. There is a pathway to the right of the Blacksmith Shop that will lead you up a set of stairs.
You'll then come across another set of stairs (125 to be exact!) down to the base of the escarpment. There is plenty of signage posted.
The Ball's Falls hiking trails are some of my favourite in the area, and they are exceptionally stunning during the fall.
Related: Stunning Ontario Hikes to Take During the Fall
How to get to Ball's Falls
There are two access points, but the easiest one is taking the Victoria Avenue exit off the QEW, right up to Sixth Avenue, the main entrance point.
The other access point is off of Glen Elgin Road, off of Nineteenth Street.
There is a parking lot at the top at the Conservation Center. There is also a parking lot in the Historical Village down below, used for overflow parking on event days or for those who have pre-booked tours online.
And just because I always want to know these things before I go anywhere (seriously, ask Dana), yes, the washrooms are open!
Final Thoughts
Ball's Falls Conservation Area has plenty to offer for families looking for a safe and scenic outing. There are plenty of picnic tables available for use and lots of photo opportunities.
I would recommend the historic tours to anyone, since you would never otherwise get a look inside these buildings or the backstory!
Tours are offered during their Thanksgiving Festival but can also be arranged from Victoria Day to Labour Day by calling Ball's Falls Programming at 905-562-5235 ex. 22.
Pin it for later!
Related posts