The quaint lakeside town of Port Dover is well known for it's gatherings on Friday the 13th, where thousands of motorcyclists gather in town for a huge motorcycle rally.
Sitting on the shores of Lake Erie, many Ontarians enjoy frequenting Port Dover for it's awesome beach, laid-back vibe, and great restaurants!
This is one of my favourite towns to visit. It's charming and peaceful and makes for a great visit, not too far from home, but far enough away to feel like a mini-vacation. If you're looking for a local day trip to a place with small-town charm, Port Dover is an ideal choice!
This post contains affiliate links which means I earn compensation when you click on the links at absolutely no extra cost to you! Feel free to read my disclosure policy. Thank you for supporting my blog!
Plan your next vacation using these tools!

✈️ Book flights: SkyScanner
🏨 Book hotels: Booking.com
🚘Book car rentals: RentalCars.com
🎫Book tours: GetYourGuide
🌍Favourite travel item: Packing cubes
🧳Favourite travel bag: Osprey 40L Fairview
🩹 DIY Travel Medical Kit
💸 20 Cheap Travel Items Under $20
Port Dover History
Port Dover's earliest known inhabitants, dating back to the year 1000 (!!!) were the Algonquin nation. Their skilled display in crafting arrowheads can still be found in open fields to this day. 350 years later, the Attawandaron nation occupied the region until their absorption by the Iroquois.
In 1794, Port Dover was settled by United Empire Loyalists. It was known for its gristmill, and used to be known as Dover Mills.
This community was subjected to an American raid during the War of 1812, and while much of it was destroyed, but was later rebuilt, and in 1835, Port Dover was incorporated as a village.
Eventually, the town grew as the economy diversified, and once had the largest freshwater fishing fleet in the world!
Tourism became an important contributor to Port Dover's economy around 1920, with its popular beaches, amusement arcade, and musical performances.
Today, locals and tourists flock to Port Dover on warm summer days to enjoy the beaches, history, and relaxing atmosphere.
What is Port Dover known for?
Aside from being known best for its fishing industry (and is famous for its perch and pickerel), tourism has always been strong here, largely in part due to the gathering of motorcyclists every Friday the 13th, where thousands of bikes line the streets of this small lakeside town.
If you're a motorcyclist, check out the Cruise the Coast route, a 6 hour 263 km cruise along the north shore of Lake Erie. This is the famous Friday the 13th ride to Port Dover!

Obviously, the pandemic has nixed this gathering, and it's wild to imagine the crowds it once attracted – up to 150,000 on a single day!
p.s. this photo gives me a little anxiety, given the current circumstances. 😂
What to do in Port Dover
Whether you visit Port Dover to spend time on the beach, stroll around town, or eat at a great restaurant, there is no shortage of things to see and do around town.
Play Mini Putt at Arbortown Mini-Golf
If you're looking to spend an entire day in Port Dover, Arbortown Mini-Golf is a great way to work up an appetite! It's a great family or date spot, and is right in the heart of town.
There are 18 holes which will give you at least an hour of entertainment, and the prices are very reasonable ($6 for kids, students and seniors, and $7 for adults).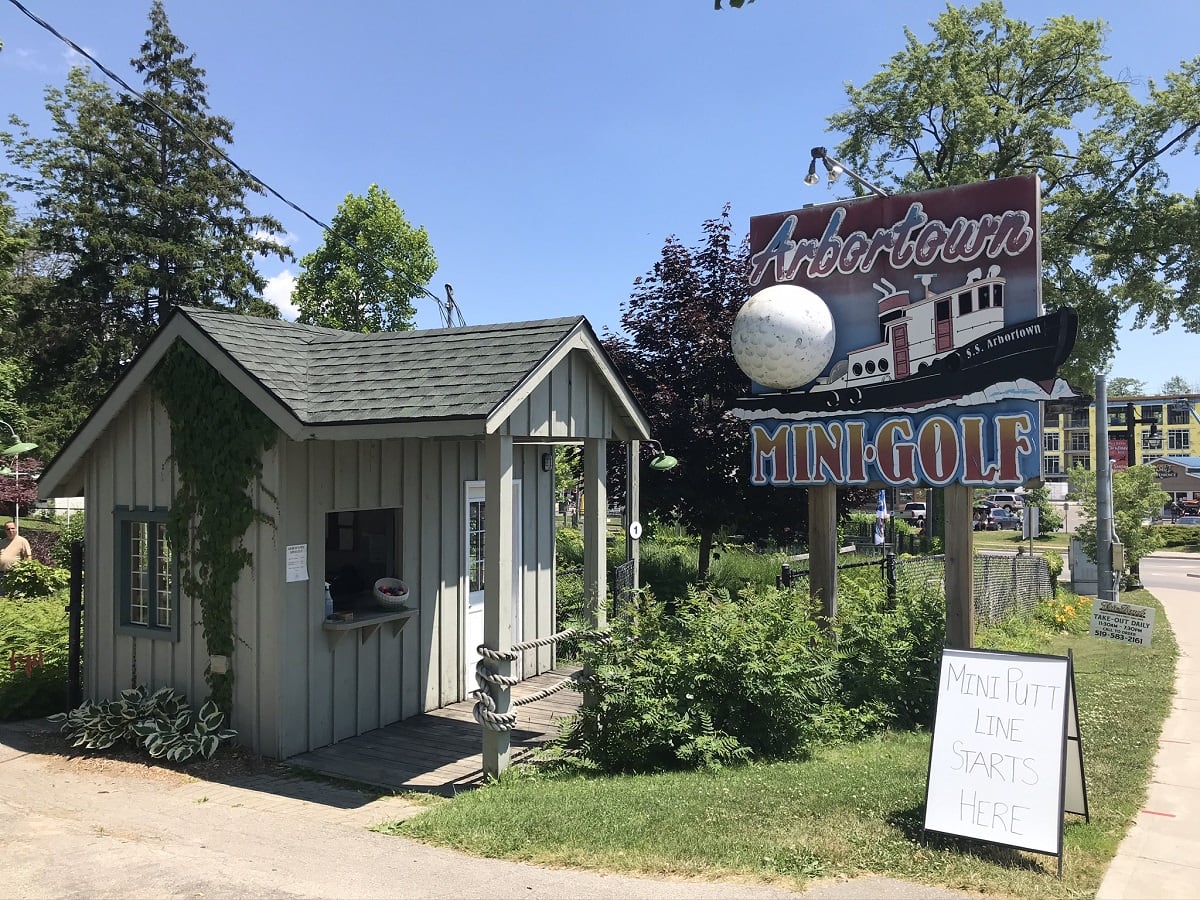 Visit the Port Dover Harbour Museum
One attraction that must not be missed is the Port Dover Harbour Museum. Partially housed in an original fisherman's shanty, the museum exhibit is dedicated to the history of Port Dover's fishing industry.
There are exhibits showcasing shipwrecks, rum running, ship building, and lakeside living. Don't miss the 1912 freighter wheelhouse outside or the 1932 tugboat!
Visit the Beach
Port Dover is great for families! The sandy beach here and easy access is an ideal place for kids to play. The pier is also great for fishing or watching the ships pass by.
Did you know this beach is also accessible? It features mats, which makes it easier for those using strollers or wheelchairs!
P.s. if you forgot a bathing suit or realized you could really use a floatie, be sure to stop in at the Beach Shop!
If you're in the area and want to relax on a beach, check out Ontario Parks – Long Point Provincial Park and Turkey Point Provincial Park and close by!
Hang out at Powell Park
Powell Park is a few blocks back from the main street with ample parking, a pavilion, and seating! You'll find lots of families relaxing on the grassy areas enjoying a picnic and playing.
With the current restrictions we face (that are continually changing), this is the ideal place to stop and enjoy a quiet time out away from crowds.
Browse through unique shops
Port Dover has a collection of unique and charming stores to browse through. Stop at the Dover Cheese Shop for imported and Canadian cheese, like Sweetgrass Buffalo Gouda, Maple Smoked Cheddar, Tennessee Whiskey cheese, Coconut Gouda (don't knock it until you try it!) and much, MUCH more. You can even pick up cheese trays to enjoy at home, as well as oils and chocolates!
Visit the Grand Trunk Station – a beachy gift and home décor shop – for neat and unusual things you won't find elsewhere! If you're into the nautical theme, this is your place to be! Words can't really describe how unique this shop is – you'll have to go discover it for yourself!
Don't miss out on the Liberty Home Decor store either! It's right on the pier and features vintage finds and crafts from local artists!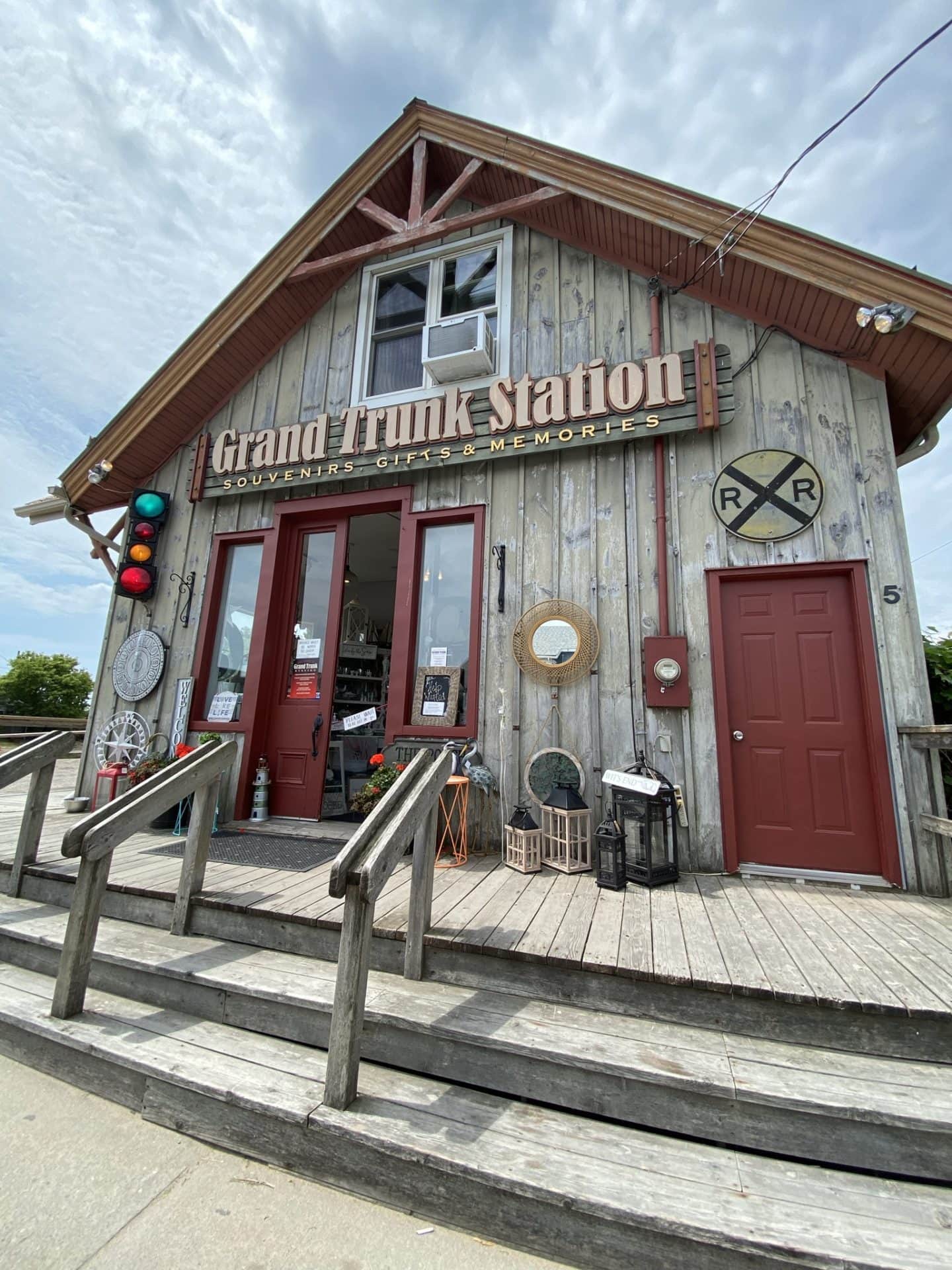 Stop by the Port Dover Lighthouse
Be sure to walk down the pier to see the lighthouse up close! This lighthouse was built in 1877. There was one built prior in 1845, but it was accidentally burned down. This resulted in the lighthouse keeper to house two giant globe lamps on poles for the remainder of the season to safely guide the ships to shore!
Take a boat cruise
There are two boat charters you can take for a 60-90 minute cruise around the harbour and see Port Dover from a different view!
Nomada Charters offers an affordable cruise ($14 for adults and $10 for kids, 3 and under free) and tours the Lynn River and goes into the Black Creek Nature Reserve.
Rogue Tiger Sail Charters departs straight from the Port Dover pier and sails the waters of Lake Erie. The Rogue Tiger is a 1978 Formosa Ketch sailboat and has been in numerous magazines! Pricing is $25 per person. Ages 6+ only.
Explore nearby wineries
If you want to check out a nice winery or two while visiting Port Dover, the Frisky Beaver is just a 5 minute drive from town. During the summer, and just for four weeks between mid-June to mid-July, Bonnieheath Estate Lavender & Winery has the most amazing lavender field, which they harvest and distill for essential oils!
Even if you visit during any other time of the year, there's a unique selection of wines, ciders, and lavender products!
If wine isn't your thing, there is also Concession Rd Brewing Company – a place you can get awesome beer – just 12 minutes from town.
See a Play at the Lighthouse Festival Theatre
If you're spending a day in Port Dover, seeing a play at the Lighthouse Festival Theatre is a great way to end the evening!
They also partner with local restaurants to offer dinner and theatre packages for a very, very reasonable price! You can also book a getaway package with accommodations at either the Erie Beach Hotel or Five Blocks North, an adorable bed and breakfast!
Attracting a crowd of 40,000 every summer – plans are currently on hold for any shows, but any updates will be posted here!
Where to Eat in Port Dover
There are so many options in this little town for great eats! Whether you're looking for an early morning coffee to wander the town in peace and quiet, or have a lakeside snack, Port Dover has tons of great restaurants and snack shacks to pick from!
Erie Beach Hotel
This is my ALL-TIME FAVOURITE place to come! The perch is incredible but what really makes it is the salad cart they bring to you. You get to help yourself from an array of dishes like sunshine salad, celery bread, pickled pumpkin, and horseradish jello (which I am not a fan of, but everyone else in my family seems to love, haha!).
There is obviously much more than just perch on the menu, but it's what I get every single time because it's so amazing! There is also a beautiful rooftop patio to sit on during the summertime, with umbrellas and cool mist fans.
Address: 19 Walker St
Willie's
From burgers to hot dogs, fish and chips to ice cream, this is the quintessential place to come for beach food fare.
For over 30 years, Willie's has been well-known throughout the community. Their extensive menu also includes a crowd favourite – the Willie Burger – a quarter-pounder beef burger topped with peameal bacon, cheese, and homemade BBQ sauce. (Sounds so good, right?!)
There is plenty of outdoor seating, but it's also perfect to grab and go and find your own quiet spot!
Address: 6 George St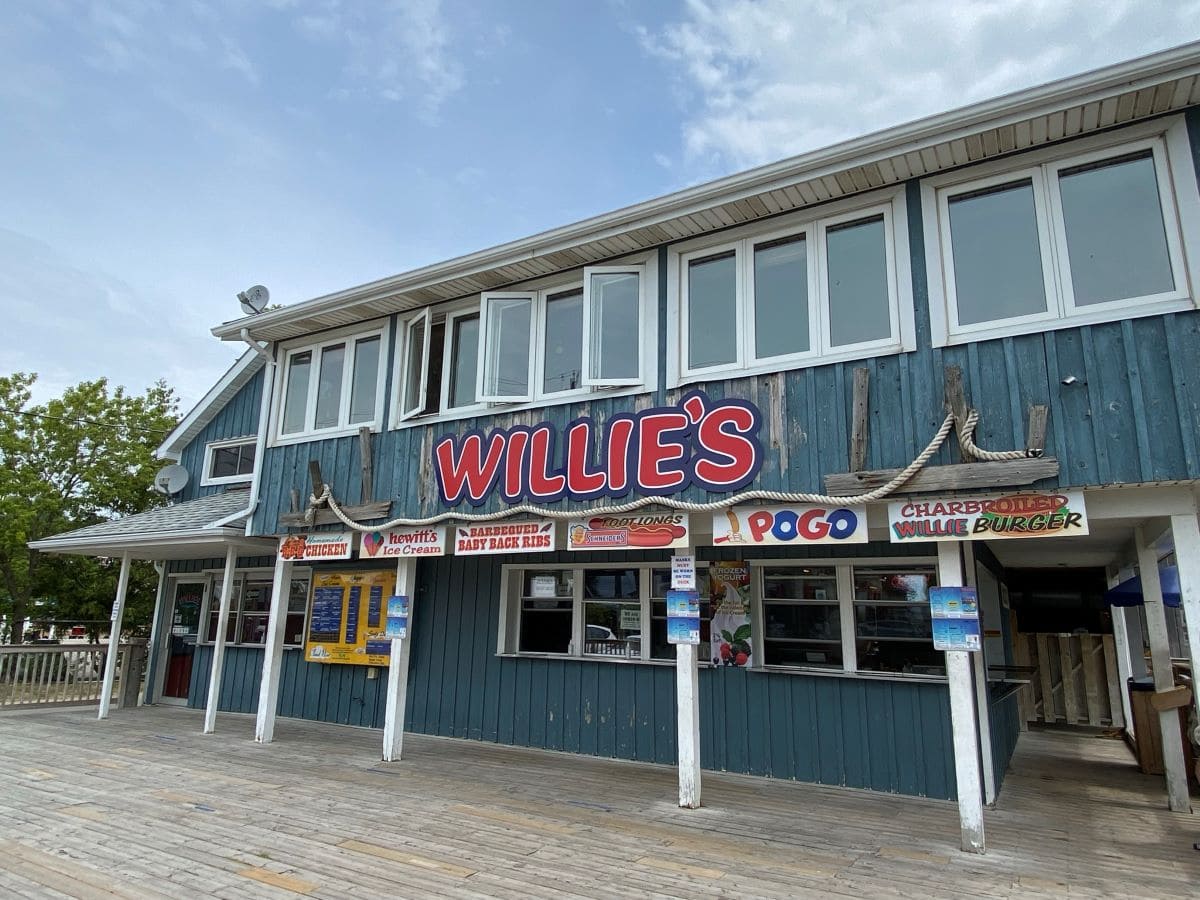 The Arbor
The Arbor has been in business for over 100 years! This awesome snack shack has been in business since 1919 and is known for its footlong hotdogs, fresh cut fries,, ice cream, and "Golden Glow" fruit drinks.
The Arbor was passed down to Carl Ryerse's sons after WW2, where at that time its main focus was ice cream.
It's open from March to October and is a great place to grab a quick bite. It's right down the street from the beach!
Address: 101 Main St.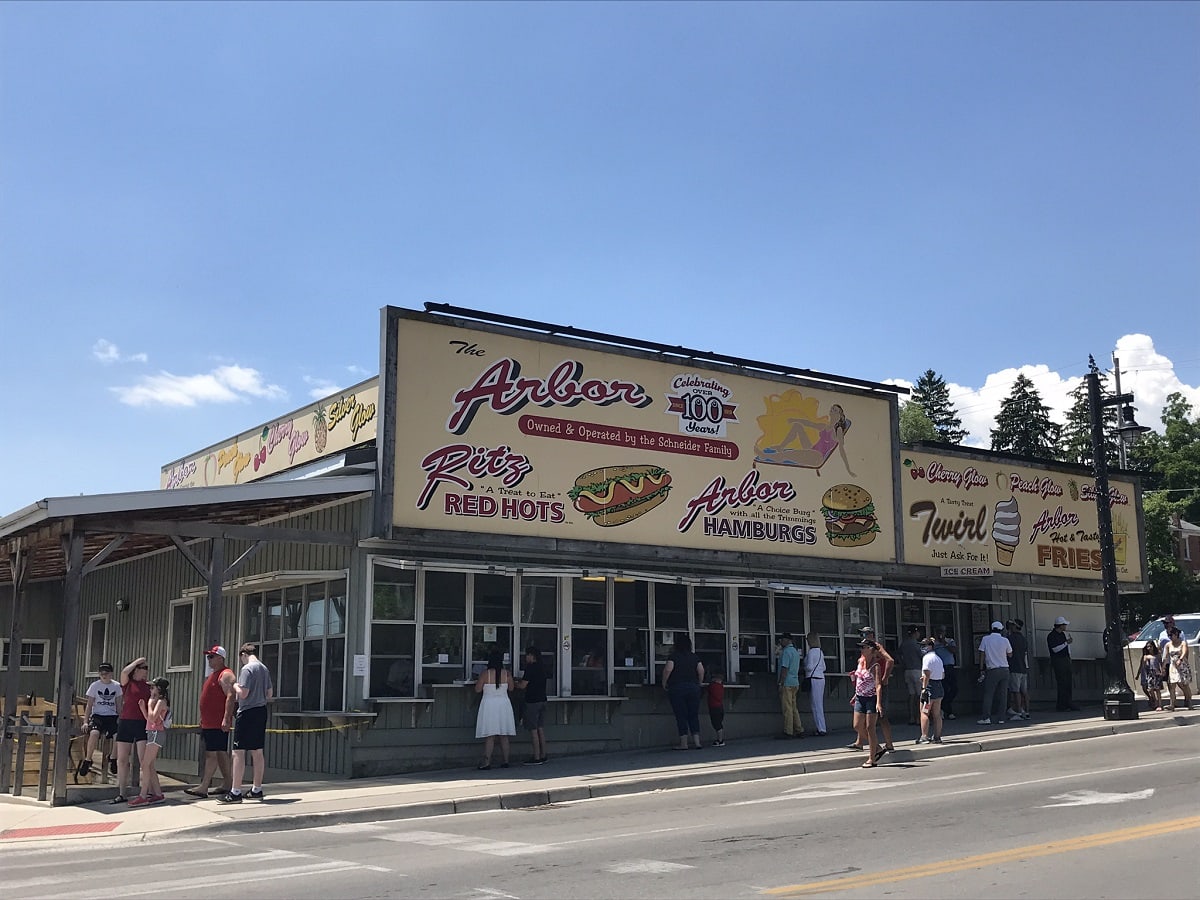 Knechtel Foods Ltd
Known for their generous portions, great service, and some of the best fish and chips in the area, Knechtel Foods Ltd is just down the street from the beach and offers burgers, hot dogs, ice cream, too!
Places like this are ideal for the current times. Grab your meal to go and enjoy it on the pier for a true east coast feel!
Address: 15 Walker St
The Beach House (formerly Callahan's)
Dine on the beach here overlooking Long Point Bay! Featuring coastal cuisine like perch tacos, calamari, mango shrimp, mussels, lobster and crab dip, and much, much more, The Beach House is a prime spot for dining with views in Port Dover.
This is also the only place around that plants PALM TREES during the summer! Talk about a beachy feel!
Address: 2 Walker St
Schofields Bistro
Located at the historical Old Town Hall (and just steps from the Lighthouse Festival Theatre) is Schofields. With a view of downtown Port Dover, this cozy bistro offers French and Italian cuisine using local ingredients. Their tagline is "Land, Water, Pasta, Vegetarian" – there is something for everyone!
They offer daily features, lunch, dinner packages and more (all for takeout, too!). And if wine and beer are your thing, there's a great selection of local and craft options!
Address: 243 Main St
Looking for something quick and easy to walk with?
Beachfront Fries or the Pineapple Express are great options and they're right on the water!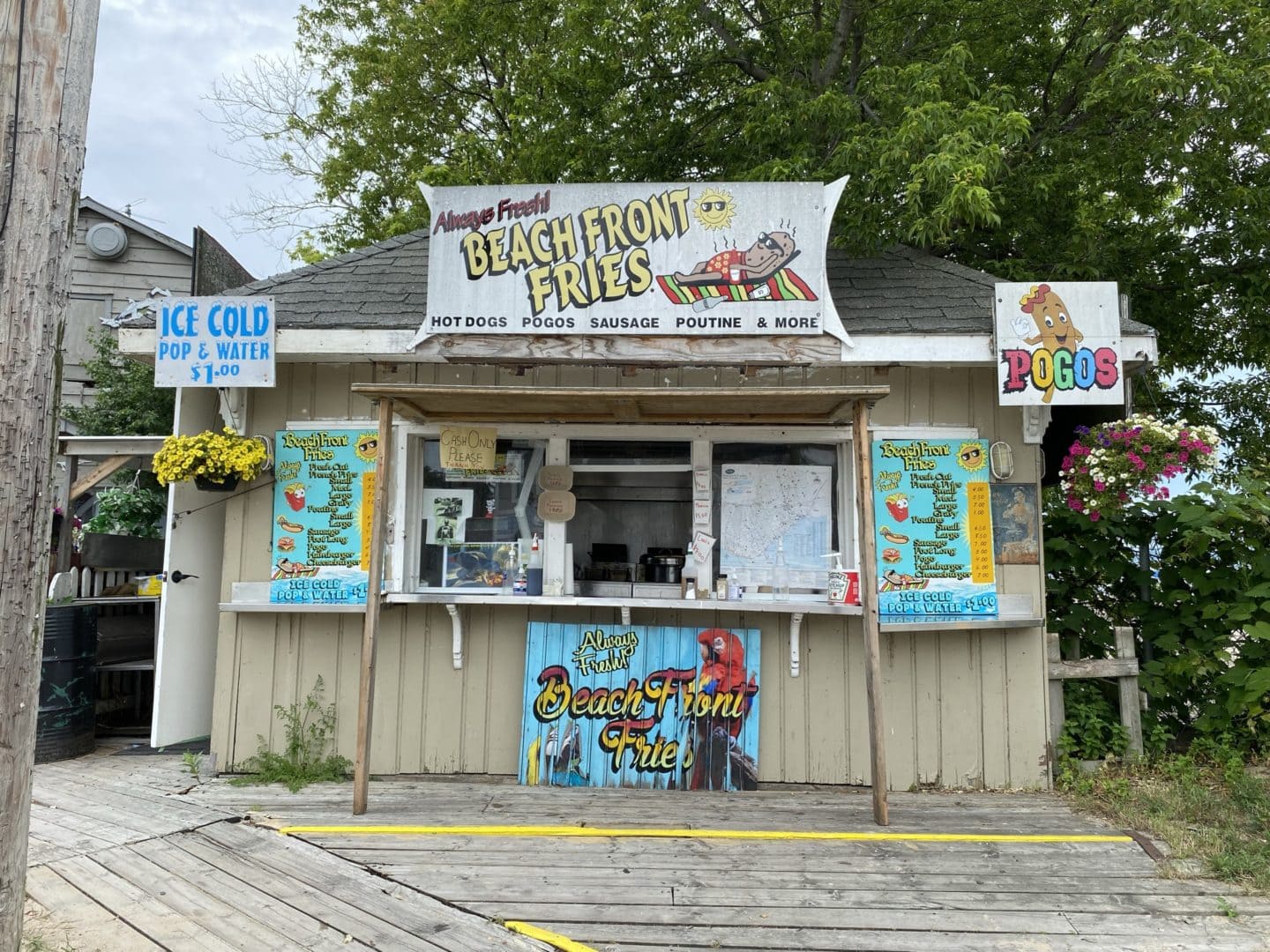 Coffee Shops and Bakeries in Port Dover
Urban Parisian Pâtisserie & Boulangerie
From sweet to savoury, this French-inspired cafe offers baked goodies, sandwiches, pizzas, tarts and much more.
Address: 120 Greenock St W
Trish's Bakery Cafe
This is an entirely 100% gluten-free bakery! Known for their awesome customer service and gorgeous baked goods like cupcakes, pies, pastries and bread, Trish's Bakery Cafe is definitely a hidden gem if you're gluten intolerant or celiac. But even if you're not, come try it!
Address: 229 Main St
The Coffee Shop of Port Dover
The place where everyone raves about one thing: carrot cake! This is an old school, real deal coffee shop that is popular with locals. You can also get breakfast and lunch here, too.
Address: 309 Main St
Craving something sweet?
Stop in at the Dover Dairy Bar, Woody's Waffles & Ice Cream (right on the pier!), the Ice Cream Tank, or Willie's for a cool treat on a warm summer evening while you take in the sunset.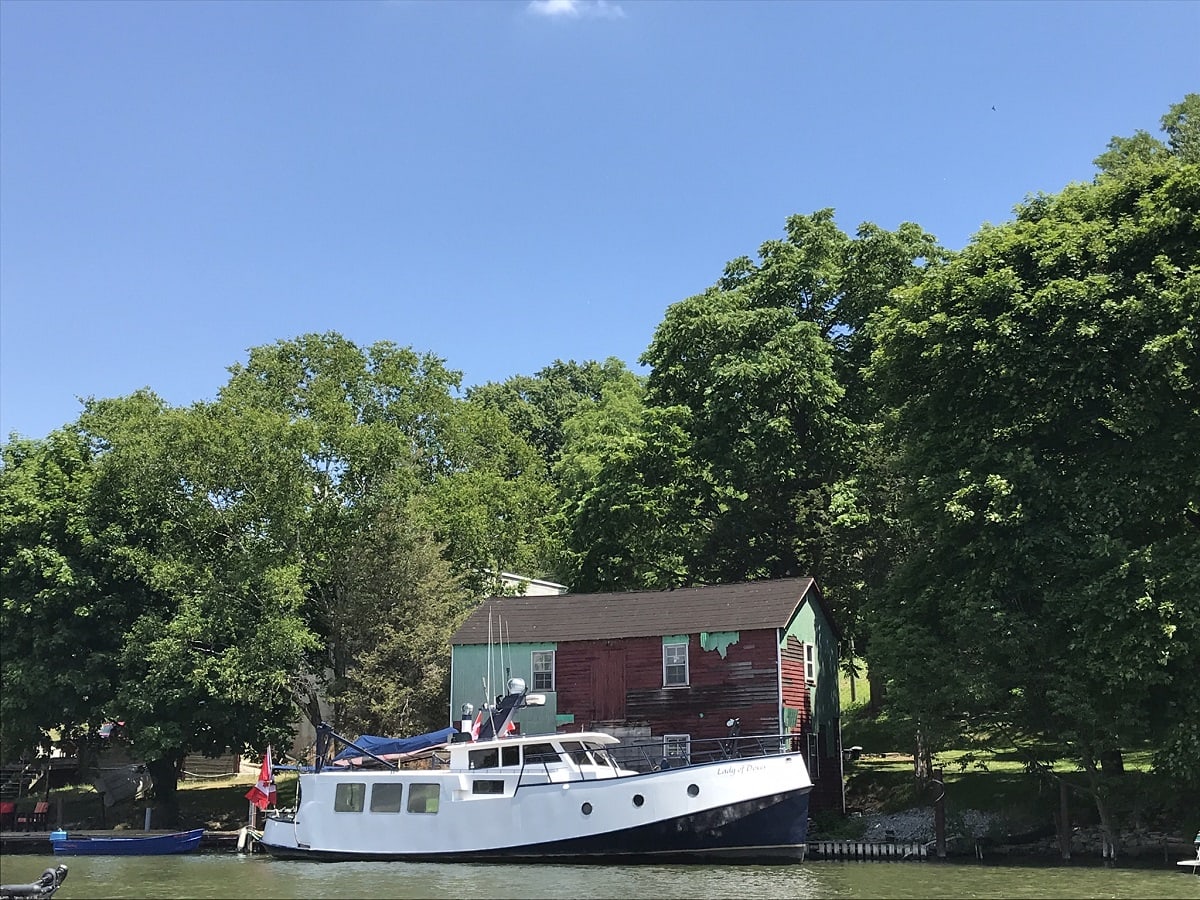 Related Posts
Pin it for later!