I'm so pleased to share some local treasures with you all! I have to keep reminding myself that where I live is a tourist destination itself, so what better reason than to feature some of these awesome places to see with you?
This post contains affiliate links which means I earn compensation when you click on the links at absolutely no extra cost to you! Feel free to read my disclosure policy. Thank you for supporting my blog!
Plan your next vacation using these tools!

✈️ Book flights: SkyScanner
🏨 Book hotels: Booking.com
🚘Book car rentals: RentalCars.com
🎫Book tours: GetYourGuide
🍽️Local food experiences: EatWith
🌍Favourite travel item: Packing cubes
🧳Favourite travel bag: Osprey 40L Fairview
📱 ESims: Airalo
🩹 DIY Travel Medical Kit
💸 20 Cheap Travel Items Under $20
Tucked away and nestled on the shores of Lake Ontario in Grimsby lies a small quirky neighbourhood known as Historic Grimsby Beach, filled with Victorian cottages like none you've seen before. It's one of the best kept secrets in the Niagara Region, even to many locals!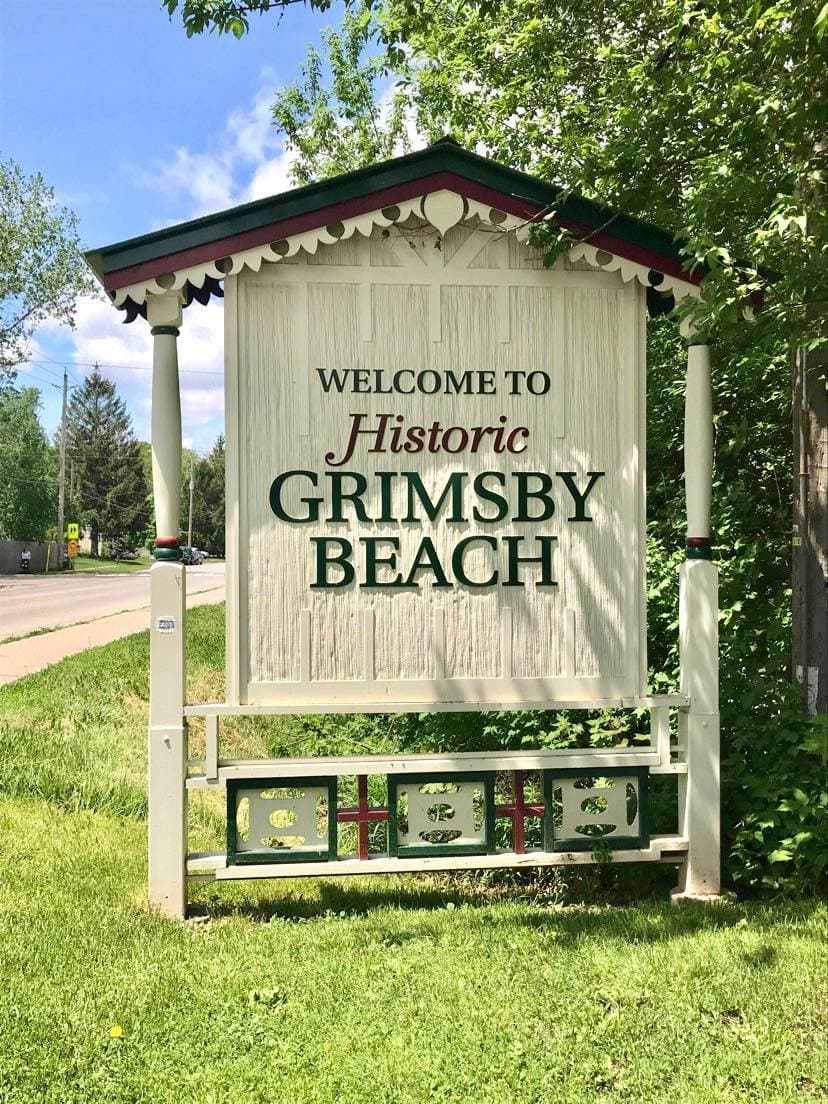 I had the great fortune of once living only a 15 minute walk from this quiet community (and now only live a 5 minute drive away in Beamsville!) and it truly is a feast for the eyes – a mirage of sorts. It's like happening upon a children's colouring book and you can't help but smile.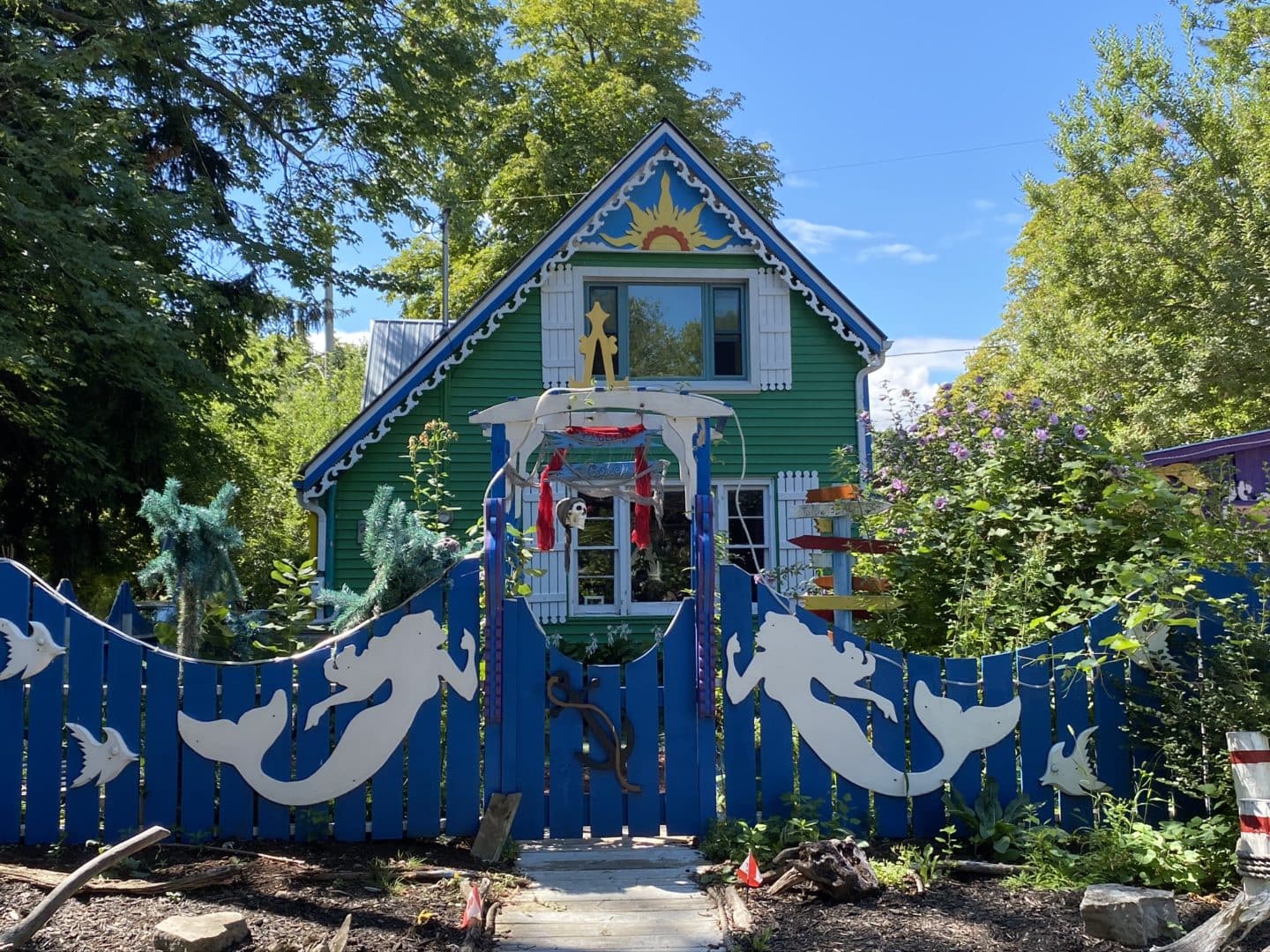 They are lovingly referred to as "The Painted Ladies of Grimsby", dollhouses or fairy homes – colourfully decorated and proudly displayed like little gingerbread houses; each one is unique with its own style and character. Painted every colour you can imagine – ranging from pinks, yellows, blues and greens, orange, red and purple – these little buildings date back to the 1800s when they were once used as summer cottages.
I actually checked out a brightly-coloured home that was for sale here years ago when I was house hunting – and it was adorable, albeit a tad small for even someone my height!
A Brief History
The Grimsby Beach waterfront was a major summer destination for over 75 years. The history of Grimsby Beach dates back to the mid-1800s when Methodists used to gather here and held week-long revivals during the summer. Many would travel here with their tents to sleep in overnight and listen to preachers during the day.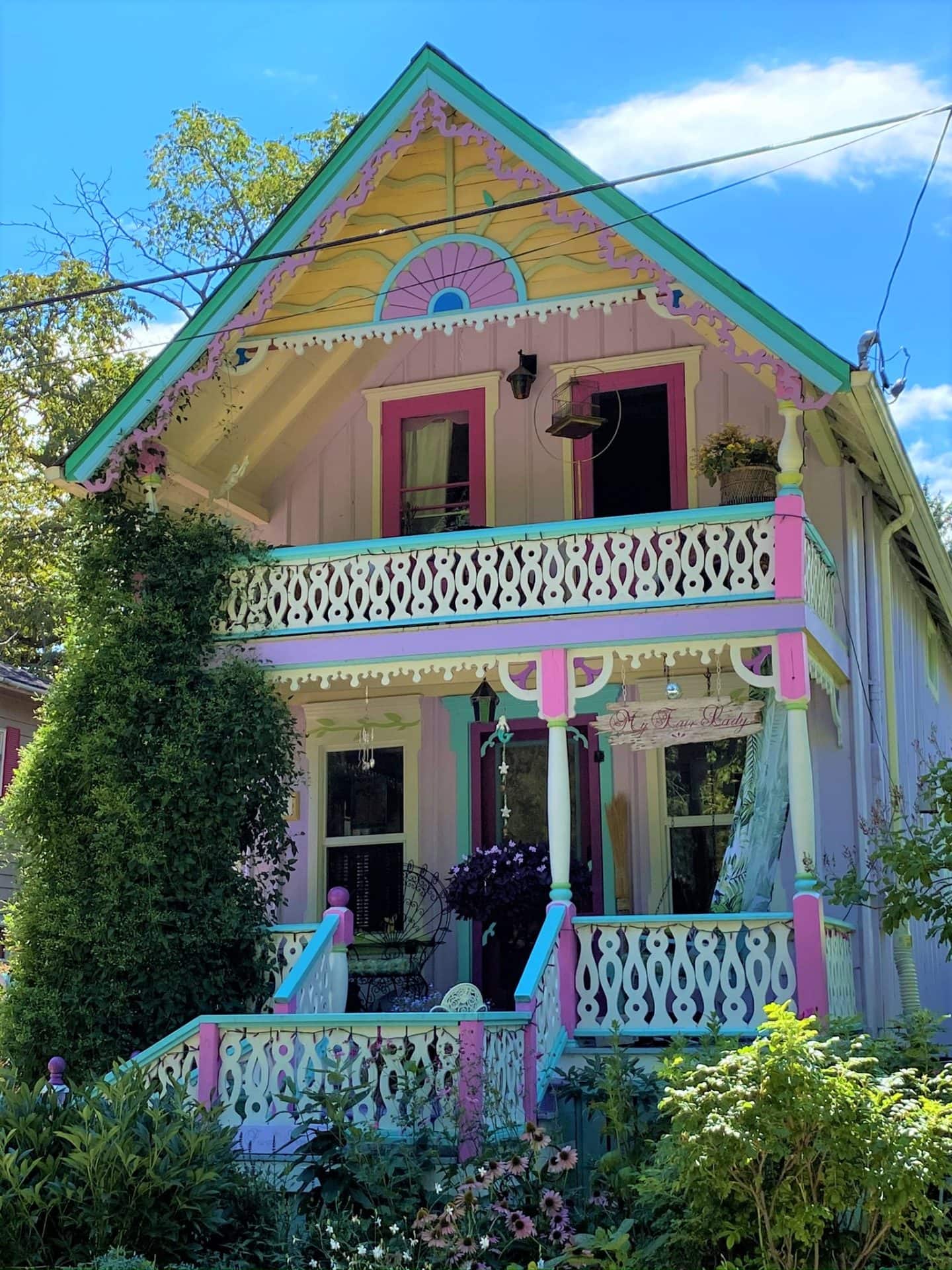 Gaining popularity, there became a need for more adequate housing, and the cottages were erected in 1875. Two hotels were later built to accommodate the growing number of visitors. There was even an auditorium built to seat 7000 – an astounding number considering the entirety of Grimsby is 28,000 today.
By this time, affluent visitors flocked to Grimsby Beach to enjoy the scenery and picnicking along the lakeside. Numerous activities were enjoyed during the summer, from swimming at the beach, rowboats,, fishing (there was even a popular fish and chip stand on the beach!), and watching the ships dock at the pier, including steamers.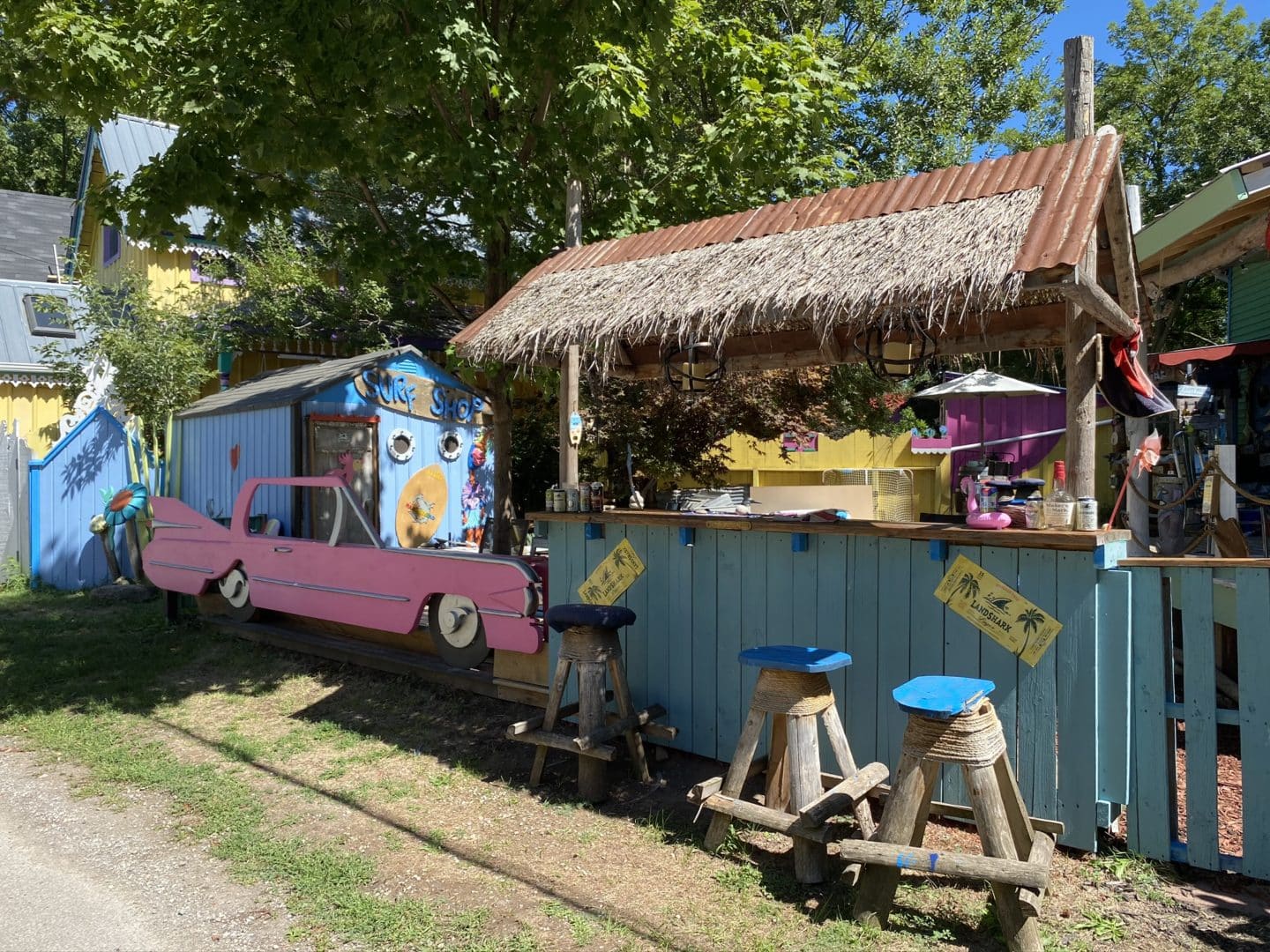 In the early 1900s, the group managing the Methodist revivals went bankrupt, but was soon taken over by an American who turned the area into somewhat of an amusement park, complete with a midway, casino, roller coaster and merry-go-round!
Sadly, in the 1920s, a fire destroyed 30 of these cottages and local residents took over the community. Eventually the attractions went away but people started coming here for the views (and for good reason!).
In the 1940s, people started 'winterizing' their cottages and making them suitable for year-round living. Once again in the 1980s there was another fire – but a few remaining cottages are lovingly maintained today to keep the charm of their former youth.
It maintains a much quieter atmosphere today – quite a contrast to what it once was – but makes for an enjoyable walk and great photos.
What to See
It does feel a bit suspicious taking photos of these homes, but you can't help it!
I usually spend 30 minutes wandering around. The majority of these colourful cottages are on Auditorium Circle, where you'll feel like you've stepped into a fairy tale. There are more on Temple Lane, but I highly recommend walking through the entire neighbourhood, including the waterfront trail.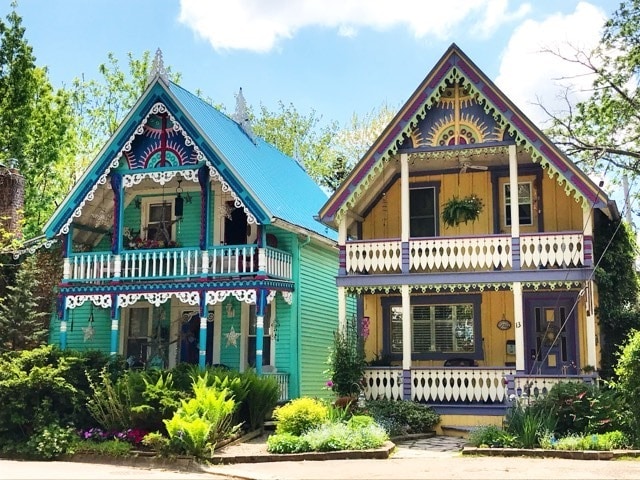 Take your time strolling down the small alleys – there are tons of hidden gems to discover, like a community garden, ornate fencing, and artwork displayed all over Historic Grimsby Beach.
The tiny neighbourhood is so charming with lavish gardens and decorations. There's even a "Little Library" – where people can drop off books for others to read, or to pick up some new reads! How cute is that?!
You can grab some stunning views of Lake Ontario straight across to Toronto from Grimsby Beach Park which is a short walk down the street. Many locals frequent this spot. It's quiet and offers great views, perfect for a family outing or picnic.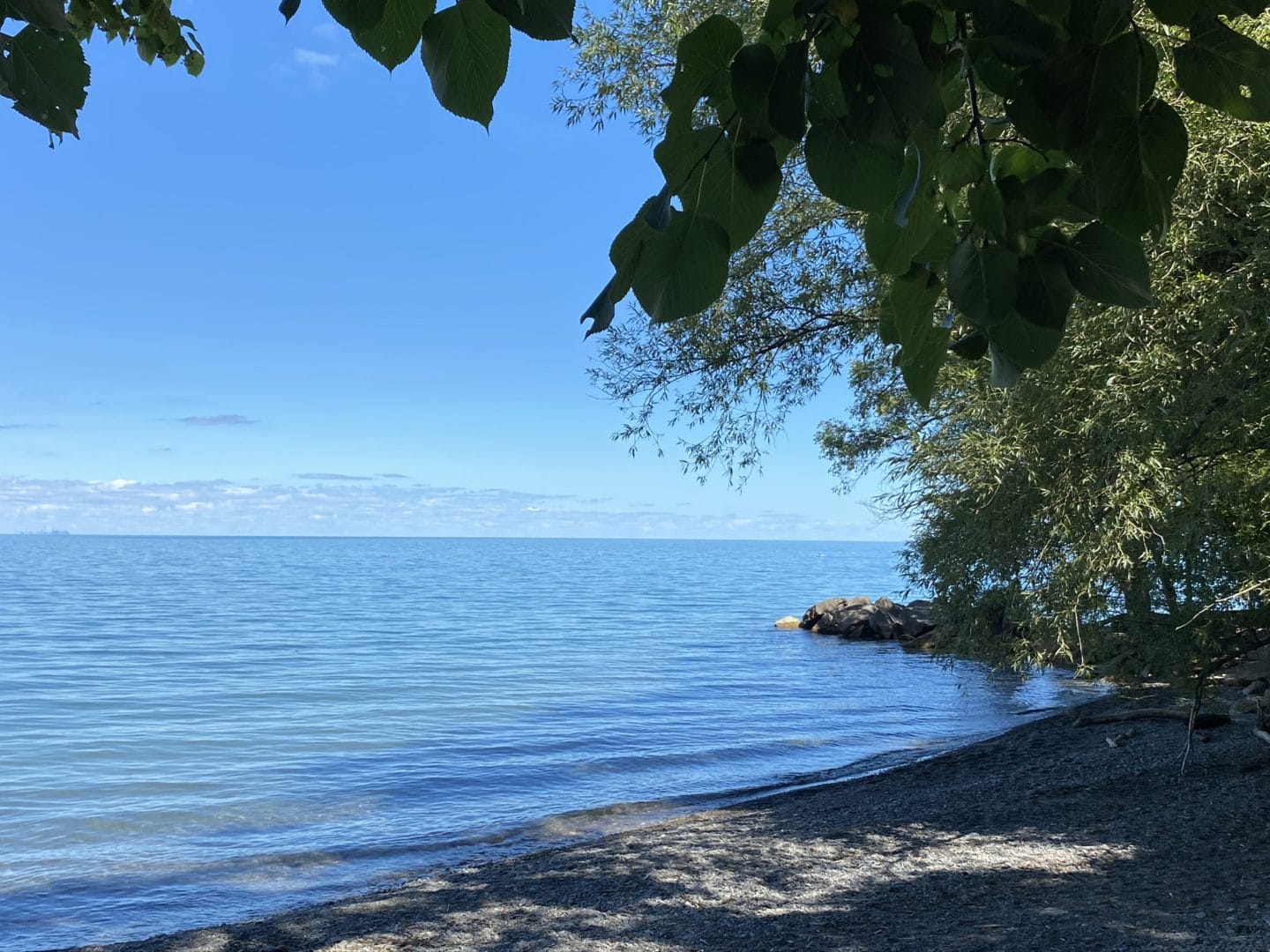 There are a few other homes on Lake Street decorated with bright colours and ornate patterns – be sure to look out for them too! You can tell that many of these owners take great pride in their homes and gardens, and it shows.
I can't imagine the work that goes into maintaining these homes. I saw a few homeowners out tending to their gardens and touching up their homes on my most recent visit. It's a perfect community for art-lovers to visit (or live in!).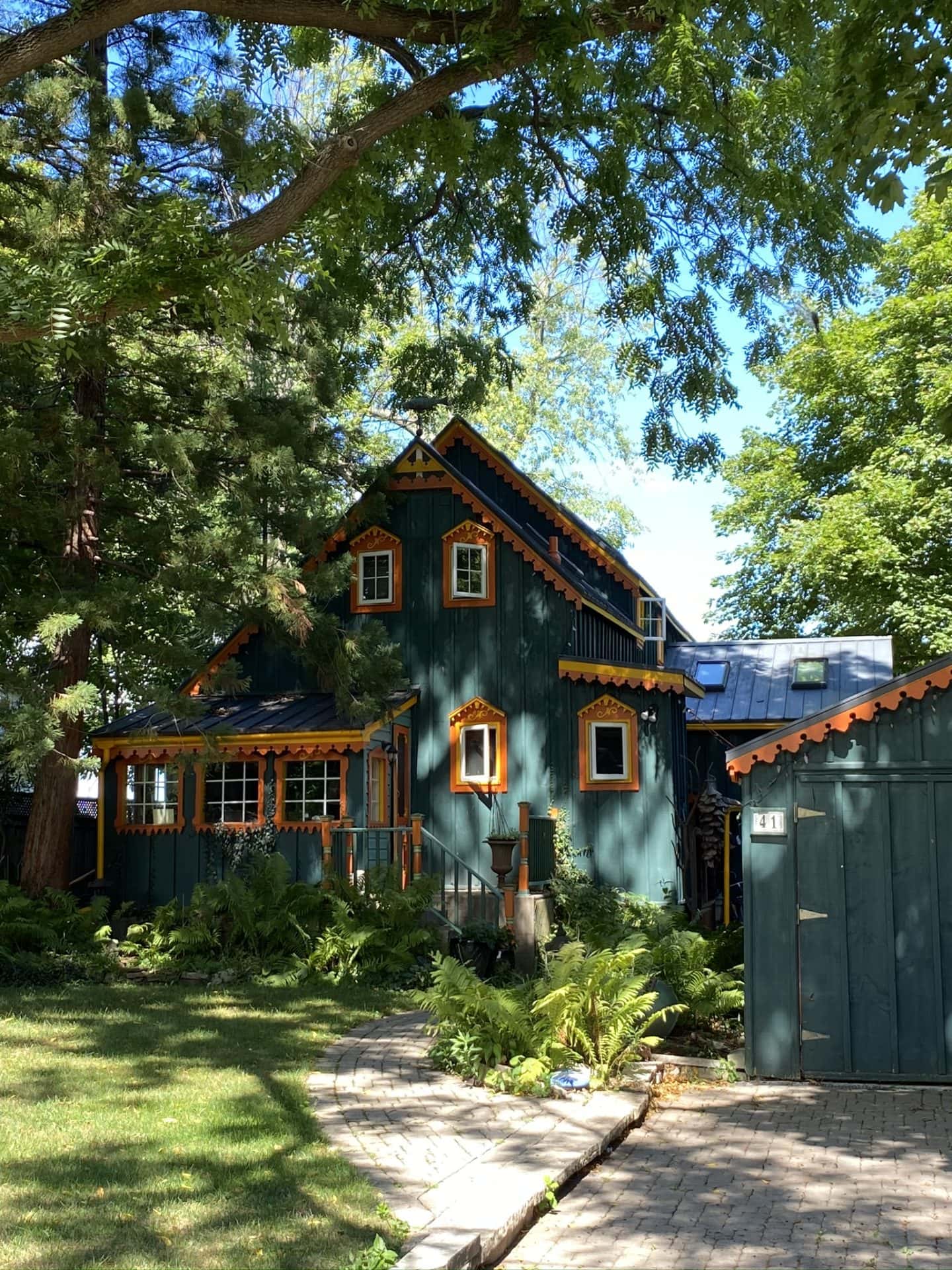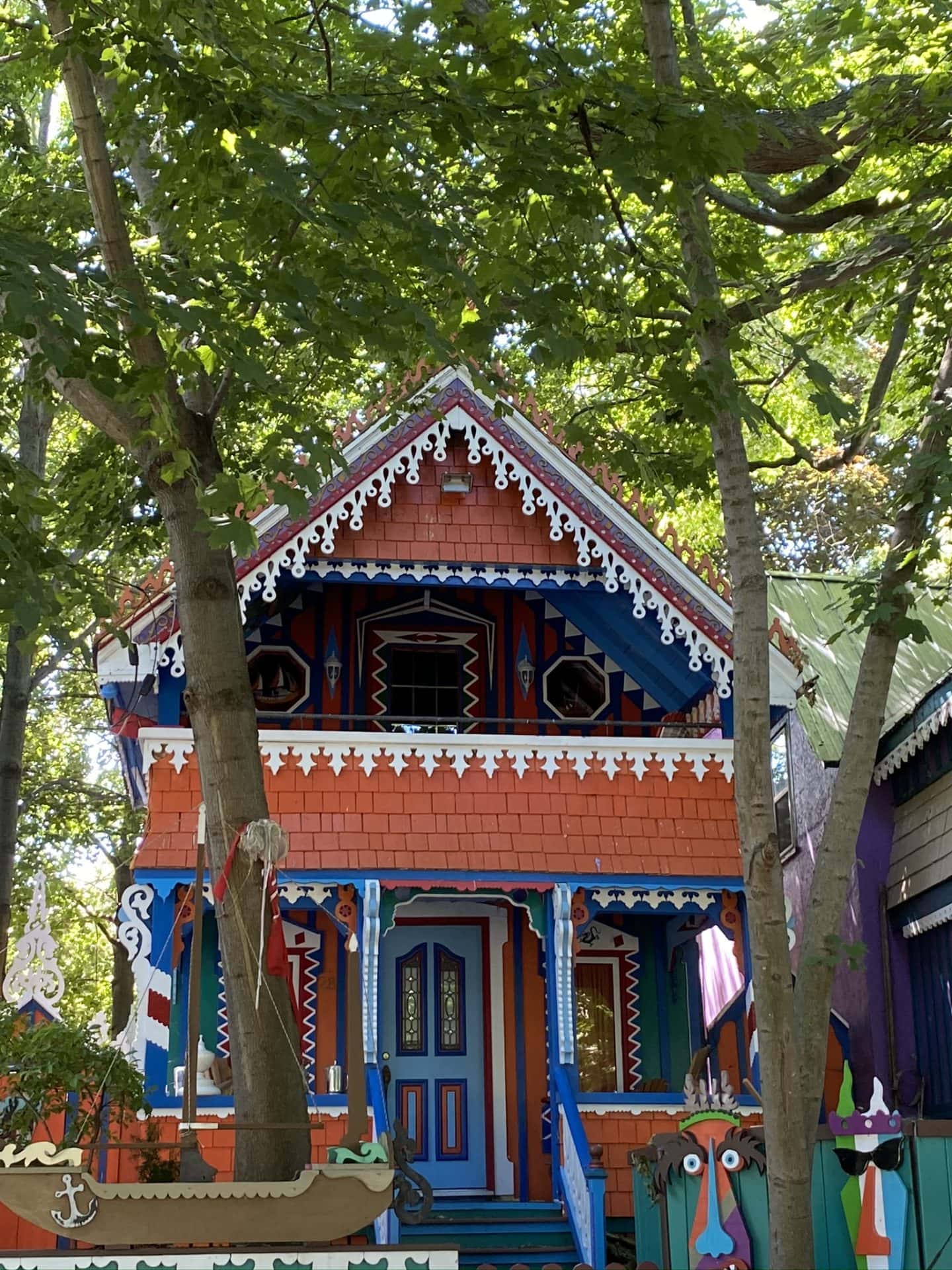 Enjoy, but please remember…
Be kind and respectful – don't venture onto owner's properties without permission (yep, people actually do this!). These colourful homes attract visitors from all over, but please be courteous (and quiet!) during your visit. Remember that people call this place their home!
If you happen to be driving through the area, get your dose of whimsy with these adorable magically enchanting dollhouses – truly a hidden gem in Ontario.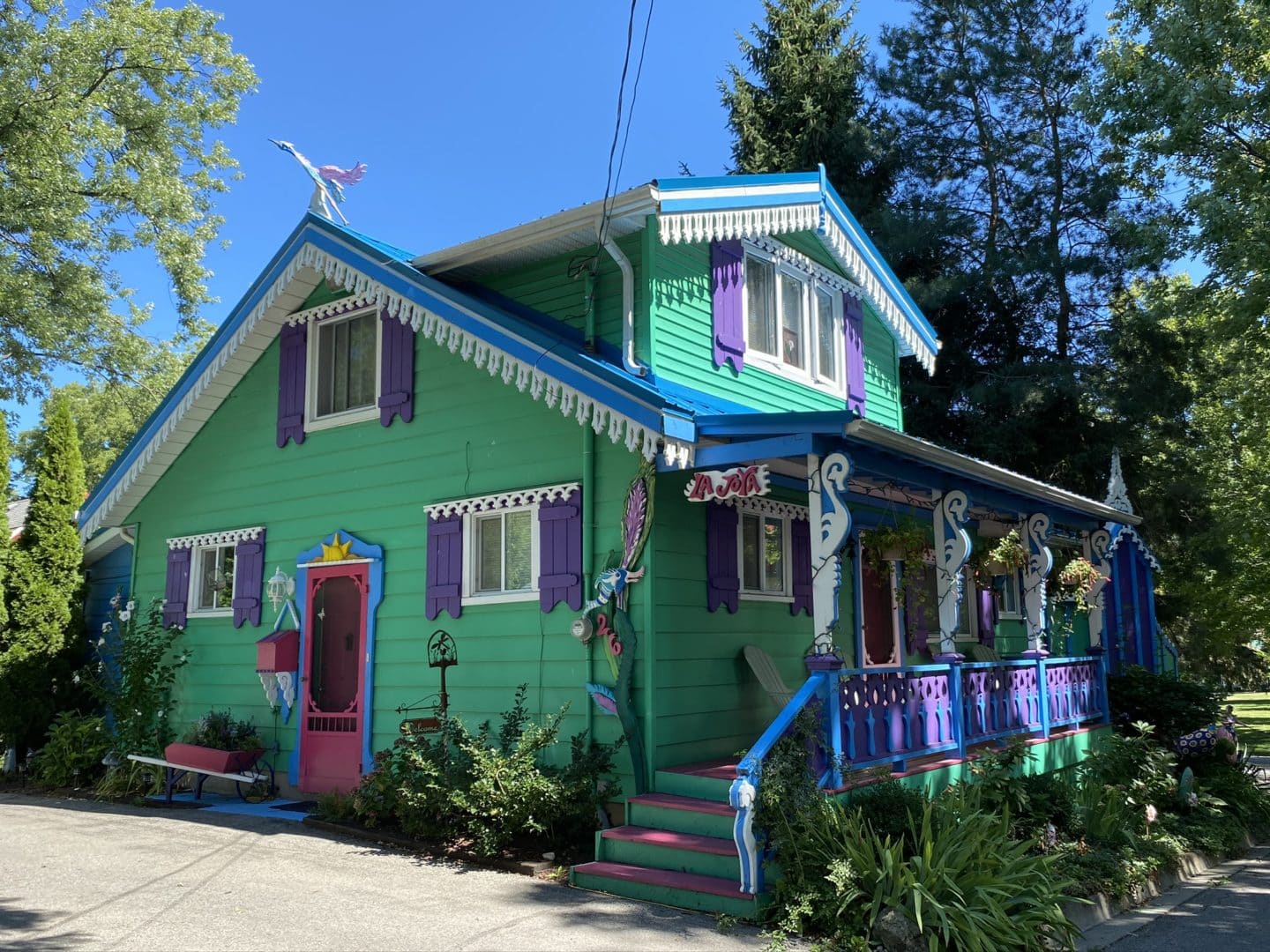 How to get there
The Painted Ladies of Grimsby are located 60 minutes from Toronto or 30 minutes from Niagara Falls, exit off the QEW at Bartlett Avenue in Grimsby (Exit 68) and turn towards the lake, away from the escarpment. At the stop sign at Bartlett Ave and Lake Street, turn left. You'll see a sign for "Historic Grimsby Beach" just past a small strip plaza with a convenience store.
Turn right onto narrow Betts Laneway and keep left. You'll come across a small parking lot on the right on Temple Lane. Park here and take a stroll to admire the uniqueness of these homes!
p.s. These laneways are one-way only!
If the parking lot is full, consider parking down one of the streets outside of this little community, since you won't be able to take it all in from a car! I have also parked at the school on Grand Avenue on weekends on the opposite side of Lake Street.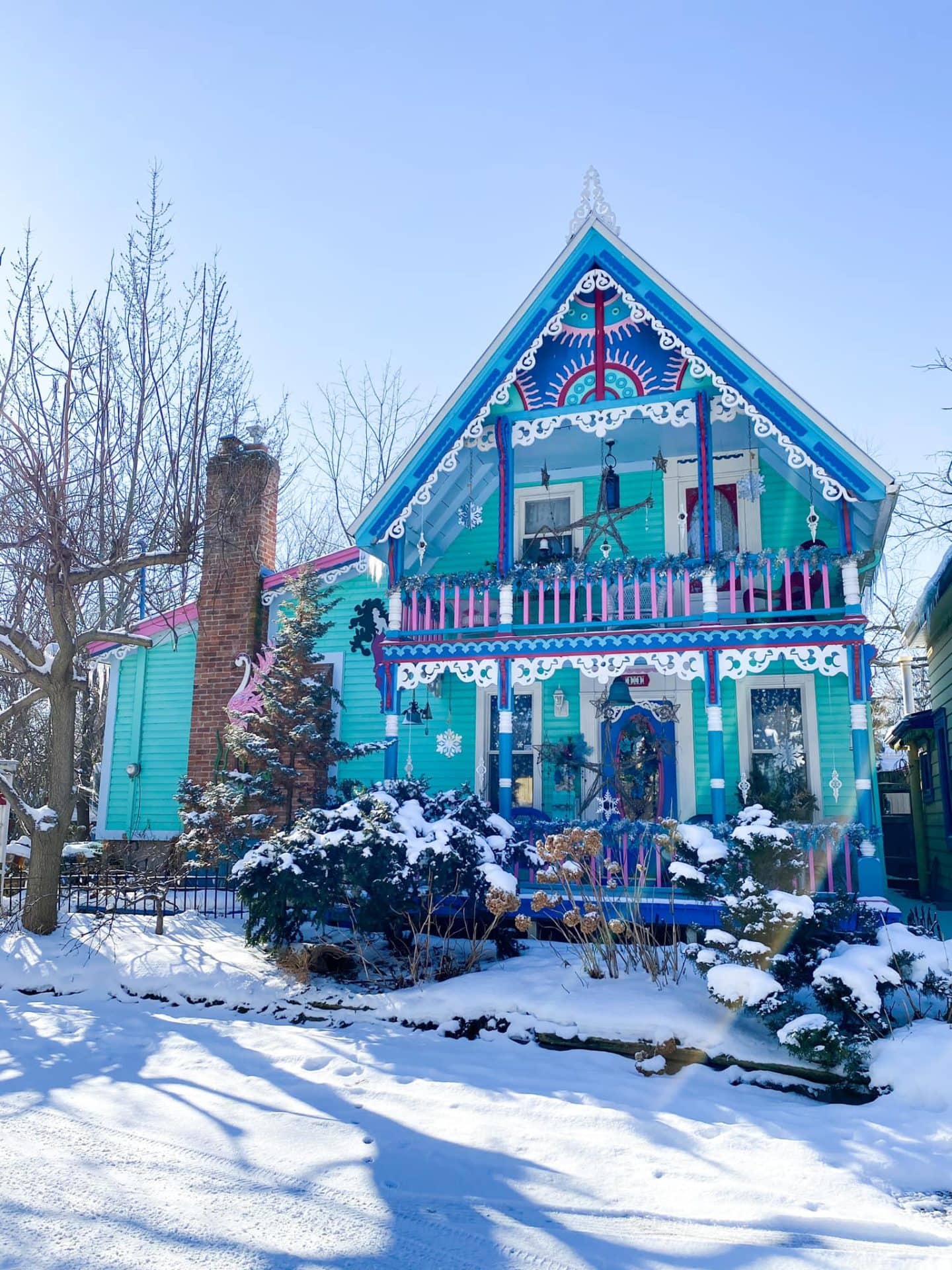 Related Posts
Pin it for later!
Here's a map of the location!