I'll admit – when it was suggested that I explore locally within Ontario and Canada for the next little while, I sneered. Ugh! It isn't exotic enough! Yep. Really. That's when I had a recommendation to check out Ontario's charming (and most road-trippable!) town, Elora.
I've since come to realize how much unseen beauty there is in Canada. I've always been lured by far away places but this whole pandemic has changed my thinking and I've been so grateful to have so many amazing places to see around us.
And, as a bonus, I can get there and back within a day to most places and only have the mild inconvenience of sitting in traffic (which I am still trying to manage my temperament better😂).
We decided to head to Elora after hearing numerous people mention how pretty of a town it is. It's an easy drive from the Niagara Region and only took about an hour and a half to get there, and is the same distance from Toronto as well.
Our visit here had us agreeing that this is one of the most charming towns in Ontario.
This post contains affiliate links which means I earn compensation when you click on the links at absolutely no extra cost to you! Feel free to read my disclosure policy. Thank you for supporting my blog!
Plan your next vacation using these tools!

✈️ Book flights: SkyScanner
🏨 Book hotels: Booking.com
🚘Book car rentals: RentalCars.com
🎫Book tours: GetYourGuide
🍽️Local food experiences: EatWith
🌍Favourite travel item: Packing cubes
🧳Favourite travel bag: Osprey 40L Fairview
📱 ESims: Airalo
🩹 DIY Travel Medical Kit
💸 20 Cheap Travel Items Under $20
Most Road Trippable Town in Canada
Did you know that Elora won the award for the most Road Trippable Town in Canada? It scored the town a $10,000 donation from Chevrolet to be put towards beautification projects.
Once you visit, it's certainly no surprise that Elora won.
There is plenty of free parking available in Elora and we managed to grab a spot right by the LCBO (which was the cutest one I've ever seen!). There is also tons of street parking too, just be mindful of residents' driveways. The main bridge was closed but there was a pedestrian footpath right by the old Foundry and Elora Mill.
What I loved about Elora was the small-town feel. The streets are shut down during the summer weekends for foot traffic and you're instantly enthralled and enchanted by this cute little town.
Where to Eat & Drink
We arrived midday and decided to get lunch first. Upon heavily researching (😂) I came across a bakery that specializes in sourdough breads – something my husband had been trying to perfect during our lockdown time earlier this year. He's always on the hunt for good sourdough so this felt like the perfect place to come.
Elora Bread Trading Co. is magical. You walk in and there's a tall rack of different varieties of sourdough bread that, from what I've seen, changes often.
The employees are friendly and entertained our conversation while we were ogling the different breads, and obviously we had to buy some to take home. We picked up a fig and anise loaf and one called "The Northerner" – made with beer, buttermilk, pumpkin seeds and some other goodies.
They also make sandwiches ($10 including tax) and you have to get one. We split a roast beef one and had to go back before closing to try their eggplant with tahini. They're that good and this alone was worth the drive!
We wandered down the street to enjoy our lunch overlooking the river.
If you're in the mood for a sit-down meal, we passed numerous restaurants with patios along Metcalfe Street and they looked so inviting! From The Metcalfe Restaurant, The Porch Light, or The Evelyn, there are no shortages of tasty options in Elora!
There are many charming spots to grab a drink – including Elora's own craft beer brewery, the Elora Brewery, and distillery, the Elora Distilling Company, home to unique spirits cocktails, like this Amethyst spirit, filtered through charcoal and raw Ontario Amethyst (!!!) which is sourced from The Amethyst Mine Panorama just outside of Thunder Bay, Ontario. You can even do tours of the distillery for $25 per person and includes a cocktail!
Where to Shop
I didn't know where to look first – each building is so unique and draws you in. On the main street alone there is a second-hand book shop, a florist, clothing, pottery, antiques, home goods, and my favourite of all, an eclectic and quirky store called The Mermaid in Elora.
I could've easily spent all day here. It looks like it's straight out of a storybook and reminds me of all of my favourite shops in Rye, UK, full of whimsical items you can't find anywhere else, like miniature Italian food magnetics (seriously, like little bottles of champagne and bags of pasta), posters of the world, pocket watches, canvas bags, jewelry, paperweights, door knockers, mailboxes, and these gorgeous, handmade posters made by a family in Texas – "in the Land of Elsewhere" – combining vintage photography and artwork. I wanted to buy them all, but realized I have 12724830 other prints to hang at home still 😂.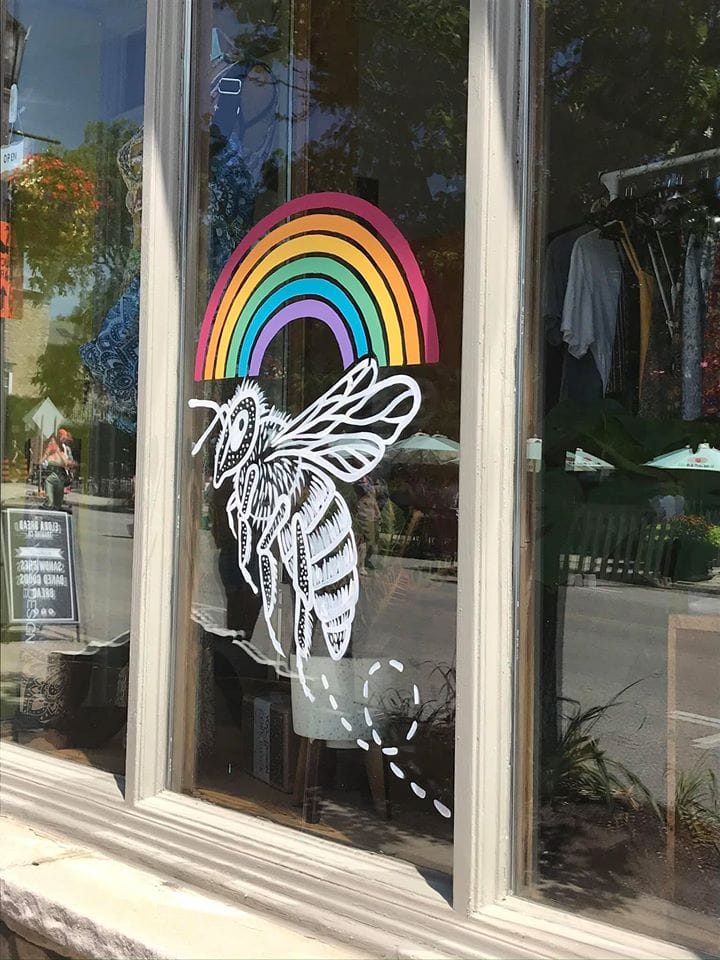 I didn't even get started looking at the cards – the same ones I can usually only buy in the UK. Dana was waiting outside due to shop restrictions for social distancing so I grabbed a poster of the British Isles and dashed (I know, another poster to add to collection of unhung frames!).
I just hopped on their website to grab the link and got sucked in to looking through their pages. I just saw they sell Eiffel Tower door stops and now I have to go back. 😭
The second-hand book shop, Twice Loved Books, is adorable. You can even shop online and have it shipped to your house for $10 flat rate, or pick up locally. There's an extensive collection of books and they also offer a trade exchange for some book titles they're looking for! I love the concept of this little store.
Elora Gorge
Elora is well known for the Elora Gorge – and is truly the showstopper. I had no idea such beauty existed so close to us.
Formed by glacial melt waters during the last ice age around 14,000 years ago, the Elora Gorge has stunning cliffs reaching 22 meters (70 feet) and is a popular tourist destination, surrounded by waterfalls, stone cliffs and trails at every turn.
p.s. because I was a Geography major and studied Geomorphology, I can't help but add the bedrock is of the Siluran Period from the Paleozioc Era – 450 million years old!!!! You may even find fossils in the limestone formations!
I wasn't prepared to go hiking today, which you can do at the Grand River Conservation Authority, amongst other fun things like tubing down the Grand River, camping, swimming, fishing, boating etc. Instead, you can view the Gorge for free at Victoria Park, just at the end of James St (off of the main drag, Metcalfe St).
There's a beautiful wooded area you can picnic in and stroll along the stop of the Gorge. There's a beautiful lookout that will give you sweeping views of below and I probably looked like a kid in a candy store because I was so impressed.
The banks of the Grand River have enough rocks on them to sit along the edges, which we saw many families doing, or you can go tubing down the river. Tons of hikers were also down there which offered spectacular views.
We walked along the fenced perimeter and happened upon a set of stairs leading down to the Gorge. I had to get down there. It was a steep set of 60 cement stairs with a railing which wasn't that bad, but once you got to the base of the stairs there was a steep dirt incline with rocks (which helped with footing, at least!) and a fallen tree to navigate under, to reach the water.
There were loads of people down there but saw many in flip flops. How did they manage that?😨
The views from below are even more spectacular. You can walk right into the middle of Irvine Creek which is just off of the Grand River and is low enough to cross. There are little pools of water with minnows. Families were splashing in the water or sitting and enjoying the views.
I looked up and saw a set of zip lines – how fun would that be? Sadly that activity wasn't open yet but I imagine that would be an exciting experience!
Final Thoughts
Elora is a little bit of everything – Dana and I couldn't agree on what place it reminded us of most – Europe? England? USA? It's a bit of all of it! You'll be drawn in to the small-town atmosphere and friendly community.
Even the side streets are filled with old houses full of charm, many reminding me of our visits to the UK.
We can't wait to return and explore some more areas once they're open – like the Elora Quarry. We may even make a weekend of it and stay at the Elora Mill. I'm so thankful we have such cute towns near us to visit!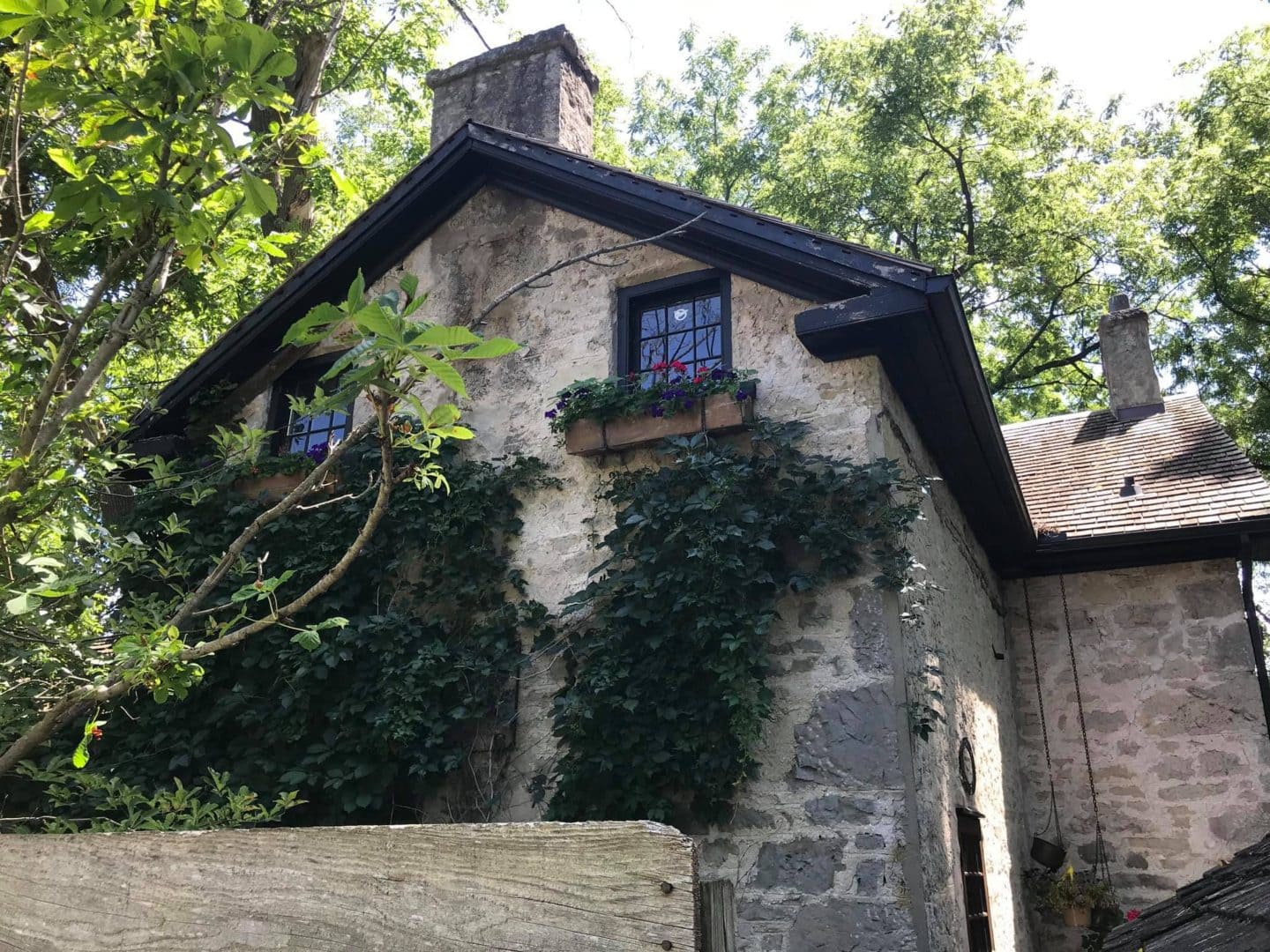 Pin it for later!