I get it – planning a wedding in another country can be overwhelming! You aren't there to see what is happening, or even SEE your options in person.
I've spent the last 8 years helping 7000 other brides do the same – and you can take some comfort in knowing that the wedding planners at your resort know what they're doing.
You may not get an immediate response, since there are other brides ahead of you, but rest assured they are working hard behind the scenes looking after your wedding day details.
I was pretty laid back when it came to planning – and I hardly had any communication AT ALL with my wedding coordinators.
I was beginning to wonder if they had ANY of my details down, but once we arrived at our resort in Mexico, they had a file with all of our correspondence and knew exactly what we wanted.
This post contains affiliate links which means I earn compensation when you click on the links at absolutely no extra cost to you! Feel free to read my disclosure policy here.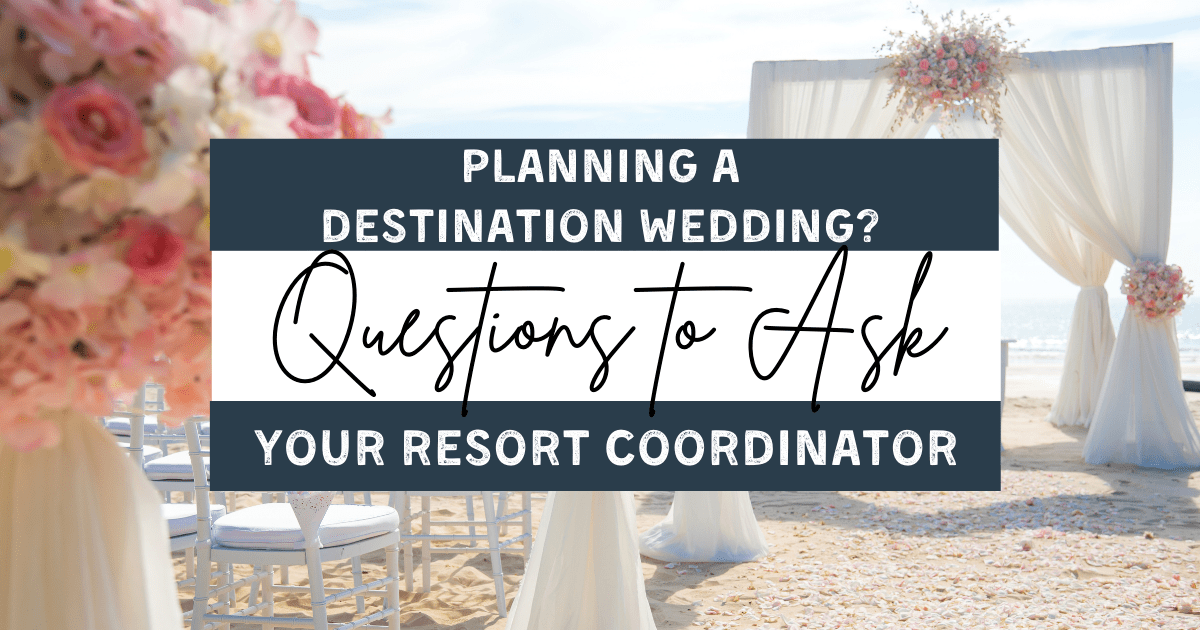 Before anything else, I cannot stress enough how much I recommend working with a travel agent. DO NOT do this alone – you're creating extra work for yourself, and it costs you nothing to work with a travel agent!
Some even specialize in destination weddings (if you need some recommendations, feel free to get in touch with me!) – it doesn't get any better than that!
You have enough to worry about with planning a wedding. You don't need to be fielding questions from guests and chasing them down for payments. Let the pros handle it!
p.s. you don't actually have to be local to your travel agent. You can live across the country and still get it handled, so don't worry about finding someone in your hometown.
Are you wondering what kinds of questions you should be asking your wedding coordinator at your resort?
Here's a list of important questions to ask to get you started!
What are the backup locations in the event of weather? This is the number 1 question I tell everyone to ask. No one likes to think it'll rain on their wedding day, but you'll need to know what your options are.
What are the outside vendor fees? They can range from $200 per vendor to upwards of $1500+. These are often a surprise and a big expensive for some brides! Are vendors even allowed? What is the cost for a vendor meal?
…and ask if they have any preferred vendors. Often these vendor rates will be less when dealing with a preferred partner.
Ask about any additional fees like gratuities and taxes.
After you review the available packages, get some clarity on what the package includes per number of guests and what any extras per person may be above the package inclusion. This will help you with your budget, and determine whether it is more cost-efficient to tier-up to the next package.
Send photos of what flowers you like (find out if a bouquet is included) and ask if this is something that is manageable within the package inclusion or if there are any similar flowers in season. You'll be surprised how expensive flowers can be! I remember wanting orchids and I was quoted $100 USD for FOUR!
Send photos of any inspiration you like for centerpieces and decor. A smart idea is to send a Pinterest inspiration board over for them to look at (and some resorts actually request that you do it like this!).
What other events are going on at the venue on the same day/weekend/week?
Does the spa do hair and makeup? How many can they accommodate?
Ask if you need to provide things like seating cards or a seating plan.
Regardless if you're having a symbolic or legal ceremony, find out how many days you need to be at the resort before you get married.
Can special diets be accommodated?
How much does it cost to extend a reception, and do they allow it?
What is required for the deposit?
What is the best way to communicate? Email? Phone?
How is payment taken, and what is the timing for payment intervals?
Ask to see a layout of ceremony and reception areas.
If you're having a legal wedding, ask what the process is for blood work (Mexico).
Can you provide your own decor? What is the set up fee for doing so?
Is there a refund/cancellation policy?
Need some destination wedding guest book ideas?
Here's a list to get you inspired!
If you are going for a site visit…
Ask to see the room options for your stay.
Bring a book and copies of any inspiration for things you like to give to your wedding coordinator.
Watch for weddings while you're there (you're likely to see one or two!) and take photos of what you like.
Ask to see all available options for your wedding ceremony and reception, and take note of lighting, sun/shade conditions, and if there is a breeze, noise levels, etc. Although I will guarantee you won't notice anything on your wedding day but you and your significant other!
Ask how many people each location can fit, and if there is a minimum guest count to be able to use that space.
Set up a food tasting (yum!). If you can manage a site visit, this is so much fun to do and it gives you a better idea of what to pick off the menu and whether to offer plated or buffet style (if available).
Ask to see the Bridal Suite (note: not all resorts have a dedicated room you can get ready in).
Get a trial of hair and makeup done to see if you like the styles (and a perfect excuse to get some engagement photos done!). Otherwise you can look into hiring an outside vendor.
Get a visualization for where you'll be walking down the aisle. This can help with picking music and timing.
Ask to see the basic setup for ceremony and reception. Often there will be a bridal office (depend on your resort) set up with photos and different examples of table setups.
Important to remember…
Generally speaking, wedding coordinators usually won't be in touch with you until 90 days before the wedding. DO NOT PANIC! Everything is down to a science, and while we're used to receiving same day responses to emails (sometimes even within minutes!), oftentimes your wedding coordinator is busy working on a wedding that is before yours. They know what they're doing. If you find it's been a month or more without contact, don't be afraid to follow up with a phone call.
Have questions? Feel free to contact me or get in touch through social media!
Looking for packing lists?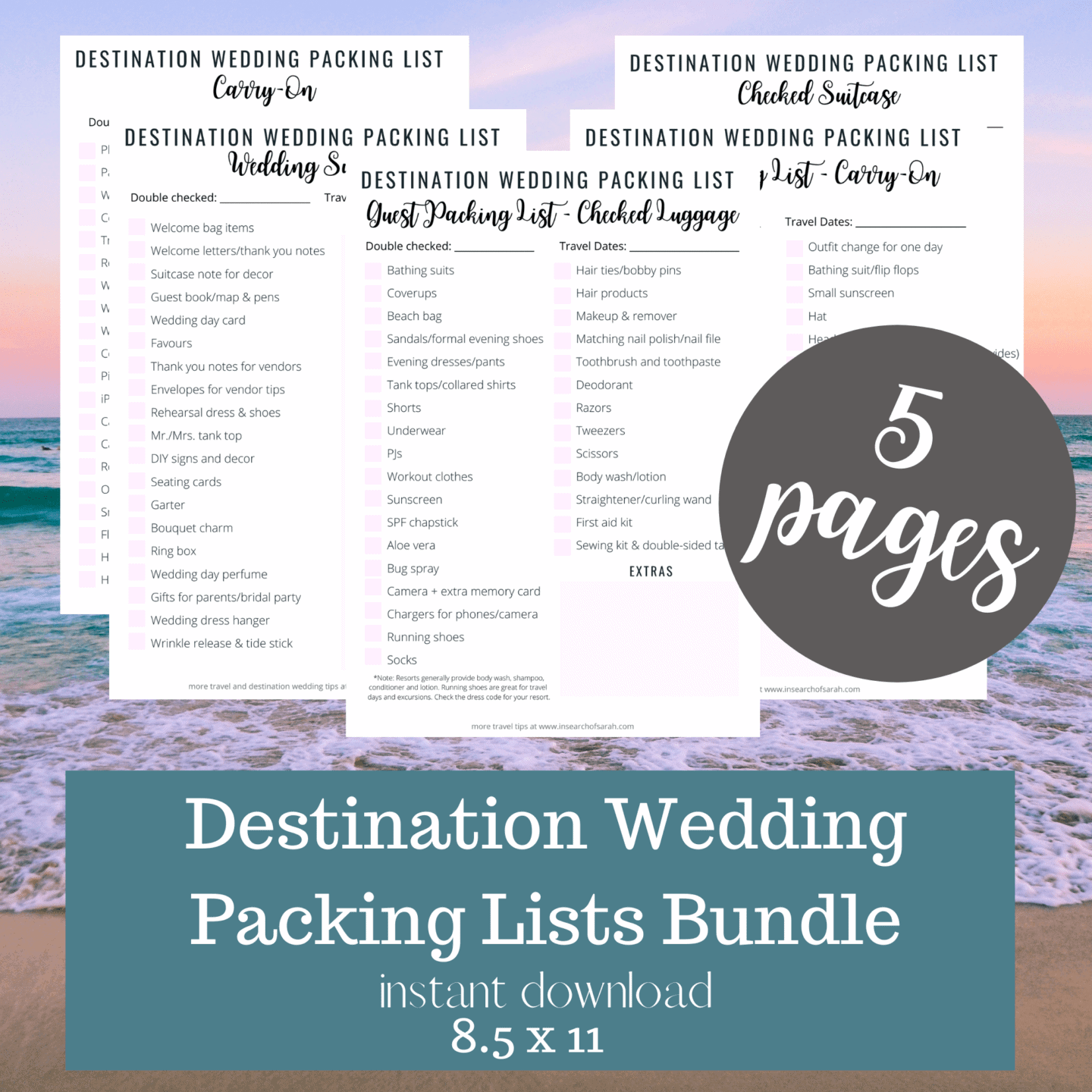 Related Posts
Pin it for later!