If there's one thing I'm passionate about, it's traveling to Mexico.
There's such a wide range of resorts available to travel to, and if you're looking for a kid-free vacation, keep reading.
Ever since Dana and I got married in Mexico in 2015, I've been heavily involved in all things destination weddings, and because of that, I've been able to discover a ton of incredible resorts that are perfect for couples.
Because we don't have kids, we love travelling to adults-only resorts for some rest and relaxation. I get so excited over checking out each new resort I hear about and I find myself adding them to an ever-growing list of places to visit!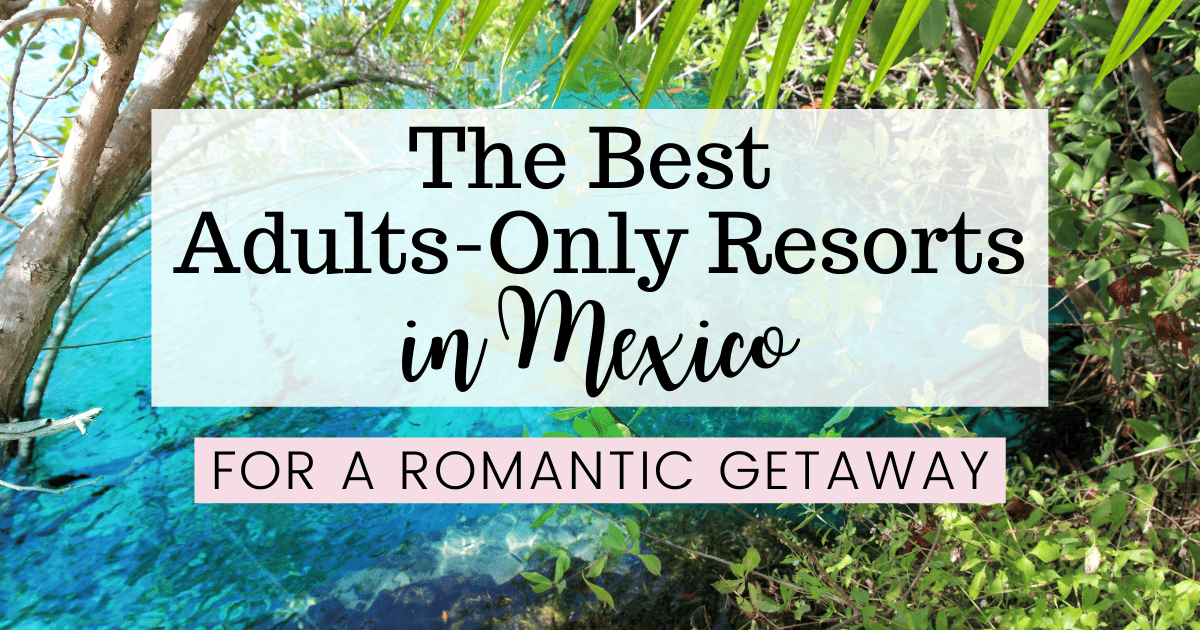 We've travelled to other popular destination spots in Jamaica, Dominica Republic, and Cuba, but we keep going back to Mexico because it offers such great value for money.
I would often find myself daydreaming about which place to visit next, and would check our pricing incessantly (even if we just got back from a trip!😂).
Over the years we've become accustomed to visiting annually, but sadly, with the year that shall not be named, we've had our plans put on hold.
However! It's inspired me to put together a list of incredible adults-only resorts in Mexico, from Playa Mujeres through to Tulum, to Los Cabos and beyond.
Thanks to the help of friends and travel bloggers, along with my own experiences, this amazing collection of resorts will surely be ones you'll want to visit. Whether it's for a romantic getaway, wedding celebration, honeymoon or anniversary, or just a relaxing trip (without the kids!), this is the list for you.
This post contains affiliate links which means I earn compensation when you click on the links at absolutely no extra cost to you! Feel free to read my disclosure policy. Thank you for supporting my blog!
Plan your next vacation using these tools!

✈️ Book flights: SkyScanner
🏨 Book hotels: Booking.com
🚘Book car rentals: RentalCars.com
🎫Book tours: GetYourGuide
🍽️Local food experiences: EatWith
🌍Favourite travel item: Packing cubes
🧳Favourite travel bag: Osprey 40L Fairview
📱 ESims: Airalo
🩹 DIY Travel Medical Kit
💸 20 Cheap Travel Items Under $20
Excellence Playa Mujeres
By far one of the best and most romantic adults-only resorts in Mexico we've been to is Excellence Playa Mujeres. Only a short 30 minute drive from Cancun, you'll soon enter their magical gates to the property. Once you've arrived, you'll be greeted with champagne and a cool towel and after a quick check in, you'll be escorted to your room and given a tour along the way!
Rooms are spacious and luxuriously appointed in a modern style with an indoor/outdoor jacuzzi, balcony with daybed, large shower, and four-poster king bed. Enjoy room service for breakfast and have it delivered to a box inside your room so you don't even have to open the door!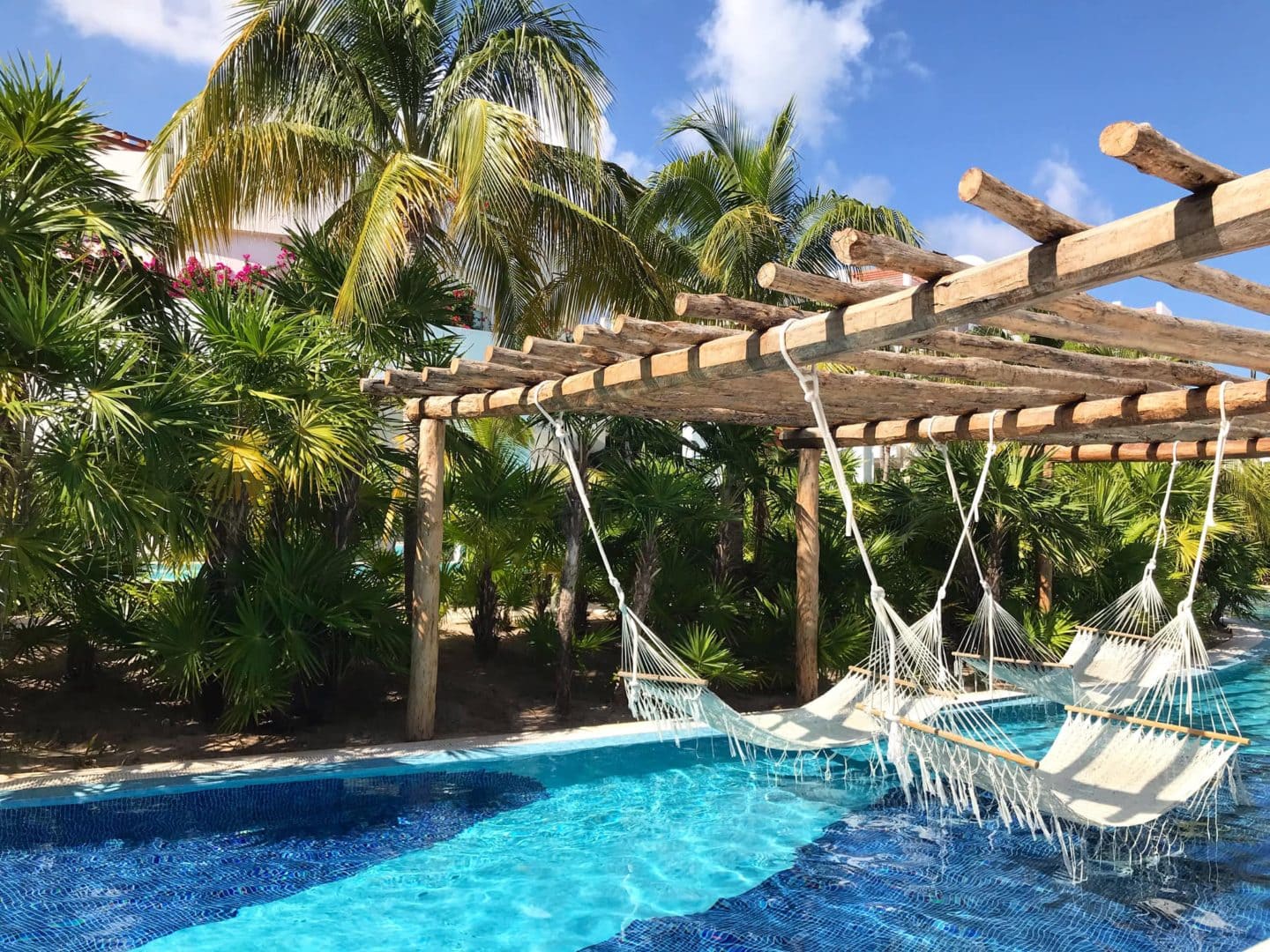 With 11 restaurants (no reservations needed!) you'll have limitless options for dining (it's all-inclusive!), ranging from French, Surf & Turf, Indian, Asian, and more. Be sure to visit the Martini Bar before dinner for some special cocktails.
Celebrating something? You can rent a private room called the Wine Cellar at Chez, the French restaurant. It's $100 in wine per couple and well worth it. You'll get exclusive service and a memorable dining experience. It's so romantic.
Relax by the resort's meandering lazy river in one of many loungers, palapas, or Bali beds, or hang out at the pool bar or on the white-sand beach. Check out your Excellence Times letter left in your room each night to check out the spa deals for the next day. The Hydrotherapy circuit is incredible and will leave you ultra-relaxed.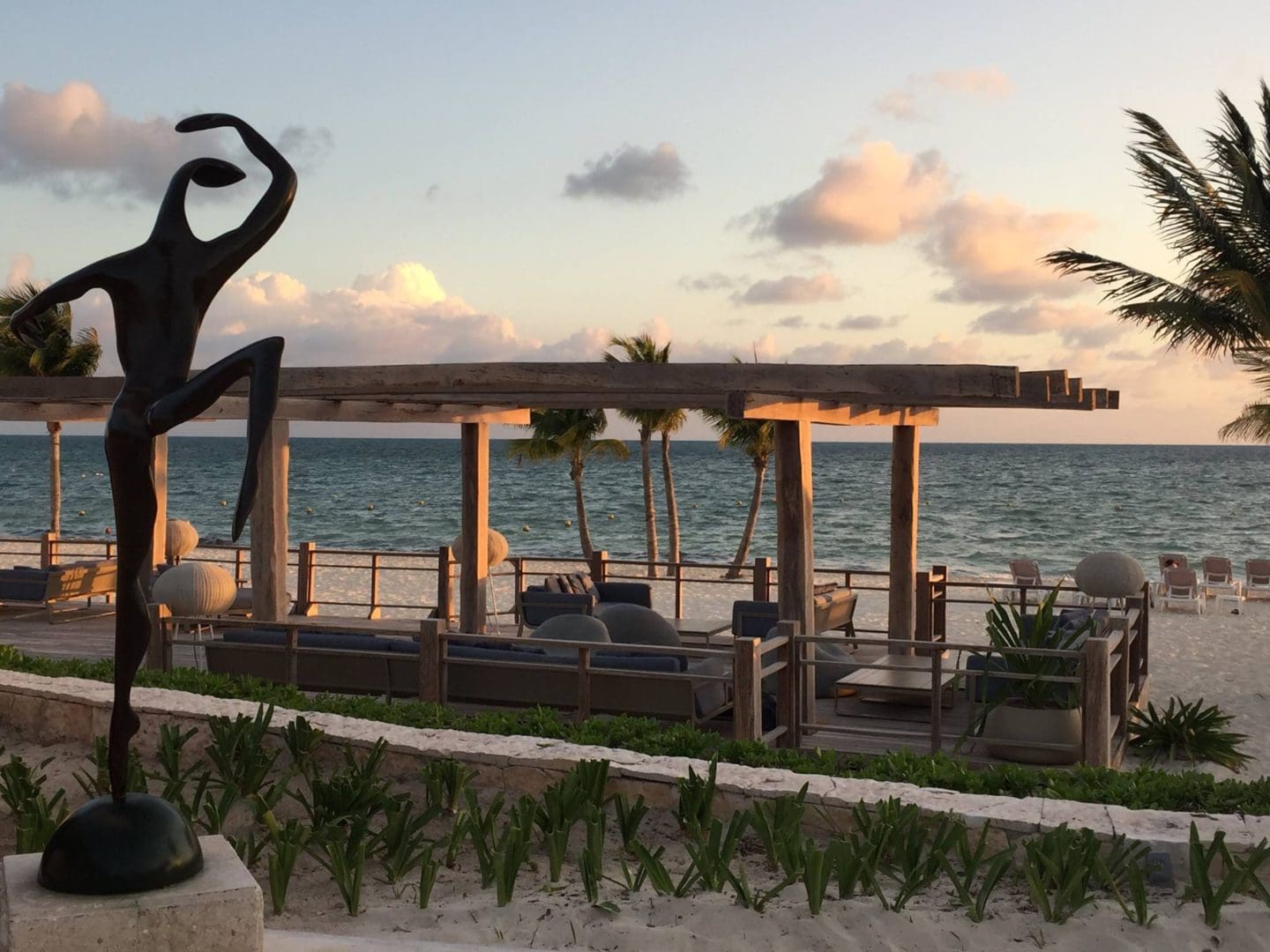 World class entertainment is offered each evening with live entertainment prior. There are also themed evenings twice a week, "Mexican Night" and "White Night" (pack a white outfit!).
The service is second to none. You'll be waited on hand and foot throughout your stay. You can also visit your own personal concierge in your building to arrange any special requests.
You'll be longing to return to Excellence Playa Mujeres. It has an added touch of luxury you don't experience at other resorts with a laid-back vibe, and is definitely one of the best adults-only resorts in Mexico.
Related: 7 Awesome Private Airport Transportation Companies from Cancun
The Beloved Playa Mujeres
Recommended by D&J of Make Them All Trips of a Lifetime
The Beloved Playa Mujeres is a luxurious, secluded adults-only resort in Mexico that caters to couples looking for a little romance and a lot of privacy.
Located 30 minutes from Cancun (and right beside Excellence Playa Mujeres), Beloved is far from what you'd expect. Upon arrival, you're escorted inside, where you'll relax as the concierge handles the check in. No front desk or line up, the reception area was nothing more than a luxurious living room.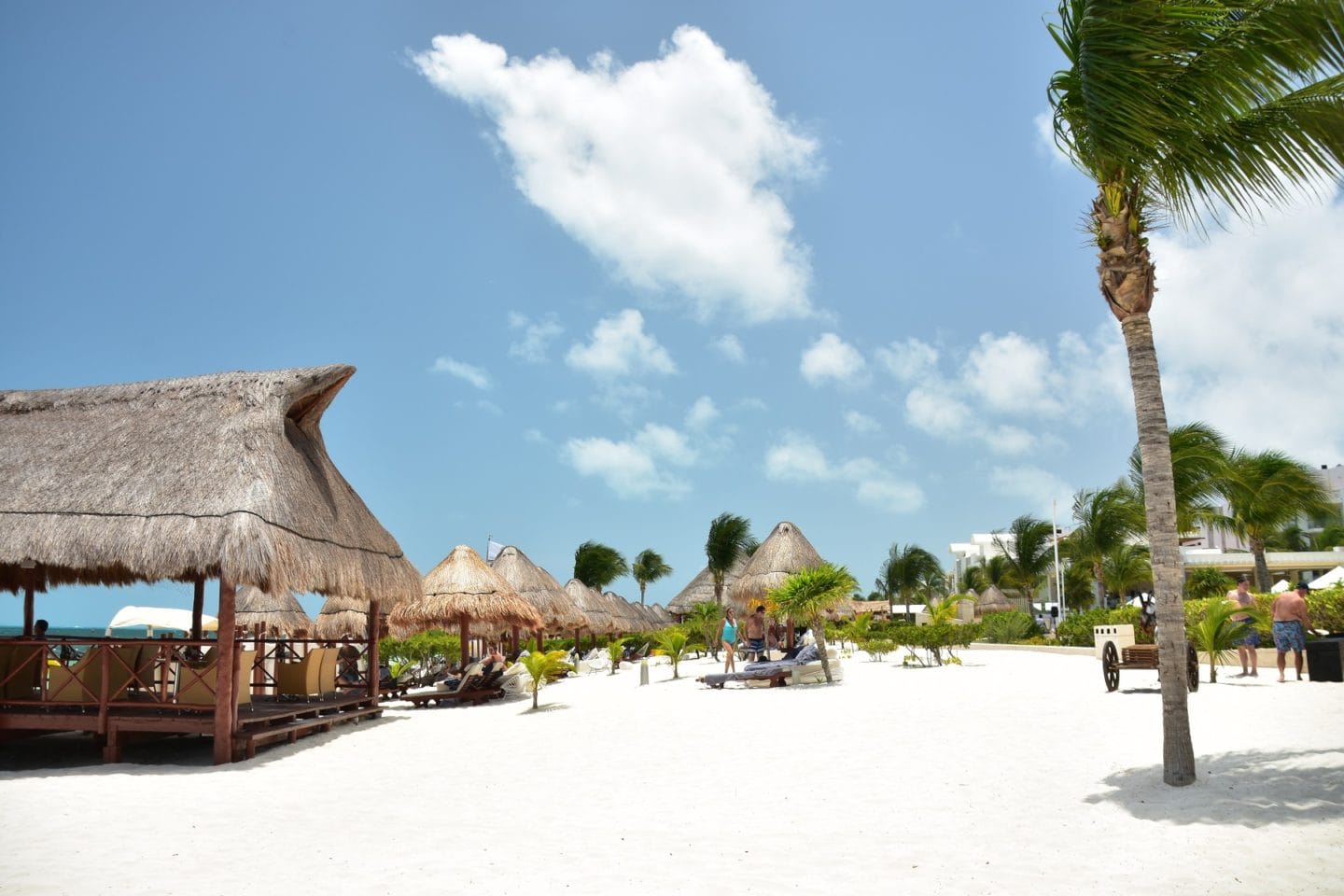 If you're celebrating an anniversary, you'll be surprised by cake and champagne waiting in your room. The oversized suite includes a separate living area with a fully stocked bar and huge balcony with jacuzzi tub.
After indulging in the extensive room service menu, the tray and dishes could be hidden inside a cabinet near the entrance, accessible for pick-up by staff on the other side of the door.
Each night, a turn down service preps the room for sleep and leaves sweet surprises on the bed. These little details are what make all the difference.
The pristine resort is tastefully decorated in a minimalist but luxurious elegance of white stone and natural colours, beautifully designed for maximum privacy.
Nestled on a white sandy beach between neighbouring resorts, Beloved feels secluded and peaceful. The private suites are scattered on the property between clusters of muted vegetation. A neighbourhood design rather than a typical resort.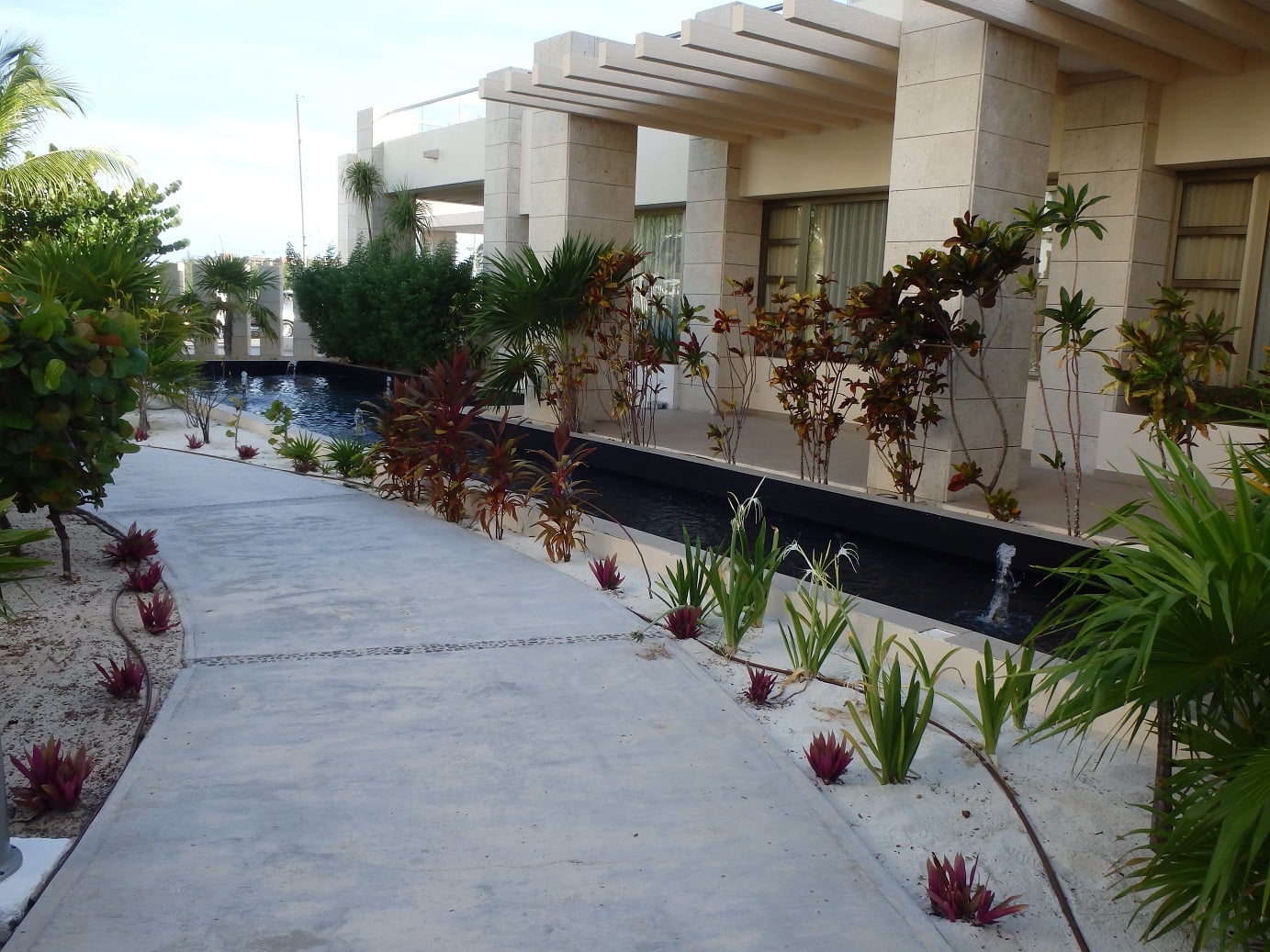 Each restaurant is separate and unique. No need for bracelets or identification, one photo taken at check-in was all that was required, you simply share your room number.
The space Beloved occupies on the beach is small, but chairs are readily available. What is particularly luxurious and unique, are the rentable private tents. A large canvas cabana with two oversized beds to lounge on in the cool shade, with complimentary champagne and a gifts of sunscreen, bug repellent and cool misting spray. Luxury at it's finest.
Every attempt was made by the resort to allow privacy, encourage romance and relaxation, and make guests feel special.
Related: What to Pack for an All-Inclusive Vacation
Excellence Riviera Cancun
You'll notice a theme here with the Excellence brand. Their hotels really are incredible and exude luxury and world-class service. Excellence Riviera Cancun is only about a 20 minute drive from the Cancun airport in the lush Mayan Riviera.
Designed with a more traditional feel, this 5-star property offers world-class service (truly!), 11 dining choices, a meandering lazy river throughout the resort, a gorgeous powdery-soft white sand beach, and spectacular entertainment.
Rooms are plush with a sunken lounge and balcony with a jacuzzi tub in the middle of your room. Enjoy room service breakfast from their expansive room service menu and sip your morning coffee on your balcony listening to the soft ocean breeze.
Enjoy a pre-dinner drink with your in-room minibar or head to the Martini Bar in the lobby for some incredible cocktails. Evening dining choices are plentiful and you don't need reservations! Healthy dining options are indicated on the menu, and if you have any dietary concerns you are asked upon arrival at your chosen restaurant.
Enjoy live music in the courtyard after dinner and be sure to stay for the evening entertainment! Your Excellence Times sheet in your room will help you plan the following day with what activities and shows are on (as well as which restaurants are open!).
Whether you hang out at the pool bar or float your way around the lazy river, you'll be doted on throughout the day by bartenders. You can order drinks and snacks as you please and they'll bring it right to you! Prefer the beach instead? This stunning beach is huge and offers numerous spots to lounge, whether it's on a beach lounger, daybed, or palapa.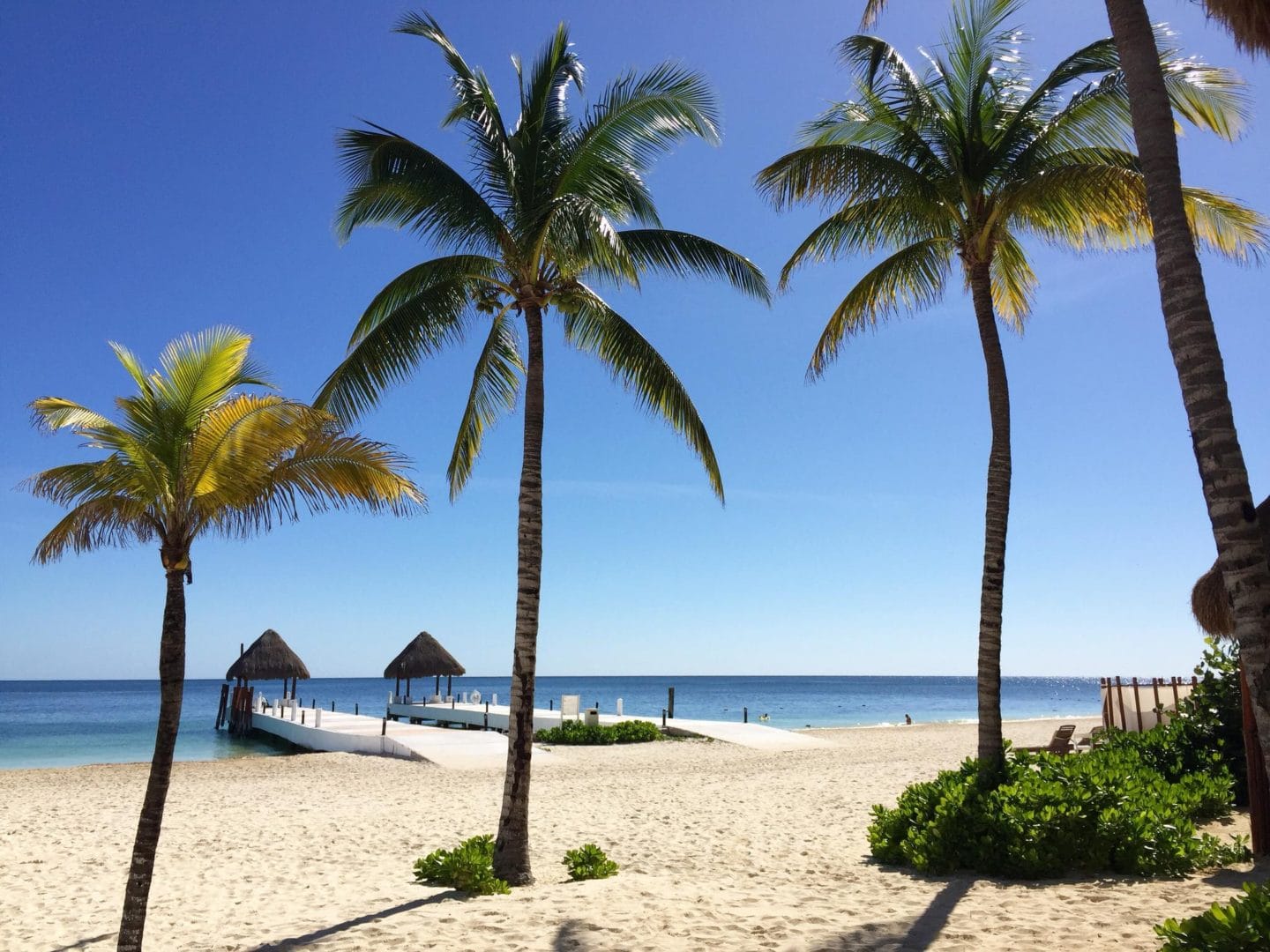 Need a break from the sun? Head to the Miilé Spa for a hydrotherapy treatment or relaxing massage and allow all of your troubles to melt away.
Celebrating an anniversary or honeymoon? You can dine in a private room at their French restaurant, Chez, called the Wine Cellar. For $100 per couple in wine selection, you'll be treated to fine dining and superb service in a romantically-appointed room, guaranteed to leave you with lasting memories!
Want even more luxury? Splurge for Excellence Club and be treated to upgraded amenities, private lounge and pool area, access to a private beach and upgraded in-room minibar, private check-in, concierge, and a hydrotherapy treatment!
The service, food, and amenities are on par with Excellence Playa Mujeres, but Excellence Riviera Cancun sits at a lower price point, making this property a more affordable option.
Related: 20+ Fun Excursions in Cancun and the Riviera Maya You Need to Try!
El Dorado Casitas Royale by Karisma
Set on lush tropical grounds in the Riviera Maya, El Dorado Casitas Royale is a private oasis. Only 30 minutes from Cancun, El Dorado is an incredible property well-versed in privacy and romance.
Once you arrive you'll be handed a glass of champagne and escorted by golf cart to your private check-in at the Casitas.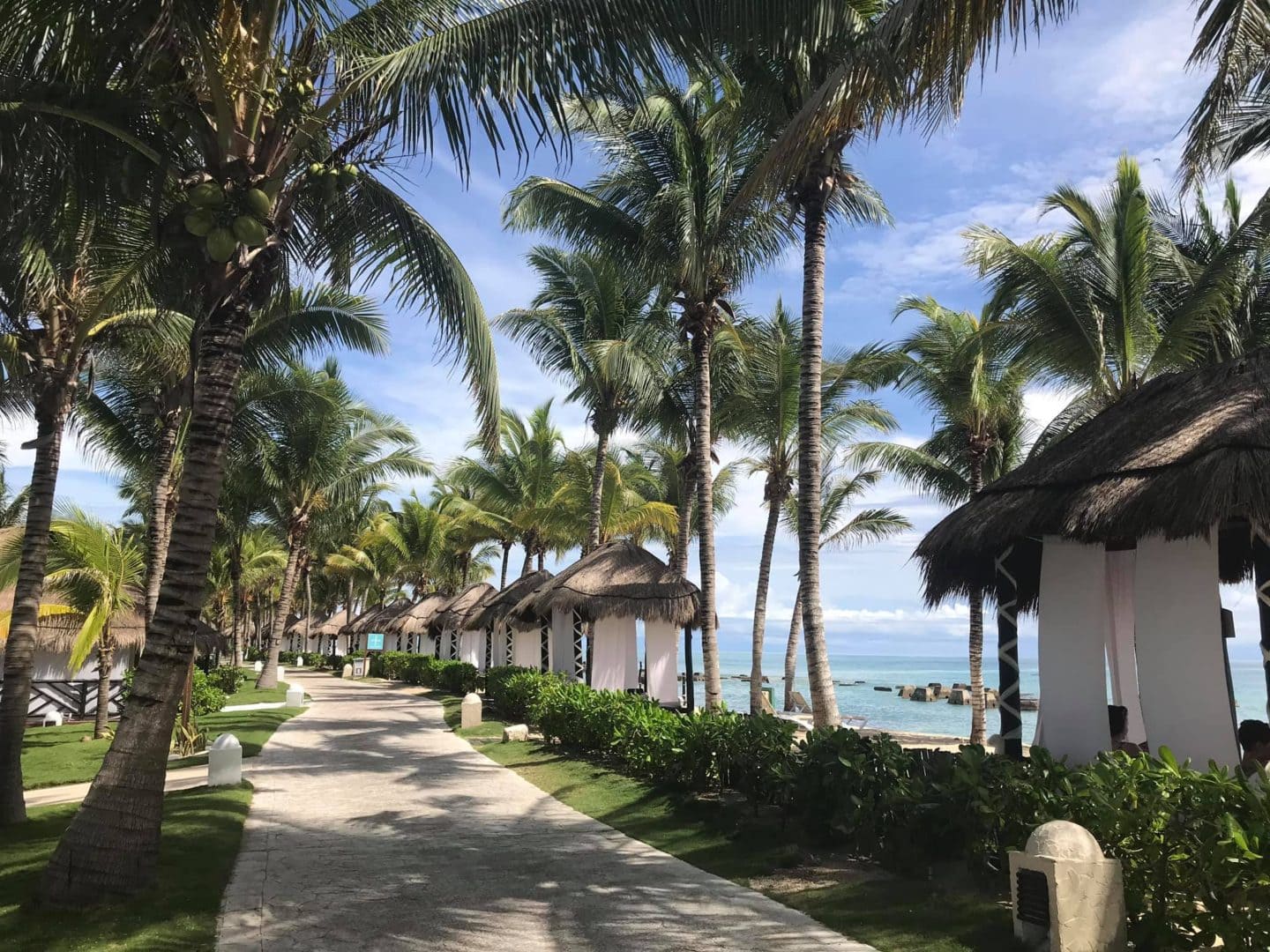 The Casitas are unique – each section has a two-storey horseshoe-shape enclave of rooms surrounding its own swim-up bar and loungers, and each room is oceanfront.
The rooms are spacious with a large jacuzzi, large, plush king bed, balcony with daybed, and a bathroom with two showers. One of the special features at El Dorado Casitas Royale is the Aguas del Amor outdoor shower. Nothing beats looking up at the blue sky during your shower!
You also have full access to Karisma's neighbouring properties, El Dorado Royale (adults-only) and Generations Riviera Maya (family).
As a Casitas guest, you'll be able to book all of your dining reservations with your personal Concierge, and with 10 restaurants at El Dorado Royale and the Casitas plus 5 at Generations! There are also plenty of spots to grab lunch throughout the day, including plenty of beachside dining options.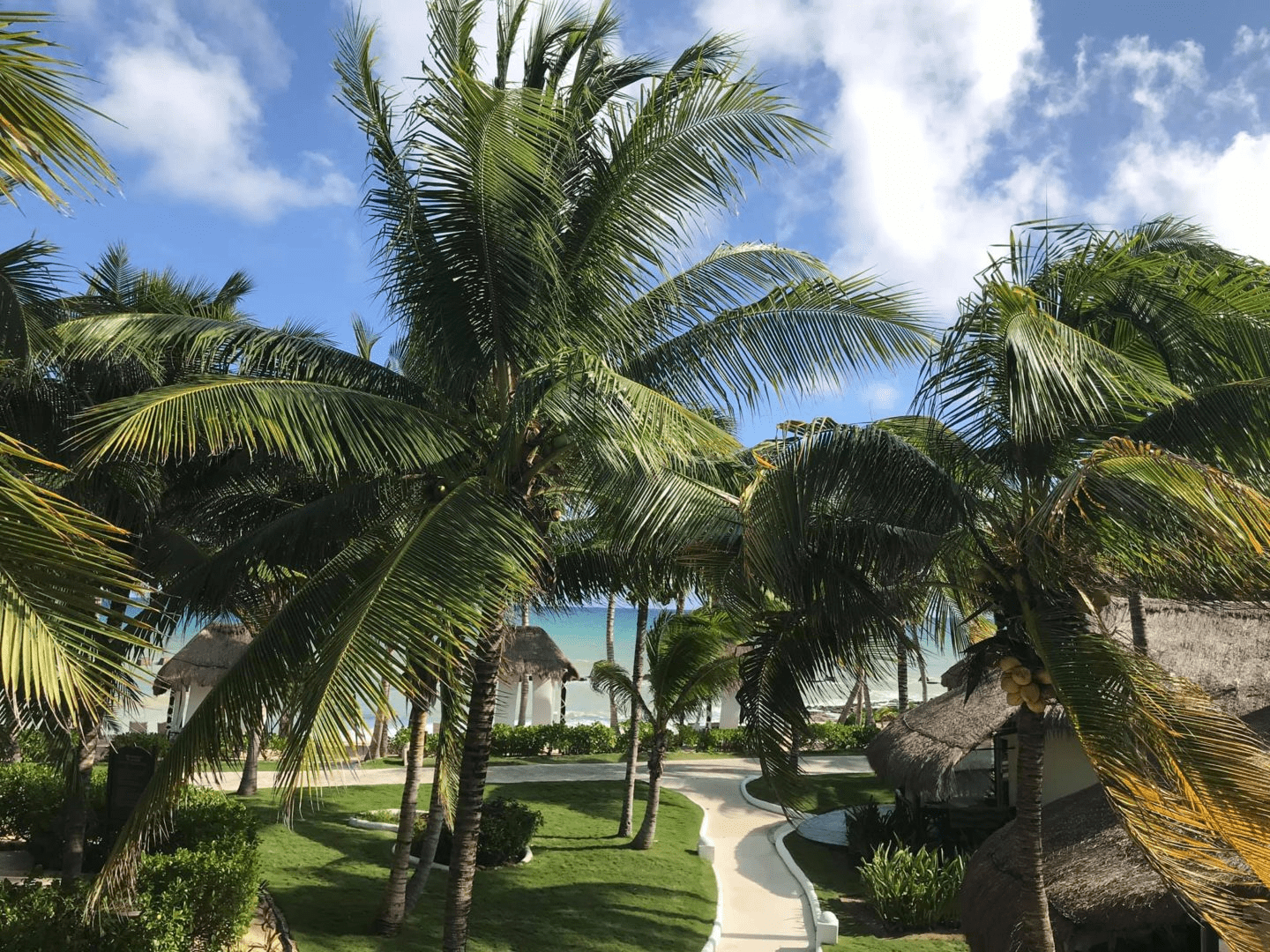 The Karisma brand is also very passionate about sustainability, including their treatment of staff, the community, wildlife, and the impact we all have on our surroundings.
In your rooms, you won't find plastic bottles. Rather, you'll have a bottle opener and glass bottles in your fridge. Biodegradable straws are available if you request one. Vegetables are sourced from their on-site greenhouse (which you can tour!). There's a turtle nesting site and breakers on the beach to prevent erosion. How Karisma views the ecosystem is apparent throughout the property – something we can all admire!
If you're looking for a relaxing place to unwind or celebrate an anniversary, honeymoon, or a couples getaway, El Dorado Casitas Royale should be a top contender!
Related: What to Include in a DIY Travel Medical Kit
Valentin Imperial Maya
Recommended by my friend Sharon in Nebraska.
This 5* all-inclusive adults-only property can be found in the lush Mayan Riviera along chalky-white sand, just 25 minutes from Cancun airport.
With offerings such as 24 hour room service and the largest pool in the Riviera Maya, Valentin Imperial Maya is an adults-only dream vacation in a Caribbean paradise.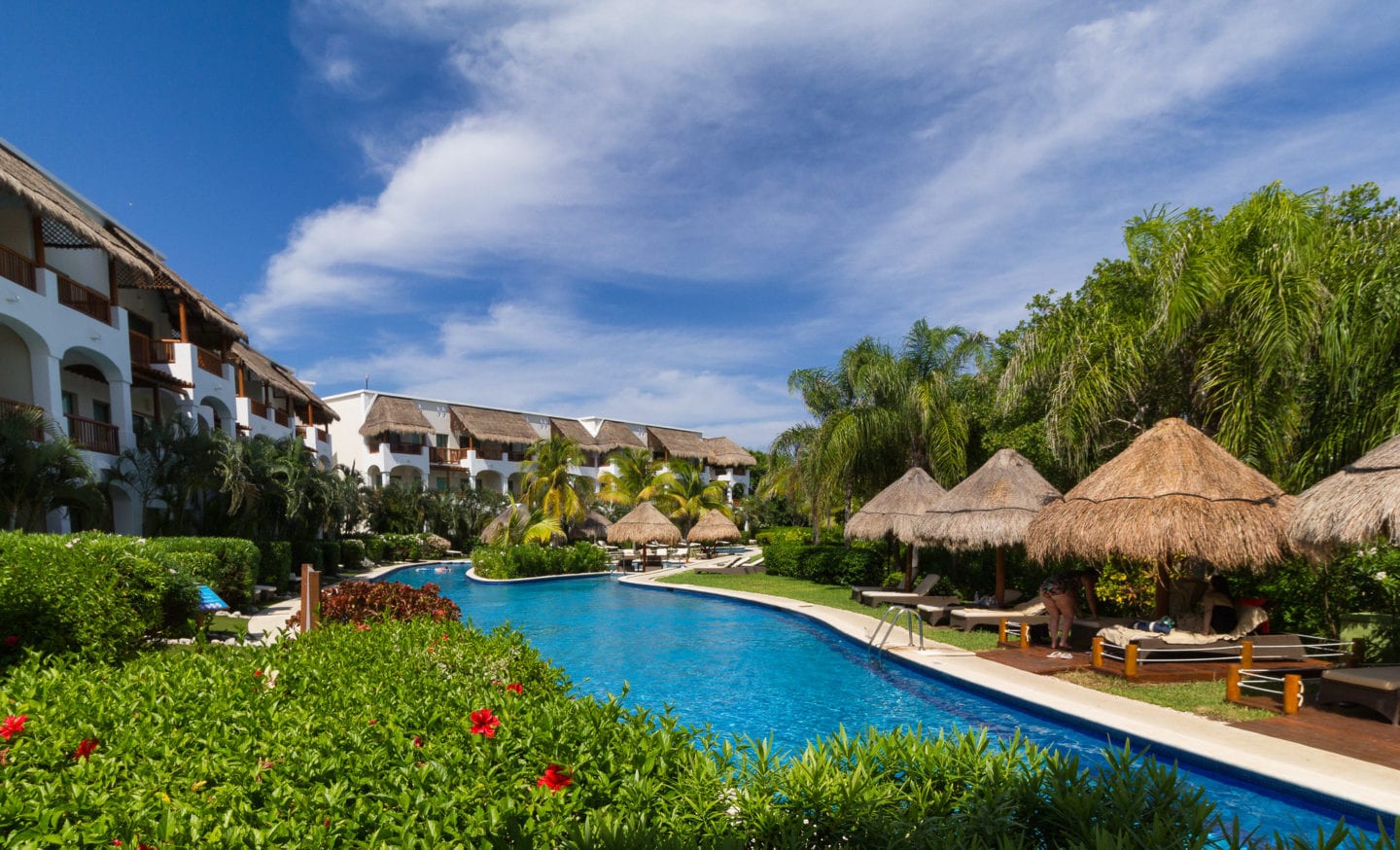 Suites are elegantly appointed with a colonial vibe with numerous room categories to choose from, with each section of rooms offering a stunning view of the jungle, Caribbean, or pool. Upgrade to the Privilege Package for added luxury such as a tailored bar, reserved Bali beds, daily newspaper, and access to a private lounge.
This gorgeous stretch of beach allows the opportunity for long, romantic walks and swimmable water. If you'd rather hang out by the pool, Valentin Imperial Maya has the largest in all of the Mayan Riviera! You also have the option to cool off in the quieter pool by the Swim -Up rooms.
With seven evening restaurants (no reservations required!) ranging from French, Japanese, Mexican and more, plus additional romantic options to choose from, you'll have no shortage of dining options to decide on. Each bar is unique with an appealing atmosphere. Enjoy a cigar and a scotch at their Salón Partagás, complete with live cigar-making, or venture to the Don Miguel Piano Bar for some sparkling wine.
From the moment you're greeted with a chilled glass of sparkling wine to superb service throughout your stay, Valentin Imperial Maya easily earns its spot as one of the best adults-only resorts in Mexico.
Related: 20 Travel Items Under $20 (that are surprisingly useful!)
Secrets Maroma Beach
Offering a relaxing atmosphere and comforting vibe, Secrets Maroma Beach sits on white-sand beach in the heart of the lush Riviera Maya approximately 35 minutes from Cancun Airport (enough for a couple of drinks along the way!).
This all-inclusive adults-only 5* resort is absolutely GORGEOUS and offers secluded pools and nooks throughout the sprawling manicured grounds with winding walkways, an incredible spa, and limitless activities.
Luxurious suites are styled with Mexican art and embroidery luxurious suites and are furnished with a king-size bed, private balcony or terrace, in-suite whirlpool for two, mini-bar and more.
The star of the show at Secrets Maroma Beach is their swimout rooms. You won't want to leave your room!
Want more luxury? Upgrade to Preferred Club and receive private check-in, suites in premium locations, upgraded amenities, private lounge, and exclusive dining access at breakfast!
Maroma beach is one of the most pristine and famous beaches in Mexico and by far one of the widest. Powdery-white and soft, guests say it's like walking on flour!
Whether you choose to unwind at the pool, beach, or swim up suite, you won't be left without a drink in your hand for long. Choose from daily activities like cocktail-making classes, paddle-boarding, rifle shooting or yoga and enjoy evening entertainment performances after dinner.
If the six gourmet restaurants ranging from French, Mexican, and Seafood aren't enough (no reservations required!) Secrets offers "Sip, Savor & See" where you as guests can visit any neighbouring Secrets, Breathless, Dreams, Now, or Sunscape property (transportation not included).
The relaxed vibe at Secrets Maroma Beach makes for a romantic getaway for couples, whether you're celebrating a wedding, anniversary, honeymoon, or just looking for an adults-only getaway!
Related: How to Travel with a Carry-On Only
Azulik Tulum
Azulik is nestled within the jungle of Tulum and can best be described as one-of-a-kind with a surreal aesthetic. Approximately 2 hours from the Cancun Airport, the architecture is absolutely breathtaking and it feels as though you are in a stunning tree house.
The villas are so thoughtfully designed and feel like an escape into the nature Tulum has to offer. Three restaurants boast delicious food, "nests" to enjoy your food and drink in, swinging bridges between restaurants, and sunset views, the ambience of Azulik cannot be found anywhere else in the world.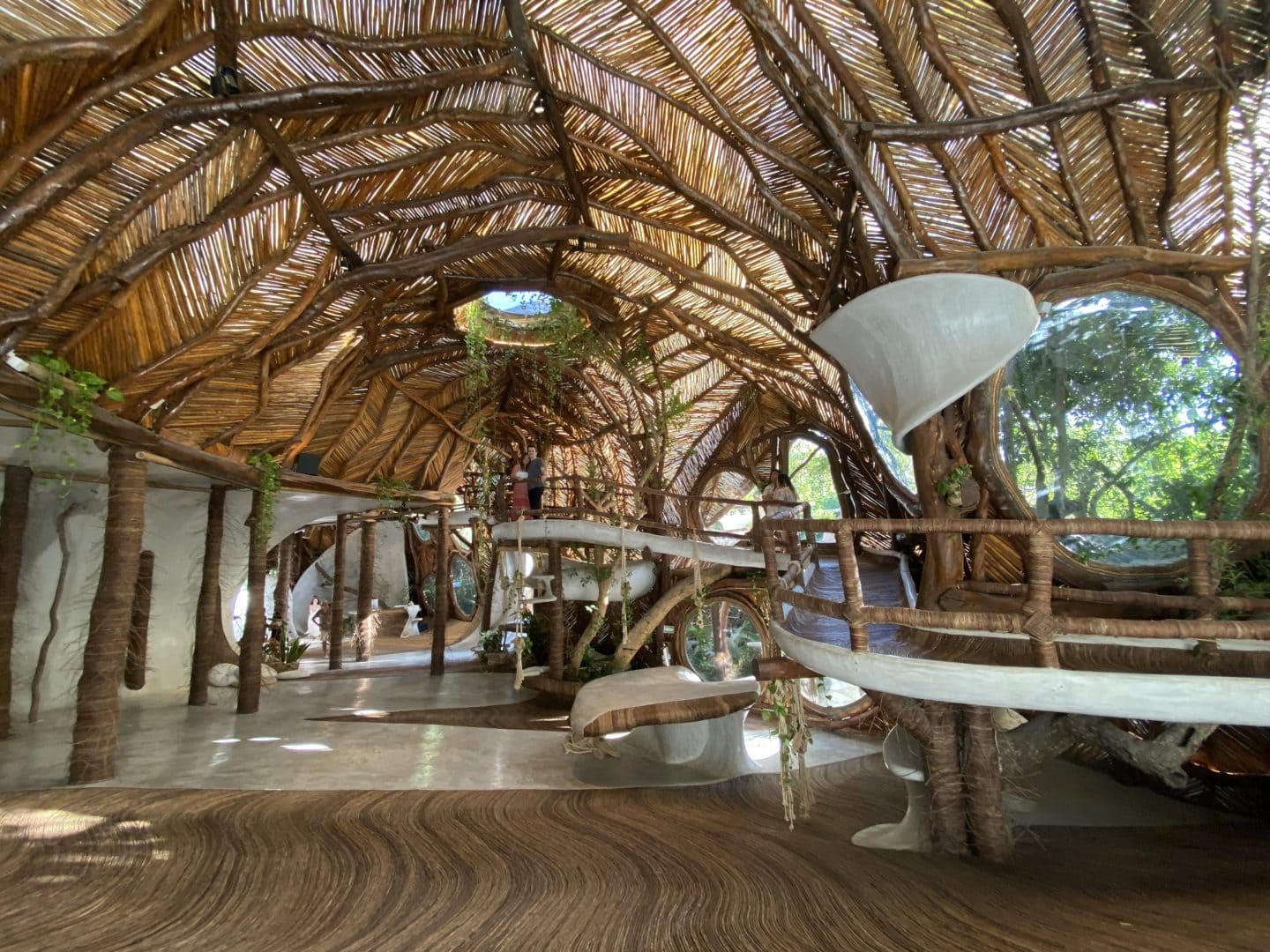 Kin Toh offers Mayan-Mexican, Tseen Ja has Japanese-Mayan, and Cenote has more of a low key vibe with earth-rooted delicatessen. The on-site museum Sfer-Ik, is crafted from natural materials that creates a dreamlike atmosphere.
One of the best attractions Azulik has to offer is a private and secluded beach for its guests, with a private beach club and restaurant to enjoy. All of these elements of the property are brought with world-class service!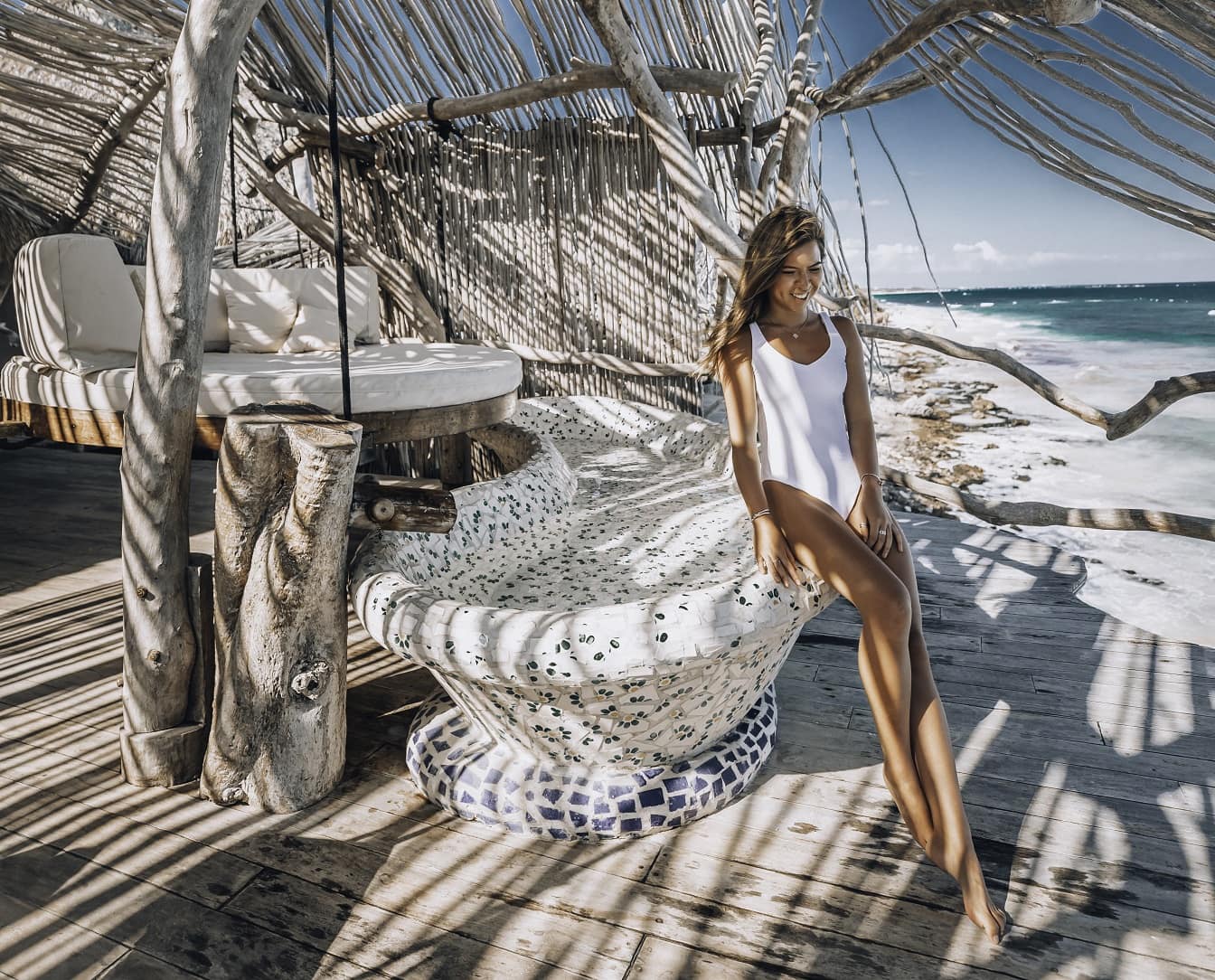 Azulik is not necessarily for everyone – especially if you can't go without showers, A/C, or wi-fi. However, it's perfect for anyone who is looking for a highly unique experience within the jungle and along the white sand beaches of Tulum.
Note: Azulik is not an all-inclusive property.
Related: 15+ Best Cenotes Near Tulum
Secrets Vallarta Bay
Recommended by Holly of Four Around the World
Secrets Vallarta Bay is a perfect adults-only resort, even if you are travelling with friends who want to visit with their kids. Right next door is a family-friendly resort, but on the Secrets side, it's just for the grown-ups.
Situated in the beautiful resort town of Puerto Vallarta, in the state of Jalisco. The resort is located approximately 15 minutes from the airport and sits right on the beach.
Unlike some of the bigger tourist cities in Mexico, Puerto Vallarta, while a popular vacation spot, still has it's humble roots as a fishing village. But at the resort, it's all beach and poolside luxury and fine dining!
Secrets Vallarta Bay is an all-inclusive resort, with packages that include both meals and beverages, so you can spend more time relaxing.
You will find plenty to do at the resort itself, with restaurants, bars (including a swim-up bar), nightclubs, a day spa, sports facilities, a casino and fitness classes.
While you will have plenty to keep you busy at the resort, the old town is within walking distance from the resort, by following the beach. Or take a cab, as it is a lengthy walk on a hot day.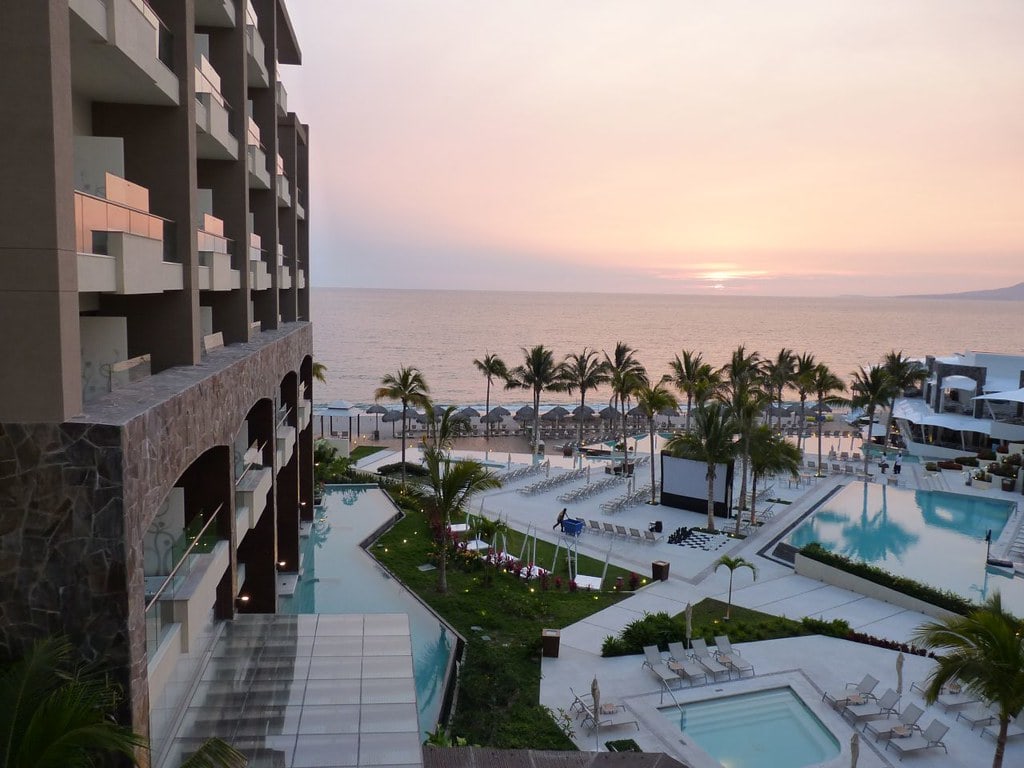 Alternatively, they have a tour desk to help you book excursions, such as spending a day at Las Caletas Beach Hideaway!
You can dine next door at the family-friendly Now Amber Puerto Vallarta, also included with your all-inclusive dining.
At night, there is live entertainment, dancing and performances. You could easily spend your entire time enjoying the Secrets Vallarta Bay facilities without having to go anywhere else!
Secrets Puerto Los Cabos
Recommended by friends Leigh (Illinois) and Katrina (Texas)
Secrets Puerto Los Cabos makes for an exceptional adults-only getaway in Mexico and is sitting in the top ranks of one of the best 5* all-inclusive resorts.
Only a 25 minute ride from San Jose airport, Secrets Puerto Los Cabos offers stunning views along the Pacific coast, surrounded by mountains and the Baja desert with finely-appointed amenities, gourmet à la carte restaurants and elegant bars and lounges.
Relax and unwind with wine and tequila tasting, painting lessons, dance lessons, yoga and pilates or be pampered in their 13,000 sq ft world-class spa and indulge in a variety of soothing treatments such as a couples massage using hydrotherapy and indigenous techniques.
During the evenings, take part in Casino nights, Manager's Cocktail events, themed nights, Tropical shows, and during June – November, take part in a unique Cabo Art Walk, where the entertainment team gives you a tour through the art galleries and downtown San Jose Del Cabo, just 10 minutes away!
The beach, although not swimmable, is stunning. Sit at the beach bar to watch the crashing waves, take a glass-bottom boat out for wildlife viewing, or head out for deep-sea fishing to experience the best the area has to offer.
With 24 hour room service and pool and beach service, you'll want for nothing. If you're heading to Los Cabos for your Mexican getaway, you'll be hard-pressed to find a better adults-only resort.
Planning a wedding?
If you don't have children attending your wedding, I would highly suggest an adults-only resort to get married at.
Many of these resorts make incredible choices for a destination wedding too. Many resorts offer wedding packages that include your ceremony, reception, photos and more. What better way to celebrate your special day surrounded by loved ones in a tropical place?
Whether you choose to have your feet in the sand to say "I Do", get married on a pier overlooking the ocean, in a lush, tropical garden, or on a sky deck, there are limitless options for destination weddings in Mexico.
Considering a destination wedding? These reasons will convince you to have one!
Currently planning a destination wedding? Get the best tips and advice from past brides and be sure to ask your wedding coordinator these questions!
Celebrating an anniversary or honeymoon?
Adults-only resorts are perfect for celebrating a special occasion like a honeymoon or anniversary. During my time at some of these resorts we've had our doors adorned with celebratory banners, our rooms decorated, received sparkling wine, fresh fruit, and pastries, and have been treated to a romantic dinner.
Many of these packages are complimentary. Be sure to mention what you're celebrating upon booking and bring a copy of your wedding certificate or copy of wedding invitation with you.
You can also purchase an anniversary or honeymoon package for more inclusions like a private dinner on the beach, flowers, spa treatments and more! Check out your resort's website for more details on how to book.
From my experience, nothing beats a vacation for a celebration to bring you closer together. Unwind and get pampered – you deserve it!
Looking for transportation options?
What to pack
In addition to your usual swimsuit, shorts, dresses and tanktops, there are some other things to consider packing!
These resorts have a dress code, so that is something to keep in mind. This means long pants for men, closed toed shoes, and collared shirts.
For ladies, we're generally able to wear anything so long as our shoes aren't flip flops. I love the dress code at these resorts because it allows us to get dressed up, which isn't usually something we get an opportunity to do at home!
Be sure to check your chosen resort's website prior to packing for some attire tips.
You may also want to consider packing:
Looking for more ideas? See this awesome list of inexpensive and useful travel items like power banks, digital scales, and more to add to your luggage (under $20!).
Excursions
Final Thoughts
Is there an adults-only resort on this list you'd like to go to? There are a few other all-inclusive resorts I plan on adding to this list and I can't wait to get back to Mexico and experience them!
Have you been to any of these? Let me know in the comments!
p.s. Wondering what to pack for an all-inclusive resort? Here's what to bring!
Related Posts
Pin it for later!