No trip to Tulum is complete without visiting a cenote!
If you're dreaming of taking a dip in refreshing crystal clear water and swimming through caves, these ancient treasures dotted throughout the Yucatan Peninsula are a must-see on your visit to Mexico!
From pristine beaches to tropical weather, amazing food, ancient ruins, and hospitality, it's no wonder Tulum is a top spot to visit in Mexico. And there's one thing that can be found here that sets Mexico apart from other tropical places in North America and the Caribbean: the cenotes.
Fortunately, there are tons of cenotes near Tulum to check out! Whether it's one or as many as you can get to, each of them are unique and magical in their own way!
This post contains affiliate links which means I earn a small commission if you purchase through one of my links at absolutely no additional cost to you. Feel free to read my disclosure policy. Thank you for supporting my blog!
Plan your next vacation using these tools!

✈️ Book flights: SkyScanner
🏨 Book hotels: Booking.com
🚘Book car rentals: RentalCars.com
🎫Book tours: GetYourGuide
🌍Favourite travel item: Packing cubes
🧳Favourite travel bag: Osprey 40L Fairview
🩹 DIY Travel Medical Kit
💸 20 Cheap Travel Items Under $20
P.s. if you're looking for how to get from Cancun to Tulum, I swear by private transportation from Cancun Airport. It's easy, efficient, and affordable!
What are cenotes?
Cenotes (pronounced say-no-tays) are sinkholes which have opened up to magical subterranean worlds, filled with mazes of caves, tunnels, and lagoons. The word cenote comes from the lowland Yucatec Maya ts'onot, meaning "well."
These natural sinkholes (or pits) have been formed over several centuries – up to thousands of years! They have resulted from limestone caves collapsing and exposing clear natural pools and underground rivers, which most of these cenotes are connected to!
Some of these cenotes have vines hanging from the roof, others are a magnet for divers, some have underwater caves with stalactites and stalagmites throughout the cavern, some are major tourist hotspots, and tons are hidden gems and only known to locals, (only 2000 of the 6000 throughout the Yucatan are reported to have been explored!) but their uniqueness certainly adds to their mystery and charm.
Cenotes are the perfect way to cool off on a hot day and experience something other-wordly!
Ps. If you're concerned about mosquitos around these cenotes, check out how to protect yourself from mosquitos in Cancun and other parts of the Yucatan!
There are four different types of cenotes:
Open Cenotes: these are natural, open pools without caves. Some are connected to underground rivers and are often suitable for diving.
Semi-open Cenotes: some parts of these cenotes are exposed and some parts are partially covered by a cave.
Underground Cenotes: usually only frequented by experienced divers. These are difficult to reach and are the least visited and researched of the cenotes.
Cave Cenotes: these cenotes open up to an underground pool and can usually only be accessed from land-level with stairs. The pools can be shallow with deeper areas, and are often known as some of the most mysterious.
If you're planning a trip to Tulum or a day trip from Cancun or Playa del Carmen, there are plenty to visit within a short distance from wherever you're staying. Here's a collection of 16 of the best cenotes to visit near Tulum – be sure to visit at least one of them!
Gran Cenote
Recommended by bucketlist2life
At only 4.5km or 2.7mi from central Tulum, Gran Cenote is one of the easiest cenotes to explore when you're backpacking the Yucatan peninsula without a car. If you don't have a rental car, a rental bike is the best option to reach Gran Cenote. Beware that the highway is rather busy. Of course, you can also take a taxi or a colectivo. Gran Cenote is one of the best known and most visited cenotes along the Riviera Maya. Come early in the morning or in the afternoon before closing time to avoid the crowds.
The entrance fee is 500 Mexican pesos (2022). There are lockers, clean bathrooms and showers – use them to prevent sunscreen from getting into the water. A lawn invites you to relax and sunbathe. Several wooden platforms lead into the water.
The cenote itself is made of two open-air areas, which are connected by a tunnel. The water is crystal clear and swimming through the tunnel feels like a little adventure. It's one of the best cenotes for snorkelling. You can see a lot of fish when you bring or rent a mask and a snorkel. Additionally, there's a turtle area where you can watch baby turtles.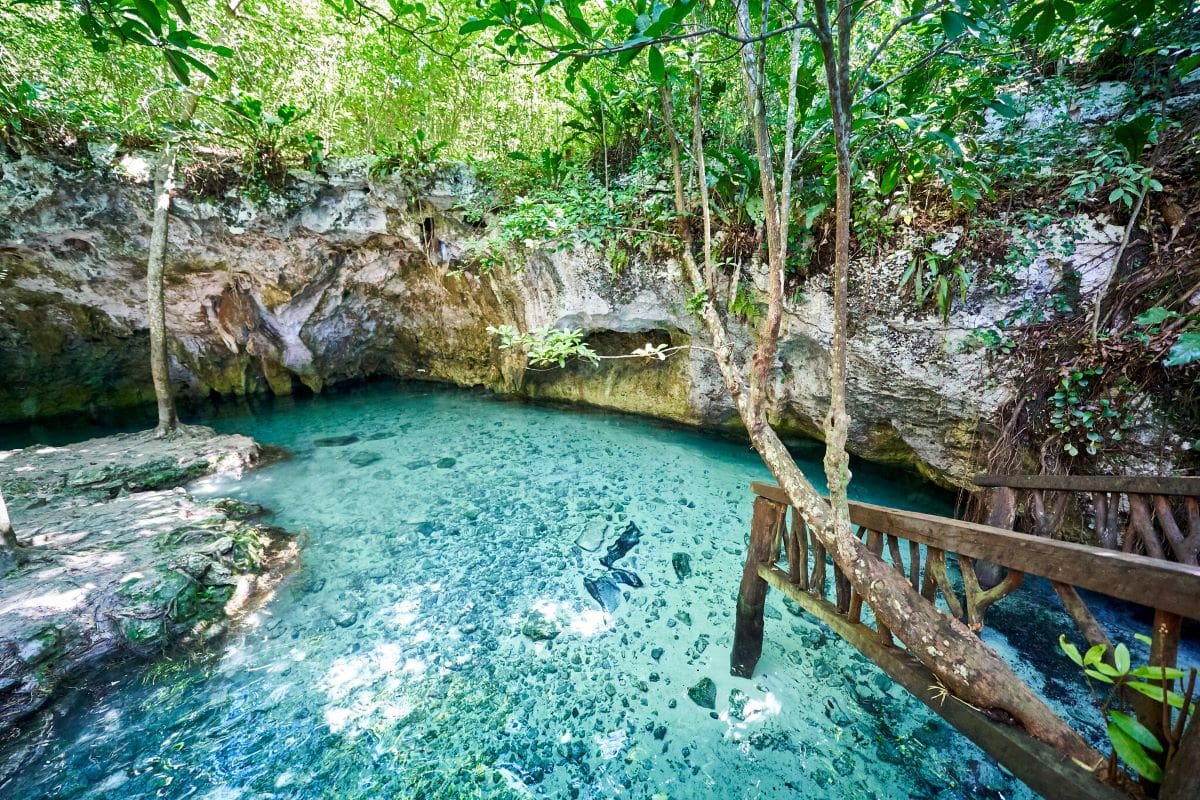 Cenote Suytun
Recommended by Travel Mexico Solo
With more than 6,000 cenotes in the Yucatan Peninsula, you might be having a tough time deciding the best cenotes to visit on your Mexico trip. Though each cenote is beautiful in its own way, Cenote Suytun ranks among the most spectacular cenotes near Tulum.
It is known as one the most photogenic cenotes in Mexico. As with most great photo spots, this small-sized cenote will fill up quickly. Located about 75 minutes from Tulum by car, you'll want to head out early to reach Cenote Suytun by 9:30am if you want to beat the crowds.
What makes this cenote so cool is the single sunbeam ray of light that enters in through a small opening in the top. Cenote Suytun also has a circular platform in the center, which makes the ideal place to take photos.
For those coming by rental car, Cenote Suytun is just 45 minutes away from Chichen Itza Mayan Ruins, which makes for a great Tulum day trip. There are some other nice cenotes in this area, like Cenote Zaci in Valladolid, and Cenote Oxman at Hacienda San Lorenzo Oxman.
Cenote Suytun is open daily, from 9am-5pm. It costs $150 pesos ($7.50USD) to enter. Life jackets are mandatory, and you'll get one as you enter the cenote. There is a restaurant, restrooms and changing rooms on-site.
Cenote Ik-Kil
Recommended by Travel To Merida
Though beauty is in the eye of the beholder, many say Cenote Ik-Kil is the most beautiful Mexico cenote. Located about 1:45 from Tulum, it's admittedly a trek to get there, but worth your efforts.
Two things make Cenote Ik-Kil so popular: Its look, and its proximity to Chichen Itza Ruins.
Cenote Ik-Kil is a semi-open cenote, meaning it has tall walls but the top is completely open. It has long vines hanging down from the opening, adding to its overall tropical-jungle look.
Besides Cenote Ik-Kil's esthetics, it's just minutes from the most famous site in Yucatan — Chichen Itza Mayan Ruins, one of the Seven Wonders of the World.
Many tour companies combine these places for a one-day tour, but you can visit on your own. To do so, either drive your rental car, or take the bus from Tulum to Chichen Itza, then a cab from Chichen Itza to Cenote Ik-Kil.
The best way to visit is by starting the day at Chichen Itza, and ending it at Cenote Ik-Kil. Since it's a popular tour stop, Cenote Ik-Kil gets very crowded; however, the tour companies usually leave by 3pm.
Centrally located in the Yucatan Peninsula, Cenote Ik-Kil is accessible within a few hours of all the top destinations. Besides being one of the best cenotes near Merida, it's also not far from Valladolid, Playa del Carmen and Cancun.
Cenote Ik-Kil is open daily, from 9am-5pm. Admission is $150 pesos ($7.50USD). There are lockers, restrooms, changing rooms, a restaurant and even a gift shop.
Casa Cenote
Located just 15 minutes drive away from Tulum, Casa Cenote is one of the most beautiful cenotes in Mexico. It is a part of the largest underground cave in the world. This open-air cenote offers emerald green crystal clear water surrounded by beautiful mangroves and lots of different types of fish and birds. You can reach here by taking a Colectivo from Tulum. It is pretty refreshing to dive and snorkel at a constant 26°C water in Casa Cenote. The crystal clear water, green mangroves, hidden caves, and countless fishes and plants, altogether Casa Cenote is a great place to spend a peaceful and relaxing weekend getaway.
You can swim, snorkel and dive in Casa Cenote. You can rent snorkeling gear and discover the hidden natural caves and underwater world. The depth of this cenote is 8 meters. Casa Cenote is connected with the sea and the water is a mixture of sweet and salt water which makes it the perfect home to mangroves, fish, and birds. You will see many small fishes playing and hiding in the mangrove roots. If you don't want to get into the water, go for kayaking and paddleboarding.
There is an admission fee of 120 Pesos per person. Casa Cenote is open every day from 9 am to 5 pm.
Cenote Cristal
Recommended by Backpacking Latin America
One of the many cenotes near Tulum that travelers won't want to leave Mexico without experiencing is Cenote Cristal.
Located just 3 kilometers from Tulum's pueblo, this is the ideal cenote for travelers who want to go swimming and enjoy jumping from the wooden ledge which stands around 3 meters high.
This off the beaten track cenote lives up to its name of having crystal clear water and it allows swimmers to see everything under the surface. This Cenote is safe and even equipped with a guide rope that allows swimmers to safely pull themselves back to the edge.
Any travelers that are backpacking Mexico or on a modest budget will find the best way to get there is by taking a collective from Tulum or another option is to rent a car and drive as there is free parking at the attraction.
Expect to pay around MX$150 (7USD) for entry at the gates and with that entry fee they offer access to Cenote Escondido which is an adjacent cenote great for snorkeling or diving. The opening times of the Cenotes are from 9 am to 5 pm, 7 days a week."
Rio Secreto
Recommended by 5 Suitcases
Rio Secreto is known as Mexico's newest cenote. In 2005, a farmer was chasing an iguana when he came upon a cave. When he entered the cave, he found a secret underground river. The cave features several different rooms, a handful of which are open for tours. There are fifteen different entrances to this cave system and each of the tours enters from a different point, allowing for a more intimate experience as you explore the caves.
Rio Secreto has been designated as a preservation site so the tours are closely monitored and limited to a few groups a day. The site features 7 ½ miles of underground rivers to explore. In some parts of the cave, the water is only ankle-deep whereas in others the water is deep enough to swim.
The cost to explore the cenote is $79 USD for adults and $39.50 USD for children 4-12 years old. The cost includes an experienced guide, wetsuit, life jacket, helmet, towels, and lunch.
The site is located in the heart of the historic Mayan Riviera, so there is plenty to do nearby including the Maya ruins of Tulum, Xcaret Adventure Nature Park, and Xel-ha natural aquarium.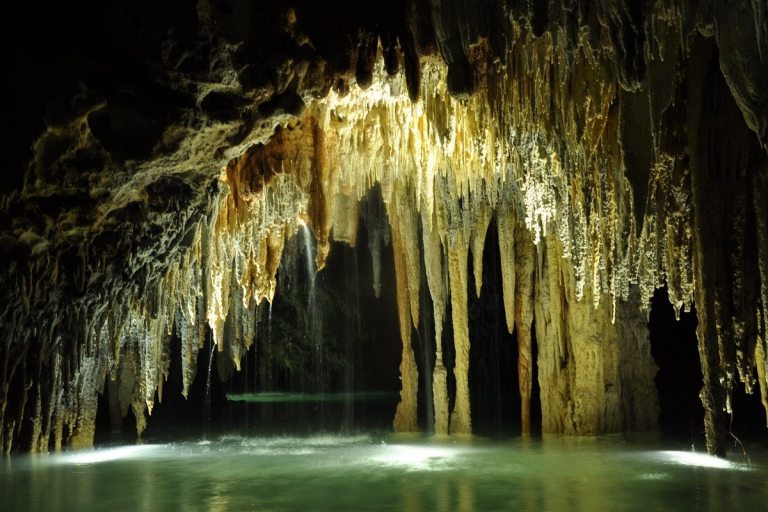 Cenote Isla Álamos
Recommended by Mexican Cenotes and Ruins
Among all, the most incredible cenotes near Tulum Cenote Isla Álamos is one of the few lesser-known ones.
One of the main reasons why you will love it, besides the fact that you will be most likely on your own there, or with a few other people, is for its peculiar shape and form.
In fact, it looks like an island with a sandbank in the middle of it and crystal clear water around it.
But most of all you will find a great number of Alamos trees surrounding it. Hence the name.
Its special structure makes it a perfect spot for great photography as well, besides snorkeling diving, or just relaxing.
Getting to Cenote Isla Álamos, is relatively easy once you know where it's located and the best way is by car. Get on the Carretera Federal from Tulum to Coba and look on your right side of the road. Once you find the sign for Valamna and Rancho Inda Bianca turn right and keep following the road for less than a mile.
One last tip, keep in mind Cenote Isla Álamos doesn't have any facilities, including bathrooms or restaurants. So you can bring food and drinks with you but make sure you don't leave anything there besides your footprints!
Jardin del Eden
Recommended by Let's Travel to Mexico
Located between Playa del Carmen and Tulum on the Riviera Maya, Jardin del Eden is one of the most beautiful open cenotes in the area. Quite large and surrounded by lush tropical vegetation Cenote Jarding del Eden is indeed a paradise where you can spend the entire day while relaxing on the wooden platform or on one of the banks around the cenotes if you want more privacy.
This cenote offers quite a versatile array of activities, among which jumping, scuba diving, snorkeling, or just a relaxing swim in its crystal clear water.
Keep in mind that it can be quite deep in some areas, so if you are not a good swimmer you should wear a life jacket for your safety and the others'.
The entrance fee is 200 pesos and once inside you can stay all day long.
You will also find bathroom facilities and life jacket rentals.
The best way to get there is by car as you will need to drive on a dirt road from the main "Carretera federal'. If you don't like driving you can always hire a taxi. Just make sure you agree on the fees beforehand.
Cenote Azul
Recommended by Two Wandering Soles
Located between Tulum and Playa del Carmen, Cenote Azul is an open-air swimming hole surrounded by lush tropical foliage. It's the perfect spot for locals and travelers alike to relax, snorkel and jump off small cliffs into the crystal water.
Taking a day trip to Cenote Azul is one of the best things to do in Playa del Carmen because it's just a short drive away from the city. You can spend an entire afternoon soaking up the sun and cooling off in the refreshing water of Cenote Azul.
Pack a picnic lunch to enjoy on one of the many benches around the area and bring a mask and snorkel to see all the little fish swimming around in the shockingly clear waters. If you don't have your own snorkeling gear, it is possible to rent equipment on site.
The cheapest way to get to Cenote Azul is to take a collectivo (or shared taxi), however, renting your own car is another good option if you'd like to have more flexibility and see other sights in the area. The entrance fee is 120 MXN per person, making this a cheap day trip from Playa del Carmen or Tulum.
Cenote Atkun Ha
Recommended by The Discovery Nut
Also known as Cenote Aktun Ha (which means water cave in the Mayan language), Cenote Car Wash is one of the best cenotes near Tulum if you want to escape the crowds without having to drive too far.
Cenote Car Wash is an open-air cenote and is located along the Coba Highway just south of Cenote Zacil Ha. It sits about 5.5 miles (9 kilometers) away from the center of Tulum. It is popular for diving, snorkeling and swimming.
One of the most spectacular features of this cenote is the Beautiful underwater garden which attracts a lot of photographers who come here to capture this stunning natural phenomenon.
This cenote is a perfect alternative to busy places like Gran Cenote and Cenote Calavera, and crowds here are much thinner.
What's also cool is that this cenote has good amenities like picnic tables and wooden platforms from where you can jump in the water.
To get to Cenote Car Wash, you need to get a scooter or car, or catch a taxi, because there are not always taxis waiting at the entrance.
Entrance cost: 200 Pesos
Cenote Zacil-Ha
Recommended by Rachel Off Duty
Don't let cenote Zacil-Ha's size fool you. This smaller cenote just 10 minutes up the road from Tulum town may look like any swimming hole on the surface. But, when you get up close, you'll be rewarded with some of the clearest blue water you'll find during your trip to Tulum!
The cost to enter this cenote is 200 pesos, and what you'll get in return is all-day access to both the cenote and the recreation grounds, perfect for families, larger groups, or couples that want to picnic or lounge around.
What's unique about this open cenote is that even though it may look simple, once you jump in, you enter an entirely new world (with 100% visibility!), filled with tiny black fish, rugged limestone rock, and deep crevasses that you can swim up to and peer into, if you're brave.
The cenote is perfectly framed by thick jungle, meaning that unlike some cenotes where you'll be swimming in darkness or in a sinkhole, here, you'll be able to sunbathe and swim in broad daylight if you go around midday.
Be sure to bring goggles, and try out the zipline suspended over the cenote while you're there!
Cenote Calavera
Recommended by This Rare Earth
One of the best cenotes in all of Tulum is called Cenote Calavera, or, the Temple of Doom. This cenote is the semi-open variety, meaning that part of the waters are visible from above and other parts are completely underground. Cenote Calavera has several small and large openings facing up to the sky that form a skull shape when viewed from above. It is definitely the most mysterious feeling cenote in Tulum!
Visitors will appreciate this cenote because you can either climb down a large ladder into the cool water below, or you can jump through the small eye-holes into the darkness below. For those interested in diving, a certified dive instructor must be present here.
Cenote Calavera is just a short distance from downtown Tulum – 5 minutes by car or roughly a 10 minute bike ride, and is just off of Highway 109. The entrance fee is 250 pesos and the hours are 9am-5pm daily. Rustic facilities are available on site.
Cenote Tankah
Cenote Tankah – considered one of Tulum's best kept secrets – is located a quick 10 minute drive northeast of Tulum's downtown core. Hop on the Tulum-Playa del Carmen bus or catch a colectivo to the turn off for the rustic Caleta Tankah Hotel to gain entry, which will run approximately $300MXN or $15USD per person, a reasonable cost for all-inclusive access to this seaside oasis (including a full meal plan and cocktail, day beds, and their jungle property that backs onto Tulum National Park!).
There are multiple cenotes sprinkled throughout the property, though the most notable of which is located directly on the beachfront. A unique fusion between the cool, signature cenote groundwater and the temperate Caribbean Sea, you can take a seat on the rocky shoreline to observe the abundant wildlife that inhabit this scenic alcove; such as fish, crab and pelican, or get an even more up-close-and-personal view with a snorkel rental.
Due to its secluded nature, this area sees considerably less traffic than Tulum's public beach, so be it a brief stopover on your greater Riviera Maya adventure or a full day trip, you'll be glad to have spent it on the warm, sandy shores of Cenote Tankah.
Laguna Kaan Luum
Recommended by LivingOutLau
If you are looking for a cenote near Tulum to sunbathe or swim to your heart's content, then there is no better place than Laguna Kaan Luum, or Kaan Luum Lake in English. Though technically referred to as a lake, Laguna Kaan Luum gets its water from a deep central pool that connects to an underground water source. It is by definition an open cenote but with a twist.
The result is a massive lake with different shades of blue, making it a very picturesque place to swim. Inside the turquoise water, you will find lots of marine life, notably small fish. They will nibble on you and eat the dead skin off of you. If you are lucky, you will find locals feeding the fish with tortillas from tacos! The lake also has hammocks and a swimming pier for visitors to enjoy.
Because it is located about 11 kilometres from Tulum town, the best way to get there is via a taxi or renting a bicycle. It is a 10-minute car journey or about 30 minutes on the bike. However, if you do decide to bike, you want to pick a place to stay in Tulum centre and not the beach area because the beach area is much further away.
Laguna Kaan Luum opens from 9 AM to 4 PM daily. The entrance fee is 300 MXN Pesos.
Cenote El Pit
Recommended by Stingy Nomads
Cenote El Pit, also known as "The Pit", is one of the most unique cenotes in the Yucatan peninsula and on the bucket list of many Scuba divers. Scuba diving in the cenotes around Tulum is a fantastic experience, since the water that filters through the ground into the cave system is crystal clear and for diving purposes many of these caves are classified as caverns.
Technical cave diving qualifications are not required for cavern diving making these unique dives accessible to all qualified divers. The name 'The Pit' is the perfect description for this cenote; the entrance is a fairly small hole in the jungle floor, in essence a pit, with a diameter of about 10m.
The cenote expands and opens wider as you dive deeper. At about 10m you can swim under the cavern roof with some stalactites and nice cave formations to view. There is a ladder to climb down to a platform on the surface to enter the water, your gear can be sent down to the platform.
The highlights of diving in The Pit are the bright rays of turquoise light penetrating to 30m below the surface in the crystal clear water, the halocline layer at about 10 metres of depth, here less dense fresh water from the land forms a layer over salt water from the ocean.
You are allowed to swim in Cenote the Pit, but this deep cenote is mainly a scuba diving location. The dive is a deep dive to over 30 metres and an advanced qualification is required to dive here. The Pit is located inside the Dos Ojos Park, close to Cenote Dos Ojos.
Cenote Dos Ojos
Recommended by Janine in the World
Located halfway between Tulum and Playa del Carmen, Cenote Dos Ojos makes a fantastic day trip. This sinkhole is unique from other cenotes in the area because it features two cenotes linked by an underwater cave.
For those interested in cenote diving, Dos Ojos is one of the best places to do it. You must dive with a guide, so arrange a tour in advance if this experience appeals. If swimming or snorkelling is more your speed, Dos Ojos is still a fantastic destination. You can spot all kinds of fascinating underwater rock formations with your bare eyes. Keep in mind, the two main pools at Dos Ojos are partially underground, making the water a bit chilly. But don't worry, there are plenty of places surrounding the swimming holes where you can bask in the sun.
There is also a third swimming hole on-site, called the Bat Cave. This shallow pool holds water lilies and a small cavern where bats roost during the day. Unlike the main pools, this cenote is mostly exposed, so it's a great place to get some sun.
You can reach Dos Ojos by colectivo, taxi, or rental car. Follow the signs on the highway for Parque Dos Ojos. The cenote is located a couple of miles down a dirt road from the entrance of the park, so a taxi or rental car is the best way to get there. Admission to the park costs 350 pesos and the fee includes a life jacket rental.
Cenotes Near Tulum Map
Need some visual help with planning how to get to these awesome cenotes near Tulum and Playa del Carmen? This interactive map will help you with directions of how to get to and from these beautiful cenotes.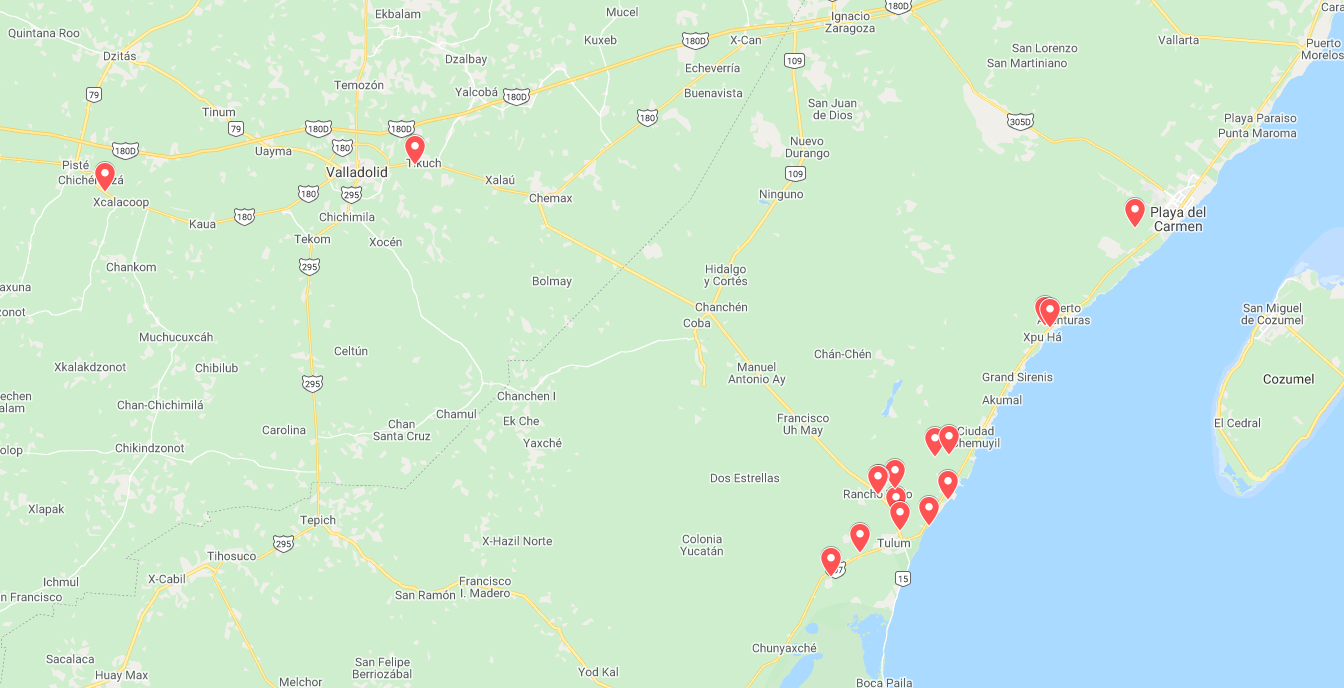 Pin it for later!
Related Posts