Mexico is home to some of the most unique and fascinating sites and is certainly one of my favourite places to travel to.
From incredible cenotes to fascinating Mayan ruins, lush tropical landscapes to bright coral reefs full of colourful sea life, Mexico is the perfect place for adventure seekers and for those wanting to immerse themselves in the rich culture and history that this beautiful country has to offer.
The state of Quintana Roo in the Yucatan Peninsula is widely popular for resort towns such as Cancun, Puerto Morelos, Playa Del Carmen, Akumal, and Tulum, and for good reason! From pristine beaches along the Caribbean coastline and gorgeous resorts and rental properties with endless outdoor activities, what's not to love?
This post contains affiliate links and I may earn compensation when you purchase or book through links at absolutely no additional cost to you!
Traveling to Cancun or the Riviera Maya and want to explore off-resort?
There are so many fun options for you to try in and around Cancun and the Riviera Maya – whether its archaeological sites, adventure excursions, exploring new towns, or relaxing day trips to the beach, there is no shortage of unique things to see and do.
If you're looking for the best excursions to take while you're visiting Cancun and the Riviera Maya, add these to your bucket list!
Why take excursions in Cancun and the Riviera Maya?
Excursions are an amazing way to experience some of the culture and history Mexico has to offer. These activities are put together as an all-in-one package (if you're purchasing through your resort) so you don't have to worry about a thing, other than what time to be ready in the morning!
If you don't have time to thoroughly research what there is to do in the area, these experiences provide you with an opportunity to explore the best of what Cancun and the Riviera Maya have to offer.
Valladolid
Recommended by Shelley of Travel Mexico Solo
Looking to see an off the beaten path Mexican town during your Cancun trip? While the beaches of the Yucatan Peninsula are breathtaking, those looking to explore Mexico's culture a little deeper need to head to dry land.
Known as one of the most beautiful colonial cities in Mexico, Valladolid is fast becoming a popular day trip from Cancun. Located less than two hours from Cancun, this pueblo mágico has so many things to do, see and enjoy.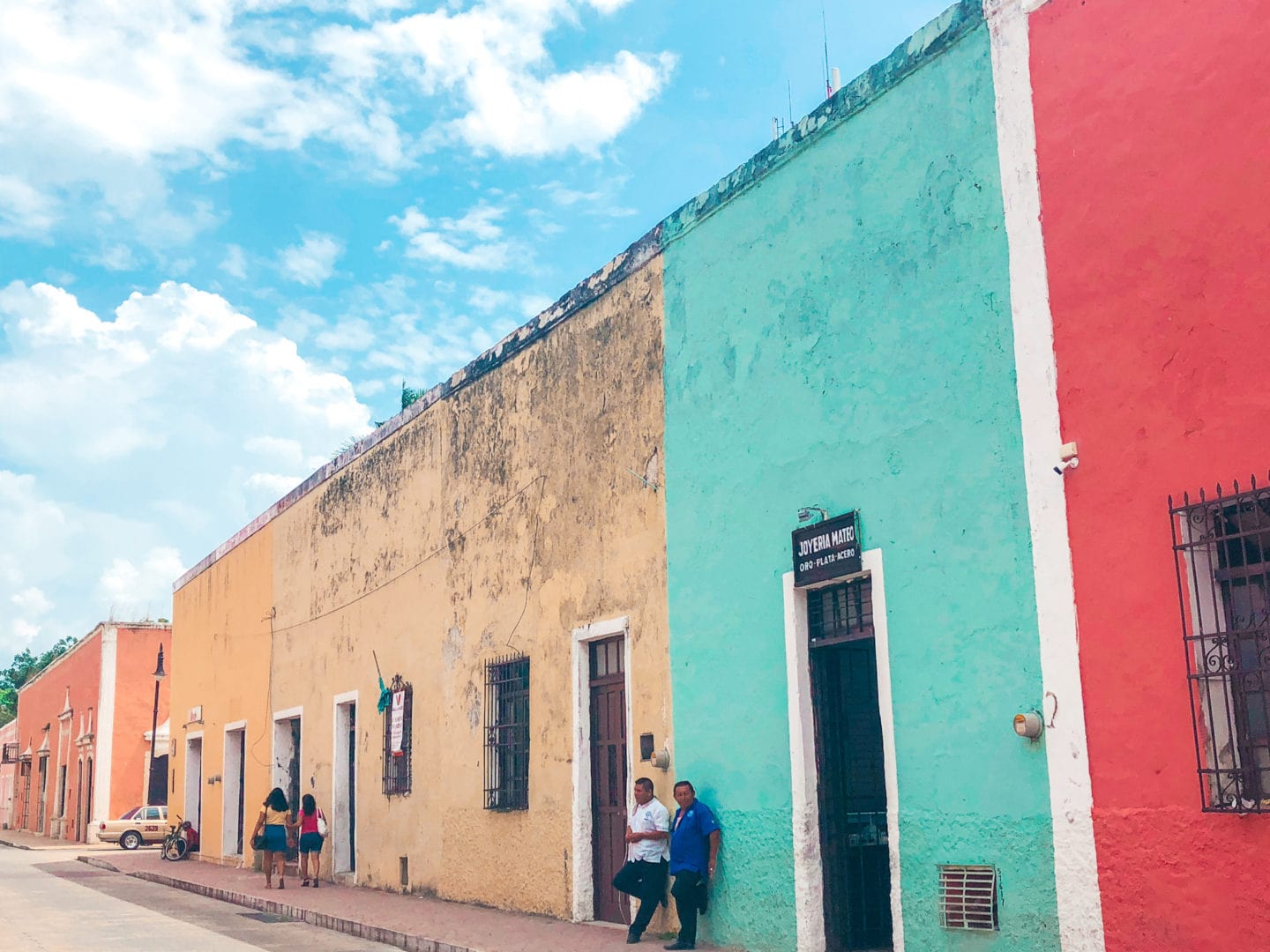 Just what is a pueblo mágico? This prestigious designation, which translates to "magic town," is awarded by Mexico's Tourism Secretary to certain pueblos (small towns) with historic significance, natural beauty and other noteworthy characteristics.
There are about 120 magical towns in Mexico, one of which is Valladolid. This city, known for its Yucatecan authenticity, gives visitors a chance to see the Mexico of centuries past.
Get your camera ready because there are so many gorgeous buildings and colorful streets to photograph. Don't miss Calle de los Frailes and Calle 50, known as two of the prettiest streets in Valladolid.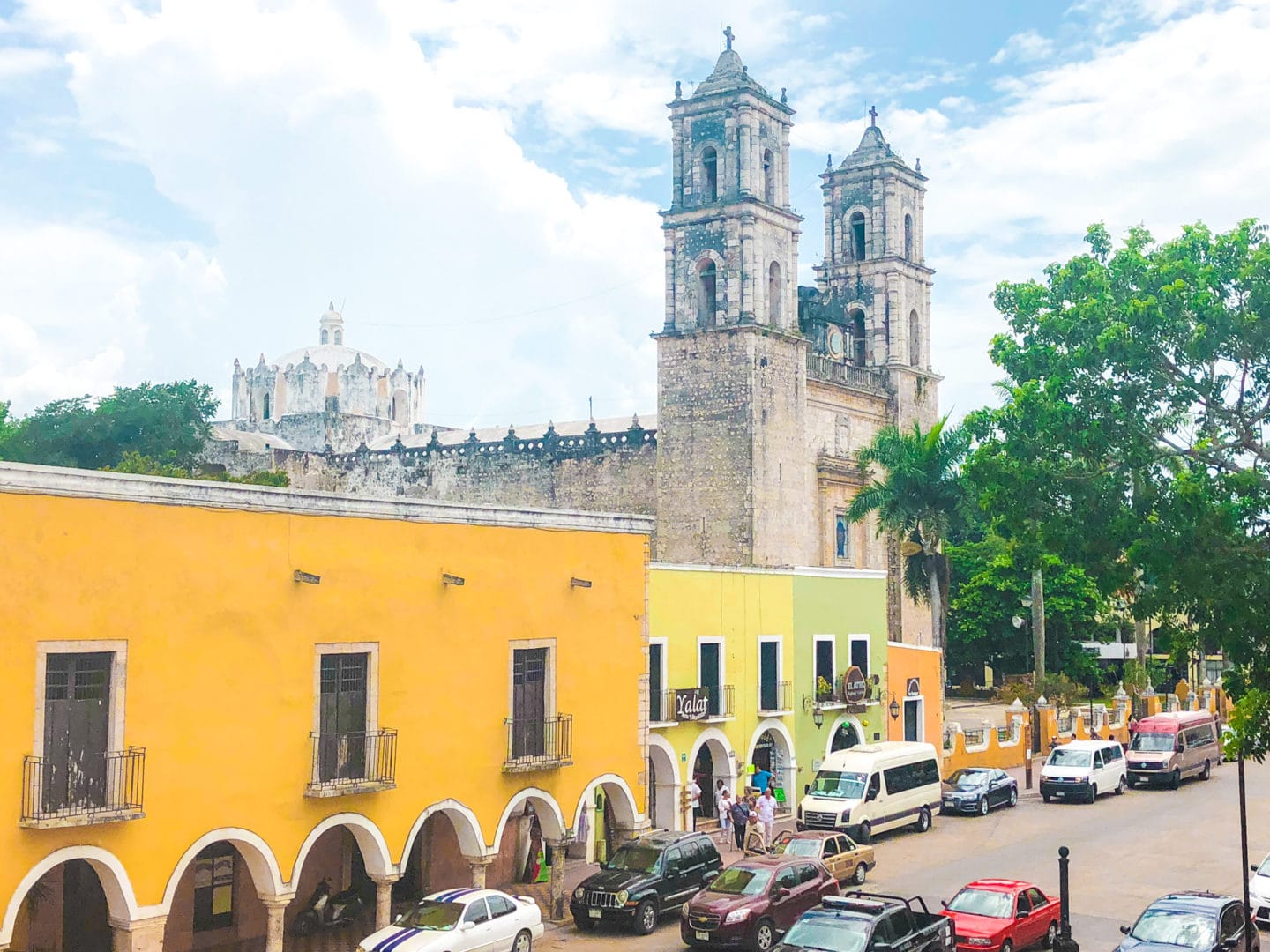 Spend some time admiring this beautiful town from the zocalo (main square). Here, you'll find a beautiful park, the Yucatan's famous Tú y Yo (You and I, or Kissing Chairs), and the Catedral de San Servasio, a 16th century Spanish colonial church.
When it's time to eat, head to La Casona, one of the best restaurants in Valladolid. Here, you can sample some authentic Yucatecan cuisine, like cochinita pibil (slow cooked pork), or papadzules (egg enchiladas) for vegetarians.
Cenote Caracol
Recommended by Monica of This Rare Earth
Cancun and the Riviera Maya are located in one of the most beautiful spots in all of Mexico. With everything from ancient Mayan ruins to Caribbean blue waters and lush green jungle, there is so much to see here!
One of the best things to do in the Yucatan Peninsula is exploring cenotes.
A cenote is a natural formation where a sinkhole is created in the earth after centuries of erosion and is filled with fresh water. It is said that there are over 6000 cenotes in the area. Some cenotes are completely open-air; others are completely underground, and still others are somewhere in between.
Cenote Caracol is incredibly unique. The cenote is accessed by climbing down a steep staircase through a small opening in the earth. The swimming hole is completely underground and is pitch dark except for the blue and yellow lights that have been installed. A giant cavern opens up and allows for swimming in cool cave water with tons of small fish.
Cenote Caracol sits inconspicuously under dry earth and trees in Tulum, Quintana Roo. It can be reached in less than one hour from the Riviera Maya and is well worth the trip for any solo traveler, family or friend group.
Whale Sharks
If you are planning to visit the Riviera Maya between June and September, there is the chance to go on a once in a lifetime adventure tour: swimming with whale sharks in the Caribbean Sea!
During this season, the so-called gentle giants are swimming relatively close to the coast as they can find a lot of seaweed over there.
This trip is perfect for couples or a group of friends who want to have a breathtaking and unforgettable experience during their stay in Mexico.
Choosing the organization Eco Tours, you will be picked up at your hotel in the early morning. After a short breakfast, the boat is taking a group of 5-10 people out on the open sea. Once some whale sharks are spotted, the snorkeling adventure begins. Everyone will have enough time to swim side by side with the majestic animals.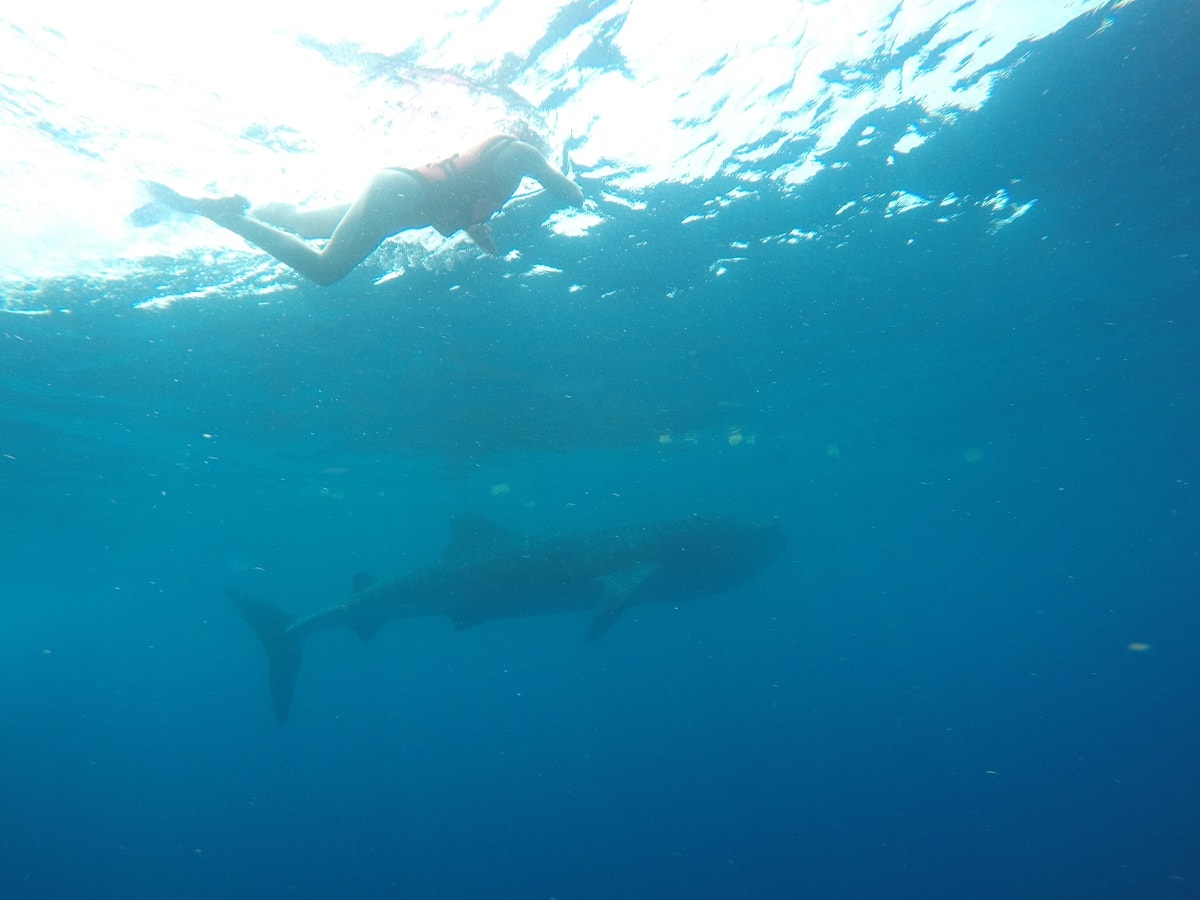 On the way back, you will have time to relax on the beach Playa Norte on Isla Mujeres and enjoy some cool drinks in the turquoise water. Before and during the trip, the organization makes sure that everyone is provided with all the necessary security instructions and that the adventure takes place in a respective and nature-friendly way.
Atkun Chen
Aktun Chen is a nature park on the Riviera Maya located 20 km north of Tulum. This awesome conservation area offers 3 different activities to experience the ecosystem. The excursions include ziplining in the jungle canopy, swimming in an underground river, and walking through the longest dry cave in Quintano Roo. There are also zoo areas with native wildlife. Kids of all ages will love watching the spider monkeys play in the trees.
The cave tour has been named by National Geographic as one of the 10 best underground walks in the world. The guided stroll through the Mayan underground world ends at a colorful cenote draped with impressive cave stalactites.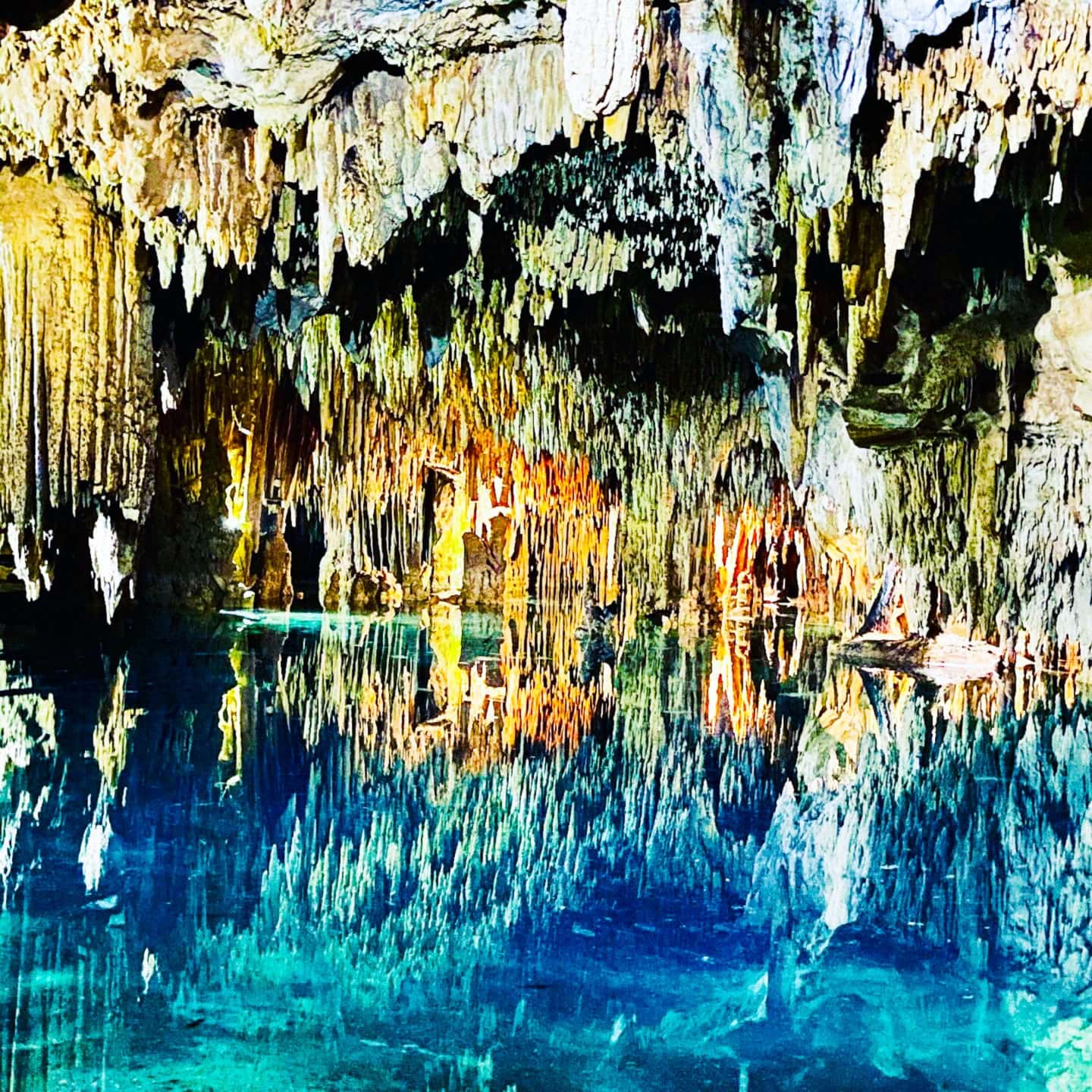 For a more adventurous group, the jungle zipline tour fits the bill for excitement. The zipline tour soars over trees and a natural gorge with glimpses of wildlife along the way.
The underground river swimming tour is great for families. You will see beautiful fish and sunken cave formations while snorkeling through the crystal clear water.
The guides for all the activities are immensely proud of the natural beauty of Aktun Chen. Therefore, they are excited to share their knowledge of the flora, fauna, and Mayan culture. With all there is to do, Aktun Chen is a must-visit destination for all nature lovers.
Pink Lakes of Las Coloradas
Recommended by Sebastiaan and Maartje of The Orange Backpack
When exploring Yucatan and the Riviera Maya in Mexico, you're probably dreaming of white sand beaches and blue ocean water. Let's mix things up and switch that blue water for pink! Because in the northern part of Yucatan is quite a unique destination to visit: the pink lakes at Las Coloradas.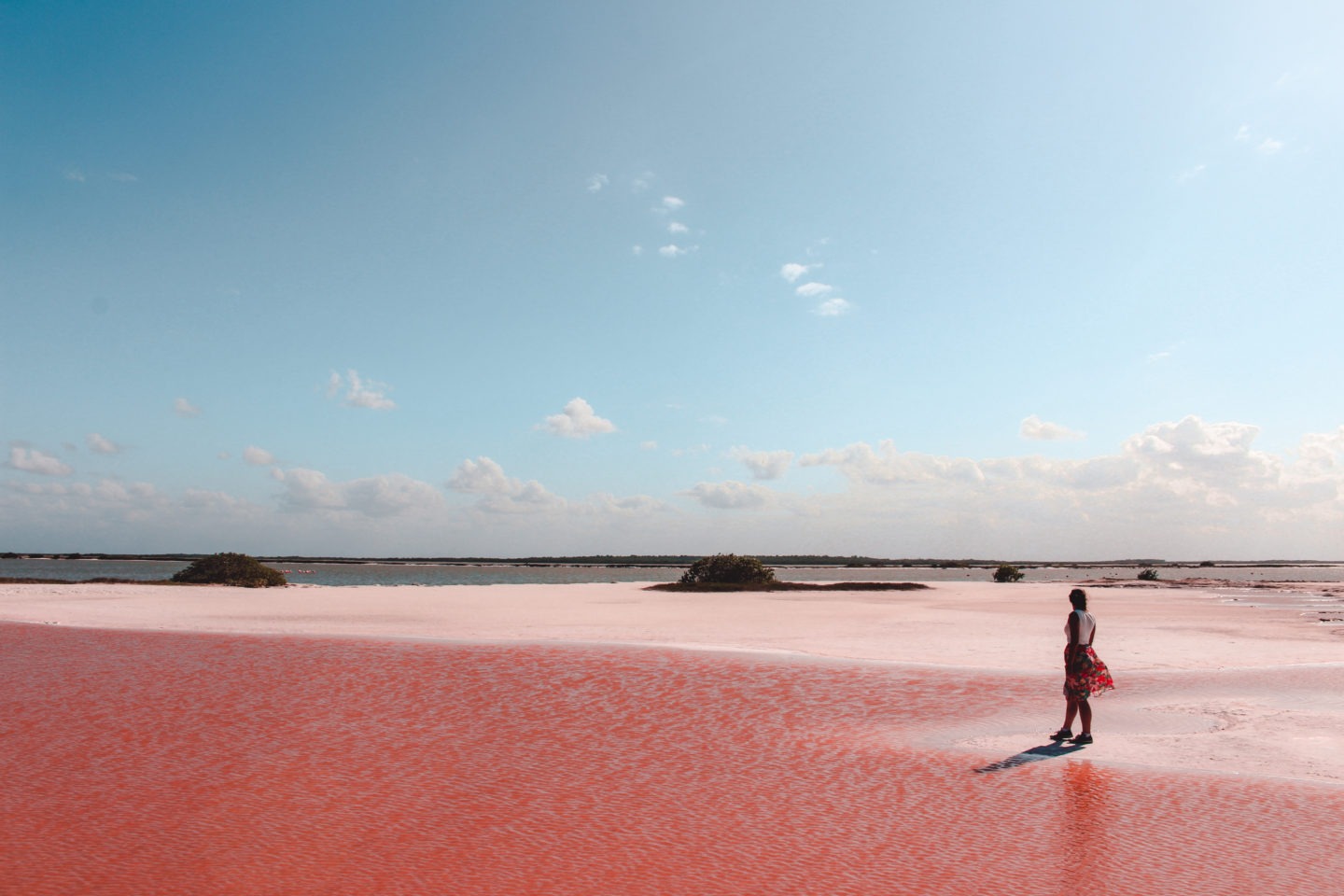 Las Coloradas is all the way up north Yucatan, a 130-kilometer drive from the charming city of Valladolid. Las Coloradas is actually the name of a small village, the lakes are located in the nature reserve Rio Lagartos.
The main attraction around are the pink lakes. This special natural phenomenon is the result of algae and plankton in the water, the same flamingos eat and get their pink color from! Don't be surprised to see many of those pink birds here as well.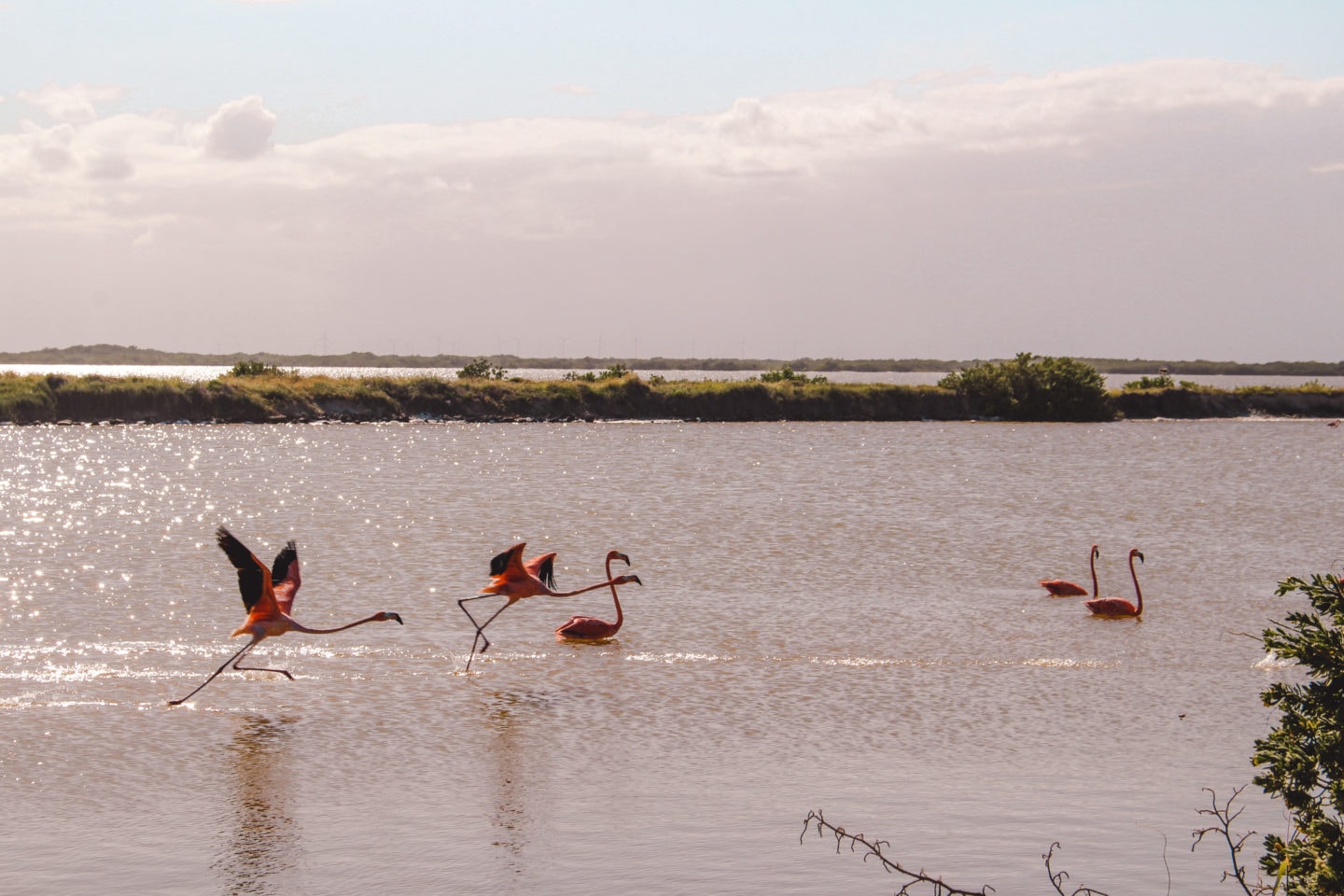 You can drive along the lakes and enjoy the view, stopping at some points to see the lakes from up close. The best views are close to the salt factory, but there are also some locals here charging you a fee to walk along the lakes. There are some guides as well, hoping to explain to you all about the pink colors and flamingos.
Punta Laguna
Recommended by Daphna of A Tiny Trip
Just under two hours from Cancun, in the middle of the jungle lies Punta Laguna. The natural area offers one of the most unique attractions: you can see spider monkeys!
To visit, it is best to rent a car for the drive southwest from Cancun. Upon arrival, take a walk through the jungle to see a plethora of wildlife. Your best chances of spotting the elusive spider monkeys will be with the help of a local Mayan guide that can be hired right by the entrance.
The walk through the jungle is appropriate for all ages! Bring closed toe shoes and a charged camera, to easily spot the moving monkeys. Adults and older children may also enjoy canoeing across the lake and doing a zip line for an additional fee!
Take a break from the sun and sand and explore this gorgeous jungle for a few hours on your beach vacation.
Xplor Adventure Park
From zip lining high above the jungle trees to exploring underground rivers in the heart of the Yucatan Peninsula, Xplor Park is the perfect excursion for adventure seekers.
Located just outside of Playa del Carmen, Xplor Park offers both a daytime experience (great for families with kids 5+) and a nighttime "Fuego" experience (great for couples and friends). It's easy to spend an entire day here with unlimited adventure activities.
Fly through the air and speed down 14 different zip lines with two water landings (one landing at the top of a waterslide tower and the other into a refreshing cenote). If you don't want to complete a full zipline circuit, try out Hammock Splash. This single zip line will have you flying through the air, while sitting in a hammock, with a refreshing Cenote landing at the end.
To stay cool, spend some time underground with a cave river paddle, paddling with your hands onboard a single or double raft, among stalactites and stalagmites. The river caves can also be experienced with a swim instead, leading to a fantastic waterfall at the end.
When it's time to dry off, hop into one of their all-terrain amphibious vehicles and drive through the trails, splashing through caverns, conquering steep slopes and twisting and turning through the incredible jungle paths.
Xplor Park offers a unique and exciting experience and with the price of admission including all park activities, a buffet meal and unlimited snacks, it's a must do excursion in Mexico.
Chichen Itza
Recommended by Moshe of The Top Ten Traveler
The Ancient city of Chichen Itza is one of the most impressive archaeological sites in Mexico and in the world. This city existed over 1000 years ago and was built by the Mayans.
In its center is the big pyramid, also known as the Temple of Kukulcán, or The Castle, which is an architecture phenomenon. No Wonder that Chichen Itza is a UNESCO World Heritage Site, the second-most visited site in Mexico, and the Pyramid is one of the New Seven Wonders of The World.
Arriving at Chichen Itza from Cancun or Playa Del Carmen takes about 2-2.5 hours' drive, and it is easy to find tours that will take you there and back.
The way inside the archeological site is highly organized but might include standing in lines. Once in, you are added to a group and a local guide shows you around. You will learn about the Mayan culture and the buildings around the city, from the main temple to their ball-playing court.
Around the old buildings there are vendors selling souvenirs, from t-shirts with local symbols to miniature statues of Mayan figures and Mayan calendars. These can make a great gift to take back home, and you can always bargain when you buy more than one.
A visit to Chichen Itza is a must do when you visit the Riviera Maya – it is educational, interesting, impressive and it really brings the ancient Mayan culture back to life.
Snorkelling with Turtles at Akumal Beach
Snorkelling with turtles is a bucket list item for lots of people and it's easy to see why. Turtles are graceful and curious creatures and love to swim around with humans who are snorkelling or scuba diving. The turtles in Akumal are no exception and if you are lucky you will see the local turtles feeding in the seagrass off Akumal beach.
Akumal means place of the turtle in Mayan and the small town of Akumal is a coastal resort on Mexico's Riviera Maya, on the Yucatán Peninsula. If you are staying in Riviera Maya many companies will try and sell you an expensive day tour to snorkel with the turtles but this is not required.
Simply flag down a local bus or 'collectivo' and tell the driver you want to go to Akumal and let them do the rest. The collective is super cheap and will drop you off on the main road into Akumal town, from here follow the road down towards the beach.
If you need to hire snorkelling equipment there are a couple of local companies right on the beach front but if you have your own continue to the beach. Ignore the signs saying you must hire equipment as this is simply not true, the only rule is you must wear short fins to avoid damaging the reef and of course no touching the turtles. When you get in the water adhere to the safety signs indicating the boat lane
Tulum
Sitting on the edge of a cliff overlooking the stunning Caribbean sea is Tulum, an impressive well preserved and famous archaeological site spanning over 800 years of history, complete with its own gorgeous beach.
Visiting Tulum is a perfect day trip for those wanting to explore some ancient ruins and get a glimpse of what life was like in this Mayan city. From Cancun, it's about a 2 hour one-way trip, or if you're in the Playa Del Carmen area, it's about an hour. Usually an excursion that involves visiting Tulum is paired with an eco-park visit like Xel-Há or Xcaret.
Tulum was one of the few Mayan cities protected by a wall, and is the only city built on the coast. It was a seaport, trading mostly in turquoise and jade.
The most prominent landmark here is the Castillo, perched on the edge of the limestone cliffs overlooking the azul Caribbean waters. It's a photographer's dream.
Visiting Tulum is suitable for people of all ages. It's a fun place for kids to explore, and for adults to learn the history about this historic site.
Tip: There is no shade here! Be sure to bring a hat, wear your sunscreen, and stay hydrated. If time allows, bring a bathing suit and head down to the white-sand beach!
H2Oh Sun Cruises
If you're looking for a unique group activity, H2Oh Sun Cruises provides a memorable experience aboard one of their 5 available yachts or their catamaran!
Located just south of Playa Del Carmen, H2Oh Sun Cruises is easily accessible from any of the popular towns, and you can also book roundtrip transportation through them, making planning this group excursion a breeze!
Charter a private yacht for a morning or afternoon and sail along the Riviera Maya coast with your closest friends and stop for incredible snorkeling destinations at the crystal clear Inha Reef. Here you'll see sea turtles, stingrays, amongst other colourful and exotic marine life.
For those wanting a little extra, book a trip out to the dazzling turquoise waters of Cozumel, a snorkeling tour, or a romantic sunset cruise.
Your private yacht includes an open bar with beer, margaritas, pina coladas and cocktails, plus a home-cooked meal of fire-roasted chicken, rice, beans, tortillas, guacamole and fresh-cut salsa.
With other activities including paddleboarding and karaoke, a cruise aboard H2Oh will surely leave a lasting impression. Catch some rays on deck and if you want, bring your own music to play!
This is the perfect excursion for wedding groups, groups of friends, and families, with a wide range of options accommodating up to 80 people!
Cenote Zapote Ecopark
Recommended by Allison of Viva La Travelista
Cenote Zapote Ecopark is a fun family excursion in the Riviera Maya located just 30 minutes from Puerto Morelos, Mexico. Situated along the famous "Ruta de Cenotes", Cenote Zapote is a less well-known attraction where you can zipline and experience three unique cenotes. It can be a full day experience and is perfect for those looking for a more adventurous excursion.
Once you arrive to Cenote Zapote, you can choose to walk to the different attractions, rent bicycles, or even hire an ATV. From there you'll set out to experience the three different cenotes at leisure:
– A large open cenote with a makeshift overwater rope zipline
– A deep open cenote with a high jumping platform and underwater cave system below
– An underground cavern-like cenote with stalagmites and stalactites
Aside from the cenotes, Cenote Zapote Ecopark also offers an adrenaline pumping zipline course. It comprises five different ziplines where you can cascade above the Mayan jungle. You'll be outfitted with harnesses and helmets, and the expert guides will lead you along the course.
If you're looking for adventurous activities in the Riviera Maya, Cenote Zapote is perfect for families or groups of friends. The ziplines are safe and secure, and each cenote can be experienced at your own comfort level so it's suitable for younger children, teens, or adults. Cenote Zapote a unique activity that is sure to be a fun and memorable experience.
Diving in Cozumel
Recommended by Lucile of LucileHR
Located just off the Yucatan Peninsula, the gorgeous undeveloped island of Cozumel is famed for its teeming marine life and the many diving and snorkeling spots. One of the diving spots to consider is the Palancar Reef.
The crystal clear waters of Palancar Reef are so inviting; it would be hard to pass up the opportunity to get in. The dive depths vary, so this diving area caters to divers of all skill levels.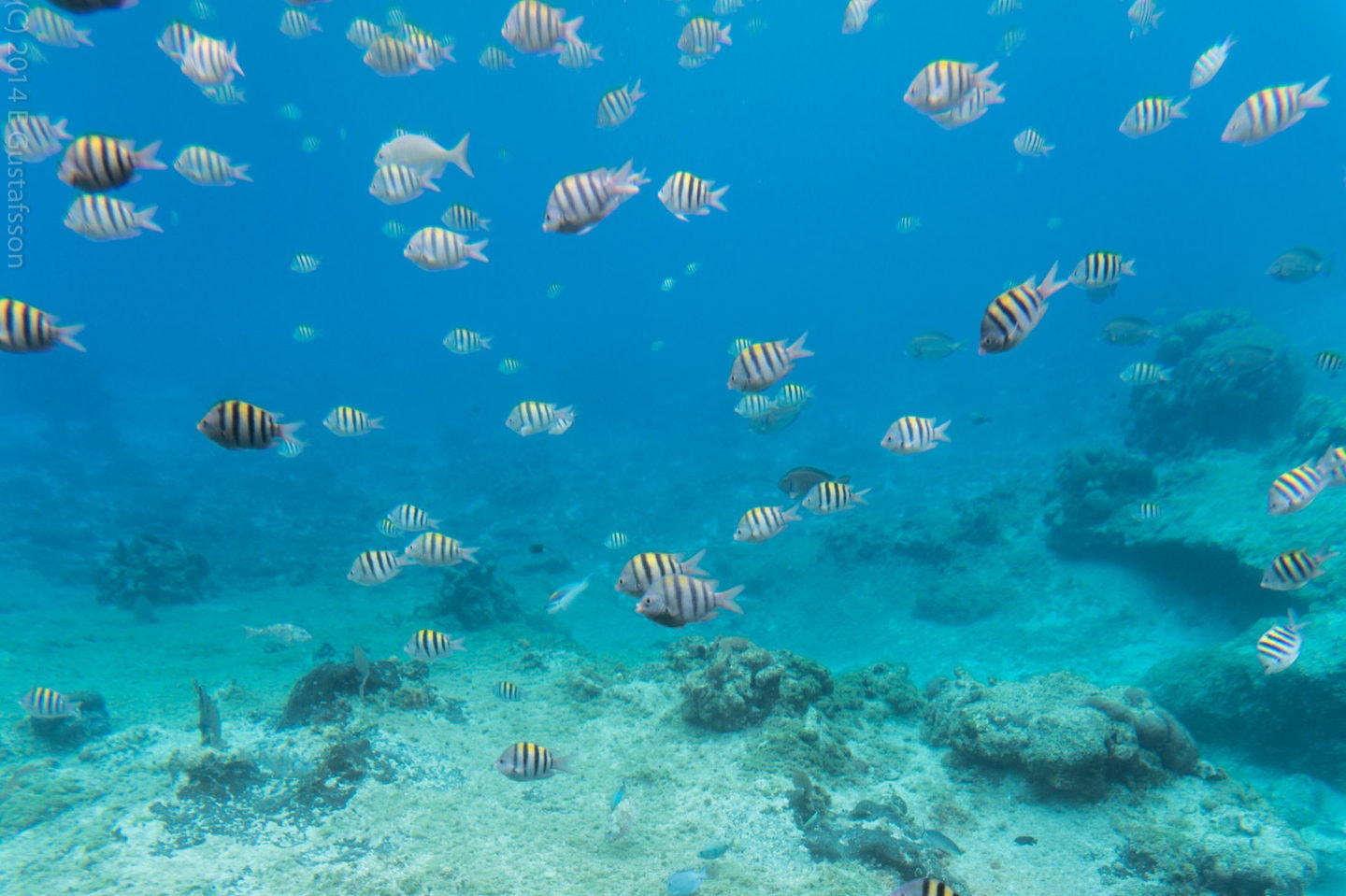 There are also amazing shallow reefs about less than 30 ft, which should give beginners the chance to see wildlife up close. While diving in Palancar Reef, some beautiful creatures to spot are colorful tropical fish, eagle rays, and sea turtles.
Older children and teens can participate in diving activities as well, provided they are confident swimmers and have diving training or experience. Younger ones can go snorkeling in the shallow waters or go for a fun beach time instead.
Whether you're traveling as a group, solo, or couple, Cozumel will be an ideal island destination to pick for a relaxing getaway and mastering your diving skills. Also, it's a generally safe area for families. You can take a mindful walk around town, try out different restaurants, and mingle with the locals.
Punta Sur Eco Park
Recommended by Janine of Janine in the World
Located just a 45-minute ferry ride from Playa del Carmen, Cozumel Island makes a fun destination for a day trip. Cozumel is known for its fantastic diving and snorkeling, its undeveloped beaches, and stunning scenery. In my opinion, one of Cozumel's biggest highlights is Punta Sur Eco Park.
This nature preserve covers over 1,000 hectares of Cozumel's southern tip and encompasses beaches, mangroves, and more. You can spot birds and crocodiles from viewing platforms overlooking the lagoon, ascend a lighthouse to admire the stunning views of Cozumel's southern coast, or visit El Cielo beach to rent snorkel gear and swim offshore to spot tropical fish and rays. After your swim, relax with a cold beer while you enjoy the scenery from the shade of a beach lounger!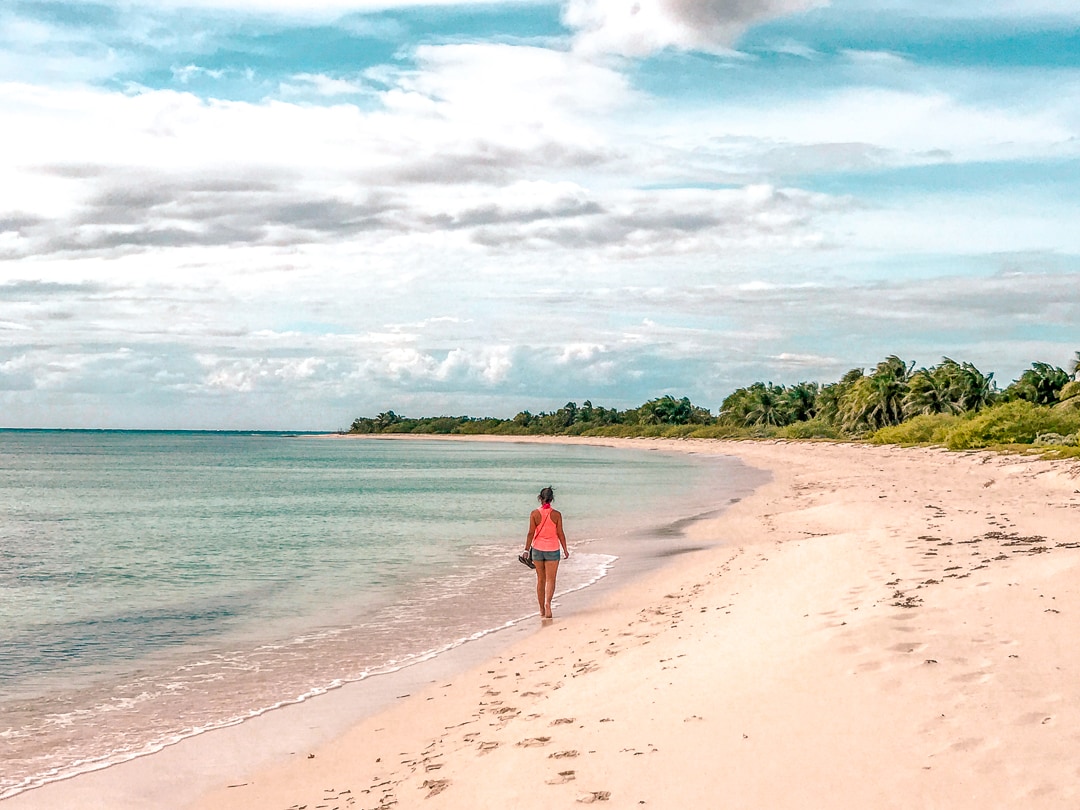 There is also a boat tour, which will take you on a cruise through the mangroves to see birds, like flamingos, and other species that are native to this area.
With so much to see and do, Punta Sur makes a fun outing for any traveler who is interested in the natural flora and fauna of this region. The park is open Monday through Saturday and the cost of admission is $26 USD per person.
Because of its size, you will need a vehicle to make the most of your visit to Punta Sur. Fortunately, you'll have no problem finding car rentals right at the ferry terminal when you arrive at Cozumel.
Muyil Ruins and Ka'an Luum Lagoon
If you love exploring off-the-beaten-path destinations, you need to visit the ruins at the Muyil Archeological Site and the natural lagoon Ka'an Luum. Located about a 20 minute drive from Tulum, the best way to reach both is by car.
If you're looking to get a great picture of Mayan ruins without crowds of people in the background, your best bet is to visit one of the lesser known sites, such as Muyil. If you come during week or in the morning, you're almost guaranteed to have the entire place to yourself!
It's also a great option if you are on a budget as the entrance fee is only 80 pesos or about $4 USD.
Note: Be sure to bring bug spray as the mosquitos can be relentless!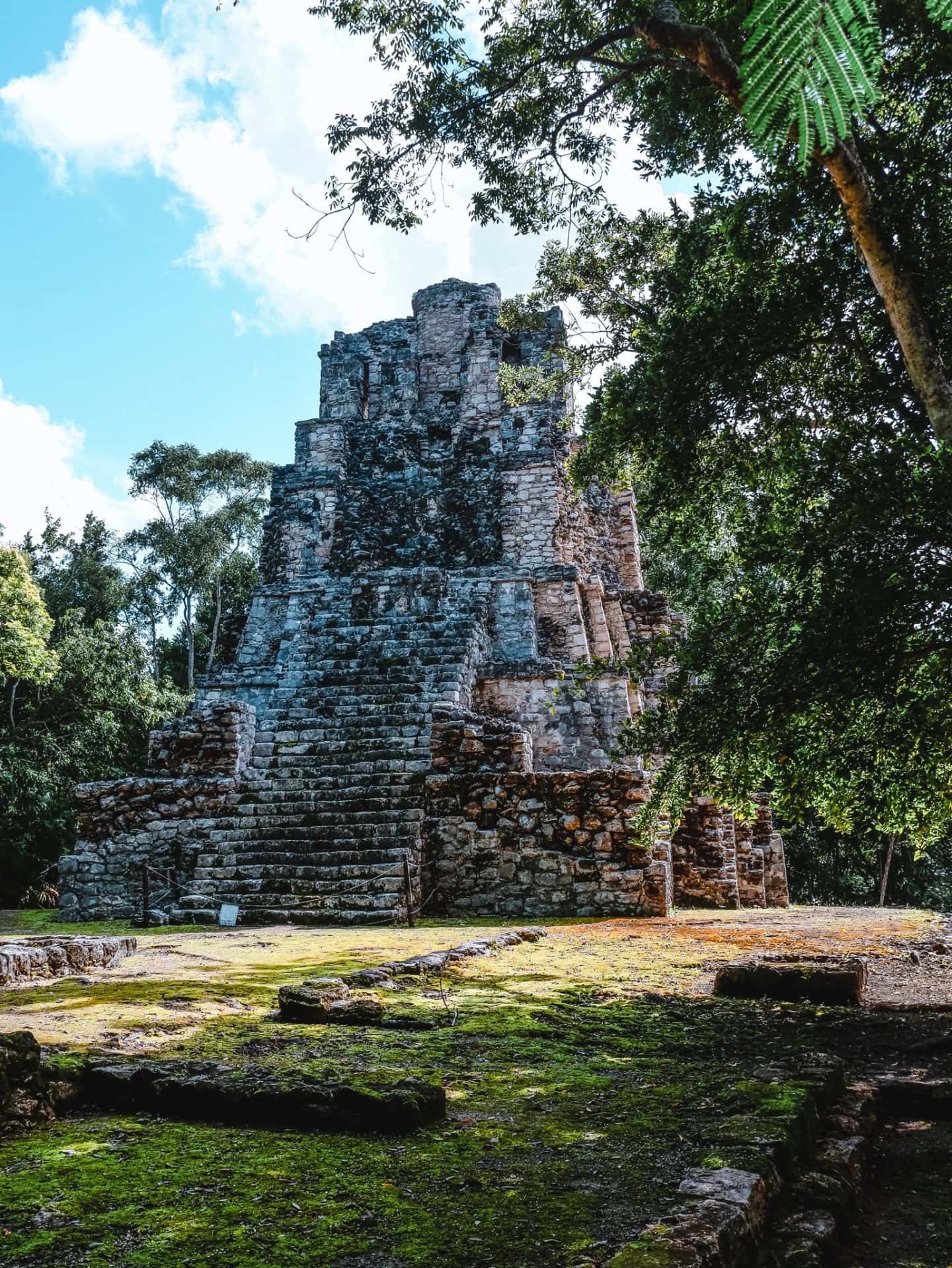 After working up a sweat walking around Muyil, cool off with a refreshing swim at the Ka'an Luum lagoon on your way back to Tulum. This secluded lagoon is a true hidden gem! Look for a hand-painted wooden sign along the highway between Muyil and Tulum advertising Laguna Ka'an Luum.
Here, you'll turn onto a small dirt road for about a kilometer until you reach the entrance to the lagoon. The small entry fee of 100 pesos (around $5 USD) gets you access to the lagoon for the day. There are basic bathroom facilities and a small stand selling snacks and ice cold coconuts.
The center of the lagoon is actually a cenote! It goes down about 80 meters and standing from the top deck of the platform on the dock, you can see the change in the color of the water as it turns a dark blue toward the center where the cenote is located.
The rest of the lagoon is a light greenish-turquoise color and about waist deep. There are swings and hammocks set up in the water which are great for a photo-op and to just relax in. It's the perfect spot to float and relax in nature.
Note: If you sunburn easily, make sure to wear a rash guard or swimsuit with sleeves. Because the lagoon is also a natural cenote, sunscreen is not permitted as it can damage the delicate ecosystem.
p.s. looking to pick up some reef-safe sunscreen for your travels? Many locations require this in order to swim so it's good to be prepared!
Coba
Recommended by Rachael of A City Girl Outside
The Mayan Riviera is famous for its proximity to Mexico's most famous ruins. Coba is an easy day trip from Cancun and Playa Carmen that's perfect for couples and family alike. Located two hours from Cancun, Coba is a ruin of an ancient Mayan community. Unlike the Tulum ruins, Coba is mostly sheltered by trees so there is lots of shade, making it easier to explore longer.
This area is very well reserved and features several ruin sites. Every site within Coba is connected by what is known as White Roads (Sacbéob) A total of 16 of these roads are accessible to visitors but there are as many as 50 in total.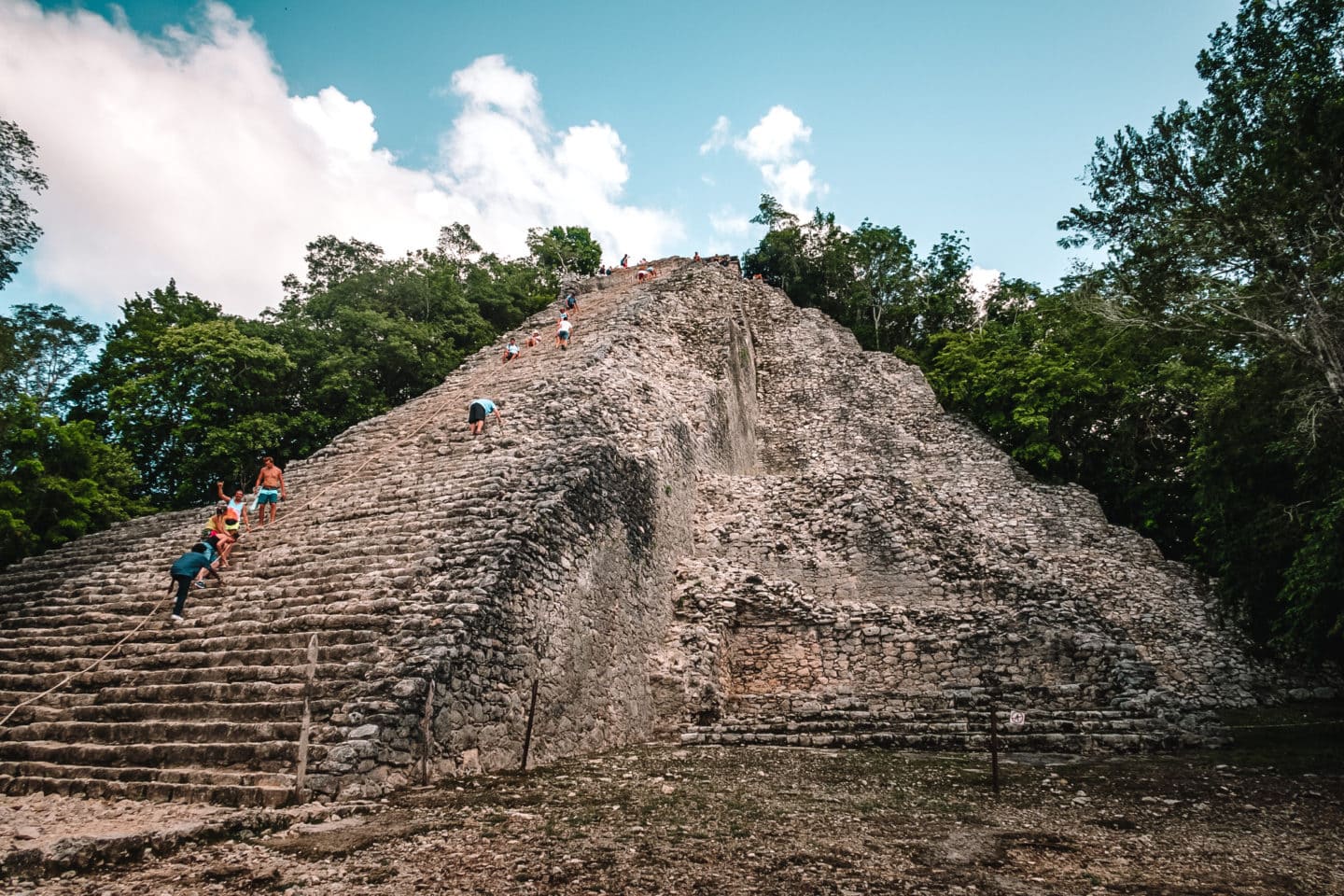 The main attraction in Coba is known as the Big Pyramid, an ancient Mayan ruin that you can climb to the top of. It is the highest Mayan ruin in the Yucatan. The views at the top are stunning and make for a perfect photo opportunity. Other sites you may visit include the Mesoamerican ball courts, an ancient Mayan sport that would often end up in human sacrifice.
Whether you are visiting with a tour or self-guided, take advantage of the bicycles and tricycles available to rent. Coba is quite spread out and walking in the heat is no fun!
Xel-Há Park
Recommended by Gabby of The Office Escape Artist
Xel-Há (pronounced "shell-ha") is located south of Playa del Carmen near Akumal and is a super easy day trip from anywhere in the Riviera Maya. Transportation from your resort is available with most ticket options, so getting here couldn't be easier.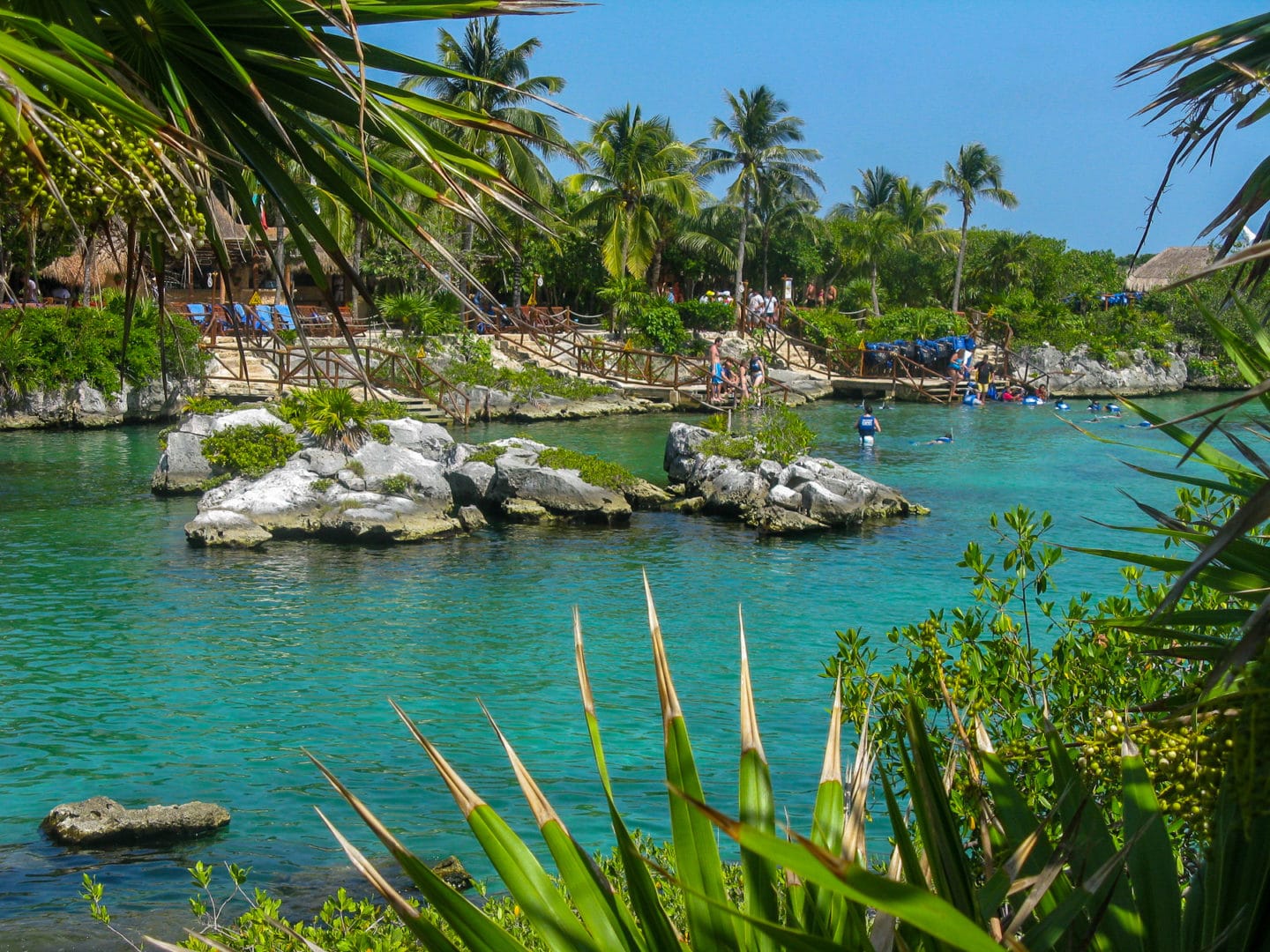 Xel-Há is an all-inclusive eco-park that offers all-day fun for anyone. With your all-inclusive admission, you can snorkel with fish, tube down a lazy river, bike through the jungle, explore caves, slide down a waterslide, jump off a cliff, play on a zipline over the water, and so much more. There really is something for everyone – including a blissfully relaxing hammock park if you want a mid-afternoon siesta. If you're willing to upgrade, Xel-Há offers additional experiences like swimming with manatees, dolphins, or stingrays.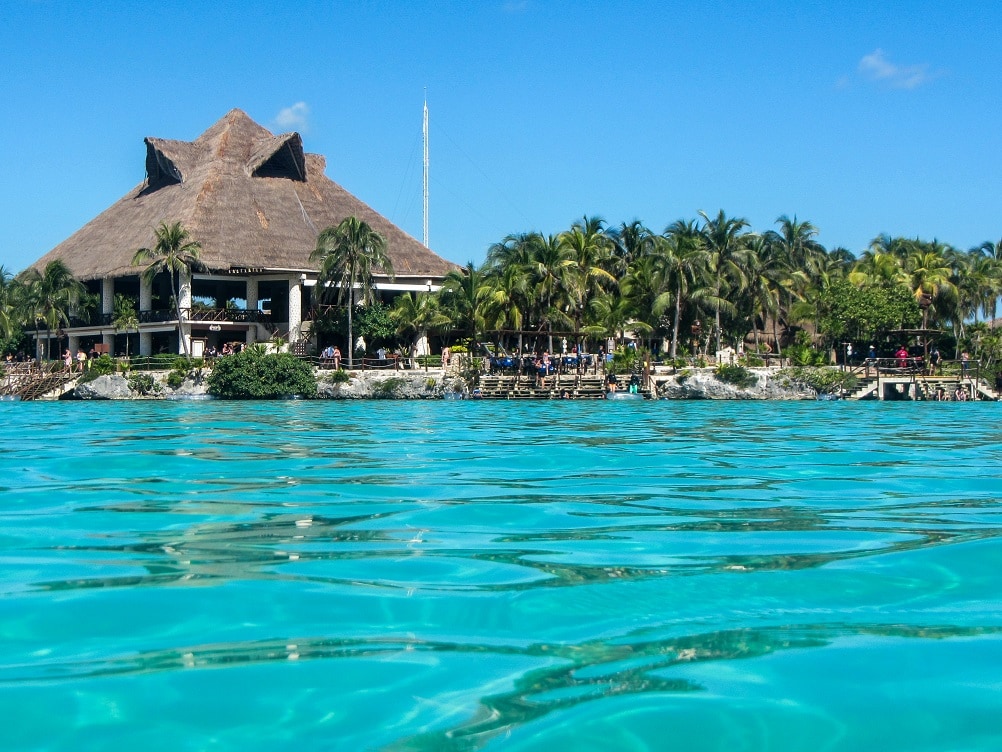 In between all of these activities, Xel-Há also offers multiple onsite restaurants and bars where you can indulge in food & drink – including alcoholic drinks – and this is all included in your admission price.
Xel-há is perfect for everyone – families, groups of friends, honeymooners, and everyone in-between will have a fun-filled day of adventure at Xel-Há.
Isla Mujeres
Recommended by Kanupriyaa of Sunset Jeans
Isla Mujeres is a gorgeous island just off the coast of Cancun. With sun drenched beaches and small local cafes lining the beach, it is the best place to tan and get away from the crowds of Cancun for the weekend.
The best part of going to Isla Mujeres are the catamaran tours that take you to the island. The catamarans are a party in themselves with tons of people drinking, dancing and just having fun sailing in the open seas.
Once you get to the island you have the options to laze around the Caribbean beaches or get a little more adventurous. Swimming with whale sharks, visiting a turtle farm, snorkeling pristine waters and getting massages on the beach are just a few of the activities available on this paradisiacal island.
And when the tourists have left for the day in the evening, the island turns into a magical little cocoon far away from any noise that you can savor leisurely with a midnight walk under a canopy of stars.
Holbox
Recommended by Victoria of Guide Your Travel
Holbox is a tiny island north of Cancún in Quintana Roo Mexico. Holbox is usually considered a more quiet and untouched version of the popular tourist locations in this area like Cozumel, Playa del Carmen or Isla Mujeres.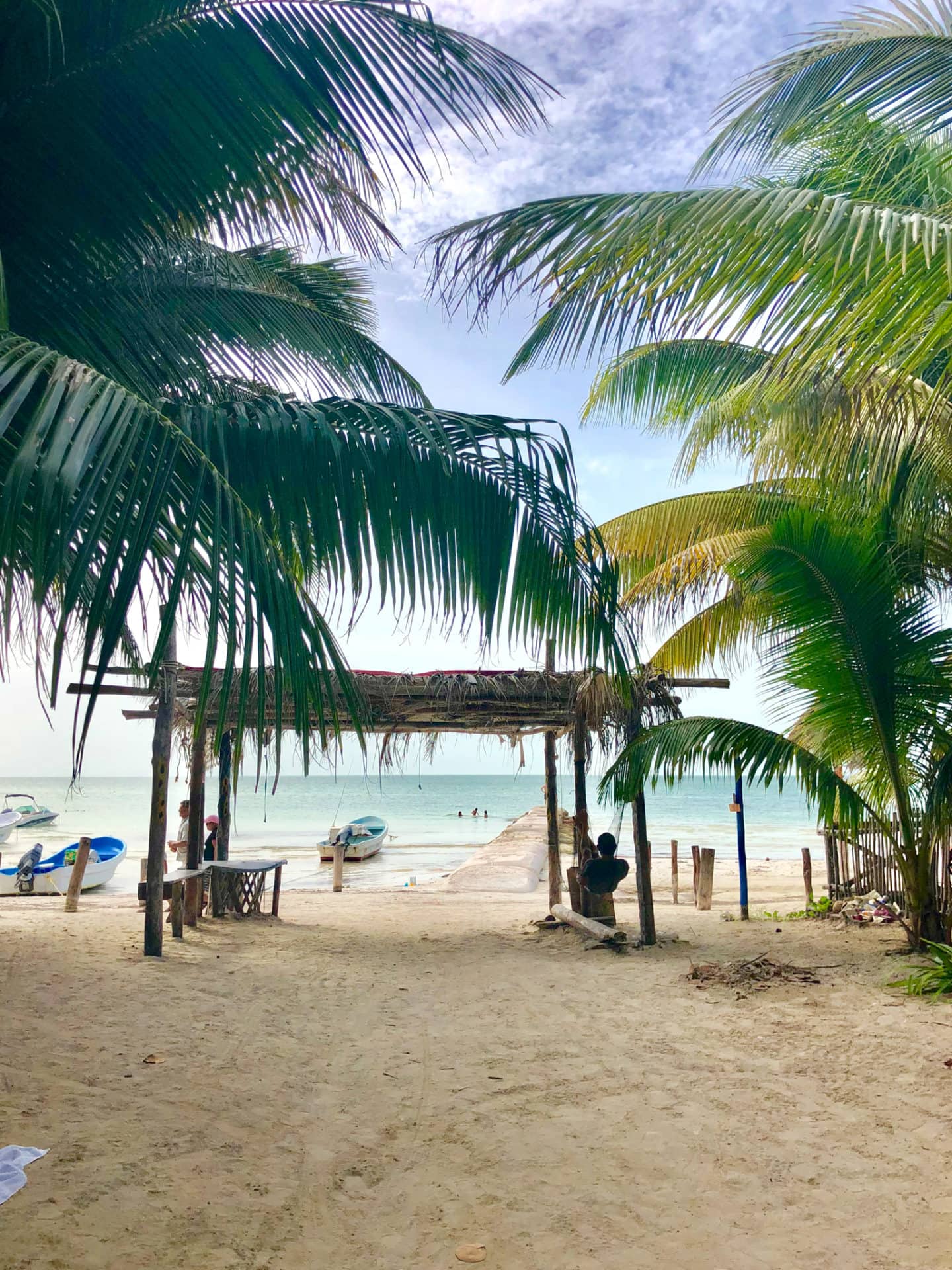 On Holbox there is next to no motorised traffic and most people get around by golf cart. The roads are unpaved and only around 2,000 people live on the island permanently. Holbox is home to the famous bioluminescent plankton that makes the water at the shallow beaches glow at night.
It's the perfect island to go for a snorkelling excursion and admire the incredible beauty of the underwater world. If you're brave enough you can even swim with whale sharks in their natural habitat here.
Holbox is a quiet place and there is not much nightlife. It's the perfect island to relax and enjoy nature but if you're looking for beach parties that go on all night this is not the spot. It's perfect for couples looking for a romantic getaway or families. Don't miss out on Holbox when you visit Mexico.
Looking for more things to do in Quintana Roo and the rest of Mexico? Here are 19 things to add to your bucket list.
MUSA – Cancun Underwater Museum
Recommended by Demi of Around The World With Her
Whilst there are an abundance of activities on land, near Cancun you will find a very unique underwater experience. Here, in the shallow waters towards Isla Mujeres, is an Underwater Museum! Known locally as MUSA, this is the work of artist Jason deCaires Taylor. You will find concrete underwater sculptures of people, cars, houses and many other things.
If you are certified, then the best way to explore is to scuba dive MUSA and get up close. However, if not, you can always do your first dive experience here! The statues are all in shallow water, making it perfect for beginners!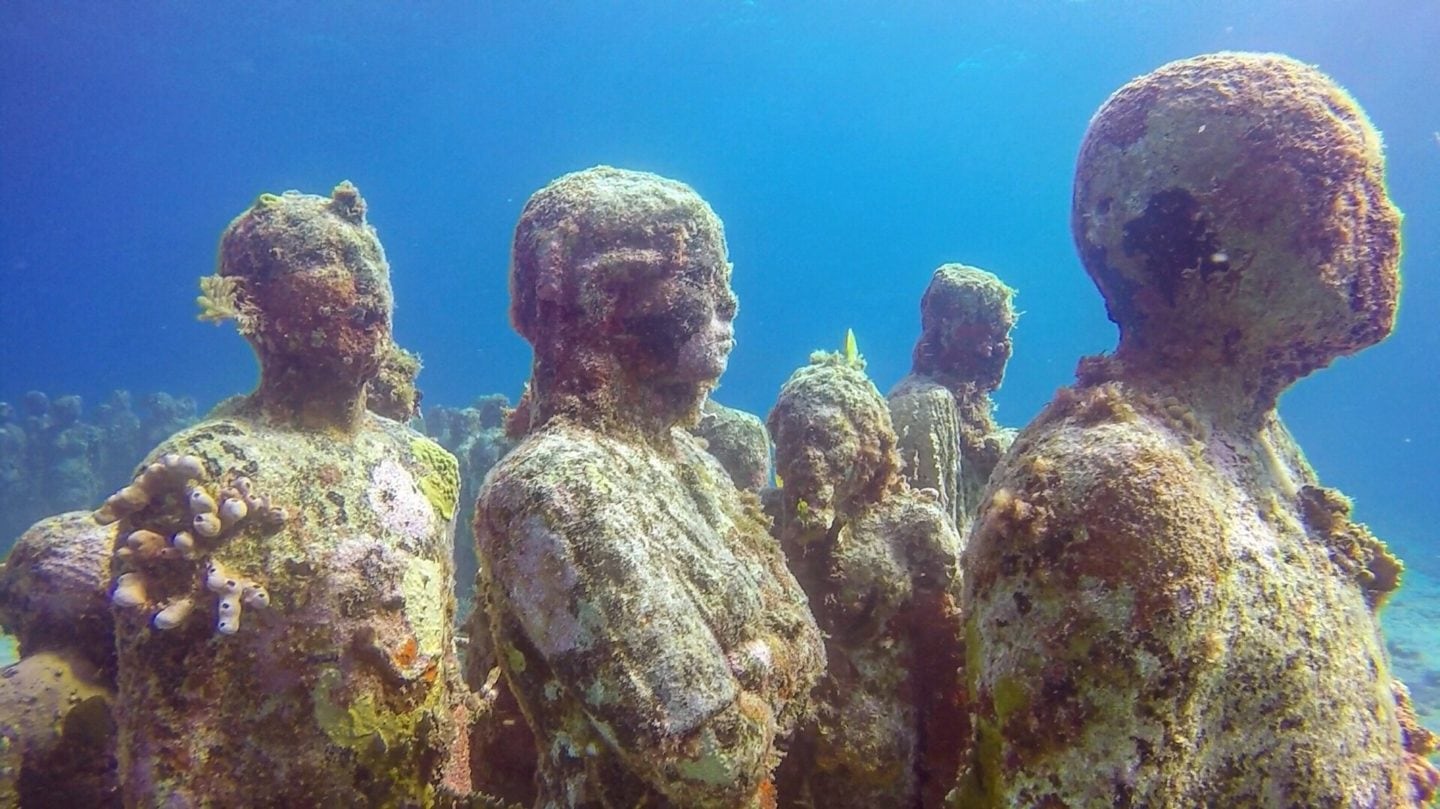 For people who prefer to stay above the water, or families with younger children, then a snorkeling trip may be more suited. The water here is crystal clear Caribbean sea, so even from the surface you can see the statues!
If you really don't fancy getting your feet wet, or perhaps are less mobile, there is a glass bottomed boat which you can take a ride on. This boat sails above the museum, and has a completely see through floor, meaning you can see below without getting into the water at all! Whichever one you choose to visit, this really is a must do activity in Mexico!
Xcaret Park
Recommended by Corritta of It's a Family Thing
You can't visit the Riviera Maya without going to one of the best eco-parks in the country, Xcaret Park. It is the perfect place for families, couples, and even older travelers. There is something here for everyone to enjoy
Xcaret is located an hour from Cancun and 20 minutes from Playa Del Carmen. There is an option to purchase transportation when you buy your ticket, so you don't have to get a taxi to the park. The big pink bus will pick you up from your hotel and drop you off at the park.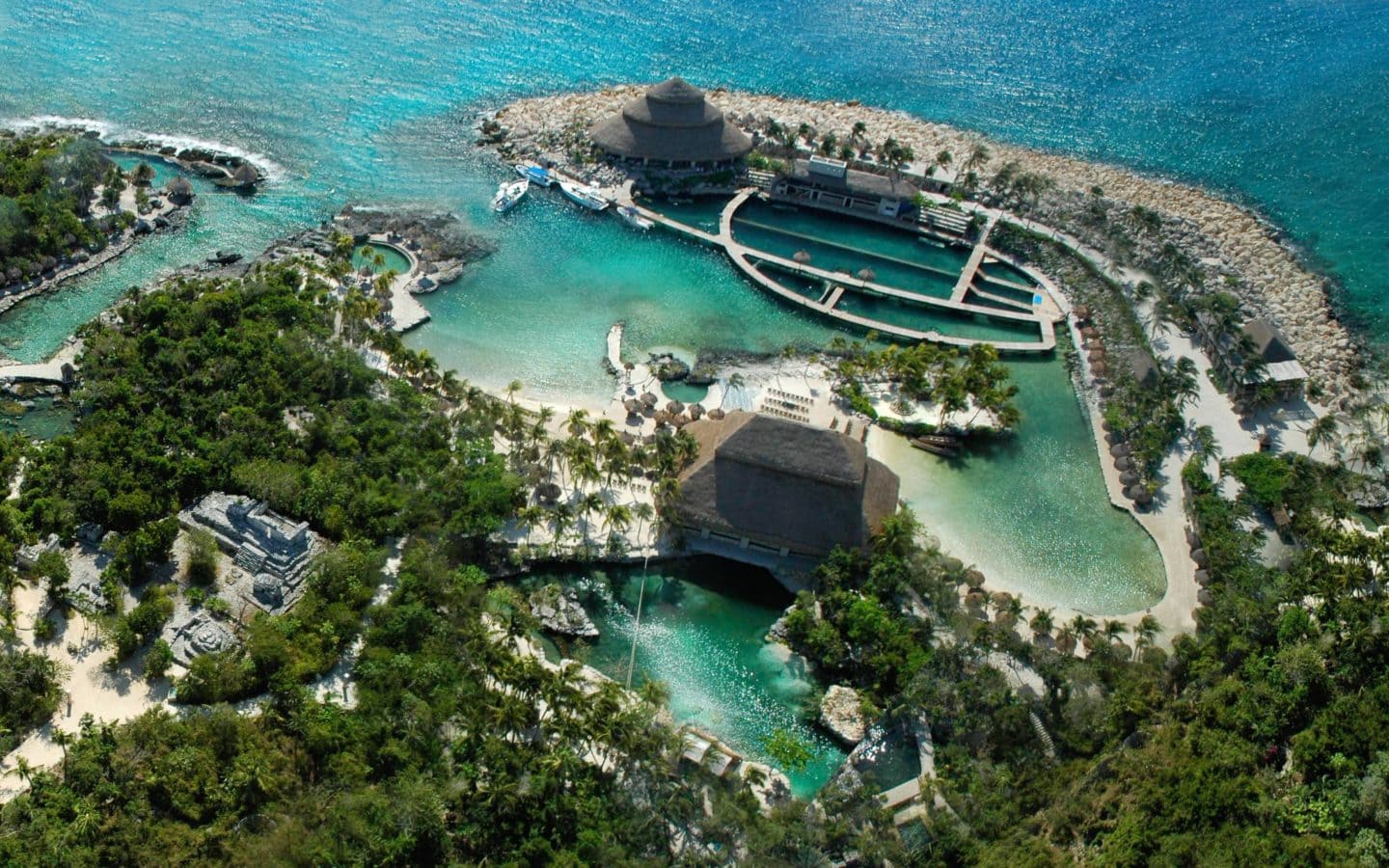 Xcaret Park is one of a kind with underwater caves, a Mayan Village, ancient ruins, traditional Mayan shows, a butterfly pavilion, an aviary, a children's world, and so much more. There are additional excursions to purchase inside of the park such as Snuba, Sea Trek, shark encounters, a snorkeling tour, and a relaxing massage. Here the possibilities are endless.
What makes this one of the most unique parks in the world is its emphasis on the Mayan culture. Everywhere you look there are touches of the lost empire. Many of the shows offer you a glimpse into the past when the ancient Mayan civilization ruled the Yucatan Peninsula. After spending a day here you'll want to return for more.
Pick your Excursion!
Final Thoughts
Don't these excursions look awesome? Taking an excursion in Cancun and the Riviera Maya allows you to see the best of what the area has to offer. Mexico is an adventurer's playground and there is so much to see and do.
It's a good idea to bring a beach bag with you for all of your belongings. It's also recommended to bring a waterproof pouch to have on you during your excursions, too!
Looking for packing ideas and a printable checklist of what to bring on vacation? Here's what to bring to an all-inclusive resort!
Are there any you have done or want to do? Let me know in the comments below!
Pin it for later!