London offers endless opportunities for locals and visitors alike – from museums, theatre shows, river cruises, markets, pub crawls, and loads more within the city.
But if you're looking for a break from the crowded streets and bright lights, London also makes for an ideal central location for day trips and sightseeing outside of the city, and the serene and tranquil settings offered by National Trust make for a perfect day trip.
Whether you want to visit an English castle, heritage home, or take in some fresh air in the sprawling countryside or on coastal walks, National Trust offers over 500 unique properties that make for a relaxing day trip from London.
This post contains affiliate links which means I earn a small compensation when you purchase or book through my links at absolutely no additional cost to you. Thank you for supporting my blog!
Each time we're in England we always make a point to visit at least one National Trust property, and I am incredibly envious there are so many amazing historic properties to visit, especially near London!
I look forward to adding to this list once we can get back to England!
What is National Trust?
National Trust is Europe's largest conservation charity! 2020 marks 125 years since it was founded. With its membership program, National Trust has been able to care for and protect these cherishes spaces.
Over 780 miles of coastline, 250,000 hectares of gardens, woodlands, countryside, and over 500 historic buildings are maintained by millions of members, volunteers and staff.
Founded in 1895 by Octavia Hill, Robert Hunter and Hardwicke Rawnsley, this group of people pledged to keep these historical and natural places preserved and open for the public to enjoy.
What National Trust Sites are Currently Open?
With frequent changes, it is advisable to check each location prior to planning a visit on the National Trust website.
National Trust Membership
By joining as a National Trust member, you'll help protect these incredible sites for the future generations. As a member, you'll get free access to the National Trust sites, free parking at most parking lots, a Member's Handbook full of information about locations cared for under National Trust, and a magazine three times a year!
There are a variety of membership options ranging from family, joint, individual or lifetime, starting at £36 ($62 CAD) for those under 25, or £72 ($125 CAD) for adults. The lifetime membership grants you access with a guest.
This membership is WELL worth the money, whether you want to take a stroll through scenic meadows, learn about some of the historic sites, or save money on parking! Each visit to a National Trust site can cost anywhere from £5-£10 per adult plus parking, so a few visits to these amazing sites will more than pay for your annual membership!
Quebec House
Quebec House is the birthplace of General James Wolfe, one of Britain's most celebrated military heroes of the 18th century for his victory over the French in Quebec in 1759. Located just 45 minutes outside of London by car, or 90 minutes by train and bus, Quebec House has been under the care of National Trust since 1917.
Originally called Spiers, but later renamed in honour of Wolfe's death and victory at the Battle of Quebec, the house dates back to the mid-1500s, but much of what you'll see is from the 1630s. James Wolfe was born here and it was his childhood home for 11 years.
It was purchased in 1913 by Joseph Bowles Learmont of Montreal, who was looking for a property to serve as a memorial to honour James Wolfe and the role he played in the creation of Canada. After Bowles died, his widow presented it to National Trust – and is one of the first historic buildings acquired by the Trust.
Paintings and memorabilia are on view, and is set to resemble life while Wolfe and his family lived here in the 1730s, along with a charming small garden and coach house which showcases an exhibition about the Battle of Quebec.
Pair this National Trust visit with Chartwell to make for a perfect day trip from London!
Address: Quebec Square, Westerham TN16 1TD
Chartwell
Just 6 minutes away from the Quebec House, Chartwell was the beloved family home of Winston Churchill, one of Britain's greatest leaders. Located about an hour outside of London by car, Chartwell was a treasured private country escape for a very public man, and also a child's ideal playground.
Since 1922, Chartwell served as Churchill's main base during the 1920s and 1930s for entertaining, painting and writing. It's now preserved by the National Trust and is one of their most visited sites.
Tour through the drawing room, library with over 900 books, study, uniform rooms, and dining room, and marvel at the largest collection of Churchill's paintings along with his personal treasures from his life throughout the home. Churchill loved painting and completed more than 500 paintings in his lifetime. He was also an avid writer and was gifted a Monet by his publisher, and is currently the only Monet in a National Trust property.
Set to the 1930s while Churchill lived there with his wife Clementine and their four children, you're able to explore the gardens which inspired Churchill to buy the property, and see the lake he created, as well as the kitchen garden and the Marycot – a playhouse designed for his children.
After WW2, Churchill was broke. He had very generous friends who banded together and made improvements to the house including adding an elevator for an aging Churchill. They also bought the house for him, which was then donated to the National Trust with the provision that he would be able to live there with his wife until they died. Lady Churchill left it to the National Trust after he passed away in 1965.
One of the most endearing features about Chartwell is Jock the cat. Churchill owned many animals during his life, but received an orange cat near the end of his life named Jock. It was then decided that there must always be an orange cat named Jock at Chartwell. Currently, Jock VII resides there, a rescue welcomed in May 2020.
A visit to Chartwell makes for a great day trip from London to discover the home and family man behind the statesman.
Address: Mapleton Rd, Westerham TN16 1PS
Lamb House
The beautiful home and gardens of Lamb House are located in Rye, East Sussex, approximately 2 hours by car or 2.5 hours by train from London. This fairy tale town is home to unique architecture and hundreds of years of history.
The Lamb House is a beautiful Georgian house with ties to literary inspiration by many authors. Built in 1722 by James Lamb, a wealthy wine merchant and politician (and later Mayor of Rye) this was once deemed the most suitable accommodation for King George I when a storm drove his ship to shore in Camber.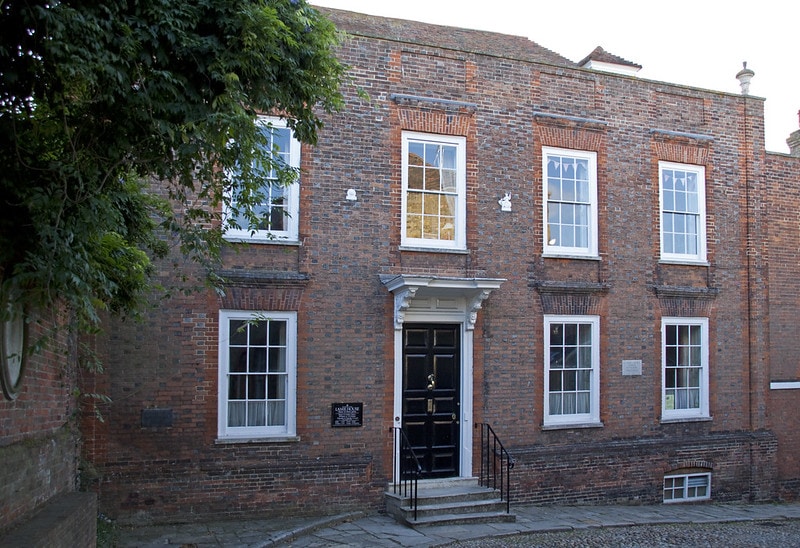 A friend of Henry James, E.F. Benson, also lived at Lamb House. He is best remembered for his Mapp and Lucia novels.
One of the most famous stories about the Lamb House is when one evening in 1729, a man named John Breads became the assassin in Rye's murder case, when he mistakenly stabbed ex-mayor Allen Grebbel, thinking he was mayor James Lamb, whom he had a falling out with.
Breads was imprisoned in the Ypres Tower and then hanged. His body was left in an iron cage (for over 20 years!) and his skull is still kept in Rye's town hall to this day.
Today, the furniture, library, portraits and memorabilia are on display, as well as the beautiful walled garden.
Rye makes a great weekend day trip. See what else there is to do in Rye, East Sussex.
Address: West St, Rye TN31 7ES
Bodiam Castle
Set in the picturesque countryside, Bodiam Castle is one of Britain's most iconic and recognizable ancient monuments. This 14th century medieval castle almost resembles a sandcastle and was originally designed to defend the surrounding area of East Sussex from the French during the Hundred Years' War.
Your imagination will come alive as you look out of windows where arrows once took aim and where knights once walked. Spiral staircases lead you up the towers that acted as lookouts for potential threats. The beautiful inner courts allowed for protected space for those living and working there.
One of the most stunning parts about Bodiam Castle is the moat that surrounds it. It's as though it's something out of a fairy tale. However, it did act as a sewage system for over 30 toilets throughout the castle!
Although the structure of the castle is well-preserved, the interior of the castle has fallen into ruin – but you are still able to see the impression of castle life during the late 1300s.
Bodiam has been owned by many families over the years – including being left in ruin for almost 200 years, and eventually was gifted to the National Trust in 1925.
The grounds are beautiful and offer scenic walks around the property. The twin-towered gatehouse with the castle's original wooden portcullis makes for a stunning skyline for anyone who visits, and a glimpse at medieval splendour.
This National Trust site is one the best castles to visit as a day trip from London. It takes less than two hours to reach by car. You are also able to reach it by train with a connecting taxi.
Address: Bodiam, Robertsbridge TN32 5UA,
Bateman's
Bateman's in Burwash, East Sussex makes for a perfect day trip from London. Less than two hours by car or just over two hours by train, this gorgeous three storey 17th century house is the former home of journalist, poet, and novelist Rudyard Kipling, who is most famously known for The Jungle Book (1894) and Just So Stories (1902).
Rudyard was born in India in 1865 and lived in present-day Mumbai until he was 6. As a child, he was intrigued by stories of the Indian jungle and animals and learned of myths and legends. After spending 10 years in England for formal training, he returned to India and worked as a writer and newspaper editor.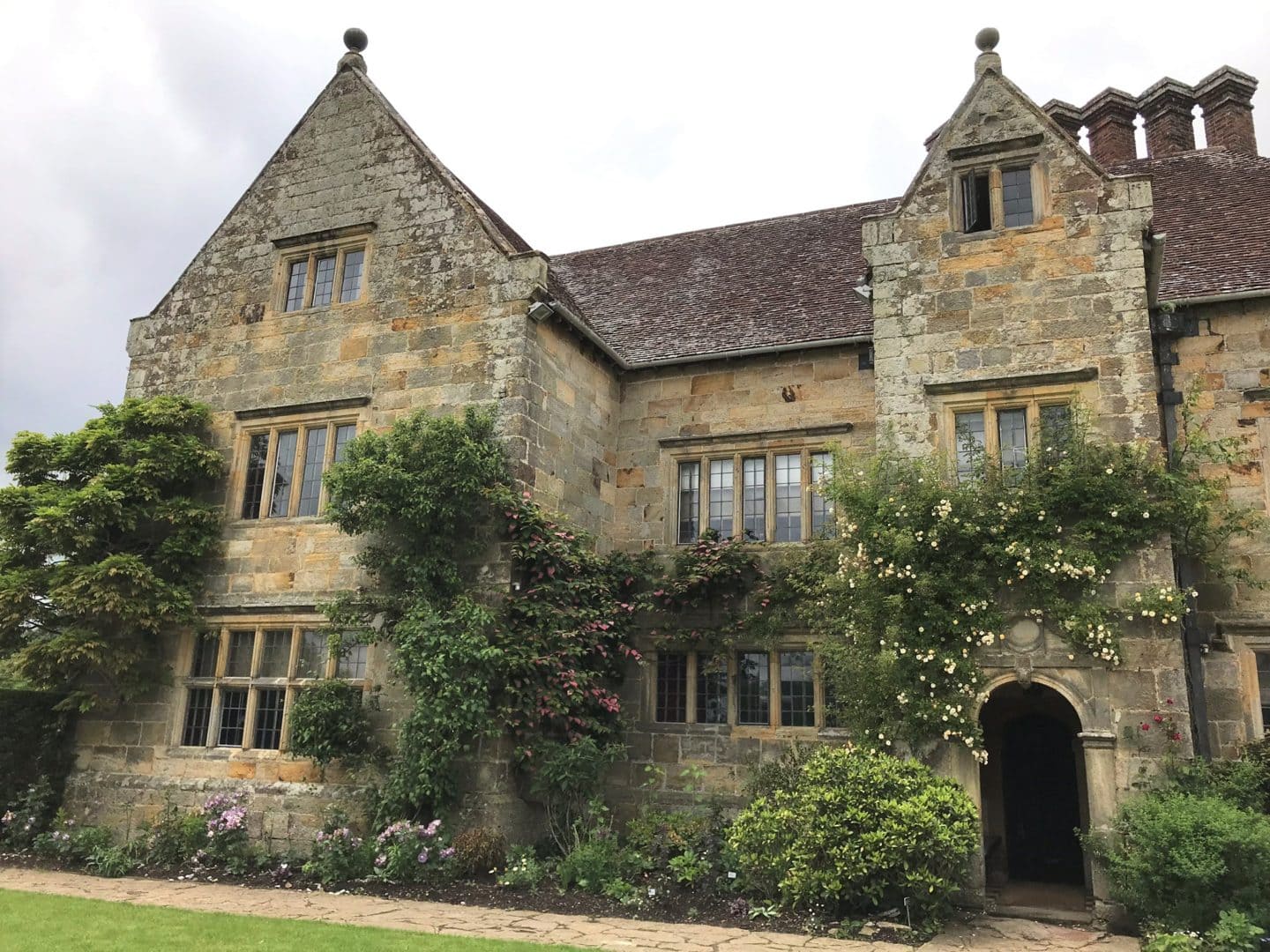 Rudyard and his wife fell in love with the property and it's not hard to understand why. The sprawling landscape features a beautiful sandstone mansion built in 1634 with vegetable gardens, a rose garden, orchard, a pond dotted with waterlilies, a creek flowing through the property, and even an old Mill you are able to tour.
The home itself has been kept with original furnishings and personal belongings, including Rudyard's Rolls Royce in the garage! The most striking room is his office. You can just picture Rudyard working over his desk in a beautiful panelled room overlooking the garden.
He later said his inspiration for the Jungle Book stories were born during this period – he often suffered from insomnia and would take long walks at night through the city at the edge of the woods. A rare copy of the Jungle Book reveals the book was dedicated to his daughter Josephine, who sadly passed away at 6 years old.
There is a beautiful gift shop where you can pick up a variety of items including one of his many novels for just £5. Enjoy a peaceful moment reliving your childhood while you cozy up with a pot of tea and a scone at the on-site tearoom.
Address: Bateman's Ln, Burwash, Etchingham, TN19 7DS
Corfe Castle
Recommended by Ana from Parenthood4ever
Corfe Castle is one of the historical wonders of the Dorset region and the entire Jurassic Coast. No surprise, it has been protected and owned by the National Trust.
Corfe Castle is situated in Wareham where you can see fantastic things, visit amazing places, and spend one full day or better a week. Only one Corfe Castle may cost you couple of hours.
Although it looks like a ruined castle nowadays, it served a great defensive role in protecting the Purbeck marble. Not to mention, it started its history back in 979 as a wooden construction and has been rebuilt quite a few times afterward. So, this place genuinely represents a whole lot of history.
Keep in mind that it naturally sits on the hill, so it will take you time to climb up and walk around. It opens absolutely miraculous views and landscapes which are worth a visit. There is nothing around you, so a picnic may be a good idea, especially on a sunny day!
Corfe Castle is only two hours and twenty minutes away from London which is perfect for a day trip. On top of that, it is only 9-minutes' drive from the Wareham town where you can visit a historic Quay Market. But be careful with choosing the day. It is opened only on Saturdays from 8 am to 3 pm.
Finally, Corfe Castle is located just 25 minutes away from the famous Durdle Door, which is impossible to miss on your day trip to Dorset from London.
Address: The Square, Corfe Castle, Wareham BH20 5EZ
Charlecote Park
Charlecote Park near Stratford-Upon-Avon is a beautiful National Trust property that is an ideal day trip from London. This incredible 16th Century country house is set in an impressive 185 acres of beautiful parkland, where deer roam and William Shakespeare himself was supposedly caught poaching them!
The Charlecote estate was owned by the Lucy family from 1274, until they presented it to the National Trust in 1946. Descendants of the Lucy line helped the Trust to restore the house, so today, you can learn about the family's heritage and indulge in a little slice of their luxury by taking a tour of their family home.
After acquainting yourself with the family, you can take a stroll through the expensive estate, keeping an eye open for the deer herd who wander freely. Be sure to visit the parterre or formal garden at the back of the house. It is a stunning display of gardening and artistry combined and it is usually buzzing with bees and butterflies depending on the season.
If you want to delve further into the history of the place, be sure to call by the displays at the gatehouse, brew-house, laundry and admire the incredible carriage collection of horse-drawn vehicles from throughout the centuries. Alternatively, if you want some refreshment, try the Wood Yard Café for a delicious selection of drinks, warm snacks and sweet treats. Or for some retail therapy, hunt down the second-hand bookshop, or the gift shop in the orangery.
Charelcote Park is just under 2 hours drive from London, or 2 hours 15 minutes on the train. You can catch a train to Warwick from Marylebone Station, then catch a bus from Warwick Castle toward Stratford-Upon-Avon. There is a bus stop directly opposite the Charlecote Park driveway.
Address: Wellesbourne, Warwick CV35 9ER
Snowshill Manor and Garden
Recommended by Karen from Marvellous Middle England
Snowshill Manor and Garden is located near Broadway in the Cotswolds. It's around a two hour drive from London but feels like a completely different world. The area is famous for its honey coloured Cotswold stone and delightful British countryside. Snowshill offers the perfect combination of both.
Gifted to the National Trust by Charles Wade, this beautiful home is full of memorabilia from his worldwide travels. Wade purchased the manor in 1919 and set about restoring the building to its original glory.
Interestingly he chose to live in the small priests house next door and kept the main building to house his curios. His eccentricities are obvious in his choice of collectables from the full sized model Samurais to the heaps of vintage bicycles, there's something to suit every taste.
The gardens at Snowshill are equally stunning. Designed by Mackay Hugh Baillie Scott they contain artistic touches complemented by the vibrant colours of nature whatever season. During summer the house is bordered by sweet smelling lavender with plenty of manicured pathways to explore.
The main house at Snowshill is around a 15 minute walk from the carpark past apple orchards and wild meadows. Make sure to stop on the way, read some of Wades poetry and take in the views of the surrounding Cotswold Countryside.
There are plenty of clean toilets located at the main entrance to the venue and a lovely coffee shop with plenty of outdoor seating. They serve freshly baked cakes, hot drinks and a variety of hot and cold snacks. You're also welcome to bring your own and set out a picnic blanket in the orchard area.
Address: Snowshill, Broadway WR12 7JU
Waddeson Manor
Recommended by Jamie of Travel-Addict.net
Waddesdon Manor is located to the north-west of London in Aylesbury, Hampshire. The National Trust manages this property from the Rothschild Foundation which was built in 1885.
It features an incredible collection of period pieces and art and expansive sculptured gardens with fountains. The Manor and Gardens themselves are unbelievably gorgeous but the main exhibit is the collection displayed throughout the Manor's many expansive and exquisite rooms.
You'll want to plan to spend at least a few hours at the property as there is quite a lot to see and explore – at least 2 but you could easily spend the better part of a day at the manor.
Reaching Waddesdon Manor from London involves a 1-hour train journey from Marylebone Station direct to Aylesbury Vale Parkway – which is about 4km / 2.5 mi from the Manor itself via the Waddesdon Greenway.
Normally there is a free shuttle bus service from the station to the manor, but this was suspended during the pandemic. Taxis can be found at the station to carry you to the Manor as needed, or the local #16 bus also runs (infrequently) to the Manor.
The expansive grounds at the Manor features a café set in the Stables, a fancier restaurant up at the Manor itself, incredible sculptures throughout the garden, and stunning seasonal displays of flora and foliage.
There's also an Aviary that can be visited. Throughout the year the Manor also hosts a variety of events, and during winter the gardens are lit up with beautiful lights and a Christmas Fair is held (in non-pandemic years).
Waddesdon Manor is also known for its wine cellars and there are a variety of wine tastings and cellars to be toured.
Address: Waddesdon, Aylesbury HP18 0JH
Ham House and Garden
Recommended by Carrie-Ann of Should Be Cruising
If you're planning a day trip from London to Richmond, be sure to include a stop at the exquisite 17th-century Ham House and Garden. Only about three miles (4.7 km) away from Richmond's tube station, this Grade I listed mansion is easy to get to by car or bus, or even on foot for a lovely view of the Thames.
Built in 1610 and an excellent early example of a grand Stuart stately home, Ham House is full of Jacobean period furnishings and is surrounded by formal gardens.
Ham House is well-known for its exquisite collection of paintings and furniture, most of which have been in the house for over 400 years.
During a tour of the home you'll be able to see the elegant spaces used for entertaining, including the Great Hall, Marble Dining Room, and the Round Gallery where guests gathered and socialized. You'll also discover more private rooms used by Ham House's residents, including the Duke's Dressing Room and the Duchess' Bedchamber.
Visitors will also be fascinated by some of Ham House's innovations, including one of the country's first indoor bathrooms. With its wooden bathtub and even a bed, this exhibit shows what grooming rituals were like before bathing was a daily event.
After exploring indoors, be sure to enjoy some time visiting the historic walled gardens on the property. The Cherry Garden, just north of the house, features formal hedges and fragrant lavender.
But the heart of Ham House's gardens is the Kitchen Garden. Providing the house with produce since the 1670s, its lush plantings now supply the on-site café.
If you'd like to see a gorgeous National Trust property that's located within Greater London, a visit to Ham House and Garden should be at the top of your list!
Address: Ham St, Ham, Richmond-upon-Thames TW10 7RS
Lacock Abbey
Recommended by Laura of What's Hot?
Lacock is a small village located around two hours away from London and is home to Lacock Abbey. This National Trust property dates back to the early 13th century and, along with the rest of the village, has retained its original medieval charm. It was originally built as a nunnery until it was sold in the 16th century to a family who converted it into their home. Very few alterations were made to the monastic buildings but some additional chambers have been built over the years, meaning the architecture is a mishmash of various period styles.
Many comment that Lacock Abbey looks a lot like they imagine Hogwarts would look so it should come as no surprise that it was actually used as a Harry Potter filming location on a number of occasions. The rooms inside doubled up as Hogwarts classrooms and the cloisters were the Hogwarts corridors. It's also been used in Pride and Prejudice, Wolf Hall and, more recently, Fantastic Beasts and Where to Find Them.
In the grounds of Lacock Abbey you'll find the Fox Talbot Museum, which is dedicated to William Talbot, a pioneer in the world of photography. Few know that Lacock Abbey is seen as the birthplace of Britain's photography!
The museum takes you through the history of photography from conception to the present day and there are often temporary exhibitions showing the works of various photographers to be admired here too. Beyond this, there's also a beautiful greenhouse and plenty of greenery to wander around in outside.
Address: Lacock, Chippenham SN15 2LG
White Cliffs of Dover
The stunning chalk-white cliffs of Dover are one of the most prominent natural landmarks in the UK, stretching 8 miles along the English Channel. They are visible from the French coastline and reach up to 350 feet in height.
The small harbour town of Dover is about a two hour car journey from London, or just over an hour via an express train from London, or two hours on a slower train.
Purchased by National Trust in 2016, the best way to see the White Cliffs of Dover is by taking the spectacular coastal cliff walk to the South Foreland Lighthouse, though there are numerous trails you can take along the cliffs for interesting views. There are plenty of stunning spots along the way for photos and to appreciate the scale of the cliffs.
The White Cliffs of Dover are iconic for their role in military history, during both World Wars. You can see the role the cliffs played at the Fan Bay Deep Shelter War Tunnels – a network of tunnels dug out in the soft chalk that was used for defence. This landmark also greeted thousands of Allied troops from Dunkirk during WW2.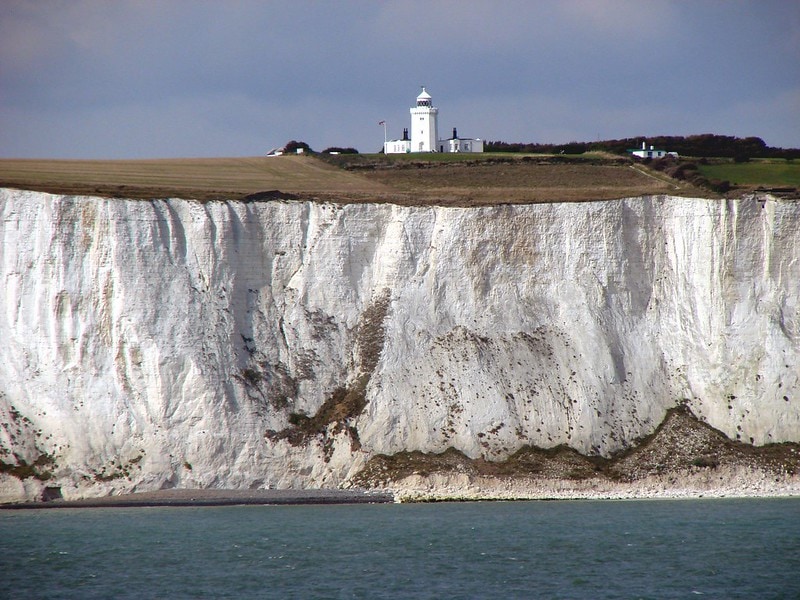 Stop at the South Foreland Lighthouse for tea at Mrs. Knotts before making your journey back. This lighthouse has been visible at this spot since the 1300s to safely guard passing ships to shore. The current lighthouse was built in 1846.
If you are walking from the Visitors Center to the South Foreland Lighthouse, it is approximately 40 minutes each way. This gorgeous National Trust site makes for a great day trip from London to take in some scenic views and learn about the history here at this natural landmark.
Address: Upper Rd, Guston, Dover CT16 1HJ
Pin it for later!
Related Posts