I don't know why, but it seems as though every time we visit England it rains. We've had nicer weather in October and we've had to buy sweaters during the summer because it's been cold and damp, so I suppose I shouldn't have been surprised when our 24 hours in London in June was dampered by rain.
Each time we come to London, we try to stay in a different area to explore the different neighbourhoods.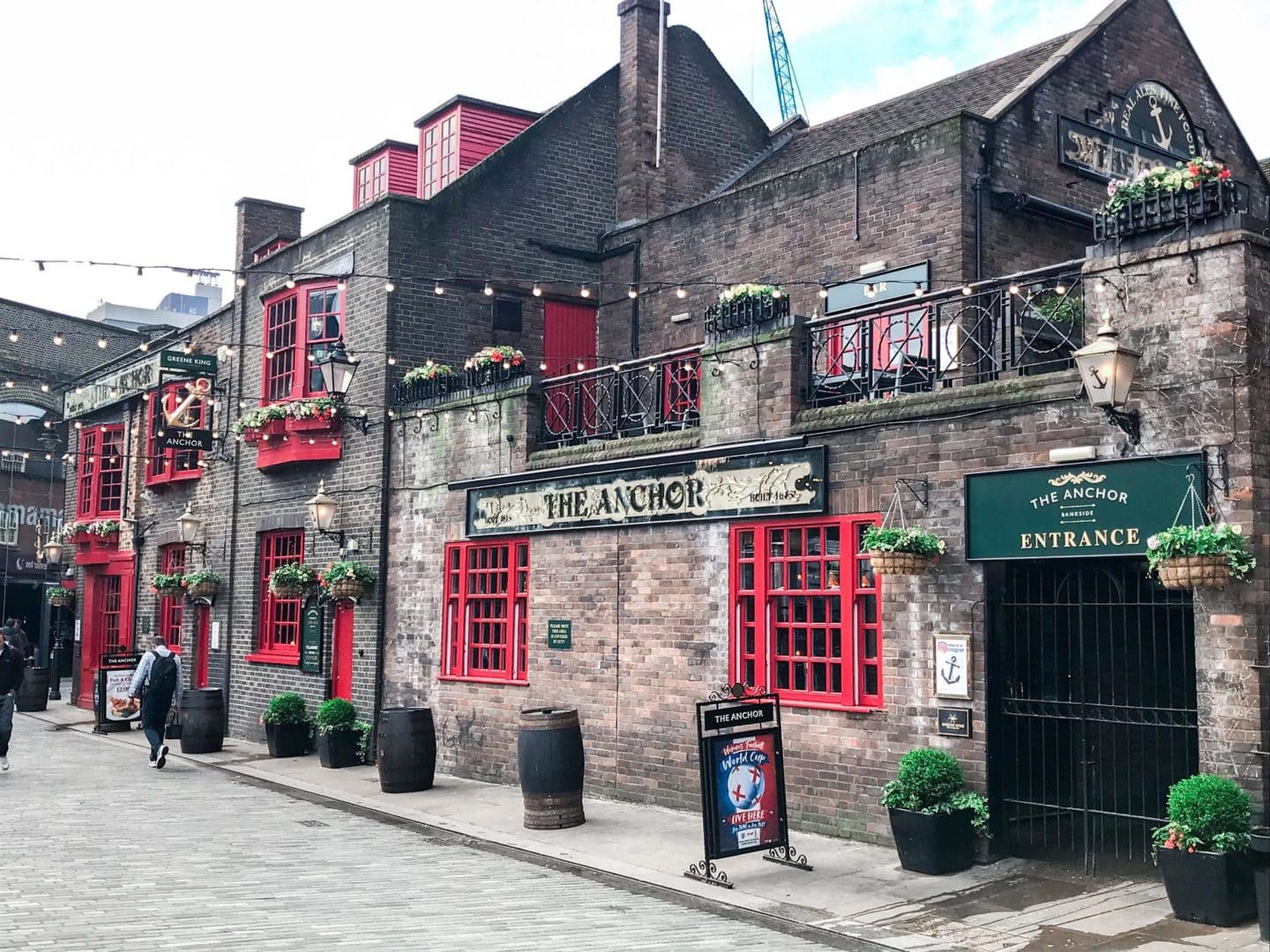 This post contains affiliate links which means I earn compensation when you click on the links at absolutely no extra cost to you! Feel free to read my disclosure policy. Thank you for supporting my blog!
Plan your next vacation using these tools!

✈️ Book flights: SkyScanner
🏨 Book hotels: Booking.com
🚘Book car rentals: RentalCars.com
🎫Book tours: GetYourGuide
🌍Favourite travel item: Packing cubes
🧳Favourite travel bag: Osprey 40L Fairview
🩹 DIY Travel Medical Kit
💸 20 Cheap Travel Items Under $20
We had lovely things planned, and of course the majority of them involved walking or scenic tours (like the Sky Garden – where you can get a FREE ticket), the London Eye, or the Hop on/Hop off bus.
Instead, we spent an entire day at the Imperial War Museum which for me was fascinating. The museums in London are fabulous – one of my favourites is the Natural History Museum. Even better that they're entirely free for you to see, making this a great educational and budget stop!
If you're looking for a 24 hour London itinerary that will get you to some of the popular sites in the Southwark area, here's your list!
We landed early, around 6 am from Johannesburg, and by the time we took the tube to the Southwark area it was raining (surprise!😂). Hauling our luggage around trying to find our hotel, we were already tired, wet and miserable.
It was still early and there wasn't a ton open, but we did manage to find a chic and cozy place to grab tea right around the corner from our hotel, at the Art Yard Bar & Kitchen.
The menu didn't have what we were looking for, which really was a scone or pastry, but the manager was kind enough to bring us tea for four and an entire platter of pastries. Given the look of the place we thought it was going to be expensive but actually this was probably the most reasonable breakfast we've had in London. It was only £20 for the four of us – which I realize in Canadian is around $35 – but we're talking London here!
Imperial War Museum
Ugh, I know, a museum right?😂 Why travel all the way to London just to go to a museum? Did I mention it was RAINING? Plus, it was a great excuse to finally go since otherwise we'd be seeing a lot of the other more popular attractions.
There are entire floors dedicated to WW1 and WW2 artifacts and history – you could easily spend a day (and we did!) perusing all there is to see, but the two most memorable exhibits were of D-Day (temporary display) and the Holocaust (permanent exhibit).
D-Day Exhibit
There was a temporary D-Day exhibit for the 75th anniversary (in 2019) which will always stick with me. It featured 10 images taken by Robert Capa of Omaha Beach, shot in 35mm. These are some of the most well-known and powerful images of D-Day that evoked chaos and terror, and happen to be the only remaining photos of the ones Capa took during that morning on June 6, 1944.
The idea was to pair these images with the personal perspectives of the soldiers in the photos to offer a better understanding of what they went through. It truly was a memorable experience.
Holocaust Exhibit
This exhibit really hit home for me. My reading genre is history and WW2 historical fiction (check my Goodreads list out here), so to see actual artifacts from the Holocaust was bone-chilling and incredible dismal – words can't quite describe it. There were video testimonials from survivors and spouses from during this time as well as clips from the Nuremberg Rallies, photos, collections of stories, a model replica of Auschwitz, and a full-size train car replica on display, which were used as transport to the death camps.
There were also numerous personal belongings, including articles of clothing, as well as personal belongings, and an entire display case full of shoes.
There is a warning that children under the age of 14 should not visit this floor.
I couldn't imagine what it must've been like for them. This was such a harrowing experience but incredibly moving and I would recommend it to anyone who is willing to learn more about the past and gain a deeper understanding of the horrors of the Holocaust. I aim to get to Poland in the near future – but I don't think anything will be able to prepare me for what I will see and feel.
There is an incredible gift shop and tons of unique books for sale here if you're looking for a different gift for someone back home (or yourself!). You won't be able to find any of this stuff anywhere else – and oh, we did have to buy an umbrella.😂
Drinks and Dinner at the Mad Hatter
Finally able to get into our room and shower (which after an 11 hr flight from South Africa and walking around all day AND being damp from the rain) it was much appreciated and we revelled in it. Our room was adorable and what I particularly liked was the stocked mini fridge with a bunch of ciders and some snacks – all included!
The Mad Hatter Hotel was the cutest place only a few minutes walk from the Southwark tube station. This hotel is Alice in Wonderland themed with an attached pub and restaurant and is charmingly decorated with quirky themed art prints and pillows.
This building was once a hat factory, cleverly tying in the Alice in Wonderland theme and still has the original exterior.
Easy to accessible and centrally located in the Southwark area, the Mad Hatter makes for a comfortable stay in the heart of old London.
Remember – most of these older hotels don't have elevators, so be sure to pack light – see my tips on how to travel with a carry-on only here!
After our long day (and traipsing around with hardly any sleep after our flight), we decided to stay at the Mad Hatter for drinks and a meal. In typical UK fashion, you order and pay for your meal at the bar and they bring it to the table.
Naturally, being in England, we had to get our fill of fish & chips and they didn't disappoint. There is also a comfortable lounge here with leather couches to relax with your drink before or after dinner.
St Paul's Cathedral
The next morning we set out the door at 7 am (sorry mom and dad!😂) for a quick walk around the Southwark area, with a thankful reprieve from the rain. We meandered our way over bridges and down tiny side streets before sitting at St Paul's Cathedral for tea, at a cafe aptly named, "Paul."
Note: in England, there are two listed prices for many cafes: one for eat in, and one for take-away. The eat-in prices are higher because of the dishes and silverware used.
We sat outside in the early morning sun right at St Paul's Cathedral. You can't beat that view!
We enjoyed strolling through the side streets with no real plan, taking in the unique architecture of the buildings of old London.
Tower Bridge
Admire the iconic symbol of London – the Tower Bridge! Built between 1886 and 1894, you can walk or drive across the bridge for some great photos, or grab tickets to walk along a glass walkway (!!!) on the upper deck between the two towers and look down at the River Thames and passing traffic.
You'll also be able to see the historic engine rooms which contain coal-driven steam engines that were once used to power the bridge lifts.
Did you know: when the bridge first opened it was lifted 20-30 times a day. Now its only between 2-3, on average.
Borough Market
Afterwards we walked along the Thames River, admiring the views, and ended up at the Borough Market – a MUST DO if you are in the area. It's the oldest farmer's market in London – and it was actually used as a location during filming of Harry Potter!
There are over 100 market stalls here alone. We got there just as things were preparing to open but there were a few vendor stalls available for perusing and there were tons of offerings, from fresh fruit and veg, flowers, meat, seafood and baked goods. You could easily eat your way through the market, which I fully intend to do when we go back!
Shakespeare's Globe
We passed by Shakepeare's Globe – a world-renowned theatre, cultural landmark and education centre right along the River Thames! We didn't go in, BUT there are so many things to do here including workshops for children, tours, dining, demonstrations of how plays are printed and how sword fights are done on stage, in addition to their regular performances! We'll definitely have to allot time for this on our next trip!
We originally planned to see a play here, but with it being an open-air theatre, we just couldn't take the risk of rain (and surprise, it did!).
Tate Modern
Our last sight was the Tate Modern – unfortunately we were an hour too early to access it so we could only admire it from the outside while sitting along the river people watching and watching the day unfold.
Tate Modern makes for a great stop – it's Britain's national gallery art from the 1900s to present day, as well as a gallery for international modern and contemporary art.
See work done by Picasso, Warhol, and Bourgeois – for free!
Final Thoughts
Sadly, that wrapped up our 24 hours in London. We made our way back to our hotel and off to the tube to catch our train at Piccadilly to head to Rye (see what there is to do here!).
London has no shortage of activities to do. I wouldn't even attempt to see it all in one visit. Pick an area of London you'd like to visit and spend your time there to get the most out of the experience!
Have you been to London? What's your favourite area or thing to do? I'd love to know!
Pin it for later!