London is notoriously known for being one of the most expensive cities in the world.
I always make it a point to source inexpensive things to do when we travel, and it may be surprising that London is one of the best cities for offering an abundance of budget-friendly and completely free things to do.
You could easily spend days or weeks exploring all of the activities and sights – without spending a penny! With food and accommodation adding up, you can visit all of these attractions for free!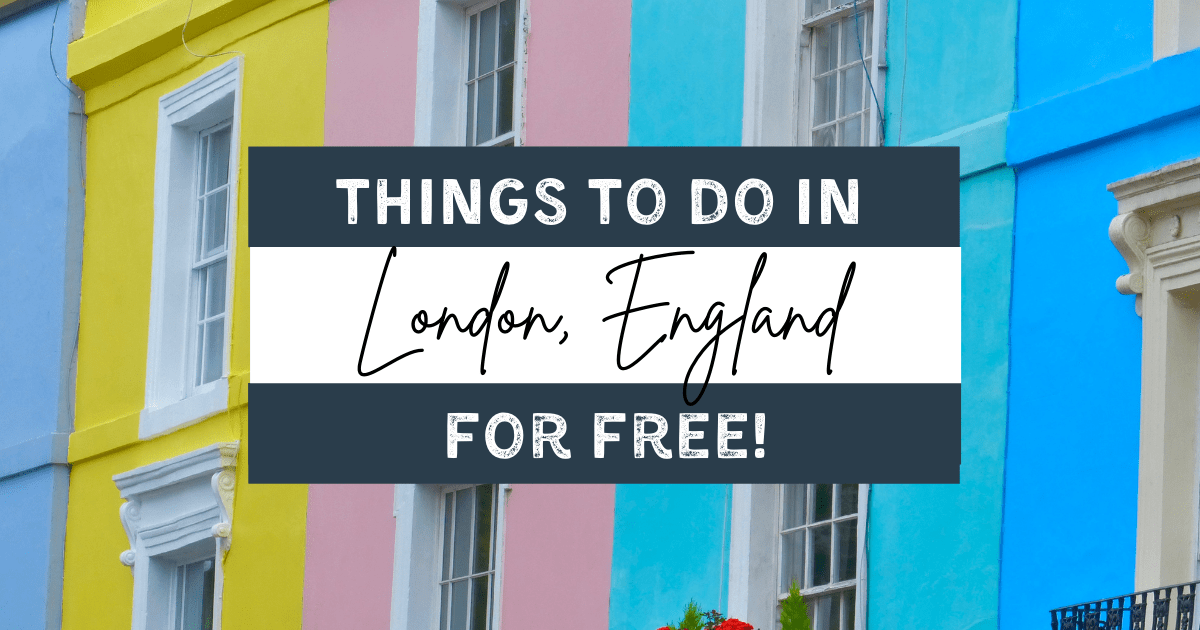 From world-class museums, beautiful parks, scenic walks, and gorgeous architecture, London is one of those bucket-list places to visit for many people.
This insider's guide walks you through 25+ totally free things to do in London!
This post contains affiliate links which means I earn compensation when you click on the links at absolutely no extra cost to you! Feel free to read my disclosure policy. Thank you for supporting my blog!
Plan your next vacation using these tools!

✈️ Book flights: SkyScanner
🏨 Book hotels: Booking.com
🚘Book car rentals: RentalCars.com
🎫Book tours: GetYourGuide
🌍Favourite travel item: Packing cubes
🧳Favourite travel bag: Osprey 40L Fairview
🩹 DIY Travel Medical Kit
💸 20 Cheap Travel Items Under $20
Quirky Things to do in London for Free
God's Own Junkyard
From Caroline of CK Travels
Located in a secluded industrial estate in Walthamstow is a nirvana of neon signs called God's Own Junkyard. Started by Chris Bracey, who is famous for creating Soho strip joint signs, this is a warehouse packed to the rafters with some of the most original, bright and colourful artworks.
From a Jesus with a gun to a pair of large luscious lips, there are provocative and stimulating sculptures and lights to suit all tastes. After walking around the installations, take a seat amongst all the objects and order a drink , burger or afternoon tea from the onsite café.
God's Own Junkyard is open to the public on Friday, Saturday and Sunday and is free to enter. Cameras are not permitted but use of mobile phones for photography is fine.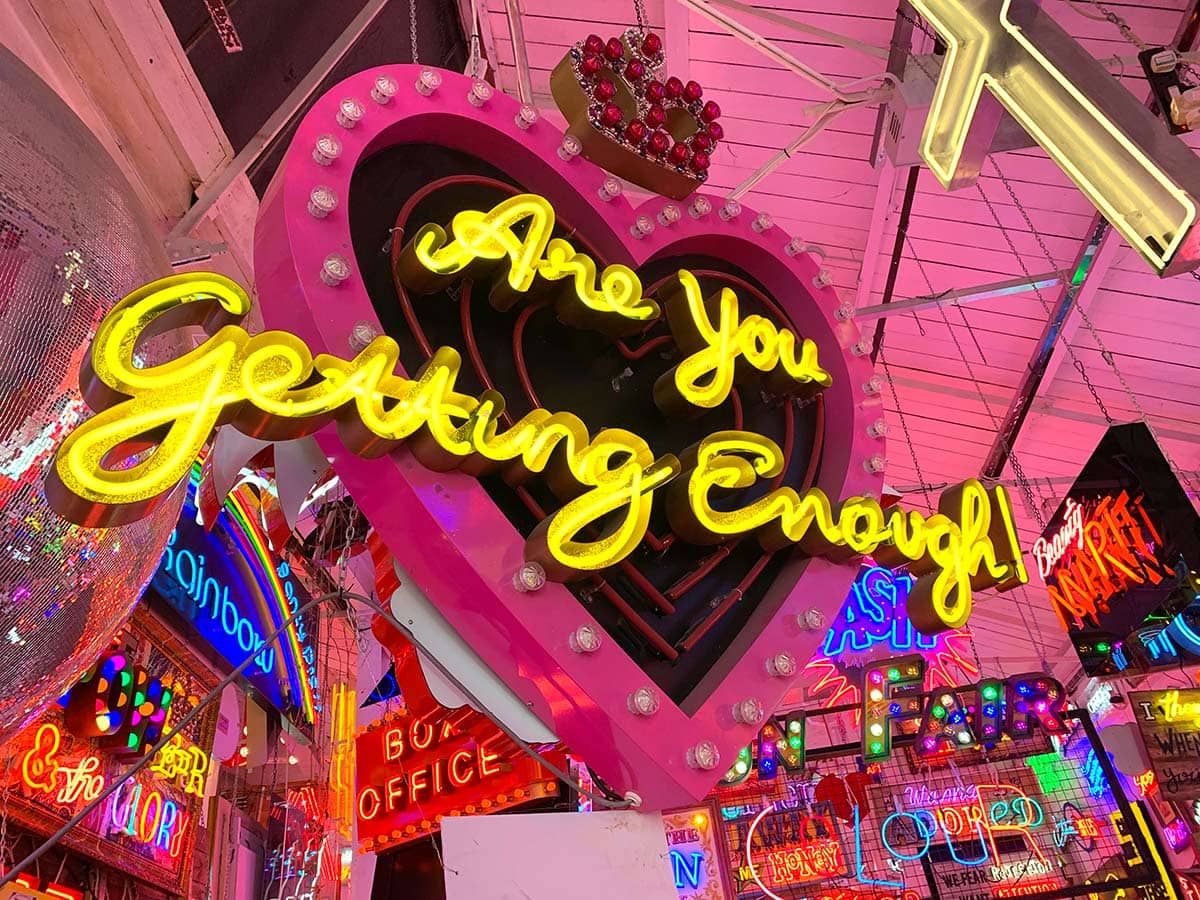 House of MinaLima
From Laura of What's Hot Blog
House of MinaLima in Soho is a free Harry Potter museum that is a must-visit for fans seeking all things Harry Potter in London. Miraphora Mina and Eduardo Lima are the formidable design duo who created the graphic props for the Harry Potter and Fantastic Beasts films. This means they designed the Marauders Map, the Daily Prophet, the sweet wrappers at Honeydukes, the textbooks and more.
Their best designs are on display at House of MinaLima where you can browse several floors worth of beautiful prints (including a Marauders Map that covers the entire floor!). What's more, this is a great place to shop for Harry Potter gifts as you can purchase their prints on a variety of different products to take away with you.
This is a niche area of Harry Potter that many don't think about but it's amazing to see the intricate designs up close. If you have tickets to see the Cursed Child, a visit to House of MinaLima in between the two showings is a great idea.
Where to Get City Views in London for Free
Sky Garden
From Sophie of We Dream of Travel
Aptly named, Sky Garden is the highest public garden in London and should be on everyone's London bucket list. Comprised of three tiers of landscaped gardens with differing themes, this urban jungle boasts magnificent 360° views of London amidst lush greenery.
Unexpectedly tucked away in the heart of the city, Sky Garden is set atop 20 Fenchurch Street, aka the Walkie Talkie building. This tranquil oasis provides an escape from the hustle and bustle of city life.
As well as the gardens, Sky Garden features two restaurants, a bar and an open-air terrace. You should be aware that with the exception of the restaurants, Sky Garden is naturally ventilated. Therefore, it will likely be a similar temperature to outside – so dress appropriately!
While visiting Sky Garden is completely free, most tickets are allocated online in advance so it's worth ensuring you book tickets online to prevent disappointment!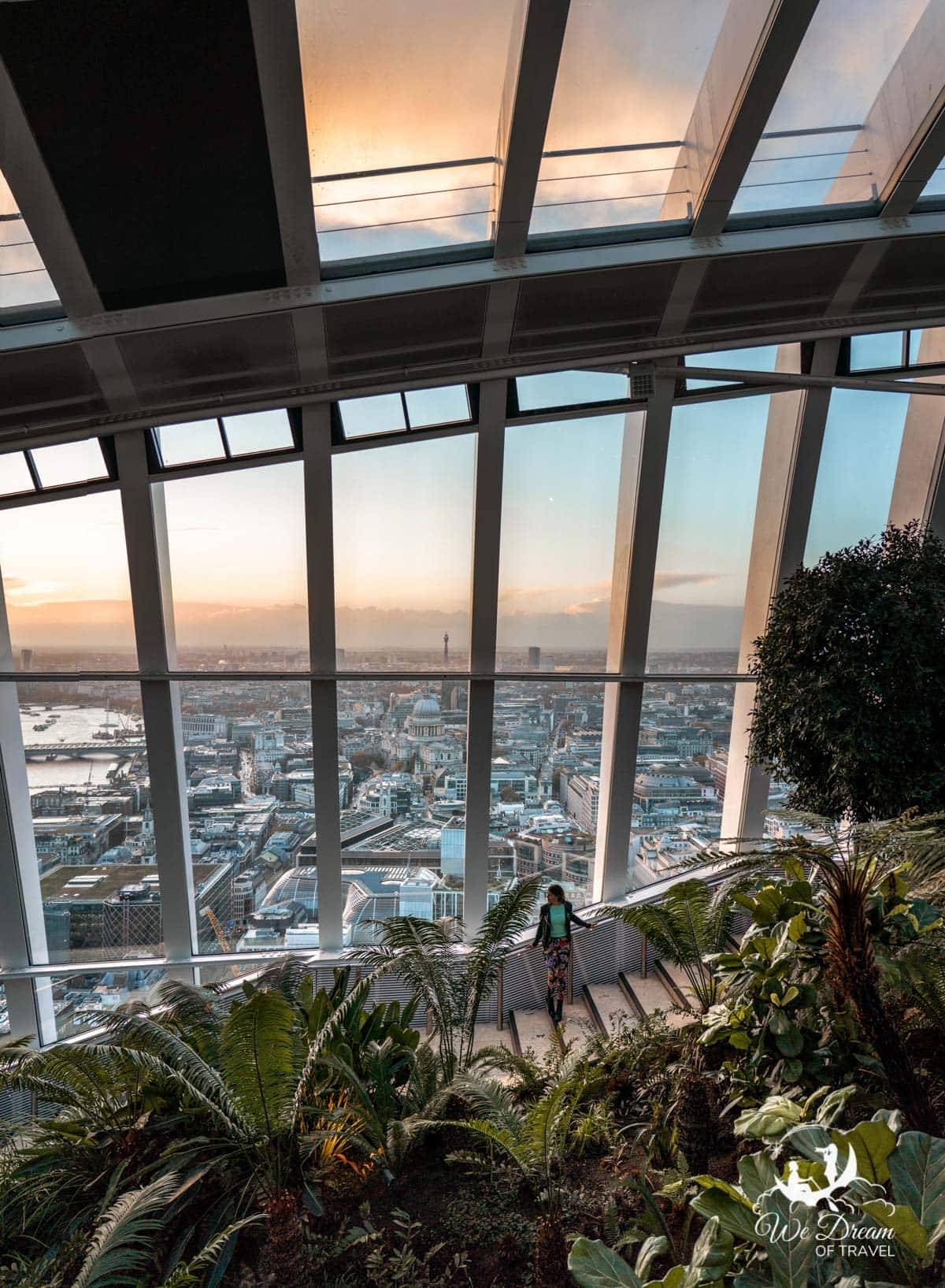 The Garden at 120
From Chelsea of The Portable Wife
If you're looking for spectacular views of London without the hefty price tag, head to The Garden at 120. Located on the rooftop of the One Fen Court office building, this panoramic overlook remains one of London's best hidden gems.
The Garden opened to the general public in February 2019 and has since become a lush, relaxing escape from the hustle and bustle of London's business district. If you're visiting the city in the summer, the purple wisteria trellis is a must-see.
From up here, you'll get unparalleled views of iconic landmarks including the Shard, the Tower of London, and even St. Paul's Cathedral. You'll also get some up-close perspectives of the aptly named Walkie Talkie and Gherkin buildings.
While visiting The Garden at 120 is free, you will need to pass through a security checkpoint inside One Fen Court that includes a bag scanner. If you want to avoid a queue, plan your visit for a weekday close to the 10am opening time.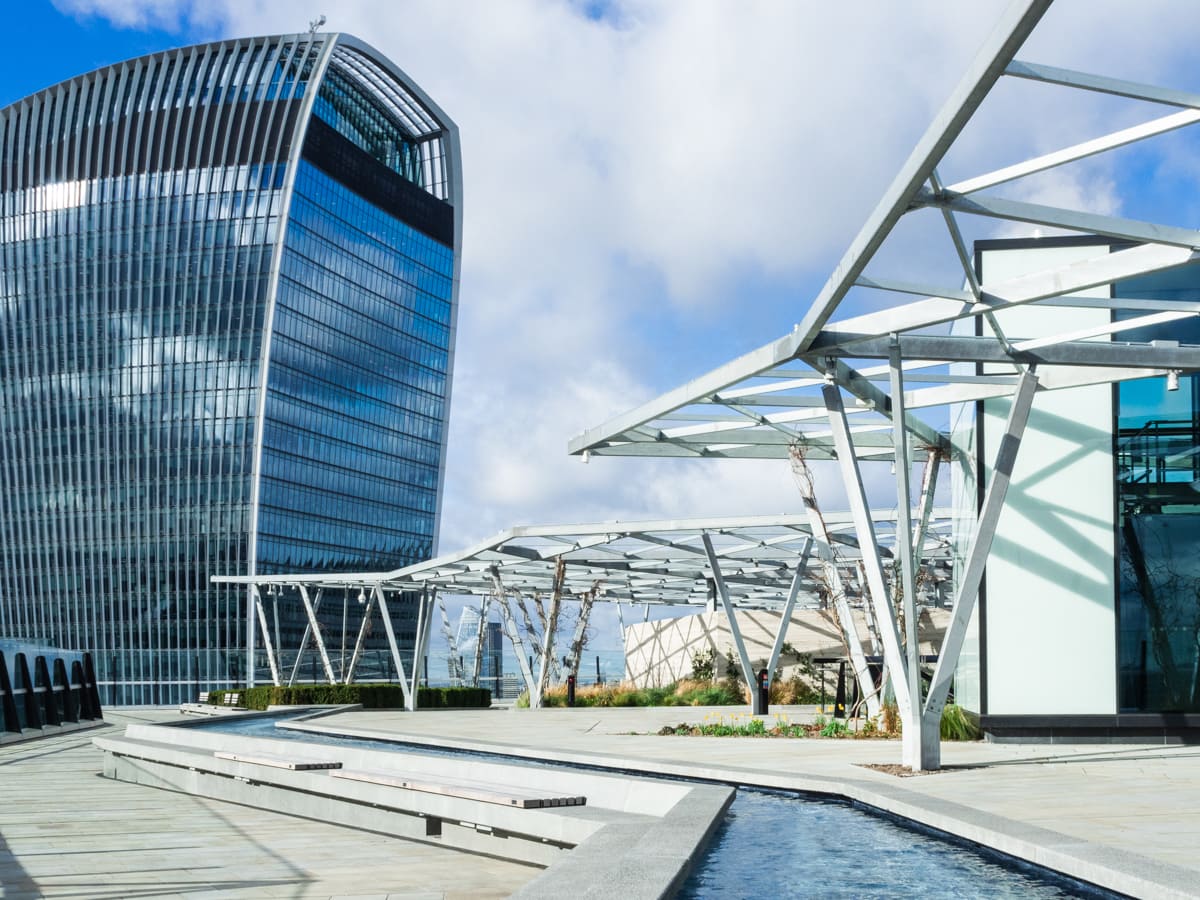 Free Museums to Visit in London
Imperial War Museum
The Imperial War Museum is an incredible free museum to visit for those wanting to learn more about WW1 and WW2 history, along with displays about modern war and conflict.
Founding in the midst of WW1, the Imperial War Museum contains over 800,000 items spanning six floors. The Holocaust Exhibit is a must-visit. Personal belongings are displayed, videos from survivors are played throughout the floor, a model version of Auschwitz spans the length of a room, and there is even a full-sized replica of the train cars used as transport.
Located in the Southwark district, a visit to this museum is a fascinating way to spend an afternoon for those looking to gain a deeper understanding of past wars and conflicts (especially during those rainy days!).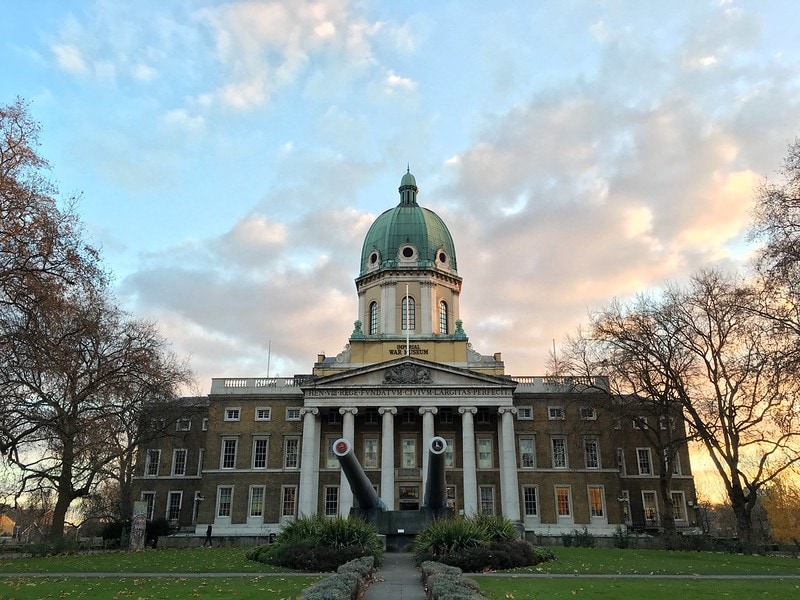 British Museum
From Kalyn of Girl Gone London
The British Museum is one of the best museums in London for visitors who want a fascinating education on the history of the British empire. While you might think that the British Museum is filled with only British exhibits, it's actually a giant collection of artifacts, bones, paintings, ruins, and more that have been collected from around the world.
Some of the highlights include Cleopatra (yes, the same one!), as well as the magnificent Rosetta Stone.
In addition to wandering around the displays and getting lost in the history and architecture, the main lobby of the museum has a stunning glass ceiling that lets the sunshine flood the concourse with light. Cafes and a sit-down restaurant offer plenty of food options so you can refuel during your museum experience, which, if you're dedicated to seeing as much as possible, could last at least half a day!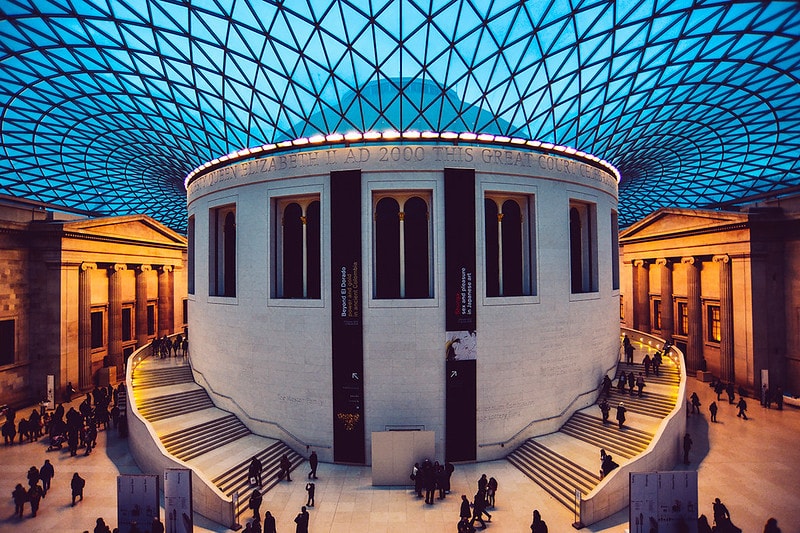 Natural History Museum
From Martina and Jürgen of PlacesofJuma
One of the coolest museums that is also free of charge is the Natural History Museum in London. Here, countless exciting, interactive exhibits are displayed in one of London's most beautiful buildings. Really cool are the huge dinosaur skeletons, where also the first found T-Rex skeleton is exhibited. Also interesting is the earthquake simulator, where you can feel the forces of a quake.
Another highlight and a famous photo motive for Instagram is the mammal section with its huge model of a blue whale located in the spectacular central hall. Also the "Cocoon", an 8-story building of a silk cocoon should not be missed.
Of course, there are several smaller cafes in the museum where you can drink and eat something. The obligatory museum store is of course also not missing.
The National Gallery London
From Emma of Forever Lost in Travel
London has a number of free museums, but none more central than The National Gallery and the adjacent National Portrait Gallery. They can be found side by side in London's Trafalgar Square in a nearly 200-year-old building that is almost as beautiful as its contents. Some of the most famous paintings you'll ever want to see can be found within the two galleries.
Cast your eyes upon Vincent van Gogh's Sunflowers as well as paintings by Michelangelo, da Vinci and Britain's own Turner. The National Portrait Gallery next door has a vast collection of famous British faces including the most well-known portraits of William Shakespeare, Anne Boleyn and Queen Elizabeth I.
The museums might need a good few hours to really appreciate all of the artworks but can also be done in much less if you opt to focus more on the main pieces.
National Maritime Museum
From Annabel of Smudged Postcard
London's National Maritime Museum is located at Greenwich. While some of the museums at Greenwich have an entrance charge (such as the Cutty Sark), the Maritime Museum is free to enter.
The National Maritime Museum is essential for anyone wishing to gain an understanding of Great Britain's naval history and how this in turn shaped the country's place in world history. The museum does not shy away from explaining the misdemeanours of the UK's history.
The National Maritime Museum Children's Gallery is an excellent place to start if you are visiting with kids. There are actually two parts – one for younger children and one for old kids. Both have lots of interactive exhibits and a wealth of information. There is also a huge map of the world next to the café where children can literally cross oceans and explore different countries.
One of the highlights of the museum is the jacket that Nelson was wearing in the Battle of Trafalgar which comes complete with a hole where the fatal bullet struck him. There are some excellent complimentary tours around the museum by actors who really bring the past to life.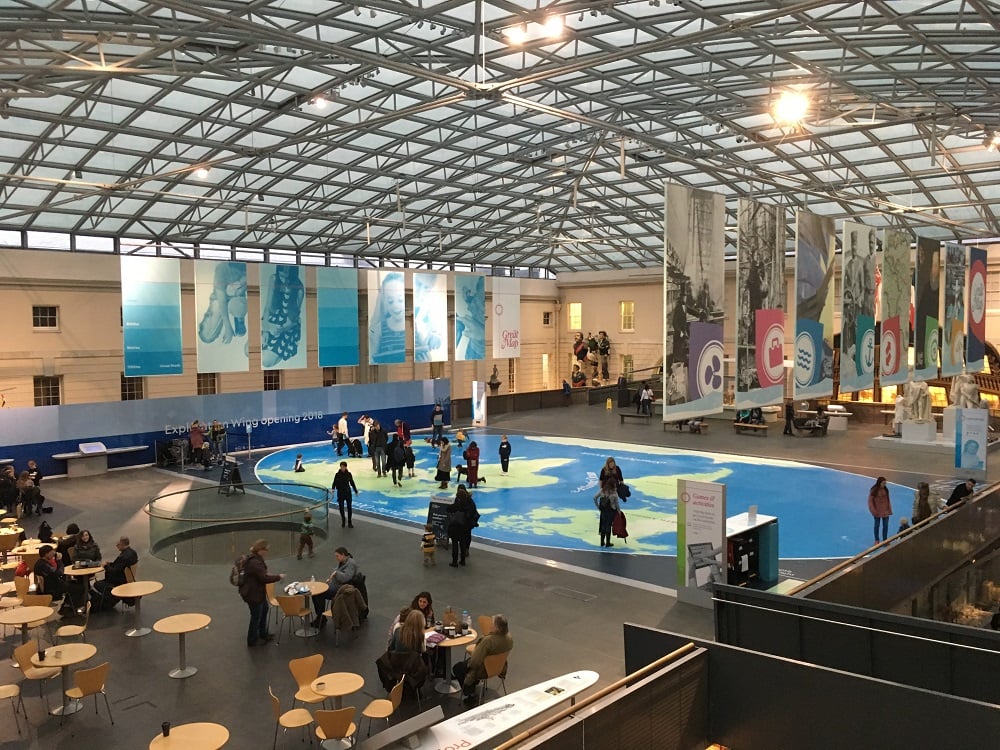 Science Museum
From Nichola of Family Hotel Expert
The Science Museum is one of the top free attractions in London and it's so good that you'll wonder why it is free. Founded in 1857 it has been attracting visitors from the moment it opened in South Kensington.
There are over 300,000 items here the most famous of which are one of the first typewriters, Stephenson's Rocket and an Apollo 10 command module. They regularly have temporary exhibitions which sometimes cost a small entrance fee or are free but need to be booked so it's worth checking on their website before you visit.
It is surrounded by some of the best hotels in London for families which comes in very handy as this is one museum you will want to visit more than once.
The Wallace Collection
One of the best free things to do in London is to make as much of your museum time as possible. It's great to visit the major museums – the National Gallery, the British Museum, the Tate Britain and the Tate Modern. But you'll be doing so with large crowds.
However, a visit to the Wallace Collection – a specialized boutique museum that's rarely crowded – is a brilliant way to maximize your London cultural experience and make it much more personal. Even better, take a free tour of the collection with a docent, to really get to know the highlights of the collection and – best of all – the stories behind both the pieces, and the collector himself.
The Wallace Collection is housed in the great Hertford House – home to the Marquesses of Hertford. The tale of the philanthropic Sir Richard Wallace is unconventional, bold, and daring – you'll learn all about this compelling figure on the tour. T
he exquisite collection includes paintings by Rembrandt, Sir Joshua Reynols, Thomas Gainsborough, Jean-Honore Fragonard, and many others, plus spectacular porcelains, armor, furnishings, and other works of art. These are in their original setting – the opulence of Hertford House – with its grand rooms, silk brocade walls, monumental staircase, and inlaid floors, it's a work of art in itself.
With the money you have saved, you can now enjoy tea in the beautiful courtyard with a glass ceiling.
Tate Modern
From Sara of WanderMoore
London has some of the best art museums in the world! Thanks to the United Kingdom offering free admission to all its public museums, many of them are free to enter including the Tate Modern.
This museum is one of the most popular art museums in London and sees thousands of visitors per year. Located on the Thames just across the Millennium Bridge from St. Paul's Cathedral, the Tate Modern holds one of the best collections of modern and contemporary art in the world.
The main entrance area, the Turbine Hall, is a massive space roughly 5-stories high and is used to display large works of art and art installations. The building was once the Bankside Power Station, which now makes a fantastic canvas to display modern art. Along with their rotating collection, the Tate Modern also houses permanent works from world-renowned artists. These include works by Pablo Picasso, Salvador Dali, Andy Warhol and more.
The Tate Modern's collection is free to view but you must have a timed ticket. Get your ticket here. Make sure to visit some of London's other great art museums on your visit!
Tate Modern is one of the most beautiful places in London!
Be sure to add these beautiful places in London to your itinerary!
Sightseeing and Scenic Views in London
Self-Guided Walking Tour
From Fiona of Travelling Thirties
London is a beautiful city full of history, culture, modern art and amazing places to eat and drink, it is also a very big and expensive city. However, this does not mean that there aren't ways to see London on a budget. One of the best ways to see the city for free and get some local advice on the best places to eat, drink and play is to take a free walking tour.
There are many free walking tours around the city, New Sandemans and Strawberry Tours are two of the best.
With both companies you can do the general walking tour of the city and with Strawberry tours you can do certain walking tours, such as Harry Potter, Jack the Ripper, Street Art and more.
With walking tours, it is polite to tip your tour guide at the end (if you think it was worth it) but they do also understand that everyone is on different budgets, so if tipping is out of your budget just make sure you say thank you for the free tour.
Hyde Park
If you're looking to enjoy a bit of nature while in London, then Hyde Park is the place to visit. There is so much to do in Hyde Park whether it's sitting back and enjoying the wildlife or taking up a bit of horse riding. You won't be disappointed.
Hyde Park is a Grade I listed park in Central London and is the largest of 4 Royal Parks. It is famous for its speaker's corner, which was created back in 1872 and is still used today by people expressing their right to free speech.
If you'd prefer something more relaxing, then you could take a stroll down to The Serpentine Lido. Here you can see some gorgeous birds such as swans and great crested grebes. Hyde Park is best enjoyed on a sunny day but also holds events all year round. If you're here for Christmas Winter Wonderland is breathtaking.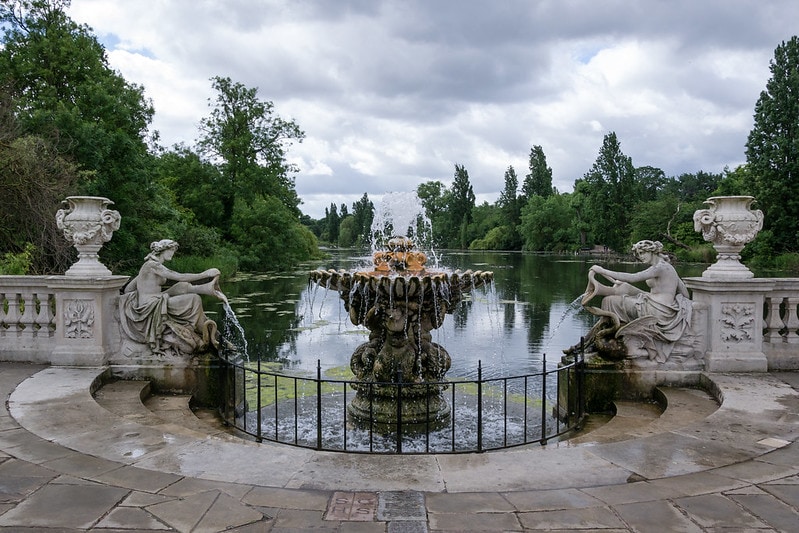 Photo Tour around London
From Alysa of Voyaging Herbivore
London is a city with so many iconic sights! While there is the London Eye, Big Ben, Tower Bridge (often confused with London Bridge) and Buckingham Palace, this incredible city is full of many more hidden gems that not only offer incredible sights, but will help you find the hidden gems of a less-touristy London!
Here are three great spots in London, but be sure to check out the full Instagram Guide to London for an interactive map and 14 incredible photo spots!
1) Neal's Yard: Hidden in Covent Garden, Neal's Yard is one of the most colorful spots in London! Stop for a quick photo and browse the boutiques before grabbing lunch.
2) Primrose Hill: Well known and loved by locals, Primrose Hill offers incredible views of the city.
3) Natural History Museum: This gorgeous and free museum is loved for all of the exhibits, but it also has incredible architecture that deserves to be photographed!
With so many gorgeous places, London has so many incredible photography opportunities. Wander and see what you find!
Looking for more tips on how to travel London on a budget?
It's easier than you think!
Stroll along Regent's Canal
Strolling along the Regent's Canal, from Little Venice to Camden, is one of the best free things to do in London. This 1-2 hour walk will take you from the vibrant houseboats of Little Venice, through the Lavish streets of Nash Regency houses, past the London Zoo, before reaching the infamous Camden Lock.
To begin this walk, head to Warwick Avenue underground station and walk on the opposite side of the canal. Enjoy the scenic walk and colourful narrowboats along the entire route. Be sure to stop for Chinese at the Floating Restaurant – The Feng Shang Princess. This red pagoda-style floating restaurant serves incredible lunch, dinner and drinks!
Once in Camden, spend a few hours getting lost amongst the markets, street food vendors and jazz scene. Camden is famous for its impressive street art, music, food and dining, so there's something for everyone.
Walk Along South Bank
From Claudia of My Adventures Across The World
A walk along the South Bank will be a great – and completely free – addition to your London itinerary. Starting from the Tower of London, one of the most popular attractions in town, make your way to the Tower Bridge, which you will have to cross to find yourself on the South Bank. The views of the bridge and of the Tower of London from there are impressive – perfect for photography lovers.
On sunny spring and summer days, this is a very popular hang-out spot for families with children and for people of all ages, as the area is completely cut off from city traffic and packed with good coffee shops, bars, pubs and restaurants where you can sit and have a drink or a meal while taking in the views. This is also one of Londoners' favorite spots to go for a run!
Greenwich Park
From Cass of Cassie the Hag
One of the best free activities is exploring Greenwich. The walk through Greenwich Park, and the rose gardens and amazing London views, is worth a stop on it's own, but you can also explore the fantastic historical architecture, such as the Old Royal Naval College and the Queens House. There are also free museums next door to these buildings, such as the Maritime Museum.
While some activities are paid – like going inside the Greenwich Observatory and Planetarium, the view from the observatory itself (in the heart of Greenwich Park) is in my opinion even better than going inside – it's my favourite view of London! This beautiful borough on the South side of the Thames is teeming with history and picturesque corners – it's not one to miss for budget travellers in London.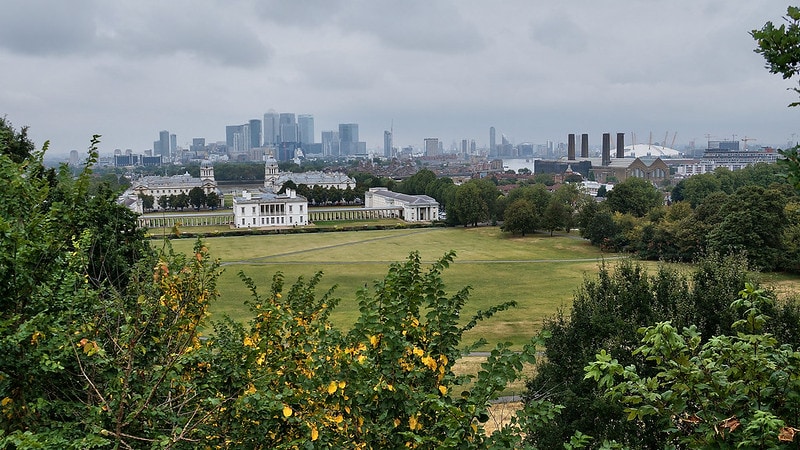 London Mews
From Miriam of Miry Giramondo
What are the mews?
In the 18th century, London began to expand from the East End to West. In addition to the large houses that were built, the London aristocracy decided on large spaces for horses, carriages and servants. So it was decided to build a secondary road called Mews.
Most of the mews houses housed the stable and carriage house on the ground floor and a barn and a couple of rooms upstairs. Today, the Mews homes are among the most sought after in the capital.
In fact, they have been restored and transformed into luxurious streets with very chic and special apartments. One of the things to do in London is to discover the mews. Among them: Warren Mews Fitzrovia one of the most instagrammable places in London W1T 6AD. Bathurst Mews hosts the last two riding schools Bayswater, W2 2SB. Luke Mews for film fans have filmed the scenes of Love Actually Kensington W11 1DF.
Abbey Road
From Sydney of A World in Reach
One of the best free things to do in London for music fans is to pay a visit to Abbey Road, best known for being home to the famed Abbey Road Studios and the iconic crosswalk on the cover of The Beatles' eleventh album.
The cover photo of John, Paul, George, and Ringo crossing the zebra crosswalk at Abbey Road is one of the most iconic images in pop culture. Today, tourists flock to the crosswalk to create their own Abbey Road photo – an experience that should be on everyone's London bucket list.
Keep in mind that the street can be rather busy, so watch out for cars as you take your photo! After snapping your photo, make sure to leave a message on the wall outside of Abbey Road Studios and pop into the Abbey Road Shop to pick up some souvenirs!
Notting Hill
From Dymphe of Dymabroad
One of the best free activities in London is visiting the colorful houses of Notting Hill. Notting Hill is a lovely neighborhood in London. There are all kinds of things to do and it is well-known for its houses. They come in all colors and are great places for photography in London.
Furthermore, it is a very relaxing activity to go for a walk through the area. Along the way, you stumble upon the prettiest places. Streets that are particularly beautiful are Lancaster Road and Elgin Crescent. Moreover, St Lukes Mews is a great place to visit as well. The beautiful pink house in this street appeared in the movie Love Actually.
Holland Park
From Demi of Around The World With Her
London is well known for the many parks in the city. One of the most popular, and rightly so, is Holland Park. This small park is a little sanctuary within the city. Holland Park a short walk from Kensington Palace and the trendy neighbourhood of Notting Hill.
For anyone looking for free activities in London, Holland Park is a great visit. Within the park you will find a traditional Japanese garden, complete with a pond full of Koi Fish and a small waterfall.
Here you will often see the resident Peacocks roaming freely. They are beautiful to see and used to the many visitors that pass through the park. As well as peacocks in Holland Park, wildlife lovers can see squirrels, woodpeckers, parakeets, and herons.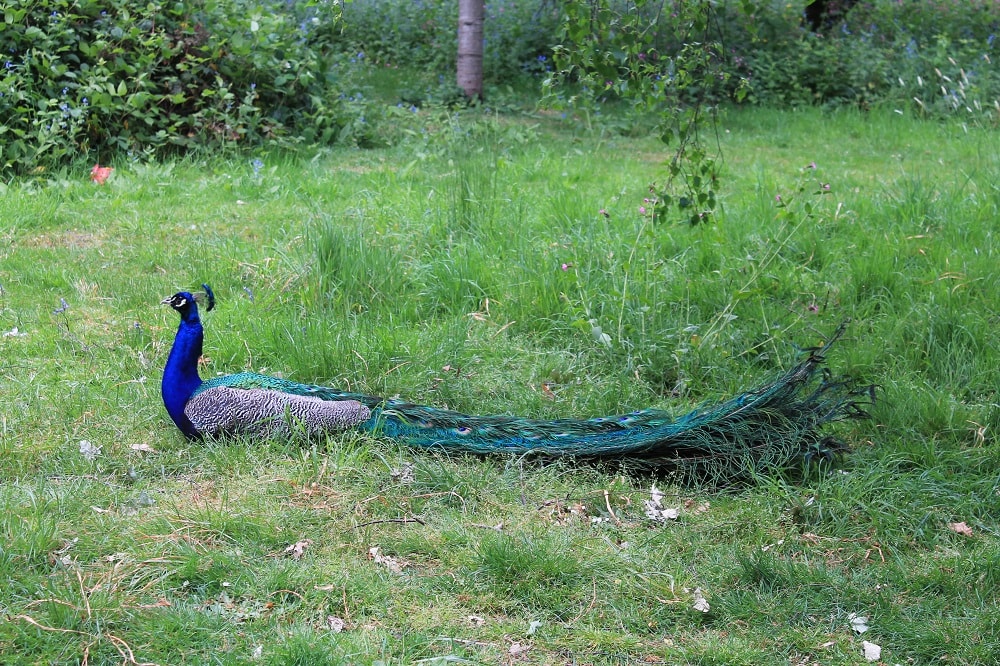 Street Art in East London
From Anuradha of Country Hopping Couple
One of the best free things to do in London is exploring the street art in East London. From being a mere hub for curry houses to becoming synonymous to graffiti art, the street art contribution has indeed turned Shoreditch and Bricklane into a colourful canvas in town and a thriving place for both international and local artists.
Needless to say, the tacky streets that bore beautiful graffiti art has attracted many tourists and art lovers from across the world. While you can take one of the many free walking tours available in the area, it is also possible to do a self guided walking tour, at your own pace.
You can begin your self guided walk from Shoreditch Old Station, passing through the streets of Bricklane and finish in Liverpool Street Metro Station, or the other way round. Some of the most prominent streets in East London include Hanbury Street, Sclater Street, Fashion Street, Bricklane courtyard, Wilkes street, to name a few.
Unique Experiences in London
Westminster Abbey
London is a city steeped in history, and the Westminster Abbey plays a prominent role. Every British monarch coronation since 1066 has taken place at this iconic church along with many royal weddings – including Prince William and Kate in 2011. It's also the final resting place for prominent British figures, such as Isaac Newton and Charles Dickens.
Touring Westminster Abbey is a must-do while in London – and if you attend a worship service, the Abbey is free and open to the public.
Located in the heart of London, Westminster Abbey is a UNESCO World Heritage site. Attending a service creates a unique and moving experience as you enjoy the stunning architecture and historical surroundings while a choir and musicians fill the Abbey with music.
Changing of the Guards
From Chrysoula of Travel Passionate
One of the most popular things to see in London is the Changing of the Guard ceremony at Buckingham Palace. This ceremony is when the Queen's Guard hands over the responsibility of protecting Buckingham Palace and St James's Palace to the New Guard. The guards of the Household Division are instantly recognisable by their bearskins and scarlet tunics. The ceremony takes place at 11.00 outside Buckingham Palace on the following days:
| | |
| --- | --- |
| August-May | Monday, Wednesday, Friday and Saturday |
| July & August | Every day |
There are three places to watch the ceremony; Wellington Barracks in Birdcage Walk, St James's Palace and Buckingham Palace.
| | |
| --- | --- |
| 10:25 | The New Guard is inspected at St James's Palace, whilst the Palace Band plays music. |
| 10:43 | The Guards led by the Regimental Corps of Drums marches down the Mall to Buckingham Palace. |
| 11:00 | The Changing of the Guard ceremony takes place at Buckingham Palace. |
| 11:10 | The Old Guard marches up the Mall to St James's Palace. |
The busiest place to try and see the ceremony is Buckingham Palace. Get there early and stand on the steps of the Victoria monument outside the palace as this is higher. Alternatively, find somewhere to stand on the kerbside along the Mall and walk with the guards to the palace.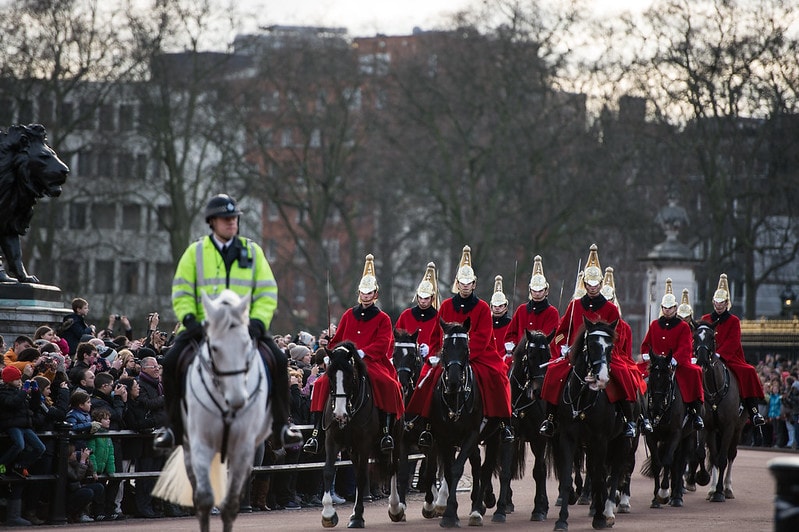 Map of Free Things to do in London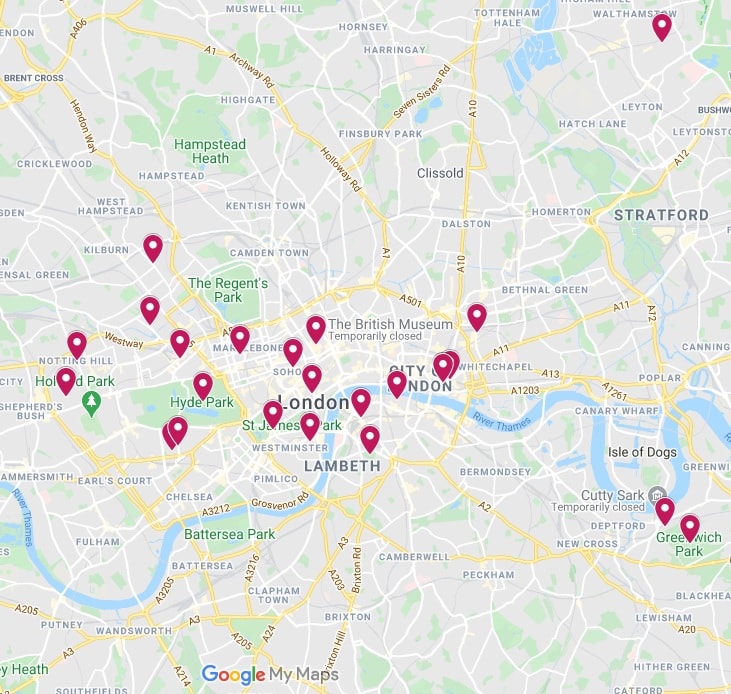 Related Posts
Pin it for later!