A visit to Rye, UK is like taking a trip back in time. With plenty of things to do in this ancient town, Rye is the perfect place to visit for a weekend or a week-long stay along the coast of England!
This adorable fairy tale town is just over an hour south of London by train or car and will instantly take you back in time.
With its cobblestone streets, wonky half-timbered homes, ancient inns, adorable tearooms and its own castle, if you're looking for a memorable place to visit in the UK, Rye is a must. This town has seen it all – from smuggling, flooding, invasions, and even hauntings!
Rye is the quintessential English town and is certainly one of the best preserved medieval towns in England. Discover the best things to see and do in this charming town plus the best places to eat and stay!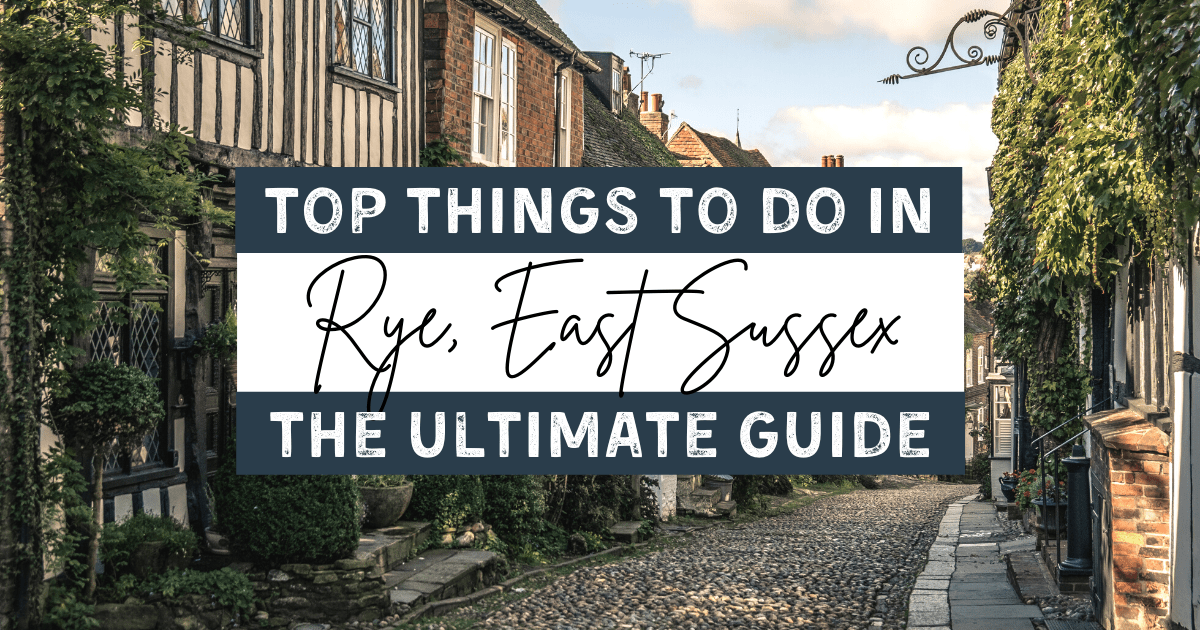 My grandparents lived in Rye for as long as I can remember. Coming here to visit them every year felt like coming home. My grandfather passed away in 2020 and my grandma has recently moved north of London, so I wanted to pay tribute to one of my favourite places on earth: Rye.
It feels a bit weird writing this, knowing our visits to England will never be the same. I'm wistful going through photos of Rye, noticing certain things that are triggering memories of years gone by. I feel as though I know this town like the back of my hand.
I hope you enjoy the photos of this historic town; they really don't do it justice. So if you find yourself in London sometime and need an escape from the city, hop on the train to Rye for a trip back in time.
This post contains affiliate links which means I earn compensation when you click on the links at absolutely no extra cost to you! Feel free to read my disclosure policy. Thank you for supporting my blog!
Plan your next vacation using these tools!

✈️ Book flights: SkyScanner
🏨 Book hotels: Booking.com
🚘Book car rentals: RentalCars.com
🎫Book tours: GetYourGuide
🍽️Local food experiences: EatWith
🌍Favourite travel item: Packing cubes
🧳Favourite travel bag: Osprey 40L Fairview
📱 ESims: Airalo
🩹 DIY Travel Medical Kit
💸 20 Cheap Travel Items Under $20
Best Things to do in Rye, UK
Climb St. Mary's Church Tower
St. Mary's Church is the focal point of Rye. Dominating the hill on which the old town stands, "the Cathedral of East Sussex" – St. Mary's – has been standing for over 900 years.
St. Mary's has seen many disasters over the years, including when French invaders looted and set fire to the town in 1377. The roof fell in and the church bells were carried off to France.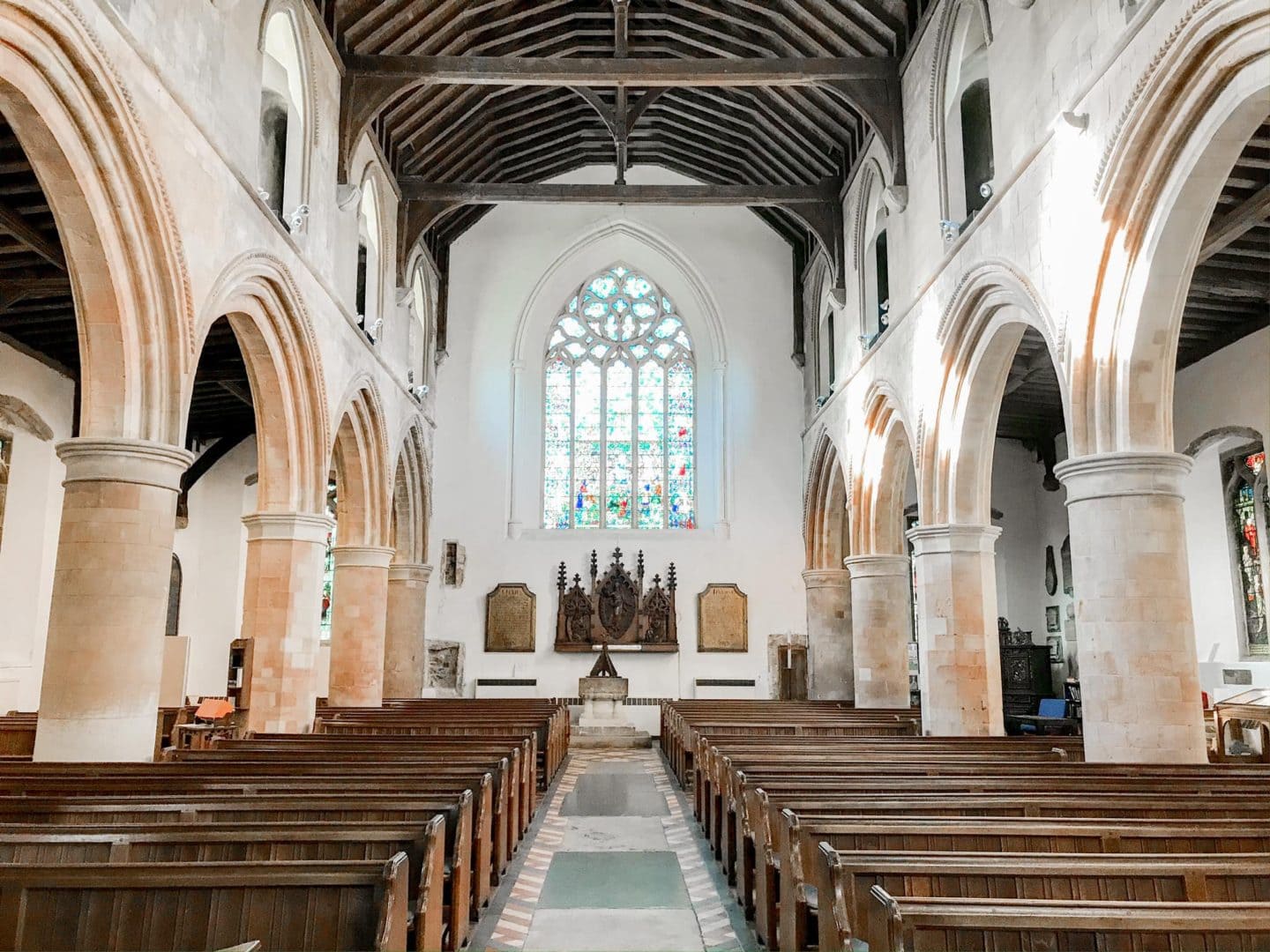 The bells were recovered a year later, when men from Rye sailed over to Normandy and set fire to two of their towns and recovered the stolen goods – including two bells. One was hung at the end of Watchbell Street to give warning of future attacks. That bell wasn't returned to the church until the 1600s.
The clock at St. Mary's Church was installed in the mid 1500s – and is one of the oldest church turret clocks in the UK that is still functioning. The Quarter Boys were installed in 1760 and ring every quarter.
You can see all of this by climbing the church tower! You'll be able to make your way up the narrow church tower and up ladders to see (and hear!) the 8 bells hanging there. Climb out to the rooftop for sweeping 360 views of Rye and the countryside, over to the English Channel.
Visiting the church is free, but if you'd like to climb the tower it costs £4.
Go Antiquing
Head down historic Mermaid Street and the Strand to Rye's antique shops. Here you'll find unique collections of vintage items, furniture, pottery, and art. You could easily spend an afternoon wandering the shops trying to find that perfect item that speaks to you.
One of my favourite shops is Rye Pottery; one of the best spots for custom wedding and anniversary gifts, adorable small pieces of pottery for your home, or like me – tiles (I have an obsession for collection tiles that come from Rye!).
Treat yourself to an afternoon tea
One can't visit Rye without indulging in an afternoon tea, and you are spoiled for choice with tearooms dotting the town.
Visit Cobbles Tea Room down a tiny cobblestoned alleyway just off The Mint for a traditional English afternoon tea. This cozy tea room has been operating for more than 60 years in a quaint cottage adorned with flowers.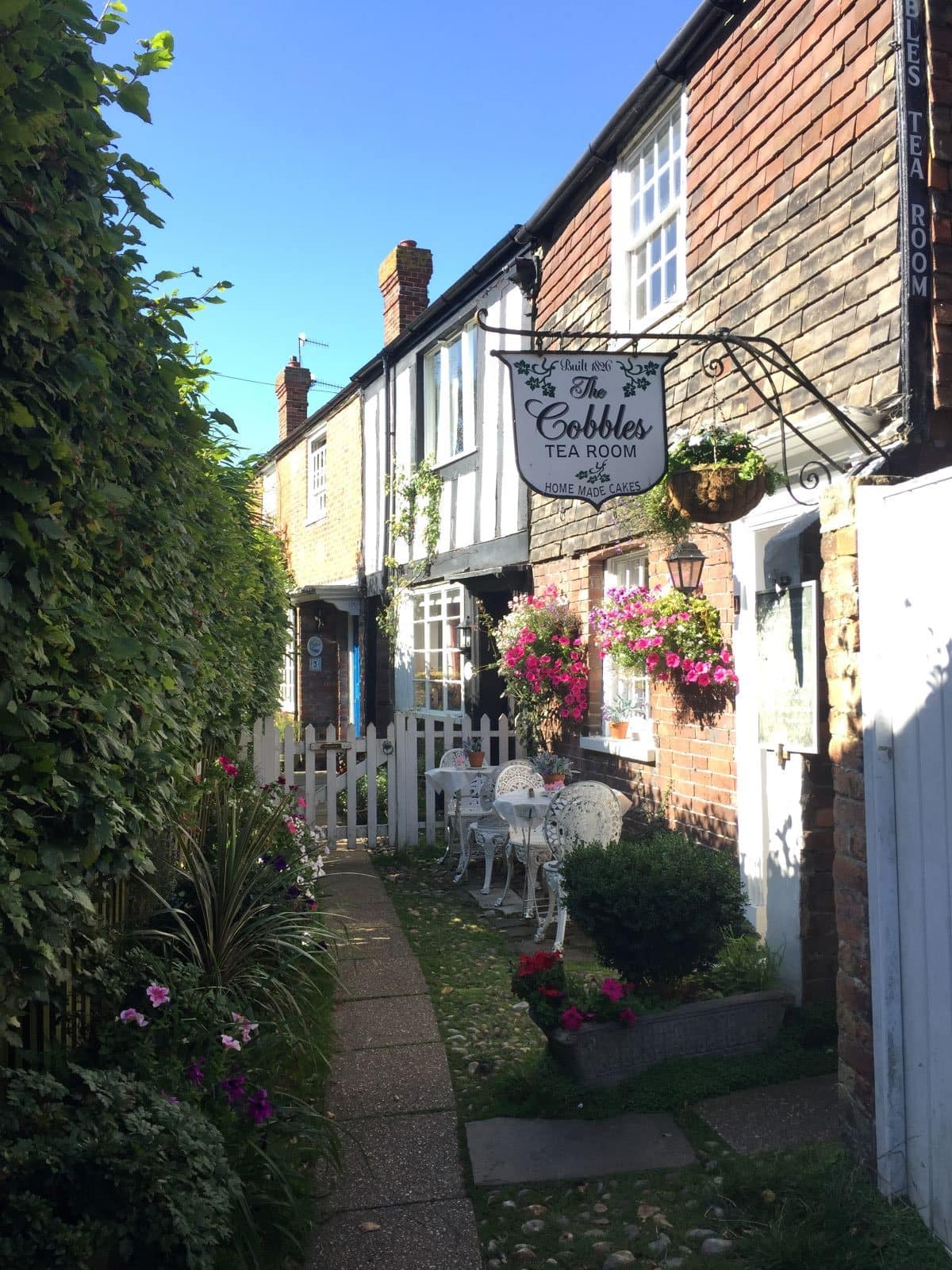 You'll be drawn in by the display window at Simon the Pieman at the Church Square; a traditional tea room complete with its own fireplace perfect for chilly days.
Which tea room in Rye has the best scones? That's up to you! The only way to know for sure is to try a few of them. One of my favourite tea rooms is Fletchers House – and in my opinion, has the best scones in Rye – but be sure to decide for yourself!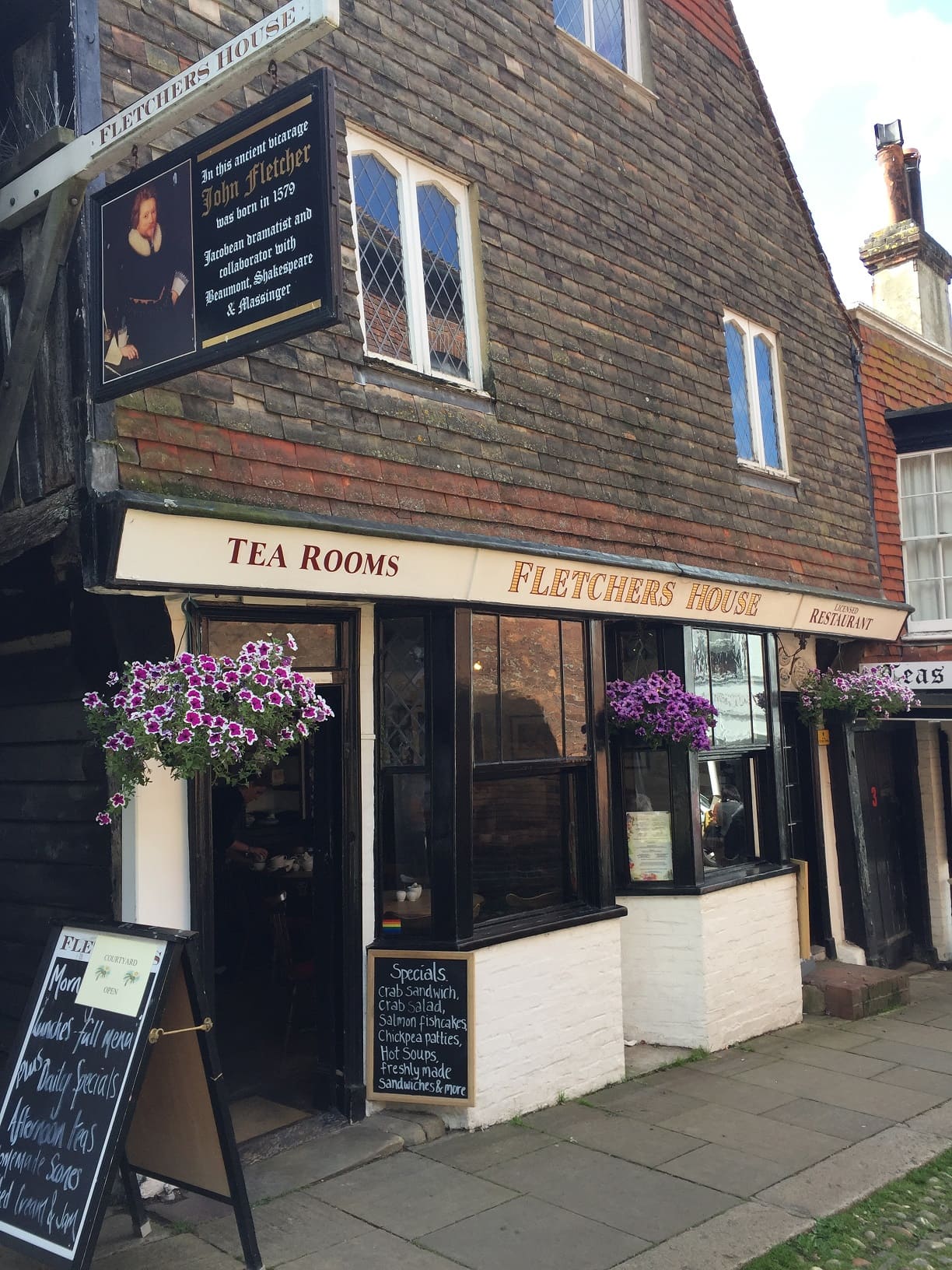 If you're looking for a real treat – head over to Knoops by the Landgate for the best hot chocolate in the UK! Here you'll find over 21 different types of hot chocolate sourced from all over the world – ranging from sweet (28% chocolate) to ultra bitter (100%). You can opt for different add-ins for a custom cup. The orange peel is a nice addition!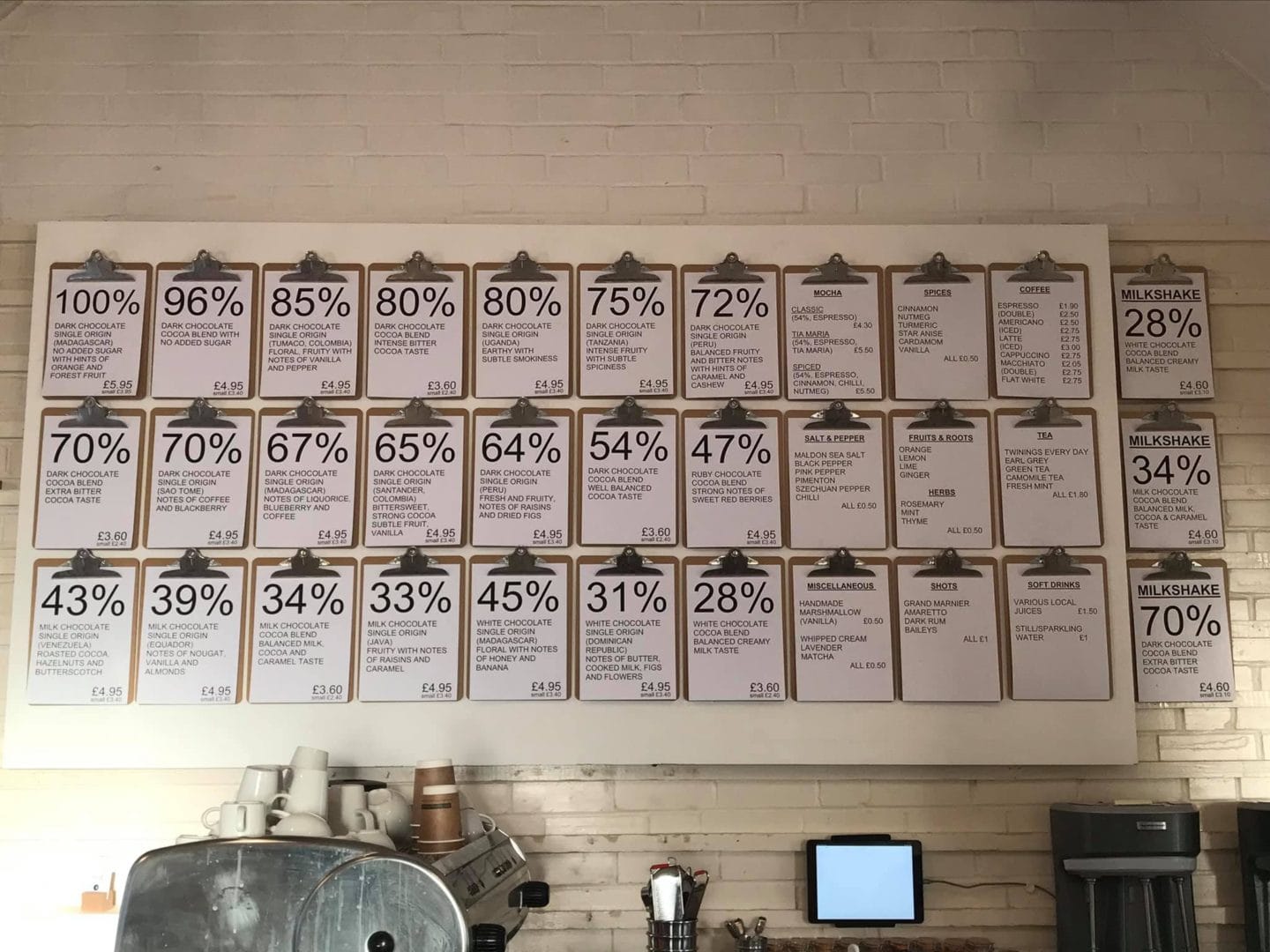 Pop into a pub for a local drink
One of my favourite things to do in Rye is visit the pubs at night. It brings back fond memories for me of gathering with family at night around town, trying to find pubs big enough to accommodate 10+ of us!
You will be spoiled for choice for places to stop for a drink in town; one of the best places to enjoy a cocktail is The George in Rye. Sadly after our visit in 2019, The George caught fire. It's been lovingly restored by historic architects over the past few years to maintain its heritage, which dates back to 1575. They are finally reopening this spring.
The best place you can go for a drink is the Mermaid Inn. Its cellars date back to 1156 and it was re-built in 1420! As soon as you enter the pub (be sure to duck when you go through the door!) you'll be greeted with a cozy room with its own giant fireplace lining the back wall.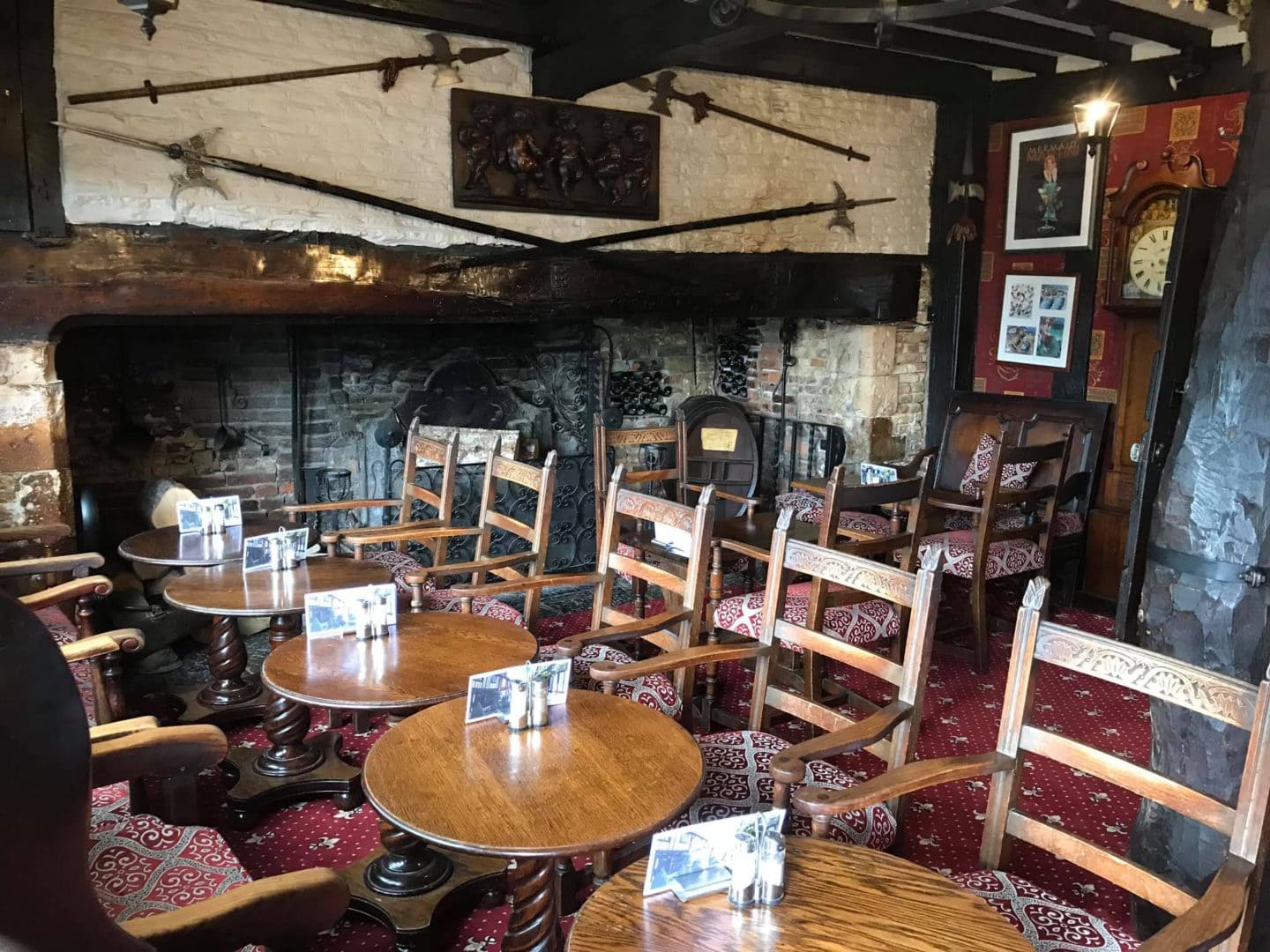 If you visit in the fall the beams are adorned with drying hops. It's quintessential old England; sloping floors, sloping ceilings and even its own resident ghosts. The Mermaid Inn sits on the most photographed streets in Britain has seen famous visitors from all over the world, including Queen Elizabeth!
Take an interactive tour of the Mermaid Inn!
Another must-visit stop for a drink is the Rye Waterworks Micropub. Once a water pump house for the town for over 300 years, a soup kitchen, and even served as public toilets at one point, the Rye Waterworks now serves a collection of local ales and ciders. It's a popular spot for locals to hang out at. You never know who you'll meet here!
There are a number of other awesome places to pop in for a local ale, gin and tonic (try the pink gin!), or a cider, try The Standard, The Queen's Head, or The Ship Inn – all fabulous and unique in their own ways.
Be sure to visit the Ypres Castle Inn's sprawling garden to enjoy a locally brewed ale in the sunshine!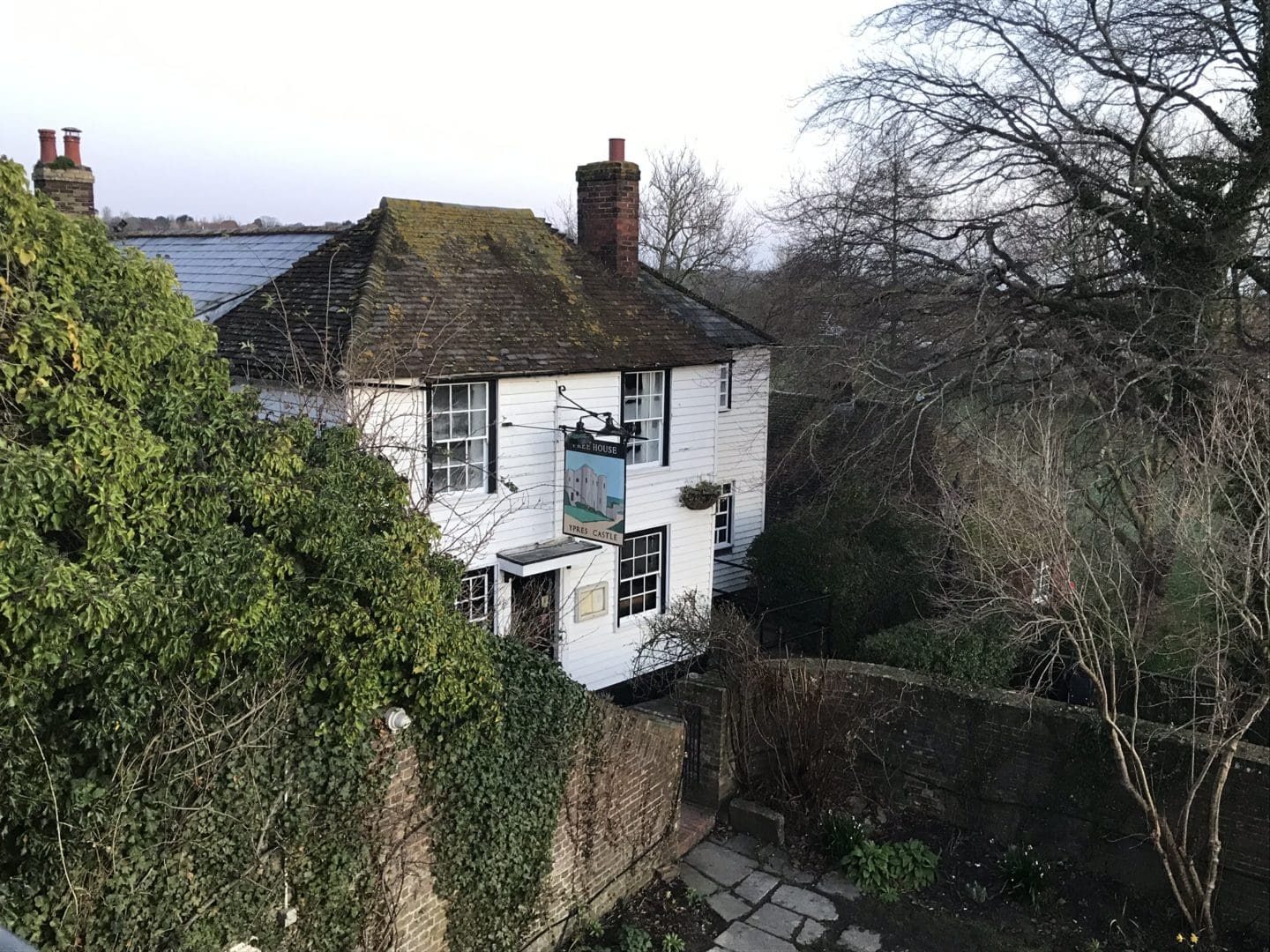 Marvel at the Architecture
Wandering around Rye is definitely a must for anyone visiting this medieval town. It's one of the first things I always did and every time I visited there would be something new to discover or take note of.
Explore through cobblestoned lanes, down narrow alleyways, and take note of the town's unique buildings – no two are the same. Rye is filled with character, history, and photo opportunities. Every building has a story.
My aunt and I would always joke we'd have the same photos of everything, so we'd go around town taking different angles of buildings and gardens. There is something new to notice each time.
A visit to Rye is like a step back in time, and is one of many fairy tale towns in the UK. Plus, with street names like Watchbell Street, Mermaid Street, and Wish Street, I'm sure you'll have the same impression, too.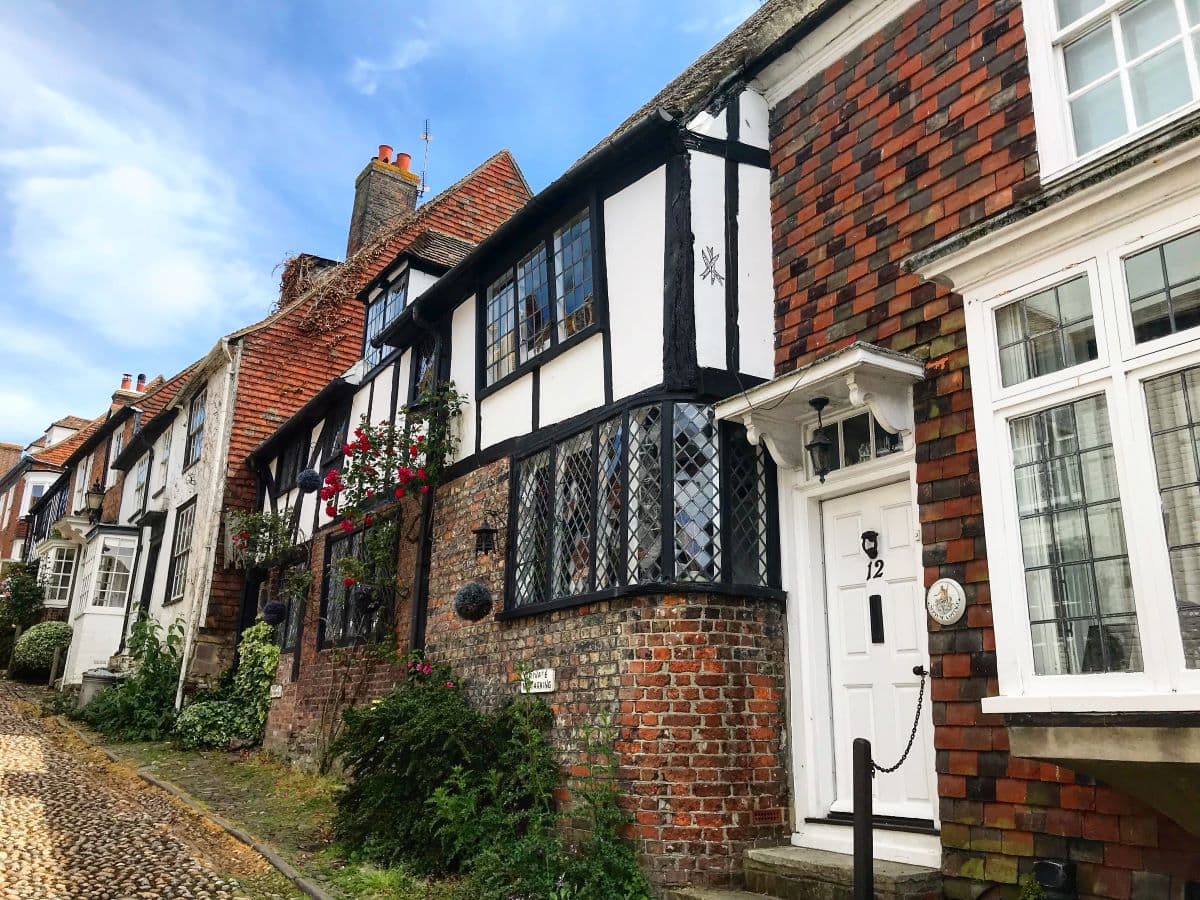 Learn about the Rye's rich history
Start at the Rye Landgate! For centuries, Rye was a fully functioning harbour before it became separated by sea marsh. It often meant Rye was the first port of call for intruders – dating all the way back to 1066. Rye underwent fortification, and part of that – the Landgate, built in 1329 – remains standing today.
Another place in Rye that is a must-see is the Ypres Tower. This defensive structure had views of the bustling harbour and survived many attacks over the years. Built in 1249, it served as a fort, prison, private dwelling, court hall, and is now presently a museum. Explore prisoner cells, a medieval herb garden, and make your way up the tower for views over town and the River Rother estuary.
Rye was part of the Cinque Ports. These five harbours along the south coast of England – Hastings, Romney (Rye), Hythe, Dover, and Sandwich were collectively known as the Cinque Ports came together for mutual protection and trade.
Did you know: Rye was occupied by the French for over 200 years before Henry II reclaimed the town in 1247.
Soak in Rye's centuries of history; visit the Rye Heritage Centre for a tour through time in a 15 minute light and sound show featuring a miniature scale model of the town of Rye. I can tell you I've sat through this show many times in my life and it makes your tour around Rye much more impactful after watching it!
Learn about Rye's Literary Roots
It may not be surprising at this point that Rye has been the source of creativity for many authors. You can't visit Rye without feeling some sort of inspiration of your own!
Over the years Rye has had many artistic and literary connections. The historic Lamb House, a National Trust property, was the home to American author Henry James, who wrote three of his novels while living in Rye. E.F. Benson, author of Mapp and Lucia, also lived here and based the imaginary town of Tilling on Rye. The Lamb House went on to be used in the filming of Mapp and Lucia.
Spike Milligan (buried in Winchelsea, 10 minutes away) was another famous resident of Rye and John Ryan too – author of the Captain Pugwash stories.
Did you know: Rye has been featured in several movies and TV shows, including The Monuments Men, Mapp and Lucia, and The Crown!
Browse the local shops for things you don't need (but can't help but buy)
One of the best parts about strolling the streets of Rye is popping into the unique independent shops that dot the town.
You'll find all kinds of treasures – from antiques, homewares, handmade goods, greeting cards, clothing, children's toys, books, art, Rye mementos, and candy! There is something new to see each time, and I guarantee you'll end up buying something you didn't really need – but couldn't leave without!
Get some fresh air at Rye Harbour Nature Reserve
Nothing beats a coastal walk! The Rye Harbour Nature Reserve is a few miles from town on the 313 bus from Rye Train Station, but you can also walk there which takes roughly 45 minutes!
Rye Harbour Nature Reserve runs along the River Rother and covers 475 hectares and is a gorgeous mix of wetlands, salt marshes, beaches, gravel pits, and reed beds. Its diverse landscape provides habitat for wildlife and is home to over 4300 different plants and animals, including 300 species that are rare or endangered.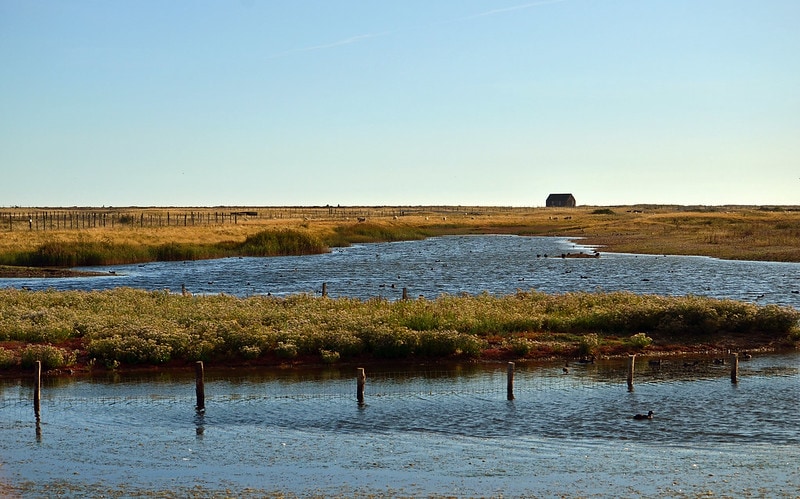 There are numerous footpaths to take through the Nature Reserve, and the longest route will take you over to the ruins of Camber Castle. This castle was built for Henry VIII to protect Rye Harbour. It wasn't used for long before the estuary silted up and it ended up away from the sea.
Visit for some fresh air, learn something new and take in the wildlife and coastal flowers. Be sure to stop for a photo of the iconic "Little Red" hut which has been on site since 1904.
You'll also be able to go into a WW2 machine gun pillbox (there are actually several on the reserve). They were named pillboxes as a shortening of 'pillar boxes' because of the slit windows resembling a letter slot on a post box. These pillboxes were built in 1940 in a matter of days to protect the UK's vulnerable coastline. They were abandoned 8 months later as the line of defence moved inland.
Did you know: Rye was targeted 17 times during WWII by bombs and machine gun strafing. There is one harrowing account of people sheltering in a cellar in Wish Ward being surprised by a bomb landing in the middle of them – but it failed to explode. My grandparent's old house was even the site of an anti-aircraft emplacement.
Where to Eat in Rye
Now we're getting to one of my favourite parts about Rye: the food! From quirky tea rooms to fish and chips, pub eateries to fine dining, Rye has something for everyone! Rye restaurants focus on sourcing locally, and I think that's one of the main reasons why the food tastes so good!
Some of my personal favourites include the Globe Inn Marsh, just a few minutes walk from the centre of town. The vibe is warm, friendly and cozy, with its own fireplace, local offerings, and live music during the summertime. From fresh seafood delivered daily to sustainably sourced lamb and beef, plus a wide variety of cocktails, ales and ciders, I'm sure the Globe Inn Marsh will become one of your most memorable places when visiting Rye.
If you're looking for more upscale dining, the Mermaid Inn is a major crowd pleaser. There's nothing better than dining in an ancient place with hundreds of years of history. Menus change seasonally, but if you see lamb listed, you have to try it. It's the only place I eat lamb!
For casual restaurants in Rye, Hoof is another favourite. The local beef in Rye is something to write home about! Plus, you can't beat the potatoes here either. The Ship Inn offers a great selection of unique menu items (and plenty of vegetarian options), and Marino's Fish Bar is a great place for fish and chips takeaway to enjoy by the Strand along the water.
Where to Stay in Rye
Each time I visit Rye, I stay in a different spot. Over the years I've been fortunate to stay in hotels, Bed & Breakfasts, and self-catering AirBnBs!
Be sure to book your accommodations early – Rye is a popular spot during the summer months!
If I could pick anywhere to stay in Rye, it would be the Mermaid Inn. Loaded with character, a cozy pub, great restaurant and situated on one of the most iconic streets in Britain, what more could you ask for? The 31 rooms here come in all shapes and sizes – and there's even a secret passageway down to the bar! Ask if you can get a cellar tour!
Jeake's House, across from the Mermaid Inn, is a convenient and cozy place to stay with amazing hospitality, and honesty bar, and has one of the best included breakfasts I've ever had in the UK! Hayden's B&B is also a lovely place to stay with an adorable tea room below.
There are plenty of pubs with accommodations above, including the Standard Inn – a restored 15th century pub with each of its five bedrooms named after the Cinque Ports, or the Ship Inn, with tastefully decorated rooms and a full breakfast included!
If hotels are more your thing, the Hope Anchor sits at the end of Watchbell Street. Built in the mid 1700s for sailors and shipbuilders, it's rumoured that the Hope Anchor once sheltered the Tenterden Gang, who used its old secret passages for smuggling. There is also the Lookout Rye, a recently renovated stylish hotel near the Rye Landgate with breakfast included and ample parking, if you are arriving by car.
One of my favourite ways to stay in Rye is by self-catering cottage (AirBnB). There are many around town to suit your needs, whether you're travelling solo or with your family. Studio22 is a cozy apartment with a beautiful patio, the Little Sussex House, perfect for couples, or Medieval Town House, a rare gem in Rye with its own gorgeous walled garden that can accommodate 8 guests!
How to Get to Rye
Rye is just over an hour by train from London one the high speed service from St. Pancras Station to Ashford International, then changing onto a local train to Rye. This is the route I have always taken and its ease of travel makes it an ideal day trip or weekend break from London.
The closest airport to Rye is London Gatwick, which is about 1.5 hours drive away along the A264.
If you are visiting Rye by vehicle, you can find paid street parking all around town, but be cautioned that parking is usually tricky to find, the streets are one way (and some are cobbled!). Be sure to brush up on your parallel parking! There is a car park by the train station which is reasonably priced at £2/day, however tickets expire at 5 am, so two days will need to be purchased. You also cannot park overnight Wednesdays due to the Rye Market on Thursdays.
Getting around Rye
Rye is very easily walkable, and in fact I wouldn't recommend a car at all if you're planning to stay in town. You can be at one edge of the town from the other within a 15 minute walk.
Public transit is so efficient in England and it's easy to travel by train or bus to where you'd like to get to if you're planning on visiting nearby towns or London.
If you are visiting Rye by vehicle, you can find paid street parking all around town, but be cautioned that parking is usually tricky to find, the streets are one way (and some are cobbled!). Be sure to brush up on your parallel parking!
How far is Rye from the beach?
Rye is just two miles from the beach; you can easily walk to Rye Harbour Nature Reserve in 45 minutes, or you can walk to Camber Sands within an hour and to Winchelsea, too (another fabulous ancient town). All three beaches are within a 10 minute drive from the centre of town.
As you make your way to the coastline, imagine what the land looked like before it receded. Rye was at the very edge of the coast at one point!
When is the best time to visit Rye, UK?
As someone who has visited during all seasons of the year, Rye is a gorgeous town to visit during any month of the year. Attractions are available year-round, so you don't have to worry about missing out on some must-see places!
We've had many family gatherings in Rye during the winter over the Christmas holidays. The town is beautifully decorated and there is such a festive vibe in town. I'm a big winter fan, but it can be absolutely freezing during the winter months – and I'm saying that as a Canadian! You'll need a hat, scarf, winter coat, sweaters, and thick socks for your winter visit!
Spring and summer are ideal months for enjoying meals and drinks on the patio, beautiful walks with a gentle warm breeze through the countryside, beach visits, and late sunsets. I went on walks around town at 10 pm and the cotton-candy pink sky looked like late afternoon. Expect rain during your visit.
Fall is gorgeous – the changing colours of the leaves, brisk air, and a quieter feel around town after the hubbub of summer fades away. The seasonal menus in Rye are my favourite during the fall, and it's the perfect weather to cozy up with a hot chocolate from Knoops or butternut squash soup with scones from the restaurants.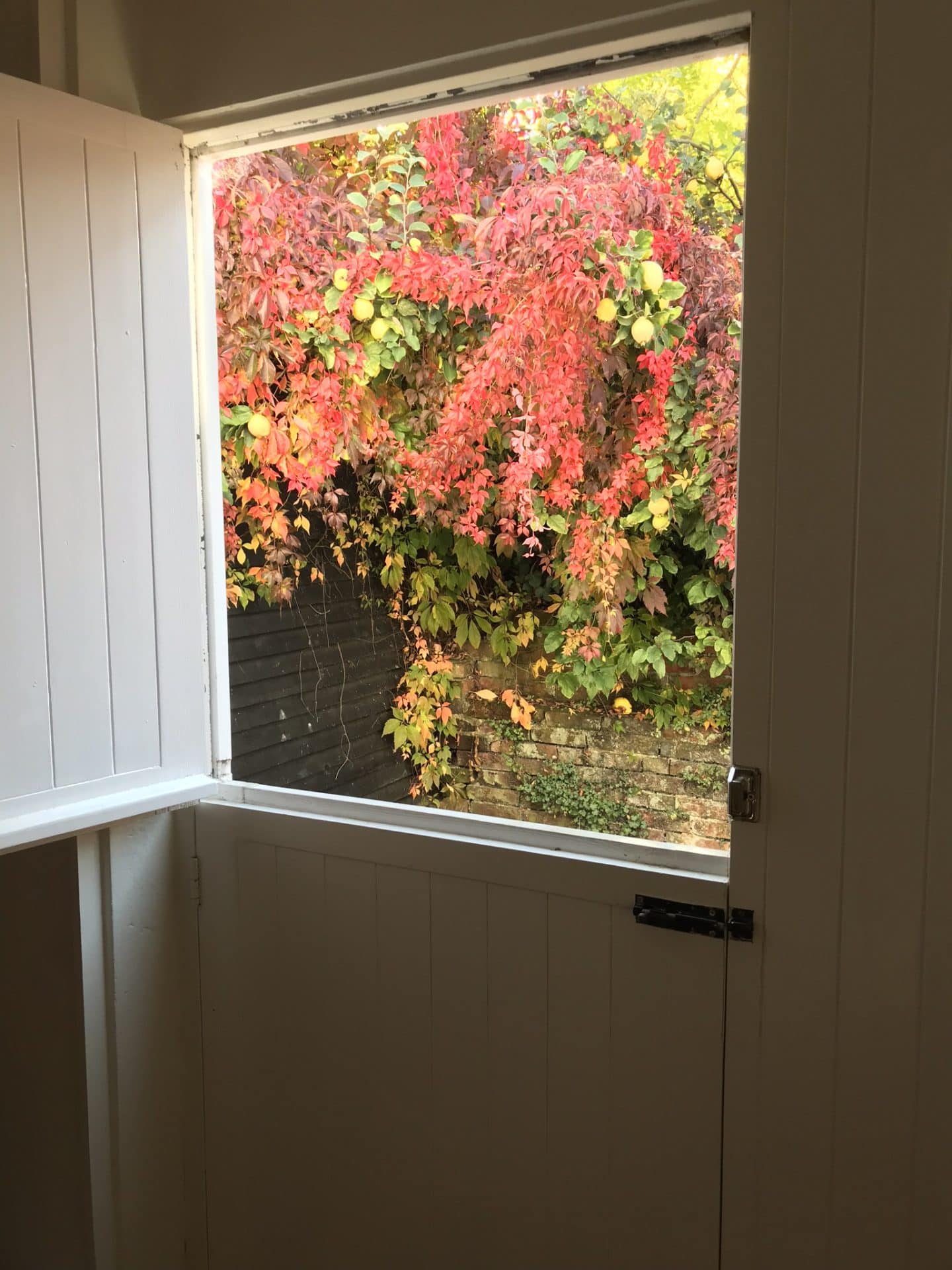 You can be prepared for the weather, but it is a bit unpredictable. I've had some of the nicest days during the winter and I've had to buy sweaters in the summer – so you never know!
What is there to do in Rye when it's raining?
Don't let a rainy day get you down – it certainly doesn't stop the locals! If you find yourself waking up to a rainy day or afternoon, you can easily check out the shops around town, head down to the antique market, treat yourself to an afternoon tea, head to the museum, soak in the history at Ypres, head down to the Rye Heritage Centre to catch the Rye Model show, or catch a film at the Kino – a beautiful cinema right by St. Mary's Church (and it's also fully licensed!).
Festivals in Rye, East Sussex
There is always something happening in Rye! Many festivals are now returning after a two year hiatus, so if you're planning to visit during one of these festivals, be sure to book your accommodations early!
Is Rye, UK worth visiting?
Without a doubt, Rye should be on anyone's list when visiting the UK.
Its magnetic charm, cobblestoned streets, and half-timbered buildings are so enchanting on their own, and that's even before you add in centuries-worth of history!
Rye has some of the best tea rooms, restaurants, and pubs in the South of England, as well as welcoming accommodations, making this medieval town worthy of anyone looking for a memorable stay outside of London.
Related Posts
Pin it for later!