The areas of Hamilton and the Niagara Region are home to some of the most significant events in Canada's history. Monuments, battlefields, museums, and historic sites are dotted throughout the stretch of land from Niagara-on-the-Lake, Stoney Creek, Hamilton and beyond.
We're lucky that these sites have been preserved and heritage programs are offered throughout the year.
Since I've been exploring within our own boundaries this year, Dana and I decided to check out Dundurn Castle National Historic Site in Hamilton, an impressive Italian-style mansion that will transport you back to the mid-1800s.
This post contains affiliate links which means I earn a small commission if you purchase through one of my links at absolutely no additional cost to you. Feel free to read my disclosure policy. Thank you for supporting my blog!
Embellished with plush sofas, an enormous dining hall, artwork, chandeliers and Murano glass ornaments, Dundurn Castle is a labyrinth of 40 rooms and gives you an idea of how wealthy Canadians lived during the 19th century, as well as their servants.
If you're looking for fun things to do in Hamilton or the Niagara Region, you're able to get an inside look at one of the region's famous castles which is now open for tours!
It's become one of my favourite historic sites to visit. I could've easily spent all afternoon here! I hope you enjoy this photo tour! 🙂
About Dundurn Castle's History
Sitting on 32 sprawling park-like acres in Hamilton in an area known as Burlington Heights, Dundurn Castle was finished in 1835. It's the former site of British military post established during the War of 1812.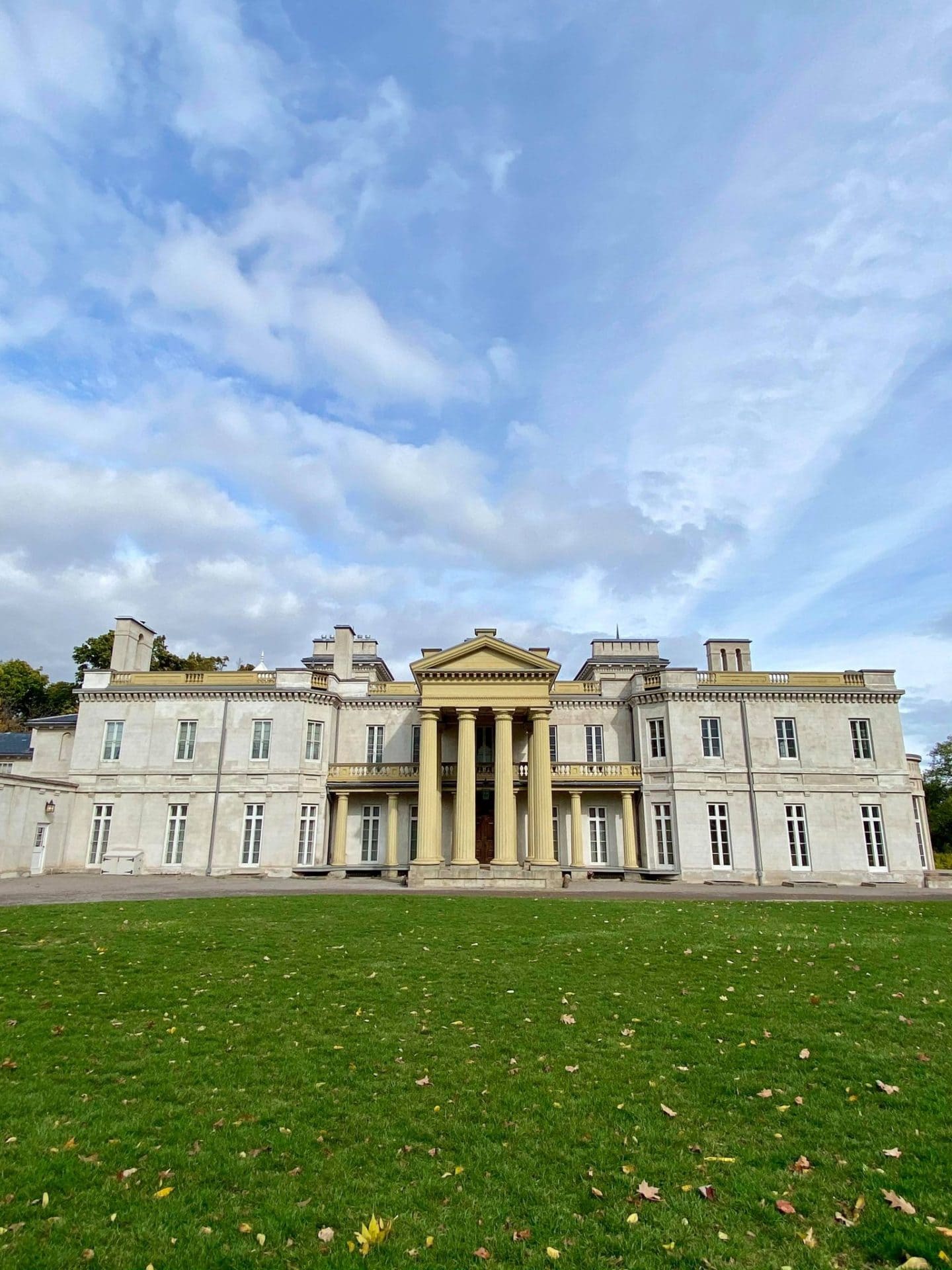 It has forty rooms (!!!) and was owned by Sir Allan Napier MacNab.
MacNab purchased the property from Richard Beasley, one of Hamilton's early settlers due to financial constraints. MacNab hired an architect and built Dundurn Castle over Beasley's brick home, turning it into a huge 18,000 square foot mansion overlooking Burlington Bay that took three years to build at a cost of $175,000.
It even has modern conveniences like indoor plumbing and gas-lighting, something generally unheard of during this time!
It's been nicknamed a castle by Hamilton residents – because it is something that wasn't normally seen during the 1800s.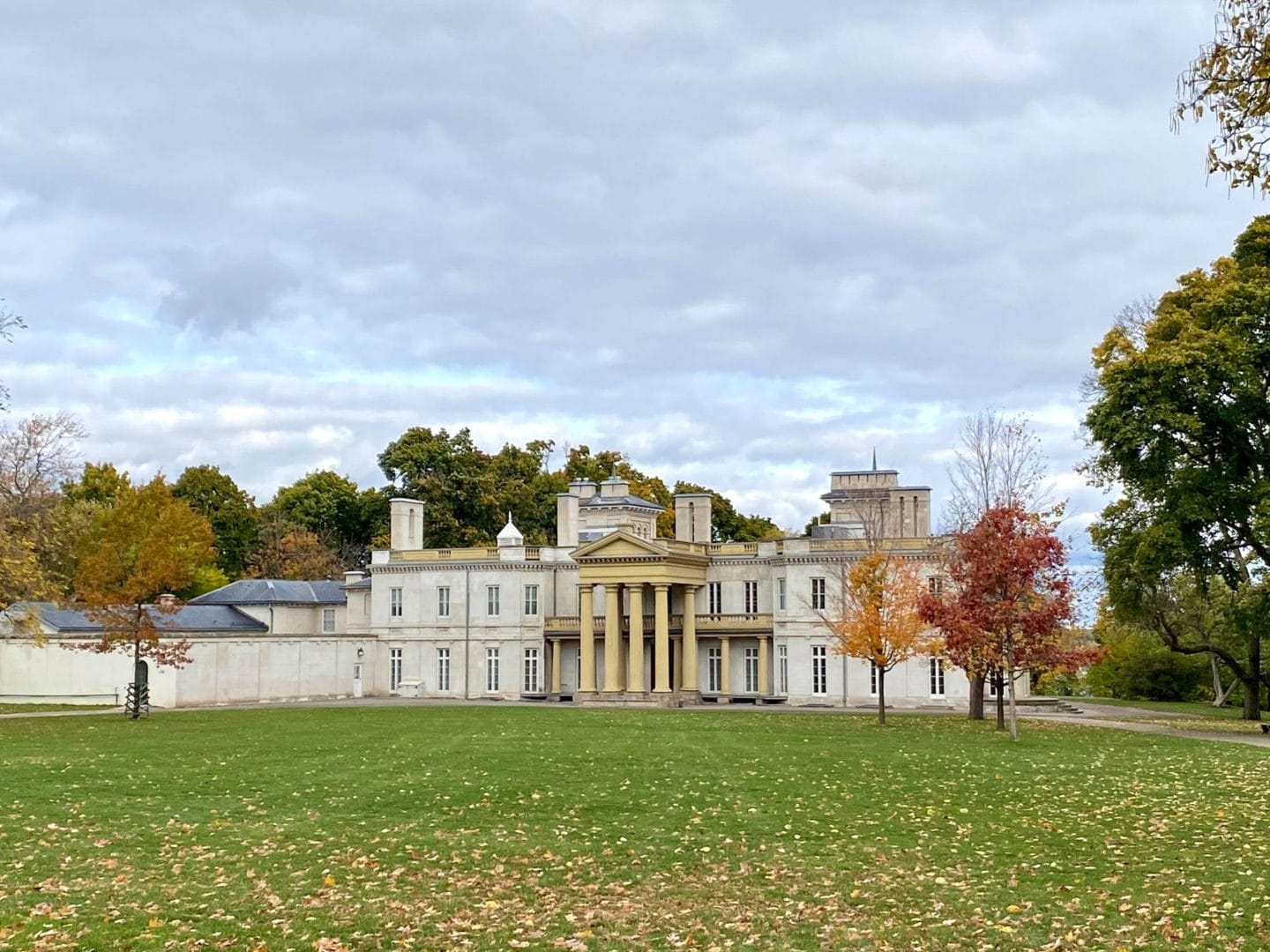 By the way, that $175,000 in 1835 equates to about $5.12 million today – crazy right?
Dundurn Castle became famous throughout the country for its entertainment. Even Sir John A. Macdonald and King Edward VII have been entertained here.
Who was Sir Allan MacNab?
Born in Niagara-on-the-Lake, MacNab served during the War of 1812 when he was 15. After his time during the war, MacNab studied law in Toronto and became a lawyer. In 1826, he moved to Hamilton and opened a law office, but it was mainly by buying and selling land by which he made his money.
He became the Premier of the Province of Canada between 1854 and 1856. MacNab also helped suppress the Upper Canada Rebellion of 1837, for which he was knighted in 1838 by Queen Victoria.
MacNab was married twice. His first wife, Elizabeth died due to complications in childbirth. They had two children together but MacNab's only son, Robert, died during his childhood.
He then married his second wife, Mary, and they had two daughters together, Minnie and Sophia. Mary later died from consumption (tuberculosis).
And here's an interesting fact for you: Camilla, Duchess of Cornwall, is a descendent. MacNab is her great-great-great grandfather.
Tours
Tours are open to the public! Access to Dundurn Castle is by guided tour only from Tuesday-Sunday from 12:00-4:00 pm. It's advised you book your tickets online since tours are only offered in groups of 9.
The Dundurn Castle tour is around an hour in length and takes you through the castle's 40 rooms which includes the basement, main floor, and upper floor.
Your guide will show you how the MacNab family lived upstairs and how the servants lived and worked in the basement!
I wish we had more time to explore. I could've easily spent an afternoon wandering around.
We had an amazing knowledgeable guide. It was so fascinating to get an inside look at what life was like in the mid 1800s. Guides are dressed in costumes akin to the time period.
Children are welcome since the guides are quite used to entertaining them. There are numerous children's programs offered here at Dundurn, from cooking to costume-designing.
It's important to note that there is no stroller or wheelchair access.
Tickets
At a cost of $14 for adults, $12 for students and seniors, and $8 for children 6-12 and $37 for a family with unlimited children under 18, it is well worth the admission fee!
We purchased tickets online and completed a Covid screening test prior to arriving.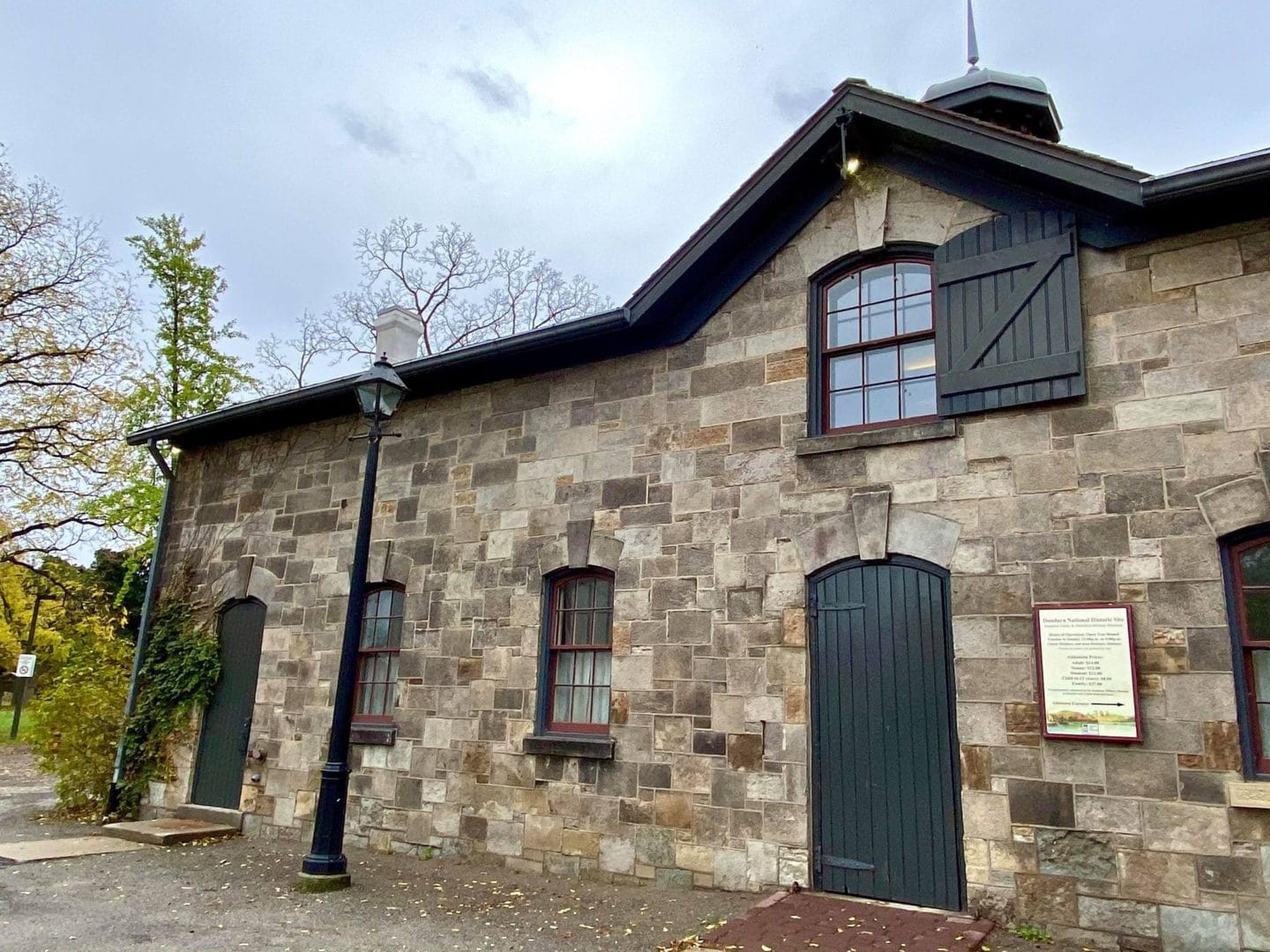 Once you arrive (parking is free!), you head around to the Coach House and present (or buy) your tickets. You'll be escorted into a waiting room and since we had a small group of 9, we were quickly on our way.
Basement
We started our tour by going through the servant's entrance into the basement, where 20 of the 40 rooms are located at Dundurn.
For being the servant's quarters, it was remarkably comfortable! An impressive array of rooms ranged from an original gunpowder magazine from the War of 1812, a refrigerator (not like the ones we know today!), pantry, dining room, laundry room, bedrooms and more!
MacNab was often criticized by the way he treated his servants. Their living conditions were incredibly comfortable and their lives were pretty awesome compared to others.
Cozy living conditions, endless supply of beer, and meals? Their pay wasn't more than $3-$7 a month, but they were able to live here for free.
Kitchen
We started with a tour of the kitchen, which was a massive space just for one cook! This cook was responsible for cooking seven meals a day for all of the servants and the family living here.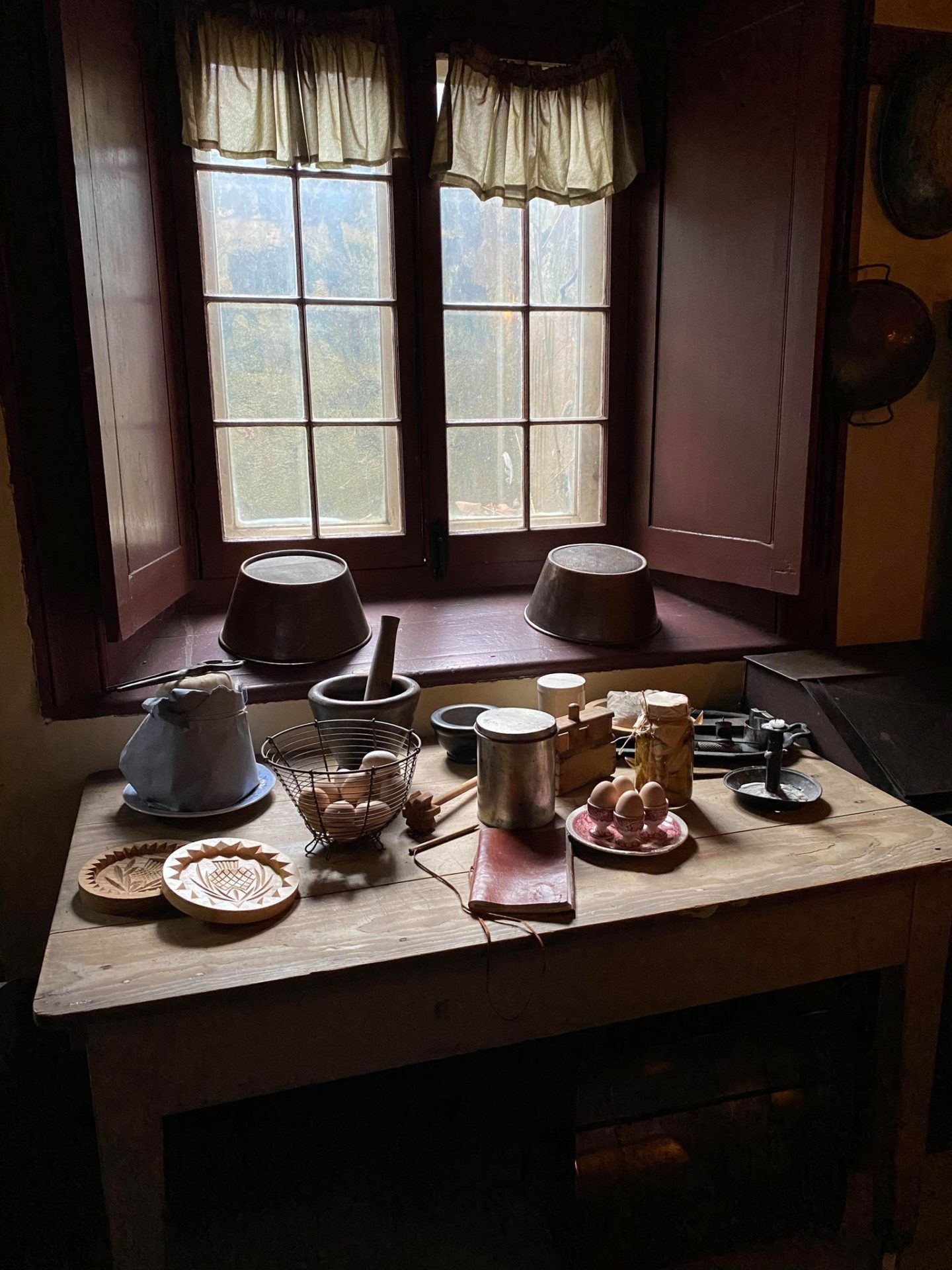 What was really interesting was the wall of bells. Eleven bells for eleven rooms – each with their own tune. I wonder how long it took the cook to differentiate between the rooms?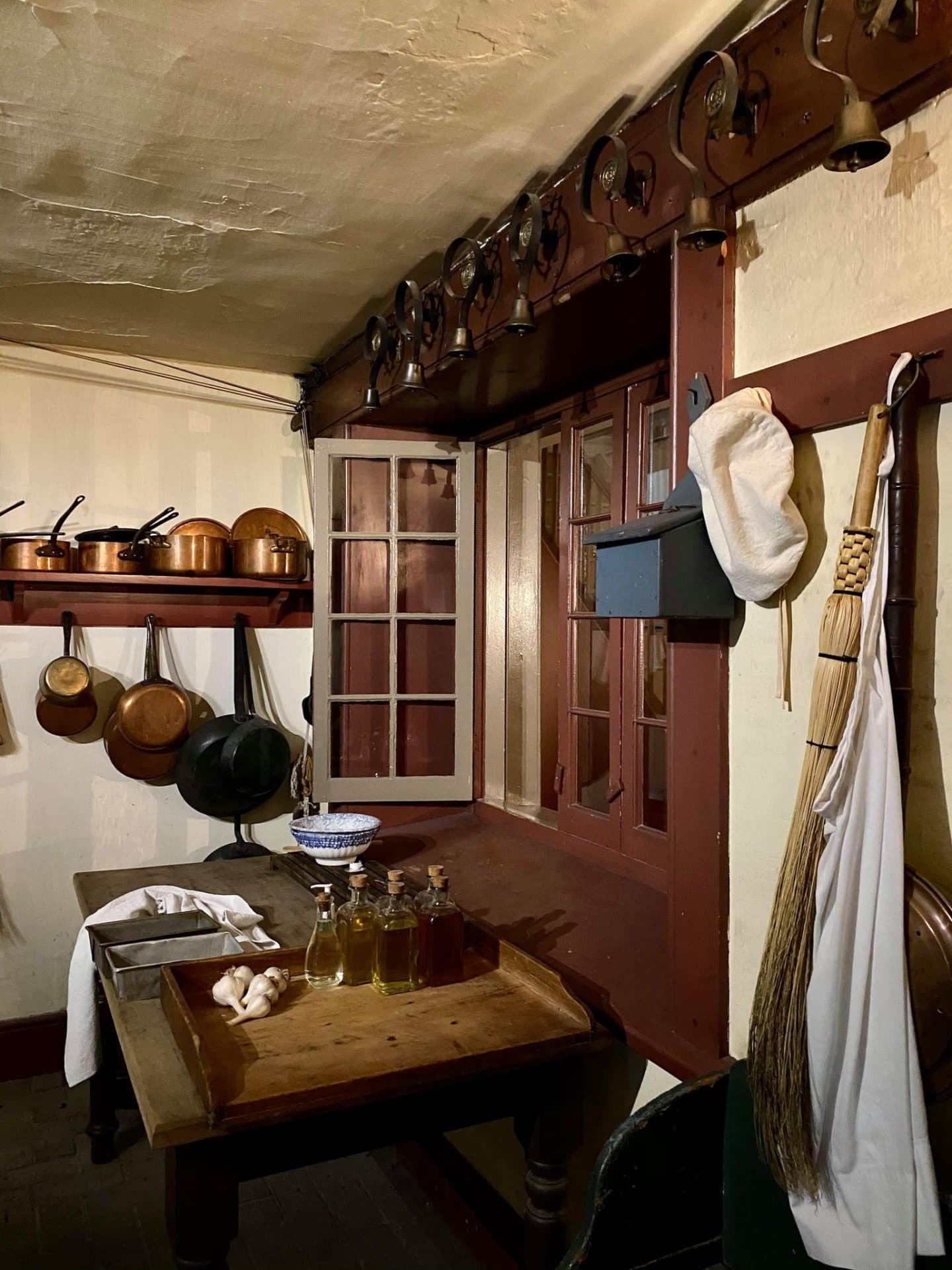 I was fascinated by the gasolier light – it was literally a gas pipe with a spigot attached with a lever to ignite a flame – and that was their lamp. Because it was so expensive, it would only be turned on in the evening.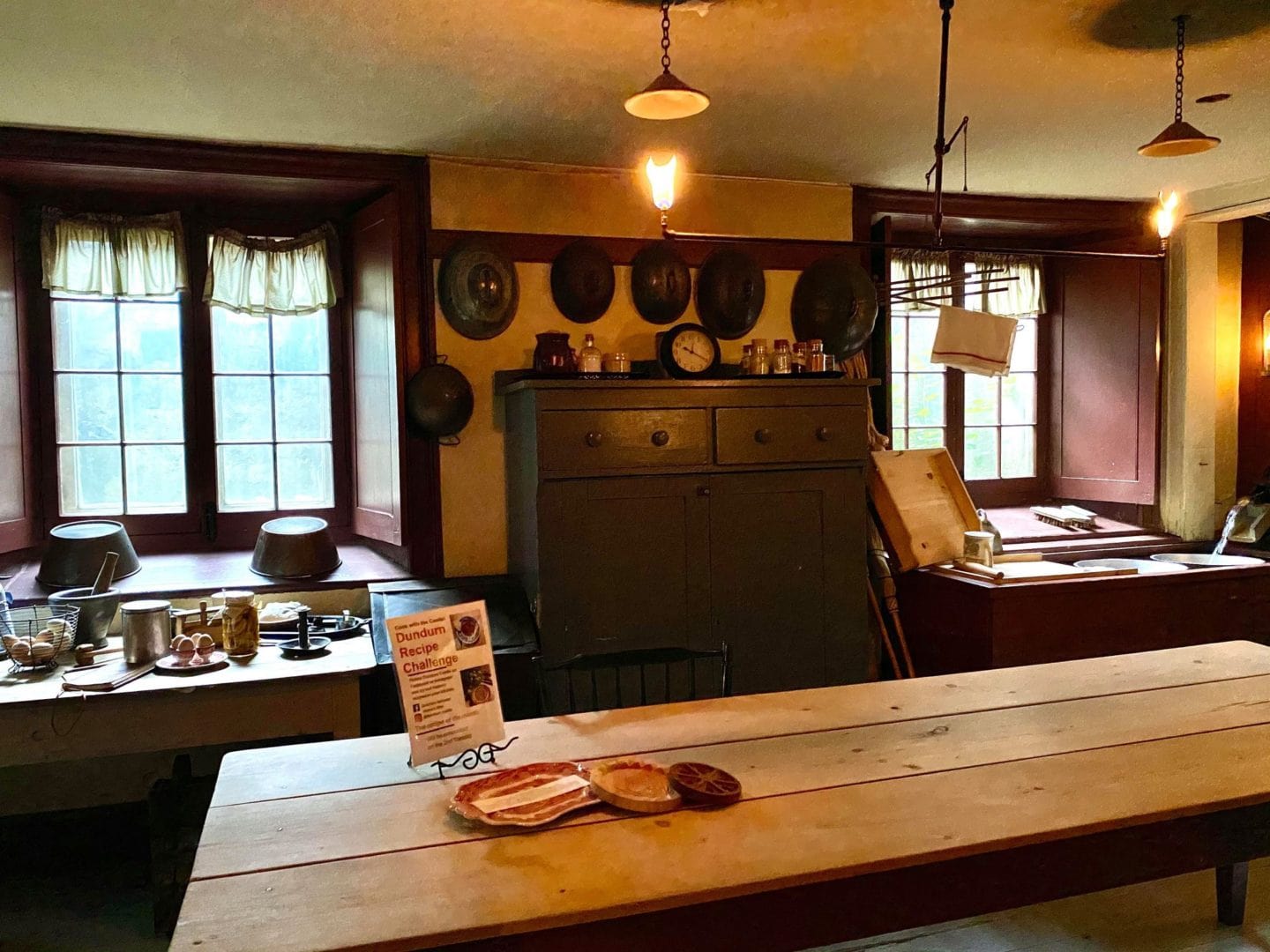 There were a few windows in the kitchen but it was still dimly lit (I thought). We were told that if you couldn't read the recipe, you'd just have to go over to the window for more light and hope it was a sunny day. 😂
A costumed cook was in the kitchen baking a lemon cake while we were there, using simple ingredients and a 19th century cast iron wood-fired range.
Dining Room
This cozy room is where the servants would dine. I can imagine the camaraderie happening during this time.
Ice Cellar
This was fascinating! A 13 foot deep pit was tucked away down the hall and acted as their ice storage. Layers of it would be packed between straw and essentially would last up to a year. Pretty impressive!
Wine Cellar
Because who wouldn't want a room dedicated to storing wine in their house?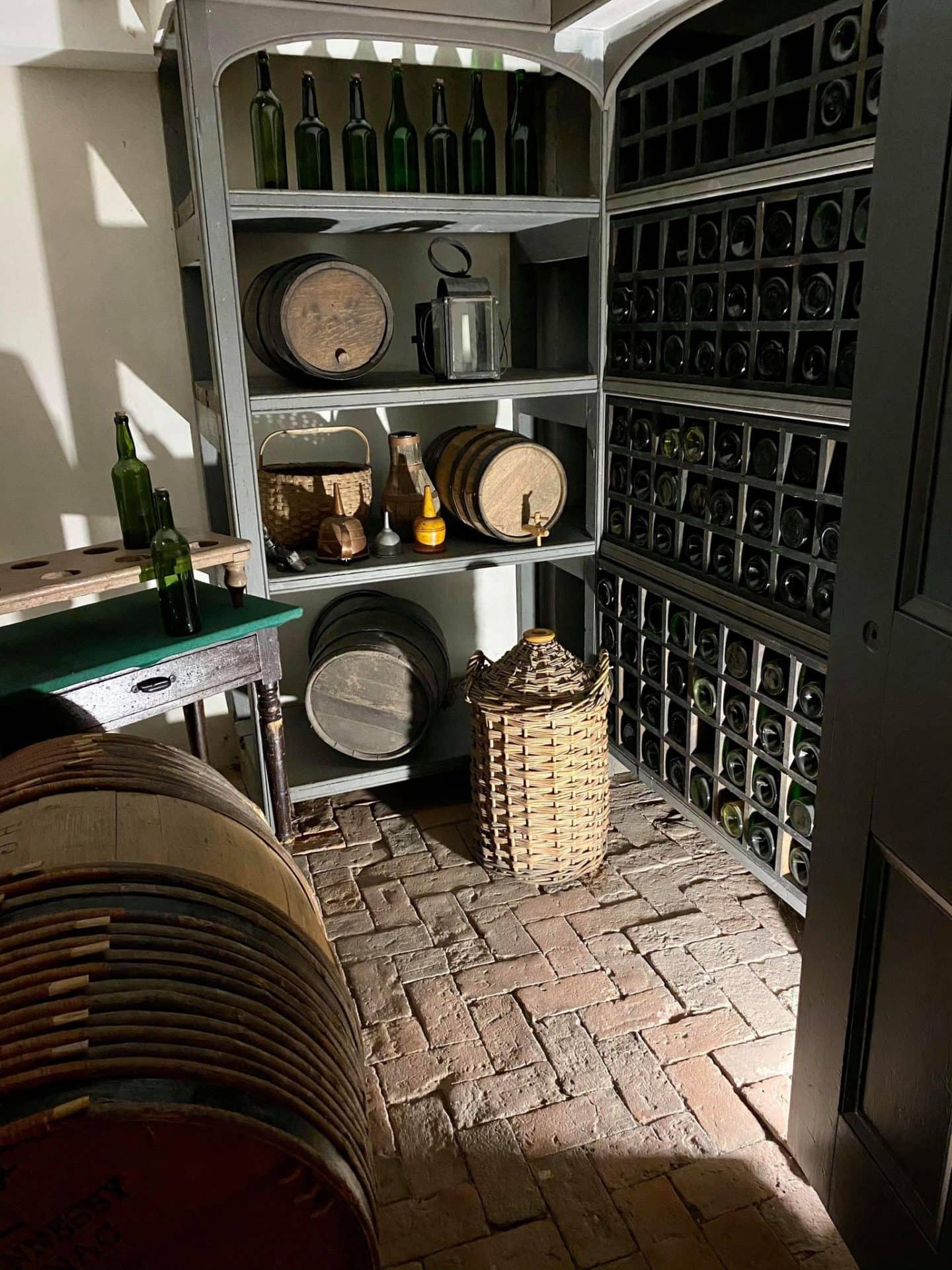 Brewery
Did you know beer was considered a health drink back in the 1800s? This was because you had to boil the water to get rid of bacteria. Hence, healthy.😂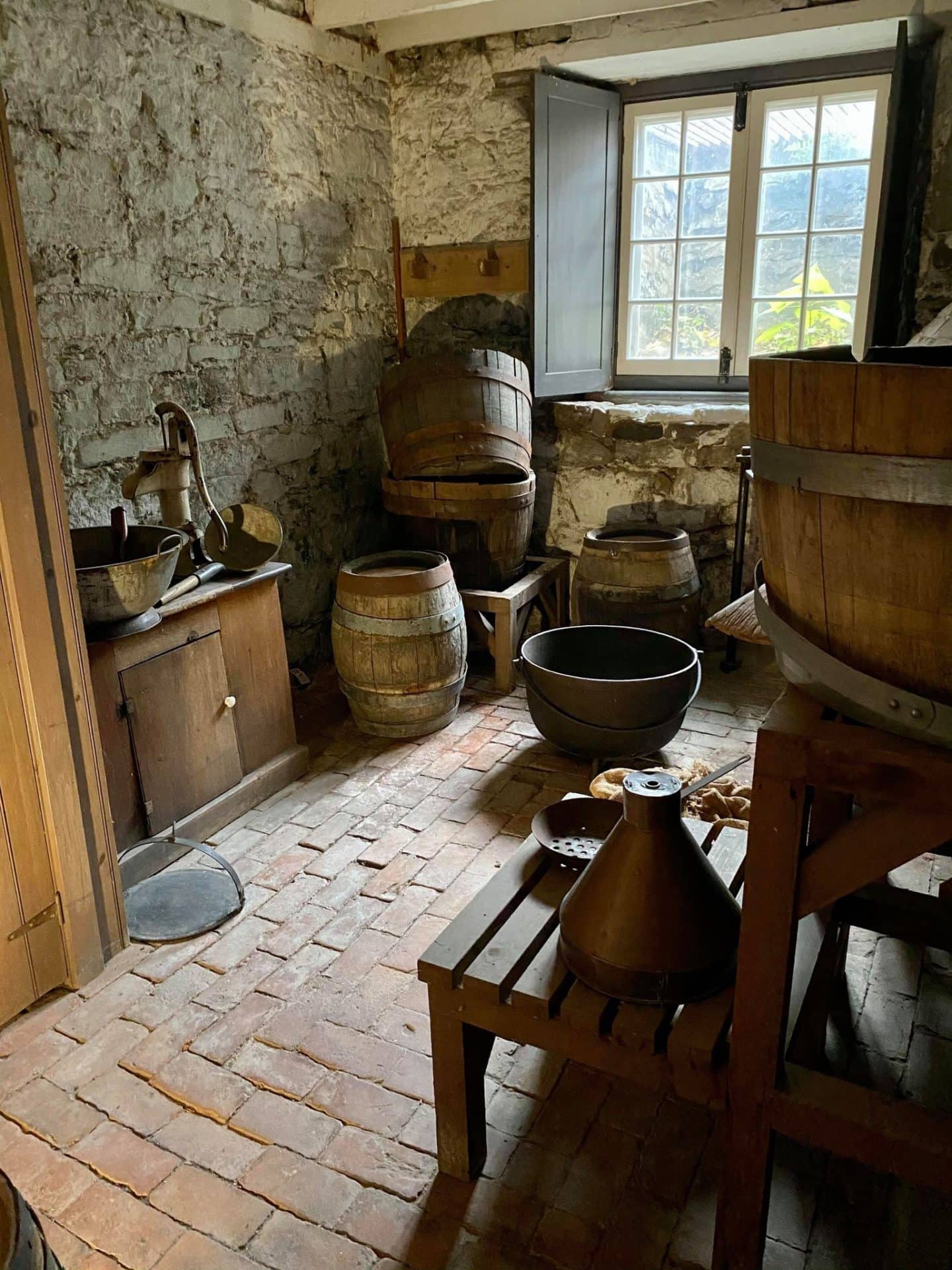 Did you know servants also had an endless supply of beer to drink? Talk about job perks!
Scullery
Historically, a scullery-maid would essentially clean dishes and chamber pots all day. Not a glamorous job by any means, but still better off than most during this time.
We were told that a surefire way to lose your job was to break dishes. I laughed when we were told that when they lifted the floorboards later on, they found a bunch of broken dishes. 😂
Luggage Storage
Ok, this is a room I can identify with! How awesome would it be to have an entire room dedicated to storing your suitcases?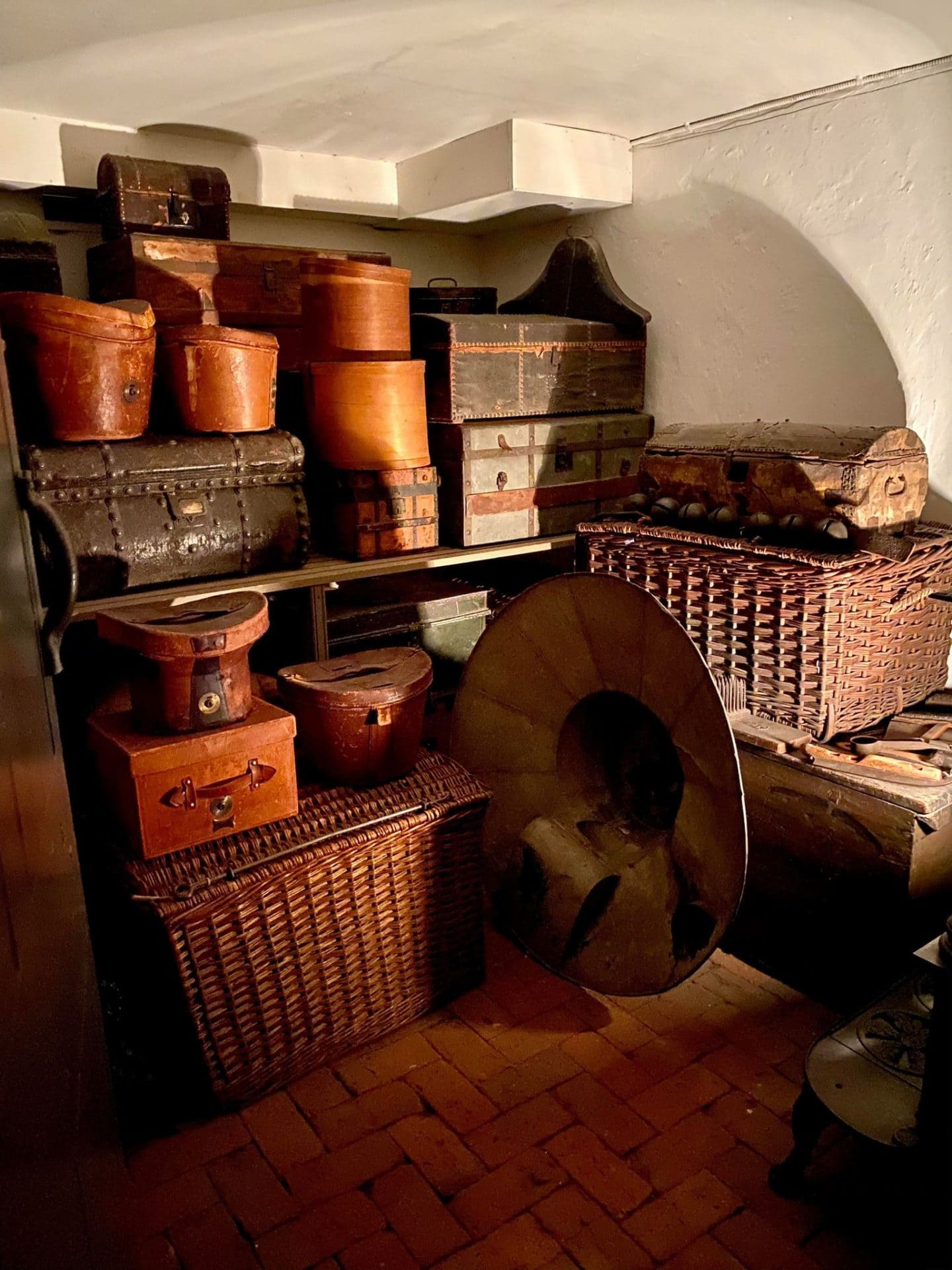 Main Floor
Original tile work lines the front hallway at an impressive front entrance. You could tell the substantial differences between the basement (servant's quarters) and the main floor, where the family lived.
Staircase
This impressive staircase was once just floating without any support under it. What?! How could that be safe, and wouldn't it wobble?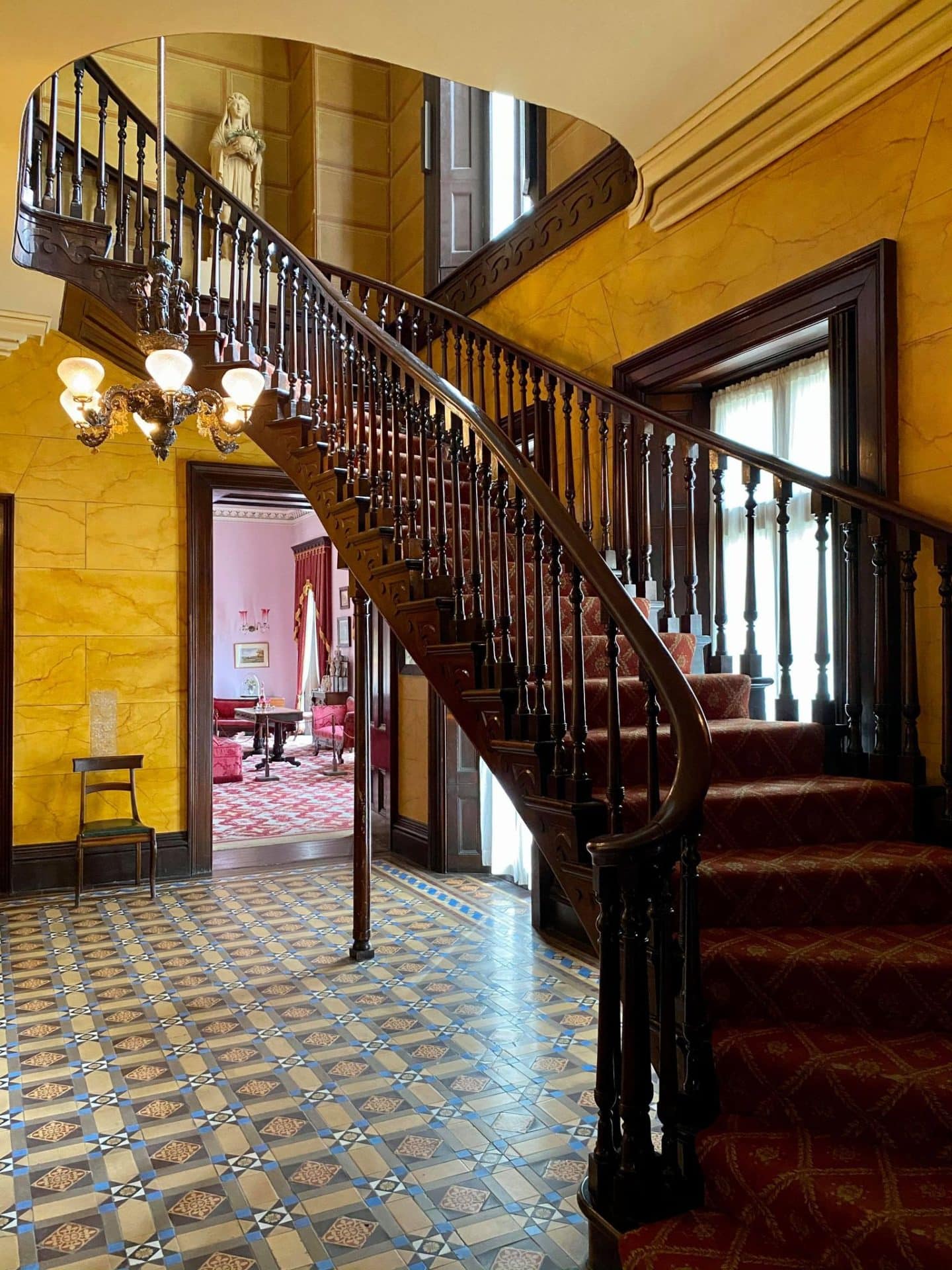 It's since had a support beam installed under it, but I've never seen one like it.
Dana joked about sliding down the railing and our guide said a servant's child rolled a cannonball down the railing and cracked the tile. It's since been restored but I wonder if the servant had a job long after that?😨
Sitting Room
One look at this room and you'll be in awe. Pink hues with high vaulted ceilings and ornate plasterwork are incredible.
I would love to have afternoon tea in here!
This is the room where Sophia was married with 150 guests – standing room only!
Once Sophia married, she moved to England and never returned. MacNab was able to visit a few times, but eventually the journey became too difficult for him.
Library
I want this room at home! It looked like the perfect room to unwind and relax in.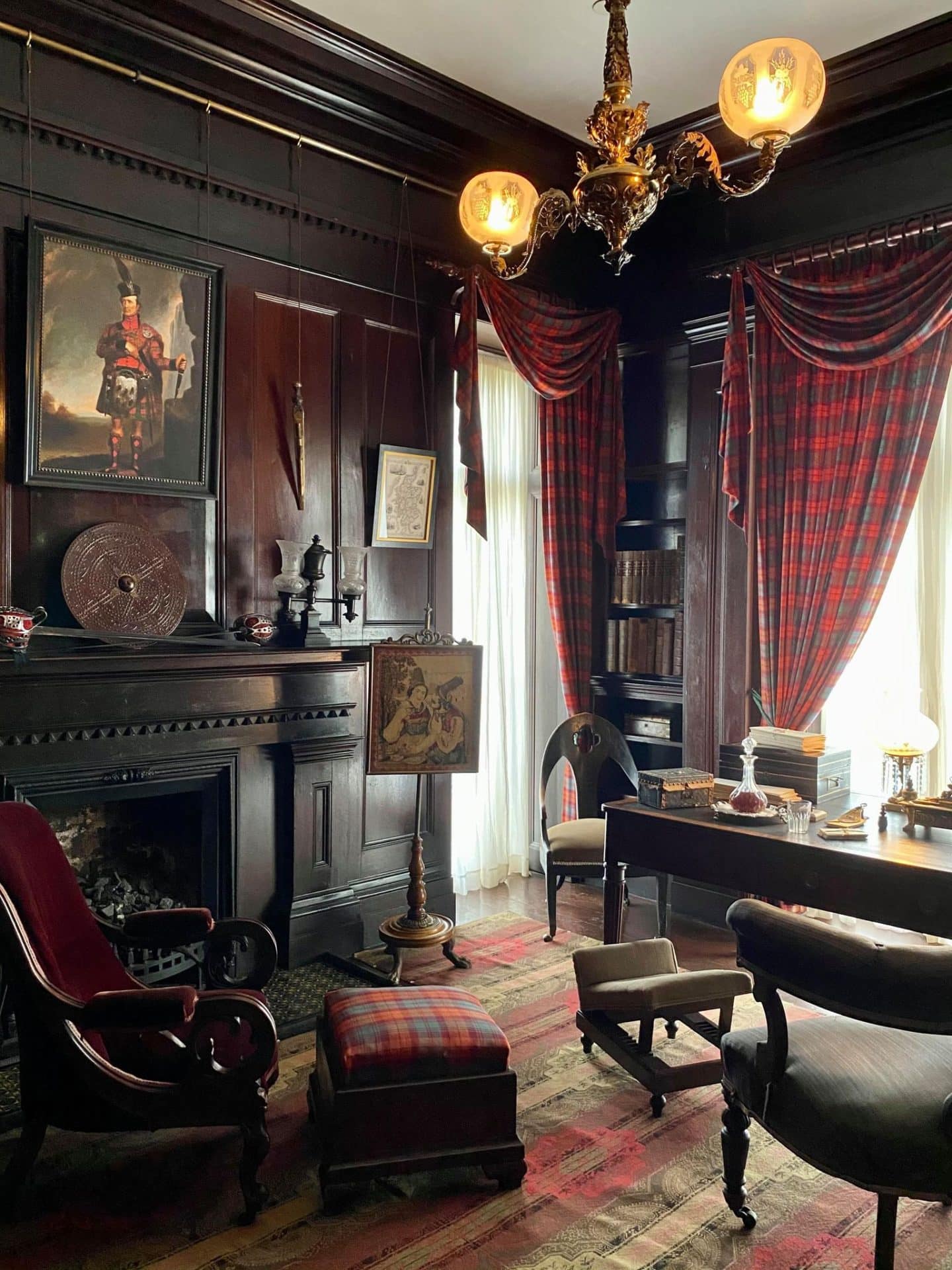 I would love to know what collection of books line those shelves!
Dining Room
Ok – wow – this chandelier! This huge dining room was rarely used since it would cost a fair amount to heat the room and would be used for special occasions.
Family portraits line the walls and on either end of the room is an area to place the dishes for the next course. There was even a hidden area to store bottles built into the wooden structure. 😉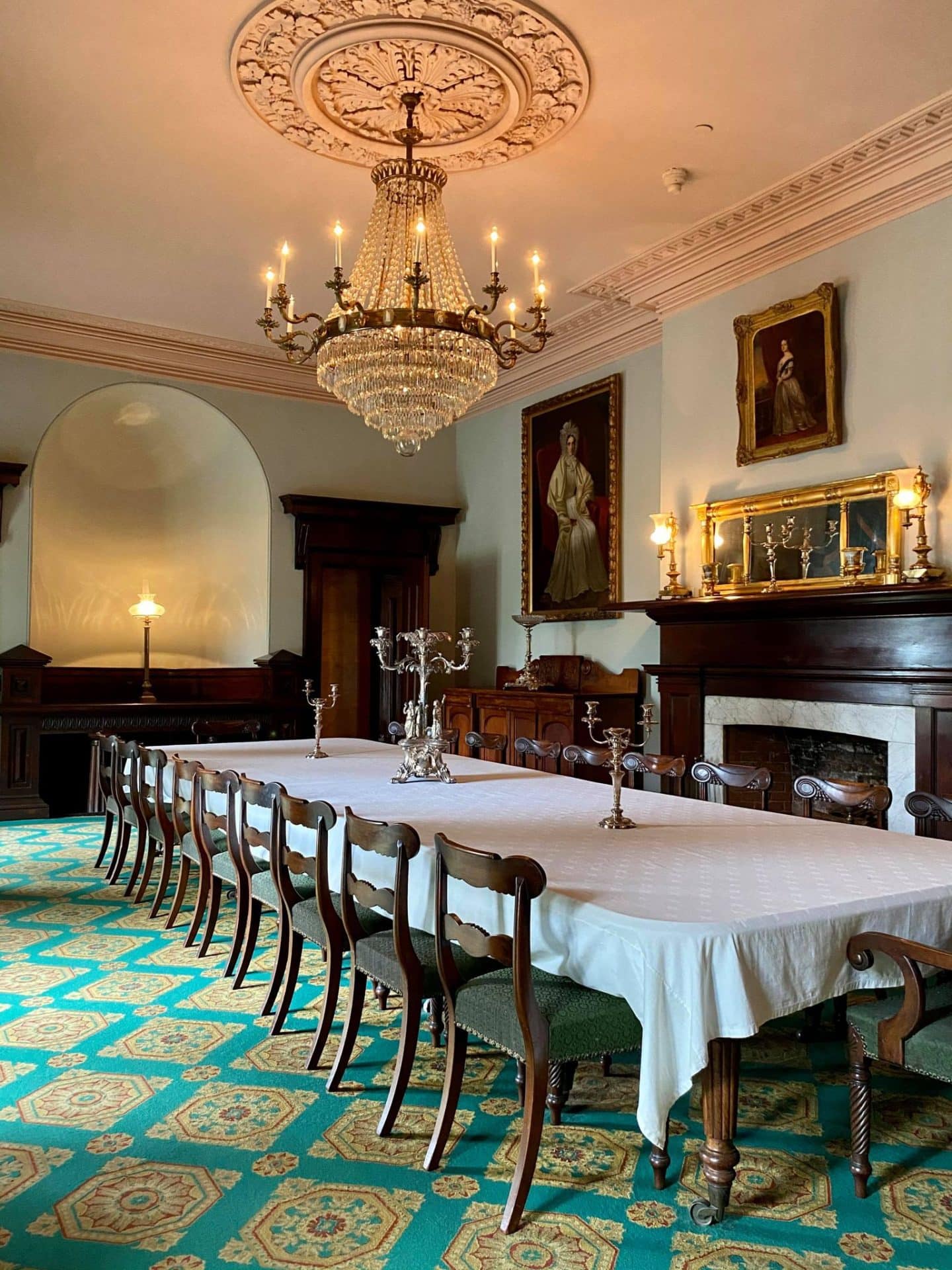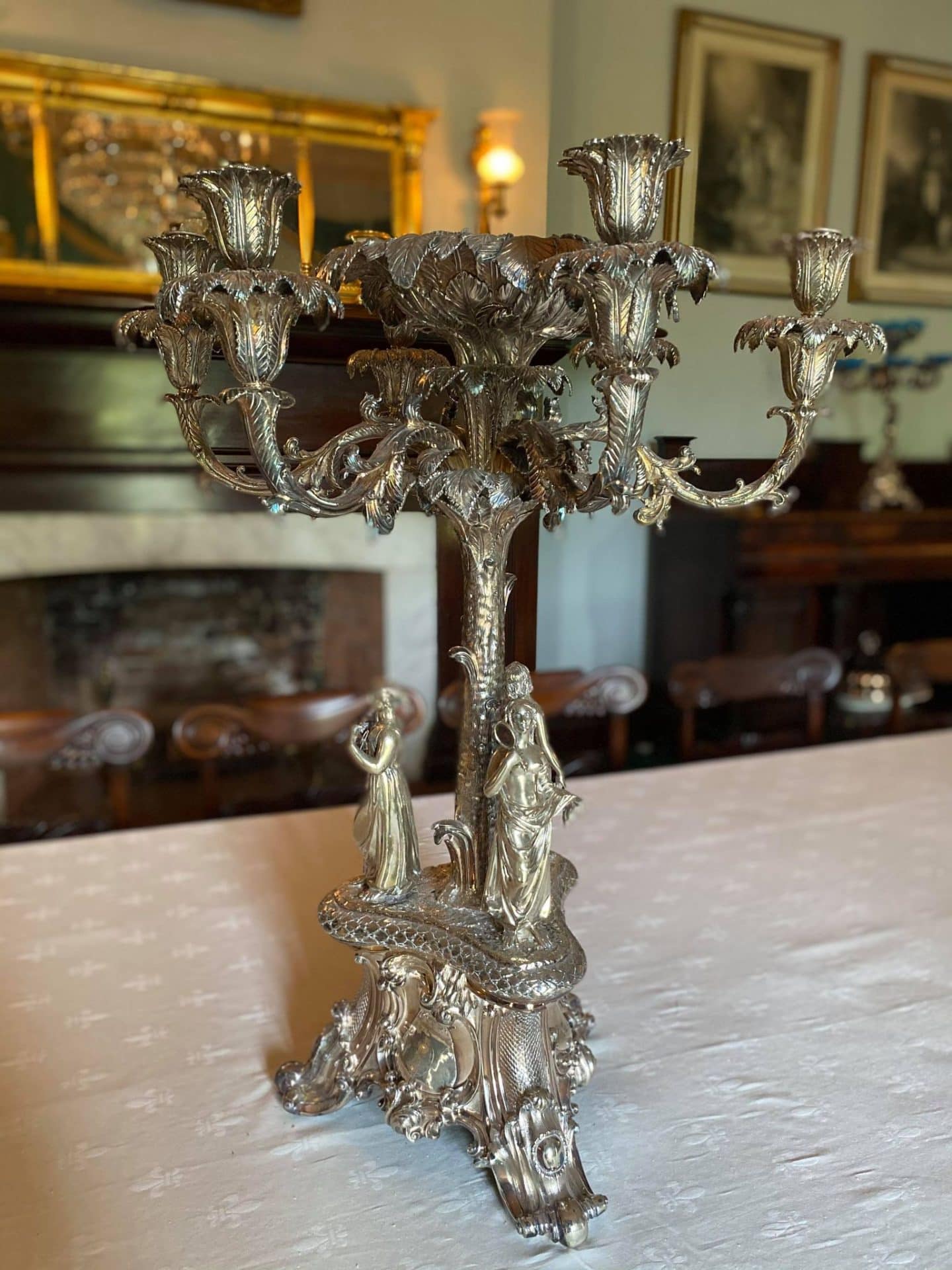 The Butler's pantry was just off of the dining room. There was also a dumbwaiter, a mini food elevator that would come up from the kitchen in the basement.
Front Facade
These pillars were installed in 1855 for MacNab's daughter Sophia.
She was getting married to British royalty and thought the iconic pillars would zhuzh up the already impressive front of the building. No expense spared! (Hey dad, are you reading this?😂).
Upper Floor
Upstairs contained bedrooms, a large bathroom with bathtub, an ornate water closet with an ornate porcelain bowl (because why not?😂), sick room, nursery, and MacNab's bedroom.
Children's Nursery
This is the area where Sophia and Minnie were raised. It's been updated to the year 1855 so not quite a nursey in the sense we know, but it was an area that had the two girls rooms and a sitting area.
What I found interesting is each room had a lever on one of the walls, which if turned, would ring the bell in the kitchen in the basement.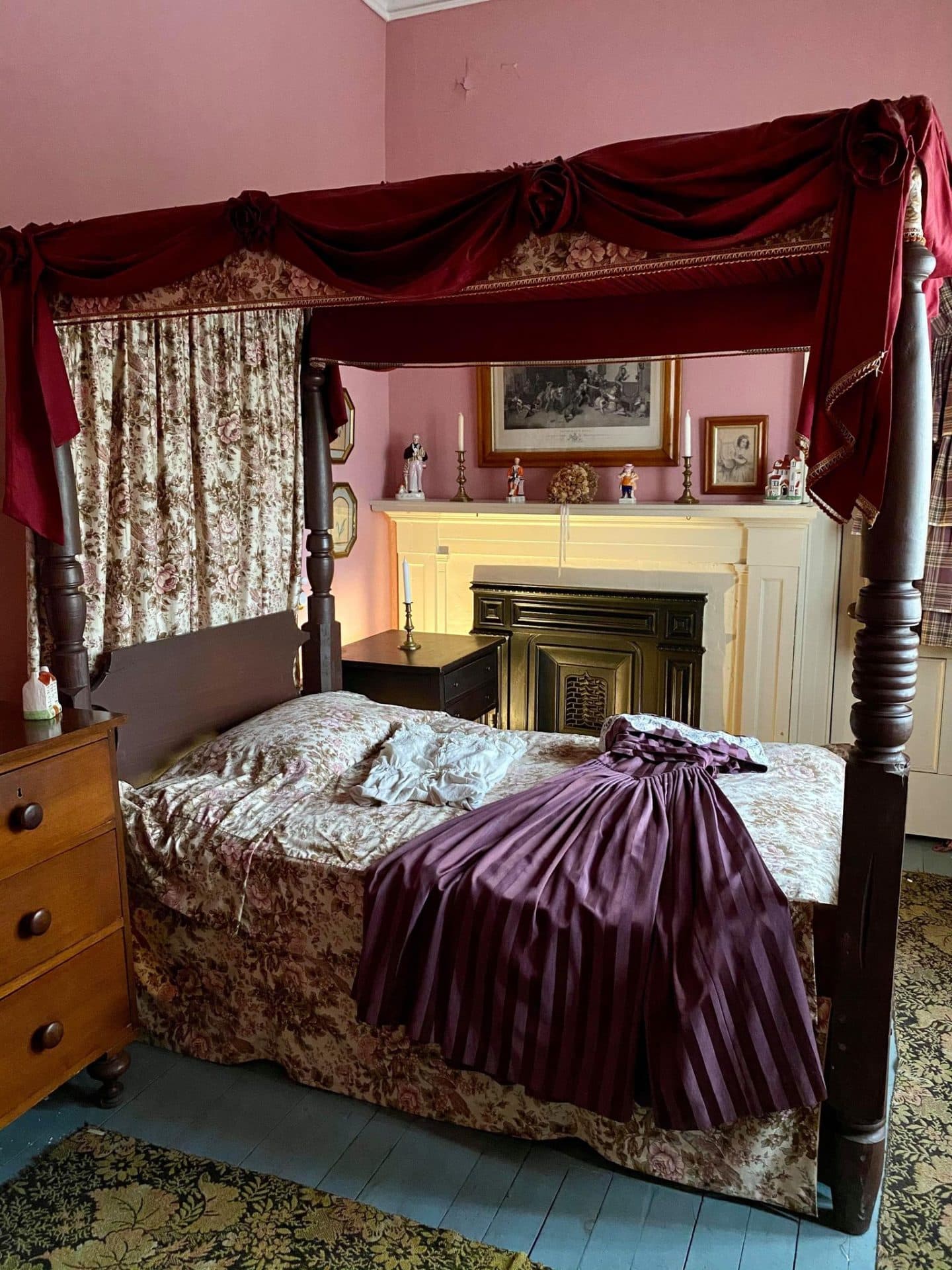 Sick Room
Dundurn had its own sick room! Not a bad place to spend your time resting and (hopefully) recovering.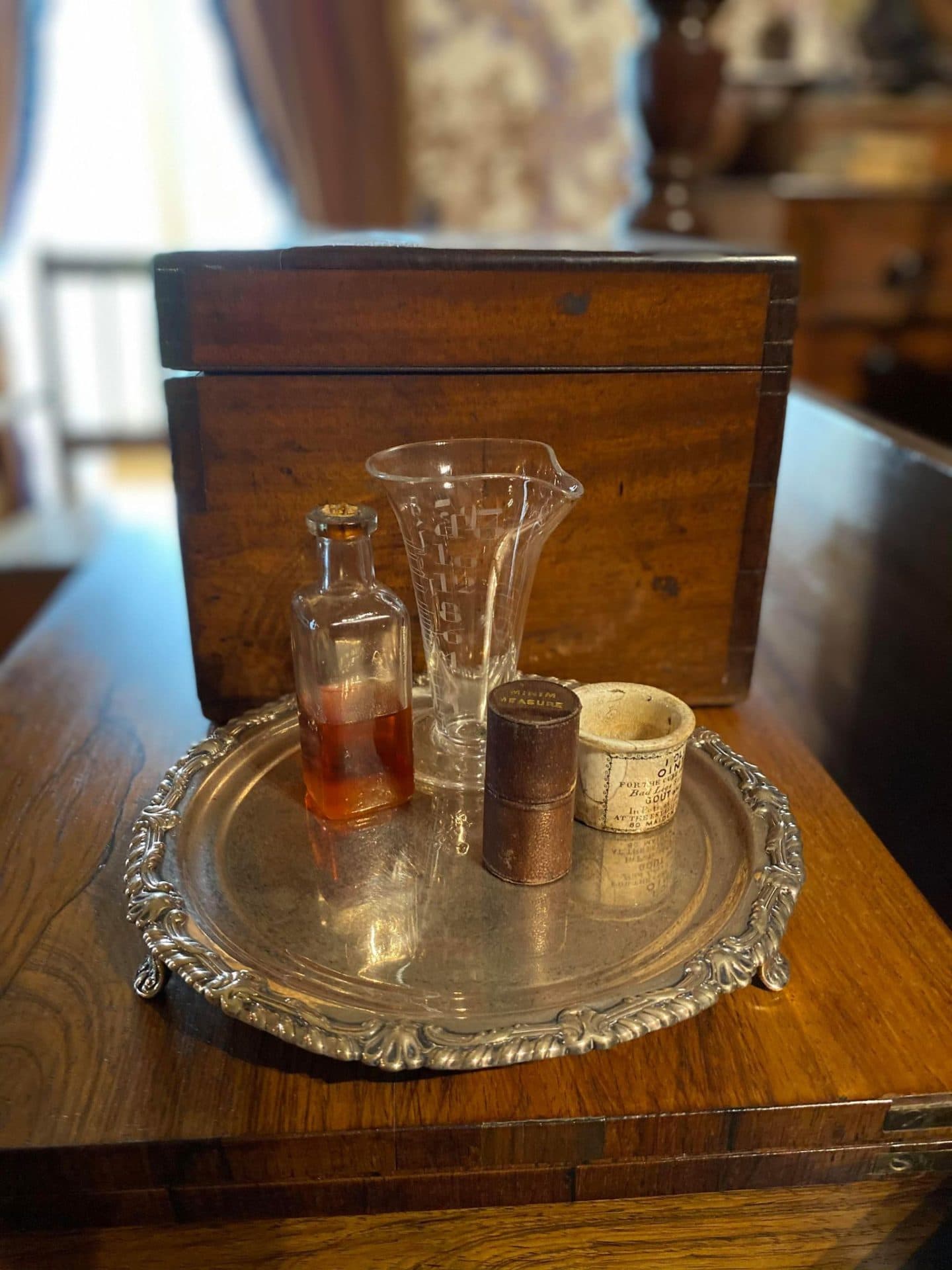 Bedroom and Sitting Room
Each room was decorated different and were so intricate.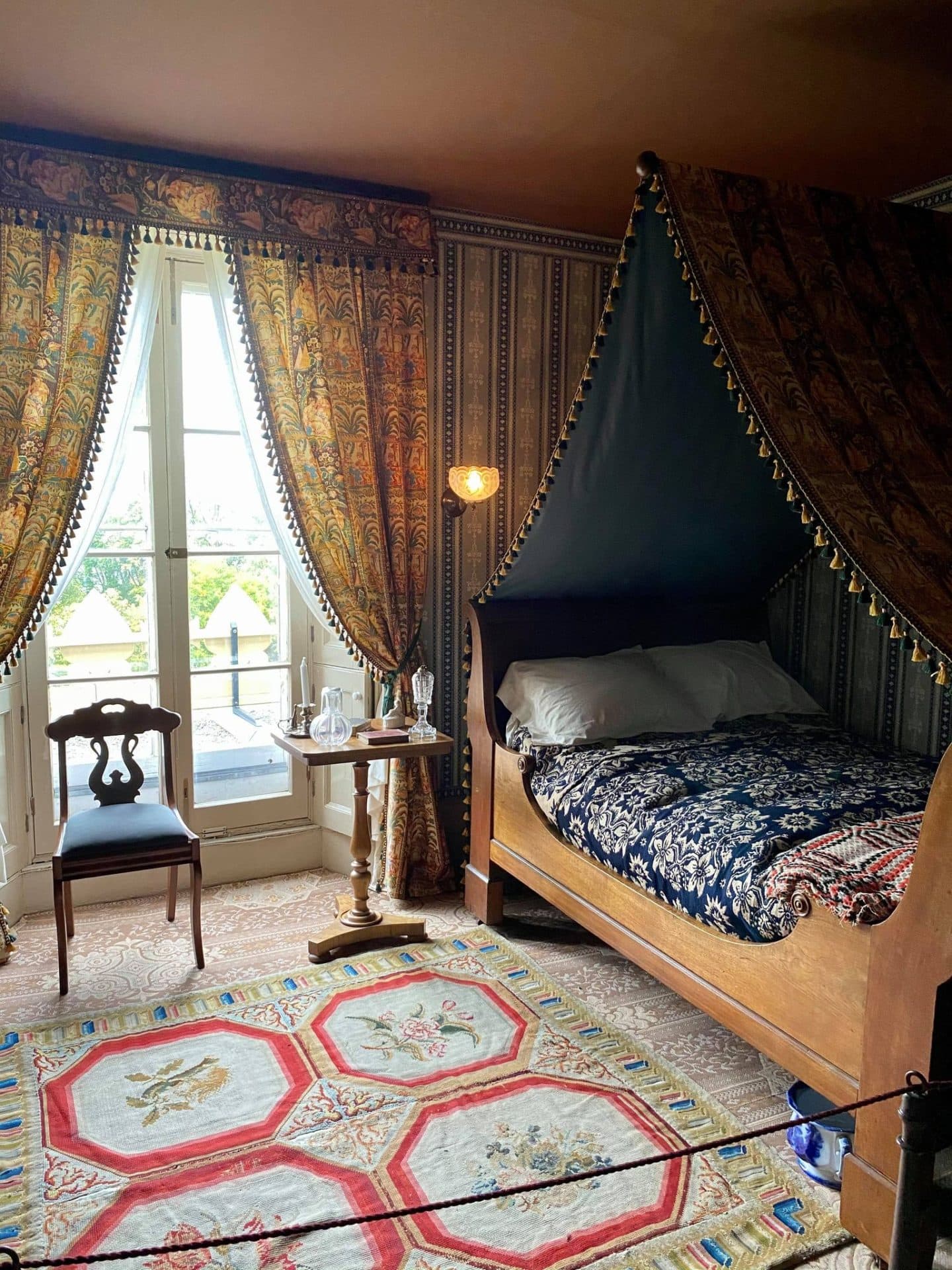 Loved this writing table. There was a family photo sitting on the corner of it.
Bathroom
This bathroom was huge! It contained a bathtub, sink, and dressing table, but no toilet. That was kept in a separate closet with a intricately designed, and dare I say beautiful blue and white porcelain toilet bowl.
Weird. I know. It felt odd to take a photo so I avoided that part.😂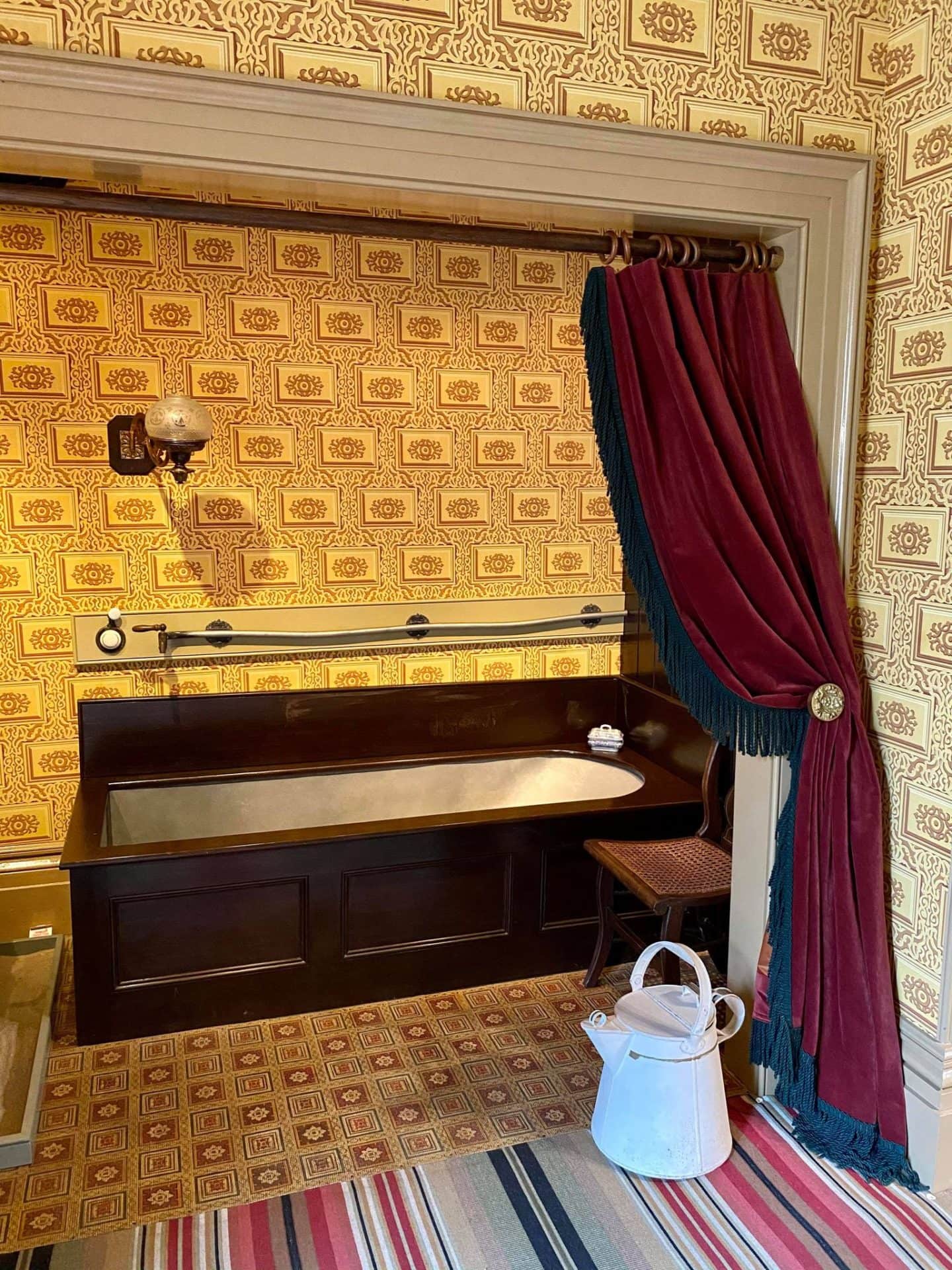 MacNab's Bedroom
Unfortunately there was some damage to the ceiling in MacNab's bedroom so it's currently empty and undergoing restoration, but was easily the best room in the mansion, with its own fireplace and large windows on all of the walls.
I loved the wallpaper in his room.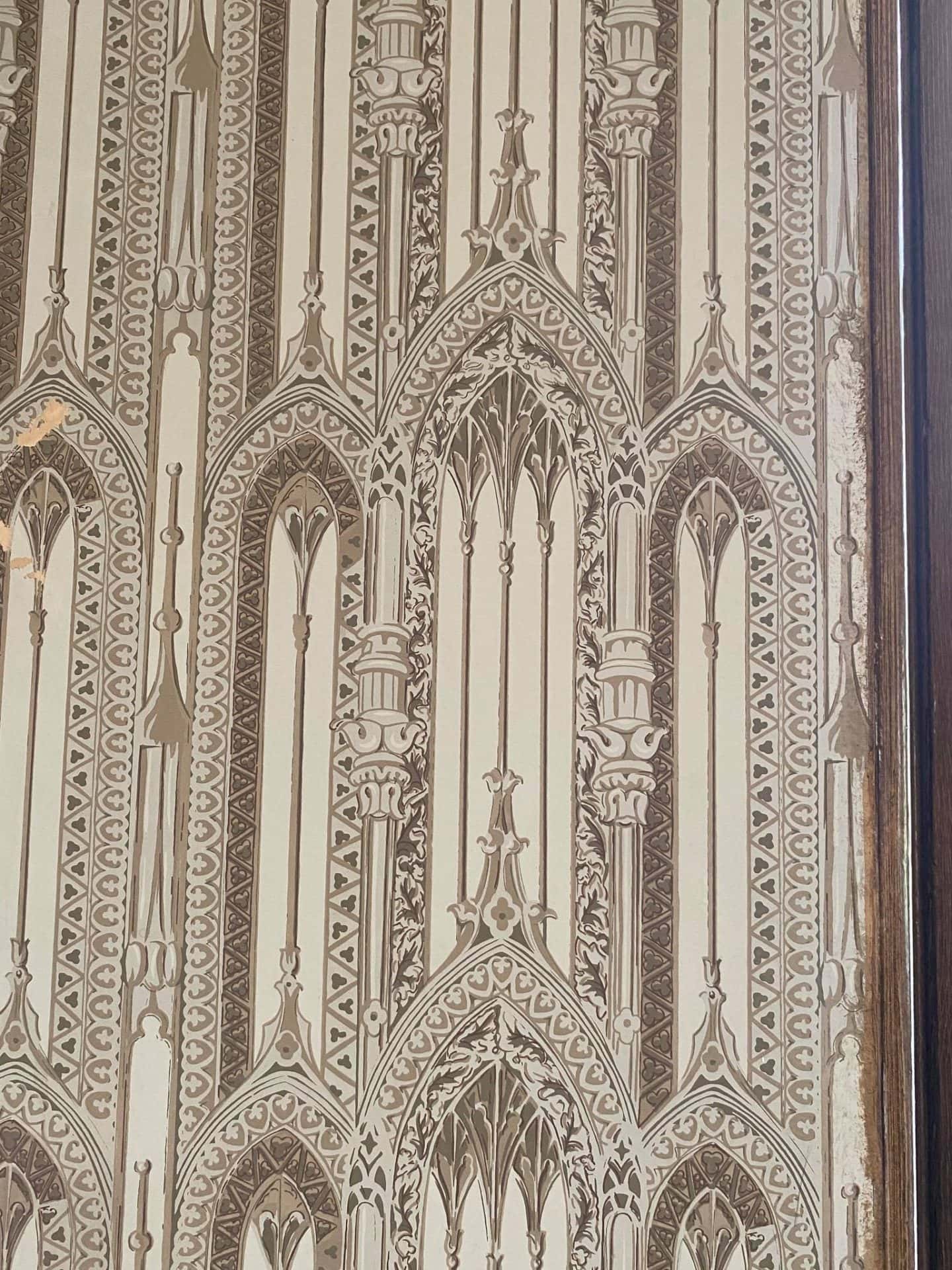 Grounds
Coach House
The Coach House was originally used as the stables and sleeping quarters for the male servants. It's been converted into a rental space and gift shop now, but still maintains its original character that reminded us very much of England.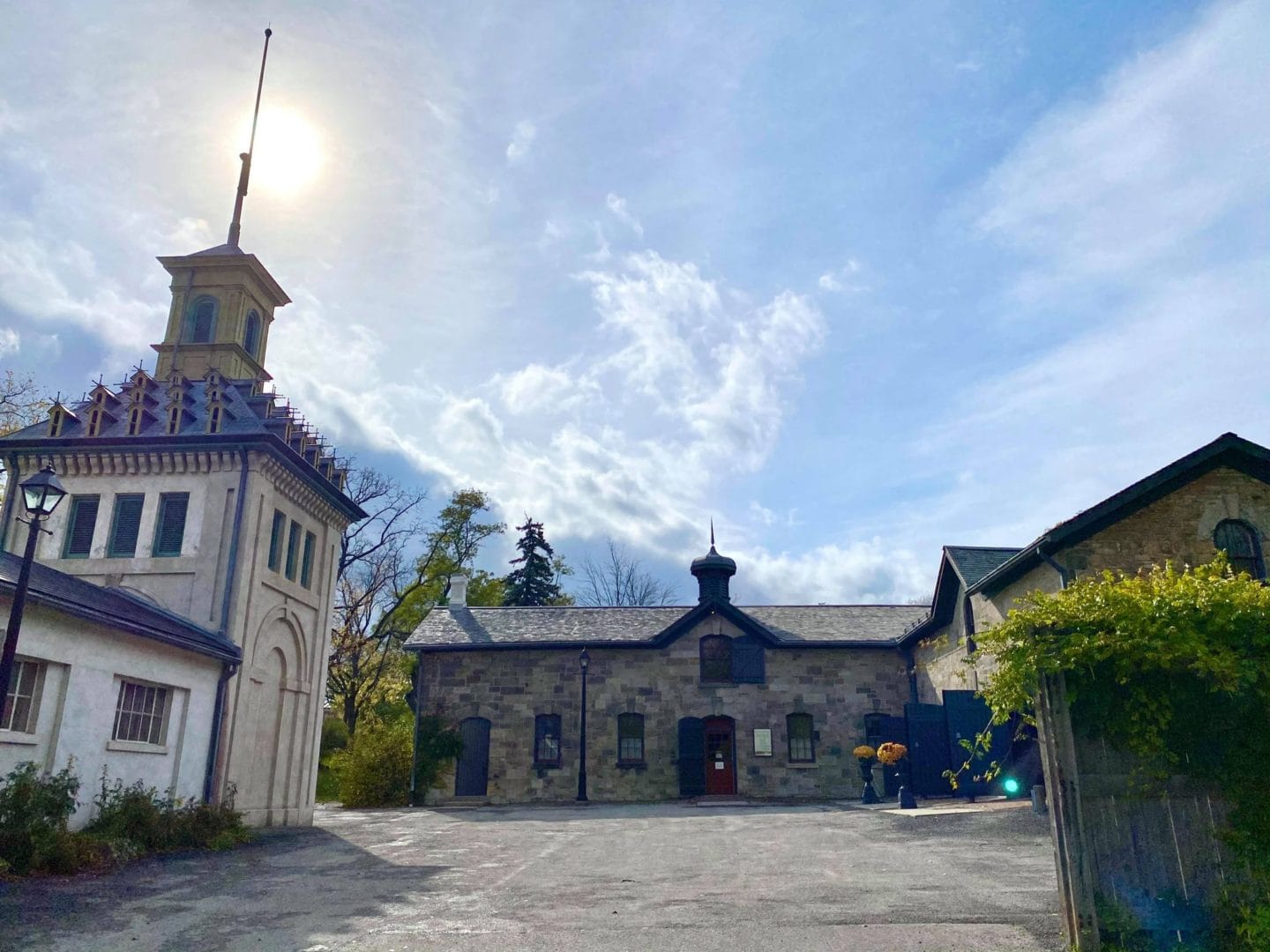 Dovecote
There's an unusual structure right by the Coach House. We looked up and thought, are those bird houses? Yes, yes they were. We thought it was so cute, until we found out what it was actually used for. 😨
Called a dovecote, our guide told us that doves would fly in but they would never leave (cue ominous music!). Doves were considered free food, and thus a source of meals for the family and servants living on the property.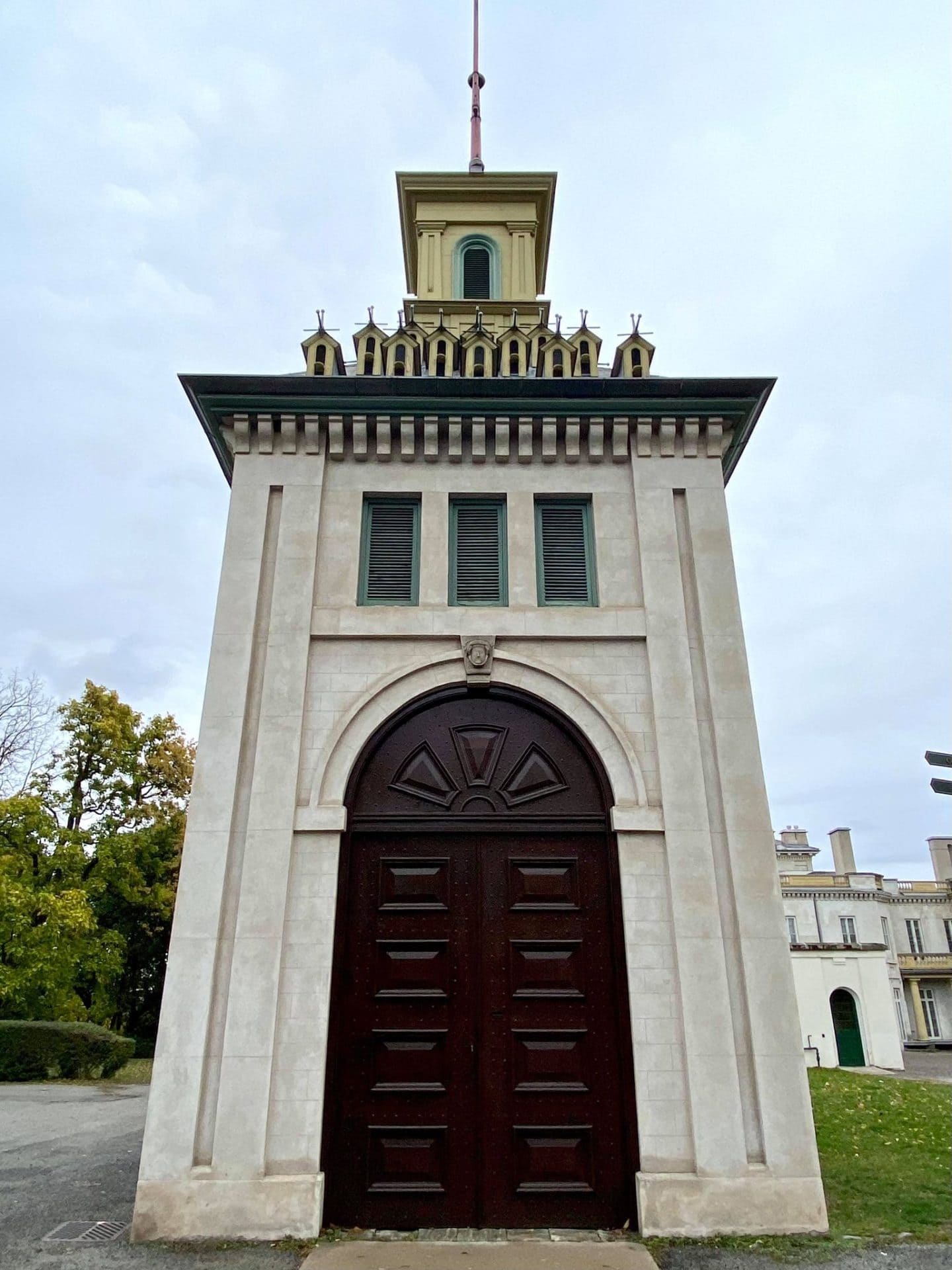 The Cockpit
We saw this beautiful structure surrounded by trees and wondered what it was.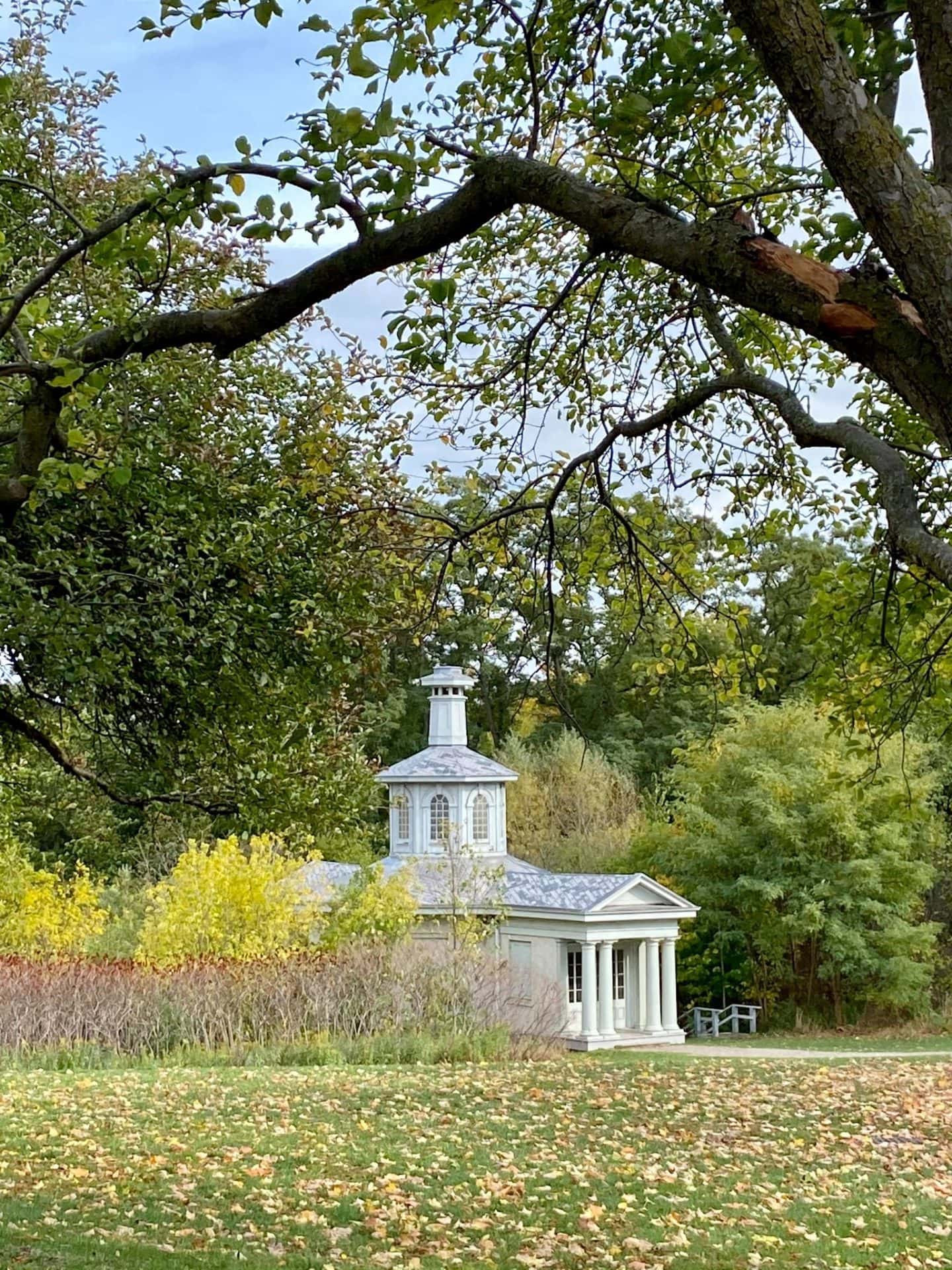 As it turns out, this two-storey building was built for cockfighting. Who would've guessed?😐
Garden
There is a large 2 acre garden on the property growing over 200 heirloom varieties of vegetables, herbs and flowers!
Typically the produce grown here is used in the castle's kitchens for demonstrations and tastings, but this year it was all donated to a local food bank. That was really heartwarming to read!
During July and August, you can visit for free garden tours!
We were surprised to see so many flowers still in bloom. There were notices posted the garden wasn't as tended-to as other years (understandably) but there were rows of green onions, huge cabbages, tomatoes and more.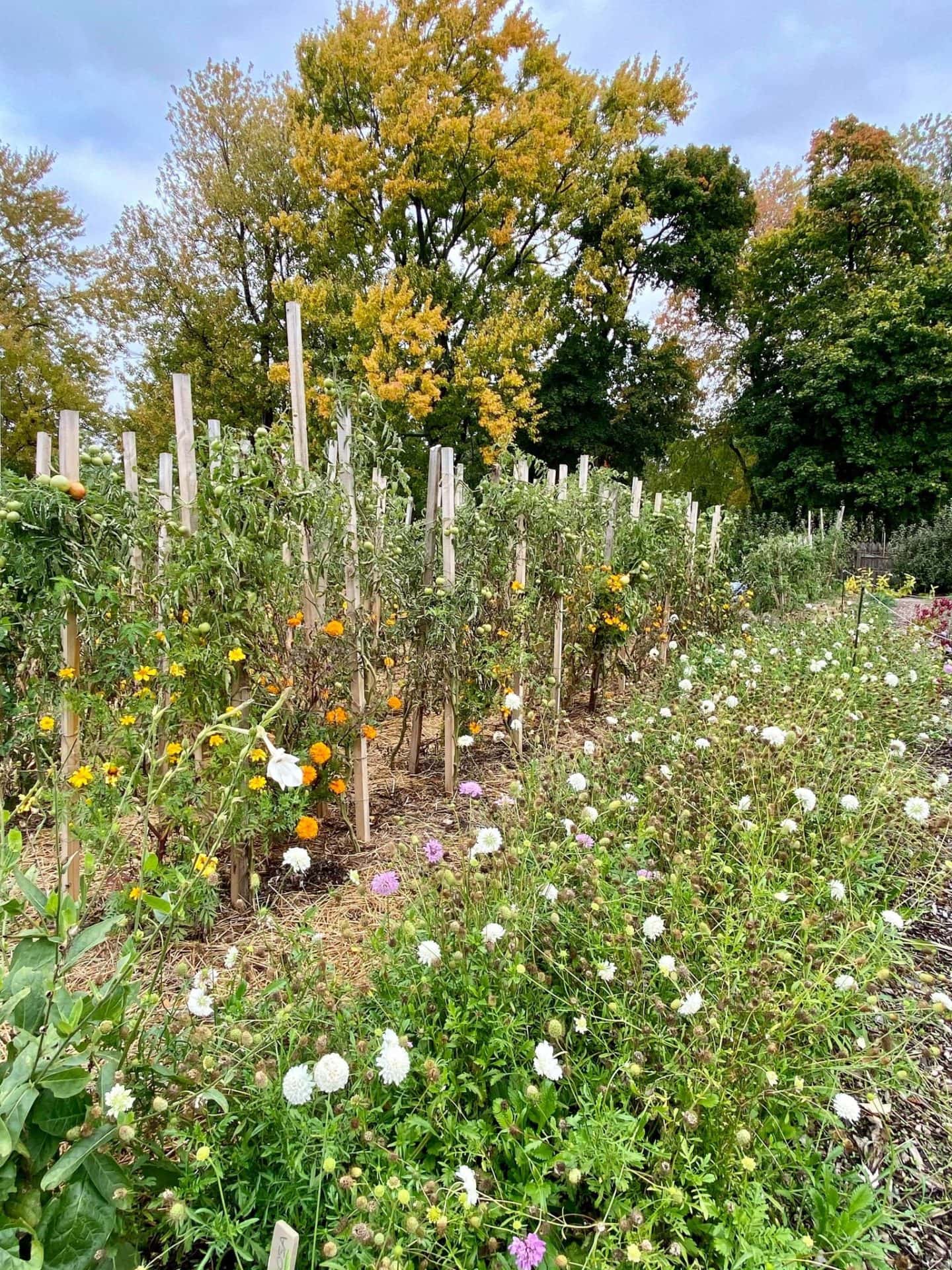 Military Museum
Your ticket also grants you access to the Hamilton Military Museum, on site! It's a small museum featuring artifacts from the War of 1812, as well as information about shipwrecks off the coast of Port Dalhousie, the only ones intact from the War of 1812.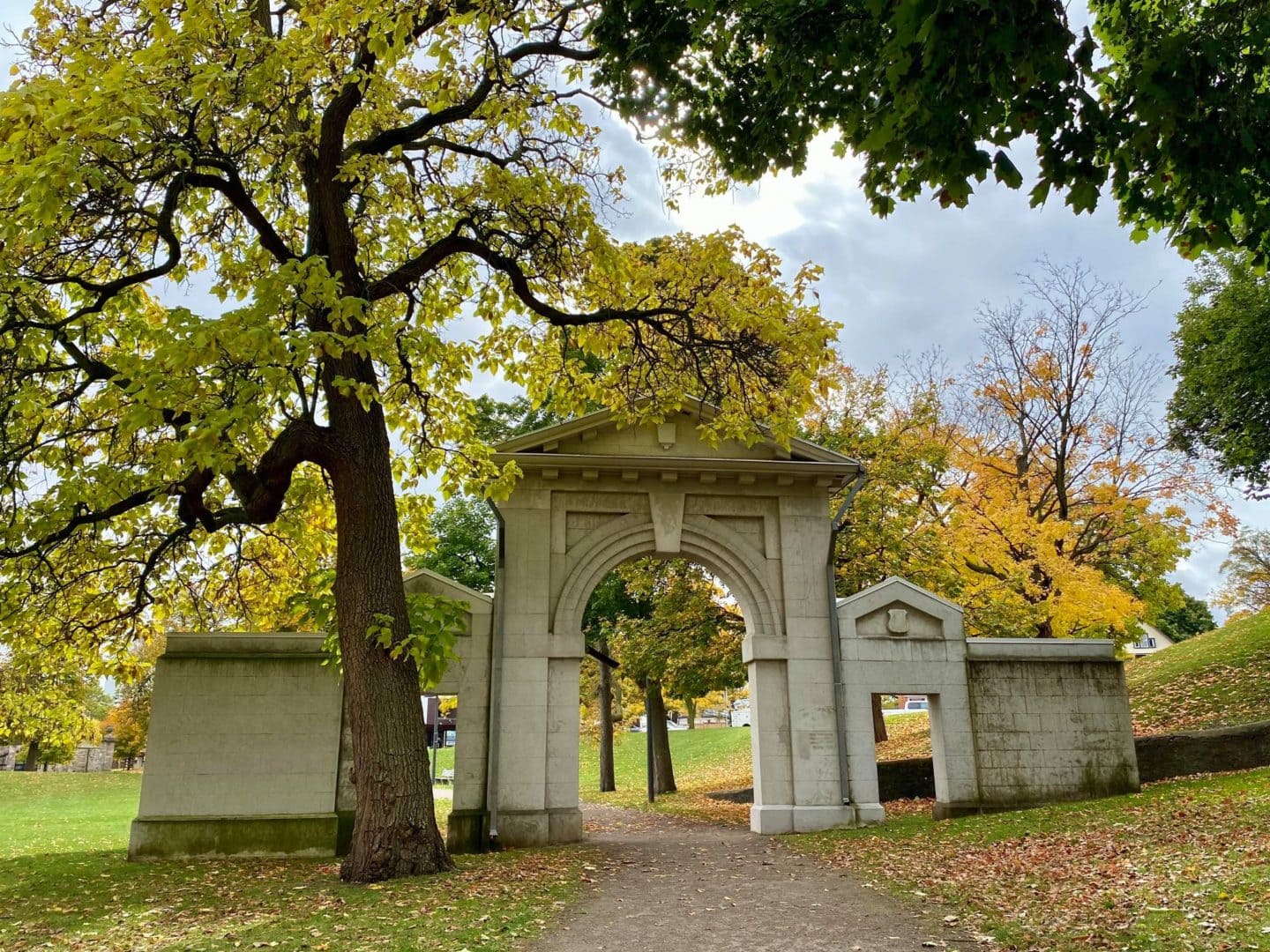 Is Dundurn Castle Haunted?
There have been many people who have speculated that Dundurn Castle is haunted. Allan MacNab and his wife Mary did pass away here, but no, it isn't haunted. Apparently. Nothing that we noticed anyway!😂
There are many haunted tours that go through Dundurn, stating that cold air is felt outside of the room where Mary, MacNab's second wife, passed away from tuberculosis. It's been reported that candles keep blowing out along with mysterious drafts and objects moving around.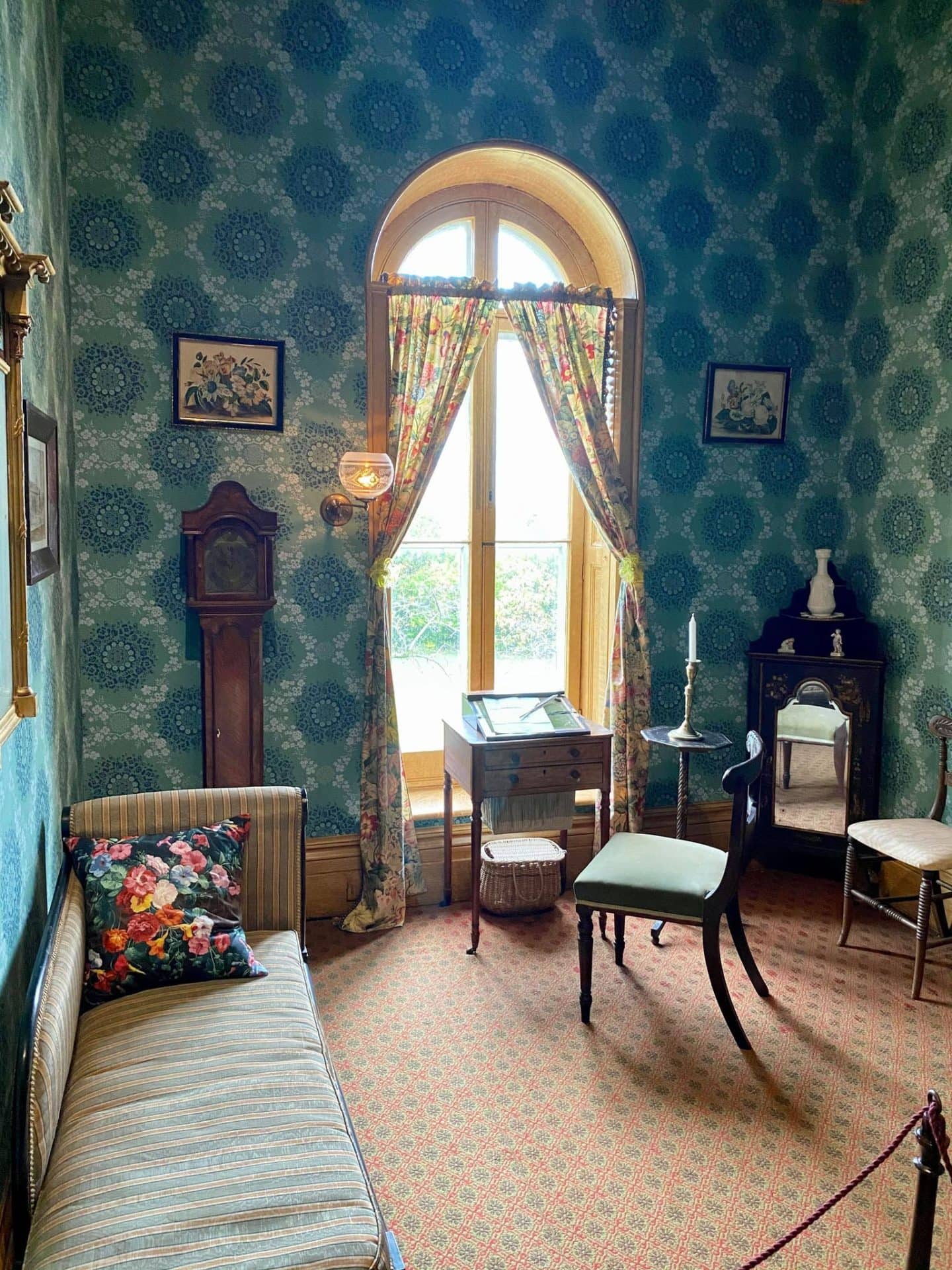 If you are interested in reading more about the ghosts of Dundurn, grab a copy of Haunted Hamilton to learn more about some spooky places in the area.
I'll let you experience it for yourself!
Still, it would be exciting to wander around in the evening on a windy night and see what happens.
Final Thoughts
It was really interesting to see how the MacNab family lived, and all of the creature comforts they were able to afford.
If you're looking for things to do in Hamilton or near Hamilton and the surrounding area, a guided tour of Dundurn Castle should be on your list and can be done all year round!
Map
Address: 610 York Blvd, Hamilton, ON L8R 3E7
Pin it for later!