Tired of the same old neighbourhood walks?
When Ontario issued its Stay-At-Home order in 2021, I stuck to walks around town or made pit stops on the way home from getting groceries to still get my time in outdoors. I wasn't aware there were so many beautiful walking trails right in town for a quick escape to nature – and I've lived in the area my entire life!
I've gained an entirely new appreciation of where I live and I've uncovered so many hidden gems that I had no idea that existed.
I live in Beamsville in the beautiful Niagara Region. With the shoreline of Lake Ontario on one side and the escarpment on the other, we're fortunate to have unique trails with such diverse scenery (which I share extensively on my Instagram page!).
Last updated January 2022
This post contains affiliate links which means I earn compensation when you book or purchase through my links at absolutely no additional cost to you. Thank you for supporting my blog!
A walk around town may seem boring, but I was so surprised to come across some incredible places right in the heart of town that you wouldn't believe is in Lincoln!
Most of these walks are short (15 – 30 minute loop), so if you're looking for an escape to nature without having to drive to go hiking, here's your list!
I'm constantly looking for things to do during the winter around me, and we really can't complain! While this year has proven difficult for a lot of activities, all we have to do is turn to the outdoors and bundle up!
This post is covering walking trails, but there are lots of amazing hiking trails in the area too! Please note these trails are not maintained during the winter.
What's the difference between a walk and a hike?
When I refer to a walking trail, I mean trails in town that are relatively flat and without any obstruction. Hiking usually requires more effort since there are terrain and elevation changes. This of course can be argued, but since the majority of these walking trails can be accessed right from town, I consider them more walk than hike.
Walking trails in Beamsville
Bartlett Creek Trail
I'm so lucky to have this trail right by my house. The Bartlett Creek Trail follows Bartlett Creek from Hilary Bald Park right through to the back of the Beamsville High School.
It's paved and flat and great for all ages.
I've seen all types of wildlife here – from the obvious squirrels and rabbits, turtles, and some different species of birds I haven't seen before. There are a few paths that lead to the creek (which I have seen numerous neighbourhood kids playing in!), it really does feel like you've escaped from town.
There's a large willow tree that would make a great spot to read a book at in the warmer weather, beside the creek.
Where to find it: You can either walk to it from in town from numerous access points. I always start at Hilary Bald Park (there is a parking lot here too – and a skating rink!). Any street along the Bartlett Creek Trail will have an access point, whether it's Dennis Ave, John St, Arejay Ave, Beverly Crescent or Concord Ave.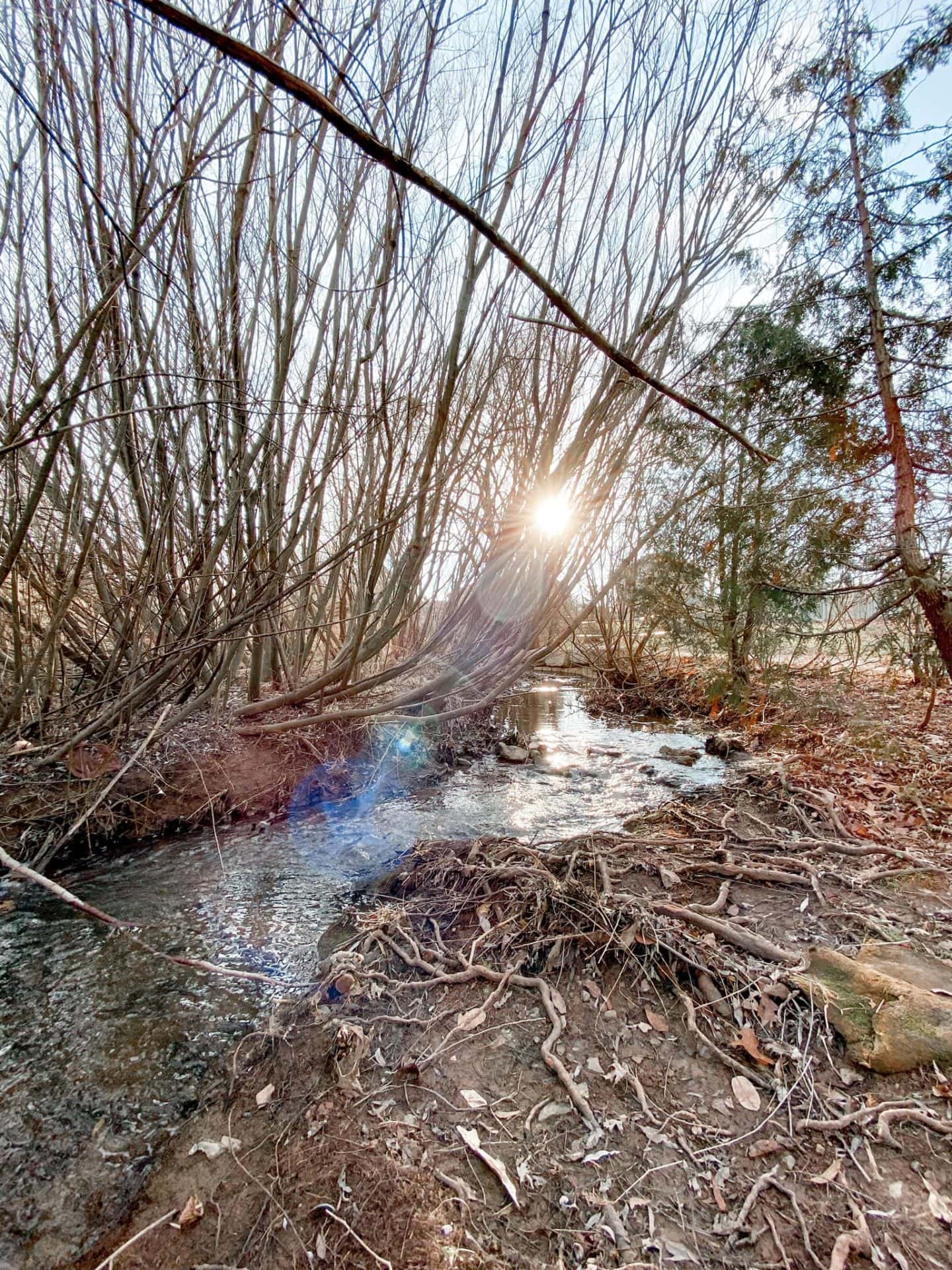 Stadelbauer Ravine
What a hidden gem right in the heart of town and I think it may be one of Beamsville's best-kept secrets. I was shocked to find this amazing trail leading from the bottom of Stadelbauer right to the top!
This ravine trail leads through beautiful trees, a creek, and even a waterfall, depending on the time of year! It is relatively flat, except for the end part to get to the top of the escarpment, but it is not difficult.
It's a great place for kids to explore without ever having to leave town.
Where to find it: If you walk from the bottom of Stadelbauer, follow the sidewalk until you reach some informative plaques (read those, they're interesting!) and a viewing/seating platform. Behind this there is a trail. It may not appear well-worn, but there is one there! If you want to access it from the top, there is a little clearing on Stadelbauer at Highland Park Dr.
Kinsmen Park
Kinsmen Park in Beamsville is one of my all-time favourite places to come. It's within walking distance of town, or you can drive a short few minutes up to the escarpment to the parking lot at Kinsmen Rd and Frost Rd.
There are numerous trails you can take, including the Bruce Trail. Every time I go I end up taking a different path, which means no two walks are the same! There is a path surrounding the park, a set of stairs (if you wanted to get your cardio in!) and even a leash-free parking lot.
Kinsmen Park is also a great starting point to enjoy some amazing winter hiking trails. The Bruce Trail will have more challenging bits compared to the other trails at Kinsmen, so if you want an easier route, do not follow the white blazes.
Great for picnics and quiet escapes from town, Kinsmen Park is a great place to spend an afternoon.
P.s. there are no washroom facilities, so plan accordingly!
P.p.s. If you head onto the paths in the trees during the winter, make sure you wear sturdy footwear (and I highly recommend getting some crampons). There are some slick spots with the rocks, so watch your footing!
Where to find it: head up Mountain St in Beamsville, take a left onto Kinsmen Rd (right across from the horse farm), and take a left when you get to the end. There is a large parking lot at the end of the street.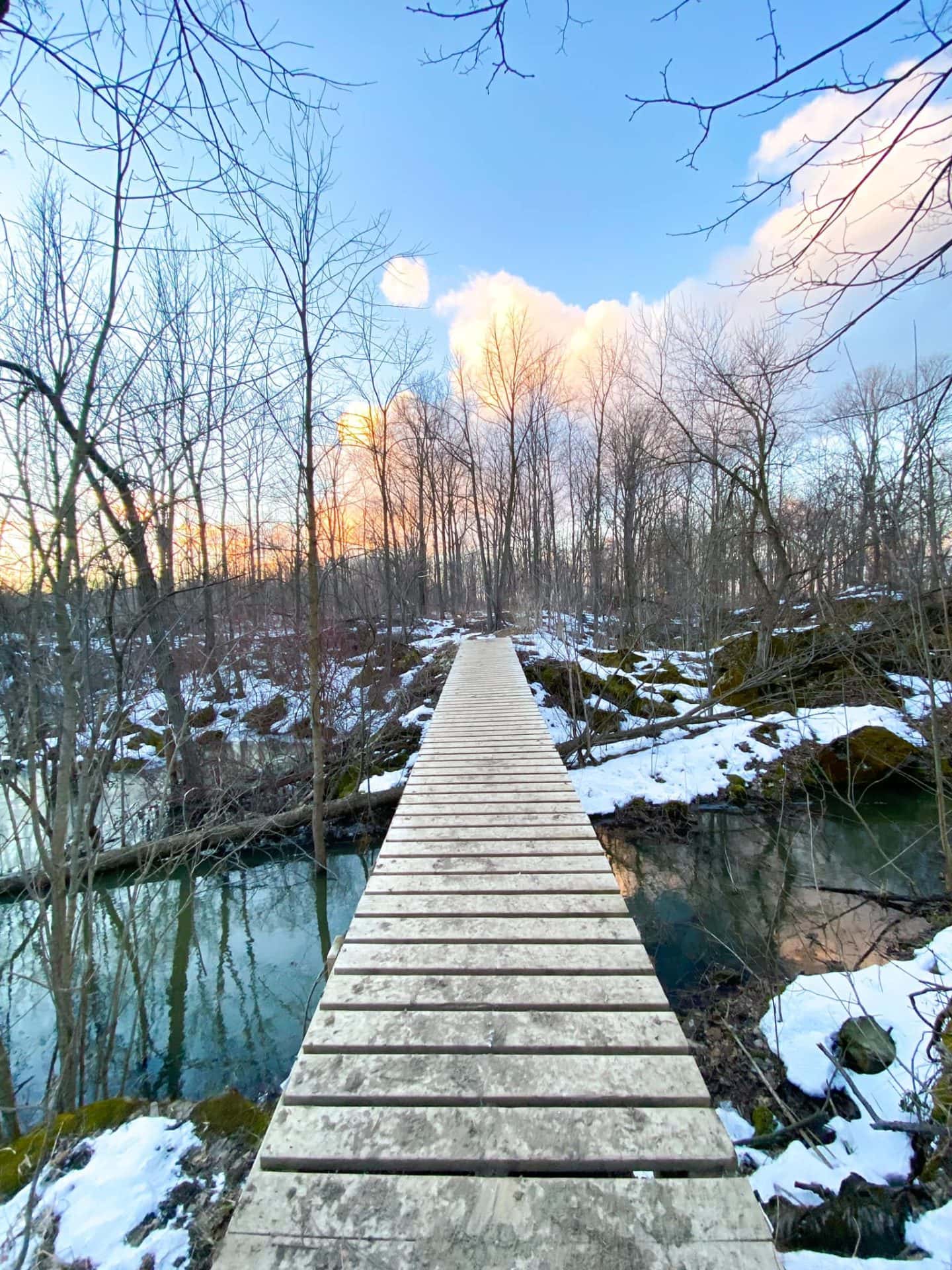 Hillside Estates Trail
This trail , while short, provides scenic views of the escarpment, vineyards and numerous tree species. It runs along behind townhomes and through Ashby Drive Park.
From here you can walk to Kinsmen Park if you're looking to do some more walks or go hiking (which is absolutely stunning during the winter!)
Where to find it: Head to Ashby Drive Park and follow the footpath. You can also access it from Hillside Drive.
Walking trails in Jordan
Charles Daley Park
Charles Daley Park is an awesome place to come for people of all ages. Great for families, picnics and BBQing, canoeing, and fishing, and scenic walks along the beachfront.
If you're looking for a change of scenery, this is the place to come. While there is technically no specific walking trail, there are two dynamic beaches to walk back and forth on.
If you visit during the winter, you'll be able to see a frozen shoreline and discover tons of little ice gems dotted all over the beach. It's like you're on a different planet!
There is tons of parking here, and Charles Daley Park also has two awesome tobogganing hills.
P.s. washroom facilities are closed during the winter (they're open May – Thanksgiving weekend, FYI!).
Where to find it: Take the QEW and either Jordan Rd or Seventh St Louth and follow the North Service Rd to the park entrance.
Address: 1969 North Service Rd., Jordan Station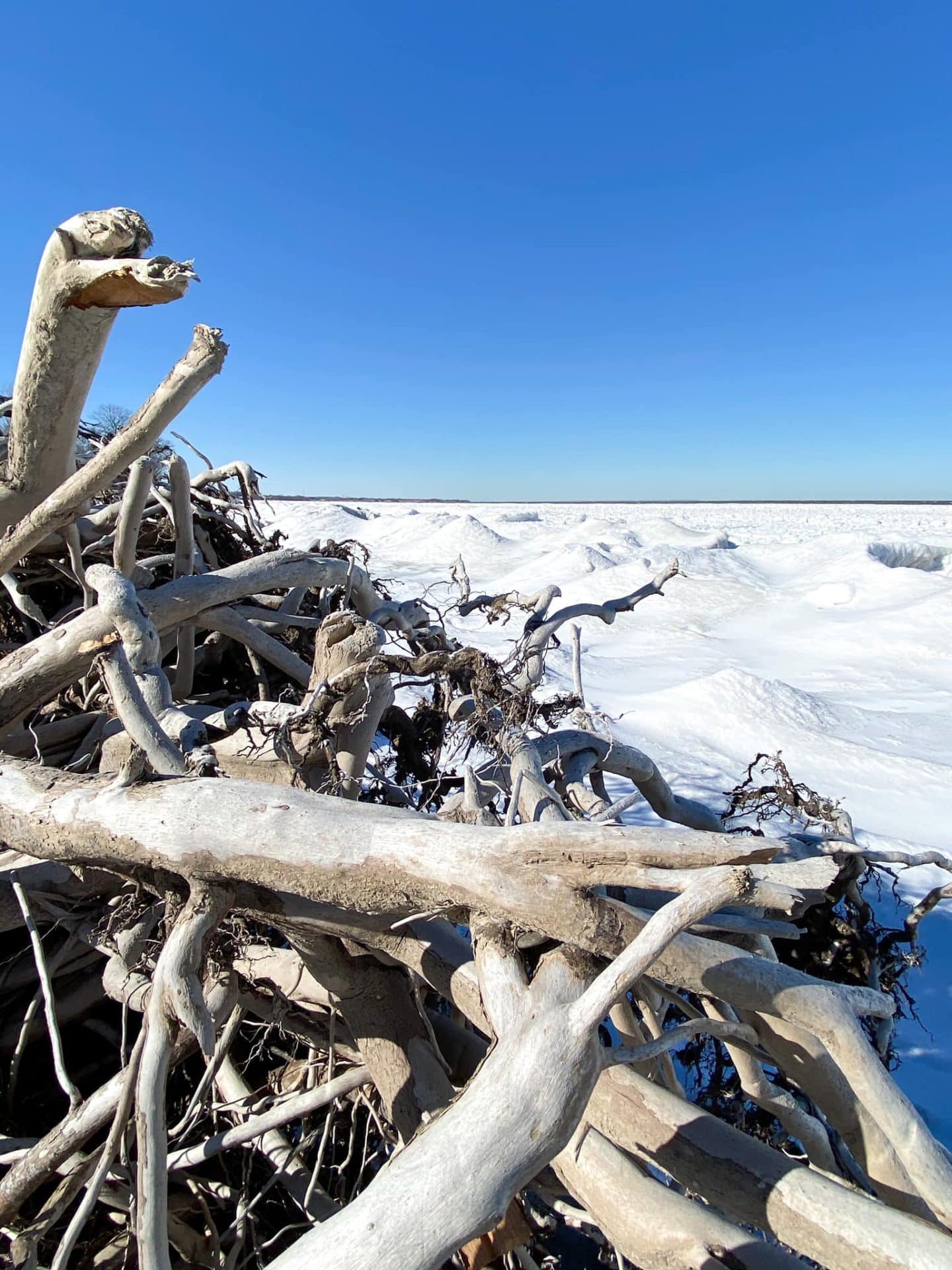 Walking Trails in Vineland
Millenium Forest
This is a place so special I almost wanted to keep it to myself! This is probably without a doubt Vineland's best hidden treasure. Millennium Forest contains over 130 trees and they are all a different species. There is a walking path that leads around the 3 acre property and through the trees.
Deciduous and evergreen trees were picked based on their ability to grow, survive, and have historical value or features of interest. Some will live for over 200+ years, some will flower in the Spring or have vibrant colours in the Fall. The most special part is all trees serve as a memorial to a family member, friend, or prominent person.
Each tree has a plaque indicating which type of tree it is and who it is for. There's also a large display with a map of each tree.
It is so peaceful here, and a great place to teach kids about different tree species.
There is also a time capsule here, done by the Beamsville Women's Institute, that is set to be opened in 2050. Hundreds of items were collected by local residents, businesses, and community groups.
Where to find it: Head towards the lane on Victoria Ave, almost to the end, past the Vineland Research Station. There is a parking lot on Viceroy Ave.
Address: 4937 Victoria Ave N, Vineland Station
Walking trails in Grimsby
While technically not Lincoln, I couldn't neglect including these awesome walking trails in Grimsby!
Forty Mile Creek Trail
A popular spot for watching waterfowl, boating, fishing and canoeing, the Forty Mile Creek Trail at the Elizabeth Street Pumphouse is a quiet piece of nature to escape to.
This trail loop traces the banks of Forty Mile Creek for almost 1 km. You can catch views of the Toronto skyline and picnic in the park, too.
There are also numerous parks along Lakeside Drive to stop and take in the views of Lake Ontario, including Whittaker Park, Marrocco Park, and Murray Street Park.
Other notable things to see here: The Pumphouse was a waterworks facility built in 1905 and was in use until the early 1990s. This location is the historic site of the Engagement at the Forty – a battle that took place in 1813.
Where to find it: Park at the Elizabeth St Pumphouse. There is a fenced area you can follow to the back to access the trail. You can also follow the creek and join up the trail that way.
Address: 447 Elizabeth St, Grimsby
Southward Park
While I heard about this park before, it wasn't until late in 2020 that I visited for the first time. I am very impressed with this park – it's huge!
There is a ton of parking, 4 baseball diamonds, 5 (!!!!) soccer fields, 3 bocce ball courts, a playground, leash free dog park, and an awesome 2.5 km trail that leads through a forested wetland and around the park.
There are even tobogganing hills here which would be awesome for smaller kids.
The trail is very scenic and every time I've come here it's been very quiet. It's a great place to come with your morning coffee and a stroll through the woods, with your family, dogs, etc.
Where to find it: Just a short 5 minute drive from Grimsby, or 15 minutes from Beamsville. Located on top of the escarpment at 84 Mud St W., Grassie.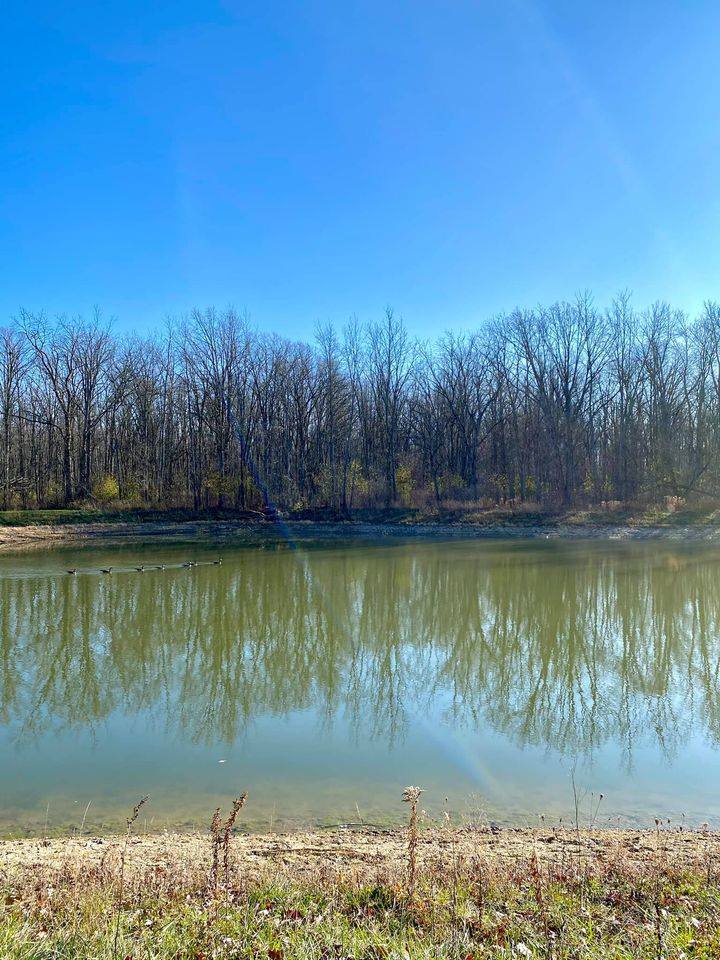 Casablanca Waterfront Trail
The short but beautiful trail in Grimsby follows the waterfront from Casablanca Beach Park to Hunter Road.
We came here in November with our morning coffee and it felt we were miles away. The water was clear and dazzling blue, and even though the QEW was right there it was quiet!
It's a beautiful spot to come for a stroll, especially during the warmer months. Popular amongst locals, the Casablanca Waterfront Trail has access to two beaches (including a sandy one), a pavilion, picnic tables and benches.
It's also connected to the Great Lakes Waterfront Trail, which stretches over 3600 km in Ontario!
Would you believe I took this photo mid-November on an 80 degree day in a t-shirt?!
Where to find it: Exit at Casablanca Blvd from the QEW and head towards the lake. Turn right at the stoplights. There is a parking lot on the left.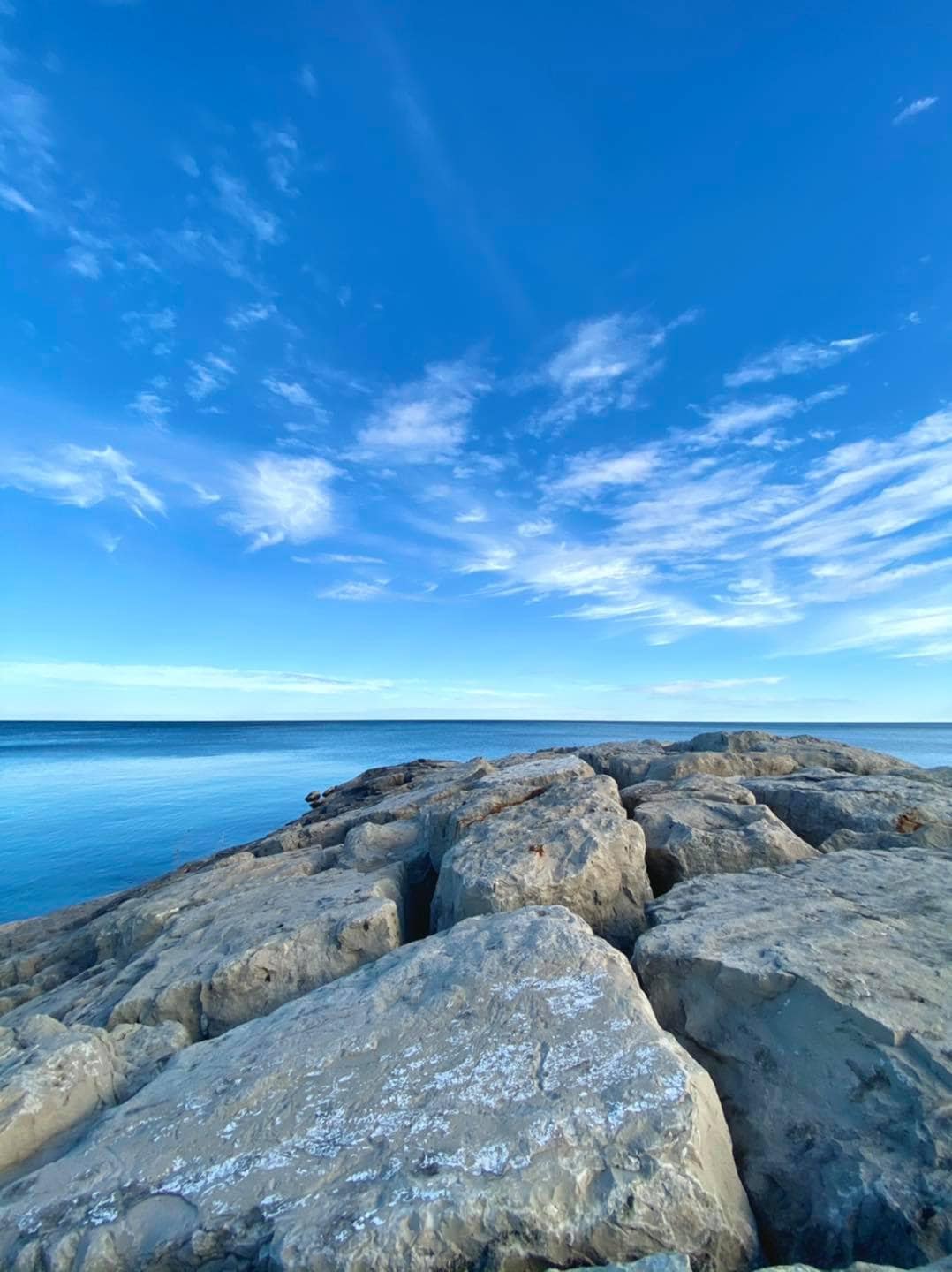 Have you done any of these walks? Let me know if there are any I should add!🙂
Related Posts
Pin it for later!