With the deep freeze of winter comes amazing sights. Waterfalls that once flowed with such force in late fall have frozen over and have turned the landscape into an icy winter wonderland!
Our freezing temperatures create spectacular formations and turn these waterfalls into pillars of ice, caused by water slowly seeping through any cracks, melting, and then freezing again. Massive pillars of ice tower the length of the falls and makes them appear other-worldly!

I was out hiking in December and early January and there is such a drastic difference from what they look like now in mid-February!
If you're looking for things to do outdoors this winter in Niagara, finding frozen waterfalls should be on your list! Here are some awesome ones to check out. I am left in complete awe of these amazing masterpieces.
What I love most about winter hiking is that sometimes it's easier to find these hidden treasures, thanks to the lack of tree foliage, and the fact there are usually someone else's footsteps in the snow to lead the way!
This post contains affiliate links which means I earn compensation when you book or purchase through my links at absolutely no additional cost to you. Thank you for supporting my blog!
A note on safety
Fortunately these places have frozen over enough for us to be able to venture right up to the base. Use caution when trekking to the falls and watch your footing, especially when the temperatures start to warm up. There may be some breaks in the ice where your foot can slip through to the water underneath.
Be careful around any overhanging icicles and I would not recommend attempting to climb the frozen waterfalls.
There are enough footsteps to follow to these waterfalls to give you a solid path. I highly recommend using crampons for added stability!
These are the ones I use and love!
What temperature does a waterfall freeze?
Waterfalls and their sources are always moving, so they don't freeze in the typical way a still body of water (like a pond) would.
If the temperature stays below freezing for an extended period of time (hello February 2021!), the water supercools which means it is below 32 degrees but still liquid. This is when frazil ice forms.
Water molecules slow and begin to stick together and form solid particles of ice. They're still tiny, but big enough to start the freezing process. When frazil ice flows over the edge, it tends to stick to the edge of the falls and against the rock or the overhang of the waterfall.
With prolonged cold temperature, the result is magnificent columns of ice.
The waterfalls never completely freeze over (unless of course its source freezes). For this reason, it's important to note that even with thick ice, it is never completely frozen solid and water continues to flow underneath.
Here are Niagara's amazing frozen waterfalls to visit during the winter!
1. Beamer Falls, Grimsby
Located in Grimsby, Beamer Falls at Beamer Memorial Conservation Area is unique compared to those in our area, since the shape is more like a fan that cascades down compared to other plunge-type falls.
This waterfall isn't accessible from the main conservation area, but there is a parking lot off of Ridge Rd with an (unofficial) but gentle way down to the falls.
Height: 45 feet
Address: Beamer Falls Overlook Parking Lot, 121 Ridge Rd W, Grimsby. The few times I have driven by the parking lot, it hadn't been plowed, so use caution.
2. Konkle Falls, Beamsville
Small but beautiful. You would walk right by this hidden waterfall in Beamsville if you didn't know it was there!
You'll have this spot all to yourself. If you're heading from Kinsmen Park to Locust Lane Winery, you can find this frozen waterfall by looking left just after you descend a steep spot while crossing Konkle Creek (after walking along the fence of private property). If you didn't know to look for it, you would never see it.
Height: 6 feet (?)
Address: Accessed by hiking the Bruce Trail, either by parking at Kinsmen Park or Mountainview Conservation Area and heading towards Locust Lane Winery, 4041 Locust Lane, Beamsville.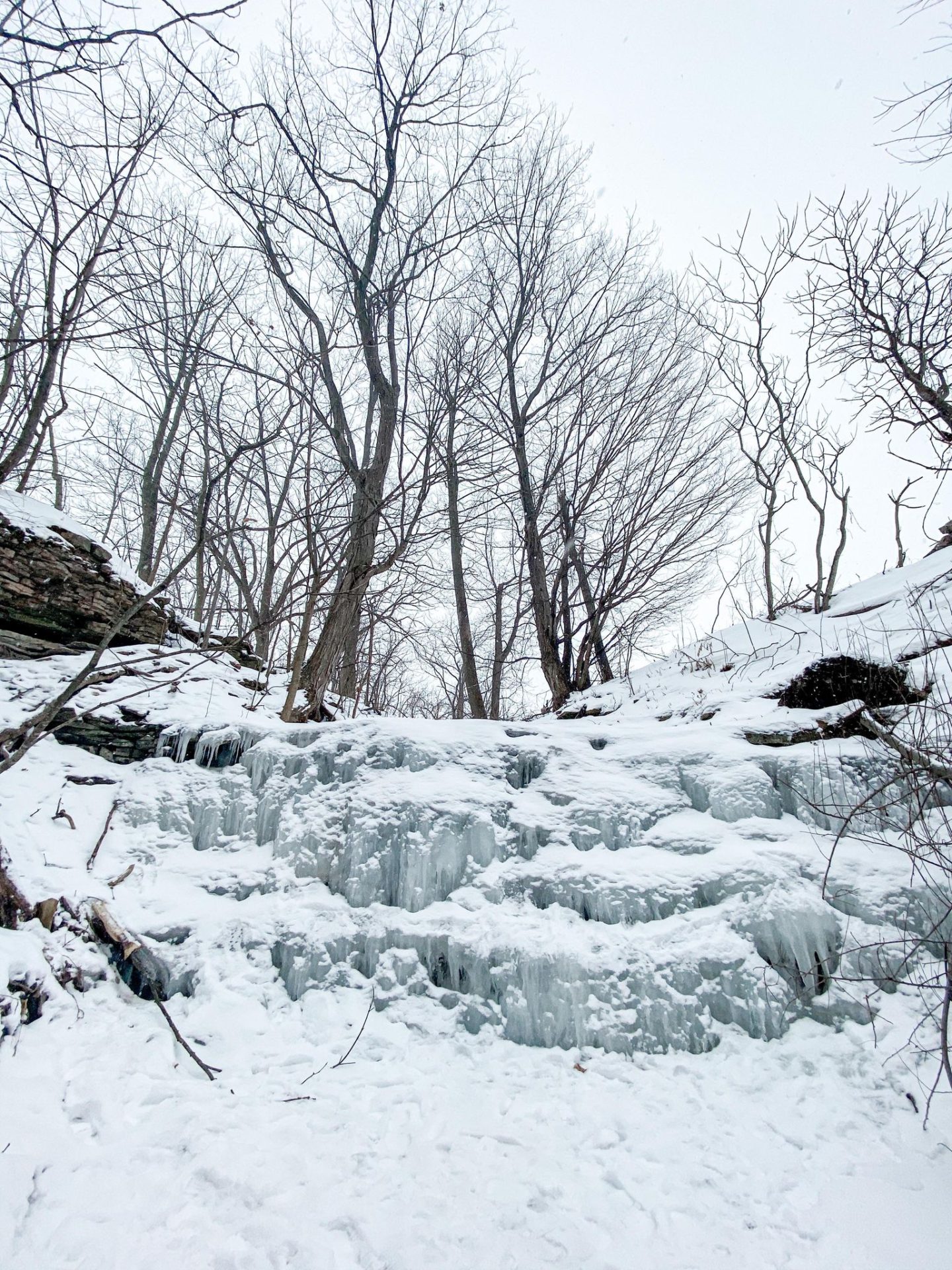 3. Ball's Falls, Lincoln
Since I only live a few minutes down the road from Ball's Falls, I've been fortunate to see what the Upper and Lower falls look like in all seasons! Winter is definitely my favourite.
You are able to get an awesome view from above for both waterfalls, and below too! Follow the Twenty Valley Trail down to get to the Lower Falls. Keep in mind that only in continued periods of extreme cold will the creek be frozen enough for you to be able to walk up the creek bed to the base of the falls. This is more challenging since there is a large set of stairs to go down, and don't forget you have to go back up, too!
Be sure to stop and admire the beautiful historic buildings here too – and come back for a heritage tour when they're offered. They're well worth it!
Height: Lower Falls – 89 feet. Upper Falls – 36 feet.
Address: Balls Falls Conservation Area, 3292 Sixth Ave, Lincoln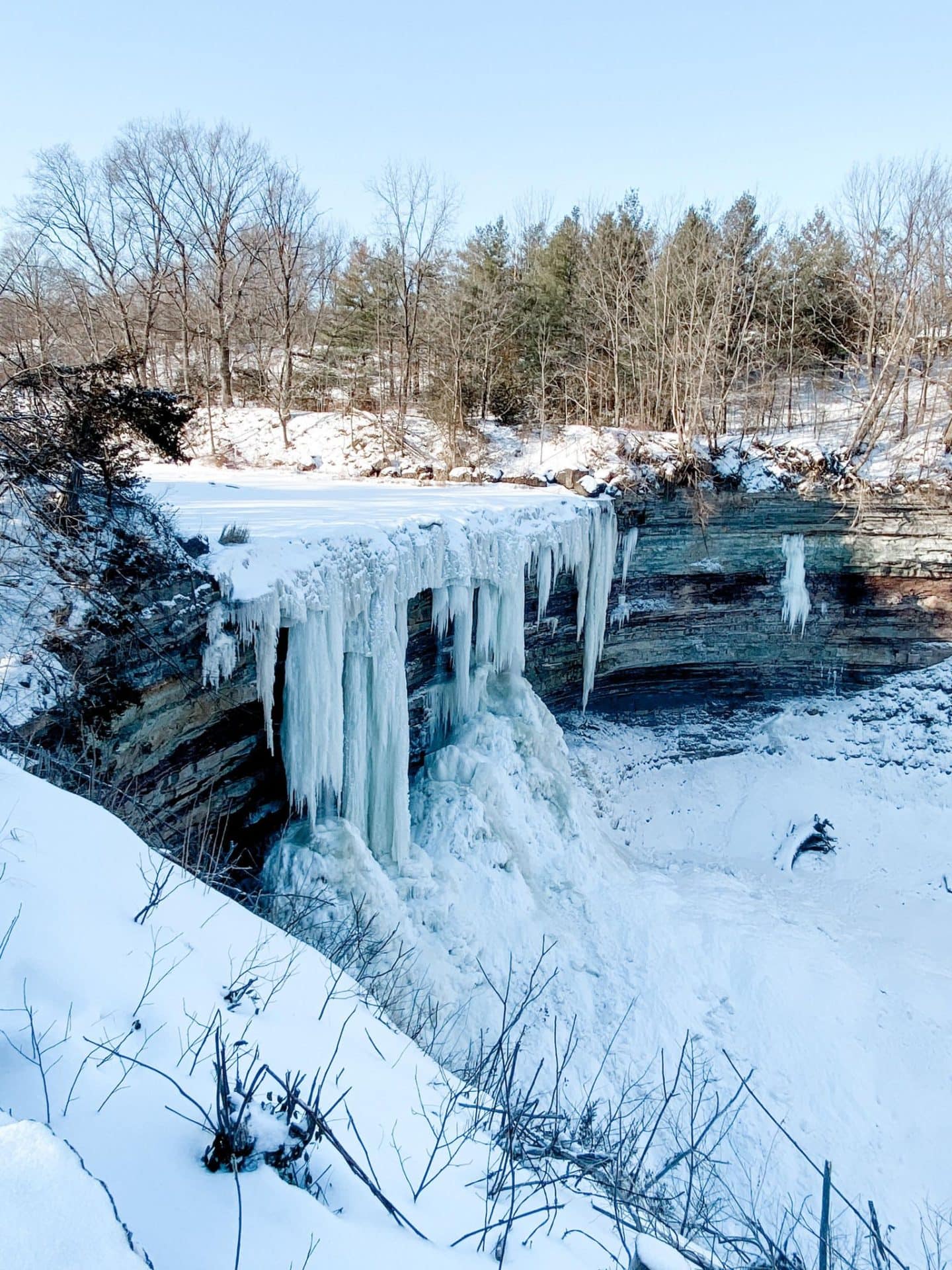 4. Louth Falls, Jordan Station
Louth Falls is such a peaceful area and is one of my favourite, less visited places to come.
Follow the main trail straight and once you get to the bottom of the slope down, take a left. Follow that until you reach the waterfall. The view from above is gorgeous!
If you care to venture up the frozen creek bed, you'll be able to see the amazing Irondequoit Limestone walls – which date back 420 million years!
Height: 30 feet
Address: Louth Conservation Area, 3193 Staff Ave, Jordan Station
5. Rockway Falls, St. Catharines
Rockway Conservation Area is an awesome place to hike because there is lots to see here!
Getting to the base of Rockway Falls is one of the more challenging things I've done, since you have to clamber up the creek and over rocks, but I followed the footsteps of many who have gone through before me. The views are incredible.
As an added bonus, there are multiple frozen waterfalls to discover here, so take your time exploring all the trails!
Height: 60 feet
Address: Rockway Conservation Area, 1742 St Paul St W, St. Catharines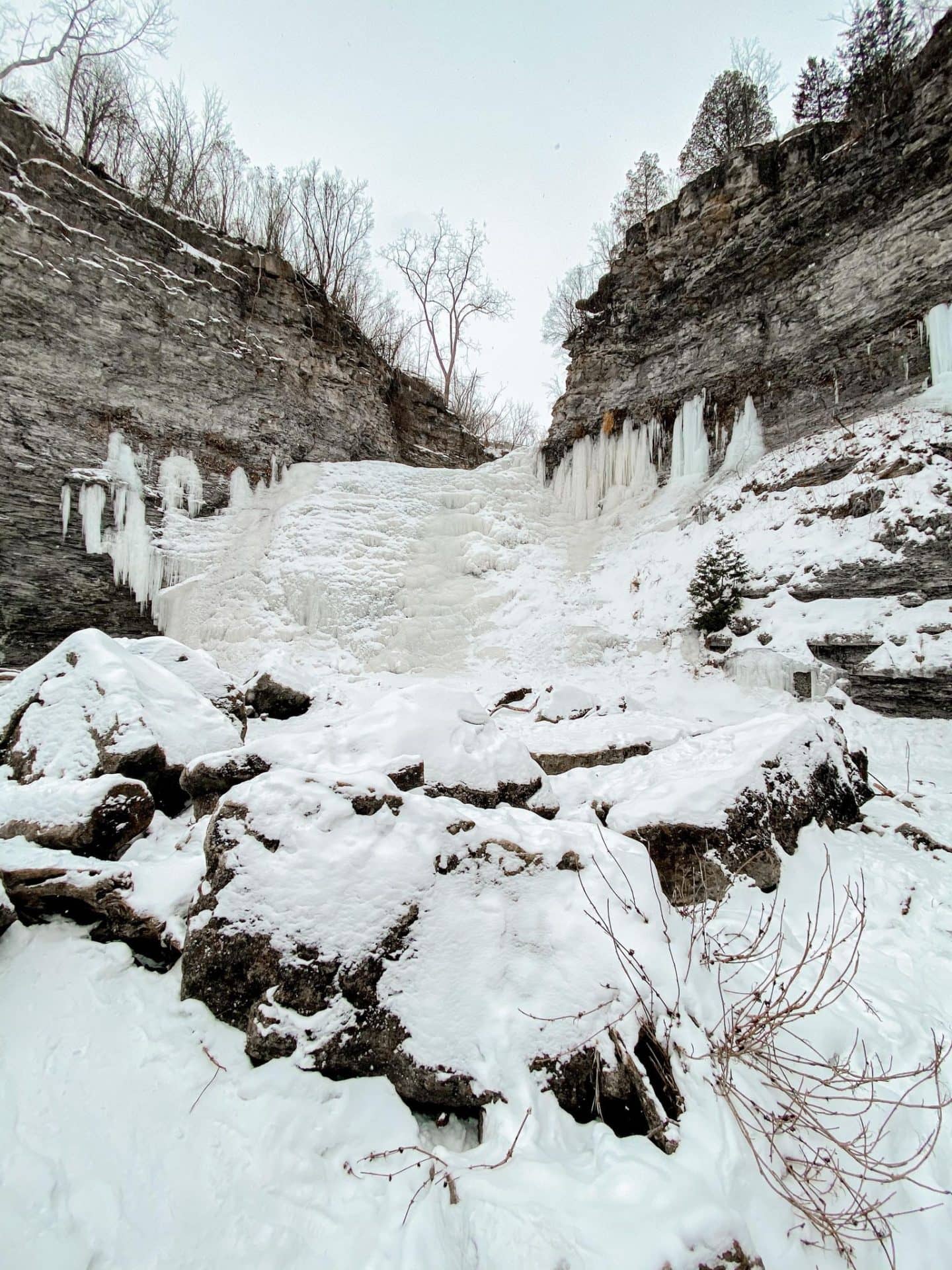 6. Terrace Creek Falls, Pelham
I was meaning to get to this waterfall for the past few months, and I'm so happy I got to see it once it was frozen over! This is probably one of my favourite frozen waterfalls to visit because it's one of the easiest to access.
You can either follow the Terrace Creek Trail at the Short Hills, or follow Hog's Back Road from the parking lot until you reach the Bruce Trail, which will take you directly there.
Height: 20 feet
Address: enter from Short Hills Parking Lot C on Wiley Rd in Thorold.
7. Swayze Falls, Pelham
What a magnificent waterfall! After seeing Swayze Falls at the Short Hills completely dry during the summer, it looked completely different once it froze over!
There is an easy and manageable route down to the falls. If you want to take a longer hike and end up at the falls, follow the Swayze Falls Trail. If you want to come and visit the waterfall, you can take the shorter Paleozoic Trail. Once you reach the viewing platform, continue on the trail until you reach a pathway going down to the creek.
Height: 50 feet
Address: enter from Short Hills Parking Lot B on Roland Rd.
8. Decew Falls, St. Catharines
This beautiful mill was built originally in 1872 and makes for fabulous photos, especially during the winter when the falls are partially frozen.
P.s. while there are technically trails down to the falls, they are not official nor are they maintained and could be very dangerous, especially in this weather. Use caution while making your way up to Decew Falls, and wear the proper footwear.
Height: 72 feet
Address: 2714 Decew Rd, St. Catharines
9. Niagara Falls
We all knew this had to be on here! Niagara Falls is spectacular during the winter, when the icy mist coming off the falls freezes objects around it and forms a layer of ice around the falls.
Did you know that in the 1880s, it was popular to walk out on the ice bridges that formed on Niagara Falls?
There were even huts set up out on the ice where people enjoyed refreshments. This ended in 1912, when a few people lost their lives from the ice giving way.
Height: 170 feet
Address: I like to park at the Floral Showcase parking lot at 7145 Niagara Pkwy, Niagara Falls. The parking rate is only $5/hour here – considerably less than Table Rock, which is around $30/flat fee (but is directly across from the top of Horseshoe Falls). The Floral Showhouse parking lot is only a 10 minute walk from the Horseshoe Falls, and you'll be able to get the best view of the Niagara Scow! There are lot of other free things to do in Niagara Falls, too!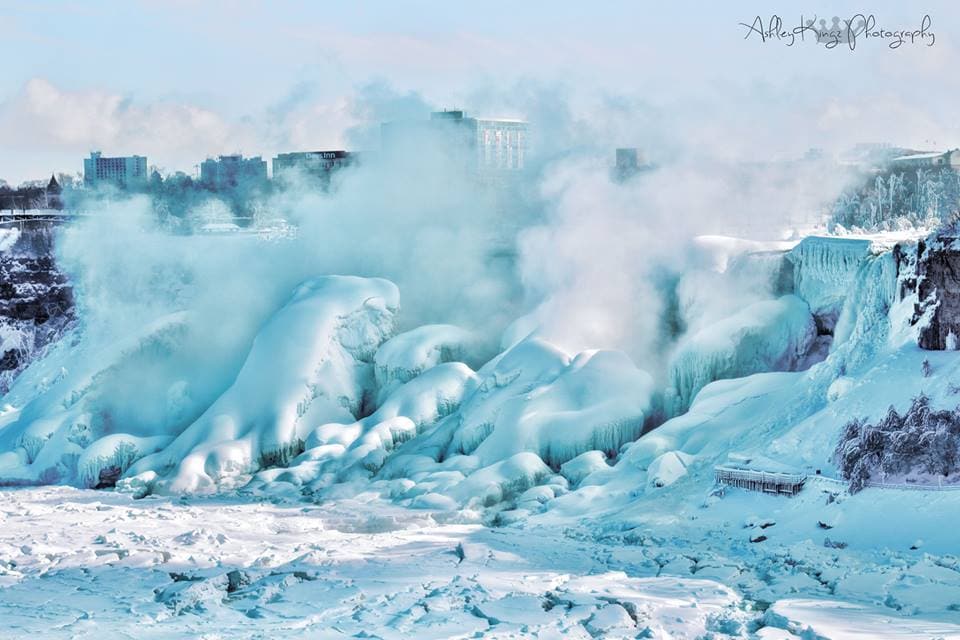 Related posts
Pin it for later!