After the spectacular fall we had, I didn't think anything could beat fall hiking. That was until our first snow fall and I fell in love with winter hiking. We have some of the best hiking trails in Niagara: they turn into a winter wonderland and it is SO peaceful.
We're so lucky in the Niagara Region to have an abundance of incredible and beautiful hiking trails, and so many of them have waterfalls that flow with such force during the colder winter season, or become completely frozen over!
I've become obsessed. The cold doesn't phase me anymore. All you need to do is bundle up, get some proper gear, and you're set!
I look forward to adding more awesome winter hikes throughout the season. Lots of these are family-friendly, too!
This post contains affiliate links which means I earn a small commission if you purchase through one of my links at absolutely no additional cost to you. Feel free to read my disclosure policy. Thank you for supporting my blog!
Notes on Safety
Everyone is taking to the outdoors this year – and for good reason! Niagara is an outdoor lover's paradise! With tons of trails to explore, including the famous Bruce Trail, there are endless options for you to take. Some of these trails are more congested than others, but fortunately there are a lot of quieter ones to take too.
If you can manage it, avoid more popular areas on weekends and holidays. Because believe me, they are jammed. Not only is this a Covid concern, but also personal safety: the trails can turn into a slippery, mucky mess with a lot of foot traffic.
You'll definitely want a sturdy pair of hiking boots. I absolutely love mine from Mountain Warehouse (and they've always got an amazing sale on!). Mine have not failed me yet on any of my winter hikes and I have full confidence in them.
You may also want to invest in some hiking poles. They can really help with your balance and navigating snow-covered trails!
Crampons are another added-safety measure you can add to your boots. Essentially they are metal spikes you fasten to your footwear for added stability and traction on ice. They aren't expensive and it's worth spending a little money on.
I'm listing hiking trails that I would feel comfortable taking during the winter. Some trails, especially sections of the Bruce Trail, can become treacherous or impassable during the winter due to snow and/or water.
Nevertheless, I'm so excited to share some of the best winter hiking trails in Niagara and I look forward to adding more as the season continues!
If you are looking for more winter hiking advice, I've put together my best winter hiking tips for you to ensure you maximize your fun in the cold and snow while staying safe!
Winter Hiking Trails in Grimsby
Beamer Memorial Conservation Area, Grimsby
You won't find a better view of the Niagara Escarpment during the winter than at Beamer. There are tons of lookout spots with sweeping views of Lake Ontario over to Toronto.
You can even climb down into Forty Mile Creek (be very careful of your footing since there is no railing). The steps, while stable, are slightly uneven, so take your time!
You can hear the creek roaring from the top of the escarpment which is incredible. Once you get down there, there is a main path (the Bruce Trail) but also some worn trails to the creek where you can get up close to the water and see a ton of mini-waterfalls.
I could easily spend all my time down – it's like a whole other world.
You can also access Forty Mile Creek from the Bruce Trail access at the bottom of Grimsby Mountain Rd by parking at the Food Basics plaza, crossing the street, and following the sidewalk until you get to the access point.
To access Beamer Falls itself, park at the parking lot located off of Ridge Rd. You won't be able to get to the waterfall from the main Beamer Conservation Area parking lot. There is a trail leading down to the falls which is steep but manageable – just be mindful of footing conditions.
Distance: 4.2 km
Elevation: 125 m
Rating: Moderate
Suitable for children
Location: 28 Quarry Rd, Grimsby
Winter Hiking Trails in Lincoln
Mountainview Conservation Area to Thirty Mile Creek Falls
Mountainview Conservation Area is one of the quieter hiking trails in Niagara. The main trail (which is also the Bruce Trail!) meanders around the escarpment edge and is relatively flat. Mountainview Conservation Area is has a challenging side trail due to the elevation changes and tricky footing!
I absolutely would not recommend the side trail section on snowy or wet days, since there are a ton of rocks and boulders that become slippery, and some sections are quite steep. Bring crampons!
That being said, Mountainview is absolutely beautiful. There is another side trail that leads to the back of Angel's Gate Winery and if you're up for it, there's a picnic table amongst the trees for a quiet rest stop.
What I love most about hiking at Mountainview Conservation Area is it's really the only access point close to Thirty Mile Creek Falls, which is a stunning sight during the winter. This waterfall only flows from November(ish) to Spring, and since it isn't easily accessible due to no parking nearby, it's one of the most peaceful areas to visit.
Once you hike through Mountainview, follow Walker Rd (which turns into Ridge Rd) until you get to the stop sign, and head right down the escarpment on Thiry Rd (the shoulder is wide enough to walk safely along). Cross the street at the marked entrance for the Bruce Trail and you'll hear this waterfall before you see it.
There is a rest area right next to this gorgeous waterfall, and a log box, so be sure to sign your name!
This loop took me around 2 hours to complete, with a 10 minute visit at the falls, and hiking the side trail as well. It could probably be done quicker, but I stop a lot to take photos. 😂
I have seen numerous families bring young children here, but it is one of the more challenging places to hike if you take the blue side trail, especially for kids.
Distance: 4 km
Elevation: 61 m
Rating: Moderate to Difficult (during the Mountainview section)
Location: 4174 Mountainview Rd, Beamsville
Kinsmen Park, Beamsville
Kinsmen Park has some amazing winter hiking trails simply because there are so many of them here! The Bruce Trail runs through Kinsmen, and there are tons of little side trails to discover throughout this section of the Niagara Escarpment. I can't count how many times I've visited but each time I take a different route, and no two hikes are the same.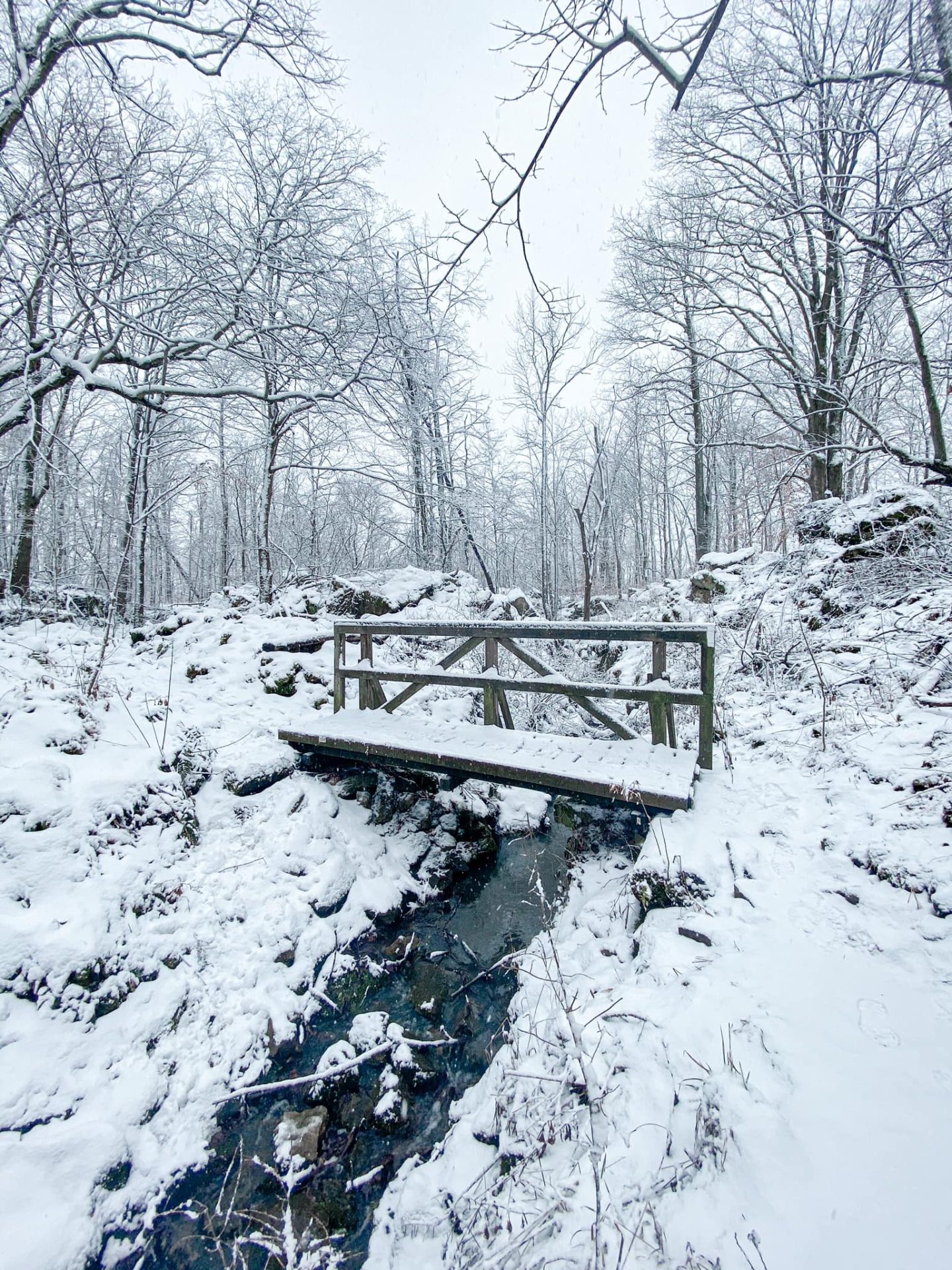 Wintertime is especially beautiful here because there are lots of neat features to uncover, like frozen ponds and hidden waterfalls you can hear but not see, awesome viewpoints of Lake Ontario and Toronto, snow-covered vineyards, and bridges that appear they're out of a storybook.
I am so lucky to have this place on my doorstep, and I come here as often as I can! Kinsmen Park in Beamsville has a large parking lot to accommodate hikers, stair climbers, and dog walkers! There is also a smaller parking area at the base of the escarpment.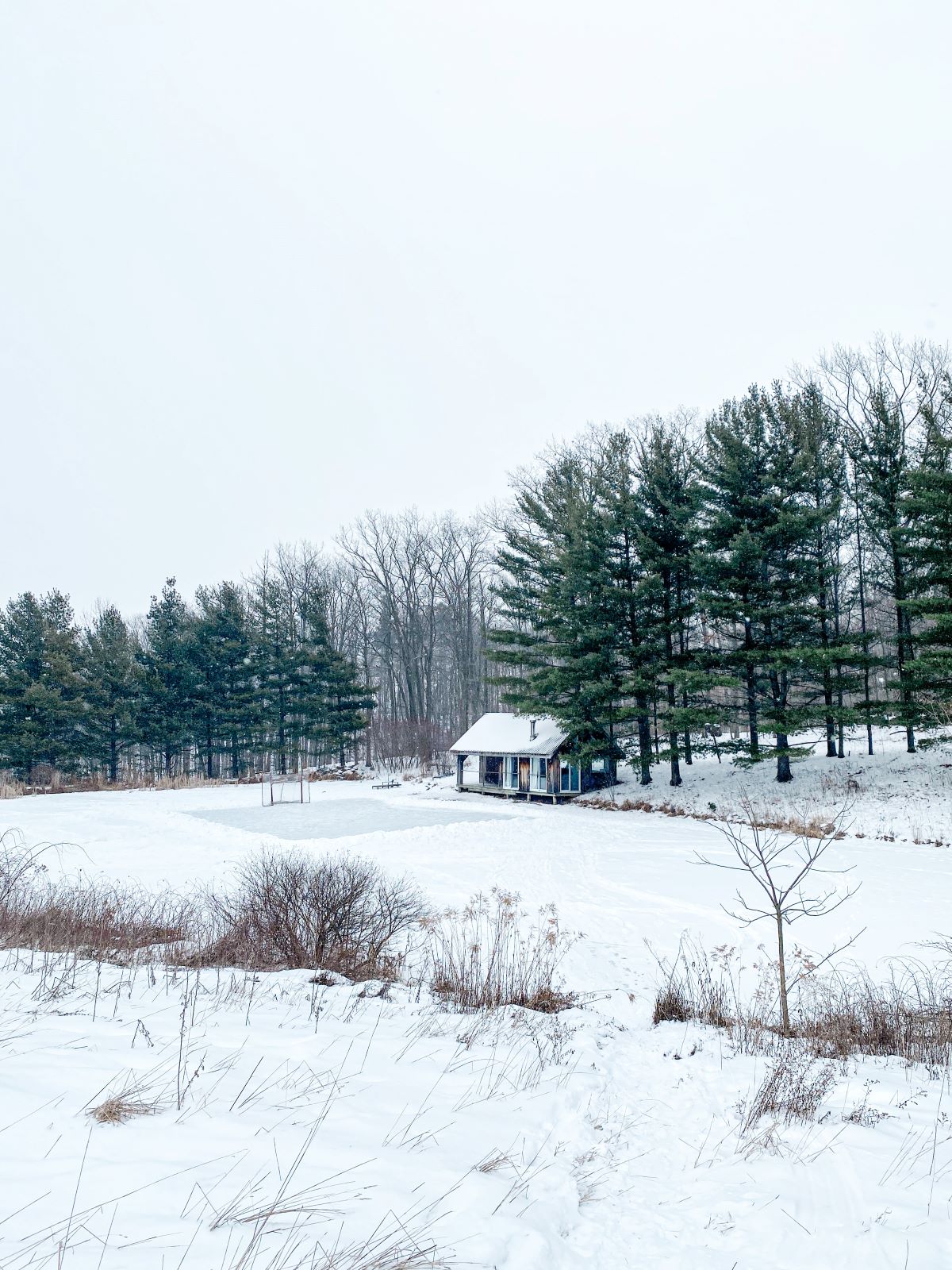 Distance: varying – when I come here I am out anywhere from 30 minutes – 2 hours
Rating: Easy – Moderate
Suitable for children
Location: 20 Frost Rd., Beamsville
Looking for other winter activities? Here's a list of sledding and tobogganing hills in Niagara!
Balls Falls Conservation Area, Vineland
This is a pretty obvious one for locals, but it's truly magical during the wintertime when the two waterfalls are in full force!
The trail to the Upper Falls from the conservation centre is wooded and peaceful. You can hear the rush of the creek from above, and the viewpoints for the Upper Falls are amazing!
Once you make your way back to the historic village of Glen Elgin, you'll be able to see the Lower Falls from an incredible viewing point. The amount of water tumbling over the edge is astounding.
For those wanting more, follow the Twenty Valley Trail. Its access point is just right of the Blacksmith shed in the village. There are quite a bit of stairs so use caution if it's snowy! This scenic trail will lead you around the woods, but it is a more technical trail with rocks which can go unseen after fresh snow.
During the summer months, you can even hike to the base of the falls through the creek by accessing it from the Twenty Valley Trail.
Parking is located at the conservation centre up top. Parking is paid for inside ($8 per person admission) and your receipt will have a four-digit code to leave the parking lot. During the Stay-At-Home order, there is a pay station in the parking lot.
You can park on the shoulder of Glen Rd (there is enough parking for 8-10 cars) but I haven't personally done this access point in the winter. The trail is a bit steep and rocky, so if you do choose to use this trail, use extra caution and the appropriate gear!
Ball's Falls Historical Loop
Distance: 2.1 km
Elevation: 30 m
Suitable for children
Rating: easy
Location: 3292 Sixth Ave, Lincoln
Twenty Valley Trail
Distance: 4 km (out and back)
Rating: moderate
Location: 3292 Sixth Ave, Lincoln
Louth Conservation Area, Lincoln
Louth Conservation Area is probably my favourite hidden gem in Niagara. This beautiful area is tucked away down Staff Avenue in Lincoln.
I remember discovering this place by chance during the summer, where I walked up the Sixteen Mile Creek bed and peered over the edge of the hidden Louth Falls. Winter changed this trail into something almost unrecognizable. I could hear the water before I saw it.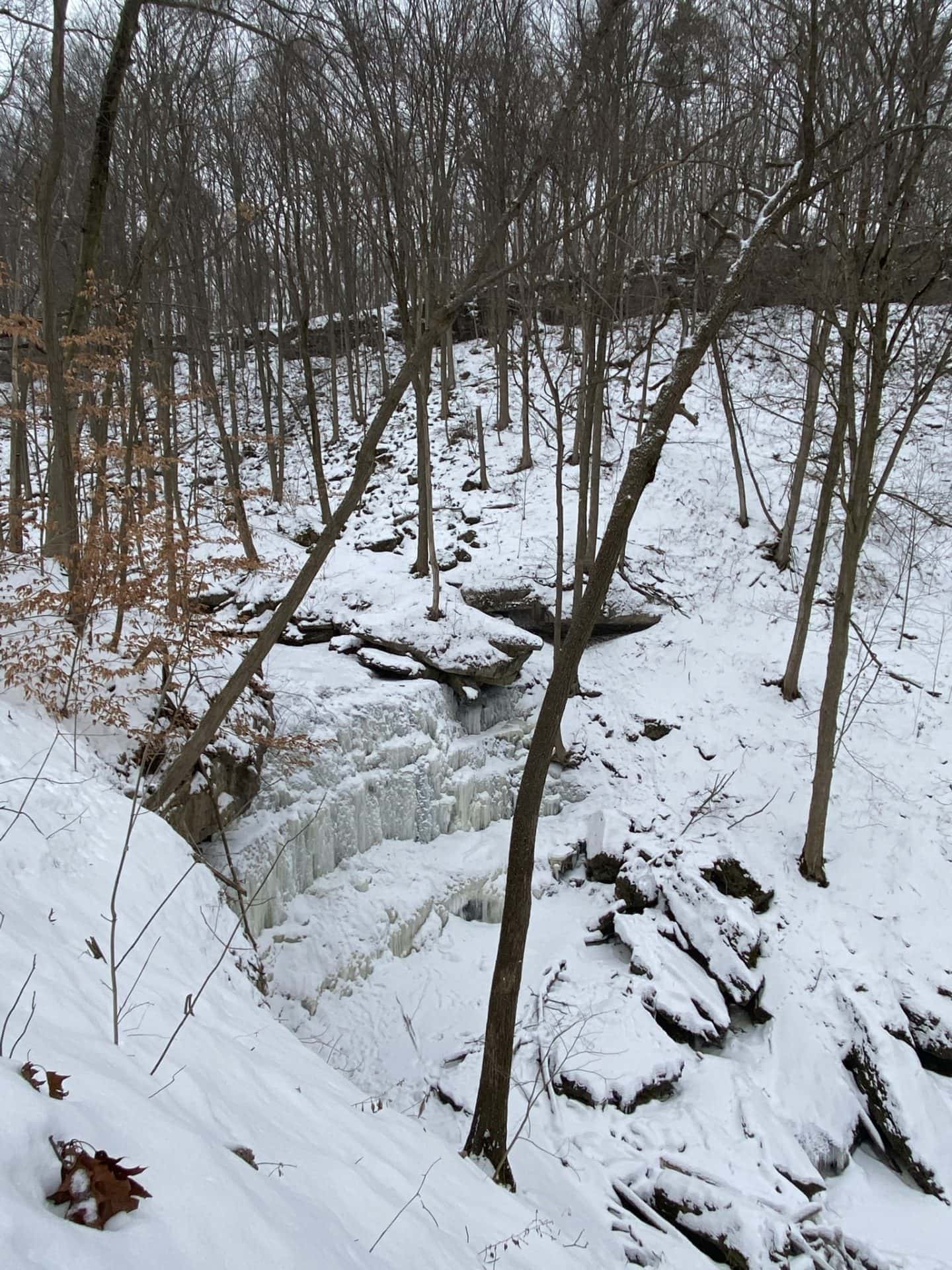 The Bruce Trail also runs through Louth, so be sure to venture off the main trail to see this beautiful waterfall!
Louth Conservation Area has a small parking lot (maybe 6-8 cars, depending how people park). Many people will park on the shoulder of the road, where it allows. The main side trail will take about 45 minutes to complete, but if you're anything like me who stops every 3 seconds for a photo, you may be there for an hour or two.
Distance: 1.8 km
Elevation: 50 m
Rating: easy
Suitable for children
Location: 3193 Staff Ave, Jordan Station
Looking to go skating this winter?
Here's a list of outdoor skating rinks in Niagara!
Winter Hiking Trails in St. Catharines
Rockway Conservation Area, St. Catharines
Just 5 minutes down the street from Louth, Rockway is one of the more heavily-trafficked areas in Niagara, but for good reason: Rockway Conservation Area is absolutely stunning!
One of the most impressive features is Rockway Falls itself, which plunges 60 feet over the edge. You'll also discover numerous other waterfalls throughout that follow a series of rapids.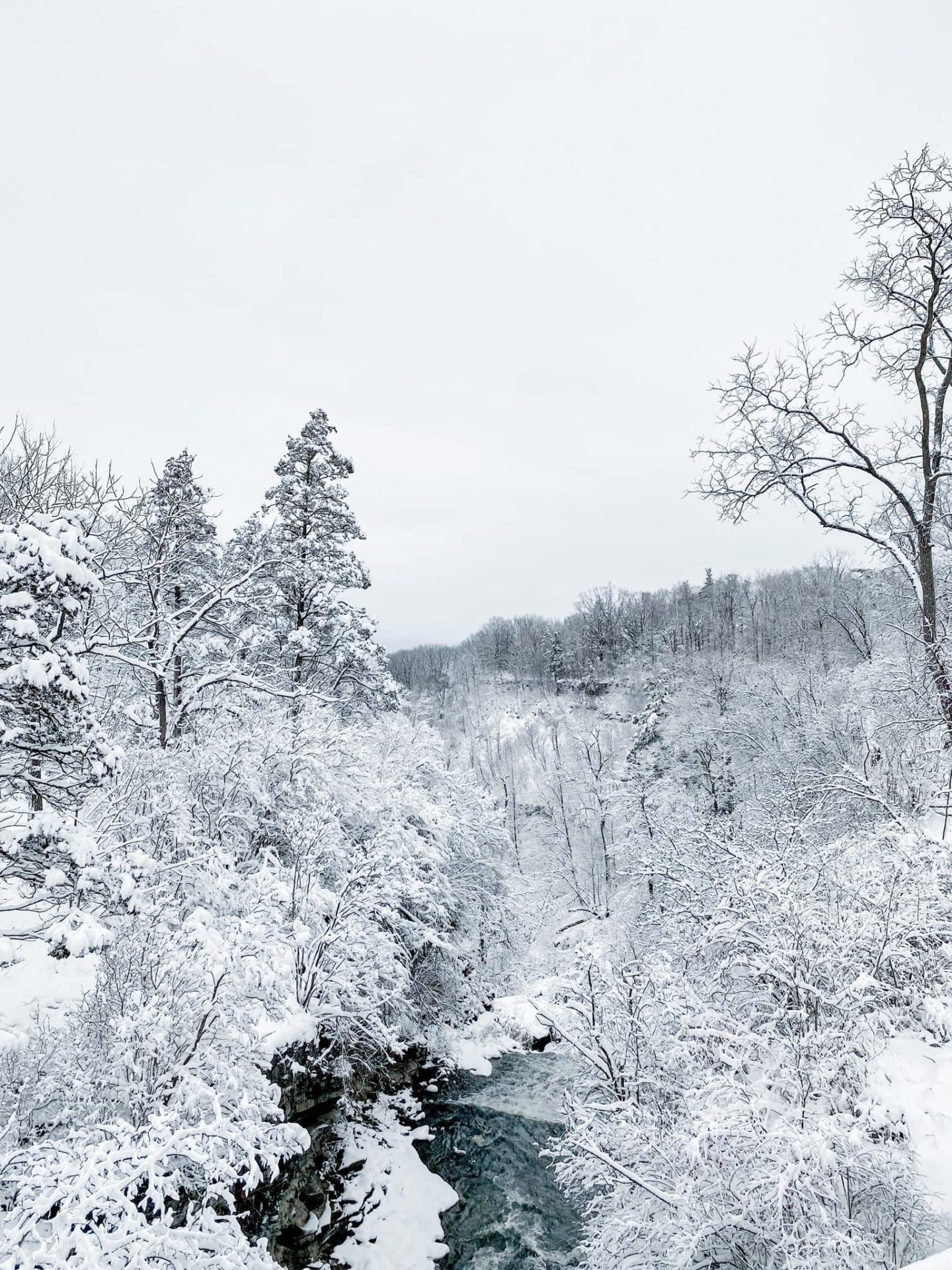 Rockway Conservation Area also has some historical significance: the existence of a salt spring here dates back to the late 1700s, and boasts the best quality and quantity of salt in Ontario.
The trail loop is roughly 4 km in length in the Fifteen Mile Creek Valley, but you can also join up with the Bruce Trail and continue your hiking!
Parking is found at the community centre on St. Paul Street in St Catharines and has lots of side trails to follow. There is a bit of elevation change and some tricky footing spots, but it is easily one of the prettiest winter hiking trails in Niagara.
Distance: 2.2 km
Elevation: 36 m
Rating: Easy to Moderate
Suitable for children
Location: 1742 St Paul St W, St. Catharines
Shorthills Provincial Park, St. Catharines
The Shorthills Provincial Park trails are amazing because there are 8 of them to take plus a special 9th trail that is built for accessible use. It's the largest park There are 3 different access points and the trails span over 1600 acres and the best part is, it's free to visit!
Trails are well-marked and make for great winter hiking options in Niagara. Trails range from 4.5 km to 11.5 km with varying degrees of difficulty.
Three of the most beautiful winter hiking trails include Terrace Creek Trail, Paleozoic Trail (built for accessible use) and the Swayze Falls Trail.
P.s. did you know the Shorthills Provincial Park is called this due to the glacial erosion that occurred here more than 12,000 years ago? It created the unique features of the escarpment we see today – and quite literally – short hills.
Terrace Creek Trail, Shorthills Provincial Park
Get up close to Terrace Creek Falls, which freezes over in the wintertime and makes for a peaceful moment and beautiful photos.
Head south down from the parking lot until it meets with the Bruce Trail, and continue heading east. Terrace Creek Trail is marked as #6. The main trail heading to the start of Terrace Creek Trail can be very icy. Crampons are highly recommended.
Distance: 4.5 km
Elevation: 78 m
Rating: Moderate to Difficult
Location: Parking Lot C for the Shorthills Provincial Park. Wiley Road, Thorold, On.
Paleozoic Trail, Shorthills Provincial Park
Great for those with kids who are looking for an easy trail and want to see a waterfall! The Paleozoic Trail at the Shorthills Provincial Park is designed for those who are physically challenged or are beginner hikers. The path has a hard gravelled surface suitable for wheelchairs and strollers and offers barrier-free benches with beautiful views.
There is a viewing platform for Swayze Falls, which is beautiful during the wintertime.
Distance: 0.8 km
Rating: Easy
Suitable for children
Location: Parking Lot B for the Shorthills Provincial Park. 193 Roland Rd, Ridgeville.
Swayze Falls Trail, Shorthills Provincial Park
If you're looking for a longer and more challenging hike, follow the Swayze Falls Loop for more scenic views. You'll follow the trail through gorgeous wooded areas, and you'll end up with breathtaking views of Swayze Falls.
Distance: 6.6 km
Elevation: 103 m
Rating: Moderate
Location: Parking Lot B for the Shorthills Provincial Park. 193 Roland Rd, Ridgeville.
P.s. Parking Lot B is close to a couple of Niagara's Sugar Bush Farms – be sure to stop by and purchase the best maple syrup products!
Decew Falls, St Catharines
Hiking at Decew Falls is like taking a trip back in time! The beautiful Morningstar Mill was built in 1872 and makes for some dramatic scenery with the stunning waterfall cascading over the edge. It's the only water-operated mill in Niagara and is a cherished heritage site.
The trail is easy from the parking lot, and you can follow the Bruce Trail/Laura Secord Legacy Trail for some hiking along the Twelve Mile Creek. You'll even come across ruins of an old dam and have a chance to see some wildlife.
This is one of the iciest trails I've been on during the winter, so you'll definitely want some proper footwear to help keep you sturdy.
You can access both Lower Decew Falls and Decew Falls here, but it is much more difficult especially during the winter to access the upper falls. Follow the Bruce Trail all along Beaver Dams Creek until it takes a right, and follow a worn path left down to the riverbed. From here you'll be able to hike up to Lower Decew Falls. Hike at your own risk!
Distance: 6.1 km (full loop), 2.3 km (short loop)
Elevation: 120 m (full loop), 37 m (short loop)
There is a steep edge with no railing, so if you bring your children here, be mindful of their steps!
Rating: easy to difficult – waterfalls are difficult to access
Location: 2714 Decew Rd, St. Catharines
Winter Hiking Trails in Fonthill
St John's Conservation Area, Fonthill
One of the most beautiful areas for a short hike. With four different trails to take through a towering old-growth forest (150 years old!), St. John's Conservation Area is popular amongst families. Even the road getting to the parking lot is so scenic!
There are boardwalks across marshes, a trout pond, and a paved, accessible path around it, making it both wheelchair and stroller-friendly.
There are a couple steep climbs, but aside from those, the trails are relaxed.
Distance: 2.1 km
Elevation: 33 m
Rating: Easy – Moderate with one steep area
Suitable for children
Location: 3101 Barron Rd, Fonthill
Winter Hiking Trails in Niagara-on-the-Lake
Woodend Conservation Area, Niagara-on-the-Lake
A great trail during all seasons, Woodend Conservation Area offers sweeping views of Lake Ontario and escarpment slopes.
Popular amongst families (and schools! We came here all the time in elementary school), Woodend is a beautiful area for scenic strolls through the woods.
P.s. Did you know that during the War of 1812, Woodend was used as an observation point for both sides, since it was in the middle of all of the action. Queenston Heights is less than 10 km from here. Read more about Queenston Heights and all of the unique and historic things to see!
Distance: 3.2 km
Elevation: 52 m
Rating: Easy
Location: 1 Taylor Road, Niagara on the Lake
Winter Hiking Trails in Thorold
Laura Secord Legacy Trail, Thorold
Follow in the footsteps of Laura Secord on the trail she took back in 1813!
This is the first spot in Niagara I've seen a lot of beaver activity and it was fascinating to see.
From the Laura Secord Legacy Trail, you can follow a loop or hike a there-and-back trail to Rotary Park.
You can also follow the Bruce Trail through this section but I highly recommend crampons since the trails can get quite icy. You're able to see Morningstar Mill from behind (which is currently closed to the public).
Distance: 4.7 km to Rotary Park (one-way), or roughly 5 km (estimated) from DeCou House to Morningstar Mill, following the Laura Secord Legacy Trail Loop.
Rating: Moderate
Location: parking lot at 2370 Decew Rd, Fonthill (beside the DeCou House Monument)
P.s. Do you know who Laura Secord is? Read about her and see her house in Niagara-on-the-Lake!
Lake Moodie Trail, Thorold
Alternatively, you can also take the Lake Moodie Trail, which is relatively flat and very scenic. There is an option for a trail that hugs Lake Moodie, or a forest path, and it's good for all skill levels.
Distance: 4.7 km
Elevation: 21 m
Rating: Easy
Location: parking lot at 2370 Decew Rd, Fonthill (beside the DeCou House Monument)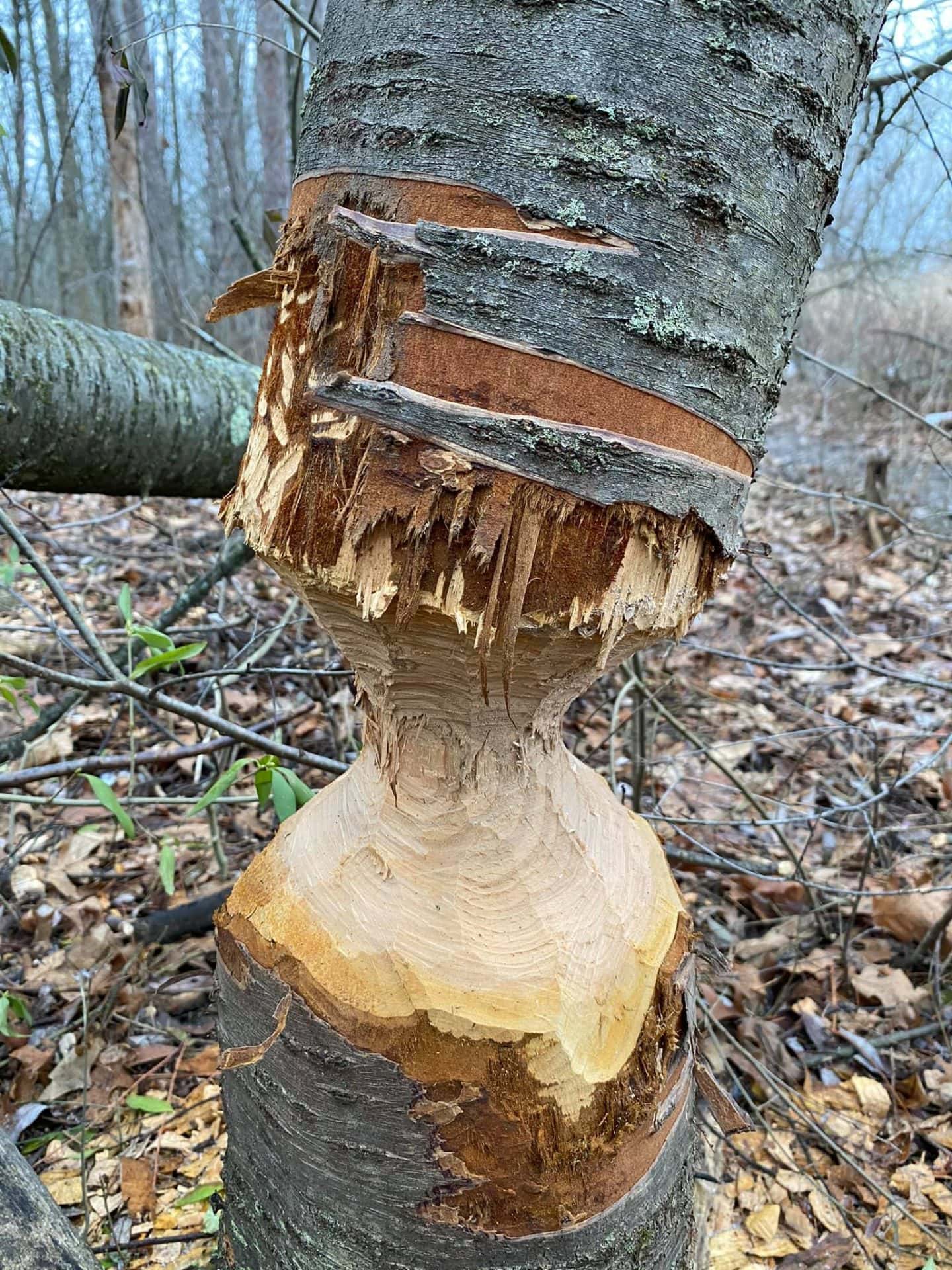 Winter Hiking Tips
Be prepared with these winter hiking tips! I've got a whole list of the best winter hiking tips to check out, too!
p.s. I've joined the 52 Hike Challenge! Will you join me?
Commit to hiking at least 52 times during the year.
With so many awesome trails around us, it's not hard to get out at least once a week an experience all that the area has to offer.
Pin it for later!
Related Posts