The Niagara Region is home to many natural wonders and hidden gems, leaving us with so many opportunities to explore our own backyard and experience something new each time we head out.
If you're looking for something mysterious and a bit unusual, and perhaps a bit spooky, you need to head over to Cave Springs Conservation Area in Lincoln, just down the escarpment off the Bruce Trail.
This incredible property is filled with intriguing stories and folklore (including being once used as a wartime hideout!), mysterious rock carvings, magic salt, a nearby Native North American encampment site, and a spectacular landscape overlooking Lake Ontario with a sheer cliff face with lush vegetation that will leave you in awe.
The late Margaret Reed donated this property to the Niagara Peninsula Conservation Authority, and the area has been documented to have some unusual features, including Cave Springs being known as a fountain of youth.
It's rumoured that Margaret Reed was the resident good witch – she educated children about the property and claimed she was over 300 years old thanks to the magical spring water. How about that fountain of youth?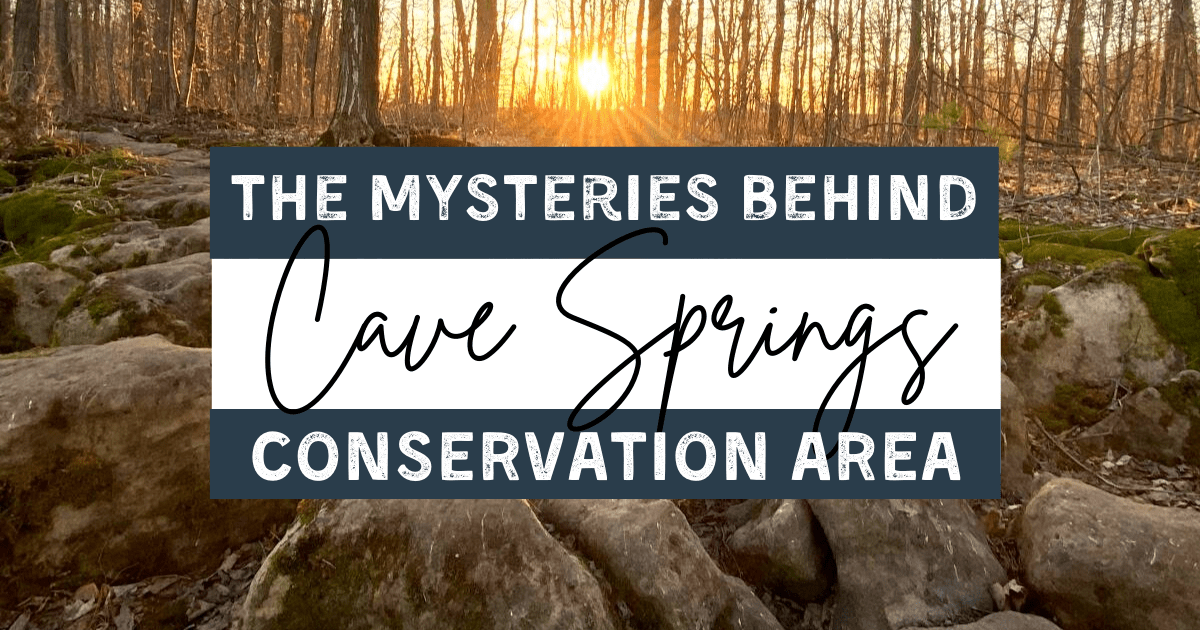 Come here and enjoy the area, but respect the land! Stick to the trails. Cave Springs Conservation Area is home to a fragile and diverse ecosystem. There's a reason this area isn't heavily trafficked; it's primarily used for educational and research purposes.
This post contains affiliate links which means I earn a small commission if you purchase through one of my links at absolutely no additional cost to you. Feel free to read my disclosure policy. Thank you for supporting my blog!
Who was Margaret Reed?
Margaret Reed was the unpaid caretaker of Cave Springs for over 30 years, beginning in 1970. In 1980 she agreed to life tenancy and became in full control of the property.
She spent her time educating people and school children about the history of the land, and the importance of protecting the unique environment and ecology of the Niagara Escarpment. She often conducted historical tours for schools and the Bruce Trail Club.
Margaret wrote several books (six, in fact!) about the Cave Springs property. The most well-known one (and if anyone knows where to get a copy, let me know!) is the "Cave Springs Mystique", which talks about folklore surrounding the property.
Margaret Reed passed away in 2005, after living in her Cave Springs home for 35 years. The red barn on the property was once used as a jail, and later as a stable for Reed's horses.
Unusual tales at Cave Springs Conservation Area
Part of the folklore associated with Cave Springs is the area being referenced as a "Fountain of Youth" with this area once having access to an underground lake.
Access to this lake no longer exists, but there were two possible entrances; a hole in the ground surrounded by loose rock on Quarry Rd that's now covered by a farmer's barn, and another within the ice cave itself.
It would be awesome to see this underground lake, and how big it is, but it seems as though it's nearly impossible to access anymore. There is still groundwater that seeps up from below and forms a small stream that's visible from the trail!
One of the most talked about features at Cave Springs is the ice cave that was once used as a refrigerator.
Unfortunately, this ice cave has collapsed since expansion efforts were made and isn't accessible anymore, but there are those who mention a sudden drop in temperature and finding ice on a hot summer's day.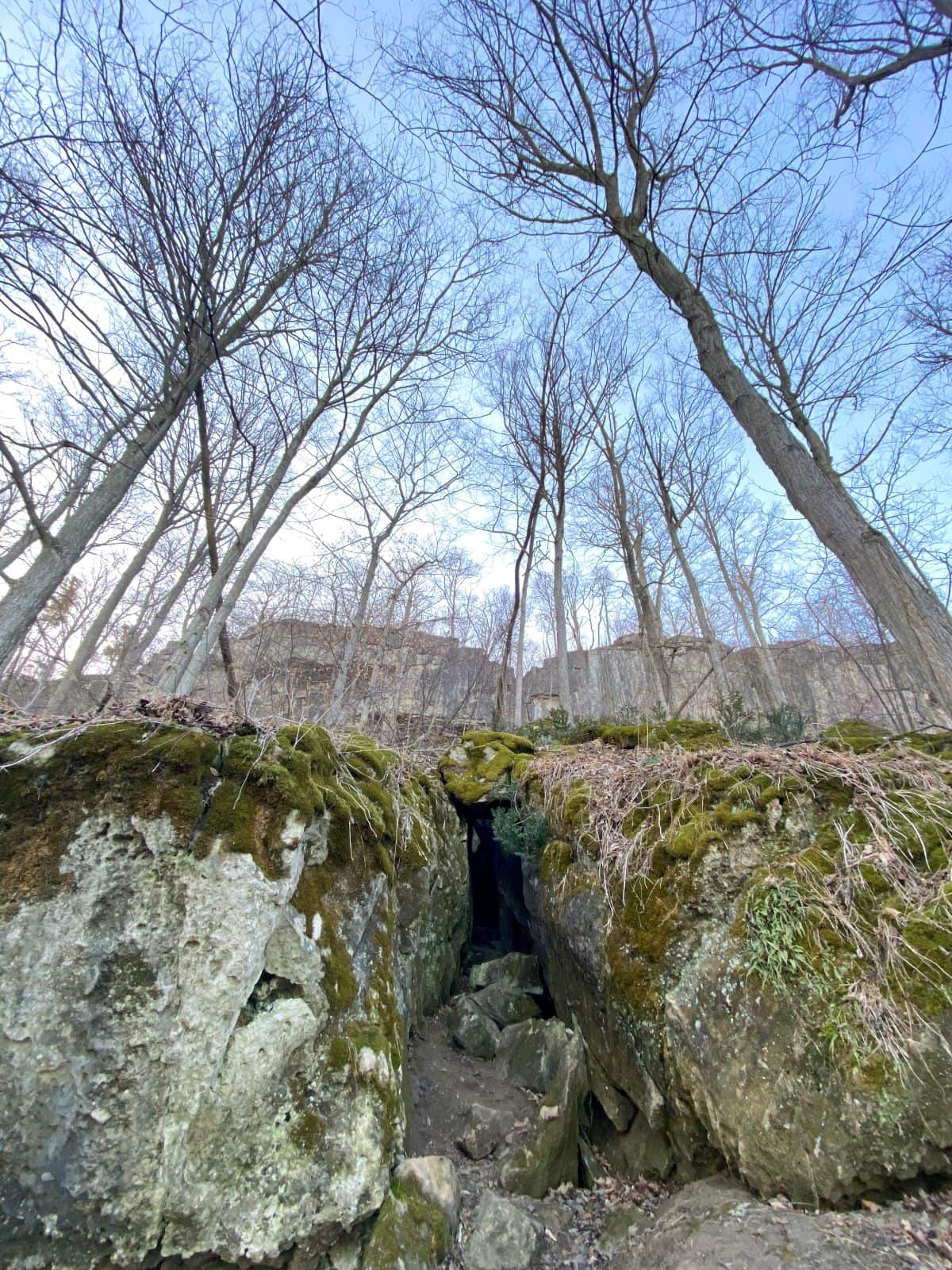 Cave Springs was also used as a hideout during the War of 1812, when payroll was seized and hidden here, and German spies were found here during WW1!
One of the most notable features at Cave Springs Conservation Area is the mysterious head carving, which was discovered in 1948.
This hidden treasure is one that no one seems to truly know where it came from, or when it was carved. It's speculated that this was not an authentic carving, and was done by a farmhand, since its features aren't in line with the other etchings found around the property.
Sadly, the other carvings fell victim to vandals and from what I have found, just the one remains.
Have you seen this face in the rock?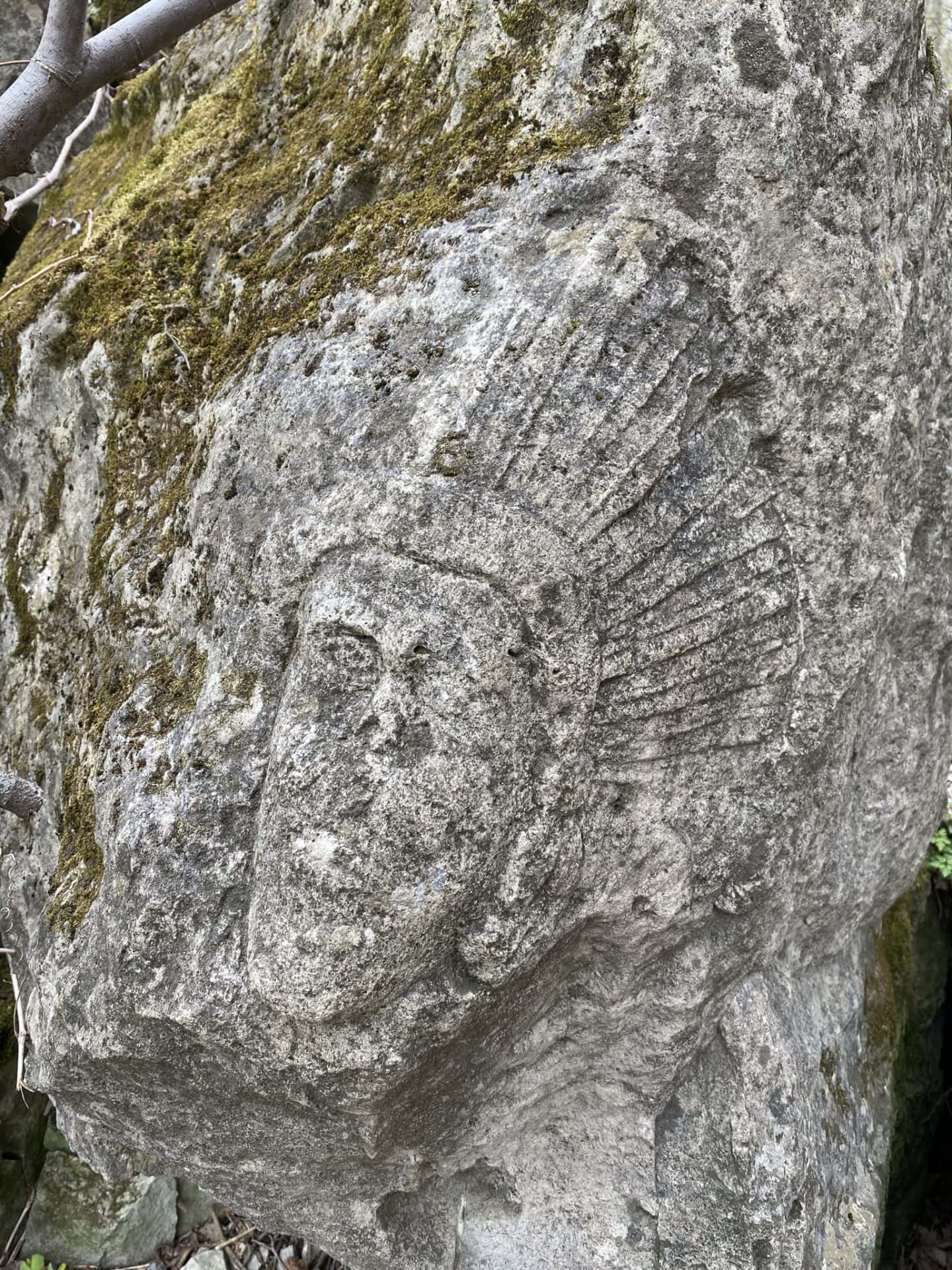 While the Niagara Peninsula Conservation Authority cannot confirm the authenticity of some of these tales, this hidden gem in Niagara is one not to be missed!
Looking for more tall tales at Cave Springs? This incredible video, "Tall Tales – the Mostly True History History of Cave Springs" was done by local filmmaker Richard Douglas sheds some insight to the myths and legends surrounding this magical place.
Do you think Cave Springs is haunted and could join the ranks of Niagara's most haunted places?
Hiking at Cave Springs Conservation Area
The terrain through here is some of the most wild in Niagara, with boulders skyrocketing from the ground, lush vegetation, towering Sugar Maples and footing you'll have to keep an eye on as you make your way along the escarpment! It's one of my favourite places to visit since there's something new to see each time.
As you venture around the base of Cave Springs, you'll see a plaque noting a Carolinian forest arboretum.
You'll come across the famous red barn, and as you enter through the gate to the trail, you'll be greeted by a rich diversity of plant life including ferns and mosses, jumbled rocks and boulders, towering Sugar Maples, and a talus slope (which essentially translates to piles of rock and debris at the base of a cliff or slope – there's my inner geographer coming out!).
You'll make your way up the steep slope to the top of the escarpment (this can be quite slick after some rainfall!) and at the top of the trail you can head left (East) to Ball's Falls Conservation Area, or right (West) towards Grimsby along the Bruce Trail. This rocky piece of land along the Niagara Escarpment offers impressive views of Lincoln, vineyards, Lake Ontario, and on clear days, Toronto!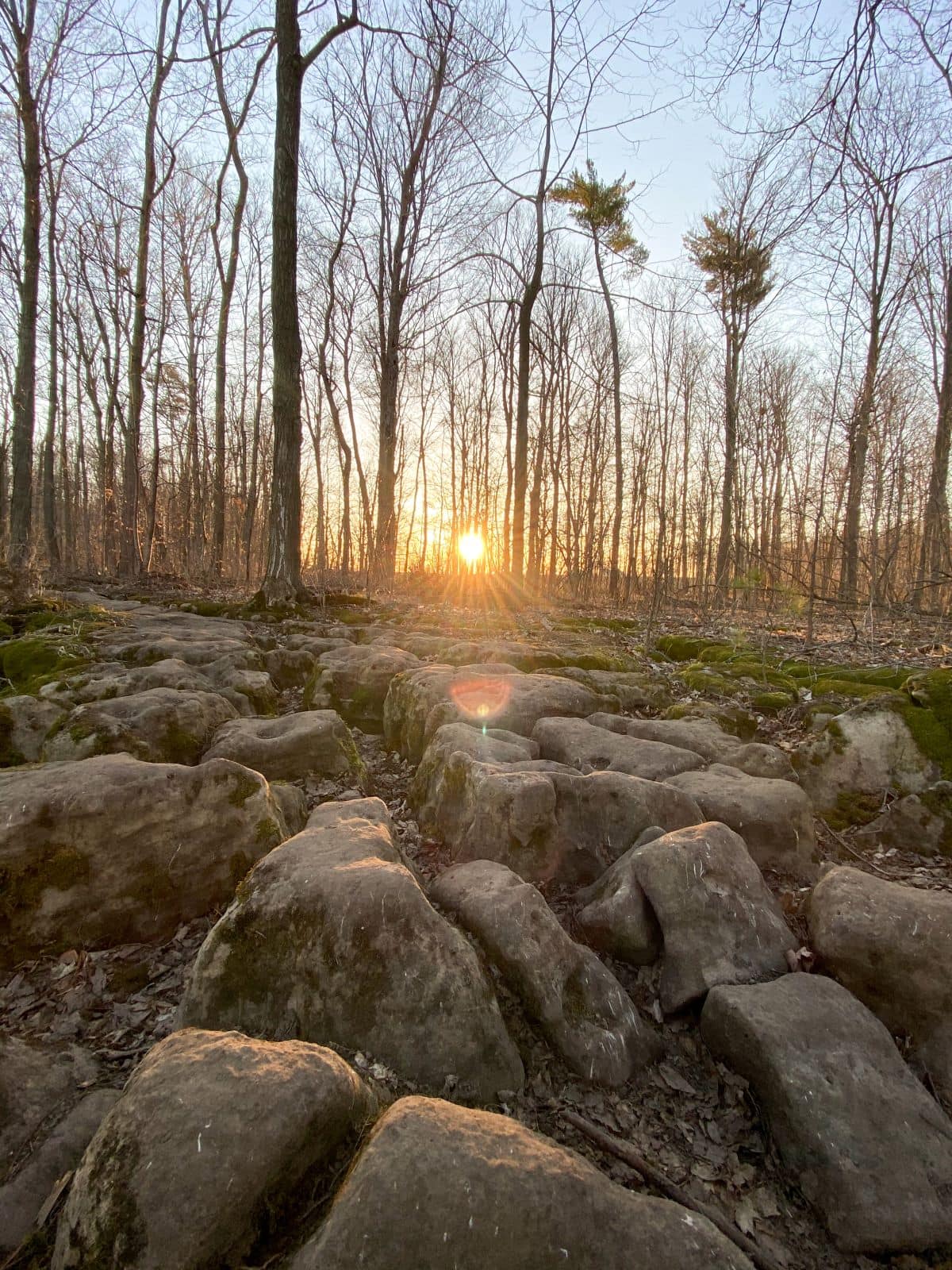 You'll definitely have to keep your eyes on the ground along the trail up here – there are lots of tree roots, rocks to navigate around, and a stepping stone-like trail.
There are various trails you can take, aside from the Bruce Trail, that wind their way and reconnect through the forest. You may find that hiking poles help here, and definitely during the winter you'll want some crampons – both of these I use and love!
You'll also find a sign for the very first Bruce Trail blaze put here back on March 25, 1962! Have you found this sign?
Where to park for Cave Springs Conservation Area
Cave Springs Conservation Area typically doesn't get a lot of foot traffic, since used to be sparse, and the best way in is from hiking from either Kinsmen Park/Quarry Rd or from Ball's Falls, which are both beautiful hikes.
Niagara Peninsula Conservation Authority recently made accomodations for parking at Cave Springs, which is much improved from the way it was before!
If you follow the steep and narrow Cave Springs Rd off of King St, and follow the road left (going straight will take you to Cave Springs Vineyard), take the first right down and park in the cul-de-sac right at the entrance gate!
There are no bathroom facilities, so plan accordingly!
Cave Springs Conservation Area address
Location: 3949 Cave Springs Rd., Beamsville, ON
Pin it for later!
Related Posts