Fall is my favourite season. The scent of fallen leaves and the changing colours of the trees, the fall harvest of apples, pumpkin patches, and the crisp air. Is there anything better?
Apples are a timeless treasure. From sweet apple pies, struedels and crisps, apple butter, warm apple cider and candy apples, these juicy gems are so versatile. There's something so special about picking your own apples, and here in Niagara we have plenty of places to do just that!
It's a fun family activity where you can reap the rewards of the Niagara fruit belt right in our backyard, and with over 16,000 acres of apple trees producing 7.5 million bushels of apples, you don't want to miss out on this seasonal gem.
There are plenty of PYO apple farms and orchards as well as numerous roadside farm stands to take your pick from this season and support our local farms! Here's a list of where to pick your own apples in Niagara in 2022!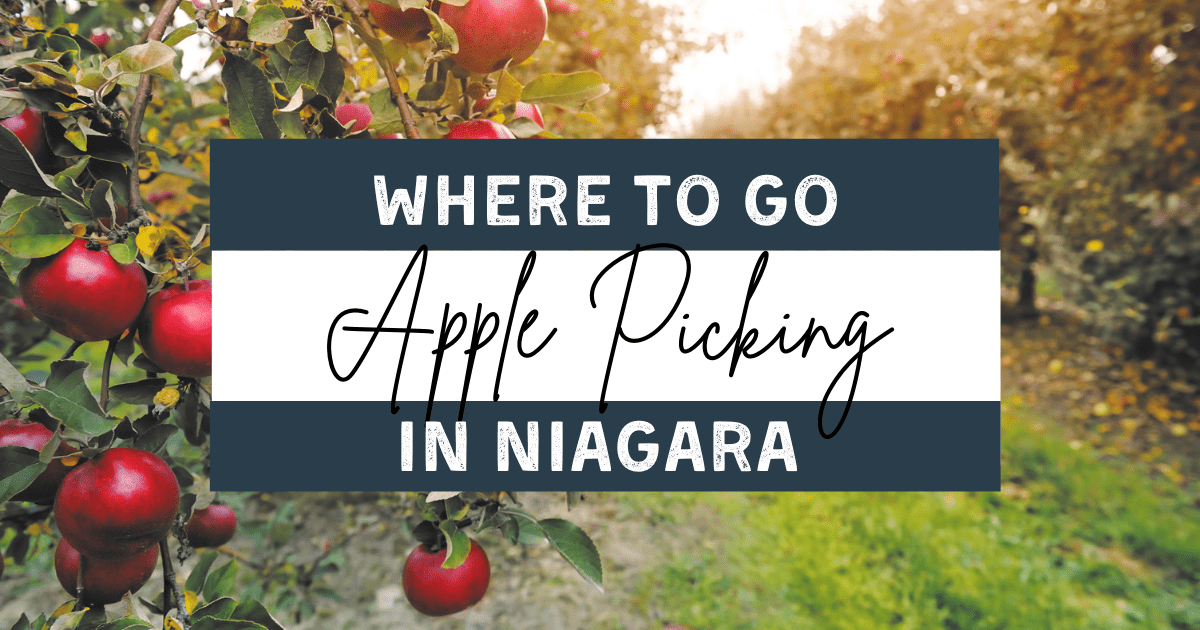 P.s. it's advisable to call ahead or check these farms' websites or social channels for any updates. While every effort is made to ensure accurate pricing, things change all the time. It's best to verify to avoid any disappointment!
How long is apple season in Niagara?
The apple harvest season begins in September and runs through to the middle of November, depending on variety!
What is the best month to go apple picking?
Mid-September is peak apple picking season in Ontario, with many apples ripening during this time and late September, depending on the weather! What better way to kick off fall than to enjoy a crisp fall day in the sunshine?
What varieties of apples are there in the Niagara Region?
There are 15 main apple varieties grown in Ontario. The top varieties usually found at PYO apple farms are McIntosh, Red Delicious, Gala, Northern Spy, Empire, Honeycrisp and Ambrosia.
Gala – early September
McIntosh – mid September
Honeycrisp – mid September
Jonagold – late September
Empire – late September
Fuji – late September
Red Delicious – October
Golden Delicious – October
Spartan – October
Northern Spy – October
Ambrosia – October
Mutsu (also known as Crispin – my favourite!) – late October
Ida Red – late October
Pink Lady – late October
Russett – late October
Red Prince – February
Did you know that the McIntosh apple is the most popular apple in Canada? This heritage apple was discovered by John McIntosh, a Scottish settler, back in 1811 while clearing his farmland in eastern Ontario and remains a Canadian favourite to this day.
Where can I pick apples in Niagara?
Apple picking in Grimsby
Silmaril Farms
With 9 apple varieties to pick from on 1500 dwarf trees (which means no ladders!), Silmaril Farms is a great spot to visit with children.
Enjoy freshly picked apples and hot apple cider.
Open Fridays – Monday starting mid-September. Please call ahead for picking times, days, and varieties available. There will be a pre-recorded message with picking conditions.
Address: 144 Russ Rd, Grimsby
Phone: 905-945-7963
Apple picking in Beamsville
Windwood Farms
*no longer open to the public*
With over 15 varieties of apples grown on property, you'll have no shortage of apples to pick from! Don't forget to try the apple cider while you're here!
You can even take advantage of a nature walk while you're visiting with a National Geographic Certified Educator! Connect with nature and learn all about the wildlife in Niagara!
Windwood Farms also has a large pumpkin patch to pick that perfect pumpkin from, as well as a market to pick up some seasonal vegetables, pre-picked fruit, and baked goods, making this the perfect family-friendly farm to visit this fall!
Open weekends from 10 am – 4 pm. Credit cards, debit and cash accepted. No fee for walk-ins!
Phone number: 4198 King Street East, Beamsville
Address: 905-401-0515
PYO Apple Orchards in Niagara-on-the-Lake
Parkway Orchards
Famous in Niagara-on-the-Lake for the abundance of PYO fruit offerings earlier in the year, Parkway Orchards is the place to visit during fall harvest in the Niagara Falls area!
Stroll down rows of apple trees and stop at the market for fresh baked goods and produce.
Pick-your-own apples are expected to begin mid-September.
Address: 15000 Niagara Parkway, Niagara-on-the-Lake
Phone: 905-262-5097
Apple picking near Niagara Falls
Mathias Farms
Well-known throughout Niagara, Mathias Farms offers numerous PYO fruit options, including apples! It's advised to call in advance for picking conditions.
Weekends 10:30 am – dusk.
Address: 1909 Effingham Street, Ridgeville
Phone: 905-892-6166
Duffin Farms
For a quieter place to visit to pick your own apples, visit Duffin Farms.
Cash only (as of last year's season).
Address: 1541 Rice Rd, Welland
Phone: 905-892-5387
PYO Apple Farms near Hamilton
There are some great apple orchards just outside of Niagara to visit, too!
Apple picking in Stoney Creek
Puddicombe Estate Farm
Puddicombe Estates is a popular family-friendly place to visit! Not only do they have apples and pumpkins to pick, they also have an amazing market to buy fresh pastries like pies, tarts, cookies and strudels along with fudge, jams and jellies!
There are over 12 varieties of apples to choose from (including some dwarf apple trees for kids to easily pick from!), and you can even enjoy some hot apple cider while you're here too. What better way to spend a fall day?
Take a train ride through the orchards with beautiful views of the Niagara Escarpment and its changing fall colours.
They're also a winery and cidery!
Open 7 days a week. Stay tuned for opening days for PYO apples.
Address: 1468 Highway 8, Winona
Phone number: 905-643-1015
Luna Farms
Luna Farms has been open for less than three years! For every bag of apples sold, a portion will go to local food bank! Choose from over 25 varieties at this friendly-family farm an spend a day amongst the apple trees soaking in the fall sunshine.
Open weekends 9 am – 5 pm.
Address: 661 8th Road E, Stoney Creek
Phone number: 647-237-2321
Apple picking tips
Twisting or pulling an apple from the tree can damage the fruit. You'll be able to tell if the apple is ripe if the stem is easily removed.
Don't shake branches! This is something we all see in movies or cartoons, but this can lead to major food waste and bruised apples.
Store apples in a cool area out of light in a breathable container, like a cardboard box. If storing in the fridge, they'll remain fresh for 4-8 weeks.
Recipes to make using Niagara apples
Pin it for later!
Related Posts