It's no secret that England is home to some of the best castles in the world. These beautiful castles in England have withstood the test of time and each one tells its own tale.
With so many castles in England, it's hard to pick which one triumphs over another. But can you really compare? With England's history spanning thousands of years, you're almost guaranteed to find a few throughout your trip.
Whether you're seeking well-mainted castles or castles in ruin, there are no shortage of amazing castles in England to enjoy on a day out.
Let's check out some of the best castles in England you can explore on your next trip!
This post contains affiliate links which means I earn compensation when you click on the links at absolutely no extra cost to you! Feel free to read my disclosure policy. Thank you for supporting my blog!
Plan your next vacation using these tools!

✈️ Book flights: SkyScanner
🏨 Book hotels: Booking.com
🚘Book car rentals: RentalCars.com
🎫Book tours: GetYourGuide
🌍Favourite travel item: Packing cubes
🧳Favourite travel bag: Osprey 40L Fairview
🩹 DIY Travel Medical Kit
💸 20 Cheap Travel Items Under $20
Money-Saving Tip for Visiting Castles in England
If you are visiting England and want to check out some of these great castles, many of these are English Heritage properties.
While you can purchase an English Heritage membership, you can also purchase an English Heritage Visitor Pass! This pass is available in a 9-day or 16-day pass – and covers loads of properties, including some of the best castles in England!
In fact, the English Heritage Visitor pass grants you access to more than 100 stately homes, castles, abbeys, Roman and prehistoric remains. Even if you visit one of two places, the pass pays for itself!
Without further ado, let's dig into some of the best castles in England to visit!
Bodiam Castle
Set in picturesque East Sussex, Bodiam Castle is one of Britain's most iconic monuments. This 14th century medieval castle in England may remind you of a sandcastle when you first set eyes on it. This moated castle was originally designed to defence the surrounding area from the French during the Hundred Years' War.
Your imagination will come to life when you look through windows where arrows once took aim, and spiral staircases lead you up the towers that acted as lookouts for potential threats.
You will also be able to pass through Bodiam's original wooden portcullis through the twin-towered gatehouse and take a glimpse at medieval splendour.
Although the structure of Bodiam Castle is well-preserved, the interior of the castle is in ruin. This certainly doesn't stop you from envisioning the impression of castle life during the 1300s.
The grounds of Bodiam Castle are stunning; scenic trails lead you through the woodlot and there are numerous fantastic spots for a picnic with a dramatic backdrop.
Bodiam Castle is one of the great National Trust sites near London and can be reached by train in 1.5 hours with a connecting taxi, or by car in 2 hours. If you're visiting Bodiam Castle, be sure to add in a day or two to visit Rye, East Sussex.
Arundel Castle
Visiting Arundel Castle provides a great day outing in the south of England. The magnificent estate in West Sussex, is the home of the Duke and Duchess of Norfolk and has been in their family for over 400 years.
Without a vehicle, you can easily access the estate by train. From Arundel Station, it's a 20-minute walk to the castle.
The medieval structure might be the draw for many, but the castle grounds are just as impressive. Since the gardens open two hours before the castle, you'll want to start your tour there.
Outside the castle, the highlights include the Fitzalan Chapel, which has both an Anglican and Catholic side, the Collector Earls Garden, and the Kitchen Garden.
Inside, the Duke and Duchess still host events in the Baron Hall. At 113 feet long, its colossal size can hold many guests. The library has an impressive collection of 10,000 books, many rare editions.
You can access the upstairs bedrooms via a magnificent Grand Staircase if you purchase the Gold Tickets. The staircase features a massive 18th-century tapestry.
The Norman Keep is the highlight for most guests. You'll pass the 1070 Gatehouse, one of the oldest parts of the castle, before reaching the stairs. At the peak, you'll enjoy panoramic views of the River Arun, Arundel town, and the beautiful Sussex countryside.
Recommended by Forever Karen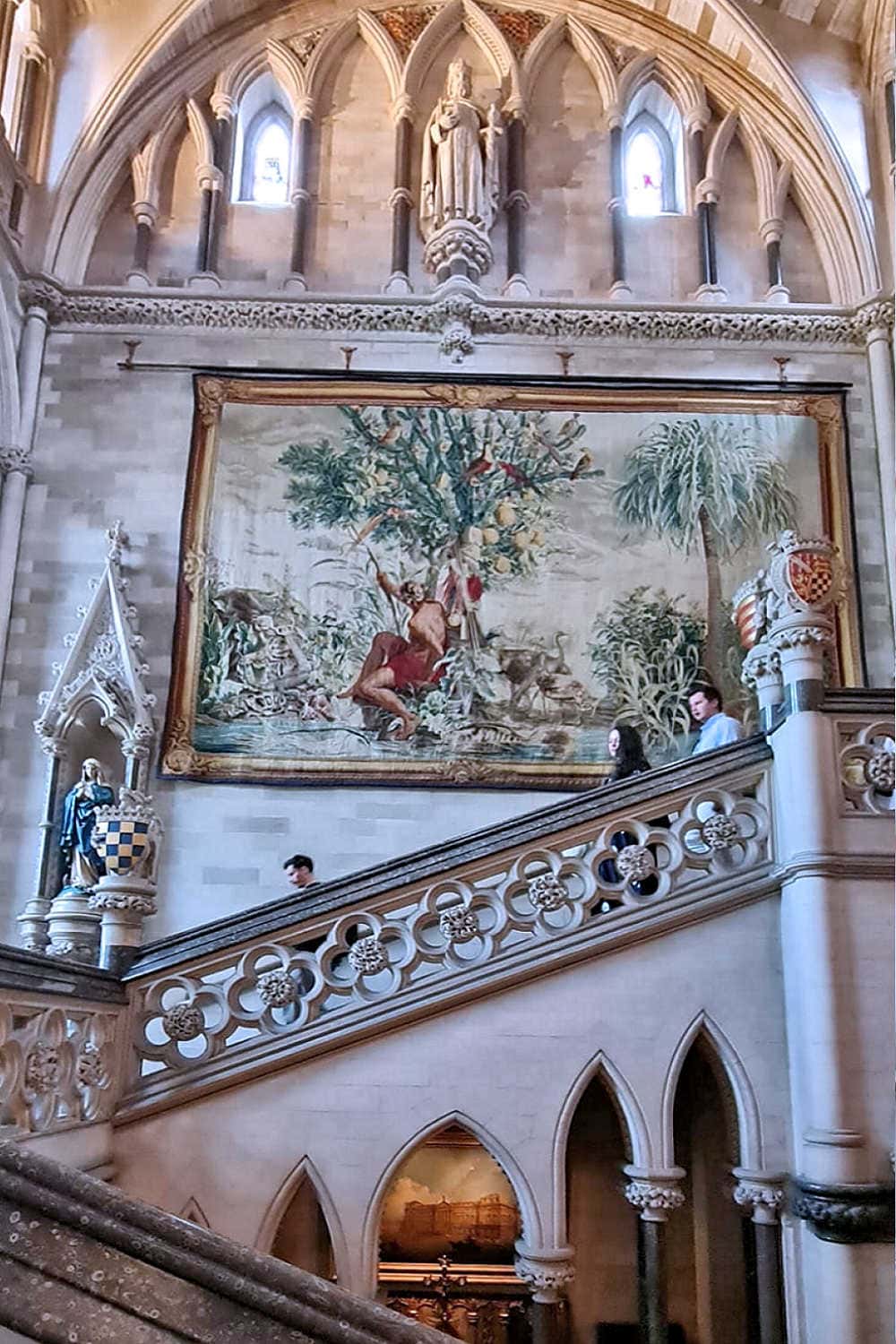 Windsor Castle
Windsor Castle is located just outside London, very near to Heathrow Airport and makes an excellent day trip from the city. It's one of the most recognisable castles in England and is still home to King Charles.
The original castle in England was built to assert dominance after the Norman invasion being so close to London and right on the River Thames. For almost 1000 years it's been home to Kings and Queens and has been used as a setting for royal weddings too.
While you don't need to visit inside to get a good view of the castle, if you do you're treated to a tour of amazing staterooms with stunning interiors, art and opulence. One quirky thing to see is Queen Mary's Doll's House which is the largest in the world and has amazing detail.
A top tip for visiting Windsor Castle is to time your visit with the Changing of The Guard which happens on Thursdays and Sundays at 11am. Like the one at Buckingham Palace it is full of ceremony, music and marching and never fails to impress! It can be watched inside and outside the castle.
Windsor is easily reached by car but also by train from Waterloo station in London. The train takes just under 1 hour and you'll get to Windsor & Eton Riverside station without changing. It's about a 5 minute walk from there to the town.
Recommended by Lost in Landmarks
👉 Book your tickets to Windsor Castle!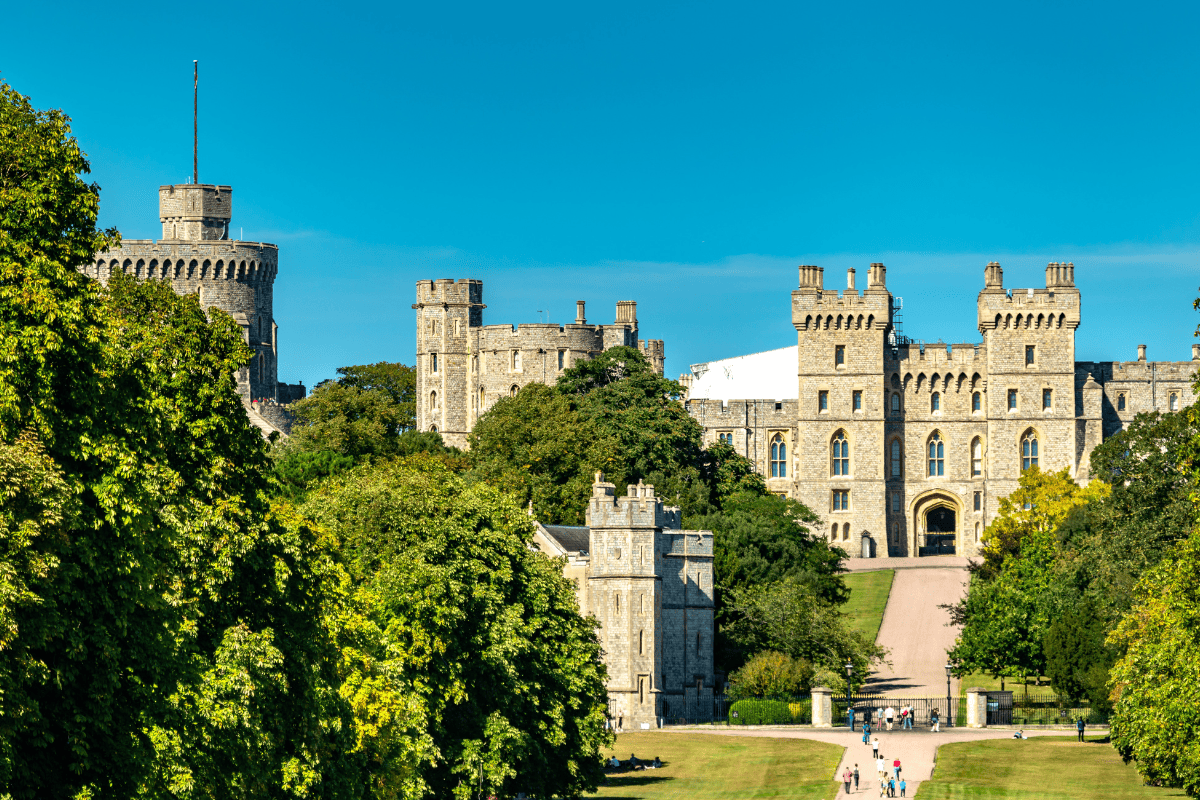 Beeston Castle
Located in Cheshire, Beeston Castle is one of the best English Heritage castles in England as well as a great option for a day trip from Manchester or Liverpool.
You can easily get there by car. There is a car park right in front of the entrance (free for English Heritage members).
The entrance to the site will give you access to the castle, estate as well as the woodlands around it which means you can easily spend the day there and go for walks. It's also important to note that it's family and dog-friendly.
The castle itself was built in the 1220s by the 6th Earl of Chester, Ranulf. It was seized barely a decade later by King Henry III and remained a royal castle for about 300 years.
It is famous for having withstood a year-long siege during the Civil War before being demolished by the Parliamentarians.
This is a great place to learn more about history. While the castle wasn't rebuilt, the ruins are very well looked after the English Heritage has installed a lot of signs explaining everything about the history of the castle and the wildlife in the surrounding areas.
They also included games for children and you can find amenities such as toilets and an ice cream parlour.
Recommended by Manchester Pocket Guide
👉 Purchase your English Heritage Visitor Pass!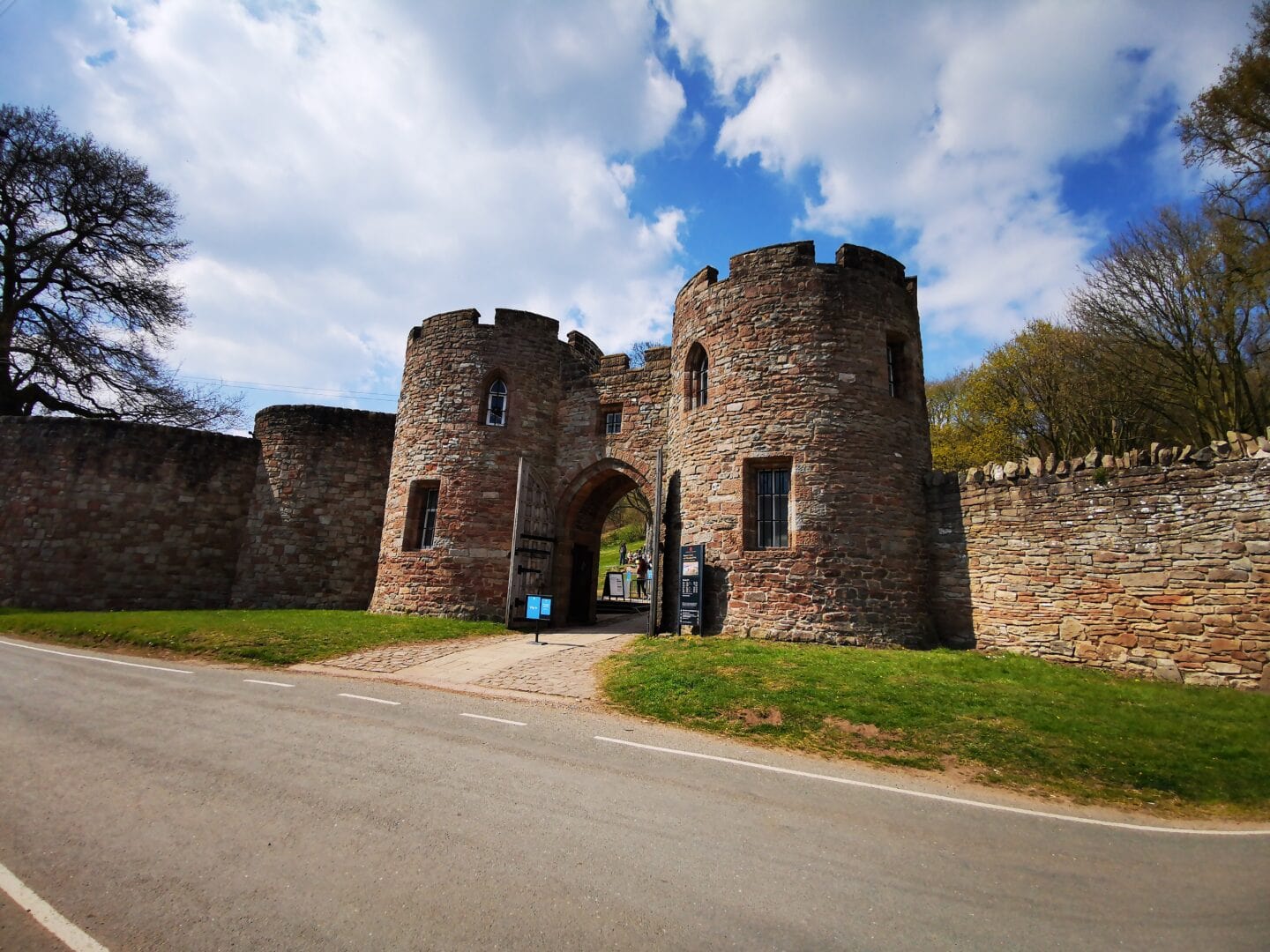 Skipton Castle
Skipton Castle, nestled in the quaint town of Skipton, North Yorkshire, is one of the most well-preserved medieval castles in England.
As you walk through the gates you step back in time through over 900 years of history. Inside you will discover why the castle was first constructed in 1090 and learn of its resilient stand as the only Royalist castle in the north of England in the Civil War.
Visitors can explore the castle in its entirety, from the old kitchens and bedchamber to the lord's quarters and the banqueting hall.
Don't miss the opportunity to walk on the ancient cobblestones of the charming Conduit Court, or to explore the serene St John the Evangelist Chapel. The castle also boasts a woodland walk and a picnic area, perfect for a day out with the family.
Access is convenient, whether travelling by car or train. Situated near major motorways and just a 10-minute walk from Skipton train station, it offers an easy journey to a fascinating destination.
You should note that the castle only accepts card payments, no cash. Your self-guided tour around the whole castle will take around 90 minutes to complete. Plus, it is advisable to wear comfortable shoes to navigate the historic paths!
Recommended by Get Lost Blog
Orford Castle
Orford Castle is actually the polygonal keep (fortified tower) of the castle. It was built in the 12th century for Henry II as part of an effort to control the power of local barons during a period of turbulence in English history.
The castle, located in the pretty riverside village of Orford, in Suffolk, is fully explorable from the basement to the roof. Kids will love exploring the dungeon and dark passageways leading to mediaeval bathrooms and kitchens.
Adults will enjoy exploring the well-restored castle at a more leisurely pace with an audio guide in hand. Be sure to head up to the roof for stunning views over the flatlands all the way to Orford Ness. Once you're done in the castle, take a stroll around the grounds of the castle, enjoying the gently rolling lands.
Orford village lies within the Suffolk coastal and heaths area of outstanding natural beauty. During the middle ages the village was an important fishing and port town but today it is a sleep village with a small permanent population, a well renowned bakery and smokehouse and three pubs.
In 2020 Conde Naste voted it one of the twenty most beautiful villages in the UK and Ireland. After you've explored the castle and the church grounds, head to the river to really get a feel for East Anglia's unique beauty.
On your way home, stop in at the world famous Snape Maltings, home of the Aldeburgh Festival.
Orford Castle is most easily visited by car. Wickham Market (8 miles away) is the nearest train station.
Recommended by Mexico Cassie
Alnwick Castle
Alnwick Castle is one of Britain's most iconic castles. It's located in Northumberland close to Newcastle upon Tyne. You can get to the castle by car or by bus from Newcastle, but public transport takes more than twice as much time than getting there by car.
Alnwick Castle's current look is from the 14th century, but the foundation of the castle is even older than that, dating back to the 11th century. Over the years, the castle has functioned as a military outpost, a college for teaching, a refuge for evacuees, and even a filming set.
Today, it's the second largest inhabited castle in the UK, and the 12th Duke of Northumberland and his family live there. It's also a popular tourist destination.
Some of the movies filmed at Alnwick Castle were the first two Harry Potter films. In the Alnwick Castle courtyard, you can see the location where Harry Potter and his classmates learn to fly their broomsticks. And since Harry Potter is so popular among the castle visitors, there are even broomstick lessons available, so you can get your own picture flying a broom with an amazing backdrop.
So any Harry Potter fans visiting the UK are sure to love it! But even if you're not a Harry Potter fan, with all its history and its impressive medieval construction, Alnwick Castle is still one of the best castles to visit in England which is still in active use.
Recommended by Veganderlust
Related: Harry Potter Studio Tour London (What to Expect!)
Kenilworth Castle
Kenilworth Castle is a beautiful red sandstone ruin that sits in the midst of what was a huge lake within Royal hunting grounds in Warwickshire.
Kenilworth was built in the 1120s and played an important role in much of Britain's history. Subjected to a six month long siege, by King Henry III against the de Monforts in 1266, it was considered the longest siege in medieval history.
The castle was expanded by King John and Henry V and in 1563, during Elizabeth's reign she granted it to her favourite Robert Dudley, Earl of Leicester. Dudley hoping to convince the Queen to marry him converted the Castle to a luxurious palace to entertain her.
The Castle was destroyed or 'slighted' and left in ruins by the Roundheads during the civil war of 1642.
Within the ruins you will see the Queen's private staircase and long gallery, towers, a Tudor stable and a glorious re-created Elizabethan garden with an aviary, garden sculptures including a marble fountain and the Earl of Leicester's emblem of a bear and ragged staff.
Kenilworth Castle can be found in Warwickshire, 5 miles from Warwick and 6 miles from Coventry. The drive takes 2 hours from London and you can easily reach Kenilworth Castle by train.
English Heritage maintains the Castle and entry to the Castle costs £14.00 for an adult and £8.50 for a child's ticket.
Recommended by XYU and Beyond
👉 Purchase your English Heritage Visitor Pass!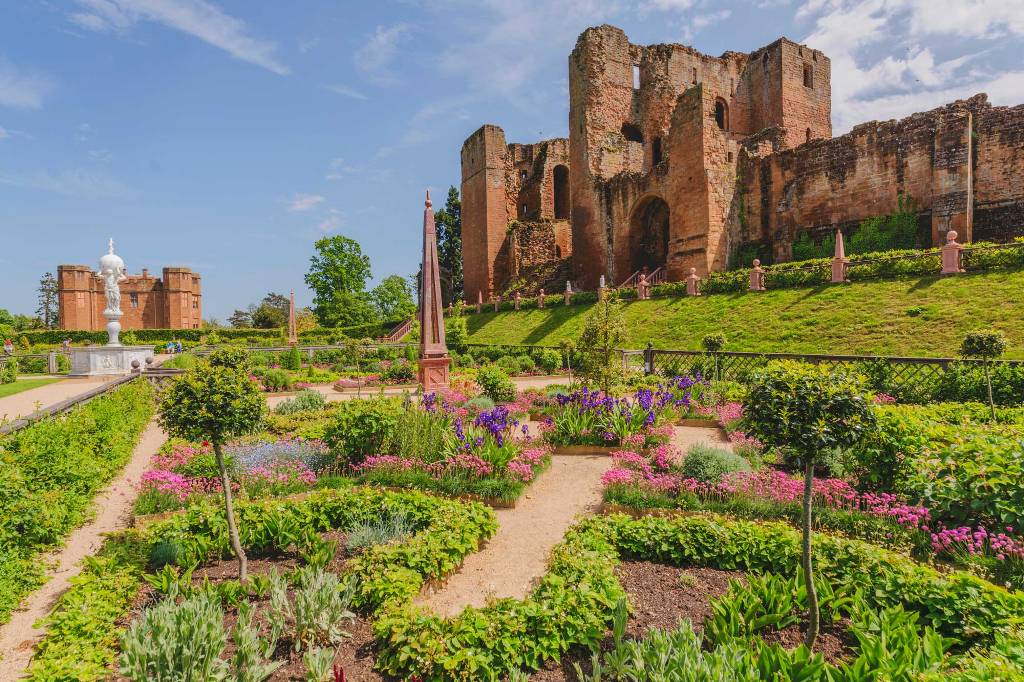 Tower of London
Of all the castles in England, the Tower of London is perhaps the most iconic, yet many visitors do not realise it is a castle!
Built in the 11th century, the Tower of London has long been considered the most secure castle in the country.
As such, it has been home to the royal family's most precious possessions – the coronation regalia known as the Crown Jewels. In the tower they are carefully watched over by the Yeoman Warders, or Beefeaters, considered England's most powerful soldiers.
Having stood for over 1000 years, the Tower of London has also served many other purposes, including a prison, royal mint, and even a zoo.
Today, it is a UNESCO World Heritage Site and a must-see for every visitor, whether you have two days in London or more!
Each year, more than 3 million people visit the Tower of London, making it one of England's most popular tourist attractions.
Being in the centre of London, the best way to get here is by public transport. It is within easy walking distance from a number of London Underground stations, with the closest being Tower Hill.
You can also reach the Tower of London by river boat which stops at Tower Pier. This can be a fun way to see London from a different perspective.
To enter the Tower of London you will need to purchase a ticket which costs £33.60 online. You can also book a group tour with a Beefeater as a guide to learn more about this castle's fascinating history.
Recommended by We Dream of Travel
St Michael's Mount
St. Michael's Mount is a beautiful castle situated on its own island in the southern county of Cornwall.
The island was first used as a pilgrimage site in the Middle Ages, and then in the 12th century, a daughter house to Mont St. Michel in Normandy was built there.
Over the years, the property expanded to a fortress and then to part of the St Aubyn family estate after the English Civil War, when Colonel John St Aubyn purchased the Mount from the previous owner.
For over 200 years, the Mount was a family home for the St Aubyn family. The property was expanded and built upon to create the current castle mansion. Today, the family still lives on the island and, with the National Trust, runs the visitor business for St. Michael's Mount.
Exploring St. Michael's Mount is a unique experience. Access to the castle and island is only via a causeway during low tide or a boat during high tide. Visitors can wander the castle and gardens, learn more about the history of the family and the Mount, and enjoy Afternoon Tea.
The best way to get to St. Michael's Mount is by car. This is a fantastic stop if you are taking a road trip through England. You can also take a train to Penzance and then a short taxi ride the rest of the way.
Recommended by Open Road Odysseys
Clifford's Tower (York Castle)
Perched on a mound just outside of the city of York, Clifford's Tower is one of the most interesting castles to visit in England. It's easily one of the best things to do in York, despite being quite a small castle compared to places like Windsor or Warwick. It consists of pretty much a single room, but this doesn't make it any less interesting.
It's the only section that remains of York Castle, the greatest medieval fortress in Northern England. It was originally built by William the Conquerer as an attempt to quell rebellious action in the north. It was then burned to the ground – twice – before being rebuilt by King Henry III.
The tower also underwent a modern-day restoration in 2022, which will help you see more of the history of the castle. To visit, there's a car park almost at the foot of the hill which is a little expensive but the most convenient place to park to visit The tower. Climb the steps up the hill, grab your ticket (it costs £8.50 per adult), and enter the castle.
When you enter, you'll be presented with an audio guide that teaches you about various parts of the castle. There are plaques all around to read about the castle, wooden steps leading to the upper parts, and then more spiralling staircases that take you to the top deck.
Here, you'll be treated to sweeping panoramic views over York and the surrounding countryside. There's also a middle section of these walkways which is hollowed out, so you can see through the roof and to the sky beyond. Even though it's small, Clifford's Tower is pretty impressive, and well worth a visit if you're in the North of England.
Recommended by Adventures of Alice
👉 Book your York City Pass (20 Attractions!)
Framlingham Castle
You'll find Framlingham Castle in the Suffolk countryside around 20 miles east of Ipswich. Built in the 12th century, Framlingham Castle was the home to the Duke of Norfolk for over 400 years.
From playing a pivotal part in the crowning of Queen Mary I to being declared a castle for the poor, the Framlingham Castle walls are rich with history.
Aside from being the muse behind Ed Sheeran's song Castle on the Hill, Framlingham Castle offers knowledgeable guides, delicious cakes in a reasonably priced cafe, and various local walking paths.
A top tip before visiting is to take a look at their website to see what events they're running. They regularly switch their events up so it's worth checking beforehand if there's something particular you want to see.
Framlingham Castle is accessible by car and there is a car park within 300 metres of the entrance to the castle. However, there are limited parking spaces to arrive early to secure your spot and avoid having to park in one of the local pay and display car parks.
While you can jump on a train to nearby Wickham Market or Saxmundham these stations still require a taxi to get to the castle so I'd recommend driving where possible.
Recommended by Travelling With the Whitrows
Lincoln Castle
As castles in England go, you would be hard-pressed to find another that is as ancient or that boasts quite so many reasons to visit. Built by William the Conqueror in 1068, Lincoln Castle is home to an original copy of the world-famous Magna Carta and is one of only two castles to have a double motte.
A walk around the Castle Walls offers stunning views over Lincoln City and the surrounding countryside, giving perspective to the huge scale of this medieval defensive structure. History buffs will love exploring the Victorian Prison which has the world's only remaining 'separate system' chapel, with each seat having its own enclosure.
The Magna Carta, dating back to 1215, is housed in an underground, purpose-built vault; said to be the foundation of democracy in England, it is of huge historical significance and can be viewed alongside an original Charter of the Forest, signed in 1217.
Getting to the castle is straightforward, with good road and rail links right into the centre of Lincoln. The walk up to the castle through Lincoln's Old Town is steep, but you will be well rewarded at the top!
Recommended by Trekking the Dream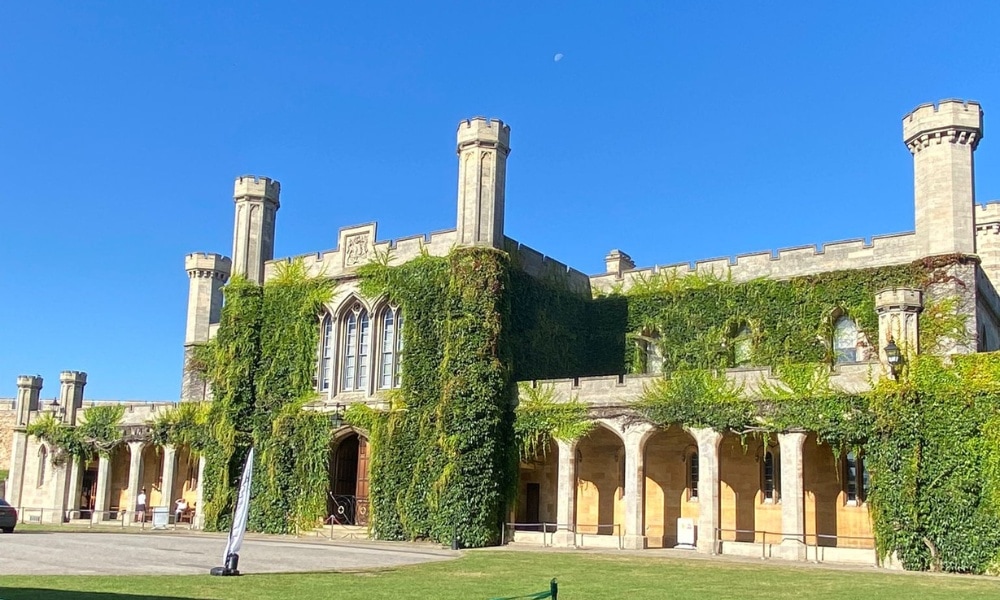 Berkeley Castle
Berkeley Castle is one of the most stunning castles in the Cotswolds and worth visiting on any trip to England. It is a Grade I listed building which has been owned and inhabited by the Berkeley Family since it was built in the 12th Century. Berkeley Castle is the only building in England that is still lived in by the family that built it which is an incredible fact!
The best way to see the castle and learn all about the history is by guided tour which takes just over an hour.
The Keep is the oldest part of the castle and unlike most castles where the Keep is perched atop the highest point, at Berkeley Castle it surrounds the mound or motte. This design made it stronger and during the English Civil War when the castle was besieged the Keep remained intact with just a hole in the wall which visitors can still see today.
Like most castles in England, Berkeley has a Great Hall which was once used for wining and dining and visitors can explore many other rooms around the castle used in everyday life including the Tower room, the kitchens and the castle chapel.
The most exciting historical event at Berkeley Castle was probably the imprisonment and murder of King Edward II whose murder was in a very unconventional manner which I won't mention here!
Berkeley Castle is open Sunday to Wednesday 11am-5pm from April to November and tickets cost £14.50 for adults and £7.50 for children, Historic Houses members are free. The easiest way to get to Berkeley Castle is by car as the nearest train station is 6 miles away.
Recommended by Book It Let's Go!
Bamburgh Castle
Bamburgh Castle is one of the most iconic castles in England, and should be at the top of your itinerary when spending a weekend in Northumberland. Perched dramatically on the coast between the Holy Island of Lindisfarne and Alnwick, this Grade I listed building overlooks a sweeping beach that's known for its sand dunes.
There's been a castle or fortress here for centuries, keeping watch over northeastern England. Today, Bamburgh Castle is owned by the Armstrong family, and several areas are open to visitors.
You can take a tour of some of the state rooms, explore the extensive grounds and enjoy the views of the North Sea from the ramparts. There's also an aviation museum here which is home to a Spitfire plane.
You may recognise Bamburgh Castle from the big screen. It's played a starring role in many films and TV productions, including everything from Indiana Jones and the Dial of Destiny to the BFG. See if you can spot some of the scenes as you wander around.
The easiest way to reach Bamburgh is by car, and there is plenty of parking in the village and at the castle. You can also take the train to either Alnmouth or Berwick-upon-Tweed, before catching a bus on to Bamburgh.
Recommended by Conversant Traveller
Thornbury Castle
Thornbury Castle Hotel in England is a must-visit destination for anyone who loves history and elegance. This magnificent castle, which dates back to the 16th century, has been beautifully restored and transformed into a luxurious hotel, complete with all of the modern amenities you could ever need.
One of the highlights of Thornbury Castle Hotel is its stunning architecture and decor. From the moment you enter the castle, you'll find yourself transported back in time to a bygone era of grandeur and luxury. The rooms are beautifully restored, featuring antique furniture, luxurious fabrics, and modern amenities like flat-screen TVs and Wi-Fi.
But Thornbury Castle Hotel isn't just about the accommodations. The hotel also boasts a fine dining restaurant serving delicious and innovative cuisine made with locally sourced ingredients. And, with its location in the heart of the English countryside, there are plenty of outdoor activities to enjoy, from hiking and biking to horseback riding and fishing.
Overall, Thornbury Castle Hotel is a truly unique and unforgettable destination that combines history, luxury, and natural beauty in one stunning package. Whether you're looking for a romantic getaway or a family vacation, this castle hotel is definitely worth a visit.
Recommended by Adventures With TuckNae
👉 Book your stay in Thornbury Castle Hotel!
Dover Castle
If you ever find yourself in the county of Kent, in the southeast of England, then don't miss the opportunity to visit Dover Castle. The castle is located right next to the famous White Cliffs of Dover and right above the ferry port.
To get there, you can take the direct train from London St Pancras International station to Dover. When in Dover, you can take the bus to the castle or walk for around half an hour. If you're driving to get there, Dover Castle has plenty of free parking available.
The castle was originally founded in the 11th century, although there are signs that the site has been in use since the Roman Era.
The most recent use of Dover Castle was by the military during the Second World War when it housed air-raid shelters and an underground hospital. While visiting the castle, you can follow a tour of those underground tunnels and get a glimpse into how they used to operate then.
Other things you shouldn't miss checking out while at Dover Castle are the remains from the Roman and Saxon era, walking around the battlements and exploring the rooms and kitchen of the Great Tower that were in use by Henry II.
Overall, aim to spend at least 3 hours there and be prepared for a lot of walking as Dover Castle takes up a large area. If you can, try to plan your visit to Dover on a clear day to be able to enjoy amazing views of the coastal town and even France.
Recommended by Empnefsys & Travel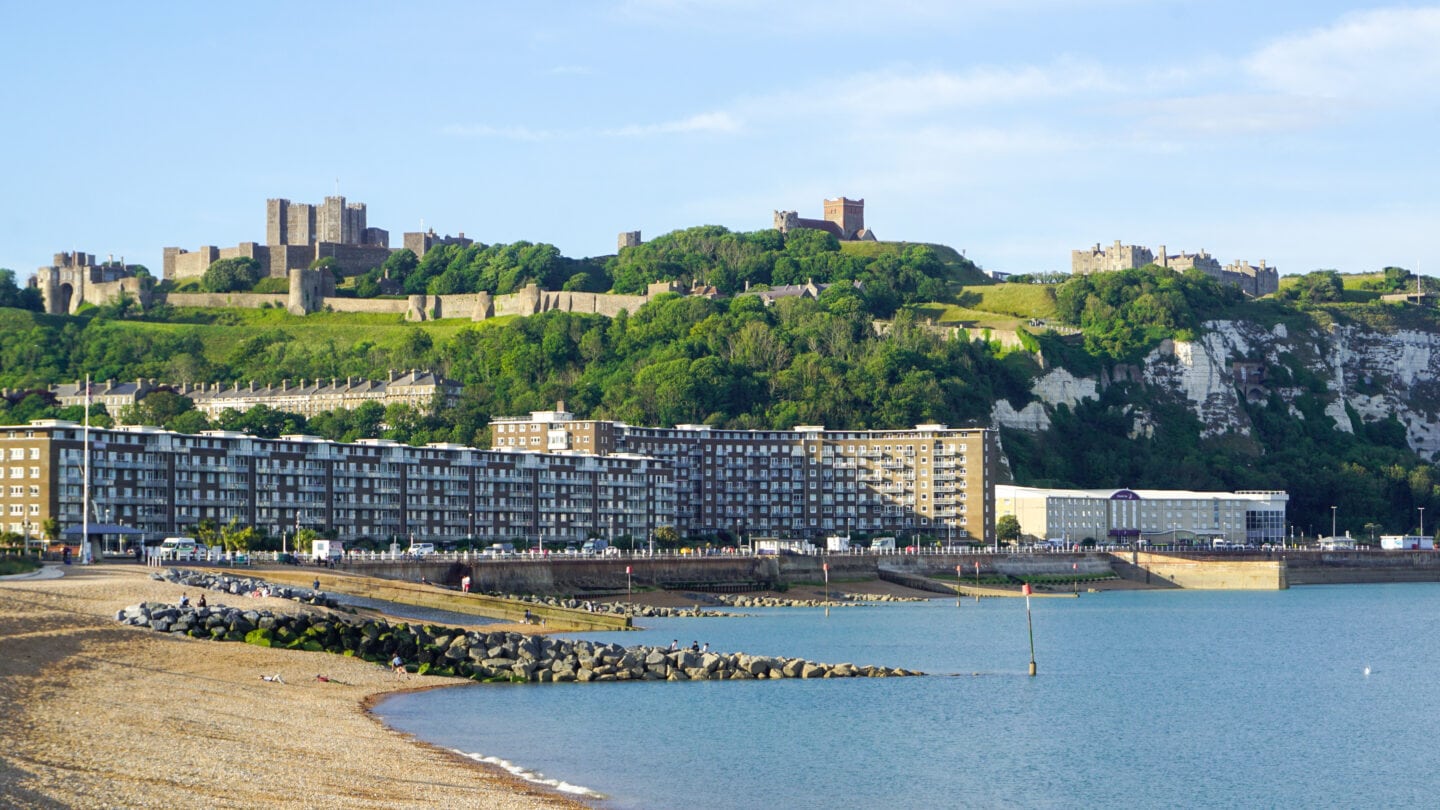 Tintagel Castle
Tintagel Castle in Cornwall is one of the most iconic castles in England for its association with King Arthur and the mystical vibe it exudes. Dating back to around 1230, there are countless tales surrounding this castle, making it a must-visit destination if you're vacationing or exploring England.
The impressive views from Tintagel Castle are breathtaking and worth booking a visit here from them alone. With the ocean, cliffs and rolling hills as the backdrop, you'll be captivated by its beauty. You can even paddle in Merlin's cave and beach below it – a unique experience that will truly take your breath away.
A visit here is around 16 pounds but if you want to explore multiple castles and other places in England, it may be worth becoming an English Heritage member. This card will allow you to access these sites for free after you have paid a fee.
Tintagel Castle is also great if you have limited time: you can explore it in two to three hours, making it perfect for a day trip or a short excursion. It's also really easy to visit, no matter where you are staying in Cornwall.
The public transport links in this area are great but if you want the easiest option, hire a car. However, due to its coastal location, avoid visiting on a really wet and windy day if you can.
Recommended by Many Other Roads
Castles in England to stay in
Did you know that you can stay in a castle when visiting England? Staying in a castle will truly give you a memorable experience and top off your trip to England!
Some incredible castles in England you can stay in include:
How many castles are in England?
Did you know there are more than 4000 castles in the UK? This includes castles in England, Wales, Scotland, and Northern Ireland.
As far as castles in England go, there are roughly 1500 castle sites in the country. Many of these castles in England have vanished or are barely recognizable. There are more than 800 medieval castles in England where remains are visible, and over 300 that have surviving stone or brick remains.
Related Posts
Pin it for later!