England is famous for its stately homes and beautiful English gardens. Venturing out to the countryside to visit one of these incredible properties is a must-do on any visit to England!
There are countless stately homes to visit in the country, many of which are National Trust properties and also offer stunning gardens and parkland to wander.
Here is a selection of 11 unmissable stately homes in the South of England.
This post contains affiliate links which means I earn compensation when you click on the links at absolutely no extra cost to you! Feel free to read my disclosure policy. Thank you for supporting my blog!
Plan your next vacation using these tools!

✈️ Book flights: SkyScanner
🏨 Book hotels: Booking.com
🚘Book car rentals: RentalCars.com
🎫Book tours: GetYourGuide
🍽️Local food experiences: EatWith
🌍Favourite travel item: Packing cubes
🧳Favourite travel bag: Osprey 40L Fairview
📱 ESims: Airalo
🩹 DIY Travel Medical Kit
💸 20 Cheap Travel Items Under $20
1. Ham House
Ham House is a Stuart manor house dating back to the 17th century, and is located in Richmond, a leafy suburb on the outskirts of London. Richmond is a historic and charming area that is a great escape from central London, and Ham House is one of the best things to do in Richmond.
Ham House has lots of fascinating history from around the time of the Civil War, and the guides love to tell these stories to visitors as they wander the rooms of the house.
In addition to a fascinating and beautiful interior, Ham House has several formal garden areas to wander, including a lavender garden in the summer. There is a kitchen garden full of cut flowers and fruits and vegetables, plus a beautiful cafe with a wisteria-clad wall.
Ham House is picturesque in all seasons, from the purple crocus carpeting the lawn in March to the Christmas decorations adorning the house in the winter. As it is in Richmond, it's easily reachable by train or underground, followed by a short bus journey or walking. It is one of the best things to do in South West London.
2. Sezincote
Sezincote House is a fabulous hidden gem in the Cotswolds. Its orientalised architecture is inspired by Indian design and seems a world away from the traditional design of the region. Built in 1805 by Samuel Pepys Cockerell, Sezincote remains in private ownership and is lived in by a family.
Visiting the house is fascinating because one can see how a contemporary family lives their day-to-day lives in a stately home. It feels different from historical manor houses which are set out to evoke a certain era. Sezincote combines historical detail with contemporary living standards.
The glass orangerie extends beautifully through the garden with a water feature and even two elephant sculptures, evoking the Indian feel of the place. The orangerie holds a charming tea room for visitors.
Sezincote is a unique stately home in the Cotswolds offering a fascinating experience different to many others.
3. Arundel Castle
Arundel Castle in West Sussex is probably the most prestigious home on this list as it is indeed a castle, and one that has been used since the 11th century. Arundel Castle has been home to the Duke of Norfolk for centuries, and is still the residence of the current 18th Duke.
The castle itself is fascinating to visit, as some areas are medieval and some are modernised for contemporary family living. The space is filled with artwork and objects from the rich history of the castle, including memorabilia linked to Mary Queen of Scots.
The gardens are extensive, and are at their best in the springtime when the Arundel Castle tulip festival is in full swing. Tens of thousands of tulips are planted each year, creating a remarkable atmosphere.
Arundel Castle is located in the charming market town of Arundel, easily reachable by train from London, making this a great day trip for visitors to the city.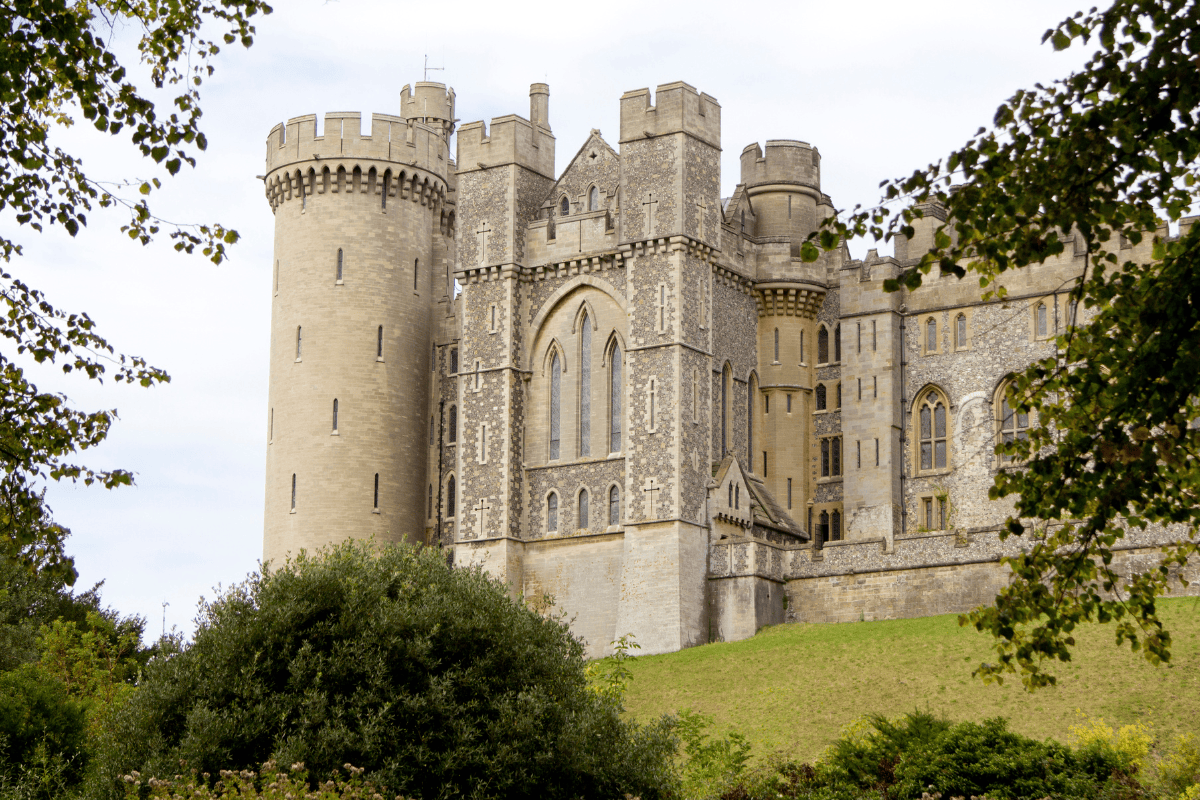 Related: Enchanting Villages in the UK (Straight From a Fairy Tale!)
4. Cothele
Cothele is a historic Tudor house located in the lush Tamar Valley in Cornwall. Built in the 15th century, it has been impeccably preserved and offers a glimpse into the past with its original features and magical atmosphere.
Visiting Cothele allows visitors to step back in time and explore the medieval hall, grand chambers, and quaint nooks and crannies. The house is filled with a fascinating collection of artifacts, including textiles, armour, and original furniture, providing a rich historical experience.
The gardens surrounding Cothele are equally enchanting, featuring terraces, orchards, and formal borders. The terraces are especially picturesque, even on a characteristically wet English day. Walking down a little further will take visitors to the historic quayside, where there is a charming cafe.
Cothele is one of the most special National Trust properties. It's easy to imagine people living here hundreds of years ago due to its well-preserved history. Cothele is an easy stop on the route to Cornwall. It's especially wonderful at Christmastime, when the hall is decked with an enormous flower garland created from the grounds.
5. Nymans
Nymans, situated in the picturesque county of West Sussex, is an enchanting stately home and garden that harmoniously blends with the stunning landscape of the South Downs National Park. Constructed as a romantic manor house during the late 19th century, this historical gem provides a captivating window into the lives of the illustrious Messel family.
The Nymans house was burned down in 1947, so the ruins of the house sits among the garden with a picturesque silhouette.
The garden at Nymans is an absolute delight, with differing sections such as the sunken garden featuring an Italian loggia and the borders which blaze into colour in the summer months. Nymans often offers late night openings in July and August to allow visitors to appreciate the garden in the evening light, as well as jazz music and other performances.
Nymans is a charming property perfect for a day trip from London or a longer stay in the area.
6. Osterley Park
Situated in West London, Osterley Park is a captivating stately home and parkland that provides a delightful retreat from the urban landscape. Built in the 18th century, this neoclassical mansion showcases the grandeur and elegance of the Georgian era.
Robert Adam's signature interior design style is stamped on Osterley Park, with its ornate neoclassical rooms adorned with intricate plasterwork and antique design motifs. The pastel colour scheme is uniquely pretty and each room is packed with fine art.
The lawns, lakes and formal gardens surrounding the house have plenty to keep visitors busy after visiting the house. Because it is within London, Osterley is used as a community parkland and so there is a lovely atmosphere around the property.
Osterley Park is a must for interior design lovers who want to get a glimpse into what made Robert Adam's designs so in demand during the Georgian period.
7. Hinton Ampner
Hinton Ampner, situated in Hampshire, is a lovely Georgian country house surrounded by meticulously maintained gardens and parkland. This elegant stately home offers a unique blend of architectural splendour and stunning natural beauty.
Step inside Hinton Ampner and you'll be greeted by opulent rooms adorned with fine art, antique furniture, and delicate porcelain. The house reflects the taste and style of its last owner, Ralph Dutton, who carefully restored it after a devastating fire in 1960. Marvel at the exquisite details, including the ornate plasterwork and the breathtaking views from the upper floors.
The gardens at Hinton Ampner are a true horticultural masterpiece. Immaculately landscaped, they feature a variety of terraces, formal lawns, and hidden corners waiting to be discovered. The bright pink dahlia borders bring a cheerful and unique character to Hinton Ampner.
8. Stourhead
A gem of the Wiltshire countryside, Stourhead is one of the most impressive estates in England. The Palladian style house dates to the 18th century, while the parkland is adorned with neoclassical follies that visitors may recognize from iconic moments in the film Pride and Prejudice.
The interior of Stourhead House is tasteful in its grandeur, evoking the considered proportions of the Palladian style. The library is incredible with its views onto the parkland and beautiful display of thousands of books. Stourhead is particularly refined as an English country house.
The true gem of Stourhead lies within its famous landscape garden. In true 18th century fashion, the landscape was considered as an artwork itself and was designed to create intentionally picturesque moments as visitors walked through the parkland. Each vista is carefully curated, dotted with classical temples and calm lakes. It is like walking through a Claude landscape painting.
Stourhead never misses, and a walk through the landscape garden is perfect in each season. It's an extremely popular stately home in England, but the extensive grounds means that it is never too busy.
9. Petworth
Petworth House is a jewel of West Sussex with its magnificent parkland and grand mansion. Petworth houses a notable art collection and was once visited by JMW Turner who painted the surrounding nature. This stately home has deep ties to aristocracy and a great example of a classic English manor house.
The ruby red art gallery is adorned with paintings by Turner and Van Dyck, among many others. It was even featured recently in Bridgerton. The opulent rooms of the house feature exquisite craftsmanship and one version of Henry III famously imposing portrait.
Surrounding the house, the gardens and parkland of Petworth are equally breathtaking. The landscaped grounds are dotted with lakes and follies, and it is home to many deer who wander around the property. The land is extensive, meaning that long walks are a perfect way to spend time here. Because of this open space, autumn is a perfect time to visit Petworth and enjoy the seasonal colours.
Petworth itself is a charming market town boasting a number of tasteful antiques and homewares stores, so a bit of shopping after visiting the house is a great way to spend the day.
10. Sissinghurst
Sissinghurst Castle Garden in Kent is a world-renowned garden and stately home sure to be on the bucket-list of any serious gardener. Once a derelict Elizabethan mansion, it was lovingly restored and transformed into a series of stunning gardens by writer Vita Sackville-West and her husband, Harold Nicolson.
The gardens at Sissinghurst are renowned for their romantic charm and artistic design. Divided into "rooms," each with its own unique theme and planting scheme, they offer a sensory journey through colour, texture, and fragrance. From the famous White Garden to the vibrant Rose Garden and the tranquil Lime Walk, every corner of Sissinghurst is a visual delight.
Author Vita Sackville-West is an icon of the 20th century, and Sissinghurst offers a glimpse into her life and character. It's possible to see her living spaces, adorned with personal mementos, to further understand her perspective while living at Sissinghurst.
Sissinghurst Castle Garden is more than just a stately home; it's a horticultural masterpiece and a testament to the vision and creativity of Vita Sackville-West. Its innovative design makes it one of the most famous gardens in the world.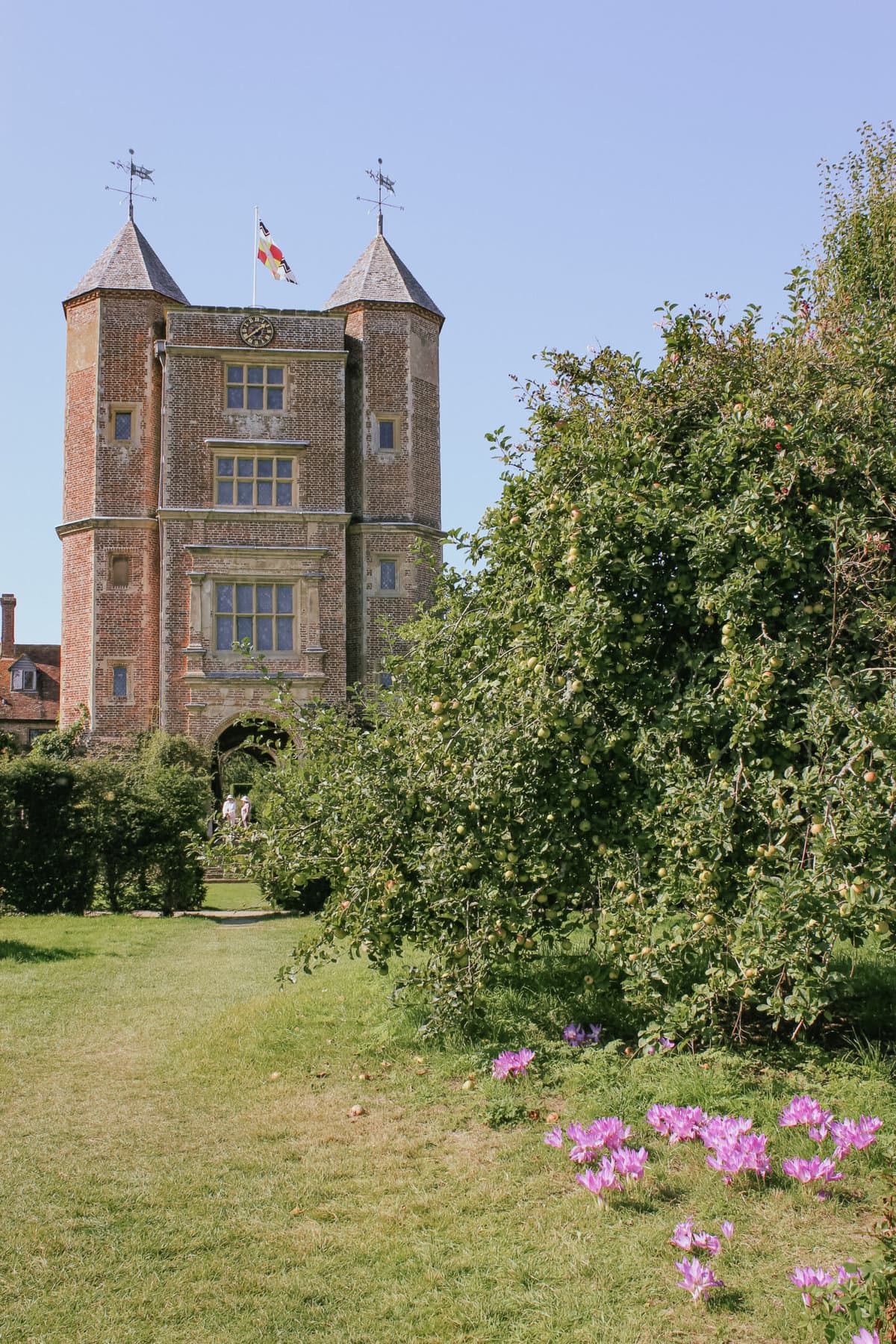 11. Forde Abbey
Forde Abbey is cradled deep in the Dorset countryside. A former Cistercian monastery, it has been transformed into an elegant stately home and garden.
The gardens at Forde Abbey are a primary attraction with their impressive water features and naturalistic planting style. Springtime is especially charming with the tulip spiral in the lawn and the blooming magnolias and bluebells.
Forde Abbey is another stately home which is still inhabited by its owners, so visiting the house offers insight into their lives as well as the history of the place. One particular highlight of the house is the 1640 Mortlake tapestries adorning the grand space. Events are held in the house throughout the year, including concerts inside its ornate rooms.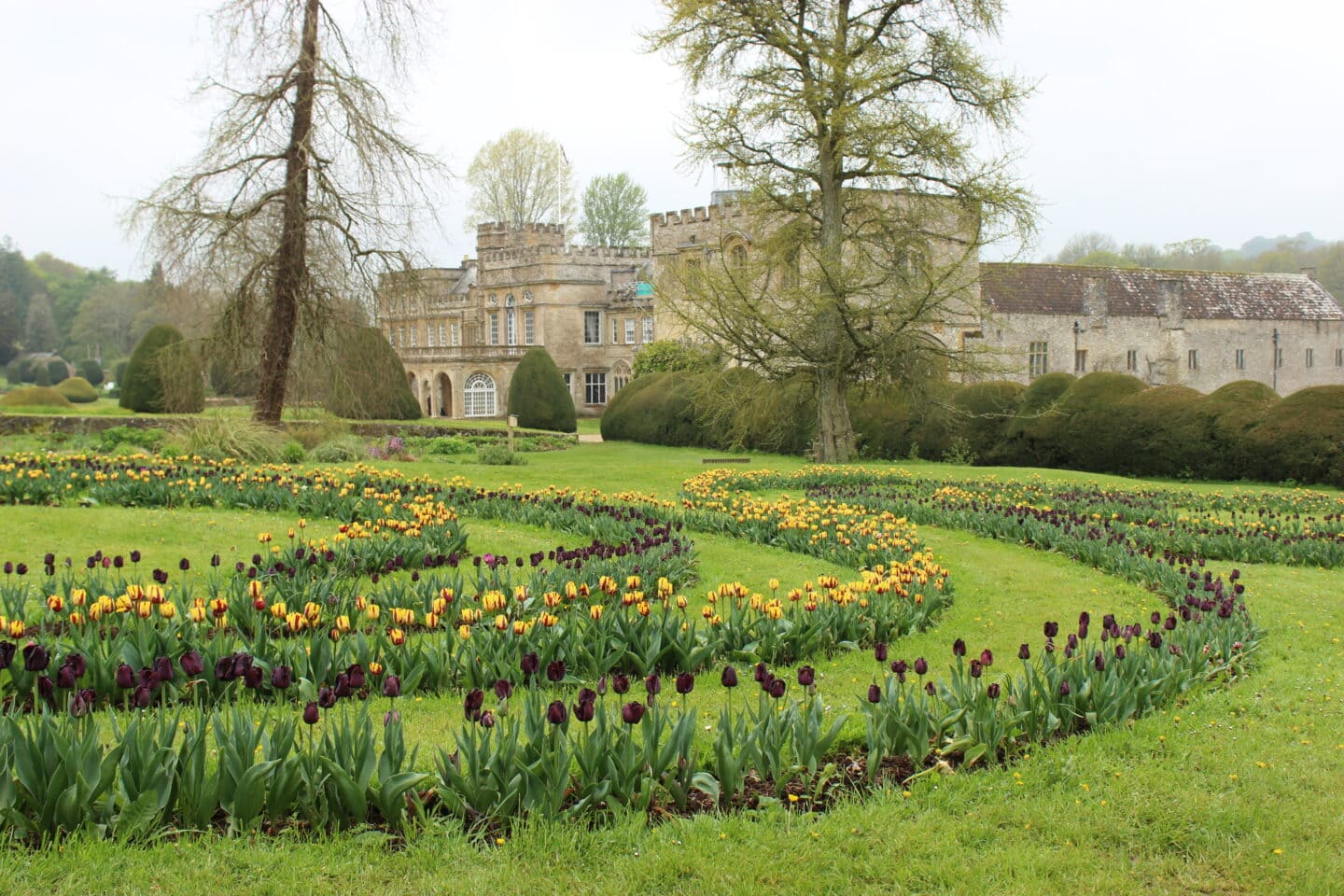 Discover England's Stately Homes and Gardens!
In conclusion, England's unmissable stately homes and gardens offer a captivating journey through history, art, and nature. From the Tudor charm of Cothele to the grandeur of Arundel Castle, each destination unveils a unique story and a glimpse into the lives of those who once called these grand estates home. Stately homes in England offer so much in terms of art, architecture, nature and history, making each one a special place to spend a day.
About the Author
Hannah, of Art Distance, is an art historian and travel blogger writing about culture and heritage experiences in the UK and Europe.
Related Posts
Pin it for later!