London is home to some of the most famous streets in the world! If you're planning a trip to London and want to explore some of its famous roads, you'll find 25+ highlighted in this guide. From historic streets and roads that are popular due to literature, movies, music, and shopping, these are the most famous streets in London to check out!
With easy tube access and lots to enjoy in the surrounding areas, add a few of these unmissable streets in London to your itinerary! Every time I go to London I learn something new. The history is endless and it's surprising how much you can learn just by walking down a street.
This post contains affiliate links which means I earn compensation when you click on the links at absolutely no extra cost to you! Feel free to read my disclosure policy. Thank you for supporting my blog!
Plan your next vacation using these tools!

✈️ Book flights: SkyScanner
🏨 Book hotels: Booking.com
🚘Book car rentals: RentalCars.com
🎫Book tours: GetYourGuide
🍽️Local food experiences: EatWith
🌍Favourite travel item: Packing cubes
🧳Favourite travel bag: Osprey 40L Fairview
📱 ESims: Airalo
🩹 DIY Travel Medical Kit
💸 20 Cheap Travel Items Under $20
Leake Street Tunnel
One look at Leake Street Tunnel and you may be tempted to turn around and walk the other way – but keep going – as you're in for a treat.
The Leake Street Tunnel is an incredible 300 foot-long pedestrianised tunnel (that's almost 1 kilometre!) covered in graffiti from floor to ceiling. During the early hours of the day it just looks like a graffiti alley, but later on hidden shops and bars pop out to make it an entirely immersive experience.
Leake Street was once known as the Banksy Tunnel, since it was Banksy himself that initially created the tunnel in 2008. It's a location where graffiti is legal (and promoted!) despite that it's actually against the law on UK public property.
You may even catch some artists making their own mark on the walls throughout the tunnel.
Closest tube station: Waterloo or Lambeth North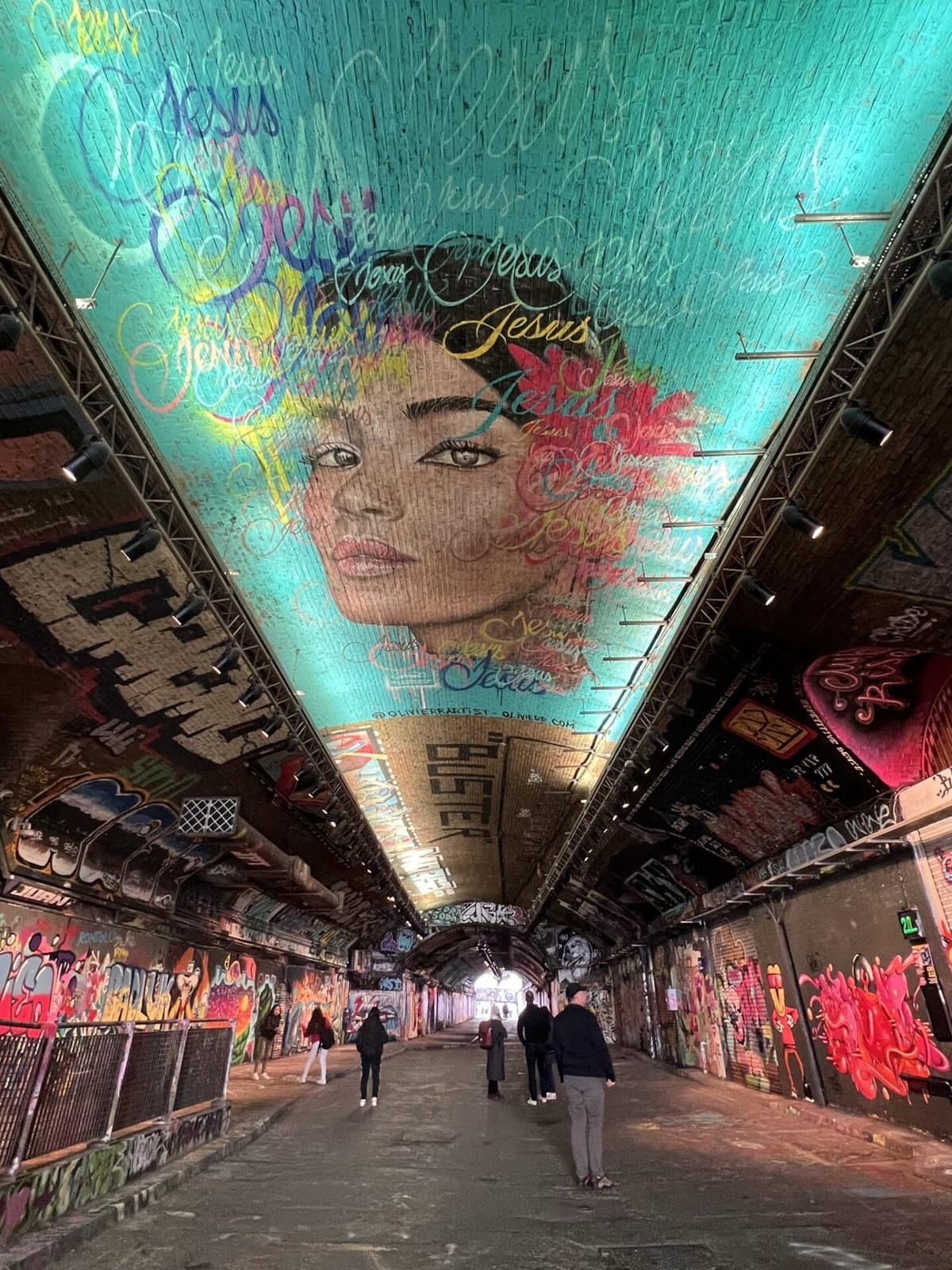 Cecil Court
Cecil Court is actually the inspiration behind Diagon Alley in Harry Potter. This beautiful 17th century alleyway is lined with unique shops that'll instantly make you feel like you're transported yourself to Hogsmeade!
Cecil Court has lots of historic quirky and vibrant shops that are well worth browsing through. From map makers to medal collectors, tarot readers, bookshops and antiques sellers, these shops really do feel as though they're from Diagon Alley!
This famous street was also the temporary home of Wolfgang Amadeus Mozart when he was just a boy. You'll find his former home at 9 Cecil Court.
London is home to so much history, and strolling down Cecil Court is definitely a worthwhile endeavour while you're exploring Covent Garden.
Closest tube station: Leicester Square
Related: Harry Potter Studio Tour London (What to Expect!)
Goodwin's Court
Not surprisingly, if there is a Diagon Alley in London then there obviously must be a Knockturn Alley. Providing the inspiration for Knockturn Alley in Harry Potter, Goodwin's Court is a tiny hidden alleyway that winds its way through to the next street.
Wonky buildings and some clever decor most definitely makes one feel as though they've stepped into the wizarding world.
Beautiful black oriel windows and oil lamps look like they're plucked right out of Harry Potter. You'll also find lots of Harry Potter signs throughout the alley, like owls and broomsticks in windows and even a poster warning of the escaped prisoner of Azkaban!
P.s. If you're in the area, be sure to visit Mr Fogg's Tavern, but instead of having a drink in the tavern, ask to be let into the Gin Parlour! This speakeasy bar is one of the most unique places to grab a drink in London!
Closest tube station: Leicester Square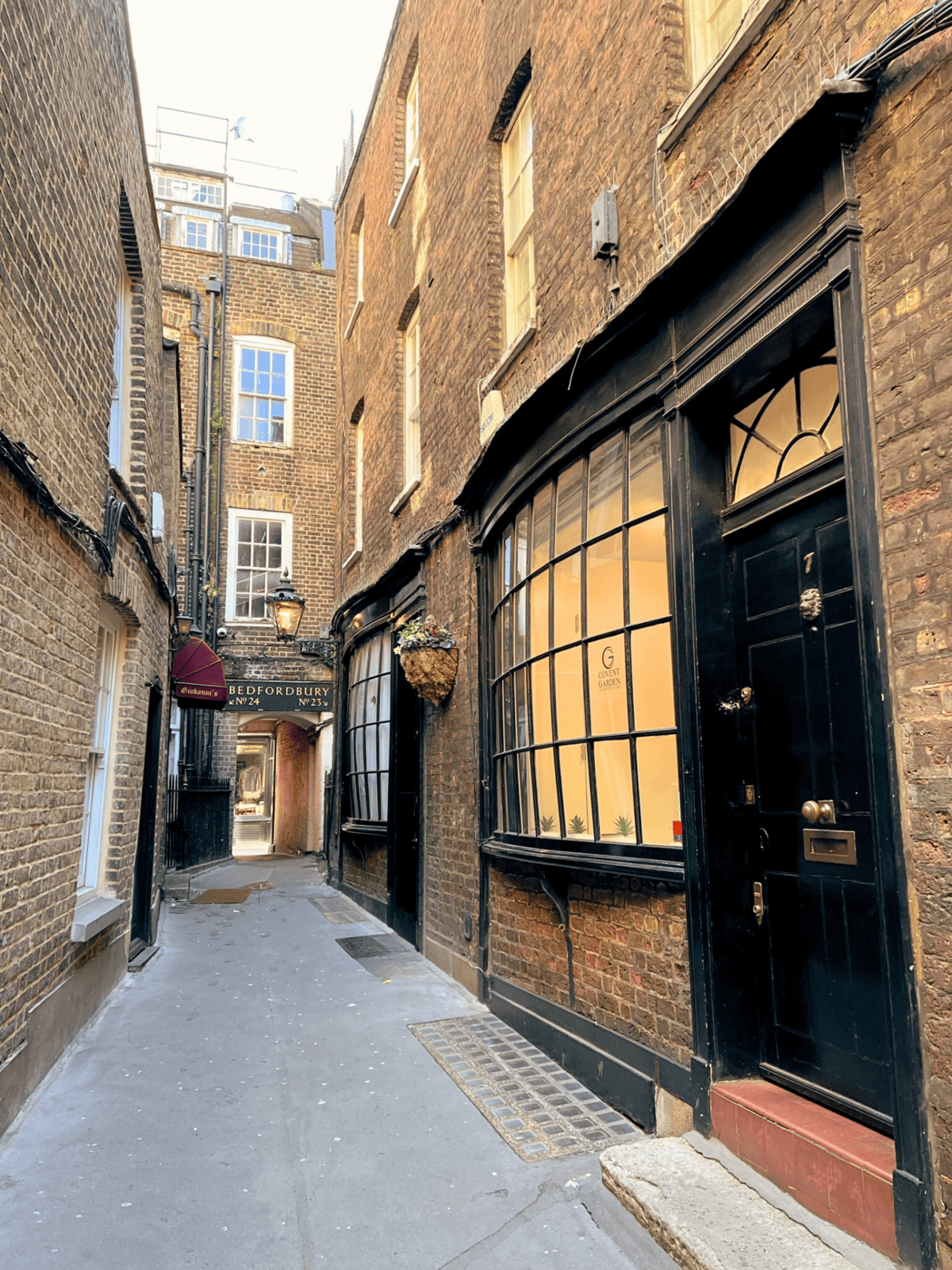 Neal's Yard
Photographers will be in love as soon as they walk into Neal's Yard. This picturesque courtyard draws tourists and instagrammers from the early hours of the day – and it's not hard to see why.
Colourful buildings provide the most amazing photo opportunities, but get there early if you don't want anyone in your photos!
It's one of the prettiest streets in London tucked away around the corner from Covent Garden nestled within the Seven Dials District, a prominent area in London famous for boutique shops and upscale eateries.
You can find unique shops including Neal's Yard Remedies, a bakery, coffee shop, an artisanal cheesemaker, and other health-food cafes and retailers.
Fun fact: One of the buildings in Neal's Yard was once the home of Monty Python!
Closest tube station: Covent Garden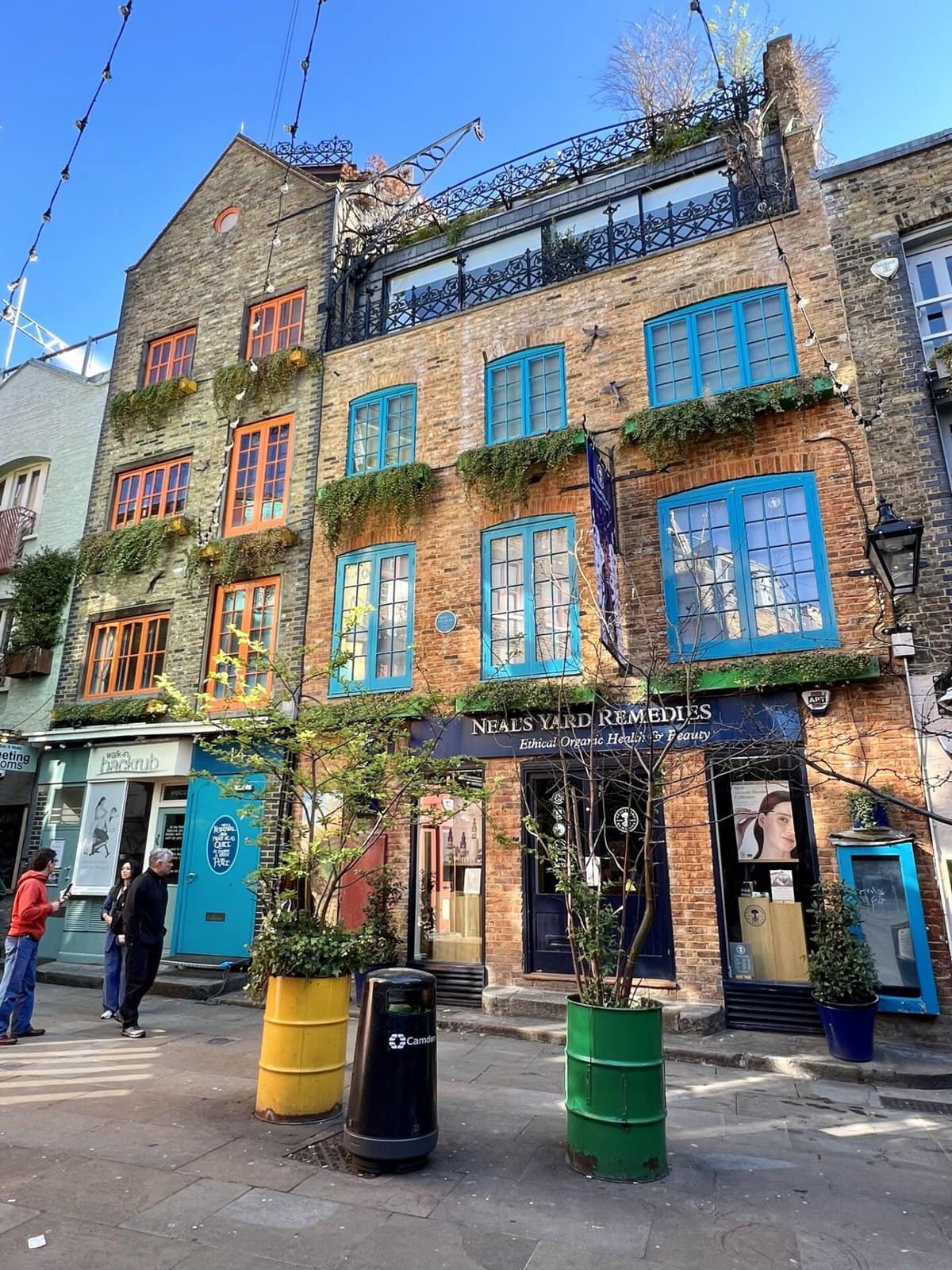 Abbey Road
If there's one famous street in London you've heard of, it's probably Abbey Road! This famous crosswalk is featured on the cover of the Beatles' 1969 Abbey Road.
It's an iconic symbol in pop culture and draws visitors by the thousands each year to snap a photo on this street zebra crossing, despite the road being a busy traffic area! Abbey Road is understandably featured on London's tourism circuit, and was given status of Grade II Listed Building by English Heritage.
Did you know: The original working title for Abbey Road was actually 'Everest' and the group intended to shoot the cover photo at Mount Everest. None of them wanted to make the long journey, so McCartney suggested naming it after the street their studio was located on. The shoot for the Abbey Road cover only took 30 minutes!
Closest tube station: St John's Wood
Downing Street
As one of the most notable streets in London, Downing Street is home to the infamous 10 Downing Street, where British prime ministers have lived and worked since 1735.
Behind its prominent black door is where the most important decisions affecting Britain have taken place for almost the past 300 years.
The First and Second World Wars were directed from within Number 10, along with other key decisions regarding the end of the empire, building of the first British nuclear bomb, and handling the economic crisis from the Great Depression.
While you aren't able to access 10 Downing Street, you can see the original door at the Churchill War Rooms. These top-secret War Cabinet rooms were used during WW2 where Churchill often spent 18 hour days working, holding meetings, and giving speeches that led to Allied victory over the Axis forces.
Closest tube station: Westminster
Oxford Street
No trip to London is complete without a bit of shopping therapy. While Harrods might attract the tourists, it's pretty pricey. Instead, take the underground, or "tube" as it's known in England, to Oxford Circus.
You'll emerge on Oxford Street, a vibrant shopping district with trendy clothing stores, luxury boutiques, and large name-brand department stores. Between well-known retailers such as Topshop, Selfridges, and John Lewis, you'll find tourist shops stocked with British souvenirs.
Wear your comfy shoes and be prepared to walk a mile and a half through congested sidewalks and bustling stores. While busy in the summer, Christmas and the January sales bring the crowds.
Although it's mayhem to visit during these times, go with the flow and immerse yourself in the London ritual of shopping on Oxford Street.
Closest tube station: Oxford Circus
Recommended by Forever Karen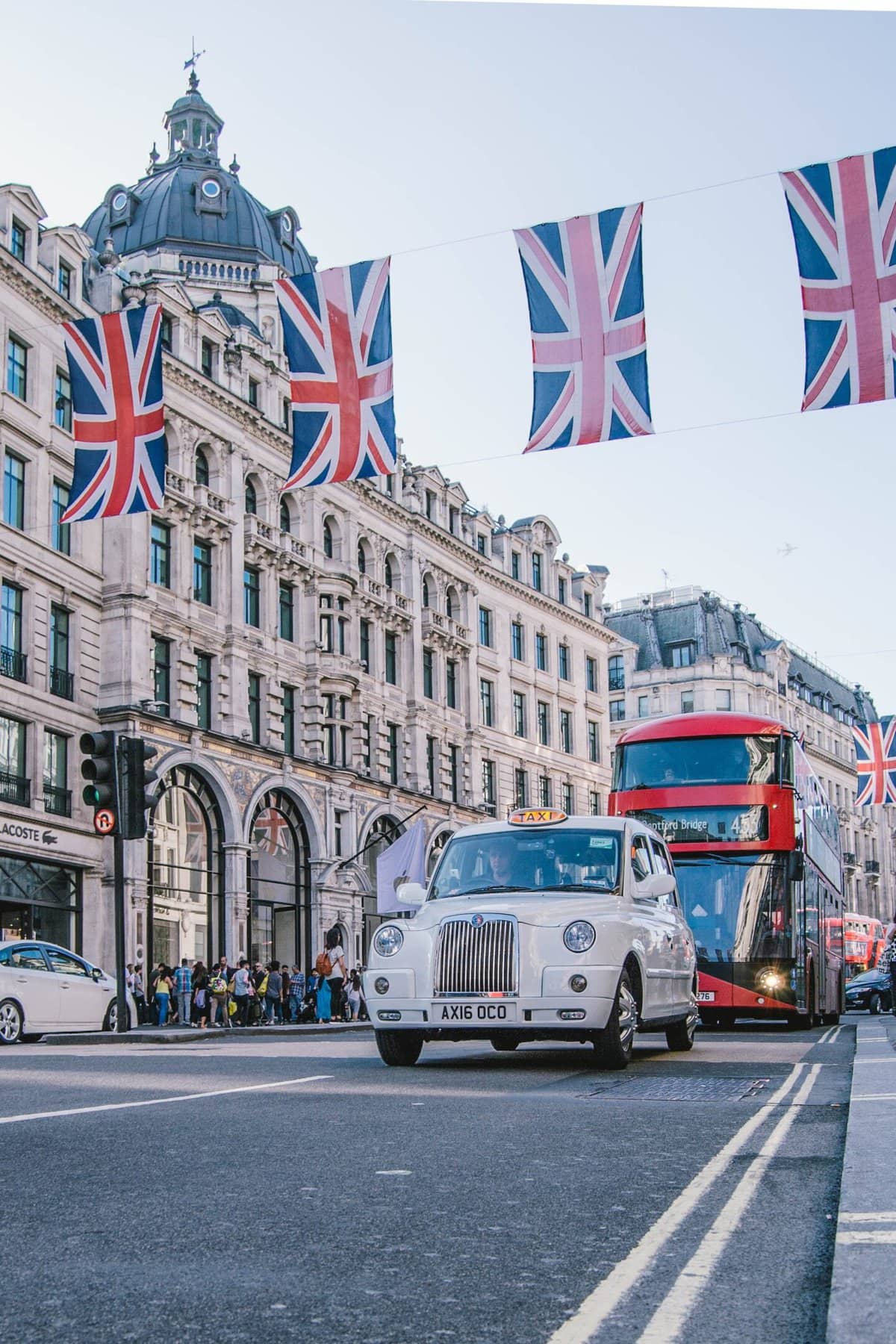 Portobello Road
One of the most famous unmissable streets in London is Portobello Road.
Located just 20 minutes walking from Kensington Gardens and one of the best cat cafes in London, Portobello Road lies in gorgeous Notting Hill. You'll likely recognize this street from the movie 'Notting Hill' with Julia Roberts and Hugh Grant. Portobello road is 1.8 km long and is famous for being home to colourful terraced houses and antique shops.
From blue to purple and yellow, the different colours on the facades let you know when you've arrived! In addition to its quirky looks, Portobello Road is also known for its kilometre- long market.
With the main Portobello Market happening every Saturday, Portobello Road attracts thousands of locals and tourists who come to enjoy the architecture and shop for antiques!
Closest tube station: Notting Hill Gate or Ladbroke Grove
Recommended by Be Right Back
St Katharine's Docks
London is a city full of beautiful places to go for a walk, and St Katharine's Docks Marina is one of them.
It is the only marina in London, a picturesque area perfect to visit every time of the day. There are many food shops where you can enjoy a delicious meal or just a coffee. From St Katharine's Docks Marina, you can take stunning pictures of the iconic Tower Bridge and relax on a bench while watching the boat moving up and down the Thames.
It's conveniently located near the Tower Hill Tube station, the Tower of London, and the Old Dickens Inn, a pub every traveller should visit when in the area. If you love trying food from all over the world, don't miss it on a Thursday or Friday lunchtime to try some of the most delicious dishes at the famous Kerb Market, one of the biggest food markets in London.
Closest tube station: Tower Hill
Recommended by Valentina's Travel Guide
Carnaby Street
The most unmissable street is without a doubt Carnaby Street.
Located in the popular area of Soho in Central London, Carnaby Street is awash with both quirky and classic shops allowing you to shop until your heart's content, no matter what you fancy. As it's just a stone's throw away from Oxford Circus tube station, it's easily accessible!
However, what makes Carnaby Street so unique is the array of decorations hanging between the buildings. Whether you're visiting during Christmas to see Santa and his reindeer or at Easter for the Easter bunny, you'll find a stunning assortment of illuminations.
To fully appreciate the lights and decorations in all its glory, you absolutely have to visit in the evening where the whole street will be so bright you think you'll be in Times Square!
Why not top off your beautiful evening visiting by sampling an array of freshly cooked food at one of the many restaurants on the street. From pasta to dumplings to nachos, there is literally everything you can imagine to tickle your taste buds!
Closest tube station: Oxford Circus
Recommended by The UK Wanderers
Victoria Road
Found in the heart of central west London, Victoria Road is one of the most sought after streets in the city. It is also considered one of the most expensive residential streets in the United Kingdom, attracting those who enjoy beautiful spaces in a quiet environment.
A district feature are the white stucco-fronted houses that date all the way back to the 1840s. Its close proximity to Hyde Park and Kensington Palace allows convenient access to some of the best spaces that the city has to offer.
Other noteworthy attractions that are just a short walk away include the National History Museum, Victoria and Albert Museum, and the Science Museum. The avenue is also perfectly placed for a wide range of shopping options, from high-end Harrods to quirky independent stores, offering some of the best buys in London.
Victoria Road is the ideal place to soak up some elegance and history and promises a memorable experience.
Closest tube station: High Street Kensington or Gloucester Road
Holborn
Holborn (pronounced Ho-bun) is the name of London's legal district which lies just to the east of Covent Garden. Its main street, also called Holborn and High Holborn, cuts horizontally through the neighbourhood from theatreland to the financial hub of the City.
At first glance it's a busy commercial road, but Holborn has been a main artery of London since medieval times. And as you'd expect from such an ancient highway it has some seriously old historical buildings to either side of it. But lots of people miss it entirely.
Hop off the Central Line tube at Chancery Lane station and you'll see one of the best bits of Holborn straight away. Staple Inn is the stunning black and white half timbered facade of a building that dates back to Tudor times. Shakespeare is quite likely to have seen it. And even in a modern city it's an eye-catching structure.
Across the road is the Cittie of Yorke pub, an Edwardian remix of a much older building. The site dates back to 1430. Look out for the 1000 gallon wine vats, vaulted ceilings and booths where local lawyers could chat to their clients in private.
But the real magic of Holborn is in the areas you discover when you stray off the main road. To the north and south lie the historical Inns of Court, where lawyers have trained and worked for centuries. Go on a weekday lunchtime when the gates are open, leave the hustle and bustle of Holborn and it's like stepping into an Oxbridge college.
Through an archway next to the Cittie of Yorke you'll find yourself in Gray's Inn with its five acres of tranquil gardens. South of Holborn you can discover pretty Lincoln's Inn. You can wander through cobbled lanes, cloisters and squares and feel miles from the real city.
Closest tube station: Chancery Lane
Recommended by Map and Family
St Luke's Mews
St. Luke's Mews is an unmissable street in London! Tucked away in the charming neighbourhood of Notting Hill, this quaint cobbled street is a popular photo spot with darling carriage houses and St. Luke's Mews is home to rows of colourful Georgian houses with intricate facades and charming doors.
It's an Instagrammer's dream come true, but there's more to this street than just good looks. The picturesque architecture of St. Luke's Mews showcases London's historical charm, with its row of colourful Georgian houses adorned with charming doors, windows, and intricate facades.
The beautiful street has an enchanting atmosphere, offering a glimpse into London's rich past. St. Luke's Mews is an oasis of calm in the midst of the city bustle, making it the perfect place for a leisurely stroll. With around twenty-four different homes, each one has its own unique character.
From brick houses to painted pastels, the variety adds to the street's appeal. Most recognizable by the pink "Love Actually" house, this street sees plenty of tourists and has become an iconic landmark.
Closest tube station: Ladbroke Grove
Recommended by Sydney to Anywhere
Perrin's Court
Perrin's Court in Hampstead is one of the most beautiful streets in London. Located in the Northwest area of London, this charming narrow street makes you feel like you're in a far away village in the countryside.
However, surprisingly you're so near to central London in fact. The pedestrian-only street is very quaint and offers many cafes and picture worthy moments.
In fact, there is an adorable house with purple shutters which is very photogenic. Across you'll find a charming Italian restaurant where you can enjoy dinner. It is called Villa Bianca and is a must try.
Visiting this picturesque street is one of the best things to do in Hampstead London. Nearby, you will find so many more cafes and shops to explore too!
Closest tube station: Hampstead
Recommended by Jou Jou Travels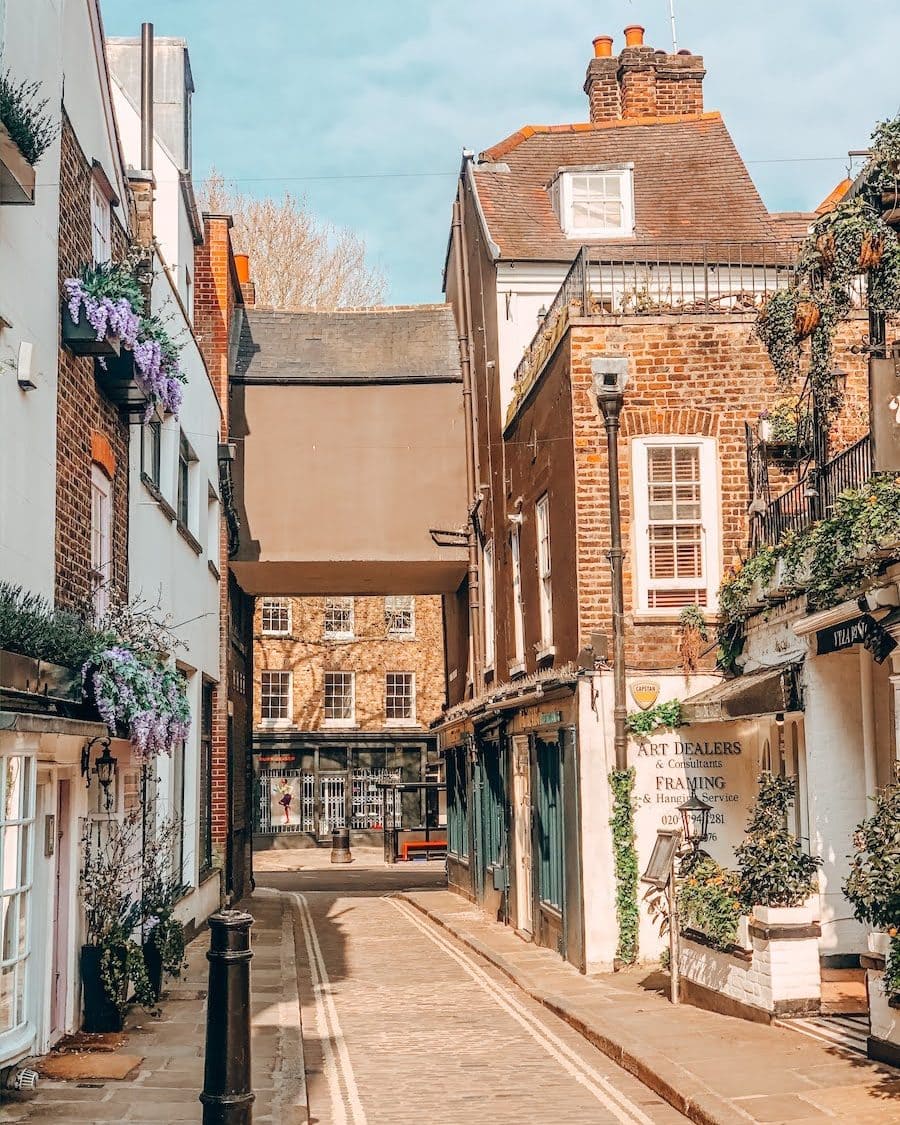 Brick Lane
Well known by locals, to most tourists Brick Lane remains one of London hidden gems.
Located in East London and close to the city, you will find Brick Lane actually very close to Whitechapel, the area that at the end of the 19th century became known for the crimes of Jack the Ripper.
The name Brick Lane comes from the intense production of red bricks that once characterized the area. In fact, the red bricks were used in most of the buildings here. Subsequently, the area became a popular trade hotspot. Far from being a dangerous place today, Brick Lane is beautifully multi-cultural, and very eclectic.
Today, Brick Lane and the surrounding streets are a hub for artists – be it street artists that adorn the buildings with colourful murals, or artists that open up small galleries or independent designer shops, sitting right along vintage shops selling all sorts of knick-knacks.
This is one of the nicest areas of London to shop for something truly unique. You will also find a number of Asian restaurants – mostly Indian and Bengalese – making it a fun and budget friendly place for a night out in London.
Closest tube station: Whitechapel
Recommended by My Adventures Across The World
Cornwall Gardens
Cornwall Gardens is a beautiful residential street located in South Kensington. The street is lined with elegant Victorian townhouses in pretty pastel colours which are postcard-perfect.
Many of the houses have been beautifully restored and feature ornate details, such as intricate ironwork, stained glass windows, and grand entrance ways. It's also home to a number of beautiful gardens, which are meticulously maintained by the residents. These green spaces provide a tranquil oasis in the heart of the city, and are a popular spot for picnics and relaxation.
Visit during the spring months to see the beautiful magnolia trees blossom along the street. South Kensington is a wonderful place to stay when visiting London and there are a number of luxury London hotels close to Cornwall Gardens.
It's a truly picturesque street that embodies the charm and elegance of South Kensington, and a perfect oasis amidst the hustle and bustle of London.
Closest tube station: Gloucester Road
Recommended by Pocket Wanderings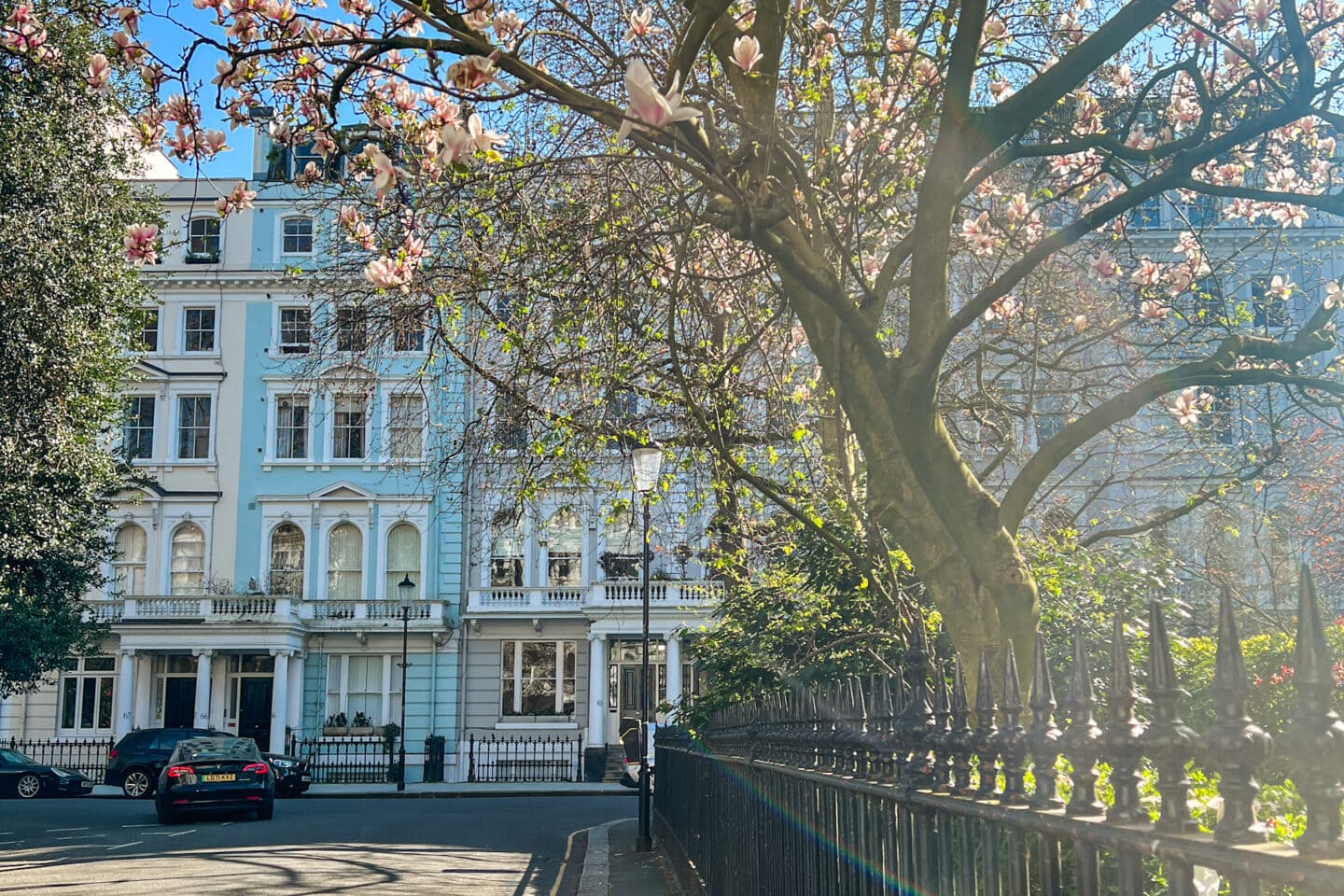 The Mall
One of the most grand and regal streets to explore in London is The Mall! This famous street runs from Buckingham Palace to Trafalgar Square, making it a must-visit destination in London.
The fact that it also passes by St James' Park, one of the most beautiful parks in London, is just the icing on the cake. The Mall is not just any ordinary street. It serves as the route for various state occasions, including royal weddings, funerals, and, most recently, for King Charles III's coronation.
You'll get knockout views of Buckingham Palace as you walk along this street. Many Londoners, constantly struggling with the cost of living in one of the most expensive cities in the world, love to visit Buckingham Palace and daydream about living somewhere so huge!
We can all dream, right?
Closest tube station: Trafalgar Square
Recommended by Many More Maps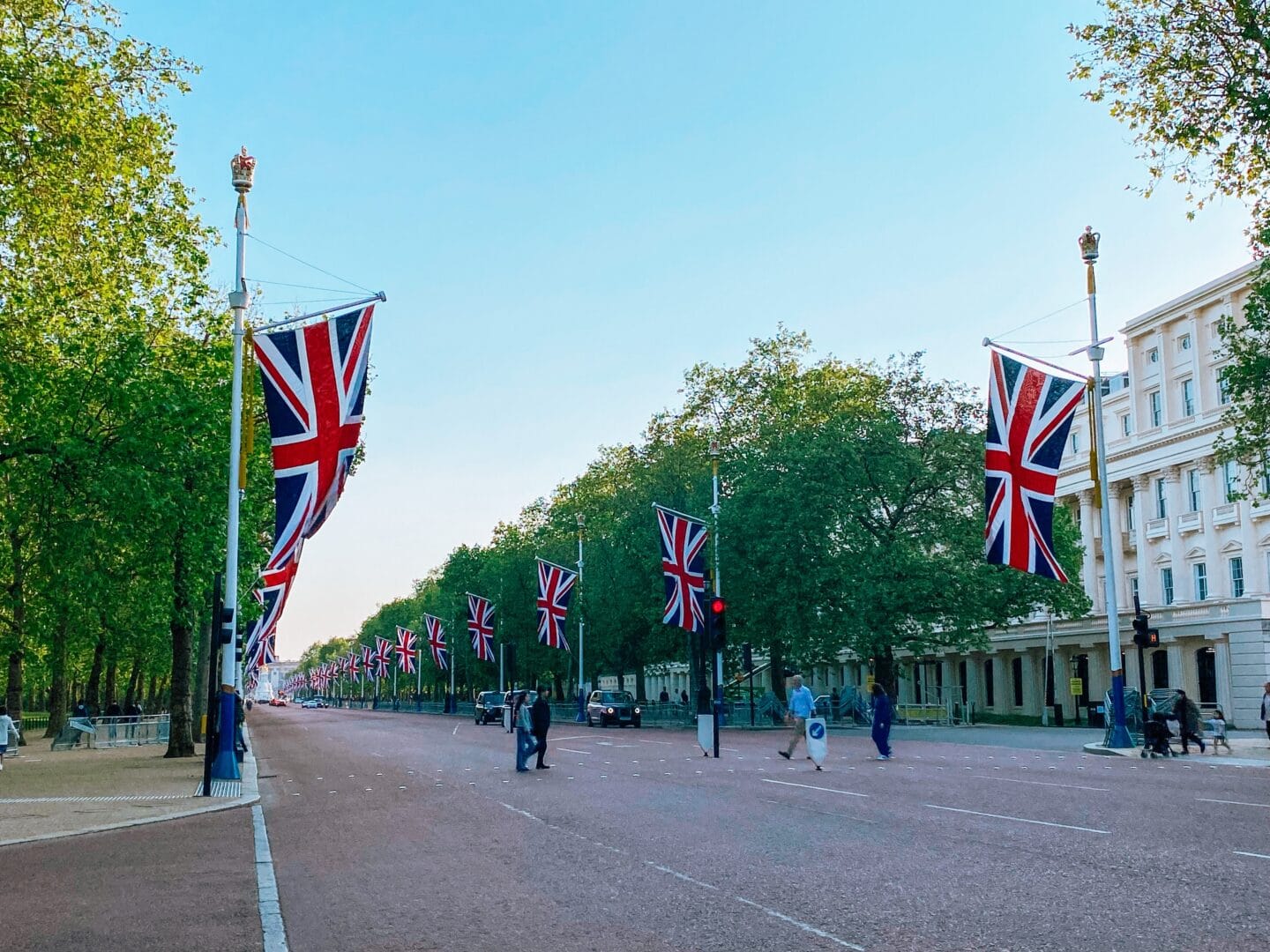 Southbank Walk
While the geographical south bank of the Thames may stretch for many miles, when Londoners refer to the South Bank they are typically referring to the pedestrian pathway from Blackfriars Bridge to Lambeth Bridge in Central London.
The South Bank provides some of the best views of London landmarks such as the London Eye, Big Ben and the Houses of Parliament. On sunny days in school holidays it resembles a festival with music, street performers and food stands. In winter you can find a small Christmas market. Weekends bring a street food market outside the Royal Festival Hall.
Exit the tube at London Bridge station, walk west past Shakespeare's Globe Theatre and Tate Modern towards Westminster. Cross Westminster Bridge and enter the tube again at Westminster station. London is very safe to walk around but do keep an eye on your belongings in crowds.
Closest tube station: London Bridge
Recommended by Following Fiona
Maltby Street
Maltby Street is located in Bermondsey, South London and has one of the most vibrant food scenes in London as it is home to Maltby Street Market.
The market and shops are actually located on a pedestrian thoroughfare just off Maltby Street, called the Ropewalk, and is a short walk away from the incredibly touristic Borough Market. On Saturdays Maltby Street Market is in full swing, hosting a range of food stalls from duck confit to arepas.
It's also lined with several beautiful homewares stores, lively bars and bakeries open every day and tucked into the industrial railway arches.
Some highlights are Comptoir Gourmand bakery, Duck Frites food stall, and WatchHouse Roastery. Maltby Street is perfect for a food crawl and is nearby to several other foodie locations, such as the Spa Terminus shops in the railway arches and the restaurants lining Bermondsey Street.
Closest tube station: London Bridge or Bermondsey
Recommended by Art Distance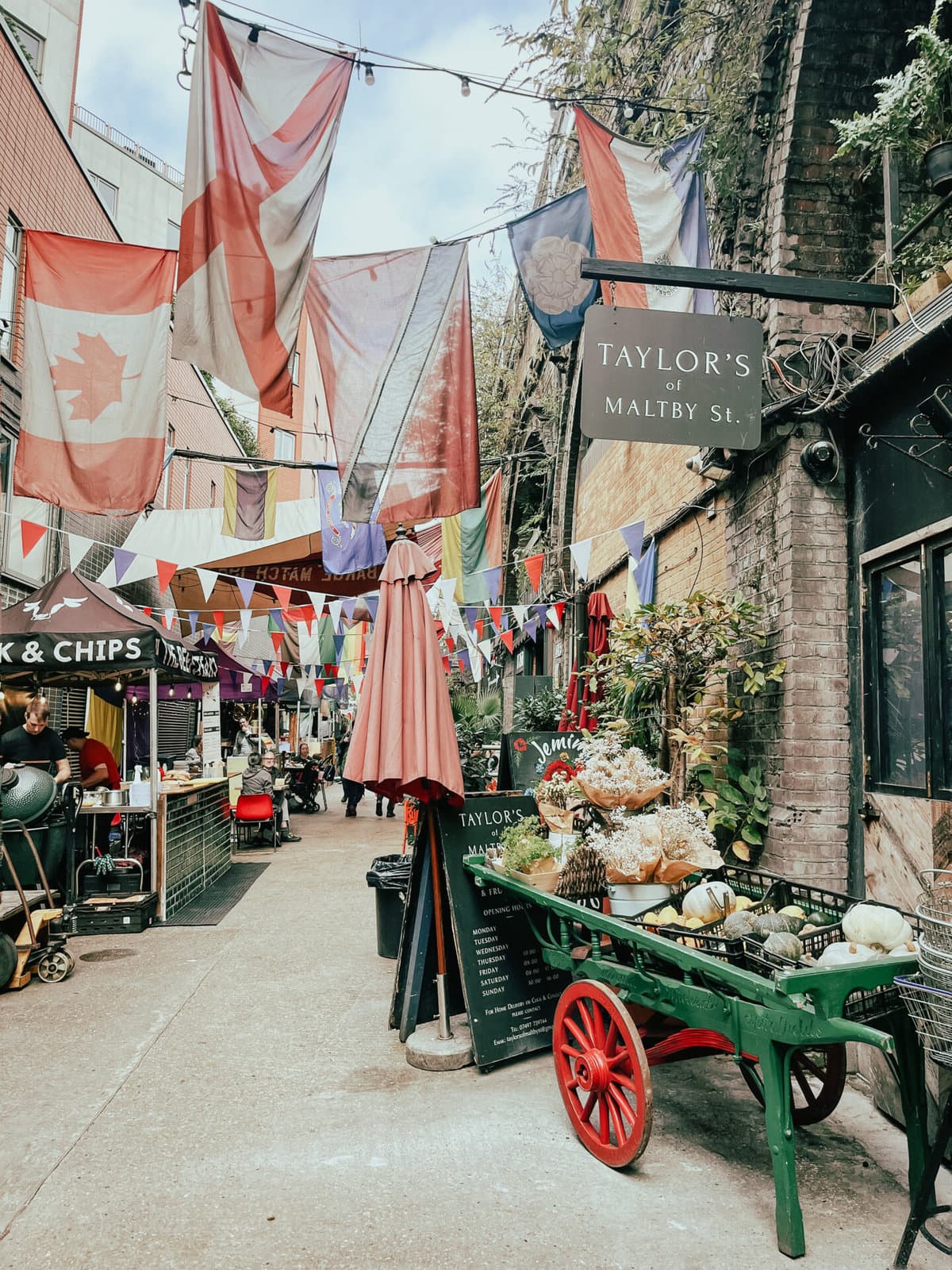 Shaftesbury Avenue
If you're even remotely interested in the arts, you'll want to hotfoot it over to Shaftesbury Avenue. Tucked right by the iconic Piccadilly Circus (and the Statue of Eros!), this is where you'll find London's most historical theatres.
Although you can catch everything from Les Misérables to Harry Potter and the Cursed Child along this street, you'll also find quaint cafes and bakeries dotted around.
Plus, you can't beat the bustling district of Chinatown that's mere steps away. If you don't already have a ticket secured, it's worth hopping on the TodayTix app or heading to individual box offices for last-minute deals. You'll often bag a premium seat for a fraction of its original asking price.
And realistically, who doesn't love a deal?
Closest tube station: Leicester Square
Recommended by Pixiedust and Passports
Bedale Street
If you're a fan of one of the most famous Christmas movies set in London, Bridget Jones's Diary, then a visit to Bedale Street in London is an absolute must. This charming street is home to Bridget's flat above The Globe, as well as the fictitious Greek restaurant (now a wine shop called Bedales) where Daniel Cleaver and Mark Darcy have their famous fight.
But even if you're not a fan of the movie, Bedale Street is still worth a visit for its Georgian-style architecture, nice shops, restaurants and cafes dotted around, and of course, for being at the doorstep of the famous and vibrant Borough market offering up a variety of locally-sourced produce, artisanal foods, delicious street food, and much more.
Whether you want to grab a bite to eat, shop for souvenirs, or simply soak up the atmosphere, Bedale Street has something for everyone. How to get there? It's easy! Just take the tube to Borough Station, which is just a short walk away.
Closest tube station: Borough Station or London Bridge
Recommended by Goya Galeotta
Regent Street
Regent Street is one of the most famous streets in London. You can find this curved street in the West End of London, and it connects Oxford Circus and Piccadilly Circus
. Regent Street is a perfect place for shopping as many major retail stores are located here, such as Hollister, Mulberry, Apple, Lacoste, and many others.
The famous toy store Hamleys is also located here and has been there since the year 1881. Besides being great to visit because of the many stores, the street is also great to go to because of the beautiful architecture.
Most of the houses of the street were designed and constructed by John Nash and James Burton. Because of the architecture of the street, this is also one of the best photo spots in London.
Closest tube station: Piccadilly Circus and Oxford Circus
Recommended by Dymabroad
New Bond Street
New Bond Street in London is a street that is famous for its upscale and luxurious shopping experience.
The street is located in the Mayfair area of London with the nearest tube station at Bond Street and is home to some of the most high-end luxury retailers in the world, including Versace, Balenciaga and many more.
It also has historical significance, and many of its buildings date back to the 18th century, adding to the charm of the area. New Bond Street is a must-visit location for any fashion lover, and even for people who are looking to experience the luxurious lifestyle that London has to offer.
If you are looking for Christmas things to do in London, make sure to visit New Bond Street in winter. The entire street comes alive with sparkly lights and festive decorations that transport you straight into the holiday spirit. Shoppers from all over the world flock to the street to purchase designer gifts and admire beautiful holiday decorations.
Closest tube station: Bond Street
Recommended by UK Everyday
Great George Street
An unmissable street in London is without a doubt Great George St. It's where you can find an iconic view of Parliament and Big Ben!
The best tube stop to get off at to see the epic view on Great George St. is Westminster. As you exit the station, Parliament and Big Ben will be RIGHT in front of you. Turn right and walk toward Parliament St. On the corner of Great George St and Parliament St you'll find a red telephone box.
This makes for a perfect photo opp to get all things quintessentially London: A red telephone box, Parliament and Big Ben, and if you wait for one to pass by as you take your photos, a red double decker bus! Enjoy your time in London and the epic view on Great George St!
Closest tube station: Westminster
Recommended by Adventures of Chels
St James Street
St James Street is one of the most distinguished addresses in the capital; home to the most exclusive gentlemen's clubs, shops and businesses.
Named after St James's Palace which sits at one end, the street is filled with historic shops which are some of the oldest in the country. These include Lock & Co which is the oldest hat shop in the world, the oldest shop in London and the oldest family run business in the world, and Berry Bros who are the oldest vintners with cellars where Napoleon III held secret meetings.
Hidden behind the shop is the most beautiful 18th century courtyard, Pickering Place, only accessible down a narrow courtyard and where duels used to be fought amongst the nobles of the city.
Further along the road you will find the oldest pharmacy which still uses a bicycle to deliver its goods to locals, and a cigar merchants which used to sell to Winston Churchill. St James is a street of both heritage and architectural beauty and is well worth a visit.
Closest tube station: Green Park
Recommended by Slow Travel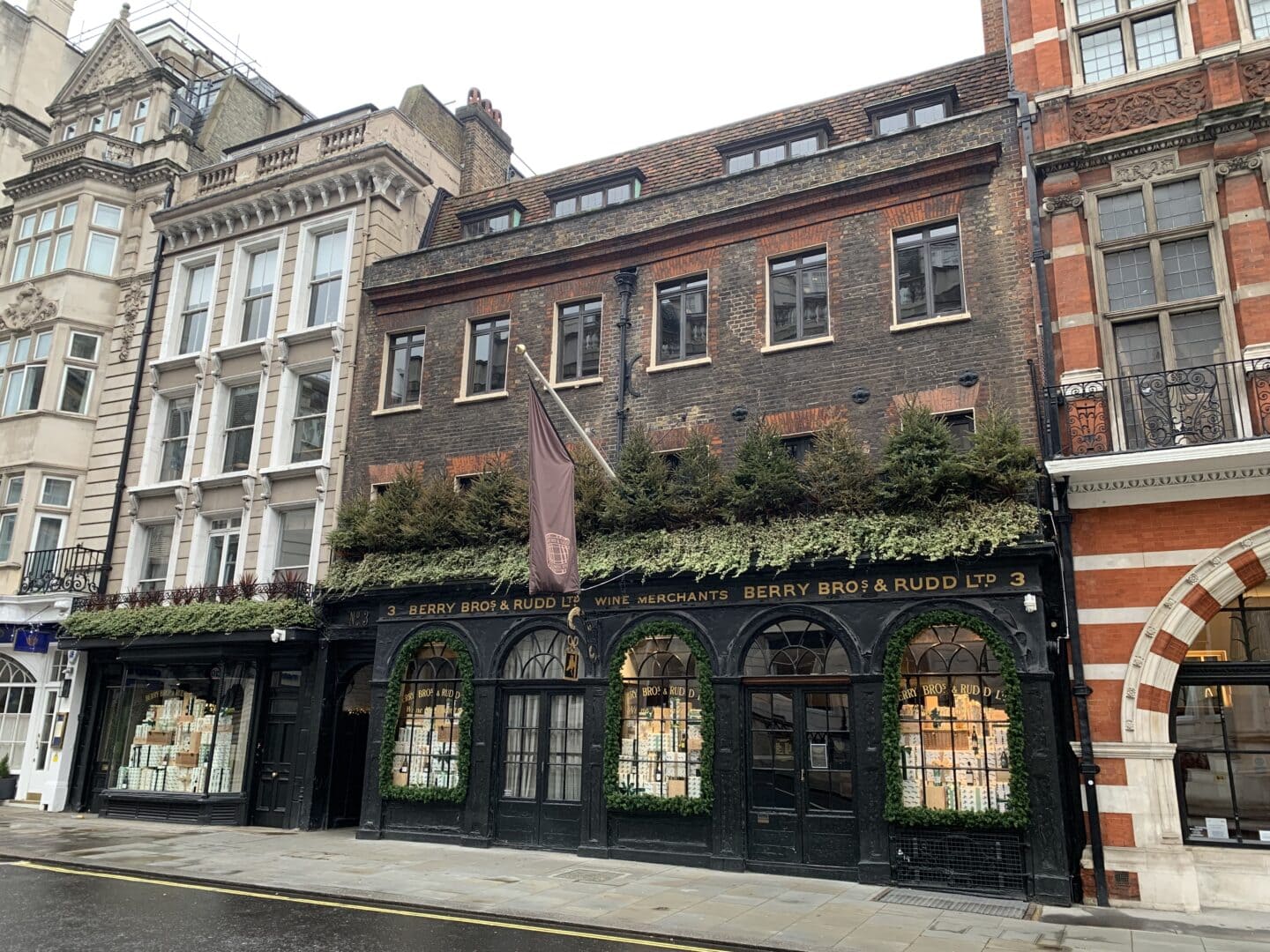 Baker Street
Baker Street is another unmissable street in London, and the story behind the street is as fascinating as the street itself. If you are a fan of books or a fan of BBC dramas, you may recognise the name as the street that Sherlock Holmes lived on.
221B Baker Street, London, was his address. London is famous for lots of things, Sherlock Holmes being one of them, and the street attracts fans from all over the world. In the modern day, there is a Sherlock Holmes Museum at 221B Baker Street.
It's often considered one of the most famous addresses in the world. If you watched the BBC show, you can find the house they used to represent Baker Street at 187 North Gower Street, but it's definitely worth checking out Baker Street during your time in London. It's a lovely street to walk down and it leads right into the heart of London.
Closest tube station: Baker Street
Recommended by A Backpacker's World
Cromwell Road
London's famous Cromwell Road runs from the A4 through the high-end neighbourhood of South Kensington to the Brompton Road and the magnificent 16th century Roman Catholic Brompton Oratory church.
The best-known and most visited attractions on this busy street are the free-to-visit Natural History Museum and the Victoria and Albert Museum (the V&A). Both of these magnificent museums are located within a stone's throw from the South Kensington Underground station which is on the Circle, Piccadilly, and District lines.
Cromwell Place provides all the eateries you could wish for after visiting the great museums. In particular, Honest Burgers is reasonably priced and a great spot for hungry kids! The Rembrandt Hotel, located almost opposite the V&A is a fantastic place to stay to experience this part of London.
Closest tube station: South Kensington
Recommended by Grey Globetrotters
Related Posts
Pin it for later!