One thing that London definitely doesn't lack is the abundance of amazing bars found throughout the city.
London has some of the best bars in the world, dotted throughout all of its neighbourhoods. More and more, bartenders are upping the ante and using innovative ingredients, locally-sourced produce, and even using unique methods to craft their cocktails.
If you're on the hunt for a cool and unusual bar to enjoy a cocktail or a pint in London, there are limitless options depending on what you're looking for!
Whether you want a cozy cocktail lounge or want to see some unusual places to grab a drink, here is a collection of must-visit bars in London!
This post contains affiliate links which means I earn compensation when you click on the links at absolutely no extra cost to you! Feel free to read my disclosure policy. Thank you for supporting my blog!
Plan your next vacation using these tools!

✈️ Book flights: SkyScanner
🏨 Book hotels: Booking.com
🚘Book car rentals: RentalCars.com
🎫Book tours: GetYourGuide
🌍Favourite travel item: Packing cubes
🧳Favourite travel bag: Osprey 40L Fairview
🩹 DIY Travel Medical Kit
💸 20 Cheap Travel Items Under $20
The Alchemist
If you like theatrics and science, The Alchemist is the bar for you. There are a few locations throughout London to visit, each with a slightly different feel.
The Alchemist combines science and art into a beautiful display. From cocktails involving bunsen burners, distillation and dry ice, there are a number of drinks to choose from. Or, if dramatic displays aren't your thing, there are loads of tamer cocktails to pick from that are equally as delicious.
As a bonus, the drinks at The Alchemist are not as expensive compared to other cocktail bars throughout London, meaning you can enjoy a few different ones!
There is a bar side as well as a restaurant side, and it's well worth booking the restaurant side as the food is delicious. You're also guaranteed a table for 1.30 hours as opposed to the walk-in bar side of one hour.
Reservations are highly recommended.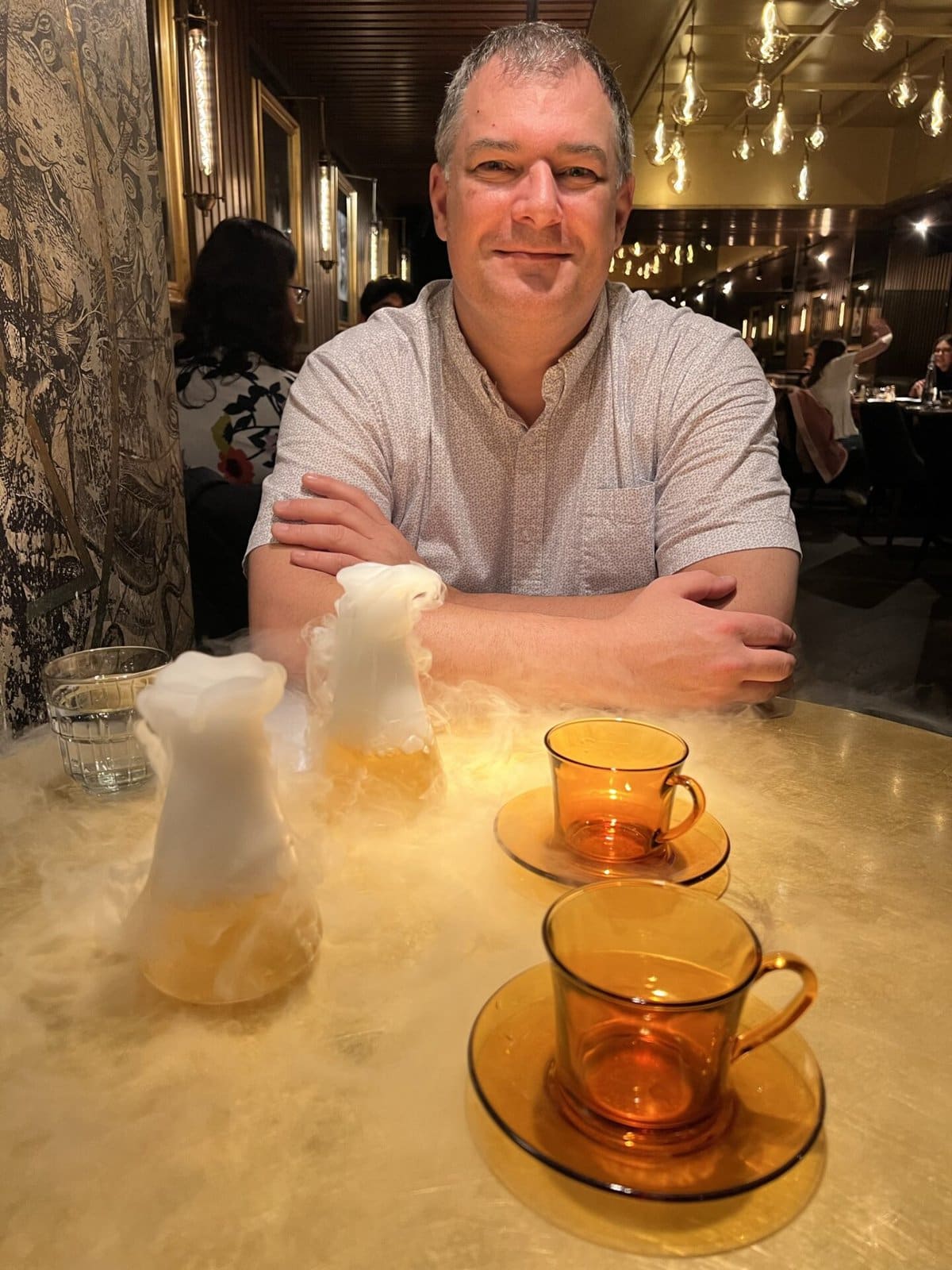 Related: 25+ Free Things to do in London
Mr Fogg's
Based on the adventures of Phileas Fogg in Jules Verne's Around the World in 80 Days, there are a number of Mr Fogg's bars and pubs around London. Each of them has their own unique character and their own theme.
Each cocktail bar also has its own unique menu with an assortment of hand crafted cocktails. The ambience and decor are incredible – you just have to see it to believe it. You'll feel as though you've stepped back in time.
While reservations aren't required, it's best to book ahead to avoid disappointment. Walk-ins at popular Mr Fogg's establishments are given a table for one hour.
Mr Fogg's Society of Exploration
Mr Fogg's Society of Exploration is travel themed – there is even an old Victorian train carriage you can sit in! Photos, maps, and travel mementos line the walls and ceilings of this underground pub.
The Society of Exploration is also the only location to have its very own Mechanical Mixologist. This automated cocktail machine sits proudly behind the bar and is designed to allow guests to watch their cocktails being made with unique spirits and elixirs.
Mr Fogg's Gin Parlour
Mr Fogg's Gin Parlour is unique in the sense that it's above Mr Fogg's Tavern – a rowdy pub downstairs with the look of a traditional English tavern. But above lies the quiet and quaint Gin Parlour – and the only way to access it is to ask for it.
Mr Fogg's Gin Parlour isn't as well-known because it's a speakeasy. You can't just help yourself – you have to know it's there to be granted access. You're then shown a secret door to head upstairs to the most beautiful old–timey English parlour with over 100 gins to choose from.
Mr Fogg's Pawnbrokers
As the newest Mr Fogg's location, Mr Fogg's Pawnbrokers is cleverly decorated with a multitude of pawned items. It's also the largest location with lots of side rooms to enjoy a fancy cocktail or two. You're given a tiny menu booklet and an eyeglass to read the menu.
Sherlock Holmes
Sherlock Holmes fans will want to visit the Sherlock Holmes pub! While the downstairs isn't really anything special, the upstairs has an old parlour lounge feel and its own Sherlock Holmes mini museum!
Located just steps from Trafalgar Square, this unique pub is worth stopping at for a drink – or a meal!
This Holmes-themed bar and restaurant has a room set up like Sherlocks Holmes' study, which can be freely viewed during opening hours. It is a bit tight upstairs, so be prepared if there is a lineup for the restaurant that you may have to wait for a view.
Be sure to reserve your table in advance to ensure you get the full experience. If you're popping in for a drink, you can head upstairs after and peak through the window to the Sherlock Holmes museum.
Horse & Guardsman
Located just steps from Horse Guards' Parade, the Horse & Guardsman is one of those places where you instantly feel as though you've stepped back in time. There is an airy feel to this pub and restaurant, but the real treat is that it's family owned and the place is covered with military memorabilia.
The Horse & Guardsman is a lovely wood-panelled establishment that is the epitome of a traditional London pub. It was previously the premise of bankers Messrs Cocks Biddulph & co., and the interior is indicative of a Victorian build with beautiful high ceilings and arched windows.
The interior pays homage to the Royal Horseguards, with an enormous oil painting of the Horseguards spanning the entire length of a wall when you walk in, plus using their uniform colours of red and blue throughout the bar and restaurant.
Tip: The Horse & Guardsman does a fabulous Sunday roast. If you reserve a table, you'll be located upstairs in an elegantly appointed dining area. Tables on the main floor are available to walk-ins.
Waxy O'Connor's
Waxy O'Connor's is one of the most deceiving pubs in London – which is also named London's best Irish bar!
A tiny door on the Chinatown side leads you to an underground labyrinth of an old church converted into a pub. Four unique bars span over six levels, and different chambers of the old church flow through the underground.
Old pieces of the church can be found throughout, including pews for tables, spires as decor, and an old pulpit overlooking a room with an old tree with limbs covering the ceiling.
This tree was planted over 250 years ago in Ireland and died in 1994. A local woodworker who played around the tree as a boy managed to ship the tree to Waxy O'Connors in 1995. It's now the heart of the bar and is truly a unique place to sit and have a drink.
Help yourself to any table you can find, as it can get crowded. This experience is definitely worth it.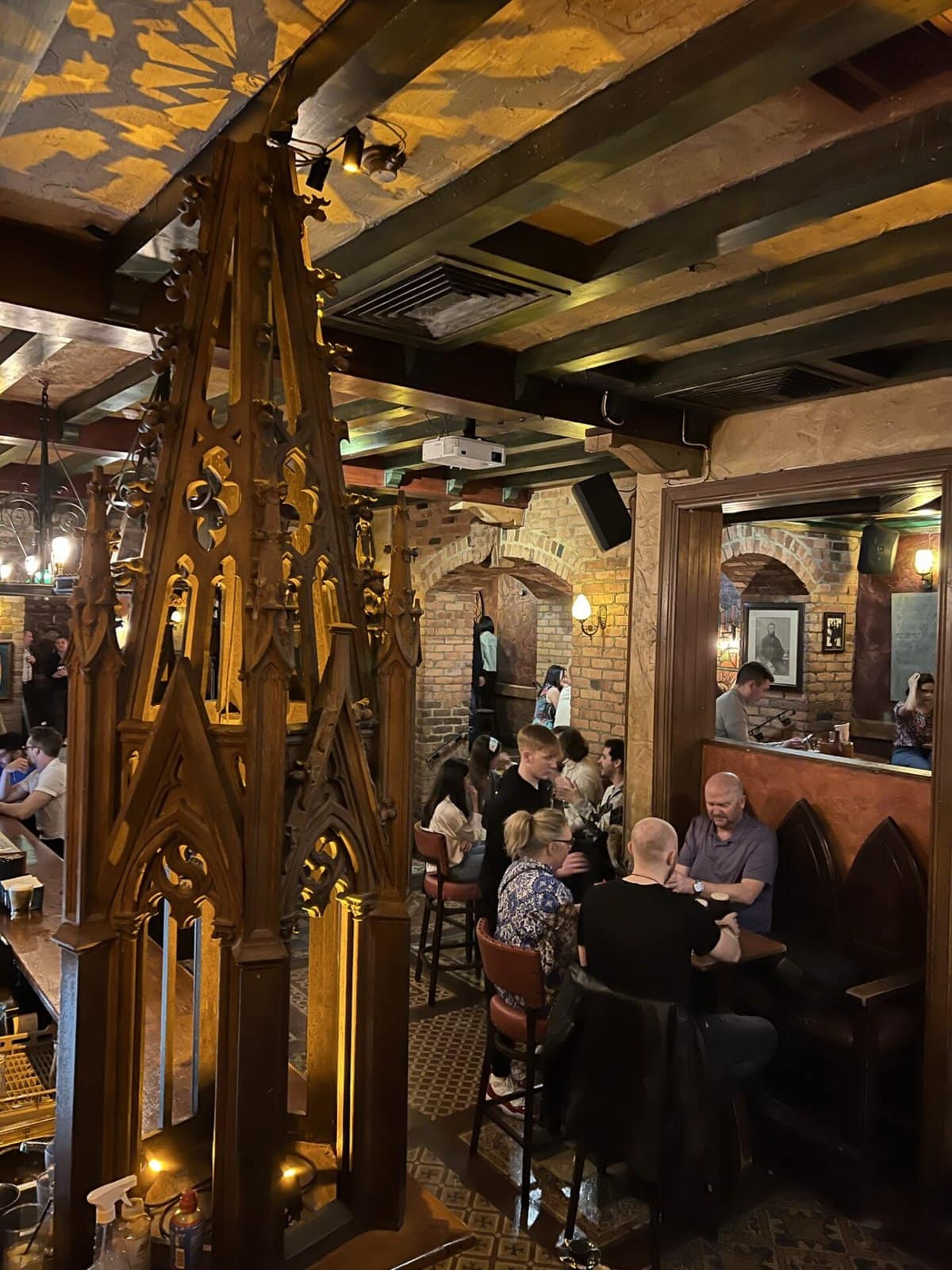 Madison
Madison is a bar and brasserie located on the rooftop of One New Change, near St Paul's Cathedral in the centre of London. It has wonderful views over the monument, which is just across the street. The terrace is open to the public, so you can visit for free as well, if you just want to enjoy the view.
The bar serves its own special cocktail that has an image of St Paul's Cathedral at sunset printed on the top. This is part of the signature cocktail menu as it's called Rooftop Sunset. The print was designed by a tattoo artist, and it is vibrant and colourful. The cocktail is a twist on the classic French Martini, made with vodka, pineapple tepache, red wine, cherry liquor, vanilla and egg white.
In the evenings, the bar has their own DJ and sometimes even live concerts. It is a great place to come to on a warm summer evening, to enjoy the vibe and the panoramic view of the London skyline.
Recommended by The World In My Pocket
Related: 20+ Best Things to do in London as a Second-Time Visitor
Ballie Ballerson
Ballie Ballerson is the ultimate playground for adults! Located in the heart of Shoreditch, East London. This bar is known for its famous giant adults-only ball pit, so you can let loose and release your inner child.
The atmosphere in this quirky bar is really what makes the venue stand out. It has a kind of 90s to early 2000s theme with its RnB music, bright colours and neon lights, it's a real Instagrammers paradise!
The best way to enjoy your experience at Ballie Ballerson is to book their bottomless brunch deal where you can enjoy two hours in the ball pit and 90 minutes of free-flowing prosecco, pornstar martinis and endless pizza!
If you want to experience their full cocktail menu, head there for a night out and don't forget to try their infamous Dibbie Dabberson cocktail which comes complete with a Dib Dab lolly!
Recommended by The UK Wanderers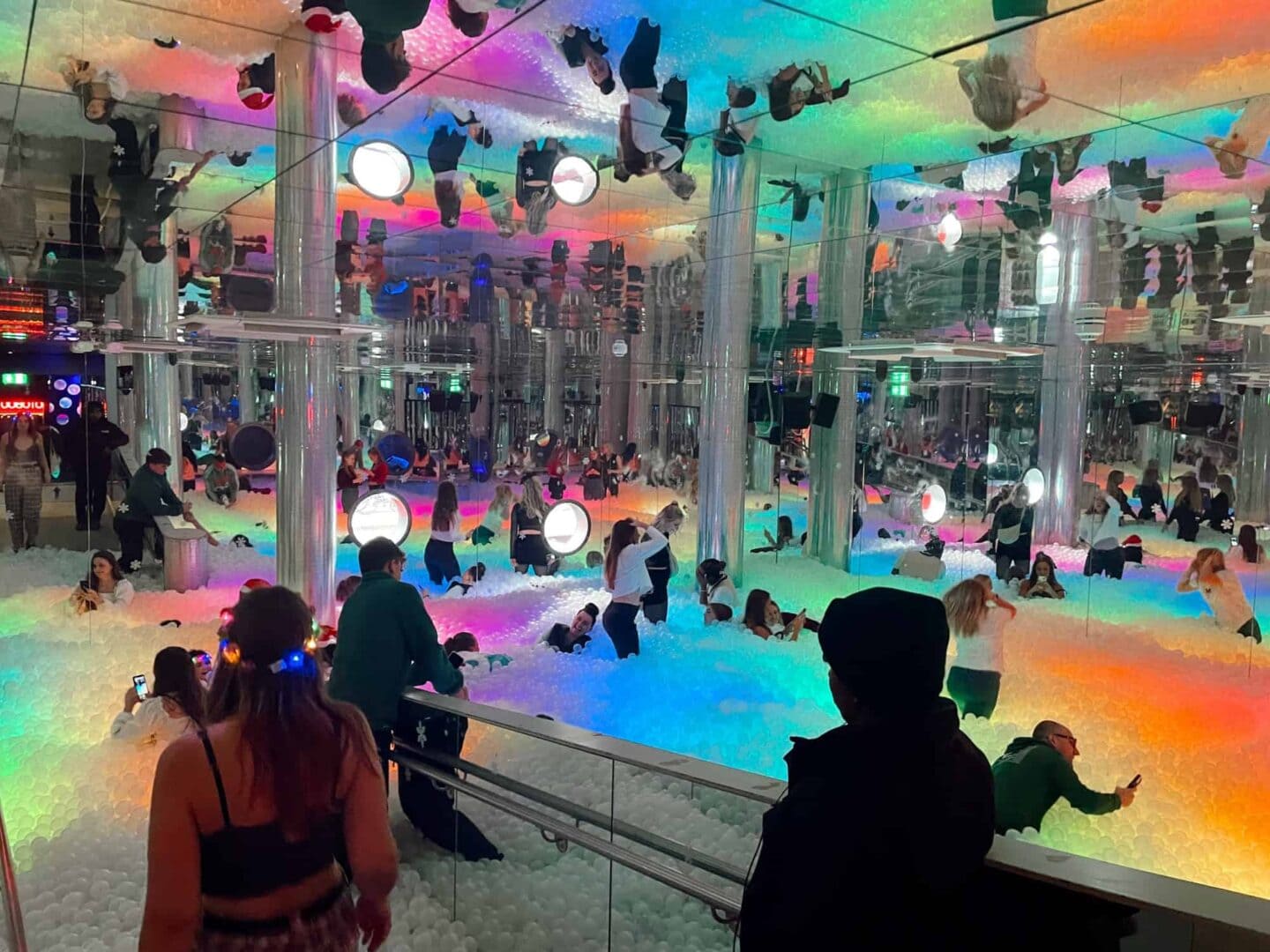 Callooh Callay
London is home to the world's coolest and most unusual bars. One of which is undoubtedly Callooh Callay, located in Rivington, UK. It is a bar in Shoreditch inspired by the famous novel Alice in Wonderland, which makes this place unique. Their quirky decor includes a wardrobe entrance and a giant teacup-shaped booth.
The bar features a hidden room, which requires a code to enter. Among the menu, their cocktail is highly recommended, with drinks like the Flaming Zombie, served in a skull-shaped glass and set on fire, and more.
Callooh Callay is extendable and offers visitors a one-of-a-kind drinking experience in London. Apart from drinks, the bar snacks are genuinely delicious and beautifully complement your choice's drinks.
They organize special celebrations such as music nights and events throughout the year. Callooh Callay promotes offers and discounts during certain times of the year, like Women's Day.
Recommended by The Holiday Story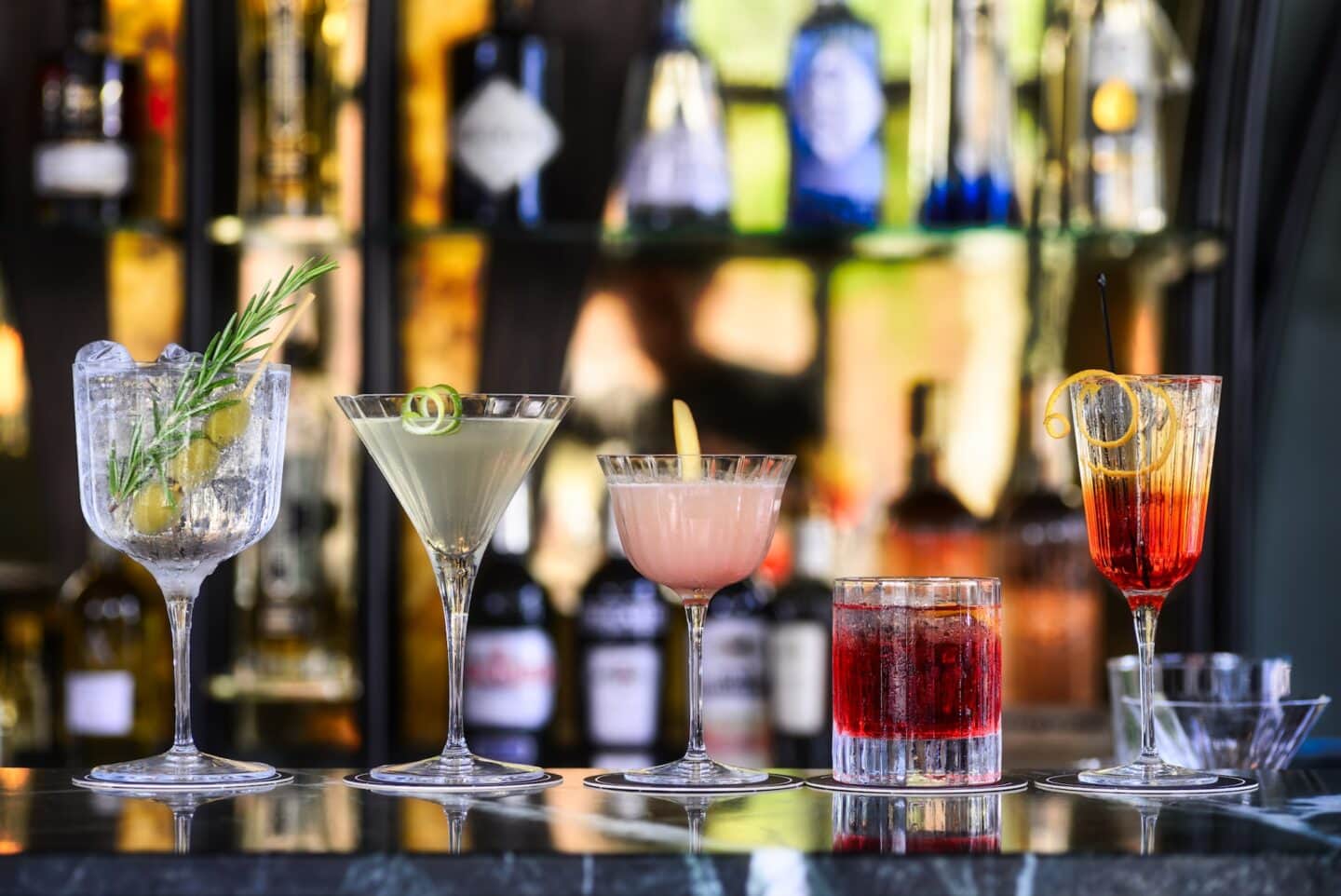 Bag O'Nails Pub
The Bag O'Nails pub in London is a unique and charming destination that's definitely worth a visit. Located just a 7-minute walk from Buckingham Palace, this cosy pub has been a local favourite since it was first licensed in 1775.
What makes the Bag O'Nails special is its lively and friendly atmosphere. The pub's name is derived from a wild celebration of dancing and drinking, and it still maintains its reputation for good times. The eclectic decor and resident feline friends add to the pub's quirky charm, making it a fun and memorable destination.
In addition to its great atmosphere, the Bag O'Nails also offers a fantastic selection of drinks and pub fare. The menu features classic British dishes like fish and chips, bangers and mash, and a selection of burgers, sandwiches, and salads.
Recommended by Guide Your Travel
The Bar With No Name
The Bar with No Name at 69 Colebrooke Row is a speakeasy-style bar on an unassuming corner in London. The bar's menu includes a selection of classic cocktails with some modern twists, including a Manhattan that is poured directly from a bottle. If you have a favourite cocktail that is not on the menu, the bartender will likely be able to whip up a great version of it for you.
The city is known for its innovative food scene, one of the reasons to visit London over other European capitals. In addition to well balanced and interesting cocktails, you'll find fabulous service and a fun atmosphere at The Bar with No Name. You'll often find a live pianist playing tunes in the centre of the room.
This would be the perfect place to bring a date or just visit by yourself and enjoy the music. The space is rather small, so you'll want to reserve a table if you know you want to visit this gem.
Recommended by Amber from Amber Everywhere
Related Posts
Pin it for later!