Heading to London for the second time and wondering what other sights and attractions to see? Visiting London as a second-time visitor allows you to see more off-beat locations aside from the popular attractions.
London is one of those places where you will never run out of amazing things to do, and it's hard to decide what to do regardless if you're there for a short amount of time or not!
This list compiles some of the very best things to do in London if you've visited before and are looking for unique things to see and do.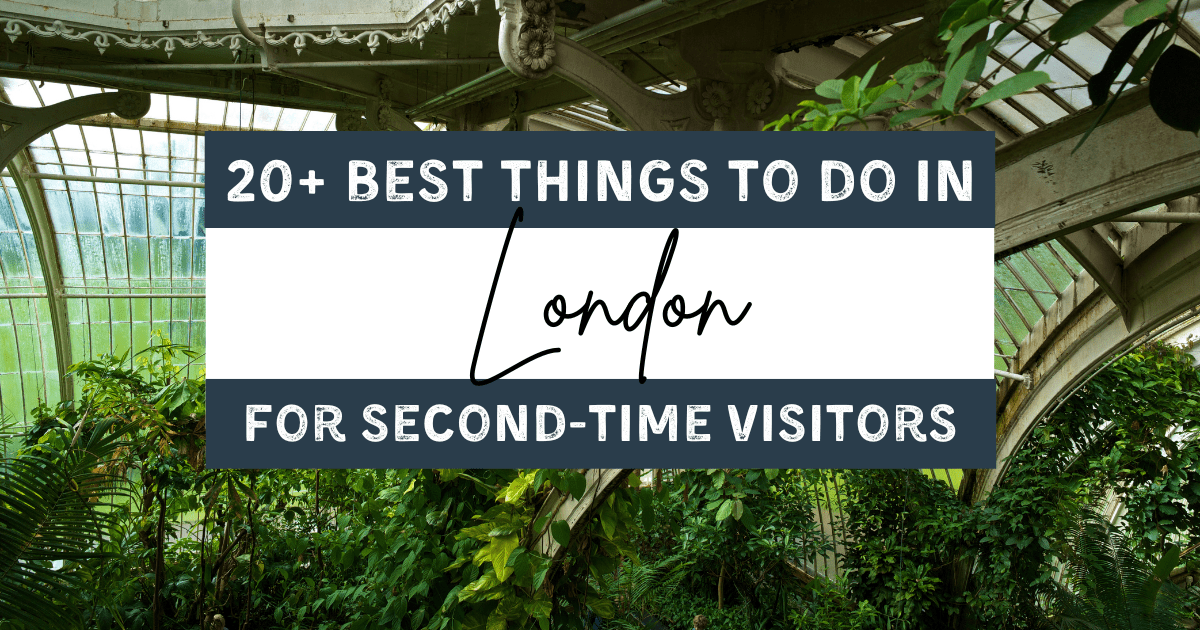 This post contains affiliate links which means I earn compensation when you click on the links at absolutely no extra cost to you! Feel free to read my disclosure policy. Thank you for supporting my blog!
Plan your next vacation using these tools!

✈️ Book flights: SkyScanner
🏨 Book hotels: Booking.com
🚘Book car rentals: RentalCars.com
🎫Book tours: GetYourGuide
🍽️Local food experiences: EatWith
🌍Favourite travel item: Packing cubes
🧳Favourite travel bag: Osprey 40L Fairview
📱 ESims: Airalo
🩹 DIY Travel Medical Kit
💸 20 Cheap Travel Items Under $20
Don't have time to read all these unique things to do in London right now? Save this post for later!
1. Churchill War Rooms
The Churchill War Rooms are a must for anyone interested in WW2 history. Located steps from St James's Park, the Churchill War Rooms provide a fascinating insight to the past and to Britain's involvement in gaining victory over the Axis forces.
You'll start your tour through the museum and learn the history of Churchill's involvement during WW2. You will also get an inside look to his life and past with some quirky highlights. It's evident that Churchill had a sense of humour and was well-liked by all those who worked for him during difficult times.
Once you are finished in the museum, you'll get a chance to tour the Cabinet War Rooms where staff would often spend 18 hour days underground with the threat of bombing looming overhead.
It's fascinating to see the rooms where prominent government figures slept, gave speeches, and worked, all while underground in a top-secret lair.
Rest at the cafe located in a room that was once used by switchboard operators.
Allow at least two hours to go through the museum and Cabinet War Rooms. Bookings aren't mandatory and walk-ins are accepted, but if it is busy you will have to wait until there is ample space to head underground. Tickets cost 27.25 GBP for adults and include an audio guide.
You can also book a guided tour for the Churchill War Rooms which includes entry to the War Rooms as well as a walking tour of Westminter's WW2 war sites.
2. Sightsee at speed on the heart-thumping Thames Rockets
You might have seen the London Eye and Tower of London already, but for another perspective on London's best attractions, take to the city's famed waterway for one of the more unique things to do in London – a fast-paced speedboat sightseeing tour.
Courtesy of the company Thames Rockets (the first of London's speedboat companies, you'll be in good hands), you'll have the choice between a handful of whirlwind tours.
Each offers an adrenaline rush, but there are varying itineraries and durations. The most enthralling is arguably the 45-minute 'Break the Barrier' trip, which sees even more engine revs as you leave the South Bank far behind and head off to east London.
Imagine flying along the Thames in a hurtling RIB (Rigid inflatable boat), spotting iconic landmarks as you bounce and splash along the river.
Then, once you've passed the twin-towered Tower Bridge, the driver puts down the pedal, cranks up the volume with some legendary British music, and propels you through the docklands to Greenwich at some seriously impressive speeds—this is an unforgettable way to experience the city.
Most of Thames Rocket's tours depart from The London Eye Pier alongside the Thames Clipper services, which offer a slower and cheaper river way to explore London on a budget. With limited daily departures, it's best to book your Thames Rocket experiences in advance.
Recommended by Dan Flying Solo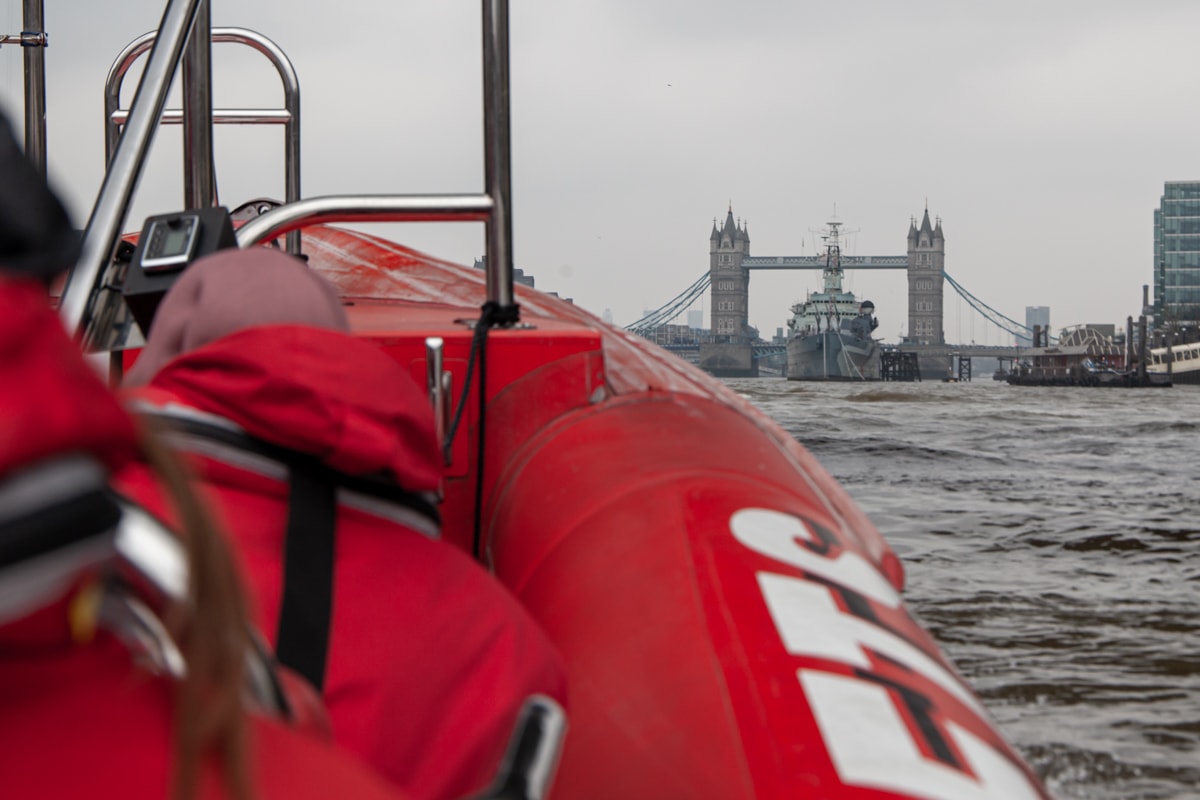 3. Harry Potter Studio Tour
Witches and Wizards will adore the Warner Brother Harry Potter Studio Tour. It's an absolute must for Harry Potter fans and is surely a tour to remember. You'll get an inside look at all of the sets, props, and costumes used in all 8 films and where Daniel Radcliffe, Emma Watson, and Rupert Grint spent 10 years of their lives!
Explore the Great Hall, Gringotts Bank, go inside 4 Privet Drive, and experience wondrous photo opportunities that give an inside look of how the films were made.
The Harry Potter Studio tour may not be on the list for every first-time visitor, but it is well worth visiting on a second visit to London. Whether you're a parent of Harry Potter fans, or grew up reading the novels and watching the movies, it is amazing to learn what made the movies so magical.
The easiest way to get to Warner Brothers Studios is by guided tour. You will board a bus at Victoria Station in London and travel an hour north to Watford. Alternatively, you can find your own transportation there and take a free bus back and forth from Watford Junction and explore the Harry Potter Studio at leisure!
Be sure to allocate some time for the gift shop, because it truly is enchanting!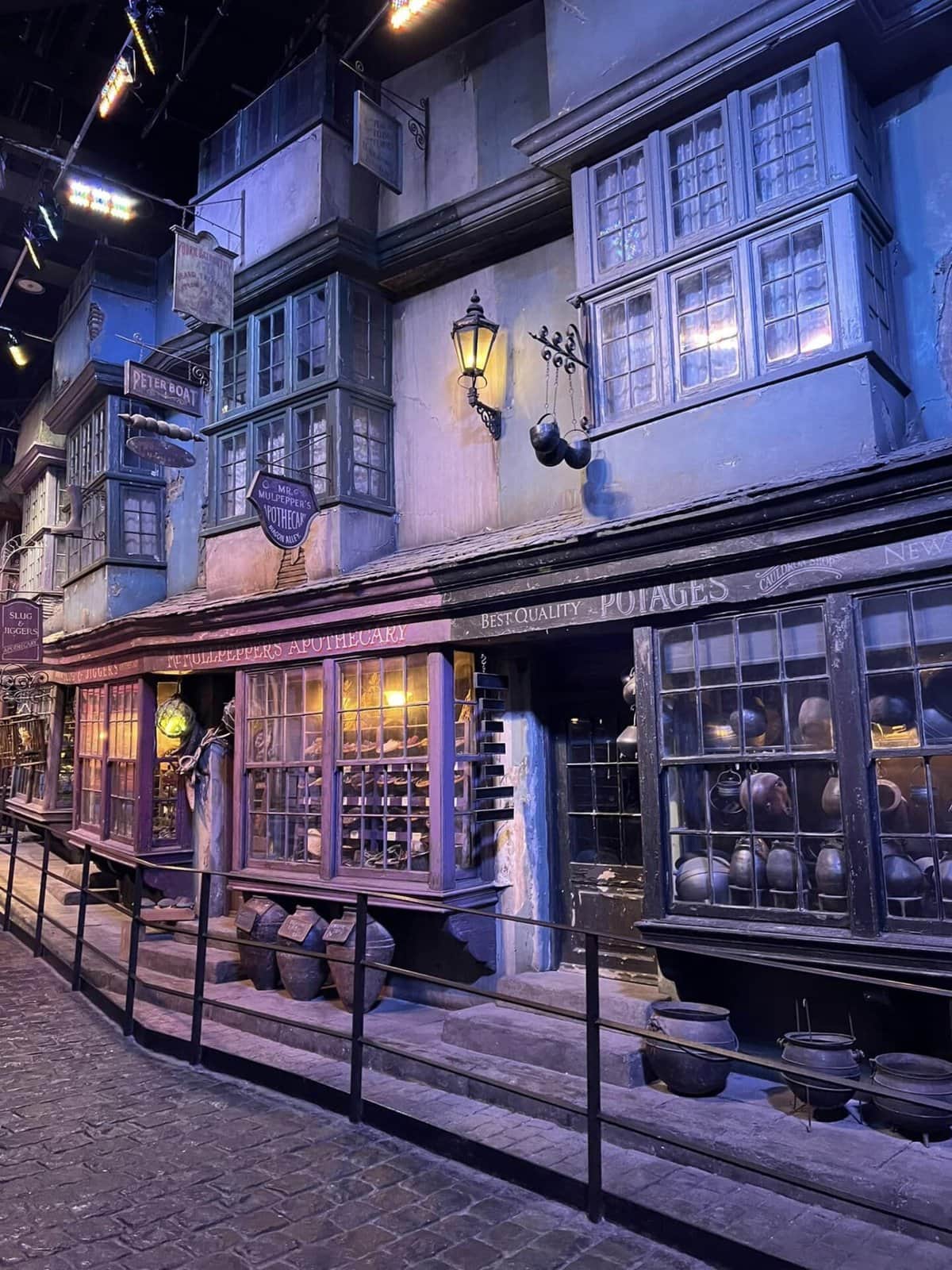 4. Explore Brick Lane
Brick Lane is a unique, vibrant and eclectic area of East London that has become popular for visitors looking for an alternative experience in the city, away from the typical tourist hotspots.
Brick Lane is known for its multicultural atmosphere and is home to the famous 'curry mile'! Order some delicious food at one of the many traditional Bangladeshi curry houses and enjoy this unique cultural experience.
If curry isn't your thing don't worry – Brick Lane has a diverse food scene. You can find trendy cafes, and street food stalls serving everything from falafel to fish and chips.
Brick Lane is also a hub for street art, with many famous artists creating stunning murals on the walls. Even Banksy did several graffiti murals here!
Another reason why Brick Lane is a great place to visit is because it is a vintage shopper's paradise! There are many vintage clothing stores, thrift shops, and a great flea market on Sundays where you can pick up lots of affordable things.
And the fun doesn't stop in the day – Brick Lane comes alive at night, with a range of bars, clubs and live music venues! Whether you're looking for a casual drink or a night out dancing, there's something for everyone.
Bethnal Green is popular not only with seasoned visitors to London, but also locals as it is one of the best places in Bethnal Green and the whole of East London to visit!
Recommended by 24 Hours Layover
5. See London at Night on a Ghost Bus Tour
For travellers looking for a unique and fun London night time activity during their second trip to London, the Ghost Bus Tour of London is the perfect option. It's a horror-comedy bus tour that takes visitors through the streets of London on an old double-decker bus.
Tours are a great way for travellers, especially travellers with kids, to learn while travelling. This tour drives past popular tourist sites like London Bridge, Westminster Abbey, the Tower of London, and Trafalgar Square.
Throughout the tour, the tour guide provides humorous commentary on the sites, as well as ghost stories that are sure to entertain.
Tickets to the Ghost Bus Tour costs 24 GBP for adults, and 16 GBP for children between the ages of 5-15 years. Students and seniors are 18 GBP. And there is also a special family rate for 2 adults and 2 children that is 61 GBP. Tours leave at 7:30 pm and 9:00 pm every day. On Saturdays, there are also tours that depart at 6:00 pm.
The Ghost Bus Tour departs in front of the Grand Hotel on Northumberland Avenue, near Trafalgar Square. The whole tour lasts around 1 hour and 15 minutes, depending on the traffic. It's sure to be an entertaining and memorable experience!
Recommended by The Wandering Daughter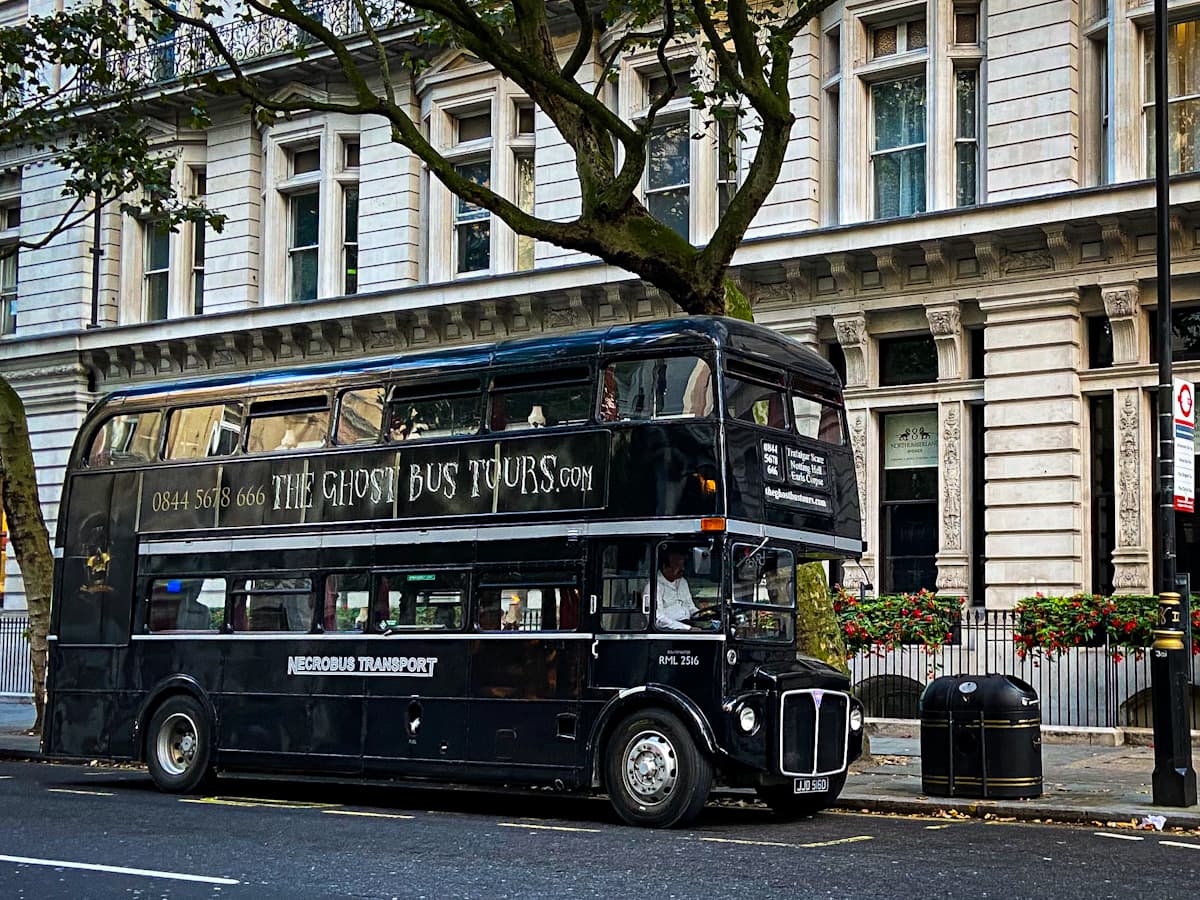 Related: Is London is safe for a solo female traveller? Check out some hot tips from a local.
6. Visit one of the oldest pubs in London at Ye Olde Cheshire Cheese
Ye Olde Cheshire Cheese pub is a hidden gem of British tradition down an ordinary, narrow alleyway. This place has character oozing from every crack in the floor and worn away panel of wood.
It has a delightfully rich history as a gathering place for famous literary figures like Charles Dickens and Mark Twain, who have mentioned this pub in some of their writings. It's also one of the oldest pubs in London, having been rebuilt shortly after the Great Fire of London in 1666.
The pub is divided into several small charming, almost hidden rooms, with tables wherever they will fit. Only the main room on the ground level is meant for dining and reservations are required. It's a very small dining area, so book in advance if you plan to eat here.
They serve a variety of traditional British food and drink, including pies, ales, and pies with ale in them. The beer is local and absolutely wonderful. Most menu items are fantastic, especially the steak and ale pie.
Well beyond the history, the food and the fantastic staff, the atmosphere here is genuinely delightful. Read the book The Cheshire Cheese Cat, by Carmen Agra Deedy and Randall Wright, before you go and you'll appreciate this very special place even more.
Consider it a must-do or must-have for your travels if you will. Come with a relaxed and curious attitude and don't be in a hurry when you visit, as the service is friendly but not fast.
Recommended by Wander Healthy
7. Get views of London from above at The Garden at 120
Without a doubt one of the most unique things you can do in London is visit The Garden at 120.
This is a great place to come and relax after a long day exploring London. What makes this so unique is the unbelievable views across the city and the fact it's completely free!!
You're able to have unrivalled 360 degree views over the River Thames, the City of London and basically the whole London skyline! It's well worth grabbing yourself a coffee, or any drink of your choice, and enjoying this beautiful green oasis located in the heart of London!
Visiting for the sunset during summer will present you with one of the most amazing backdrops you'll ever get to see.there's also no time limit so you can stay as late as you want, until it closes at 9pm.
Situated on the 15th floor at 10 Fenchurch Avenue, the Garden at 120 is easily accessible no matter where you're coming from. Both Tower the Hill and Monument tube station, which are on the Circle and District, are just a short distance away whilst the N550 bus stops over the road.
If you're looking to spend a few days in London, why not stay at the Z Hotel Piccadilly which is ideally located and has great quality amenities.
Recommended by The UK Wanderers
8. Enjoy Afternoon Tea on a Double-Decker Bus
If you've been to London before, chances are you've enjoyed afternoon tea and gone on a double-decker bus tour. But, have you done them at the same time?
Brigit's Bakery has an awesome double-decker afternoon tea tour of the city. Not only do you get to enjoy finger sandwiches, scones, and tasty treats, but they put your tea in a travel mug so you won't have to worry about spilling hot tea during the ride.
There's a narrator on board who will share all kinds of London facts and royal family gossip. On the tour, guests can see Big Ben, The Houses of Parliament, Westminster Abbey, St James's Park, Hyde Park, The Royal Albert Hall, Marble Arch, Nelson's Column, Downing Street and more.
They have a traditional city tour but they also have a special Paddington Bear option that's one of the coolest things to do in London with kids!
This London tour is a great option for visitors who are short on time but want to check off a ride on a double-decker bus and afternoon tea in one fell swoop.
It's also fairly affordable for both adults and children. Plus, the tour is only 90 minutes long so you'll have plenty of time to explore London on your own.
Recommended by Marcie in Mommyland
9. Indulge in Afternoon Tea at Sketch
If you are searching for one of the most unusual things to do in London then you can't beat afternoon tea at Sketch.
Sure, the prices here are a bit steep since tea starts at 48 GBP per person, but you're paying for the amazing food and for the incredible experience that Sketch offers.
However, because of the quirky decor and Instagrammable feel of this place, Sketch is quite popular. So, be sure to make a reservation.
Also try and book a table at this Mayfair icon right when they open. This way you can take tons of photos without a bunch of people in the dining room.
Other than that, feel free to step inside this historic, 19th-century townhouse and enjoy one of the coolest things to do in London with kids since the bathrooms look like nightclubs and the Gallery dining room is a swirling sea of bubble gum pink decor.
Just don't leave without visiting the Gallery restroom since the bathroom stalls look like giant eggs and are enhanced by a colourful, block ceiling that you need to see to believe.
Other than that enjoy a decadent afternoon tea that includes warm scones and fabulous Battenberg cake.
Recommended by Linda on the Run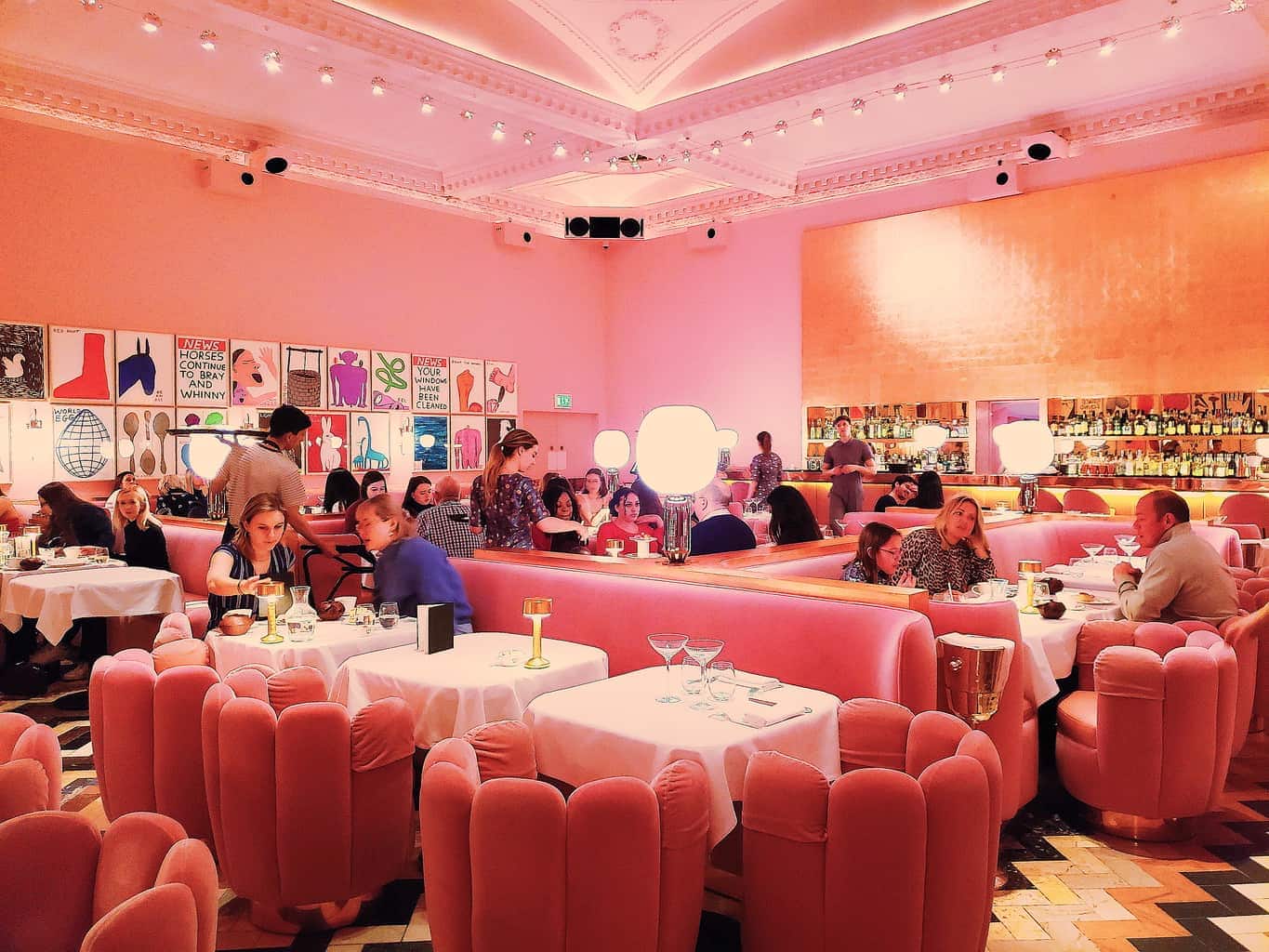 10. Stroll along Regent's Canal
The Regent's canal runs for 8.6 miles in from Paddington in the west to Lime House in the east where it joins the River Thames. The Regent's canal was built in the early 19th Century to connect Paddington train station and the Thames back when canals were the transportation system of choice. Today it is a popular place for locals to go for a walk.
You can walk nearly the full 8.6 miles on the towpaths, through tunnels and past 12 locks. The nicest section to walk is from Little Venice to Euston.
Little Venice is an affluent neighbourhood with Victorian architecture and the canal is lined with houseboats. As you walk east it gets greener as the canal runs across the top of Regent's Park where you walk past London Zoo so look out for the African hunting dogs which you can often see from the path.
Further along is Camden which is the perfect place for lunch and the area along the river is full of food stalls. Camden is also interesting to walk through for the unusual and interesting shops.
Continuing east you get to Granary Square in Euston. This is an area which has many restaurants including Dishoom, a popular Indian restaurant.
If walking is not your thing it is also possible to see the canal by boat. It takes 45 minutes to travel on a canal boat between Little Venice and Camden Lock.
Recommended by Scotland Less Explored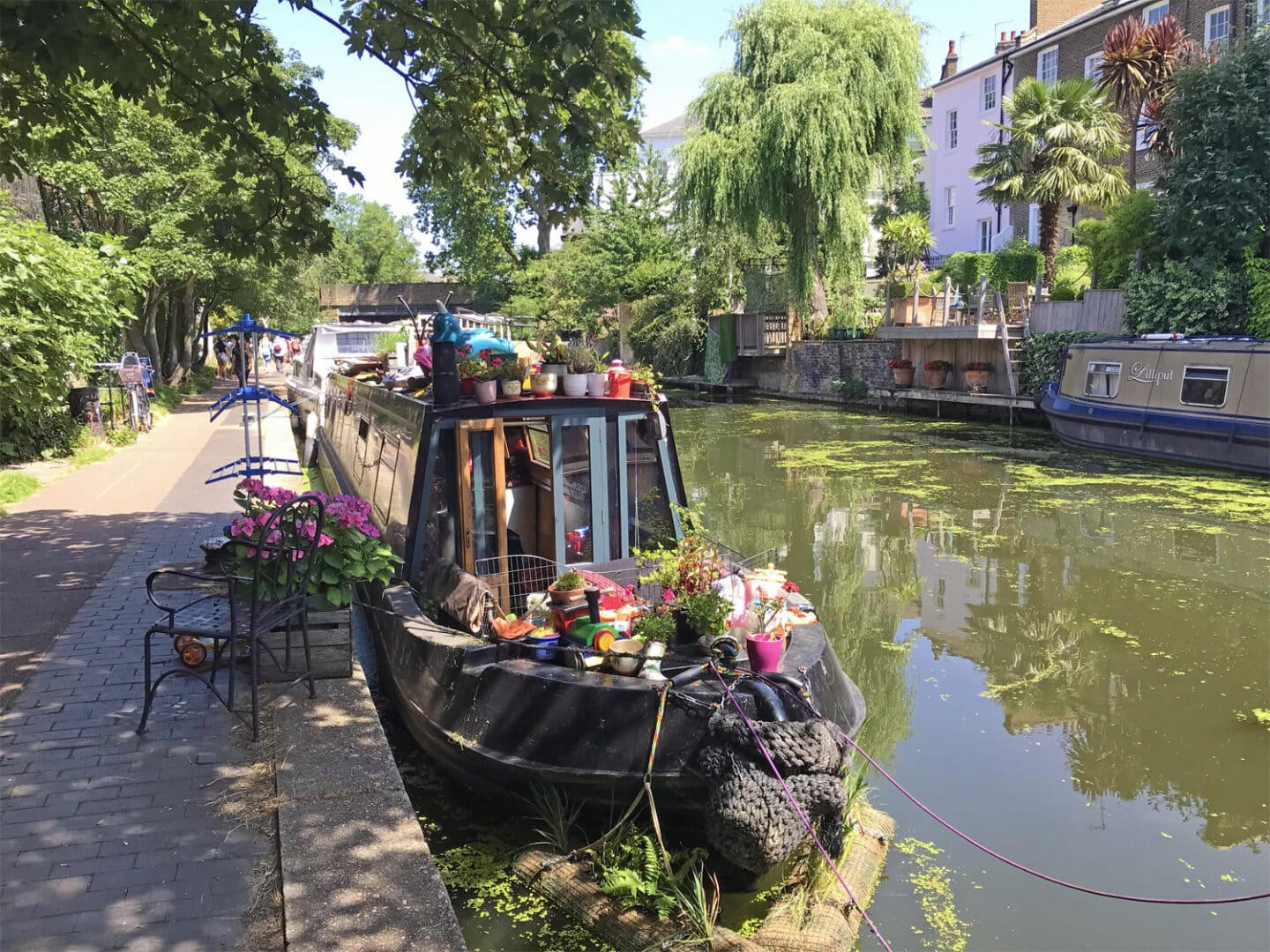 11. Walk across the Tower Bridge Walkways & Glass Floor
Tower Bridge is one of London's most famous landmarks. This iconic bridge, built between 1886 and 1894, crosses over the River Thames near the Tower of London.
Many visitors may not realize, however, that the two bridge towers are connected by pedestrian walkways 42 metres above the River that are open to the public.
Originally, these walkways were built to allow pedestrians to cross the river during bridge lifts. Closed to the public in 1910, the walkways were reopened in 1982 and glass floors were installed in 2014.
Once you climb up to the Tower Bridge walkways you will experience spectacular panoramic views of London including the Tower of London, St. Paul's Cathedral, The Shard, Canary Wharf, and Greenwich. In addition, glass floors provide an interesting bird's-eye view of the city of London below, if you're brave enough to walk over them!
All along the Tower walkways interesting facts are posted about the history and construction of the bridge. Before you leave the Tower of London you can continue your tour down underneath the Tower to explore the historic Engine Rooms and learn about the fascinating technology that once powered the Bridge lifts.
Next time you are in London be sure to take some time to explore the spectacular Tower Bridge from a unique perspective while admiring the stunning city views! Tickets can be booked online in advance or can be purchased at the ticket office located in the middle of the Bridge.
Recommended by Toronto to Anywhere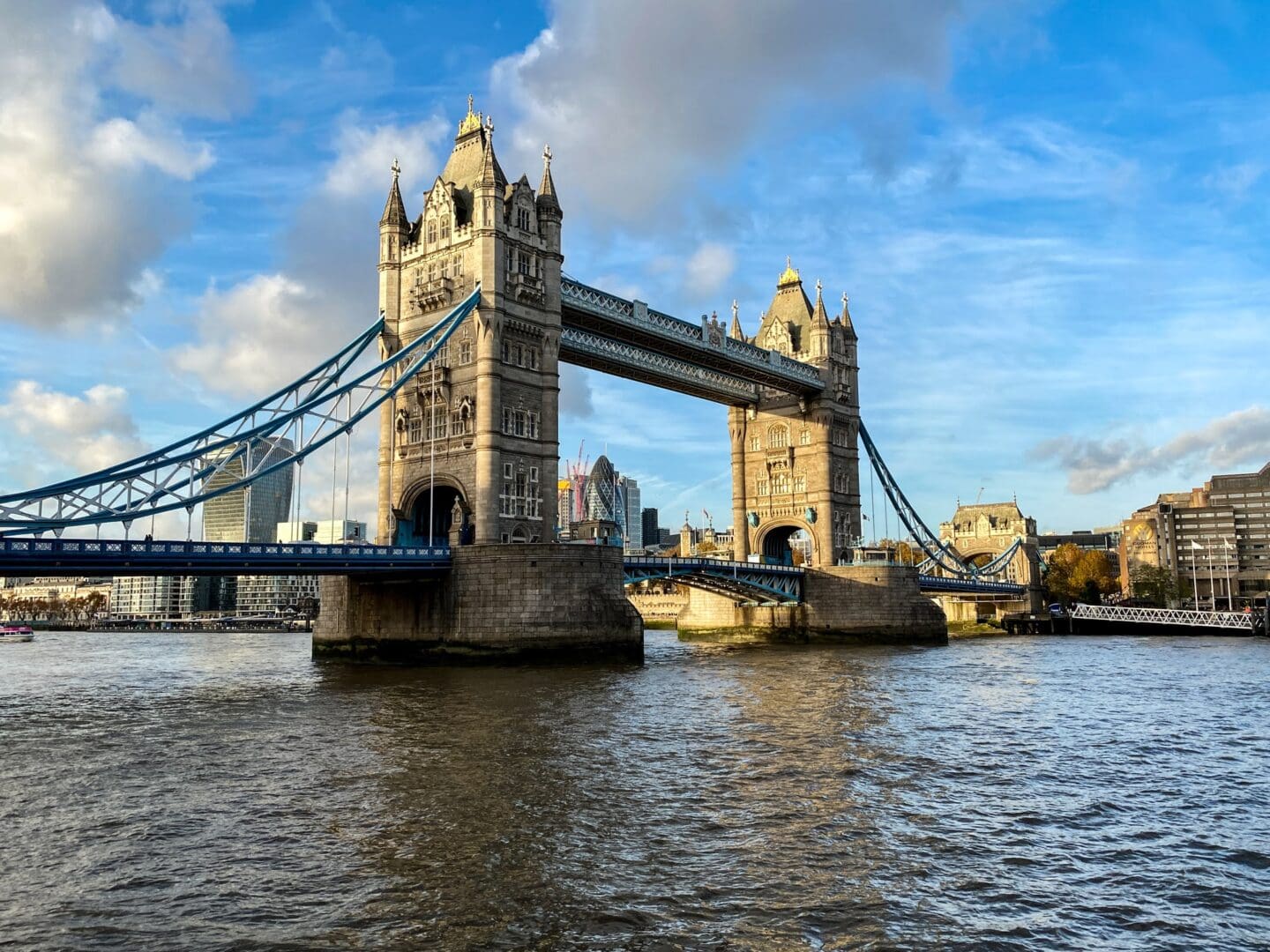 12. Visit Wimbledon
For those looking to travel off the beaten path within London, consider visiting Wimbledon! The area is most famous for being the venue of the annual 2-week Wimbledon Championships tennis tournament.
During this period, more than 500,000 tennis fans descend on the area to watch the world's best tennis players compete in this historic grass-court grand slam.
However, when it's not tournament time, there's still plenty to do within Wimbledon! For example, you can visit the All England Lawn Tennis Club at Wimbledon Park.
The club is open every day from 10 am – 5 pm and visitors will be able to find a museum with an array of interesting and interactive exhibits illustrating the tournament's history. Additionally, you can take a 90-minute tour of the grounds, accessing even the main Center Court.
But, if you're not the biggest tennis fan, the area is still worth visiting to see Wat Buddhapadipa. This is the first Thai Buddhist temple to make its way to the United Kingdom and walking around the grounds make you feel as if you've been transported to Thailand.
On-site, you can admire all kinds of beautiful murals telling the story of Buddha and take in the serene gardens. So, if you're looking to escape city life, head over to Wimbledon!
Recommended by Global Travel Escapades
13. See Harry Potter & The Cursed Child on stage
Are you looking for a unique and truly magical experience in London? If so, then you just can't pass by the Harry Potter & The Cursed Child play in the Palace Theater indifferently.
It simply is a perfect choice for everybody! For big and small ones. For true Potterheads who have read all the books and seen all the movies dozens of times. But it's also for those who are not much of the series fans. For those who believe in magic and for muggles as well.
Harry Potter & The Cursed Child, the most-awarded play in history, is a two-part play based on an original story written by J. K. Rowling, John Tiffany, and Jack Thorne. It will take you on a magical journey that starts 19 years after the events in Deathly Hallows's book and follows the adventures of both well-known older generation of wizards like Harry, Hermione, Ron or Draco, as well as the younger ones – their kids.
The play is spellbinding, full of plot twists and magical effects. The chances are really high that you'll leave Palace Theater speechless.
What do you need to know before going? Harry Potter & The Cursed Child is a two-part play that you can see in one day, or in two different ones. Part One lasts 2h40min, and Part Two 2h35min.
Tickets need to be bought online in advance and their prices depend on the chosen place, ranging from £30 up to £290 (both parts, one person). It's worth spending more for good seats, to see and hear everything better and thus enjoy the play more. But if you're on a budget the cheaper ones will enchant you as well!
Recommended by Happy Little Traveler
14. Visit Highgate Cemetery
Although visiting a cemetery is a somewhat unusual thing to do, and probably not something you would do on your first ever trip to London, Highgate is a must-see spot for those who love architecture, history and a spooky story or two.
Located in North London, Highgate Cemetery is one of the finest examples of Victorian funerary architecture and symbolism. With its grand mausoleums, terraced catacombs and gothic memorials surrounded by ancient trees, Highgate offers a truly special experience.
Opened in 1839, Highgate is part of the Magnificent Seven group of private London cemeteries. They were all established in the 19th century to address growing population and overcrowding at small parish churchyards.
Highgate is made up of two separate parts – the East and West cemeteries. They are home to over 50,000 graves, including many famous burials. Highgate is the final resting place of Karl Marx, author Douglas Adams and novelist George Eliot, among others.
You can explore Highgate on your own or join a guided tour. The East cemetery is the place to go for the famous graves. But the older West cemetery has the most fascinating architectural features including the Egyptian Avenue and Terrace Catacombs.
You need to buy a separate ticket for each part. A guided tour is well worth the extra cost as it will help you see the best spots and learn about Highgate's fascinating history. You can book your tickets on the Highgate Cemetery website.
Keep in mind that Highgate is still an operating cemetery, so please be respectful of mourners during your visit.
Recommended by Explore with Wonder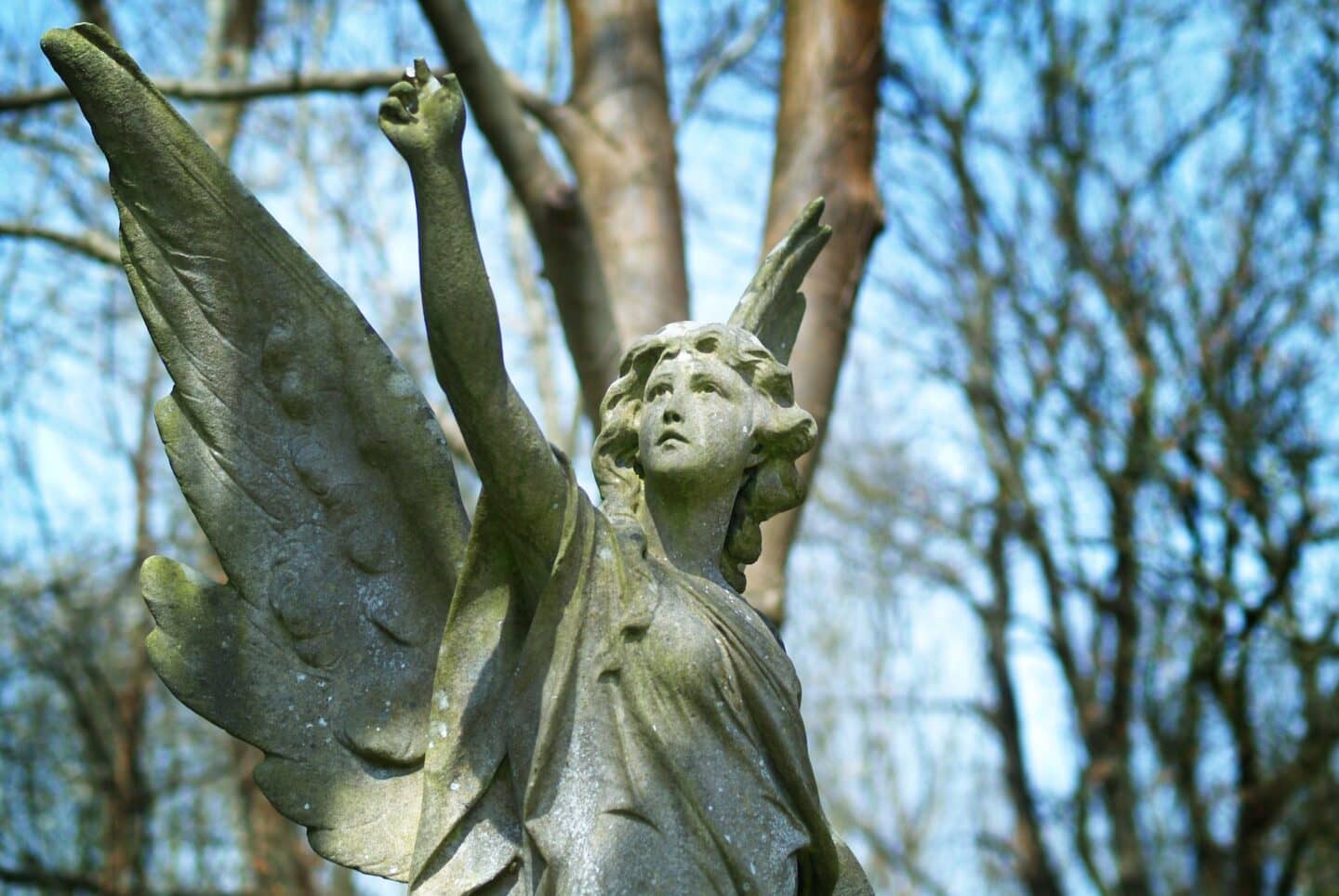 15. Watch the Ceremony of the Keys at night
The Tower of London is one of the standard tourist attractions for most first-time visitors to the capital and is in fact the most visited paid attraction across the whole of the UK.
Few people know however that you can visit it out of hours to watch the ancient Ceremony of the Keys, when you join a small group of people who have the privilege of entering after dark to witness a ceremony which hasn't changed for nearly 700 years.
Tickets only cost £5 and can be hard to come by as they sell out so quickly, but persevere on the Royal Historic Palaces website and you will eventually obtain some.
The experience itself is rather magical as you stand on the ancient cobbles inside the thick stone walls, your back to Traitor's Gate, and watch as the guards in their immaculate uniforms and the Yeoman Warders in their medieval bonnets protect the King's Keys as they lock up the Tower for the night.
Guards follow the same path and use the same words that have echoed through these walls for centuries, followed by the playing of the Last Post on a bugle. Throughout the event you are escorted by a Yeoman Warder who talks you through what is happening and answers any questions you may have.
You emerge afterwards into the dark night, surrounded by the lights over the city and reflecting off the Thames, feeling as if you have witnessed something truly unique and remarkable, and seen an ancient side of London that few get to enjoy.
Recommended by Slow Travel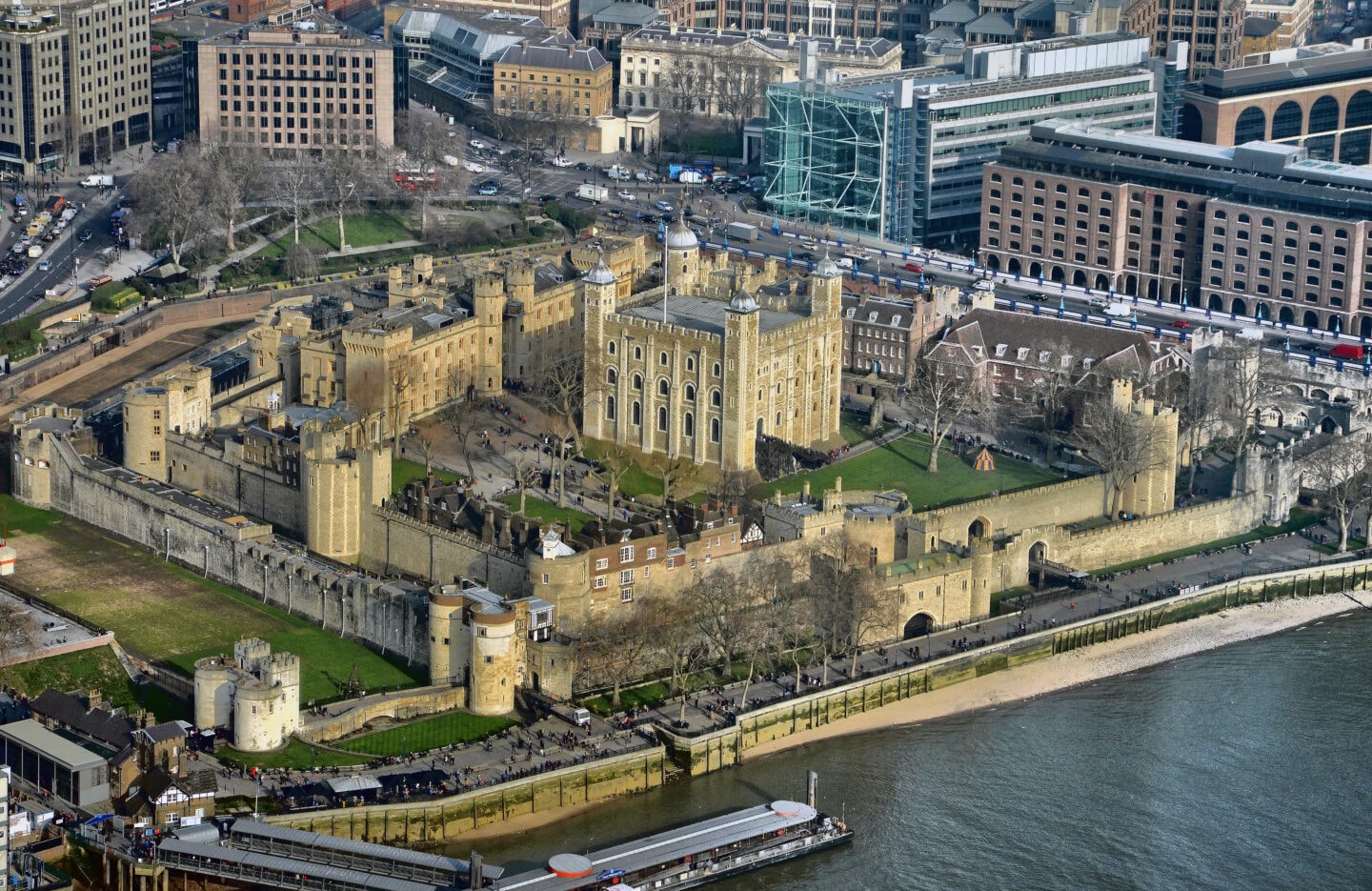 16. Explore Camden Market
Camden Market, a bustling labyrinth of creativity and culture, is an essential destination for second-time visitors to London. While you may have ticked off the usual tourist spots on your first trip, a visit to this iconic market will unveil a unique London experience, immersing you in the city's vibrant heart.
Located in the lively Camden Town, the market is a kaleidoscope of more than 1,000 stalls, shops, and eateries, offering an eclectic mix of fashion, crafts, and cuisine.
Wander through the vibrant lanes to discover vintage clothing, handcrafted accessories, and unique gifts. This treasure trove of creativity and craftsmanship showcases the best of London's diverse talent.
Foodies will rejoice as Camden Market is a culinary paradise, boasting a tantalizing array of global street food. Whether you crave mouth watering Mexican tacos, sizzling Thai stir-fry, or an authentic British pie, the market caters to every taste bud.
The market's atmosphere is truly unparalleled, thanks to its rich history and the pulsating energy of live music performances. Immerse yourself in the Camden spirit as you soak up the tunes of street musicians or head to one of the many nearby pubs and clubs to catch an unforgettable gig.
Visiting Camden Market and experiencing its energy is a great way to celebrate a birthday or some other notable life event.
In the evening, the market transforms into a bustling hub of entertainment, with comedy clubs, theatres, and cinema screens offering a variety of options.
Recommended by Wandernity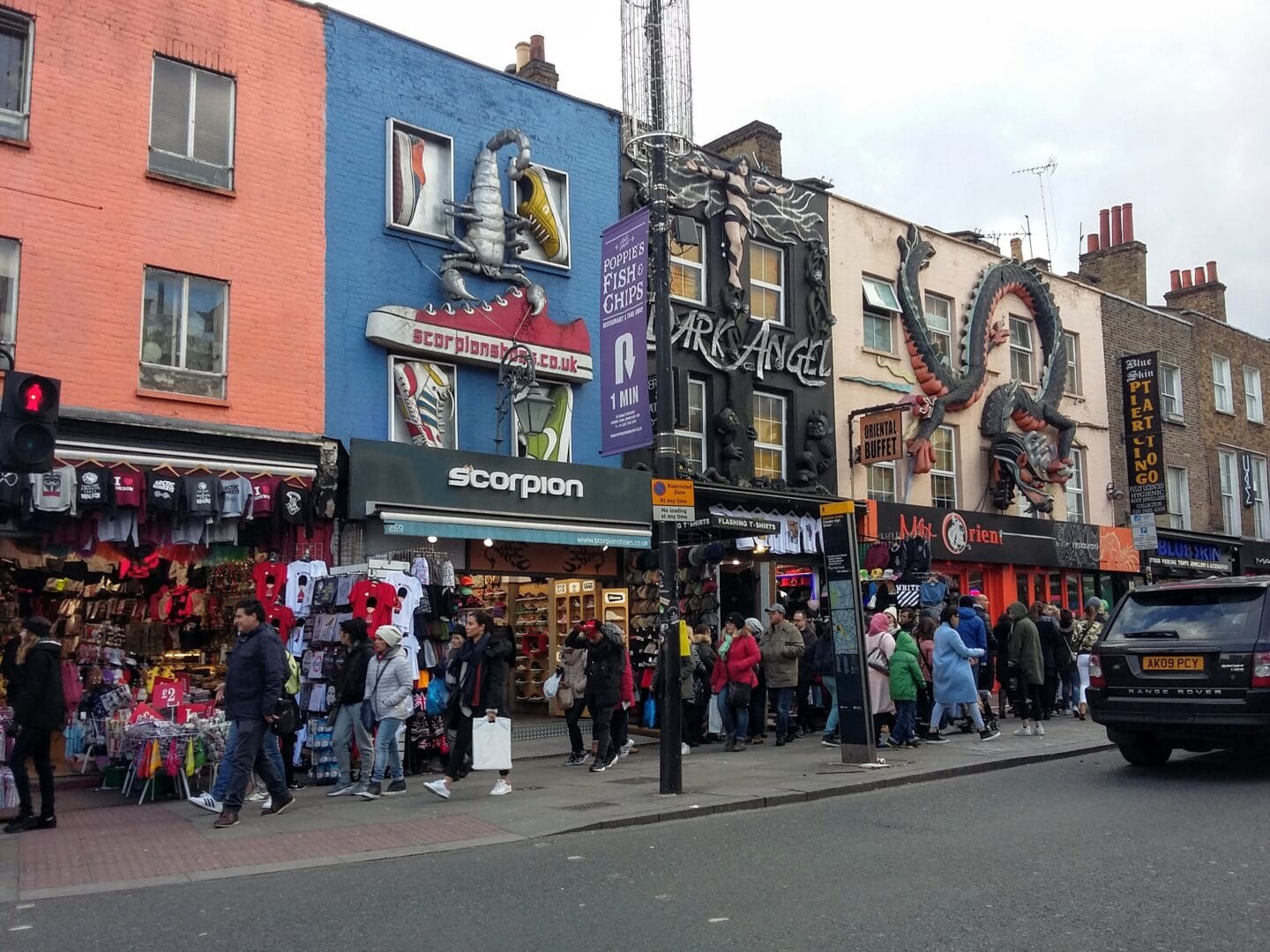 17. Dine in an old Victoria Line Tube Carriage
A unique experience that you must try when you are visiting London and have finished seeing the main sights, is dining in an old Victoria line tube carriage from 1967. This unique restaurant is located in Walthamstow, inside the Pumphouse Museum, and you can book this experience directly on their website.
Getting to the Museum is very easy, in just 15 minutes by overground from Liverpool Street to St James Street Station. From there, there is another 10 minutes walk.
The price of the menu is fixed, and you can buy extra drinks at the table. They have a small selection of soft drinks and wine. The welcome drink, which can be a glass of bubbly, a Negroni, or a non alcoholic cocktail, is included in the £49 fixed price.
You can book either a table or, if you are a larger group, a booth, which costs just a little bit more.
The experience included a six course tasting menu created by a Colombian chef, highlighting the flavours of Latin America. The menu changes seasonally and includes flavours of each country with a twist, reinvented by the chef using the vegetables which are in season in England at the time.
Some of the dishes that have been served in the past at this London supper club were Ceviche from Ecuador, Asado from Argentina, Causa from Peru, and Pastel de Mojito from Mexico.
The entire experience is quite intimate, as the carriage only has space for 35 diners.
Recommended by The World In My Pocket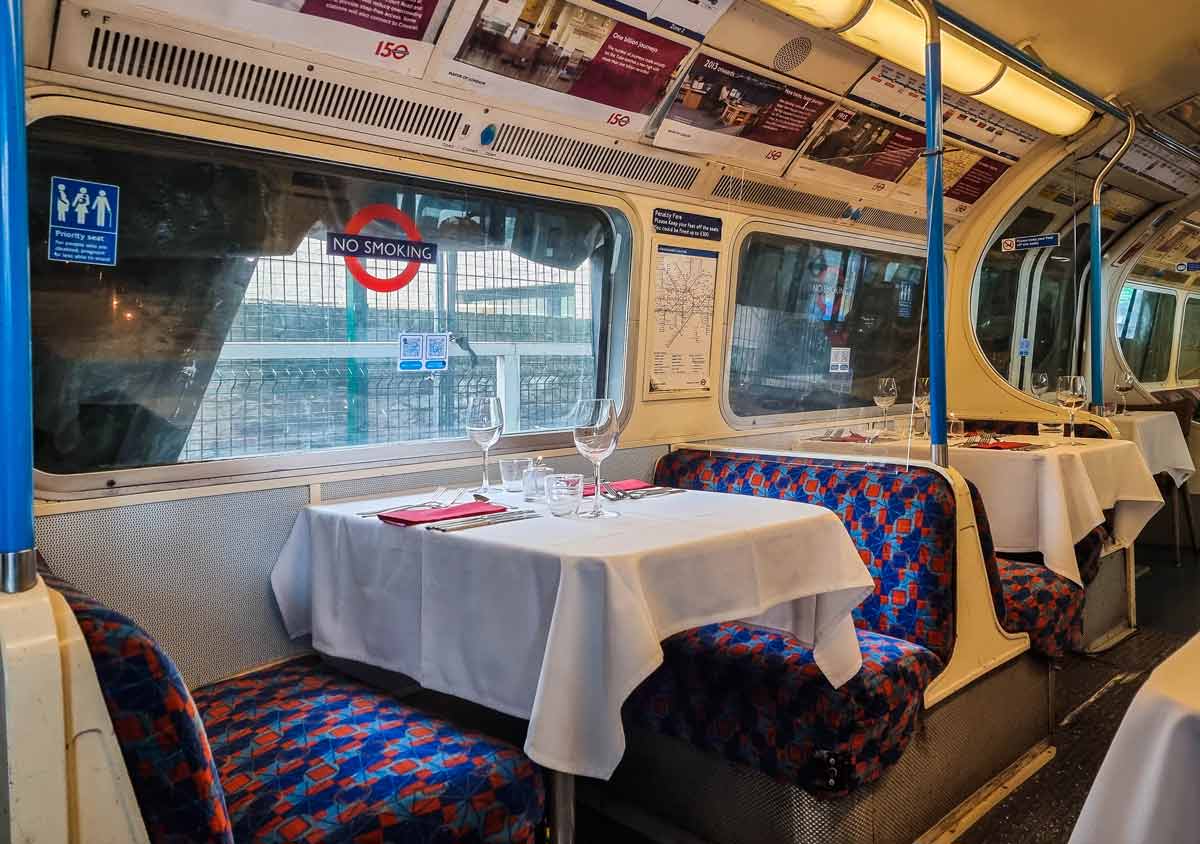 18. Explore London's Dark Past with a Jack the Ripper tour
Step back in time to discover the dark sides of London's history by going on a Jack the Ripper tour. This 2-hour walking tour beginning at 7 pm every evening in the heart of London allows you to admire the darkened cobblestone alleyways as you're taken back in time to the most bone-chilling tales of the 19th century.
Jack the Ripper tour guides are published authors who have been interviewed on TV about the cases. They're knowledgeable and passionate about coming closer to the truth of these murders.
Dressed in costume in an 1800s-style top hat and suits, these tour guides are not there just for entertainment – they're historians and experts who know their stuff.
Not only do the guides present to you every detail known on the cases, but many of them have formed opinions based on their extensive research on Jack the Ripper murders that they'll share at the end of the tour.
Unlike the typical city haunted walk where you simply listen to stories, Jack the Ripper tours encourage you to actively investigate and uncover possibilities and even discuss your thoughts with your guided group.
You become an investigator as you explore the crime scenes, look at old photographs and reimagine the events of 1888. By the end of the Jack the Ripper tour, you'll know about a piece of London's dark history and conspiracy theories that many tourists don't become acquainted with.
If you happen to be in London with kids and looking for more family-friendly activities around England, consider hopping on a train to Liverpool.
Recommended by Tiny Footsteps Travel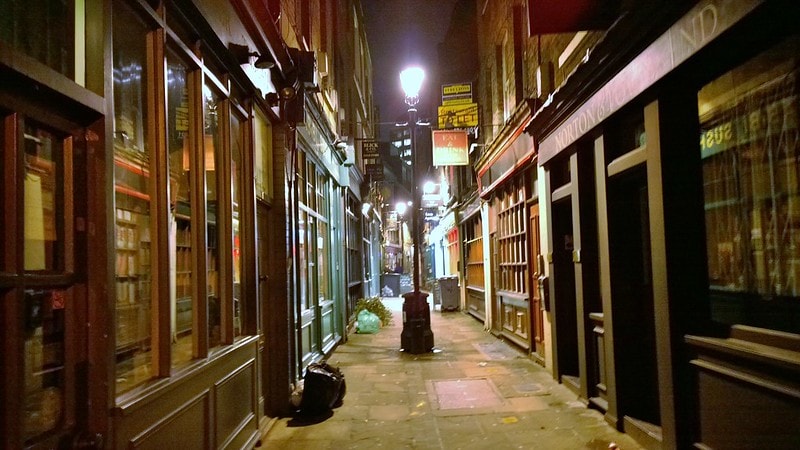 19. Check out the Thames Barrier
The Thames Barrier is a functional and fundamental part of London's protection. It's designed to protect the capital from tidal surges and flooding. The barrier stretches for 520 metres across the Thames near Woolwich and is easy to get to, and a fascinating place to visit, if a little quirky.
Woolwich Dockyard or Charlton are the closest stations to use to travel here. You can even see the Thames Barrier from the water, the Uber boats from Thames Clippers pass through the Barrier (when it's open), you can also see the Thames Barrier from Thames River Cruises, or by walking along the Thames Path.
While you can't get into the Barrier itself, there are some great places to see the Thames Barrier from and also to learn about it. The Thames Barrier Park has a café and children's play park and it's a great place to see the barrier, and this is also where the information Centre is located.
You can see a small working model of the Thames Barrier in the information centre and see displays and watch films about flooding and flood prevention techniques. There's a GBP£5.50 entrance fee for adults and GBP£4.30 for children and the centre is open from 10 am until 3:30pm.
The Thames Barrier is a somewhat quirky thing to visit in London, but it's a fascinating place to explore and learn more about.
Recommended by A Social Nomad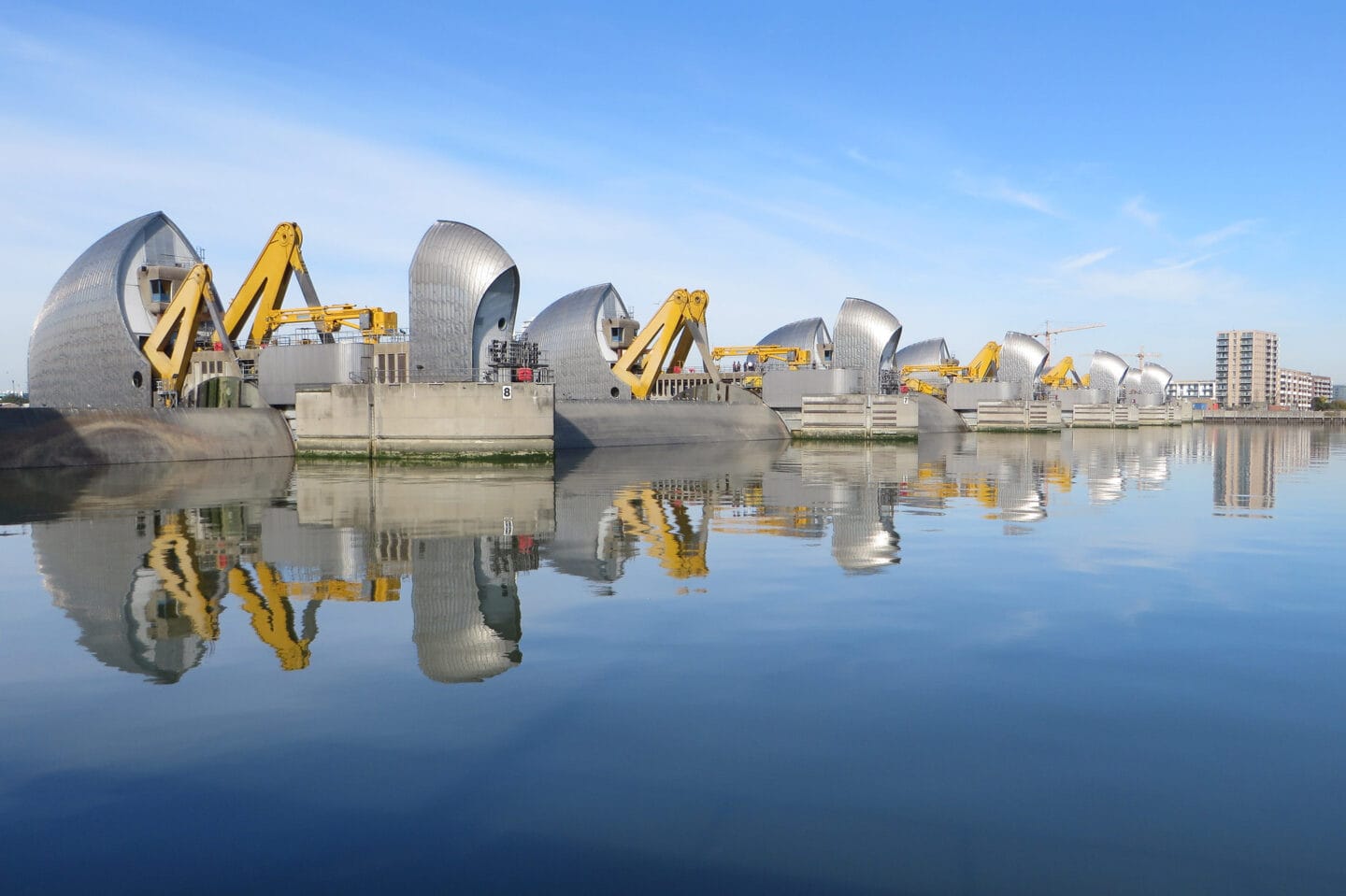 20. Get a birds-eye view of London at the Sky Garden
The Sky Garden is London's best-kept secret. As the name suggests, it's a beautiful garden with loads of greenery in the sky, well not quite, but on the 34th floor of a skyscraper. The garden starts on the 34th floor and spreads over 4 stories. Walking through lush greenery with the view of London outside is truly a unique thing to do in London.
Sky Garden is free to visit, but it still might be best to book your visit beforehand, because only a limited number of people are allowed to go up to the garden at the same time. If you try your luck for a walk-in ticket, you need to have a photo ID with you, and before you're allowed up you have to go through a security check.
There are bars and restaurants at the Sky Garden where you can enjoy a drink or some food with the best view of London. If you're on a budget you can just go up and have a look around without buying anything.
From the top, you have an amazing view all the way from the Tower of London to the House of Parliament and beyond. You can enjoy this stunning view from the windy balcony or from the inside through the massive glass front.
The view from the balcony is most comfortable in the summer months when it's warm. Another positive side effect of visiting London in summer is that you can see the beautiful parks of London from above.
Recommended by Veganderlust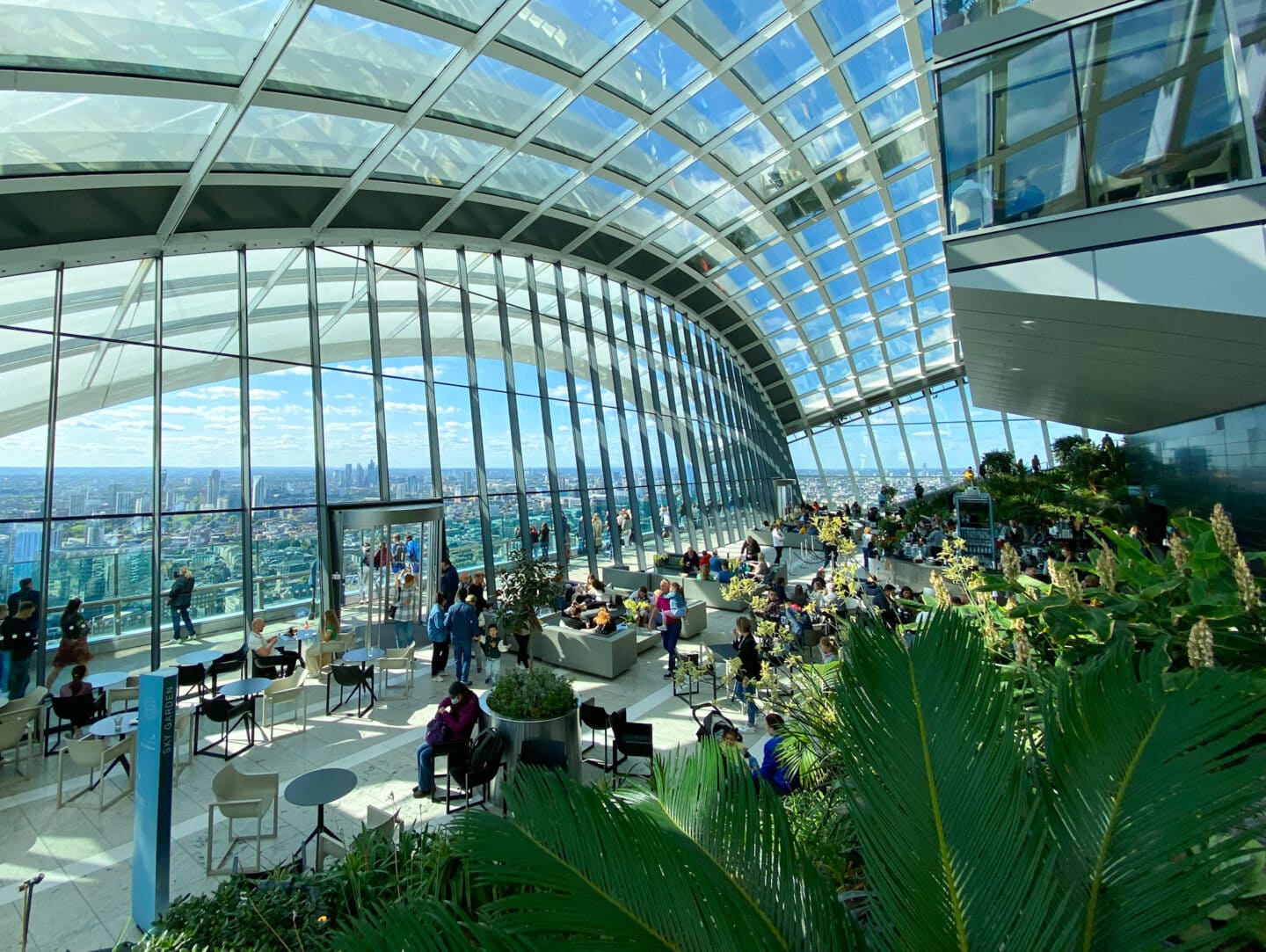 21. Explore Kew Gardens
Kew Gardens, London's premier botanical garden, is a place of unmatched and sublime beauty. Established over 250 years ago, Kew Gardens is made up of 300 acres of gardens, glasshouses and magnificent buildings.
With tens of thousands of species of plants in its collection, Kew Gardens is a haven for nature lovers and the perfect attraction for second-time visitors looking for an unusual and unmatched experience.
You can explore the Palm House, the Temperate House, and the Princess of Wales Conservatory, each showcasing different climates and plant species. Inside the greenhouses, you can find the world's oldest pot plant (an ancient cycad) or giant water lilies that can support the weight of a human.
Or you can take a walk on the treetop walkway where you can get a panoramic view of the gardens and see many tree species from a bird's eye view. Or visit the Japanese Garden, a serene oasis that transports visitors to a world of calm and tranquillity.
Aside from the beautiful scenery, Kew Gardens also offers seasonal events such as the Orchid Festival, Kew the Music Festival, Theatre on Kew, and the most famous event of them all, Christmas at Kew!
Kew Gardens is unique, even in London. It is a place that holds a legacy that goes back centuries with its sights very much set on the future. Once a royal retreat, today it is not only a beautiful collection of gardens but also a living museum, a historical site and a significant contributor to the field of botany whose influence on the scientific community extends far beyond the UK.
Overall, a day trip to Kew Gardens is a unique experience that should be on your list when visiting London, whether it's your first or second time. It's a peaceful oasis away from the hustle and bustle of the city, where you can spend hours exploring the beauty and diversity of the plant kingdom.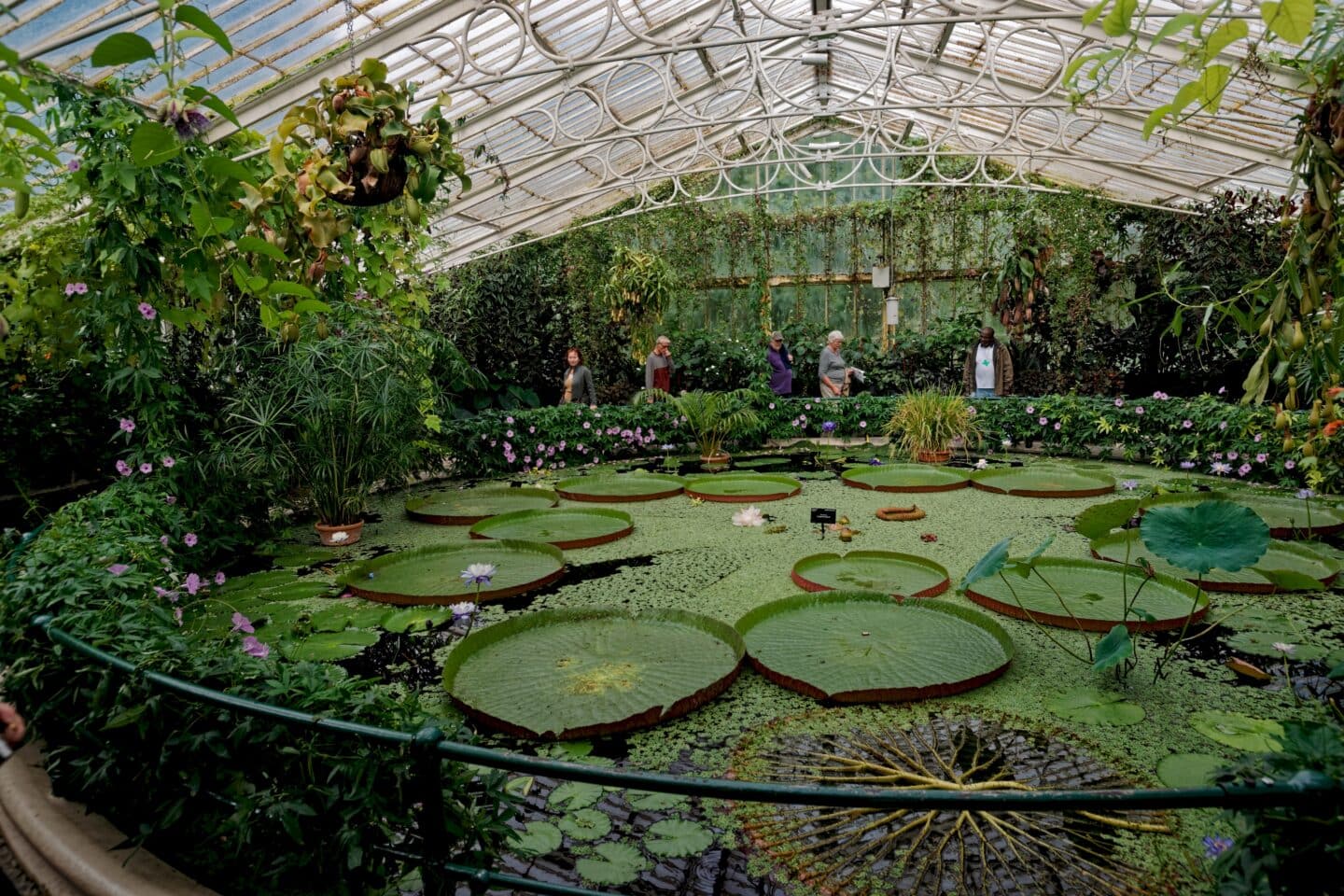 22. Get a view of London's skyline at Battersea Station
If you want to get a view of London's skyline, but are tired of the typical observation deck then you need to check out Lift 109, a brand new attraction that just opened in 2022. This glass elevator is situated inside one of Battersea Power Station's iconic chimneys and takes you 109 metres (almost 358 feet) above ground for a stunning panoramic view of the city.
Before you board the lift, you have the opportunity to explore an exhibition that delves into the history of the Battersea Power Station. You will also visit the Infinity Room and see its captivating art display. There are also 39 steps that you need to climb before getting to the lift. If you are unable to climb stairs, there is another elevator that you can take but you must book that in advance.
Once inside the lift, you'll feel like you're being transported into the future as you ascend towards the top. At the summit, prepare to be mesmerized by the breathtaking views of London's skyline, which includes some of the city's most famous landmarks such as the Shard, Big Ben, the London Eye, Wembley, and more.
The entire experience lasts around 45 minutes, leaving you plenty of time to explore more of the Battersea Power Station, where you'll find an array of interesting shops, restaurants, and even a bar located in the former control room.
Recommended by Two Traveling Texans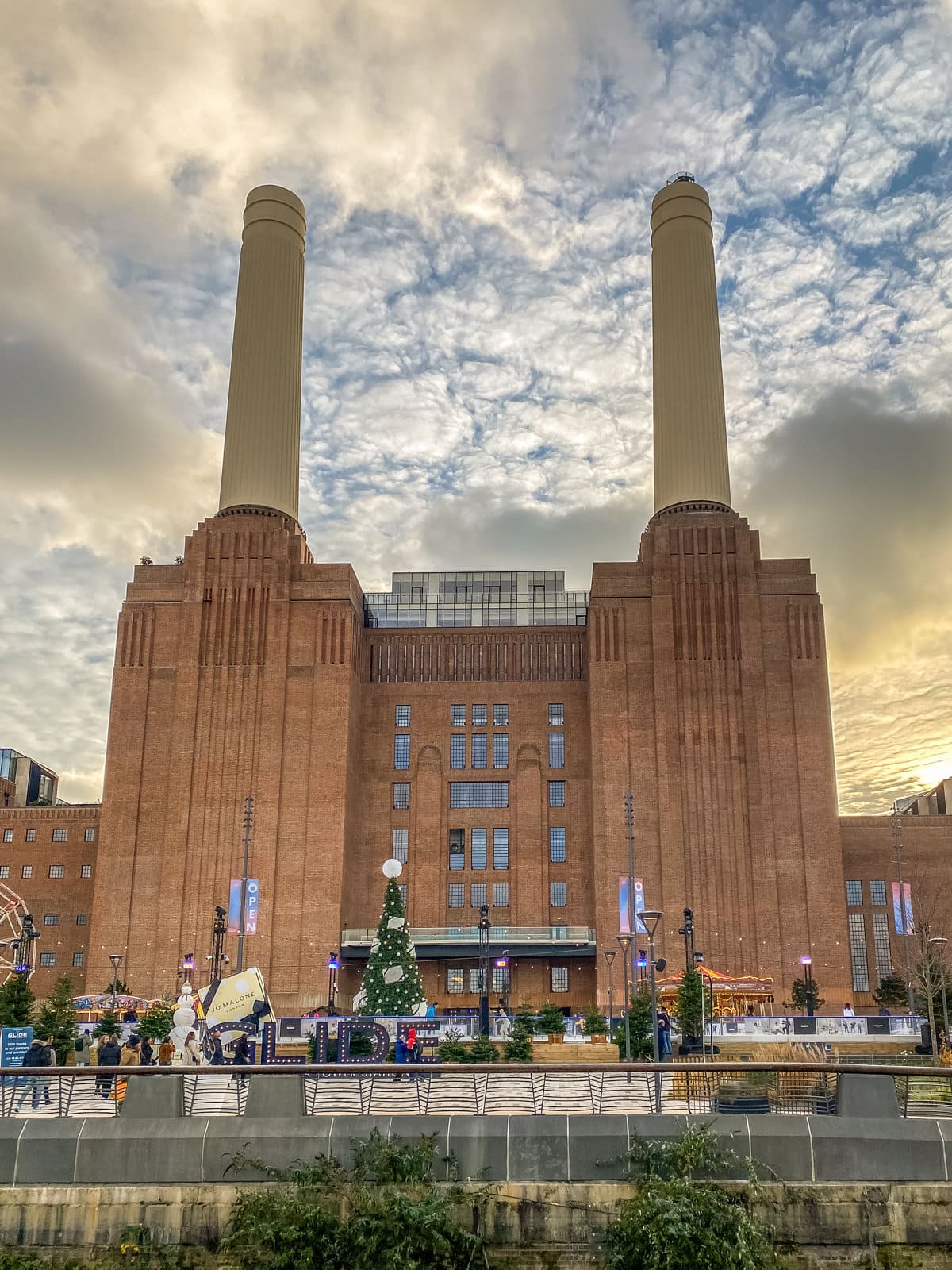 The Dennis Severs House is a real hidden gem in London. Tucked away in the streets of Spitalfield it's well off the usual tourist beaten track.
Yet it's filled with amazing insight into the history of London through the centuries and shouldn't be missed. This is a historic house, set up by Dennis Severs who lived in it, much as the 18th century residents originally would have.
Today you can work your way through the different rooms and see history unfolding as you do so, from 1724 right up to the early 20th century. This is somewhere that lives in the past – candles flicker in rooms, you have to duck beneath washing hung out to dry across the stairs, plates of food lay uneaten, there are sights and smells everywhere.
It's almost as if the residents have stepped out of the room. You'll feel like an intruder but it will give you such a glimpse into the real past you won't want to leave. This area of London today has some of the best hotels in London for couples or families, but in the 18th century it was very much a working class area and the house reflects this.
Discover how Huguenot silk spinners would have lived and worked here, along with all the residents afterwards up to the early Victorians. There are limited tickets each day so this is one to book in advance. An amazingly special experience and not to be missed.
Recommended by Romantic Hotel Expert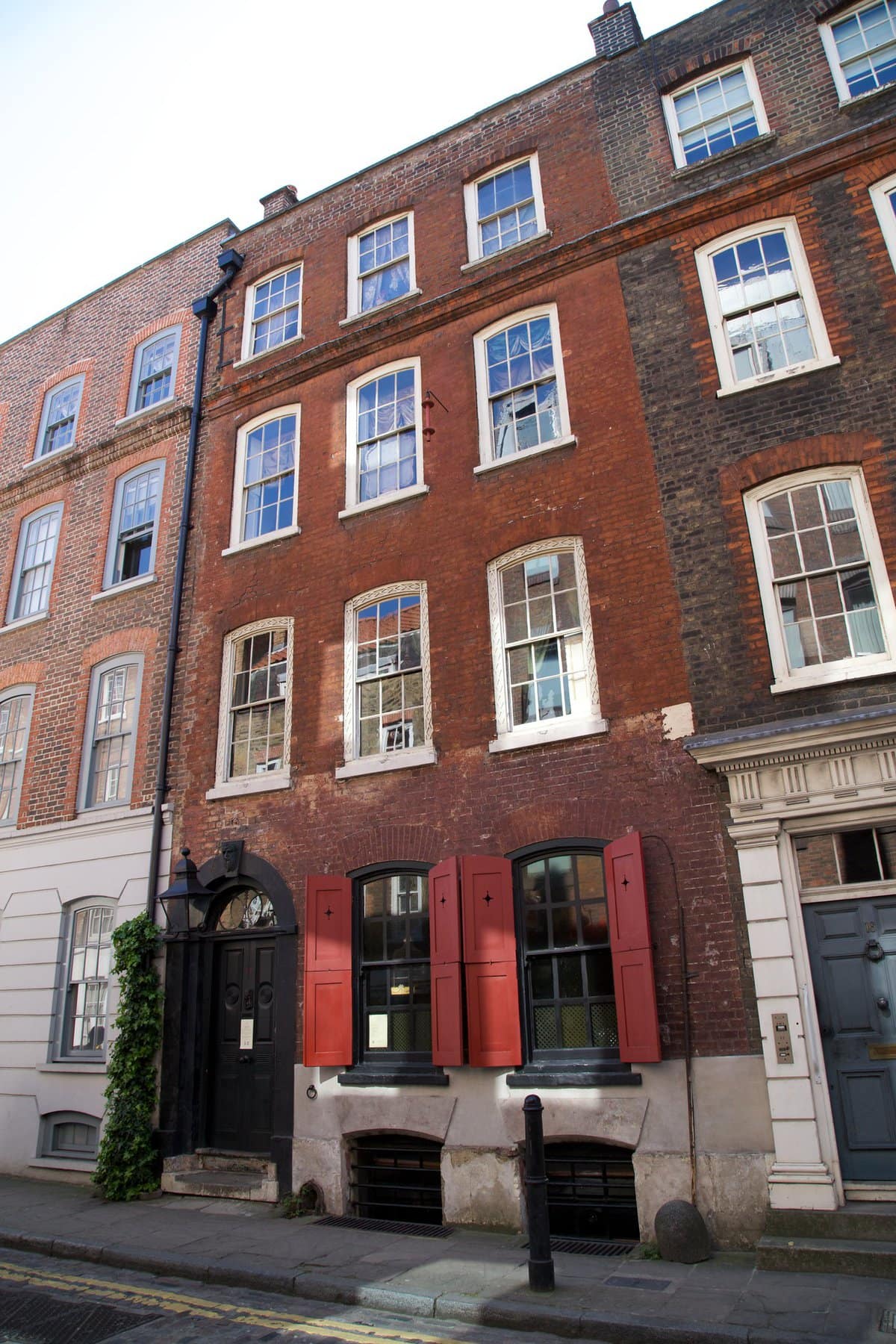 Related Posts
Pin it for later!