Wondering what there is to see and do in Bologna? There are a number of must sees in this historic town!
Bologna should be on everyone's Italy bucket list. This vibrant town is a food lover's paradise. Whether you're looking for things to do in Bologna for a day or planning to spend some time here, there are plenty of things to see, do, and eat in this historic town.
Throughout the places I've visited in Italy, Bologna definitely ranks up in the top spots. The food is the best we've had throughout Italy, it's very relaxed and isn't touristy at all.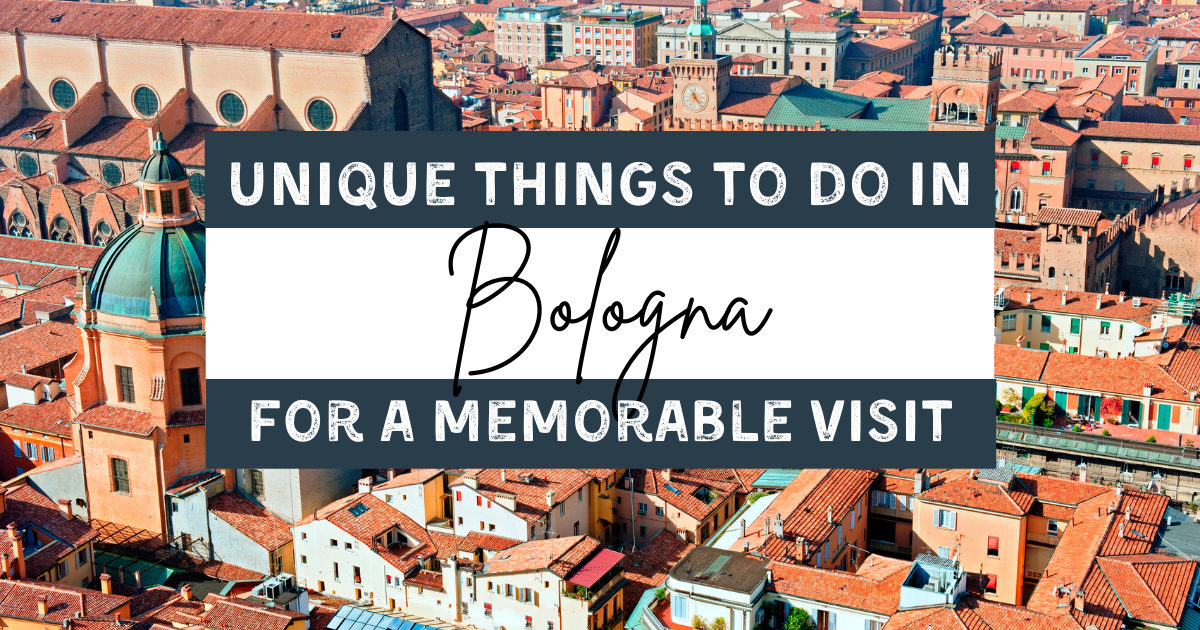 Although it was busy, it was busy with Italians enjoying their weekend at cafes, listening to live music, shopping, socializing, and much more. I really enjoyed the vibe here where you truly felt immersed in Italian culture.
What I love about Bologna, aside from the food, is how inexpensive it is to see and do things.
Let's check out what to do in Bologna!
Whether you're staying for a day or two (I recommend at least two days!), or a week, Bologna makes a fantastic base to explore northern Italy and all its beauty!
Known as a university town, there are a number of free things to do in Bologna, including museums, views of the city, touring the old Jewish Ghetto, visiting the city's oldest food market, and searching for hidden canals.
This post contains affiliate links which means I earn compensation when you click on the links at absolutely no extra cost to you! Feel free to read my disclosure policy. Thank you for supporting my blog!
Plan your next vacation using these tools!

✈️ Book flights: SkyScanner
🏨 Book hotels: Booking.com
🚘Book car rentals: RentalCars.com
🎫Book tours: GetYourGuide
🌍Favourite travel item: Packing cubes
🧳Favourite travel bag: Osprey 40L Fairview
🩹 DIY Travel Medical Kit
💸 20 Cheap Travel Items Under $20
Where to stay in Bologna
While staying in Bologna, there are a number of self-catering places to stay or hotels. For a quiet and luxurious stay just a 10 minute walk from Piazza Maggiore, Attico di Via d'Azeglio offers quiet and plush accommodations. Your stay includes breakfast at a local cafe downstairs.
Attico di Via d'Azeglio was our favourite place we stayed during our 10 day trip, and we wouldn't hesitate to return. Our host provided us with a number of things to see and do, as well as highly-recommended restaurants.
Unique Things to do in Bologna
Visit a museum
There are a number of fantastic museums to explore in Bologna. We were able to visit a handful, but I would love to go back and check out all of them!
There's a museum for everyone – truly! From archeology, anatomy, zoology, mineralogy, paleontology, and even an observatory, you can easily spend a week perusing through all Bologna's museums have to offer.
Collection of Anatomical Waxes "Luigi Cattaneo"
This museum, while weird, is fascinating. The Collection of Anatomical Waxes contains a variety of wax models and anatomical systems used for educational purposes.
It also contains a variety of human models with diseases and deformities. It's an odd place to visit, but will leave you grateful that you aren't afflicted by any of them.
It takes roughly 45 minutes to tour through here if you take your time.
Collection of Anatomical Waxes
Admission: Free during weekdays. 6 euros during weekends and public holidays (guided tour)
Hours: Tuesday – Friday 9:00 am – 1:00 pm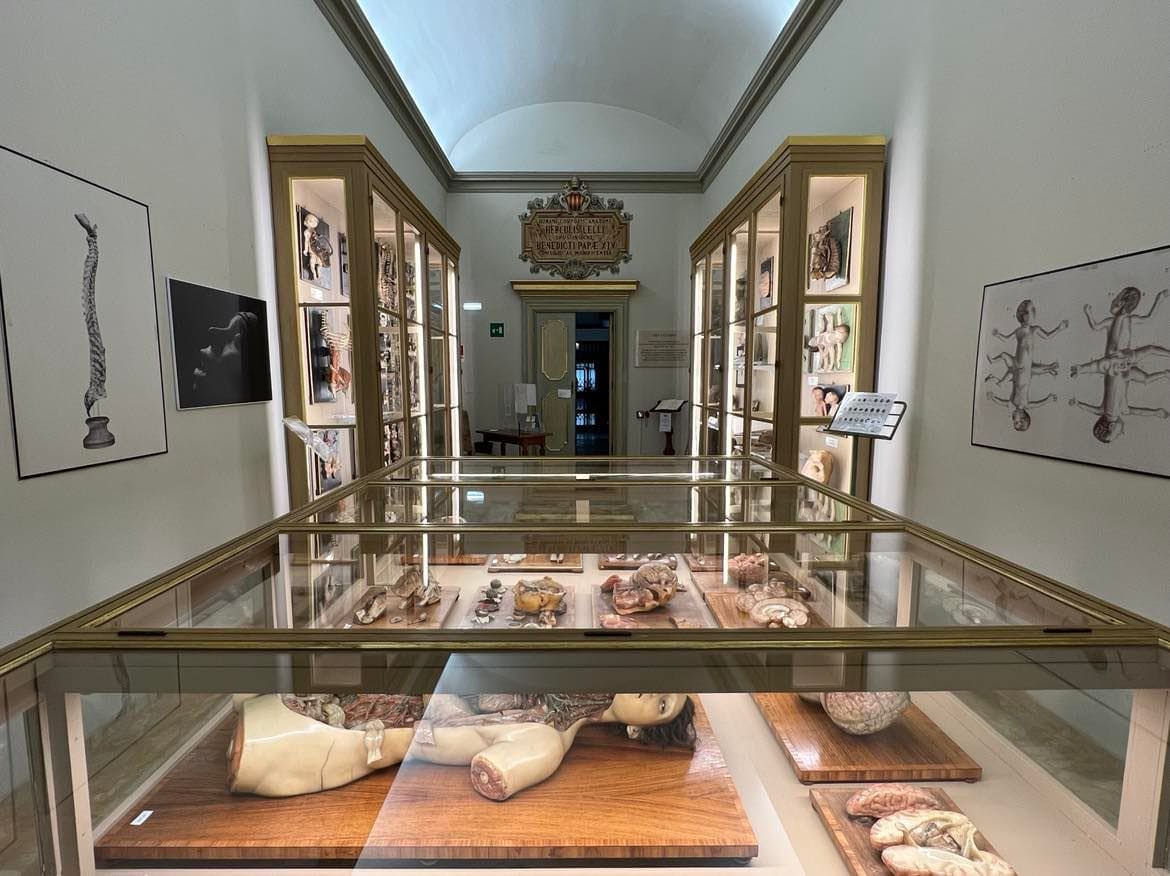 Geological Museum Giovanni Capellini
I really wish we had time to visit the Geological Museum in Bologna, but with our one full day and having to book these sites ahead of time (along with having only a few select times to take these guided tours), we didn't manage to fit this one in.
The Geological Museum Giovanni Capellini houses an assortment of dinosaurs, plant and animal fossils, and numerous archaeological finds.
Geological Museum Giovanni Capellini
Admission: 5 euros
Hours: Tuesday – Friday 9:00 am – 1:00 pm, weekends and holidays 10:00 am – 6:00 pm.
The Observatory Museum (Museo della Specola)
The Observatory Museum in Bologna is fascinating for anyone interested in the history of astronomy and planetary science. It offers the chance to see instruments used by astronomers in the past, such as wooden telescopes, armillary spheres for observing the sky, clocks, nautical and topographical instruments used for orientation, and more!
Note: The Observatory Museum is conducted in the old observatory tower which is 272 steps up. However my dad, who does not do stairs, managed to do it. The stairs are spread out through a few levels of the museum over the hour-long tour and the last climb to the very top are definitely worth the views!
Don't miss the specola on the rooftop with views of Bologna from upside down. If you're lucky your guide will show you how powerful the globe is and will burn a piece of paper for you.
The Observatory Museum
Admission: Guided tour by 5 euros, Tuesdays – Sundays
Tour times: 10:30 am, 12:00 pm, 4:30 pm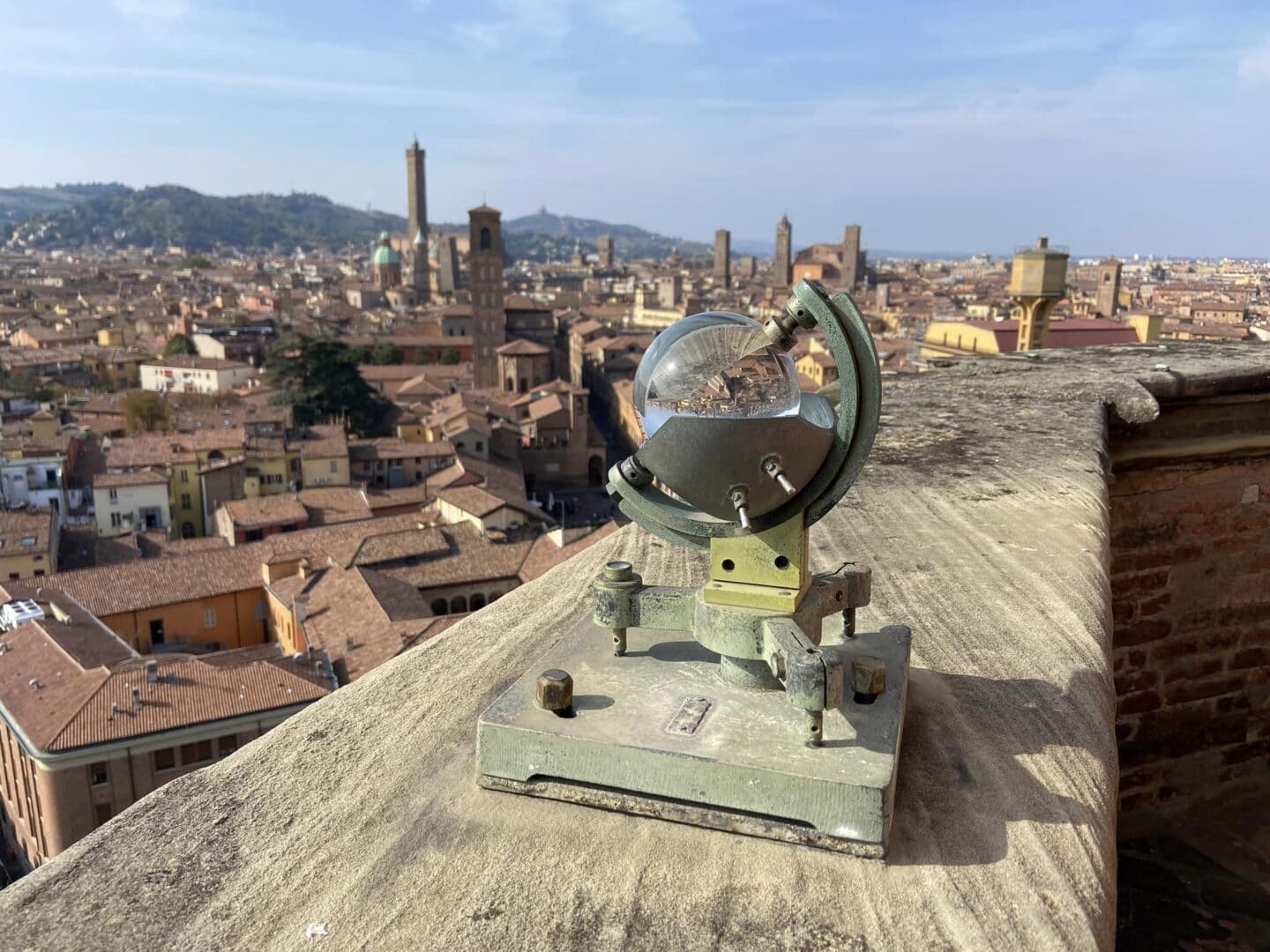 Mineralogical Collection "Luigi Bombicci" Museum
The Mineralogical Collection Museum was more fascinating than I anticipated. While it may sound boring to some to look at a bunch of rocks, it's much more than that.
Learn about how some minerals are twins but are completely different (like the graphite in your pencil and the diamond in your ring), view fluorescent minerals as they glow in the dark, marvel at stunning gems, stare at colourful and beautiful minerals with their perfect geometrical shapes and much more.
Our guide was fantastic, and as the only ones who signed up for the tour that day, it was done in English. Our guide was a student (as all museums in Bologna are run by students), and she told us that their professors encourage them to study in English, given that specialized fields such as mineralogy, geology, zoology, etc are worldwide fields of study; English terms are the ones predominantly used as a easy way of communicating across the globe.
Mineralogy Museum
Admission: Guided tour for 6 euros, Tuesdays – Sundays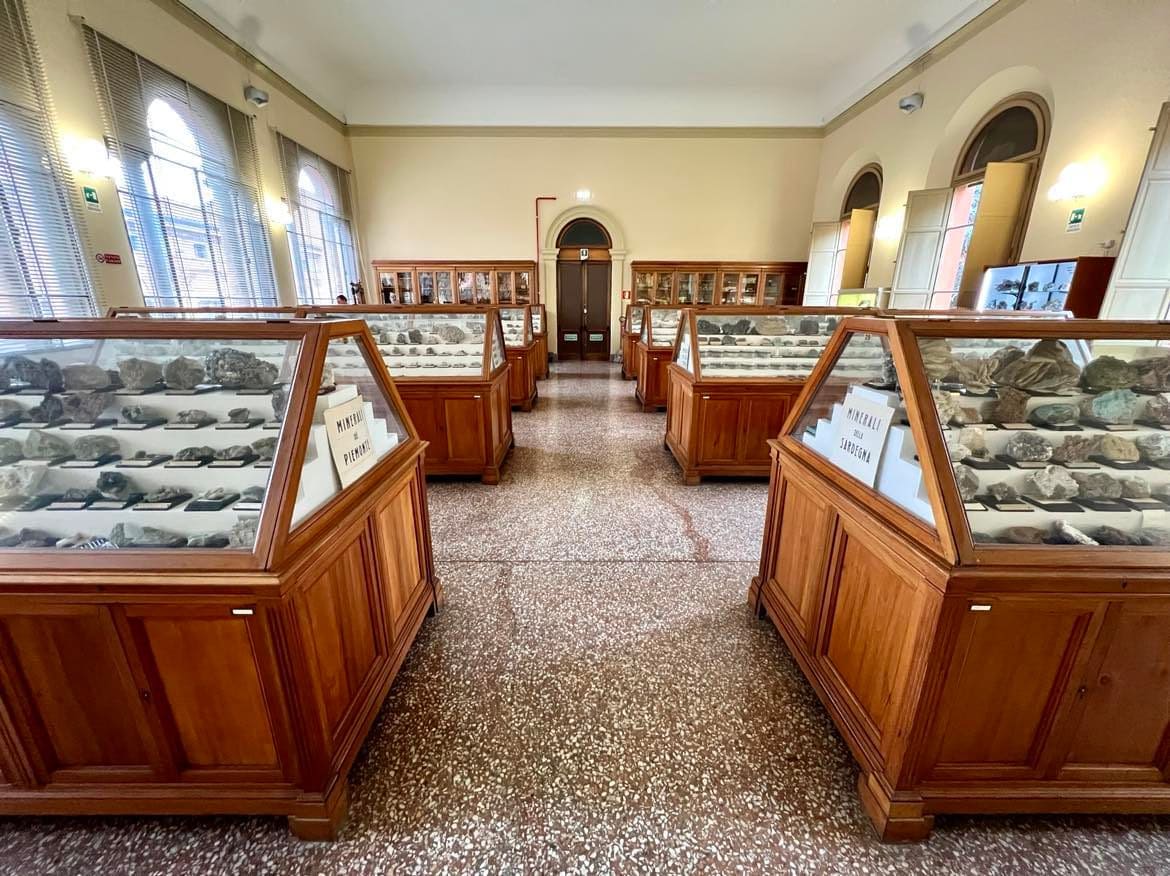 Anatomical Theatre (Teatro Anatomico)
For an inexpensive and interesting thing to do in Bologna, I highly recommend going to see the Anatomical Theatre – Europe's first anatomical theatre used for anatomy education and dissections.
The Anatomical Theatre was bombed during WW2 (in fact Bologna was hit quite heavily during the war) but was rebuilt.
Don't miss out on seeing the beautiful Sabet Mater Hall and stunning library room. You can't go into the library but you can peer through the doorway and it appears it goes on forever. What I would give to go in there and open a book!
Anatomical Theatre
Admission: 3 euros
Hours: 10:00 am – 6:00 pm Monday through Saturday
Unusual things to do in Bologna
Bologna has a treasure trove of activities and things to do, even though it may not seem like it at first glance.
Climb Le Due Torri
Up for a challenge? One of the most physically challenging things we did in Bologna was climb Le Due Torri, but the end result was well worth the effort!
You can climb 498 steps up – it's about 10 minutes of straight climbing up an old wooden staircase – the Asinelli Tower. Tickets are just 5 euros and you'll have amazing 360 degree views at the very top that offer breathtaking (literally) views of historic Bologna and beyond. You'll see that
Admission: 5 euros and tickets must be booked online. It's mandatory! Book at least a day in advance, especially on weekends. Tickets are timed entry every 15 minutes.
Stroll through an ancient farmer's market
If you want to get a feel for what it's like living in Bologna and buying fresh produce, meat, dairy, fish, and baked goods, head over to the city's oldest food market! Known as the Quadrilateral, vendors line four streets and sell their goods. This goes all the way back to the Medieval Ages!
If you're standing in Piazza Maggiore looking at Basilica Di San Petronio, head through the archway to the left and explore down Via Drapperie, Via Clavature, Via degli Orefic, or Via Pescherie Vecchie.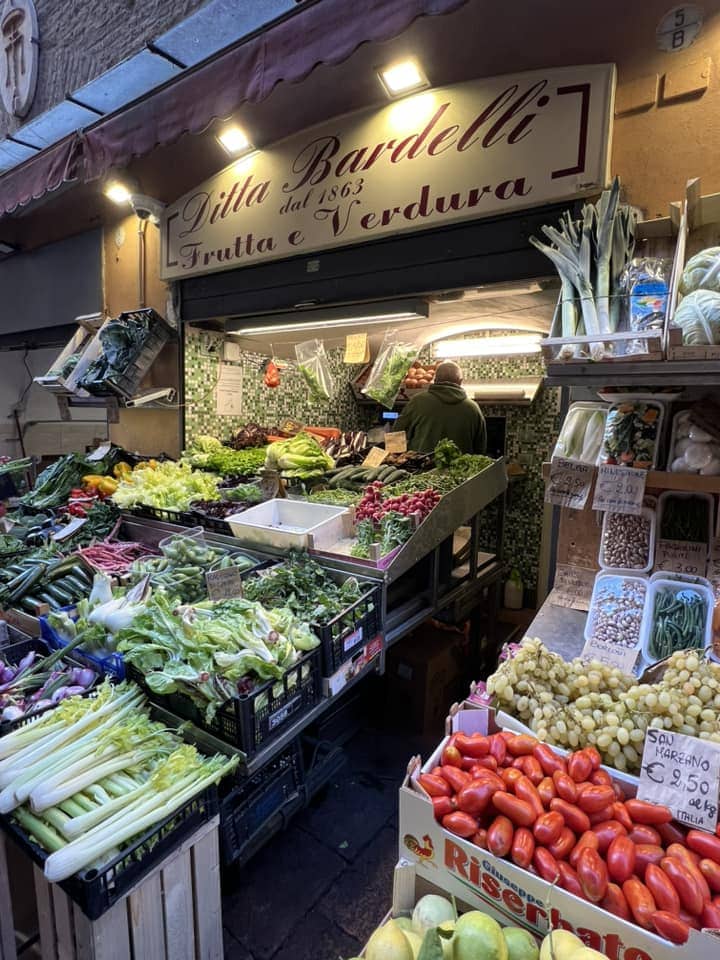 My far, one of my favourite things about Bologna are its hidden canals. One in particular is known as Finestrella, and it is gorgeous. You wouldn't expect this hidden gem to be in town (I certainly didn't!) and it almost looks as though you're in Venice. In fact, it's often referred to as 'Little Venice.'
Finestrella offers a beautiful photo opportunity and a unique look to Bologna's past.
Most of the city's canals were paved over as Bologna grew, but canals were once used to transport people and goods around town.
Take a train tour around town
Want to rest your feet and sight-see at the same time? You can take the San Luca Express, which is a tourist train that goes around Bologna. It's super cute and a fun way to learn some history about this ancient town. You'll be given headphones to listen to an audio guide as you make your way around town.
Cost: 8 euros per adult
Hours: Tours vary depending on train route, which can be found on the City Red Bus website.
Sample ALL the food
Bologna is the birthplace of bolognese sauce. You can enjoy this in many forms of pasta here, including tagliatelle and lasagne. Tortellini is also a must-try, either in a soup or on its own.
Whether or not you're a foodie – literally all of the food is good in Bologna. In fact, we haven't had one bad meal in all of Italy, so there's that.
Parma ham, Parmigiano Reggiano, and balsamic vinegar from Modena are also local favourites that won't compare to anywhere else during your travels throughout Italy!
Our favourite things to eat included pasta al ragu, lasagne, tortellini, prosciutto, gelato, and even simple croissants from the bakery. It's all good.
Two unexpected finds for us were at Osteria Al 15 and Antica Osteria La Mura. I say unexpected because we never intended to come to these restaurants. But because it was a weekend and we didn't have reservations, we couldn't get into one of my original picks (Restaurante Al Sangiovese).
Tip: If you know you're going to be in Bologna during a certain time and have your heart set on dining at a certain restaurant, I highly recommend booking your reservation in advance. It's highly unlikely you can just show up to a restaurant (especially popular ones and especially on weekends) without a reservation. We were turned away at a couple, so book ahead to avoid disappointment!
Visit a unique church (or two!)
Bologna is home to a very unique church: the Basilica di San Petronio. It looks as though it's unfinished, and that's because it is! This stunning 14th century church stands in Piazza Maggiore and is the fourth largest church in Italy (and 6th largest in Europe!).
The facade remains partially covered in marble, giving it an unusual appearance. If you go inside (it's free to do, but photos will cost you 2 euros!), you'll find 22 chapels in various styles, since construction spanned across different eras.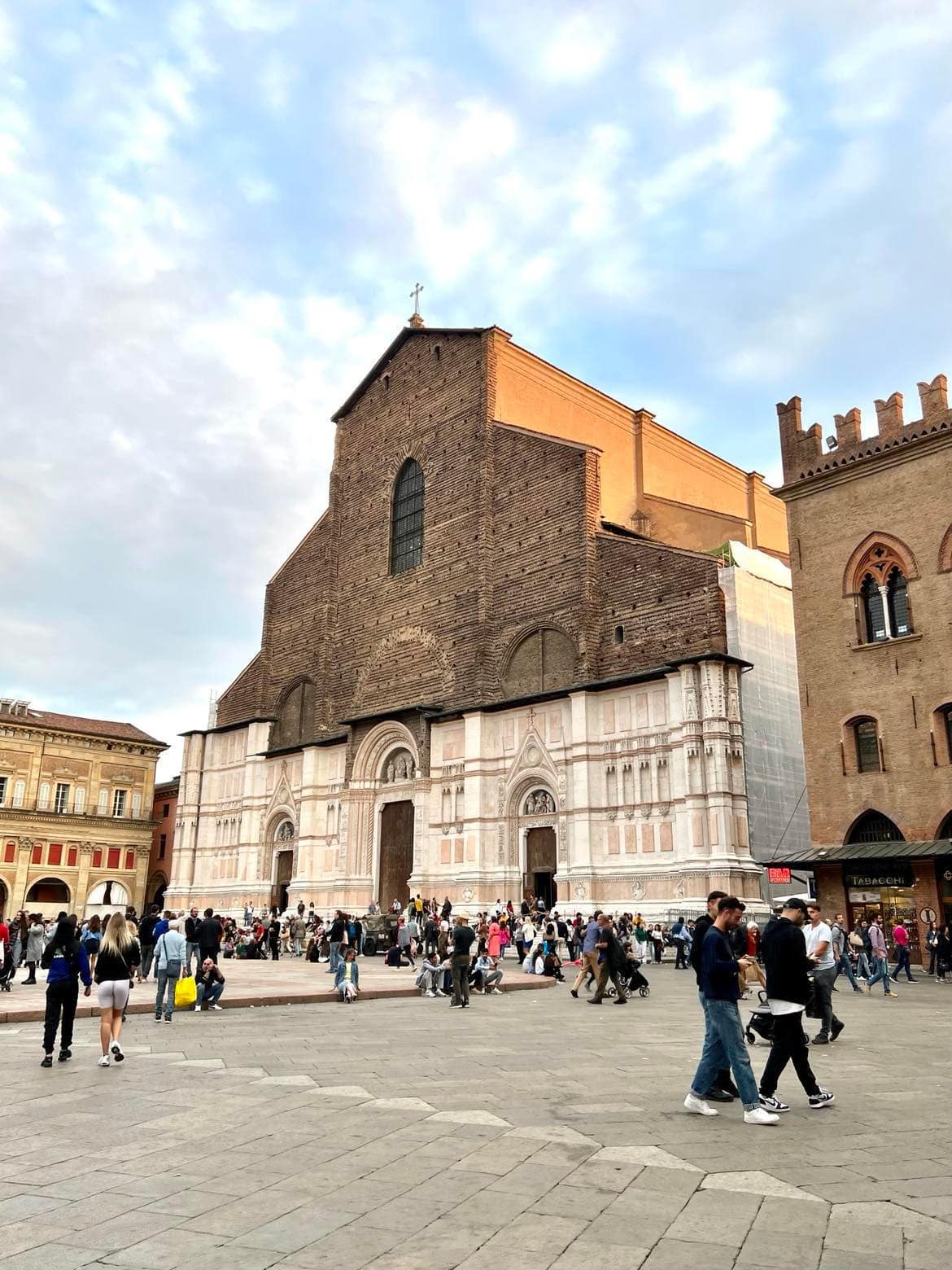 The Basilica di San Petronio is also home to the largest sundial in the world, the Cassini Sundial, which measures 220 feet!
One of my favourite churches in Bologna is Basilica di Santo Stefano. It's commonly referred to as the 'complex of seven churches' due to different buildings merging together through the ages.
It's one of the most unique churches I've ever been in. Architecture spans through history of Romanesque, Lombard, and ancient Roman elements. Be sure to check out the courtyard that connects to a small museum. This is definitely a hidden gem in Bologna that shouldn't be missed.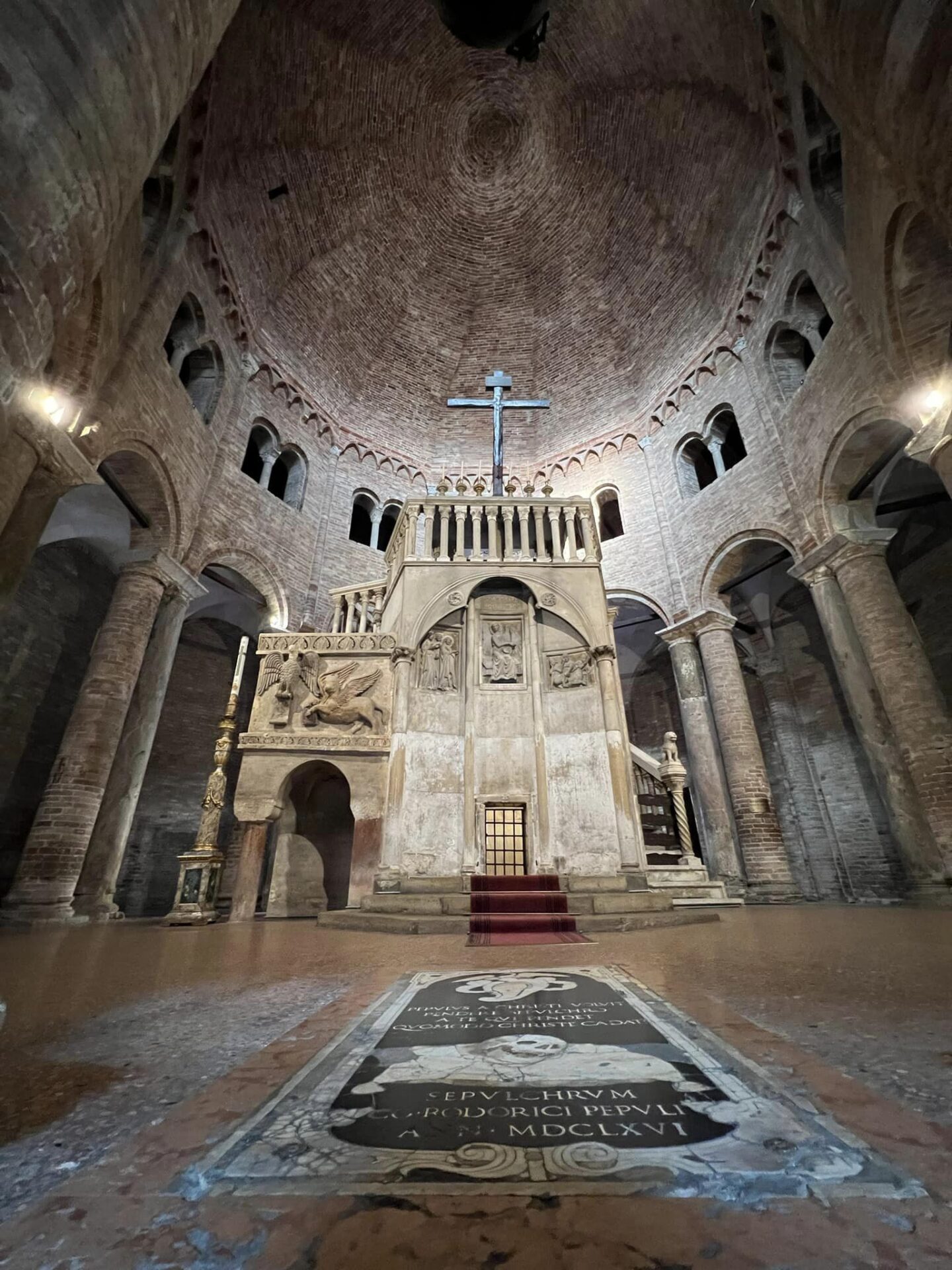 Stroll through Bolgona's porticos
With almost 50 km of porticos in Bologna, you'll be guaranteed to walk through plenty. We learned that porticos were actually a requirement while homes were being built, which explains why there are so many.
Each one is a piece of art and they're all unique. Strolling through these 600 porticos in Bologna is like walking through history. In fact, they've received recognition from UNESCO due to their significance!
They offer protection from sun, wind, and snow, and we quickly learned how much we appreciated them all around town!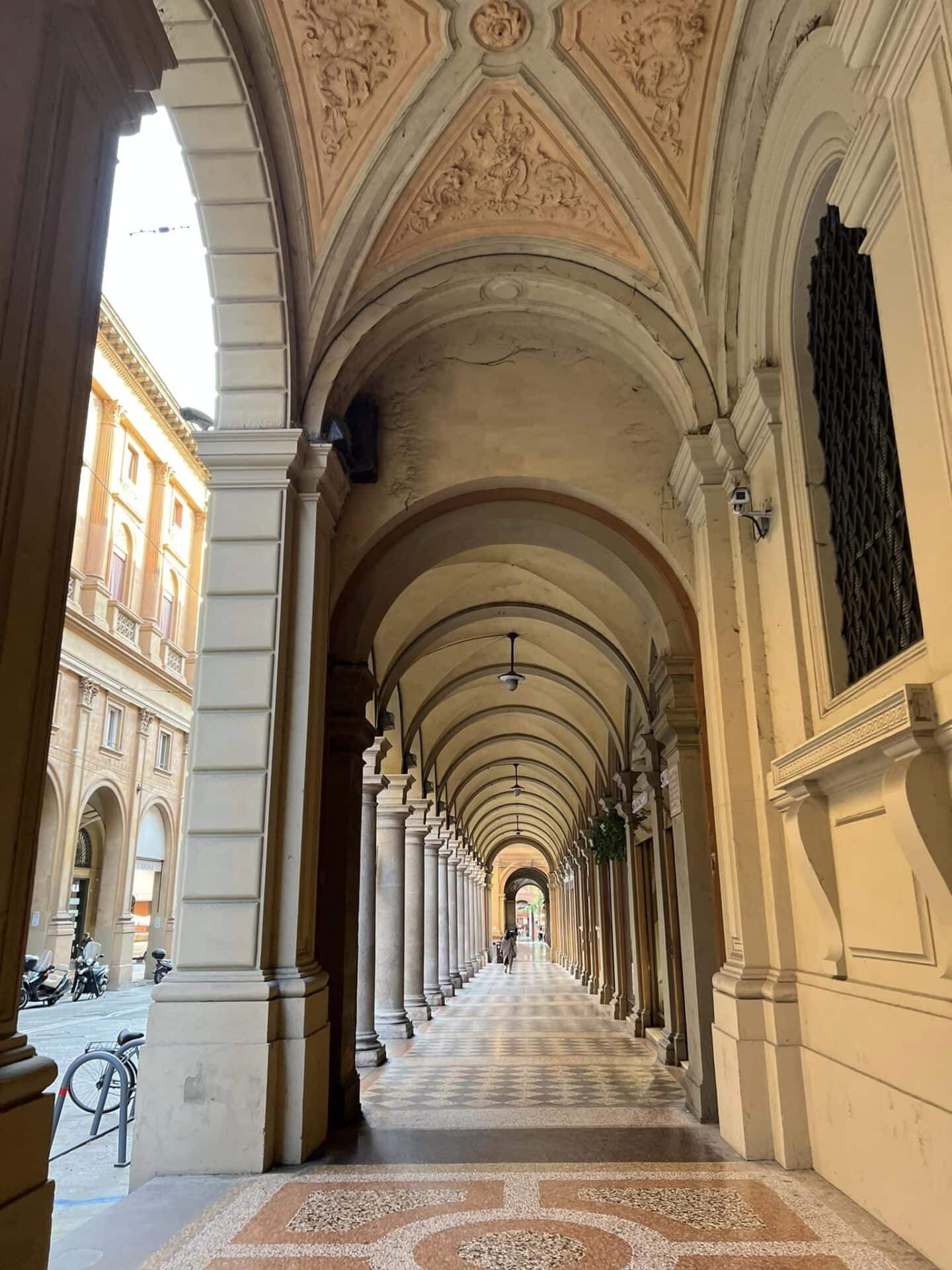 Related Posts
Pin it for later!